Specs:

Memory: 16GB GDDR6X
Ports: 3x DP 1.4, 1x HDMI 2.1
TDP: 450W

Specs:

Memory: 16GB GDDR6X
Ports: 3x DP 1.4, 1x HDMI 2.1
TDP: 450W

Specs:

Memory: 16GB GDDR6X
Ports: 3x DP 1.4, 1x HDMI 2.1
TDP: 450W

Specs:

Memory: 16GB GDDR6X
Ports: 3x DP 1.4, 1x HDMI 2.1
TDP: 450W

Specs:

Memory: 16GB GDDR6X
Ports: 3x DP 1.4, 1x HDMI 2.1
TDP: 450W

Specs:

Memory: 16GB GDDR6X
Ports: 3x DP 1.4, 1x HDMI 2.1
TDP: 450W
First, NVidia stirred up the stagnant GPU market by introducing the revolutionary but frighteningly expensive RTX 4090. Shortly thereafter it cemented its position as the high-end GPU leader by introducing the successor to its former gaming great. Third-party manufacturers have done an exemplary job this time, so finding the best RTX 4080 isn't straightforward. Let our comprehensive guide help you out.
MSI Gaming GeForce RTX 4080 Suprim X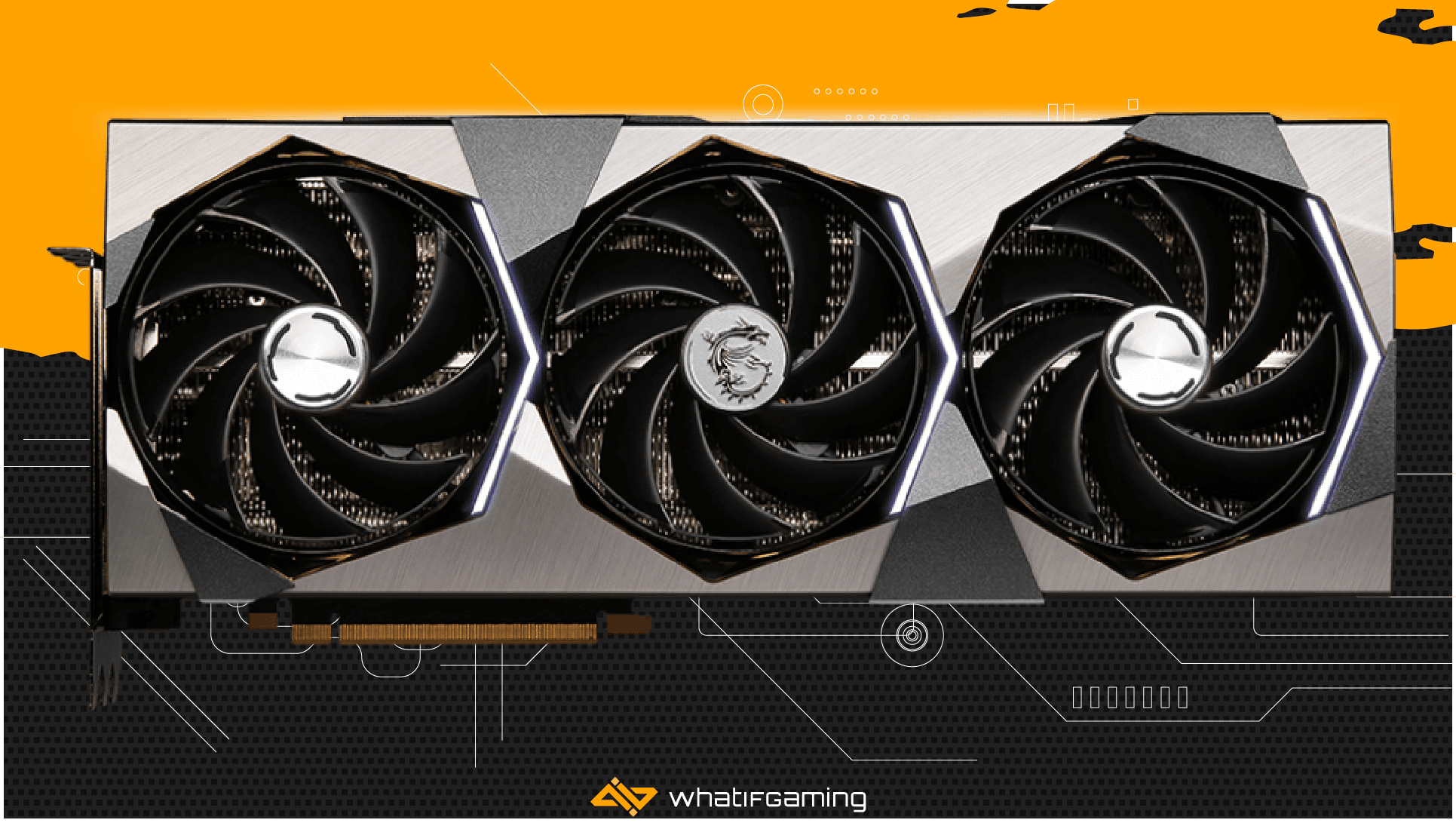 MSI GeForce RTX 4080 Suprim X
Base clock: 2205MHz | Boost clock: 2625MHz | Memory: 16GB GDDR6X | Ports: 3x DP 1.4, 1x HDMI 2.1 | TDP: 450W
Pros:
Exceptionally cool or quiet

Attractive design

Takes up three slots
Cons:
Draws more power than most models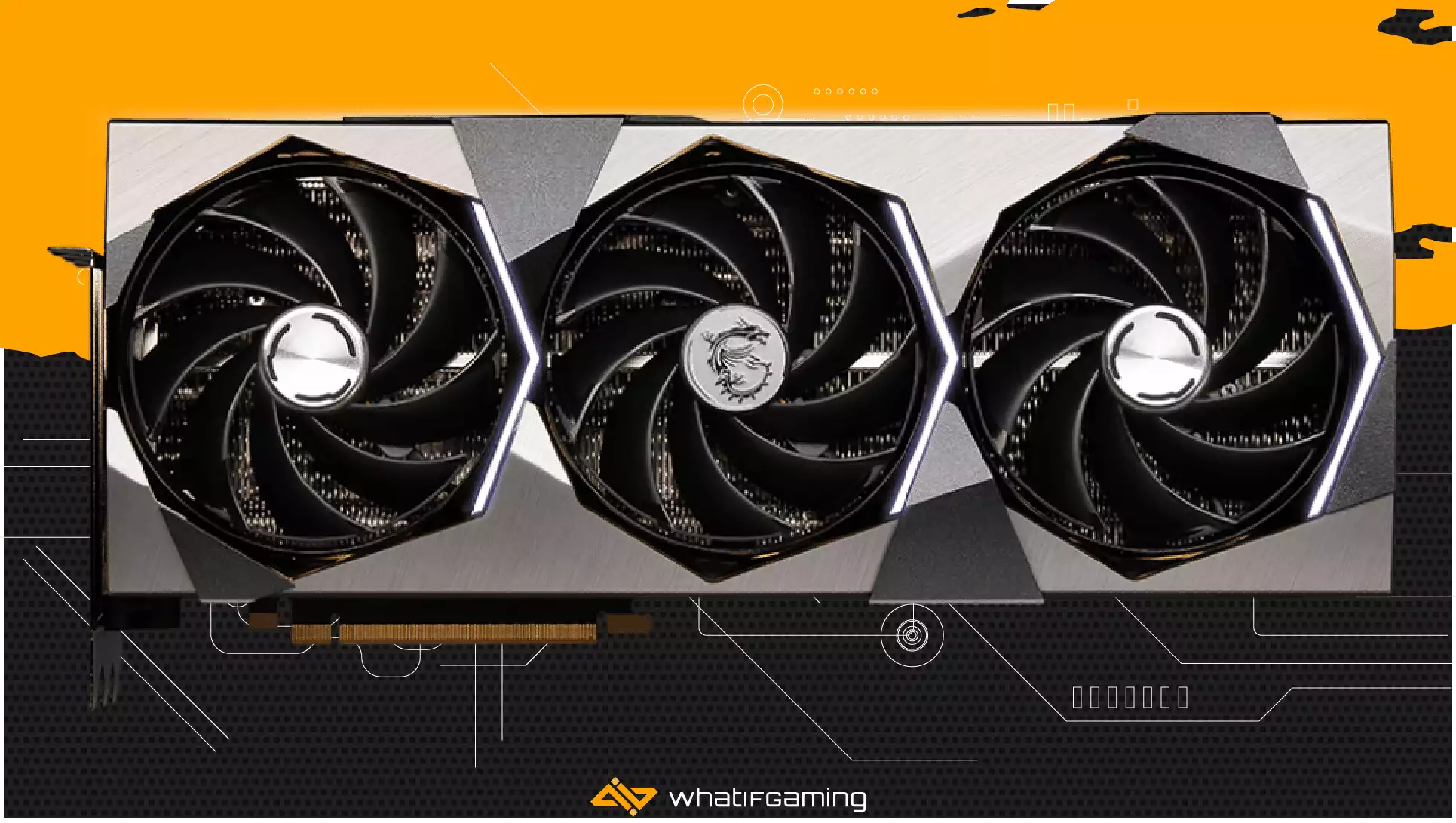 MSI's most premium air-cooled model takes the cake as the best 4080 card out right now. It sports a beautiful design and exceptional cooling, all while fitting inside the now reasonable three-slot limit. MSI wants around $150 more for this version than NVidia charges for the FE. The cooler and quieter card that also performs slightly better is worth it!
If you've been buying MSI, the heavy-duty, angular shroud's industrial look will be no surprise. What surprised even us is the attention to detail and quality of the brushed aluminum part. Its fan holes are brimming with RGB. You'll find more on the top and Suprim logo on the shiny backplate.
MSI broke the mold with the Suprim X's thermal design. Removing the shroud & backplate exposes a massive vapor chamber and TEN heatpipes that carry heat away from it towards the fans. The card's VRM looks like it belongs on a motherboard. MSI opted for an 18+3 phase design instead of the FE's 13 GPU and three memory phases.
The card is in a position to be either exceptionally cool or quiet, thanks to two BIOS settings. On the one hand, you can stick with the default and see it climb into the mid-60s while remaining in the sub-30 dB range. On the other, engaging the gaming BIOS ups the fan curve, resulting in temperatures only reaching the high 50s at marginal cost to noise.
As far as specs go, the Suprim X is among the most souped-up 4080s. Its boost clock is 120MHz higher than the FE's. That automatically nets you 3-4% more frames at 4K in the most technically demanding games like Hogwarts Legacy. You may push the card further and overclock its memory for a similarly impactful boost.
Our only nitpick with the Suprim X is its power consumption. Depending on the load, it pulls 30 – 50W more than the FE. While not a significant concern, it adds up over time.
ASUS GeForce RTX 4080 Strix OC
ASUS ROG Strix GeForce RTX 4080 OC
Base clock: 2205MHz | Boost clock: 2625MHz | Memory: 16GB GDDR6X | Ports: 3x DP 1.4, 1x HDMI 2.1 | TDP: 450W
Pros:
Great cooling with little noise

More compact than the RTX 4090 version

Attractive looks
Cons:
More expensive than other models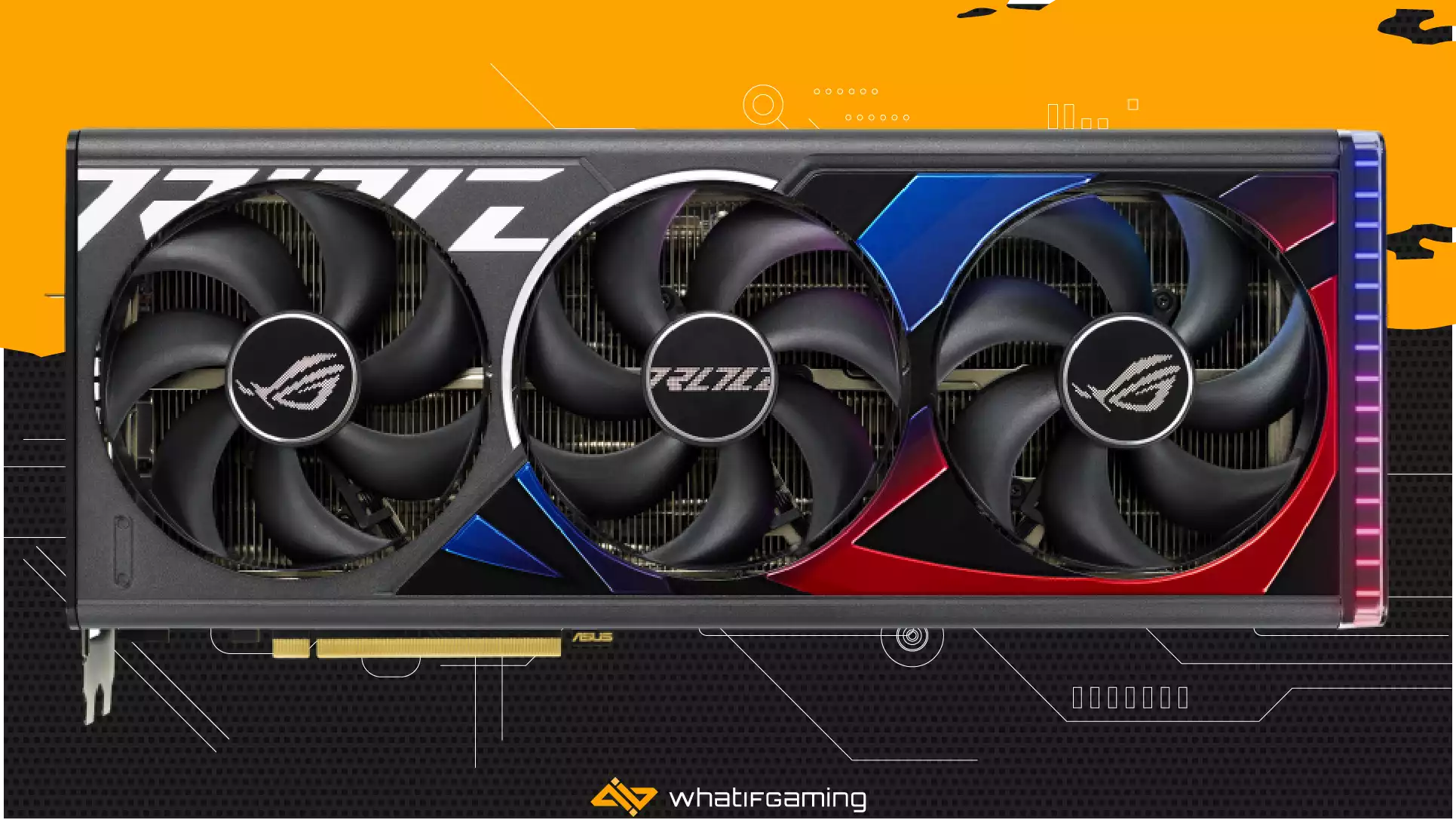 ASUS won us over with the colorful RTX 4090, and the trend continues with its similar take on its younger sibling. The Strix OC lands in second place, this time due to the ASUS tax. Other than that, its performance and cooling capabilities tie it with the Suprim X for best RTX 4080, making the Strix an excellent alternative for diehard fans.
It's unusual for GPU manufacturers to shake their designs up this much generationally, but we applaud ASUS for taking the plunge! The 4080 is an all-metal beast with an eye-catching shroud. A holographic red-blue pattern dominates most of it, begging to be displayed upright in a windowed case. Said case doesn't need to be huge since the Strix OC sticks to the 3-slot limit.
While a noticeable upgrade over the FE, ASUS's 4080 has much in common with the Suprim X. Their boost clock increases are identical, as is the improved VRM layout. The Strix OC also has a vapor chamber, albeit serviced by seven meaty heatpipes. The port selection and power cable are the same as on the FE. Both models also share notably higher power consumption requirements.
ASUS stuck to a more traditional dual BIOS choice, offering standard and quiet options for those who want less noise. Unlike on the Suprim, the choice matters little. We'd go with the standard option since it keeps the temperatures in the low 60s and low 30s, respectively.
You'd be right in assuming that the Strix and Suprim X perform similarly. Either will let you enjoy triple-digit 4K gaming before you even consider turning the new DLSS on. The upgrade over the Founder's edition isn't substantial, but a few extra frames here & there are nice to have.
The Strix OC's price is our only concern. ASUS asks for $250 more than the FE goes for, which is hard to justify when the cheaper but equally competent Suprim X exists. Unless you love the aesthetic, put the difference towards a better CPU cooler or more storage.
NVidia GeForce RTX 4080 Founder's Edition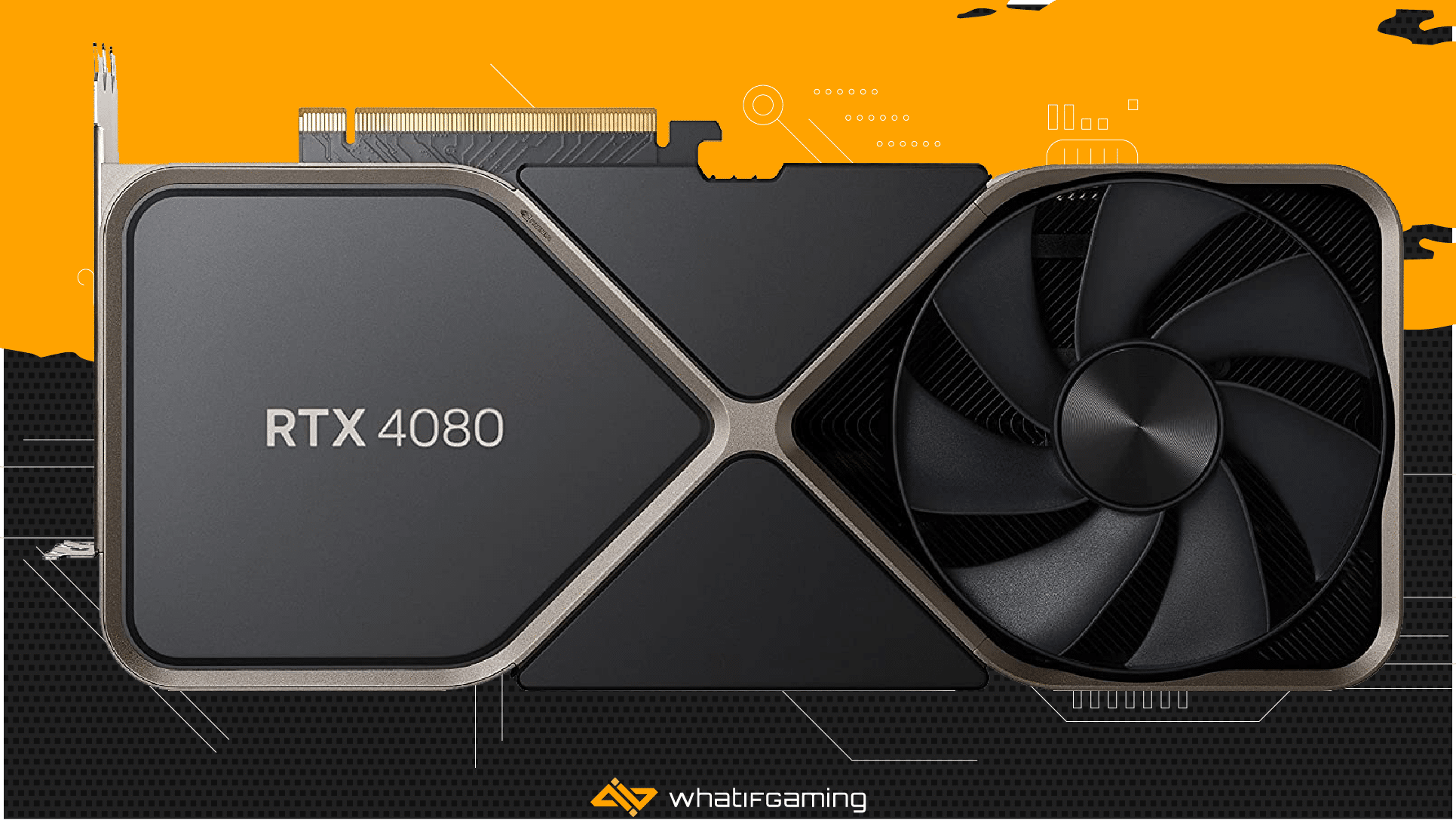 NVIDIA GeForce RTX 4080 Founder's Edition
Base clock: 2205MHz | Boost clock: 2625MHz | Memory: 16GB GDDR6X | Ports: 3x DP 1.4, 1x HDMI 2.1 | TDP: 450W
Pros:
Excellent gaming and productivity performance

Good temperature regulation

Major DLSS and RT improvements
Cons:
Still too expensive for most people
Barely a month after dropping the titanic RTX 4090, NVidia graced us with the less powerful, less ridiculously expensive successor to its flagship 3000-series gaming GPU. The RTX 4080 positions itself as a futureproof 4K option with a more modest power consumption and all the new technological advancements this generation brings.
The Founder's Edition presents a perfect opportunity to dive deeper into the RTX 4080's specifics. It's curtailed compared to the 4090, sporting 40% fewer streaming multiprocessors and associated cores. There's 4GB more VRAM on it than on the 3080 with a 256-bit bandwidth. That let NVidia cut costs by going with a smaller die to house the components on.
There's nothing smaller about the card itself since it's identical to the 4090 FE. You're getting the same beautiful and unusual design that uses a push-pull fan combination and a vapor chamber for effective heat dissipation. All of these take up space, so you'll have to free three slots up in your case to accommodate the card.
Power-wise, the RTX 4080 uses the new 12+4-pin cable with a max power draw of 450W. It stays much closer to 300W while gaming, so thermals shouldn't be concerning. Indeed, the Founder's Edition is a balanced model that keeps temperatures in the low 60s while not being too loud.
The RTX 4090 is in its own performance tier; the same can't be said for its younger brother. It has direct competition from the RX 7900 XTX, at least if you look at rasterized graphics only. They trade blows in this metric, either card's dominance depending on individual games more than anything else.
Still, the RTX 4080 is the better buy for more people. AMD is still catching up on the raytracing front. It has yet to come up with something to truly rival DLSS 3.0's new AI-generated frame insertion. The choice is even easier for non-gamers since NVidia remains the standard for 3D modeling and video editing.
PNY GeForce RTX 4080 Verto XLR8 OC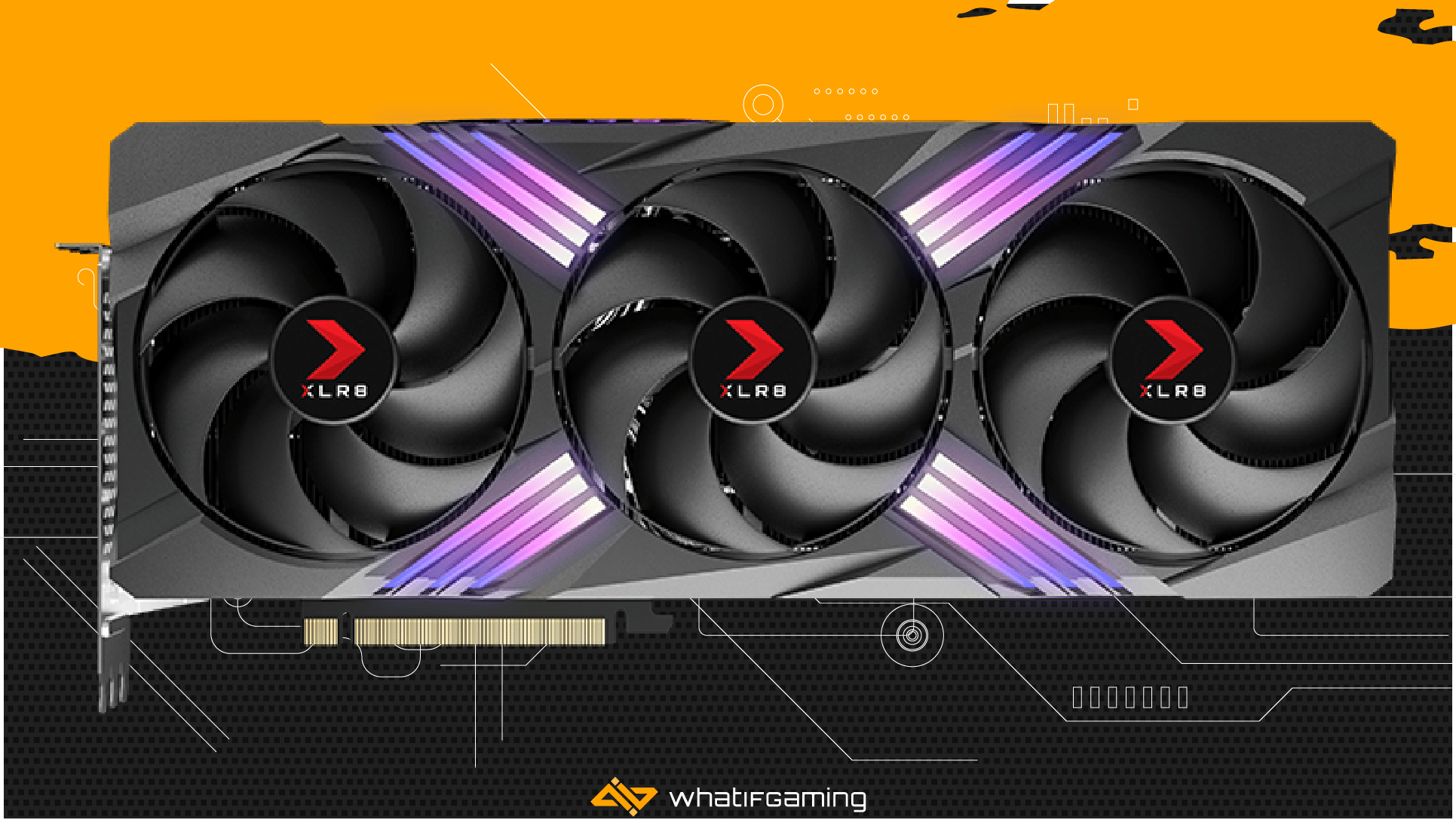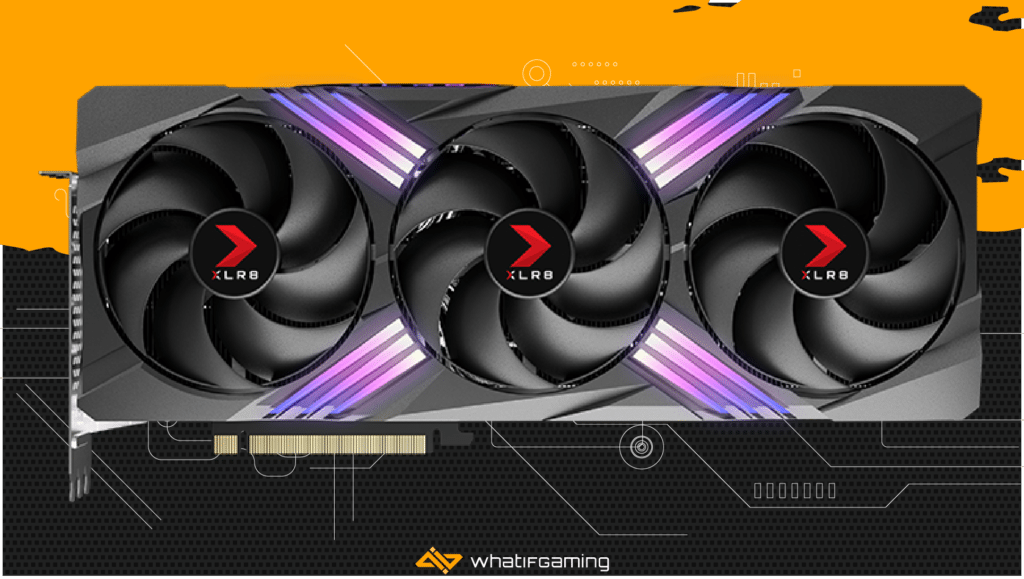 PNY GeForce RTX 4080 Verto XLR8 OC
Base clock: 2205MHz | Boost clock: 2550MHz | Memory: 16GB GDDR6X | Ports: 3x DP 1.4, 1x HDMI 2.1 | TDP: 450W
Pros:
Excellent value for the money

Very quiet

Cool RGB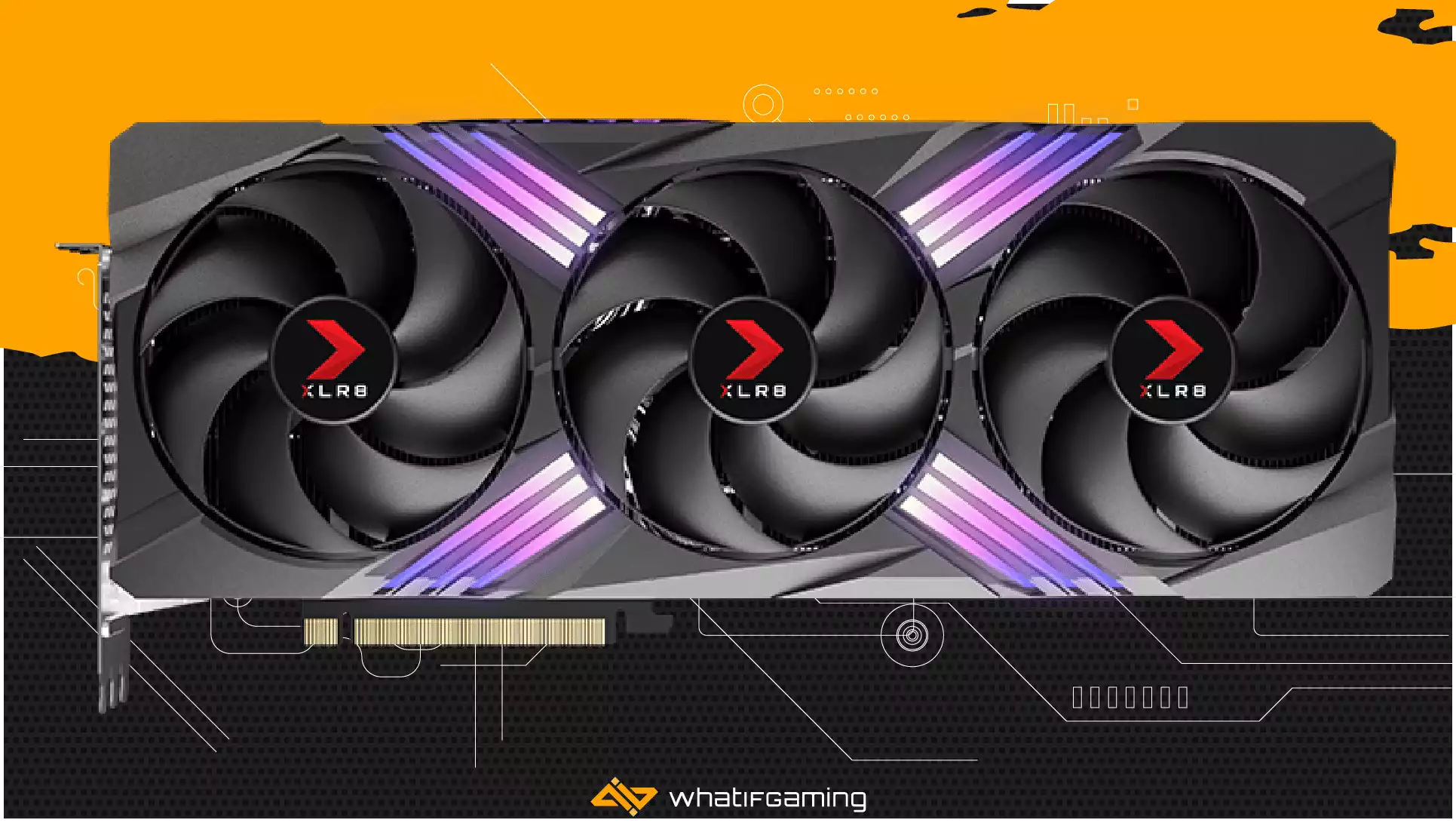 We haven't featured PNY in our GPU roundups before. Then again, the company had no original designs worthy of a spot. This changes today with the Verto XLR8! It's among the cheapest models available and quieter than most to boot. The only reason it ranks lower than the FE is the girth – not every motherboard and case combination can accommodate 3.5 slots.
Unpacked and unplugged, the XLR8 is a chunky card with a black metal shroud and bright red chevrons serving as a nice distraction. Turn your PC on, and the X in the middle lights up with RGB goodness. It's not as flamboyant as Palit's RTX 4090 GameRock OC, but it's close. Definitely another card you don't want to hide behind a solid panel.
You can get the XLR8 for less than the FE's MSRP, yet it still carries a 50MHz boost frequency uptick. PNY outfitted it with a less elaborate cooling solution than those on our first two choices.
There's no vapor chamber, as eight heatpipes contend with a standard cold plate's emissions. The PCB isn't as long as the shell, allowing air from the third fan to pass through the heatsink and out through the mostly empty backplate unimpeded.
You'd think simpler cooling and the card's 14+3 VRM phases would make it run hot, yet that's not true! It doesn't go past the mid-60s while remaining deeply in the 20s decibel-wise. Better yet, the modest overclock helps the XLR8 maintain FE-like power requirements.
Real-world performance closely lines up with the FE as well. The frequency nudge helps PNY's model score a frame or two more than you'd get out of NVidia's original in Elden Ring, for example, but that's about it. We're certainly not grumbling.
Gigabyte GeForce RTX 4080 Gaming OC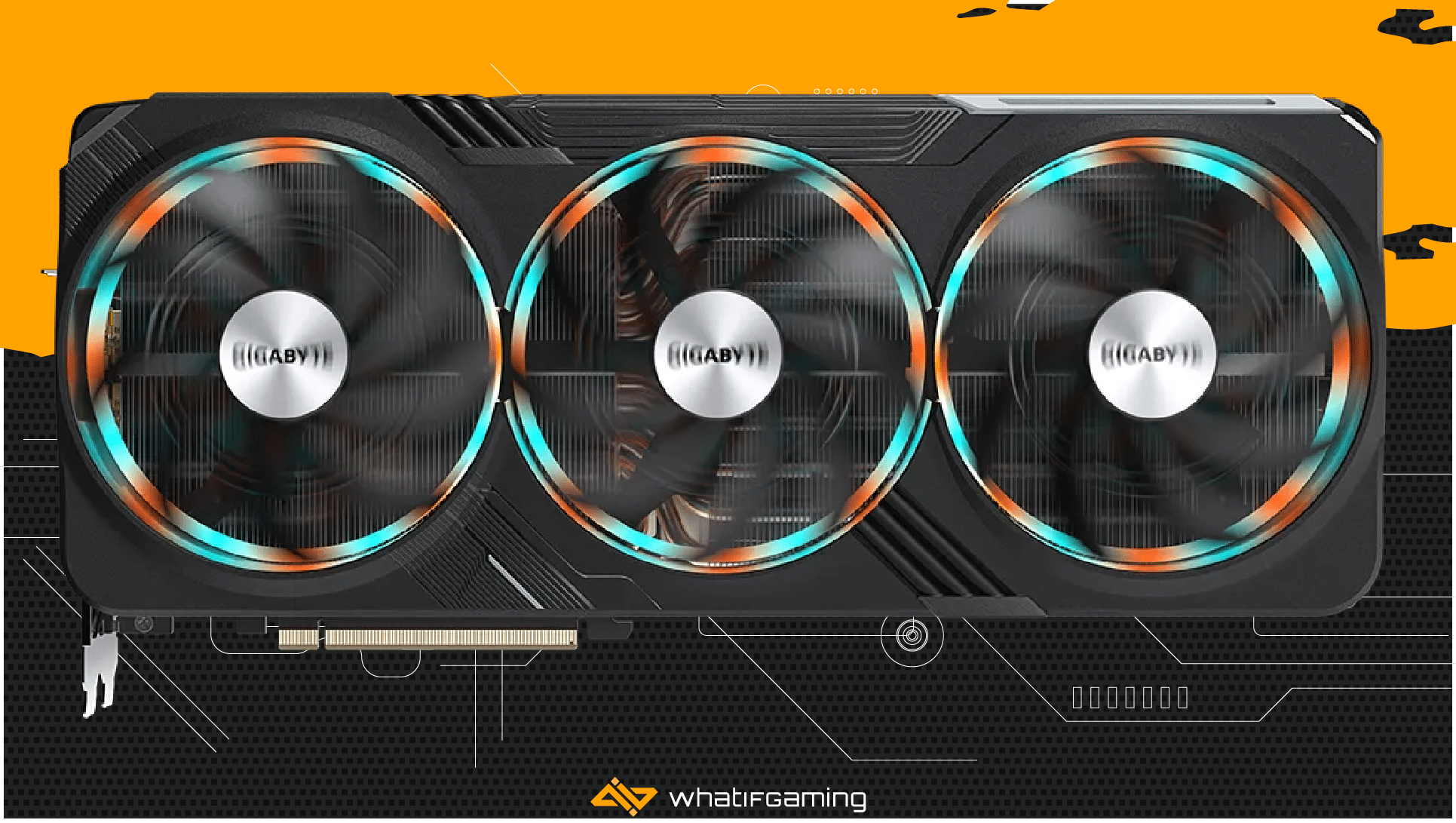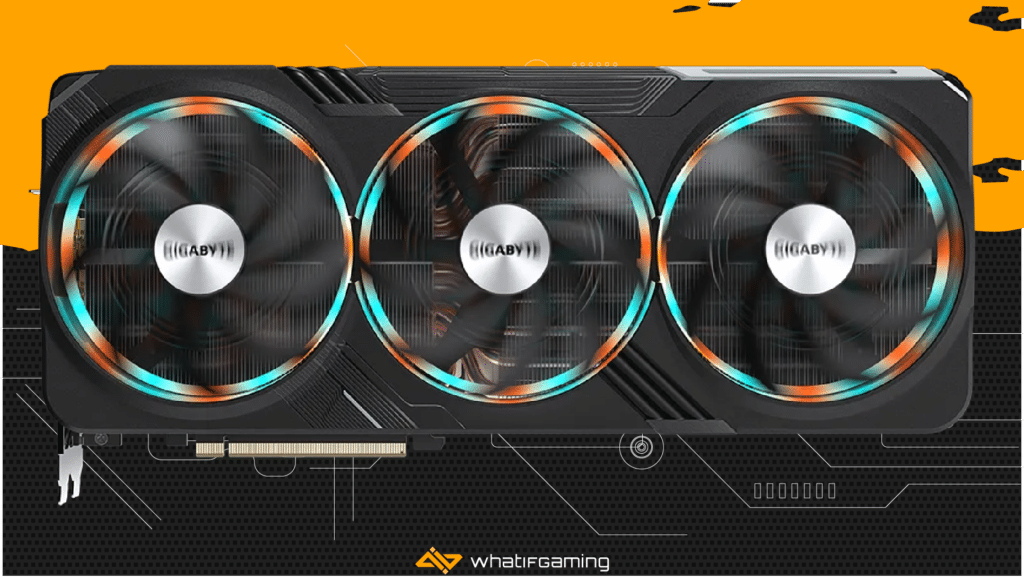 Gigabyte GeForce RTX 4080 Gaming OC
Base clock: 2205MHz | Boost clock: 2535MHz | Memory: 16GB GDDR6X | Ports: 3x DP 1.4, 1x HDMI 2.1 | TDP: 450W
Pros:
Good balance of price to performance

Excellent cooling

Nice RGB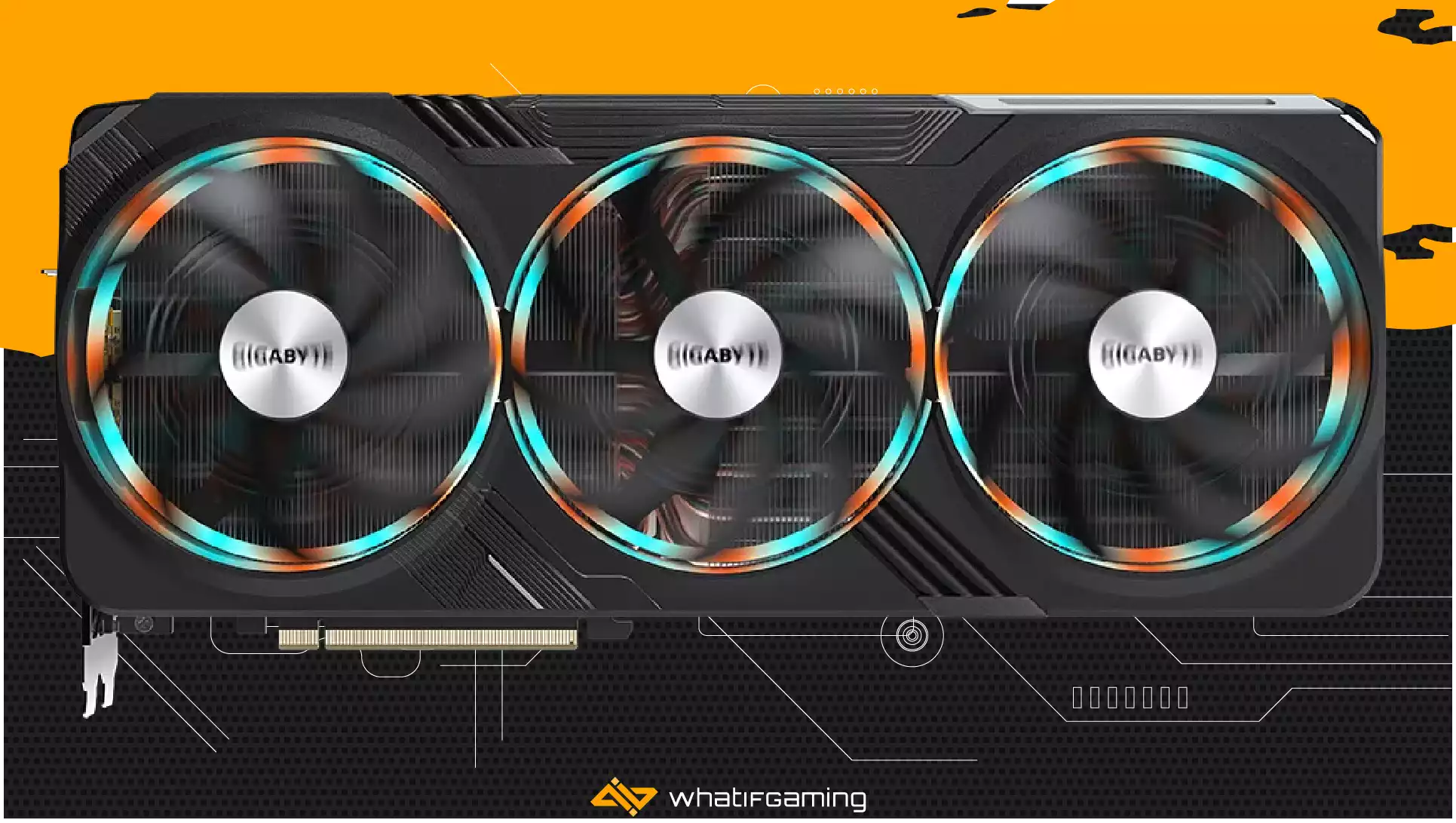 We're now setting our sites on Gigabyte's Gaming OC card, one of the best RTX 4080 options whether you're after the lowest temperatures. Too bad that neither BIOS setting is quiet, else it would have occupied a higher spot on our list. Even so, it's an excellent representation of the card and doesn't cost more than MSRP, either.
While it's far from unattractive, the Gaming OC is the least visually appealing card of the lot. Its black shroud is plasticky and lacks unique features that would make it as recognizable as any of our previous entries. That being said, it looks much better once those fans start spinning and the RGB starts glowing.
Ironically, the Gaming OC is our most modestly overclocked aftermarket choice. The 30 extra MHz its boost clock receives barely registers, serving marketing purposes more than anything else. On the flip side, expect power consumption to follow NVidia's baseline.
Kudos to Gigabyte for taking cooling seriously without raising the price. The Gaming OC is another card with a vapor chamber and hefty heatpipe squad. The VRM solution matches our winner's, which is another indication of the Gaming OC's excellent cooling potential.
You'll need more than three slots to house it. Luckily, the accessories contain a bracket you can mount onto your case's motherboard standoffs to secure the GPU against sagging.
Performance differs little from the FE, besting it by a couple of frames in a handful of titles at best. That's not why you'd get the Gaming OC anyway. Rather, you'll want this card for how cool it runs.
Leaving the BIOS switch untouched is a no-brainer since it drops temps down into the 50s. The card gets louder than the others even if you switch to the quiet BIOS, so stick to the original.
Zotac GeForce RTX 4080 AMP Extreme Airo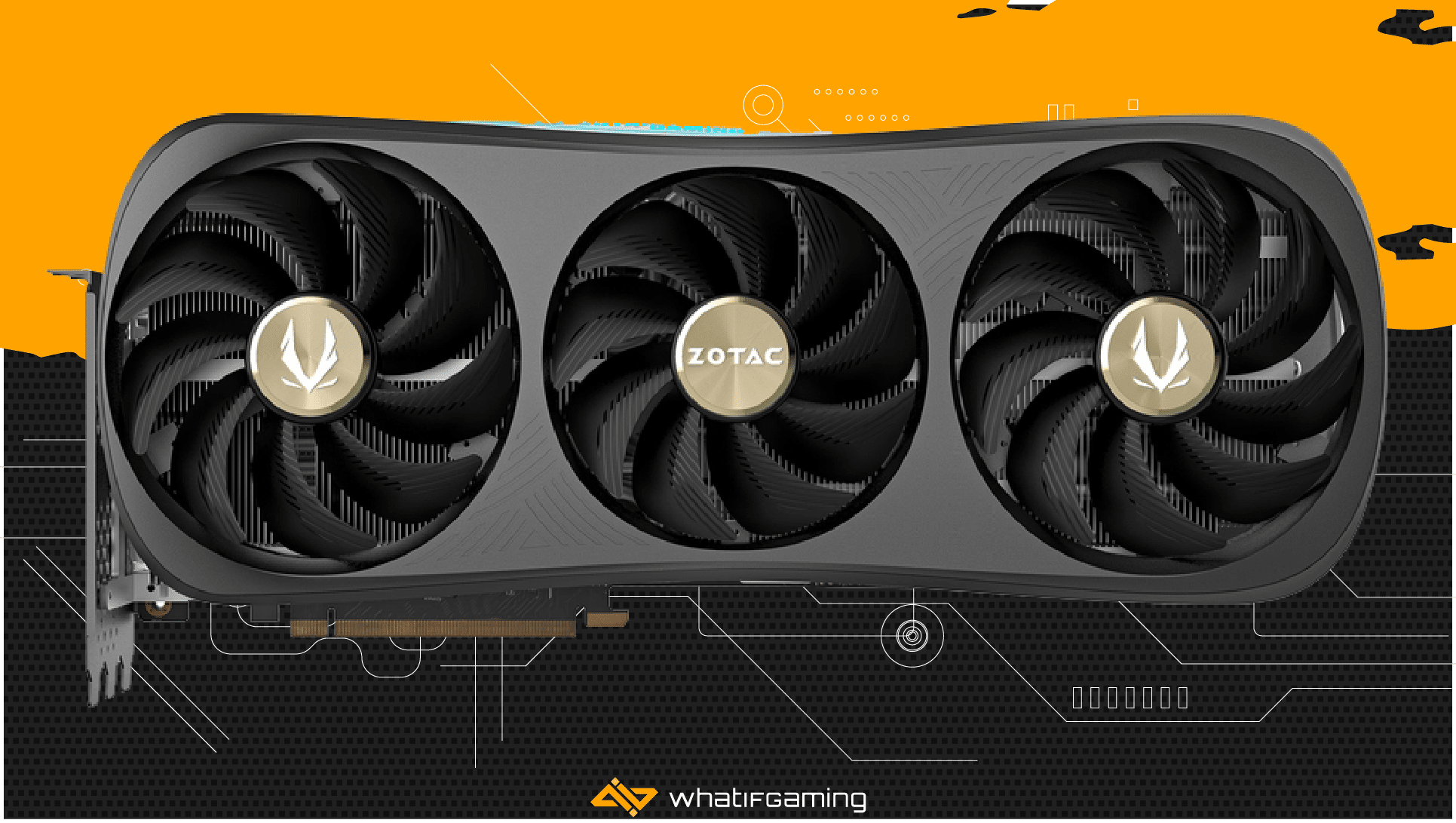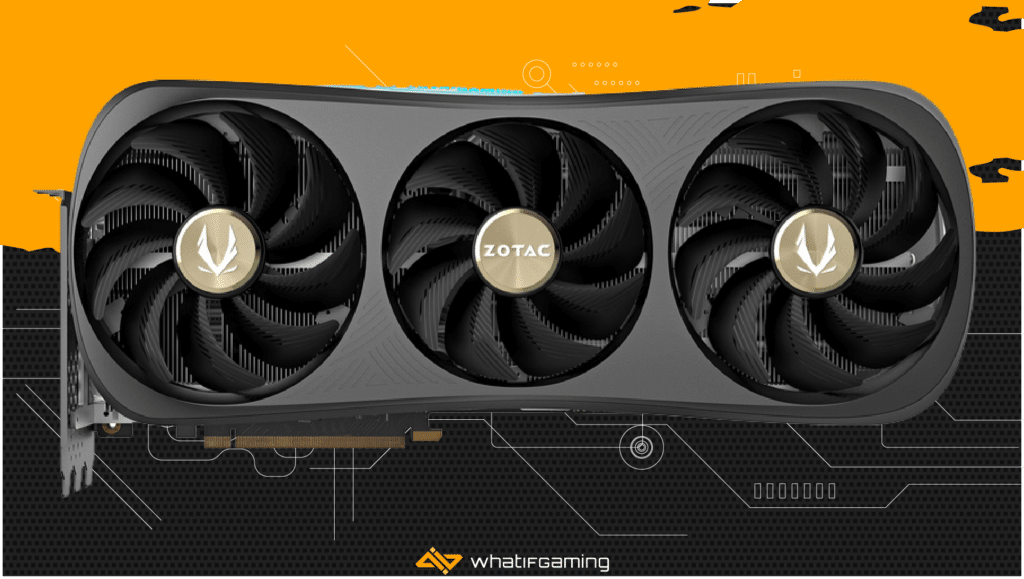 ZOTAC Gaming GeForce RTX 4080 AMP Extreme AIRO
Base clock: 2205MHz | Boost clock: 2565MHz | Memory: 16GB GDDR6X | Ports: 3x DP 1.4, 1x HDMI 2.1 | TDP: 450W
Pros:
Unique appearance

Good power consumption

Decent performance
Cons:
Potentially expensive for what it offers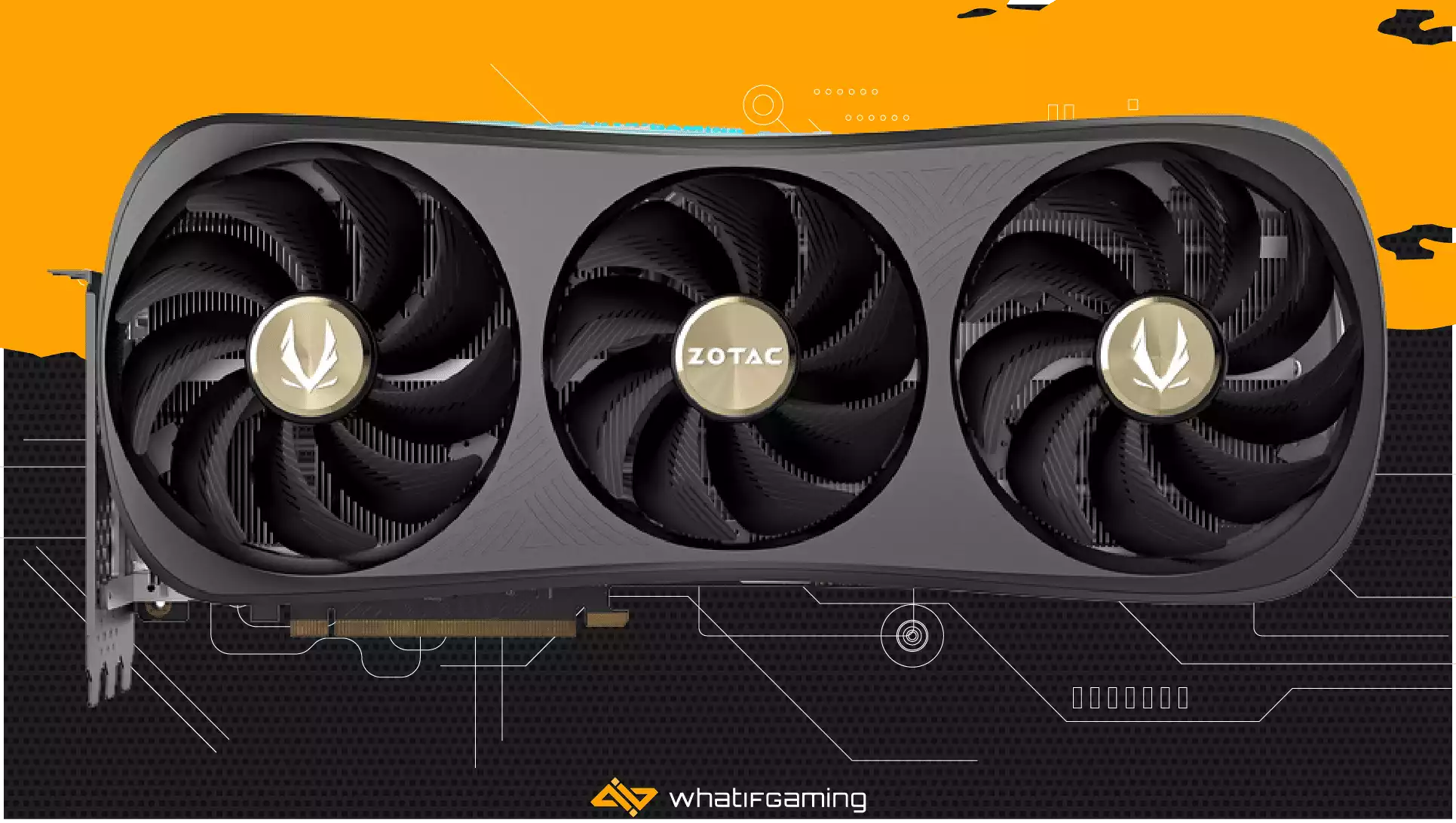 It's a testament to third-party GPU makers' engineering prowess that all except our two first picks are interchangeable. The only reason why Zotac's AMP Extreme Airo card is last on our list is its cost in some markets and its comparatively lackluster temperature-to-noise performance. On the other hand, it's hands down the best RTX 4080 if you're looking for unique visual flair.
We have to hand it to Zotac for thinking outside the box. Or rather, outside the rectangle! Whereas almost all GPUs since way back when have angular designs, the AMP Extreme Airo breaks conventions with its seductively curvy shroud and backplate. Moreover, a unique RGB pattern on the top and outlining the logo ensures the card gets the attention it deserves, whether it's light or dark out.
Not everything about the Airo is for show. Its 60MHz boost frequency increase is average but better than on Gigabyte's model. Interestingly, Zotac went all out with the VRM and secured 24 phases for the GPU. That way, individual phases have far less time to get hot.
Not that this would matter much, as the Airo has nine heatpipes that take care of any heat buildup. There's no vapor chamber, but the classic baseplate and robust heatsink array do their job. Taking up only three slots is another plus.
This is another thrifty model that closely follows the FE's power consumption curve in all scenarios except idling and when using multiple monitors. It offers two BIOS options you access by pressing a button instead of toggling a switch. Doing so doesn't matter much. You gain a degree while losing a decibel point by going quiet, so we'd rather not.