We've had to wait five long years since the last installment, but a new Gran Turismo game is finally upon us! It's shaping up to be one of the series' finest releases, with something for new fans & diehard veterans alike. Expect better physics, even more realistic models, and the return of fan-favorite features like used car sales. All you need to do to get ready is to grab the best steering wheel for Gran Turismo 7, and this guide will help you hit the road in stride.
Our Best Steering Wheel for Gran Turismo 7 Picks at a Glance
Thrustmaster T300 RS GT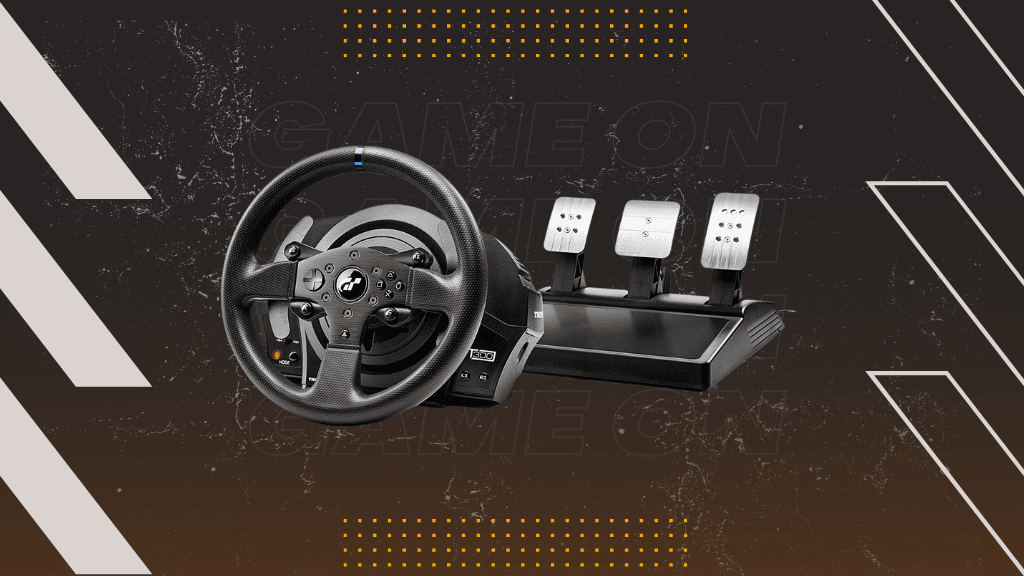 Rim size: 11" | Rotation span: 1080° | Resistance type: Belt-driven Force Feedback | Comes with pedals: Yes
How could there be a better pick for the best wheel for Gran Turismo 7 than one designed specifically for the acclaimed racing franchise? Thrustmaster took the already solid T300 RS and made its GT edition even better by addressing the original's biggest flaw. Equipped with new pedals, the wheel is ready to offer a superbly realistic racing experience.
Not much has changed in the GT's appearance compared to the original. The wheel is still almost as large as one you'd find in a real car and has a grippy leather surface. It's easy to reach the PS commands in front, and the metal shifter pedals are responsive. They rotate along with the wheel, so you can use them to shift gears in tight corners. A Gran Turismo logo in the middle is the only hint that this version is special.
The pedals are the most significant step up and a welcome addition. The original set only had two. These had several plastic parts that made the set less stable and could sometimes cause an input delay. The new set contains a clutch, and all three pedals are made from sturdy metal. You'll want to spring for one of Thrustmaster's shifters to get the full effect for the clutch, but gas and brake pedals work flawlessly. You even get a mod that lets you increase the force it takes to brake.
Speaking of force, the brushless motor and belt system provides silent and highly responsive force feedback. The 300 RS GT reacts even to minor differences in surface, letting you feel as if you've really transitioned from tarmac to asphalt or dirt.
Quality control is our only quibble with this wheel. Most racers are happy with their purchase, but the wheel sometimes stops working after a few months of use. Contact customer support if that happens to get a replacement.
Logitech G923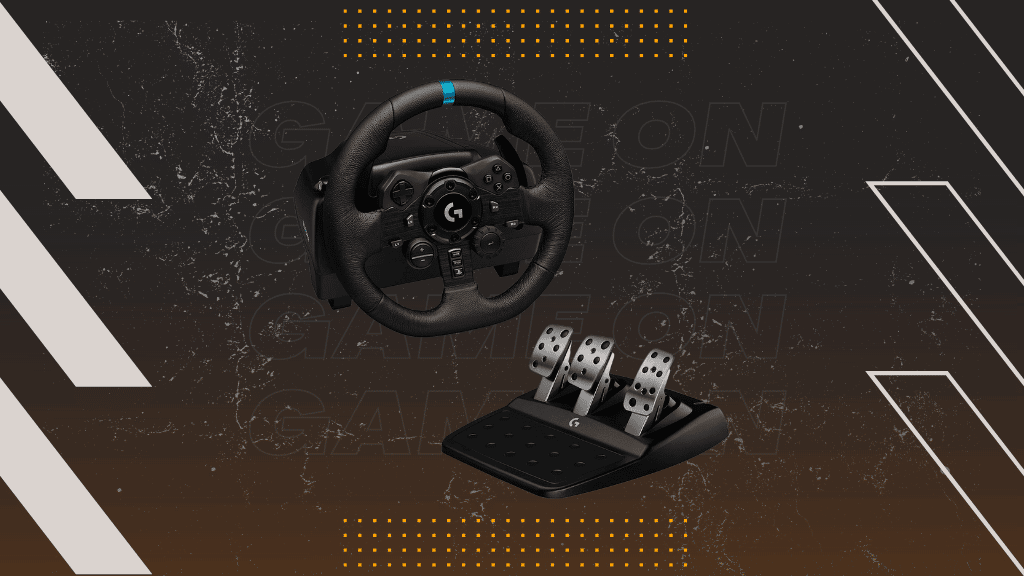 Rim size: 10.6" | Rotation span: 900° | Resistance type: Motor Force Feedback | Comes with pedals: Yes
Racing game enthusiasts buy wheels to drive more precisely and get a better feel for the track they're on. Many models handle the first part competently, but none match the G923 when it comes to recreating the feeling of sitting in an actual cockpit. It uses an innovative software called Trueforce to simulate the conditions inside a car and out. However, it's an excellent buy even if you're playing games that don't support the feature in anticipation of the next Gran Turismo.
The G923 is a refinement upon the venerable G920. While not much has changed appearance-wise, the fit & finish are a definite step up. The input buttons' brushed metal texture meshes well with the wheel's genuine leather. The gear paddles are somewhat stubby, but reaching them or any other control is easy.
Trueforce is a convincing argument for placing the G923 near the top of our best steering wheel for Gran Turismo 7 list. It's software that taps into select games as you're driving, using real-time data to enhance the haptic feedback the wheel delivers. It adds extra touches like the rumbling of the engine while stationary or nuanced responses when you brush up against the side of a track. You can try the feature out in Gran Turismo Sport while waiting for the sequel.
Logitech did a great job with the pedals too. They come with a heavy base, which you'll love since using the brake takes considerable force. Conversely, the accelerator glides smoothly for satisfying pedal to the metal action.
The G923 is robust and intuitive as a racing wheel, but the same can't be said about its mount. It's plastic and limited to tables that are an inch or so thick or less. You might want to measure yours before purchasing to prepare in advance.
Thrustmaster T248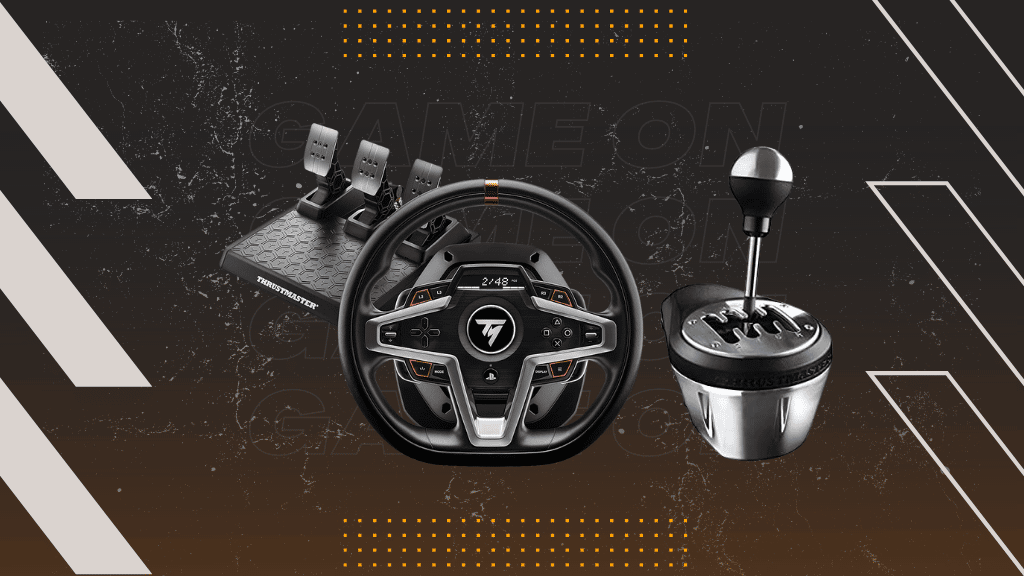 Rim size: 11" | Rotation span: 1080° | Resistance type: Hybrid Force Feedback | Comes with pedals: Yes
Unlike with other gaming peripherals, new steering wheel releases are few & far between. Most candidates for the best steering wheel for Gran Turismo 7 have been out for years, but Thrustmaster has a new model that will likely shake things up! The T248 saw its debut in 2021 and is a worthy replacement for the company's older mid-tier models. It has a fancy new display, comes with great pedals, and it will make you think twice about investing in Logitech.
The T248's appearance is polarizing. Purists might dismiss its look as not befitting an actual sim wheel, but we think the gaming aesthetic fits well. The frot is finished in silver, and the rim has a comfortable, partially leather surface. The wheel is lighter than most in its price range, meaning you'll be more likely to put it away when not needed and set it up again for casual use.
There's nothing casual about the T248's racing chops, though. It has a hybrid system that uses belts and gears to convey force feedback. The results are a bit stiffer than on the G923, and the resistance the wheel puts up when tackling demanding curves is lessened. The T248 has a helpful LCD screen for displaying pertinent info like the gear you're in, current speed, or elapsed time. It also indicates which of the three force feedback settings you're currently using.
We're glad to see Thrustmaster is no longer cheaping out on pedals, regardless of price. You can't have the best racing wheel for Gran Turismo 7 and shoddy pedals to go along with it, after all. The set you get here is comparable in quality to the T300 RS GT. It has more plastic bits and needs reinforcing to remain in place, but that's beside the point. You get the same kind of brake mod as with the more expensive wheel and can adjust the pedal spacing as well as reposition the accelerator pad up or down.
The shifter pedals aren't in line with the rest of the T248's build quality. They're stiff, loud, and considerably less pleasant to use than the paddles on the T300 RS GT.
HORI Racing Wheel Apex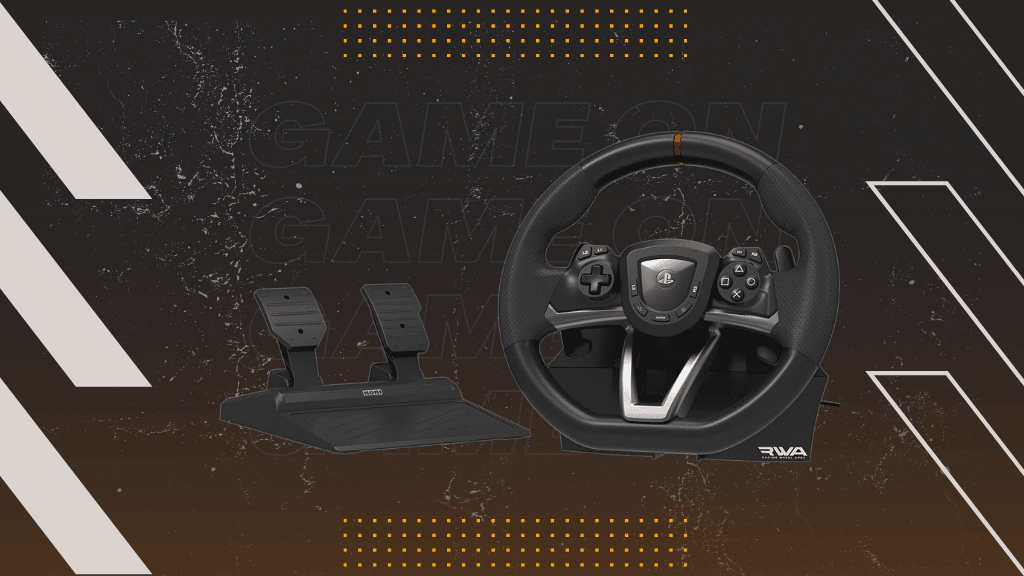 Rim size: 11" | Rotation span: 270° | Resistance type: Bungie Cords | Comes with pedals: Yes
Gamers serious about their racing sims can spend thousands of dollars to create realistic and godly-looking setups. On the other hand, what if you're unsure about the hobby and want to dip your toes in without paying a premium? Hori has the answer in the form of the Apex, a model that won't even cost you $100. It's the best steering wheel for Gran Turismo 7 if you just want to experience why wheels are superior to controllers and see where to go from there.
We were pleasantly surprised by the build quality given the Apex's low price. Yes, it's plastic and rubber instead of metal and leather. Even so, getting a comfortable grip is easy, and the buttons feel just a bit mushier than ones on an original controller. You may also configure the wheel to suit your needs better by adjusting its dead zone size or reducing the rotation from 270° to 180°.
The feedback the Apex provides is decent as long as you take it for what it is – an arcade racing wheel. There's no dedicated force feedback as bungie cords simulate the resistance you get when turning. That resistance is also less pronounced, so younger gamers can have a go too. While not proper force feedback, you do get a rumble motor that packs more of a punch than a controller could.
The pedals are a mixed bag and the Apex's overall weak point. Their stand is small and light. However, you can flip its bottom part out to reveal a footrest. You'll need it; otherwise the stand would move around too much. The pedals themselves are another matter. They're entirely made from plastic and feel flimsy.