Specs:

Thermal Conductivity: 12.5 W/mk
Amount: 1g - 37g

Specs:

Thermal Conductivity: 73 W/mk
Amount: 1g

Specs:

Thermal Conductivity: Not specified
Amount: 10g

Specs:

Thermal Conductivity: 7.5 W/mk
Amount: 2g - 8g

Specs:

Thermal Conductivity: 9 W/mk
Amount: 5g

Specs:

Thermal Conductivity: 8.5 W/mk
Amount: 1g - 10g
The past few CPU generations have been giving off more and more heat, and cooling manufacturers are coming up with impressive new designs to keep up. However, chances are your PC will go nuclear if there's no thermal compound to bridge the gap and efficiently conduct heat toward the cooler. The best thermal paste can make a real difference in such cases.
There are dozens of TIMs out there, all promising extraordinary results. Almost any thermal paste is good enough, especially if you're running a mid-range gaming PC you don't plan on overclocking. Pushing your rig past factory settings requires something more refined, though. There's no room for confusion, as we've cherry-picked the finest compounds for either use case.
Thermal Grizzly Kryonaut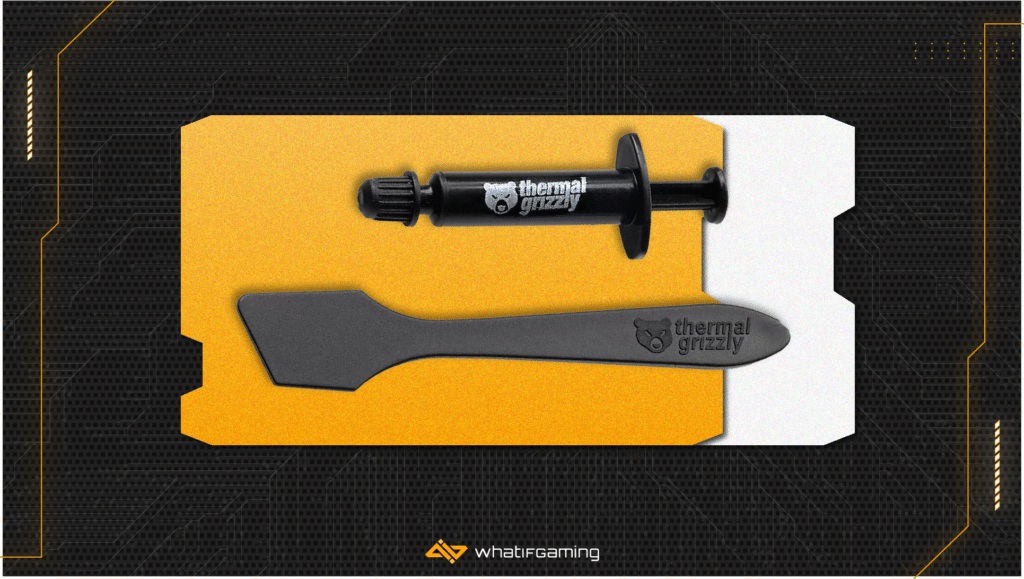 Thermal Grizzly Kryonaut
Thermal Conductivity: 12.5 W/mk | Amount: 1g - 37g | Conducts electricity: No
Pros:
Excellent performance

Reliable throughout wide temperature range

Easy to spread with included spatula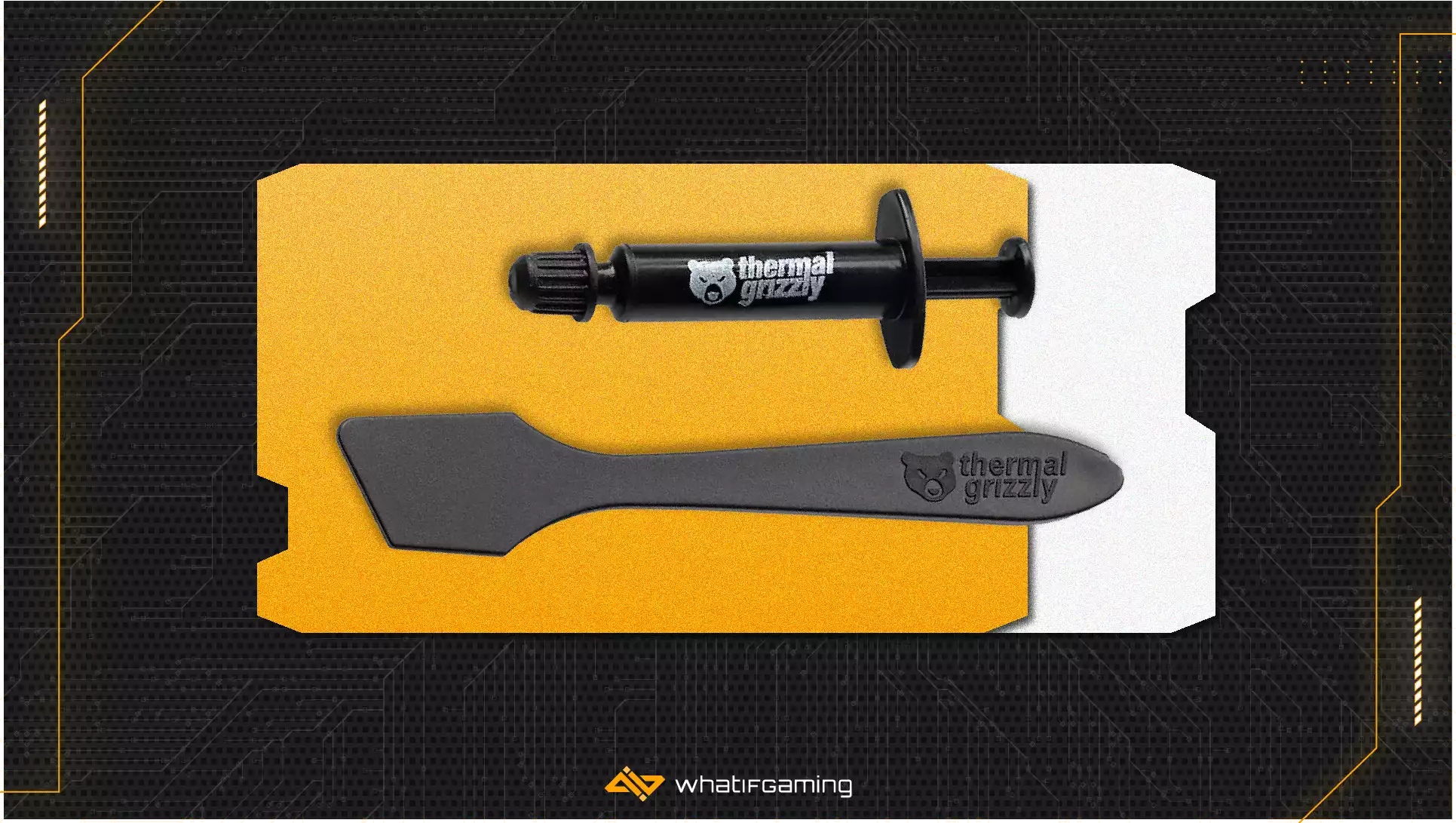 The Kryonaut has been synonymous with TIM excellence for years and remains the best thermal paste for CPU overclocking today. Provided you're a regular user who doesn't want to dabble with liquid metal, that is.
Unlike most manufacturers, Thermal Grizzly ships its compound in a zip-lock bag proclaiming its impressive performance in multiple languages. Inside, you'll find a black syringe containing anywhere from a single gram to 37g of the stuff, along with a handy spatula. You'll pay a pretty penny for the stuff compared to many of our other suggestions. Still, 1g should suffice for 2-3 applications on your high-end gaming CPU.
Newbies and thermal paste pros can use that spatula for easy application. The Kryonaut is among our least viscous ceramics-based recommendations, meaning it's runny and quickly covers the IHS. That lets you apply a thinner coating which dries quicker and adheres better.
Few ceramics-based compounds can match Kryonaut's performance. It enables any cooling solution to shine and is even engineered to withstand temperatures well below freezing. Got some liquid nitrogen and a motherboard like the Z790 AORUS Master lying about? Then this is the perfect TIM to pair them with.
Thermal Grizzly Conductonaut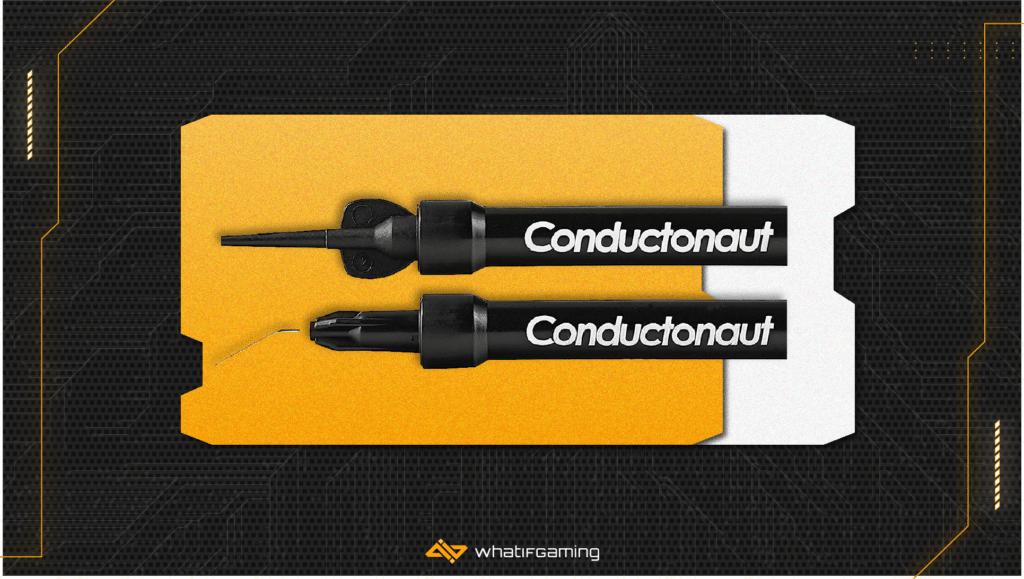 Most TIMs are made from ceramics suspended in a proprietary blend. They're all 99% of users need to enjoy healthy CPU and GPU temps. But what if that doesn't satisfy you, and you're after the best thermal paste, period? For that, we turn once more to Thermal Grizzly and their world-class Conductonaut liquid metal solution.
As the name implies, the Conductonaut is a metal-based compound in liquid form that boasts impressive thermal conductivity. It's very efficient but tricky to work with, so you're better off with any of our other picks if you're new to PC building.
That said, Thermal Grizzly went out of its way to help with the installation process. Apart from the 1g syringe, you get tightly-woven black Q-tips that won't unravel during application and a tiny nozzle attachment that helps you precisely position and measure the required liquid metal amount.
For best results, you should delid the processor before applying. It's challenging and voids the warranty – do so only if you have the required experience. The compound goes onto the cooler's contact plate and should be applied as thinly as possible.
What does all that trouble get you? World-class temperatures on hot CPUs like the 13900K, whether it's idling or stressing all cores while you run AIDA64.
Noctua NT-H1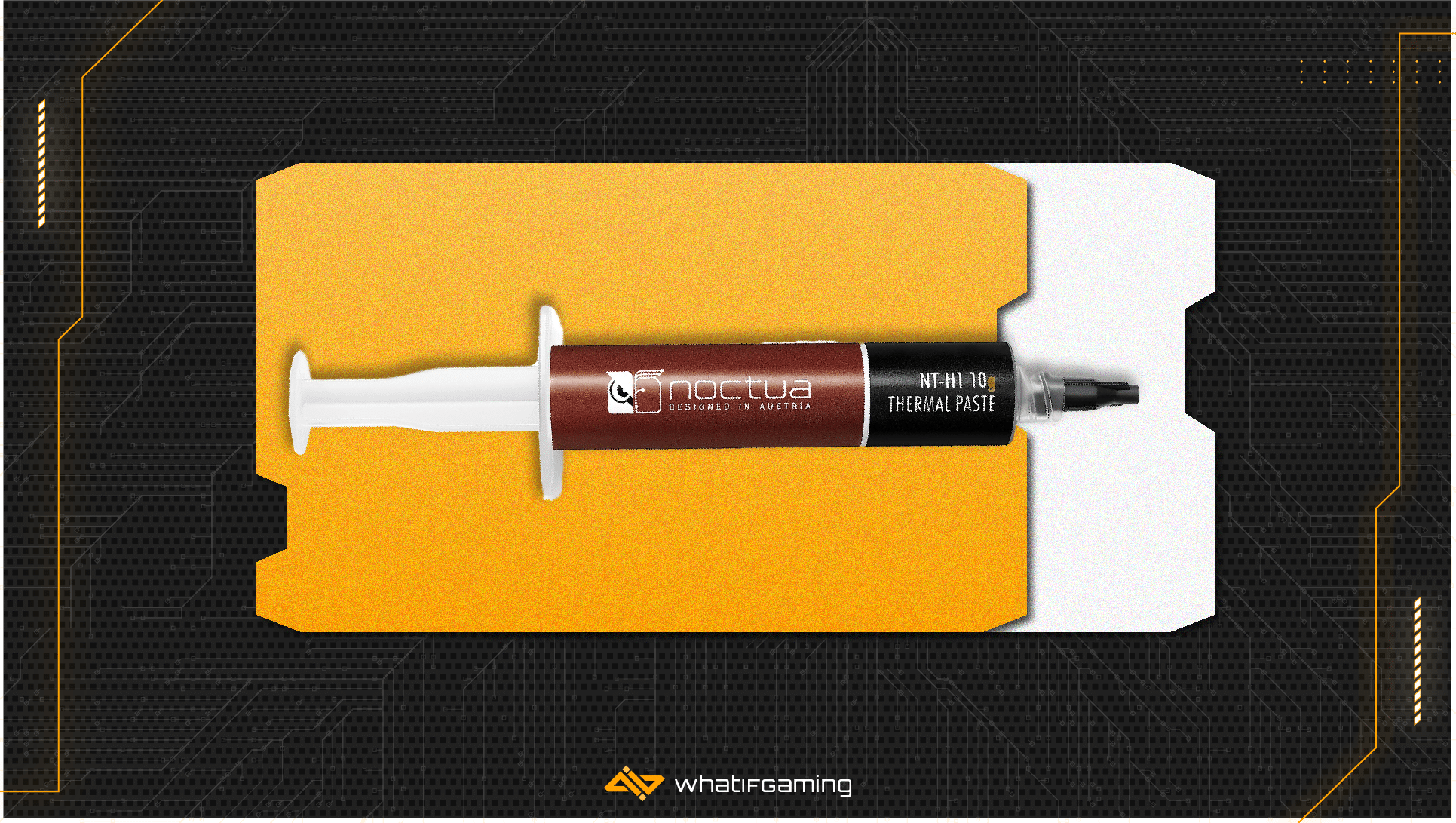 Noctua NT-H1
Thermal Conductivity: Not specified | Amount: 10g | Conducts electricity: No
Pros:
Excellent value for money

Large syringe for many applications

Great initial performance
Cons:
Performance starts to decline after several months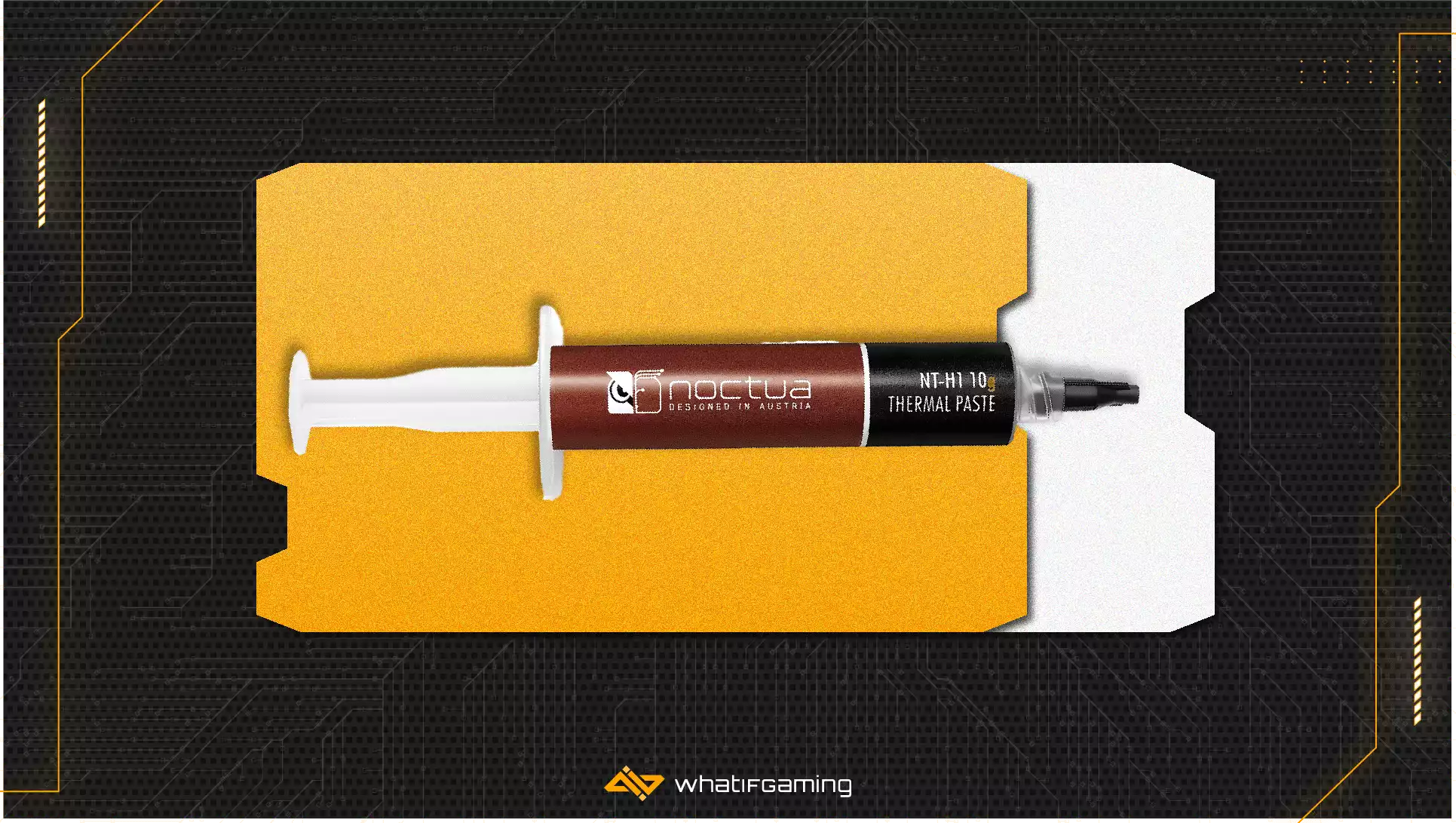 Our top contenders allow the world's fastest gaming chips to go for record-breaking overclocks. What if you just want your CPU to run cool without spending a premium? Noctua might make some of the most expensive air coolers, but it also produces the best thermal paste for budget buyers! The NT-H1 has been around for longer than some of our readers. Even so, it rightfully remains a top recommendation.
Noctua also sells the NT-H2, a more expensive paste that performs better. The NT-H1 is a much better deal in comparison since it lags by only a degree or two, according to Noctua's official benchmarks. The company refuses to disclose either TIM's thermal conductivity stats, prompting users to experience the difference rather than blindly follow numbers.
Ten grams of the NT-H1 arrive in a Noctua-brown syringe without any helpful tools. The generous amount allows for a lot of trial & error, and the three wipes you get alongside the paste help clean any accidental motherboard spillage. The compound itself is on the more viscous side, meaning it's not runny and will stay in place easier once applied. Doing so is straightforward.
Despite costing much less than many alternatives, the NT-H1 holds its own. It performs slightly worse than the Kryonaut, making it a much better investment.
ARCTIC MX-6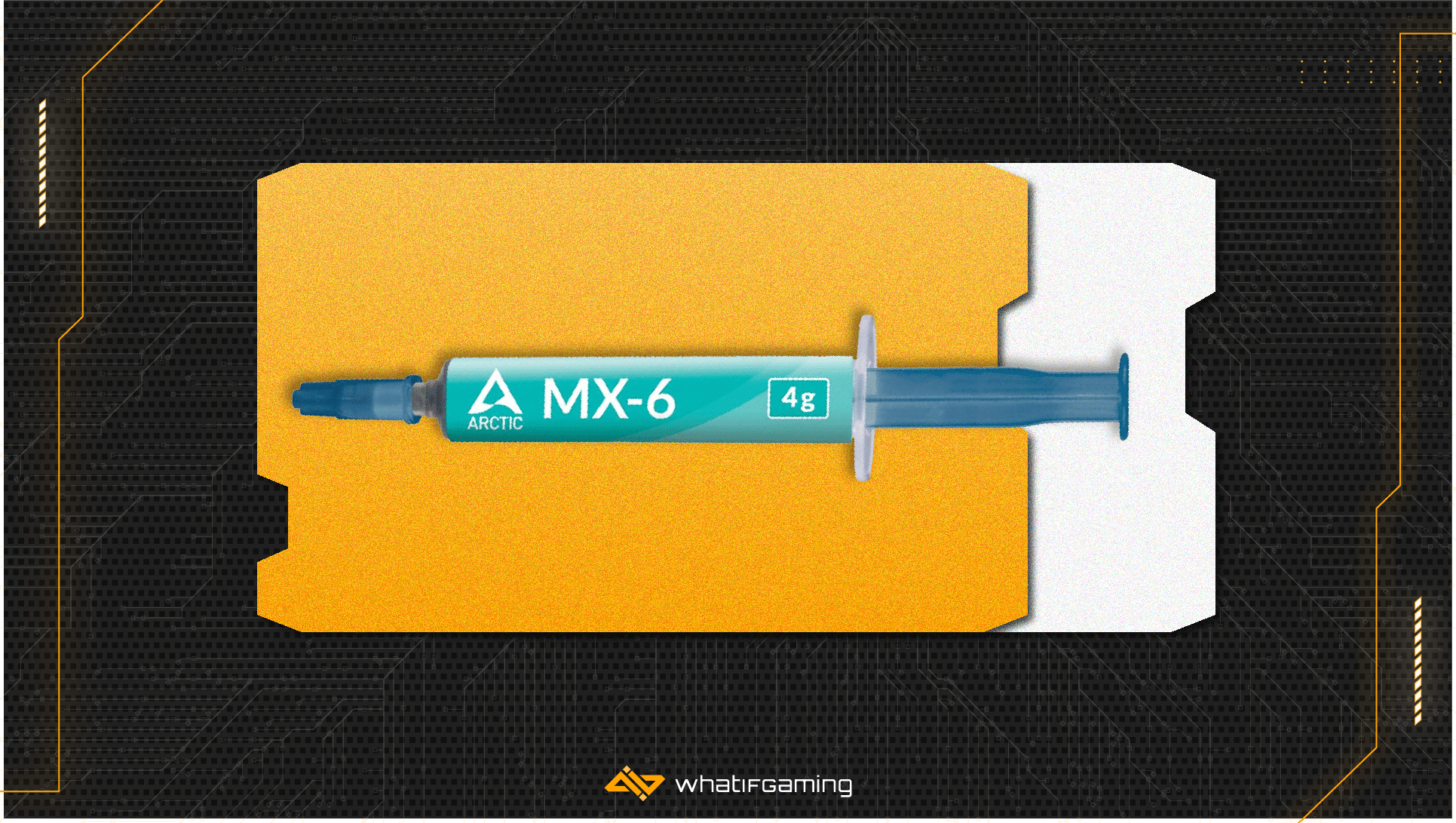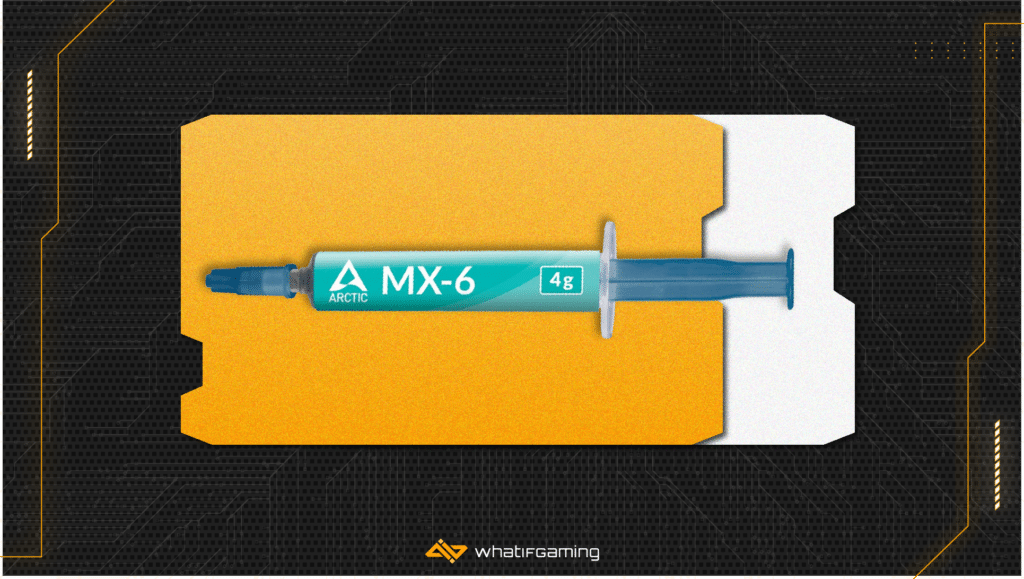 ARCTIC MX-6
Thermal Conductivity: 7.5 W/mk | Amount: 2g - 8g | Conducts electricity: No
Pros:
Straightforward application and dosage

Not as runny as its predecessors

Solid performance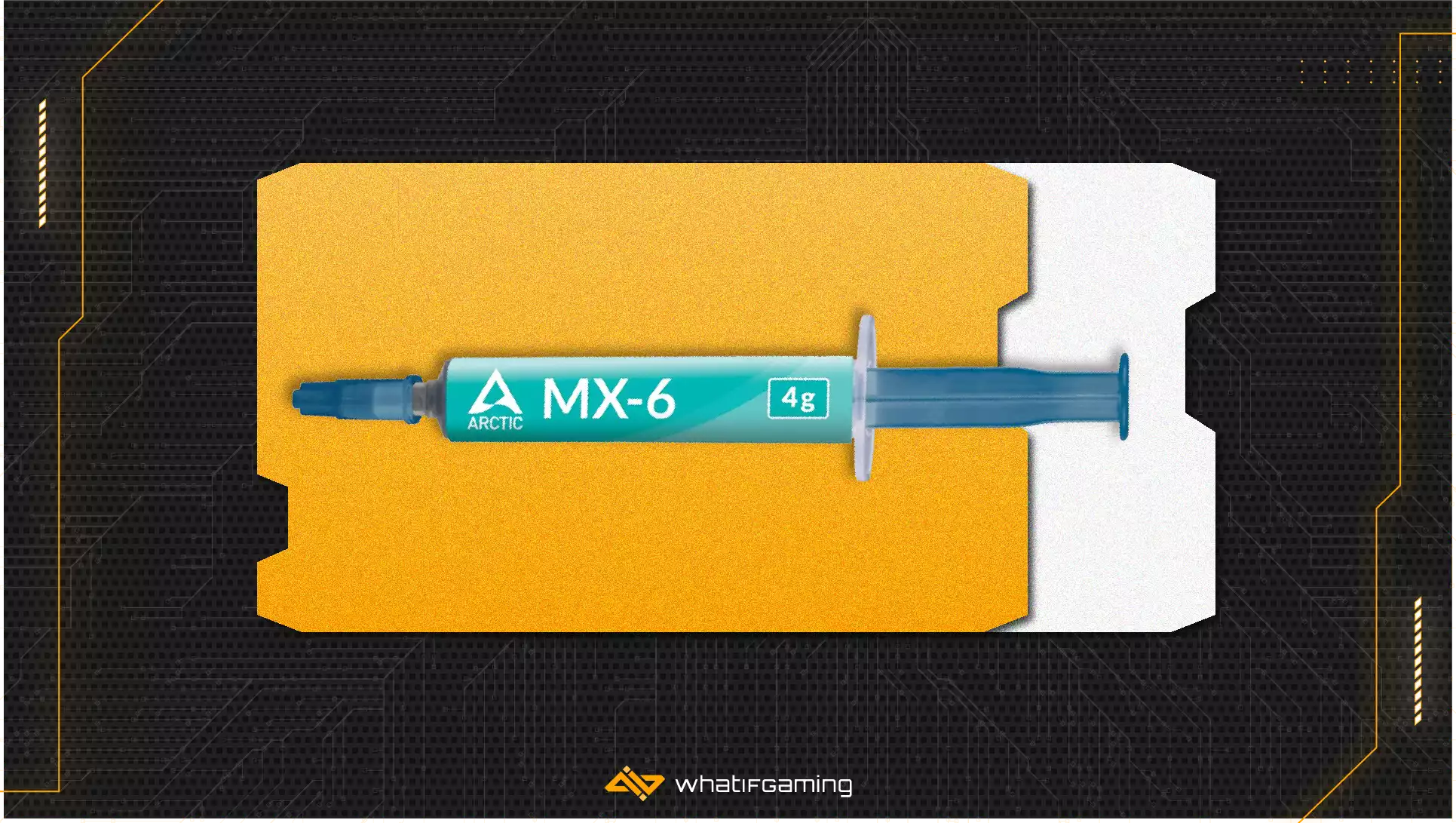 The MX-4 is the go-to paste for many PC builders due to its ease of application and good results at an acceptable price. Other than developing some of our favorite coolers, Arctic has also invented a brand-new version of their paste, the MX-6. The company claims it's their best thermal paste yet, with results up to 20% better than with the MX-4.
Arctic ditched the series trademark blue packaging, opting for a cool teal instead. The paste is available in 2, 4, and 8g quantities, each within the same syringe. A smart move that saves on packaging costs – just make sure you're getting the right amount. Apart from the paste, you get six citrus oil-based wipes to clean TIM gunk off your CPU and cooler before applying it anew.
Figuring out how much paste to use is usually a matter of guesswork and experience. Arctic helped minimize the former by creating circles on the syringe's wrapper, each corresponding to a single use. MX-4 was notoriously runny. Its second-generation successor is noticeably more viscous and stays in place more reliably.
The improved efficiency claims are up in the air. Some reviewers come close to Arctic's results, while others see little difference. Whether Arctic phases the MX-4 and MX-5 out or not, we feel comfortable recommending the newest version over them.
Cooler Master MasterGel Pro V2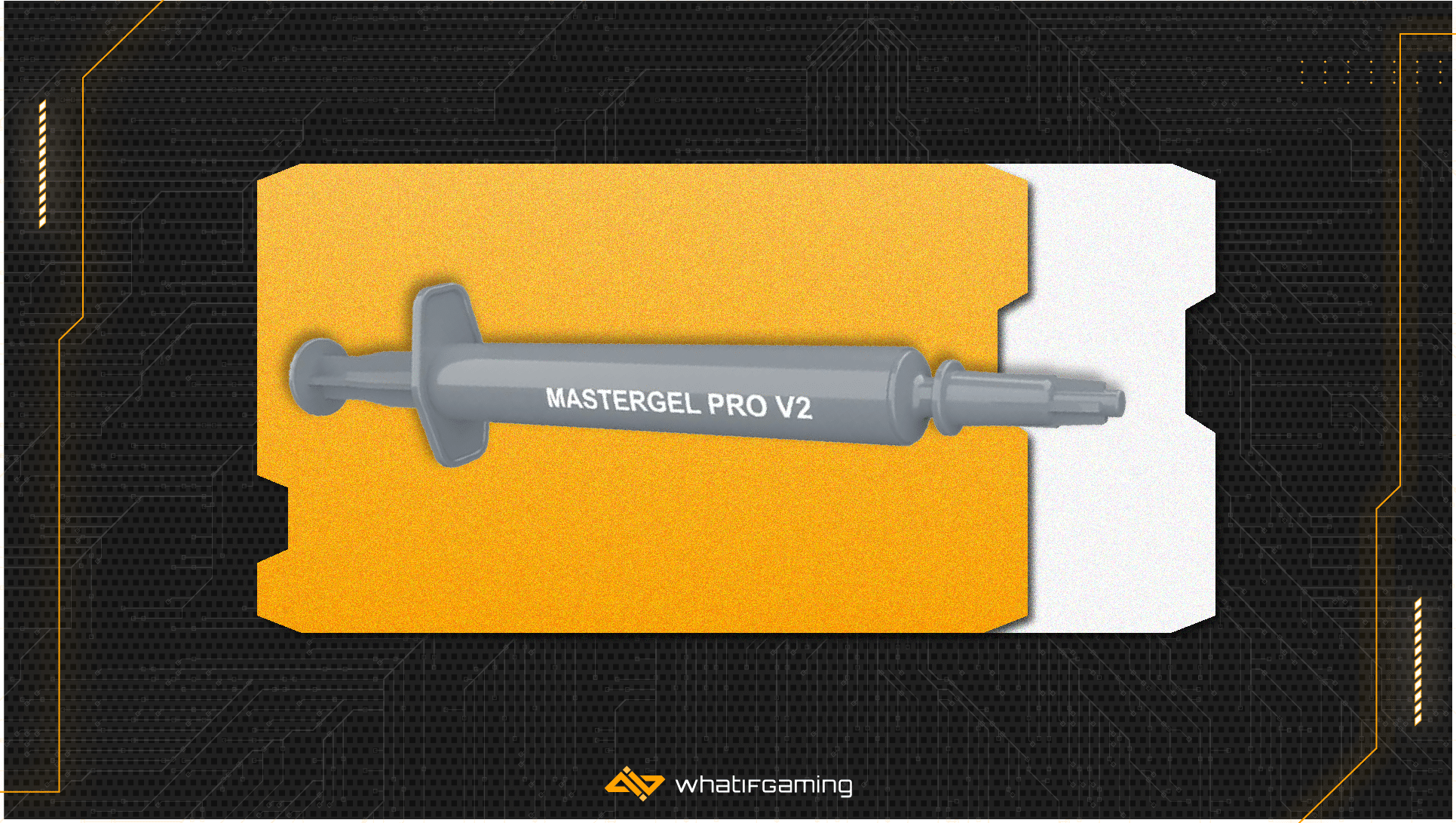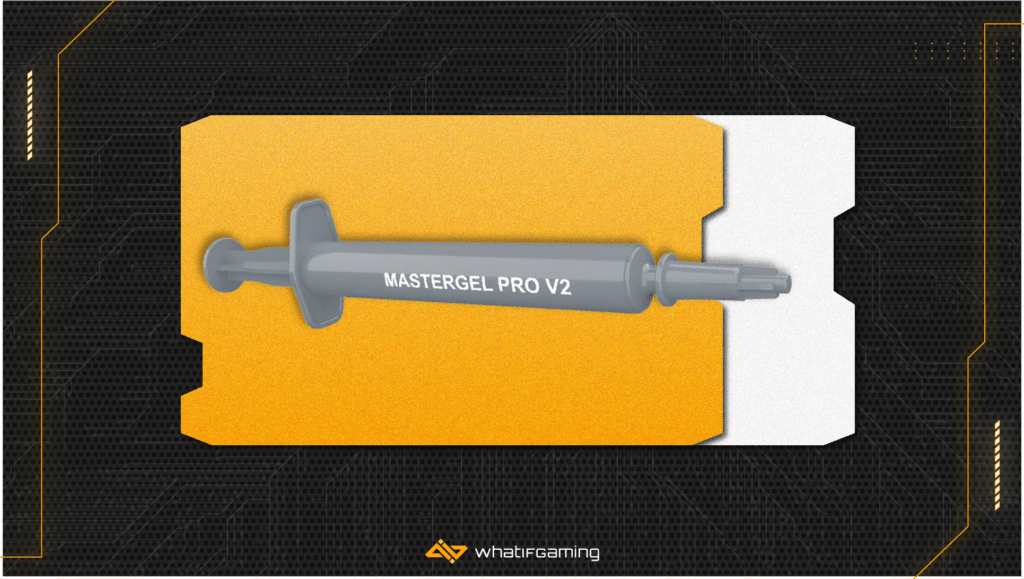 Cooler Master MasterGel Pro V2
Thermal Conductivity: 9 W/mk | Amount: 5g | Conducts electricity: No
Pros:
Above-average performance

Flat syringe nozzle

Good viscosity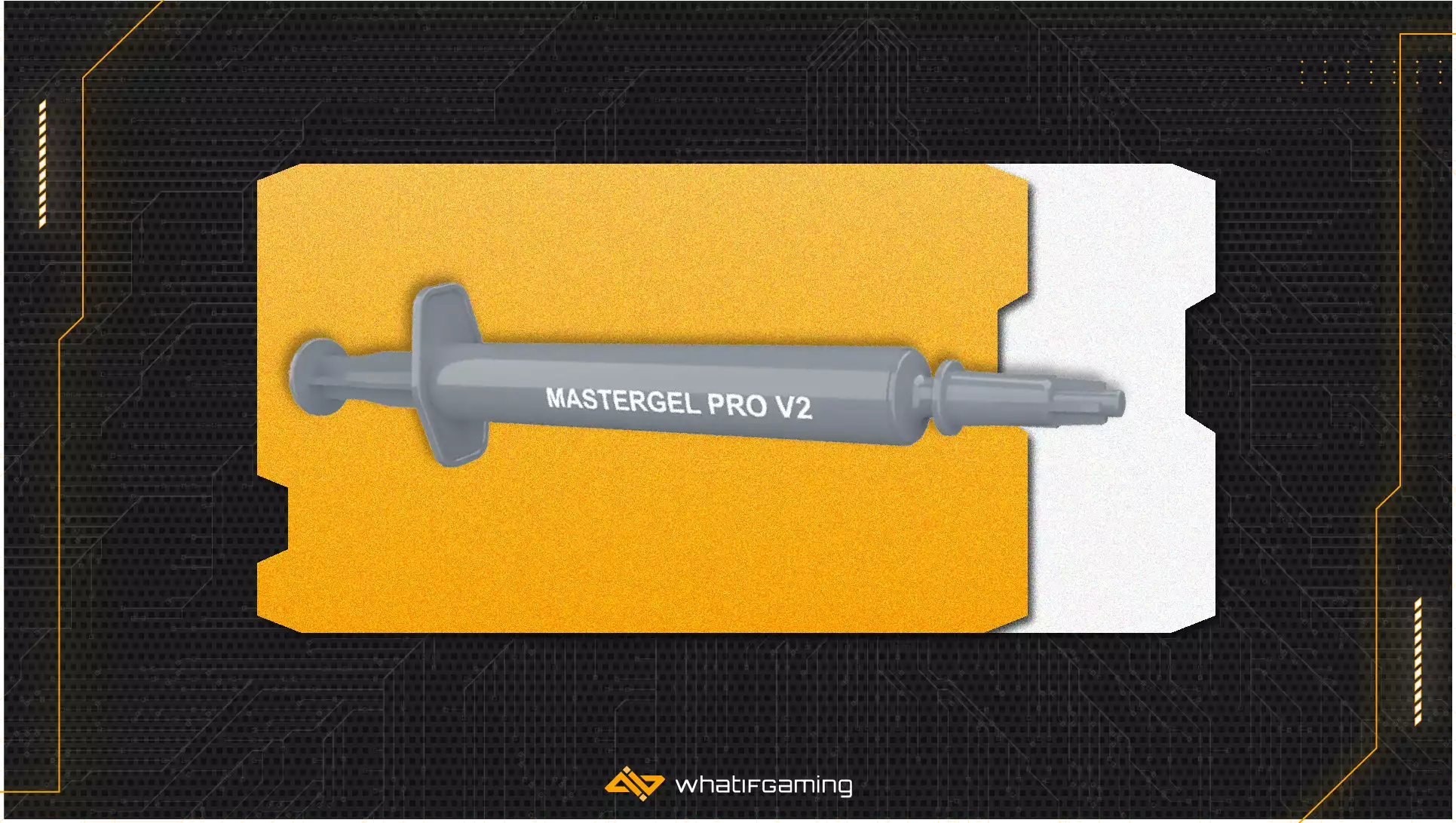 Other than renowned coolers and breezy cases, Cooler Master produces a wide range of thermal compounds. The MasterGel Pro V2 makes itself comfortable on our list, boasting great thermal conductivity and performance that rivals the cream of the crop.
You should also check out the newly-released CryoFuze compound. Not only does it break conventions by being a hot shade of pink, but it's also more affordable than the V2 while lagging by only a couple of degrees.
The gel comes in an unassuming gray syringe with its name in white. The syringe has a flat nozzle that sets you up for spreading success since you can extrude the compound in strips rather than globs. Cooler Master graciously includes a spatula to expedite the process even more.
In terms of behavior, the MasterGel Pro V2 is similar to Noctua's TIM. It's slightly thicker than average and will stay in place even if you apply a bit too much. If any excess runoff does happen, a lack of thermal conductivity will keep surrounding components safe until you wipe it off.
The MasterGel Pro V2 is a good substitute if you're looking for excellent performance but can't find the Kryonaut in stock. It's not the cheapest TIM, and you're stuck with a single size. In a product category like this where it comes down to nuances,
Gelid GC-Extreme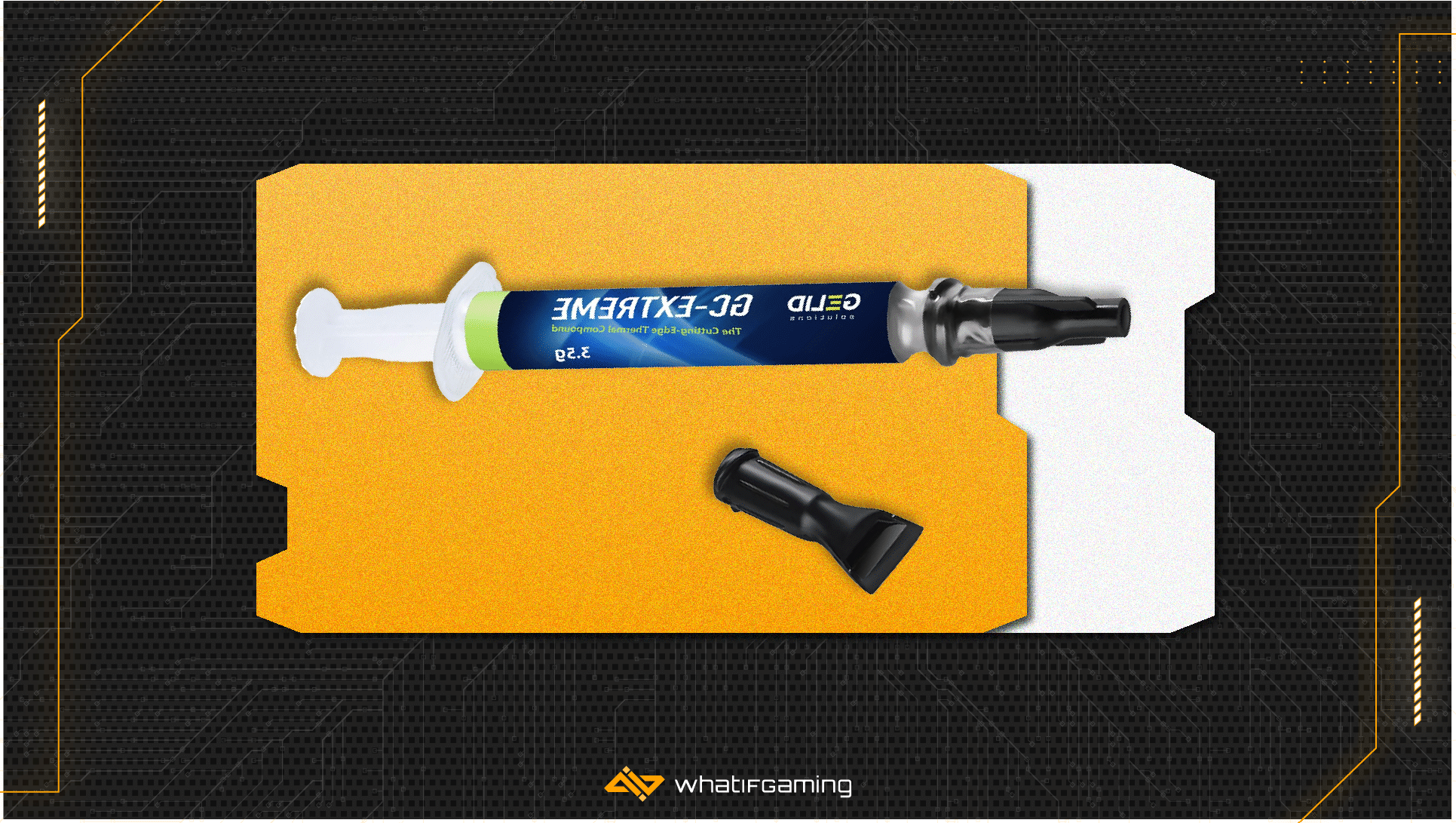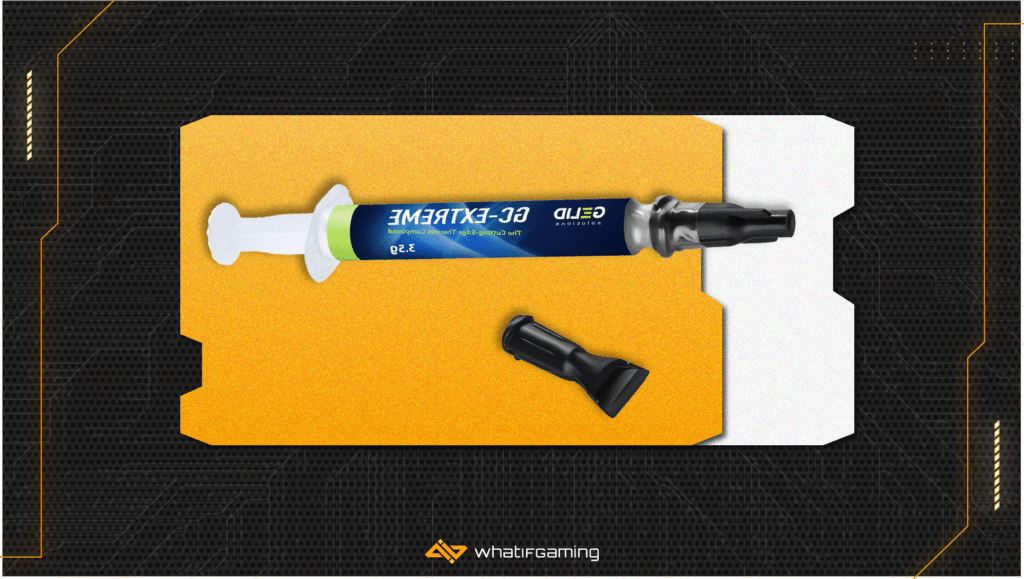 GELID GC-Extreme
Thermal Conductivity: 8.5 W/mk | Amount: 1g - 10g | Conducts electricity: No
Pros:
Good value for money

Easy to spread with included applicator

Decent results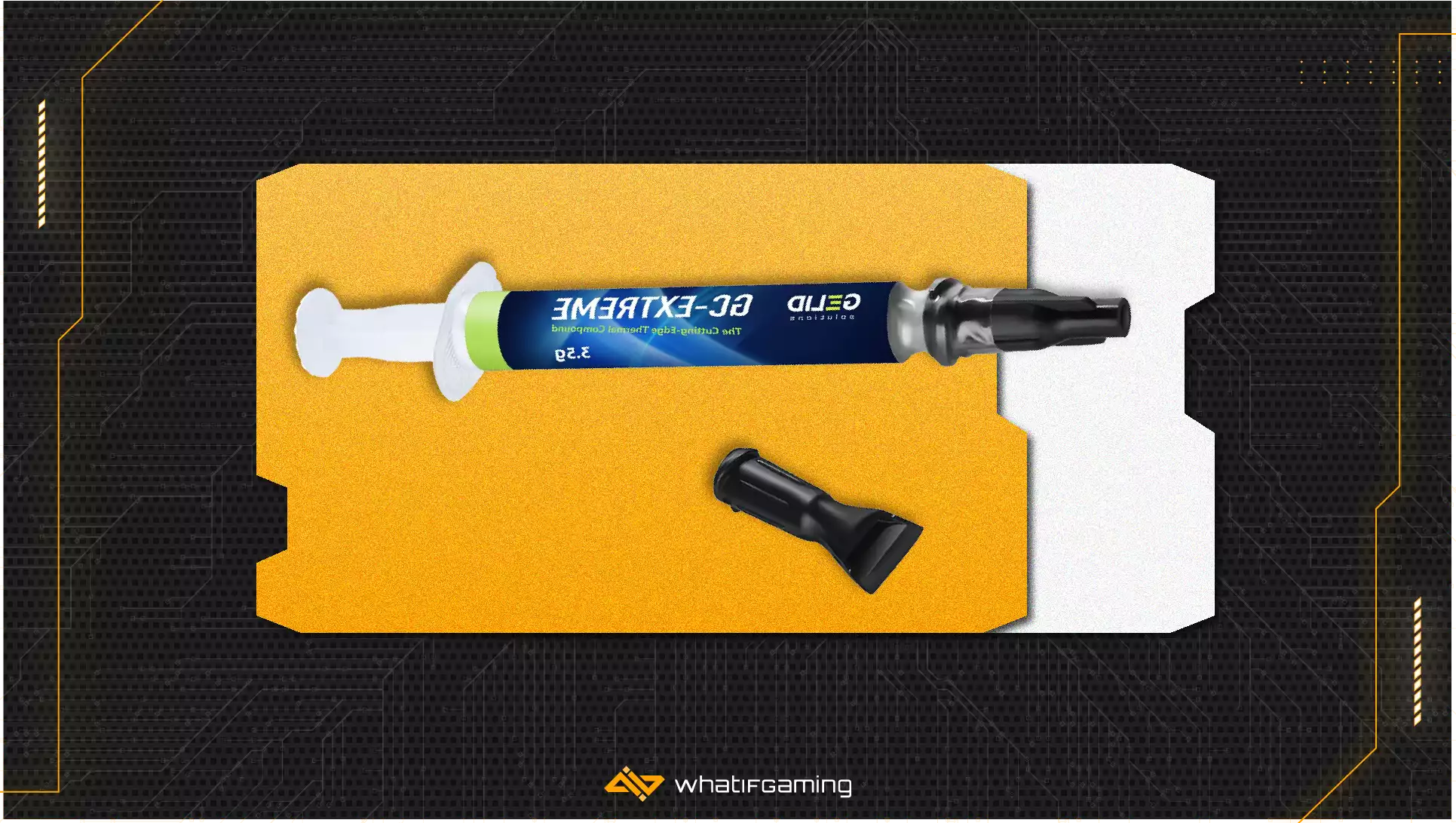 Gelid is a Chinese company that burst onto the scene in 2009 with the GC-Extreme. Fourteen years later, this is still one of the best CPU thermal paste options out there. If you're on a budget and need a TIM that's easy to apply, few alternatives are this good.
The GC-Extreme arrives in excellent protective packaging highlighting features like excellent thermal conductivity and durability. You can get it in several sizes, but 3.5g is the most popular option. That should be enough to apply to a dozen desktop CPUs with some left over.
Gelid used to ship the GC-Extreme with a handy spatula for optimal application. More recent packaging comes with an applicator you screw onto the syringe that flattens the compound as you squeeze.
The paste itself is moderately viscous and spreads out without much trouble. You'll have to apply more pressure than usual to the syringe to coax it out, so steady hands are a must.
Pastes higher up in the rankings will let coolers bring your CPU's temperature down by a couple more degrees. On the other hand, you get more of it for less, allowing for more frequent applications.