Specs:

Type: Mechanical, wireless
Size: Tenkeyless
Per-key backlighting: Yes

Specs:

Type: Mechanical, wired
Size: Tenkeyless
Per-key backlighting: Yes

Specs:

Type: Optical, wired
Size: Tenkeyless
Per-key backlighting: Yes

Specs:

Size: Tenkeyless
Per-key backlighting: Yes

Specs:

Type: Optical mechanical, wired
Size: Tenkeyless
Per-key backlighting: Yes

Specs:

Type: Mechanical, wired
Size: Tenkeyless
Per-key backlighting: Yes

Specs:

Type: Mechanical, wired
Size: Tenkeyless
Per-key backlighting: Yes
Tenkeyless keyboards straddle the line between size and comfort. By chopping off the numerical block, they free up precious space for your mouse to roam freely while not being as restrictive as their 60% cousins. The best TKL keyboard must also impress with its feel, configuration options, and lighting if you're part of the RGB crowd.
While the differences might appear subtle, there are many factors to consider when choosing a tenkeyless keyboard. Do you want to go wired or wireless? Do you prefer a smooth typing experience or enjoy a tactile feel? Are you the type that likes to tinker with every aspect of the keyboard's operation, or is content to plug it in and start gaming? Our informed recommendations contain enough info to help you pick the right keyboard in a snap.
Logitech G915 TKL Lightspeed
The G915 TKL Lightspeed goes above & beyond in delivering a sublime tenkeyless experience. It's equally suited to writing essays and venturing into dungeons, highly customizable, and absolutely gorgeous. The price can be off-putting, but we think of it more as an investment in a highly functional tool you could be using for a decade or more.
Visually, the keyboard is nothing short of stunning. It's no exaggeration to say it's unique. Nothing out there comes close to its combination of low deck profile and floating keycaps. The top plate is made of a beautiful brushed aluminum alloy, with steel-reinforced plastic making up the base. Even though it's less than an inch tall, the G915 TKL Lightspeed does not flex.
Tenkeyless means no Numpad, but that's hardly a hindrance for this keyboard. It has a tactile roller wheel for quick volume adjustments and a series of multimedia and connection keys that let you navigate songs or instantly switch from Lightspeed wireless to Bluetooth. You can remap most keys and add macros to the F row for even deeper functionality.
Logitech partnered up with Kailh to outfit the G915 TKL wireless with GL switches. While similar to the popular Cherry MX series, they have an identity of their own. Linear is the closest you'll get to MX Red and the best for gaming. We found ourselves enjoying Tactile the most, though. It's the Brown equivalent that has a tactile feel important for typing while still being responsive enough to execute commands instantly.
At the Cusp of Perfection
Whichever switch type you choose, the actuation point is a mere 1.5mm. You'll have to use 50 and 60g of force on Linear and Tactile switches, which is slightly more than on their MX counterparts. The keyboard's 1000Hz polling rate and excellent responsiveness make for short transition times, so you'll dominate opponents in CS:GO in no time.
Best of all, the keyboard boasts outstanding wireless connectivity. The connection is stable regardless of what type you're using, and the battery makes it last 40 hours at max brightness. Speaking of, the G915 has one of the most attractive RGB implementations we've seen yet. The LEDs are concentrated under each key, so there's no light bleed despite the floating design.
Logitech also did a great job designing the G-Hub companion software as if the keyboard itself wasn't good enough. It offers extensive light configuration, allowing you to color keys individually or choose among lighting zones and lots of customizable effects. There's also macro creation, key remapping, and profile creation. The keyboard stores three macro and two lighting profiles.
Moreover, several games like Borderlands have specific lighting profiles that visually represent useful info like remaining ammo.
SteelSeries Apex Pro TKL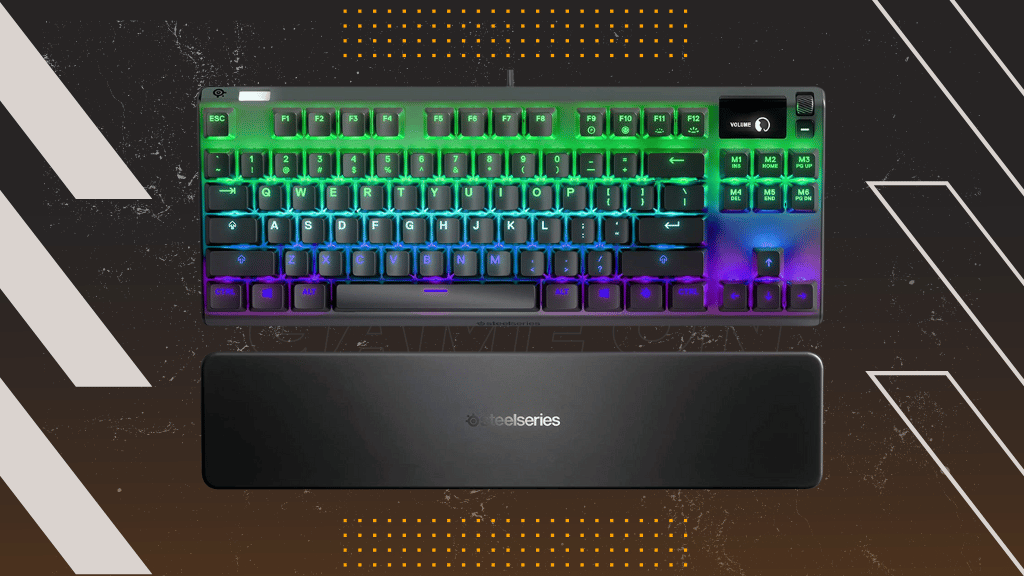 SteelSeries Apex Pro TKL
Type: Mechanical, wired | Switches: OmniPoint + Cherry MX Red | Onboard profiles: 5 | N-key rollover: Yes | Per-key backlighting: Yes | USB passthrough: Yes
Pros:
Adjustable actuation is genuinely useful

Versatile OLED screen and companion software

Breathtaking RGB
Cons:
Expensive

Uses ABS instead of PBT for keycaps
Did you ever want a keyboard that responds momentarily when gaming yet can bottom out with precision while typing? That's the idea behind the tenkeyless version of the Apex Pro. It uses unique, magnetically driven OmniPoint switches to allow for on-the-fly actuation switching. Additionally, the keyboard is robust, wonderfully customizable, and has a USB passthrough.
We're fans of the Apex Pro's dark gray aluminum top and the way it gently lights up under RGB illumination. A pair of feet afford a few degrees of lift supplemented by a snap-on magnetic wrist rest that's comfortable if not padded. The lettering on the ABS keycaps is thick and a pleasure to read when lit up with the keyboard's striking LEDs.
While SteelSeries Engine is an excellent companion program, you can access and configure many of the Apex Pro's core features through a handy OLED screen on its right. These include setting up macros, cycling between lighting presets, and adjusting the actuation point in ten increments. While not in use, you can set up a custom image to act as your logo.
A Truly Personal Typing Experience
Being able to set your actuation point is the keyboard's main selling point. This applies to the main 61-key segment, while other keys use standard Cherry MX Red switches. The OmniPoint switches retain the Red's linearity but feature magnets that alter the actuation point from 0.4 to 3.6mm. The former will activate a key if you gently tap it and is more sensitive than on almost any other mechanical keyboard. The latter means you'll have to bottom a key out before the press will register.
Such versatility provides countless configuration options for different scenarios. You could set one profile to have high actuation and give yourself an edge in twitch shooters like Valorant. Conversely, lower actuation means you can type more confidently without brushing up against keys and making mistakes. Each key responds to pressing with an audible clack that's not as grating as on some other models.
The Engine software provides more advanced options in all aspects of operation. It lets you set per-key lighting, extensively covers macro creation, and even allows for specific profiles to launch with designated apps or games.
Not everything about the Apex Pro TKL is peachy, though. It arrives with a long thick cable with USB passthrough for your mouse but is prone to kinks and isn't detachable. We also expected better keycaps for the price. SteelSeries used ABS instead of PBT, so the caps might not last as long and attract dust & fingerprints.
Razer Huntsman Tournament Edition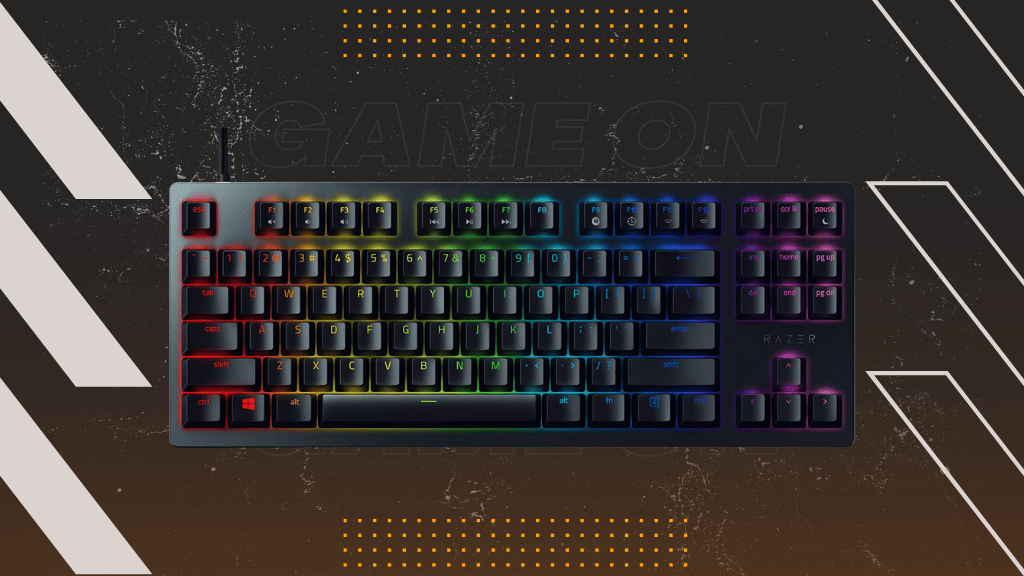 Razer Huntsman Tournament Edition
Type: Optical, wired | Switches: Razer Optical Linear | Onboard profiles: 5 | N-key rollover: Yes | Per-key backlighting: Yes | USB passthrough: No
Pros:
Highly responsive optical switches

Lightweight, small, and portable

Excellent profile management & subdued lighting
Cons:
Not the best fit for people who do a lot of typing
So far, our tenkeyless keyboard recommendations have all had some serious bells & whistles. What if you care more for mobility and a total dedication to hair-trigger reaction? In that case, there's none better than Razer's Huntsman Tournament addition. What the keyboard lacks in ostentation, it makes up for with outstanding optical switches and a compact profile that does its name justice.
Compared to some of our other choices, the TKL Huntsman looks simple. There are no macro or media keys, the bezels are thin, and the only logo comes in the form of an etched Razer above the arrow keys. The lack of extras makes this one of the lightest and smallest tenkeyless options, perfect for transporting to eSports events.
The removable USB-C cable and onboard profiles add to the Huntsman's portability. You can easily detach the cord once it's time to move the keyboard, yet it slots securely into place when in use and is resistant to yanking. The Synapse software lets you store five key configuration and lighting profiles, so it doesn't matter what PC you use the Huntsman on.
The Gentlest Touch
The Huntsman uses Razer's Optical Linear switches and feels like it reacts as fast as you can think up a move. Rather than relying on many mechanical parts, the optical switches use beams of light. Pressing down allows the light to complete a circuit and register the action more precisely and quickly. The switches' actuation point is just 1mm, and they bottom out at 3.7mm.
While the Apex Pro TKL is technically even more responsive, the Huntsman's fixed actuation point feels like a better compromise that still skews heavily towards gaming. Executing abilities in LoL feels instinctual, as does intense micromanagement in games like Starcraft II or Age of Empires II's Definitive edition. The Huntsman might be the best TKL keyboard for gaming, but training yourself to avoid typos caused by its sensitive keys takes a while.
Razer Synapse is one of the better, if more resource-intensive companion programs out there. It has a robust menu system with comprehensive options pertaining to macro creation, key remapping, profile management, and lighting.
Uncharacteristically for Razer, the Huntsman's Lighting feels subdued and mostly limited to providing excellent key visibility. We're firmly in favor of this approach, but some gamers looking for the ultimate in RGB bling might feel underwhelmed.
Ducky One 3 TKL
Ducky One 3 TKL
Type: Mechanical, wired | Switches: Cherry MX Brown, Black, Red, Silent Red, Silver, Clear | Onboard profiles: 6 | N-key rollover: Yes | Per-key backlighting: No | USB passthrough: No
Pros:
Outstanding build quality

Hot-swappable switches

Comprehensive (if not the most intuitive) configuration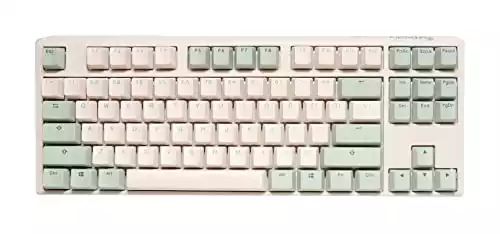 Are you willing to pay more for a sublime typing experience and the ability to meticulously customize your keyboard?
The newest version of Ducky's respected One is an excellent fit, then. It foregoes RGB and software for a more analog user approach, losing nothing in quality and responsiveness along the way. It's an advanced keyboard ideal for folks who are venturing deeper into the world of mechanical keyboards yet approachable enough for anyone who just wants a no-fuss high-end product.
You'll pick up on the One 3's superb build quality as soon as you run your fingers over the luxurious PBS keycaps. The majority of the board might be plastic, but there's not a hint of wobble or instability on flat surfaces. The ergonomics are excellent in the default position, and sturdy feet let you adjust it to two steeper angles.
This is a highly customizable board, as evidenced by the presence of both keycap and switch removal tools among its accessories. Ducky makes the One 3 available in a variety of colorful themes, each with a handful of appropriate but differently-colored replacement keycaps that let you create a unique layout.
There are numerous switch variants to choose from as well, all of them genuine Cherry MX. Among them, you'll find the usual suspects as well as less common types like Black and Clear. Cherry MX Blacks are similar to Reds in that they lack tactility but have greater key travel and actuation force. Clear switches share the Brown's tactile nature but also require more force for a press to register.
By No Means a Quack
Using the One 3 is a delight, doubly so since you can easily lube up or exchange individual keys at any time. We wouldn't go so far as saying that it's the best TKL keyboard if gaming is the only thing you use it for. Rather, it's a keyboard with strong gaming chops that won't cause your WPM to dip once you start using it and works well as an everyday workhorse.
There were some inconsistencies with early firmware versions. The keyboard had excellent response times upon release but was prone to chattering. Subsequent updates fixed the issue but increased lag, which anyone who's ever been in a competitive Warzone 2.0 match will tell you is a potential death sentence. It seems that the latest updates have struck a balance, and we hope the improvements continue.
Ducky simultaneously simplifies and complicates things by not providing the One 3 with software. It keeps your system free from bloat without impairing functionality since you can switch between six onboard profiles and customize five of them. The only drawback is that all such customization and macro management is done via pressing key combinations you may or may not remember.
Roccat Vulcan TKL Pro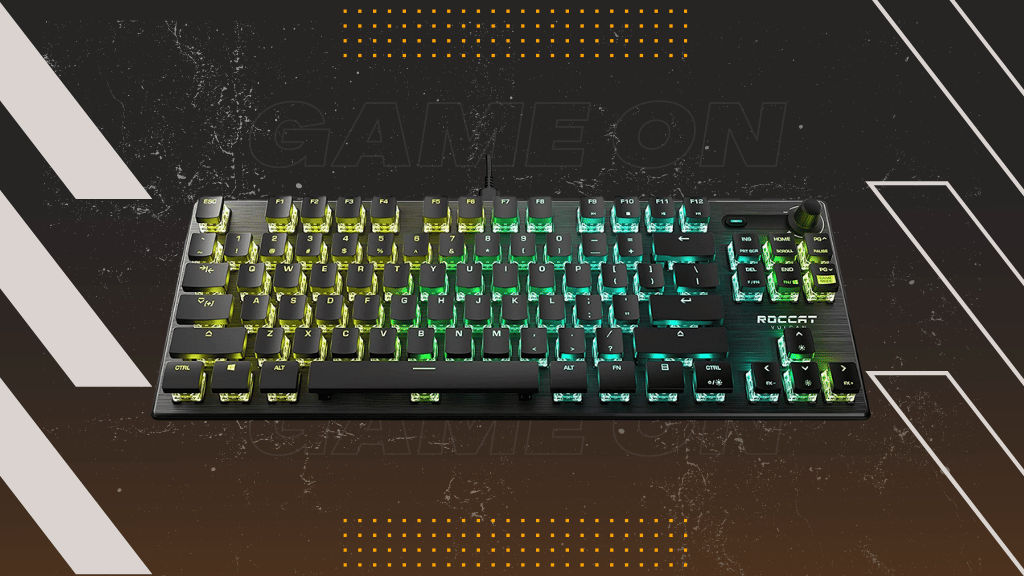 ROCCAT Vulcan TKL Pro
Type: Optical mechanical, wired | Switches: Roccat Titan | Onboard profiles: 5 | N-key rollover: Yes | Per-key backlighting: Yes | USB passthrough: No
Pros:
Responsive switches that don't make typing difficult

Small yet retains some media controls

Attractive lighting
Cons:
Roccat Swarm has some stability issues
Razer isn't the only peripheral manufacturer with a fancy optical mechanical keyboard. Roccat's Pro version of the Vulcan TKL promises a similar gaming experience while offering a gentler learning curve for typists. It's durable, compact, and has several high-end features that help justify the hefty price tag.
A small footprint is another feature the Vulcan Pro TKL shares with the Huntsman. It's slightly thinner and narrower yet managed to retain a small if helpful multimedia section. It consists of a volume roller and mute button, useful for when you want to adjust loudness without touching your headset. It's another keyboard with a captivating brushed aluminum top that feels far sturdier than its thin frame would have you suggest.
Sturdiness is the Vulcan's central theme, from the deck through the rugged braided cable to the switches at its core. These are an optical version of Roccat's own Titan switch. They're linear and most similar to Cherry MX Red. However, reworking the switch to optical comes with a raised actuation point of just 1.4mm.
Another Optical Contender
It's impossible not to draw parallels to the Huntsman's behavior. The Vulcan is better in some aspects and worse in others. We love Roccat's attention to durability and the slight increase in pressure required to execute a command consciously. If you type a lot, this is the better option. On the other hand, gamers looking for the most sensitive responses will get slightly more out of the Vulcan's rival.
Despite the lack of PBT, the keycaps aren't as prone to grime buildup as some we've encountered. The lighting underneath benefits from the floating design, shining brightly both around and through each key. Apart from regular per-key customization and effect selection, the keyboard also benefits from AIMO. This intriguing lighting system analyzes your typing habits and adapts over time to produce unique patterns.
Roccat Swarm offers all the basics along with a few distinct options in a stylized and accessible interface. It's split into three pages dealing with general options, key settings, and lighting configuration. It's possible to assign sounds to certain key presses, create extensive macros, and save all changes to one of five onboard profiles. Swarm loses points for being unstable and sometimes not storing all your changes.
Corsair K70 RGB TKL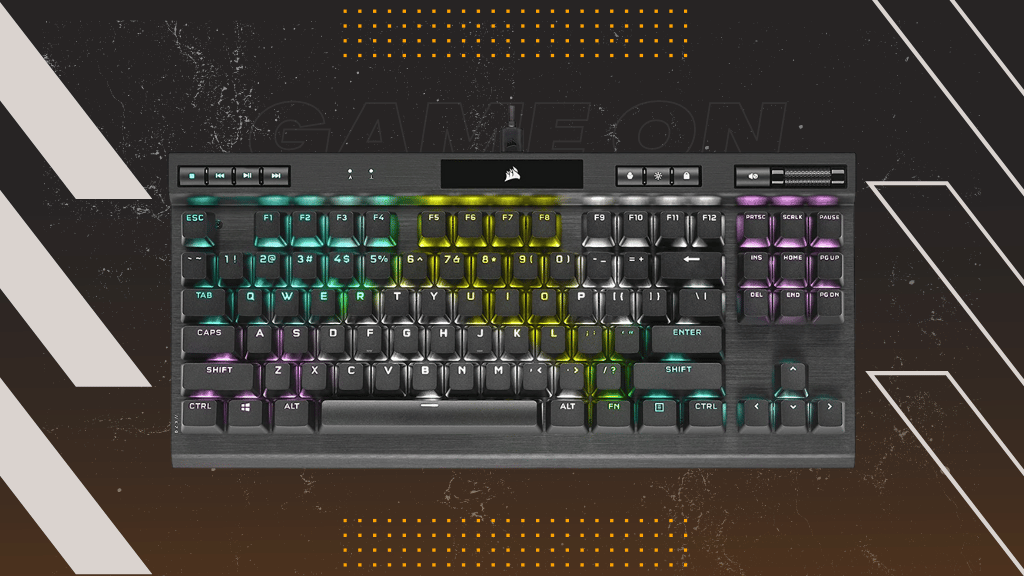 CORSAIR K70 RGB TKL
Type: Mechanical, wired | Switches: Cherry MX Red, Silent Red, Speed Silver | Onboard profiles: 50 | N-key rollover: Yes | Per-key backlighting: Yes | USB passthrough: No
Pros:
Fantastic build quality

Comprehensive lighting & profile configuration

Excellent layout and multimedia keys
Cons:
Higher polling rate brings no discernible advantages
Our TKL keyboard list continues with another model hell-bent on conquering the pro player segment. The K70 RGB aims to do so with a choice of three speedy switches, quality keycaps, impressive polling rate claims, and an overall attractive design. It's less expensive than the higher-ups to boot, giving you another tempting reason to give it a try.
It's satisfying how every keyboard we've talked about has something going for it in the design department. The K70 stands out due to focusing on being compact while still implementing a set of welcome multimedia keys and a tactile aluminum roller. Kudos to Corsair for using high-quality doubleshot PBT plastic keycaps. It drastically increases their longevity while preventing fingerprint buildup and font degradation.
You may choose between three Cherry MX variants for the K70's switches. There's the standard and a Silent version of Cherry MX red along with Speed Silver. All three are linear and require the same 45g of force. The actuation point is the main difference, ranging from 1.2mm on the Silent to 2mm on regular Red switches.
Users familiar with Cherry MX from previous keyboards will appreciate their quick reaction times, smooth action, and relative quiet. They're less sensitive than on the Huntsman, so you won't be as prone to making mistakes while typing. Meanwhile, getting into position or getting yourself out of the line of fire happens as fast as you can think of it.
Pro Gaming at Your Fingertips
Corsair claims to give you a further edge with the keyboard's improved polling rate. It's 8,000Hz compared to most other keyboards' 1,000Hz maximum. You have to install iCUE and supposedly have a beefy system to use the feature. While pro gamers with lightning-fast reaction times might be able to notice a difference, the vast majority of gamers will not.
You'll definitely want to install iCUE regardless since it's not a resource hog and greatly expands customization options. The K70 has 8MB of internal memory. It is by far the best TKL keyboard if you want to save different lighting & macro profiles for all your favorite games. There's room for up to 50 on the keyboard, plus an unlimited number in iCUE.
The K70 TKL is another model with a fantastic lighting implementation. Corsair is well-known for its focus on cutting-edge RGB, and they deliver here with colorful LEDs that illuminate each key and its immediate surroundings without looking tacky. The color, zone, and effect options are comprehensive. Conversely, there's a gaming toggle next to the detachable cable that forces a uniform glow pattern and cuts the macro keys to let you focus on racking up kills.
Glorious GMMK TKL
While keyboards like the Apex Pro let you customize their feel to an extent, almost all are stuck with a predetermined set of switches. Not so with the GMMK or Glorious Mechanical Modular Keyboard. It's the best TKL keyboard for enthusiasts who want to tinker with switches to create a custom layout. Want Red switches on your WASD keys and Brown everywhere else? Now your dream can come true.
Even though it's the most affordable TKL model on our list when not on sale, the GMMK doesn't feel cheap at all. It has a tough aluminum alloy top plate that curves backward for extra stability. The front feet are rubberized for good grip, while the back ones flip out to angle the keys upward. Like the Huntsman, this is a model devoid of media or macro keys, but we don't feel that it's worse off for it.
Your Keyboard, Your Way
The GMMK's accessories include two pullers. You can store the plastic one in a compartment on the keyboard and use it to remove the keycaps. A metal remover is also present and used to swap out the switches. By default, the GMMK arrives with Gateron Brown switches, which are more tactile than Reds and require slightly more force to press.
The best part about the GMMK is that you don't have to limit yourself to the preinstalled switches. Glorious sells alternative packs, and acquiring Cherry MX, Kailh, or other switches isn't hard. This turns the GMMK into a foundation for a keyboard that fits your needs precisely. Its stock switches perform well for gaming and typing alike and have a satisfying sound slightly muffled by a layer of foam inside the base.
The keyboard is available in black and white variants. Regardless of your choice, the keycaps are doubleshot ABS and come with pudding tops that diffuse the light while leaving it to shine brightly through the lettering. You may even replace the Escape and Windows keys with "Ascend" and the Glorious logo.
It's possible to access most of the GMMK's major functions by using the Fn key. That's fortunate since the software that you use to set it up otherwise is barebones compared to others on the list. There's nothing wrong with it, as lighting customization, macro creation, and remapping are all represented. We just hoped for a greater feature set to go along with what is otherwise a solid tenkeyless keyboard.