The co-op (cooperative) shooter genre is one of the most loved genres in video game history. It introduced us to many games that evoke nostalgia, and are still exciting to date. As we are halfway through 2021, many nostalgic co-op shooters who take place in universes from both the film and video game industries are nearing their initial releases. So, we wanted to give you the best upcoming co-op shooters that hit close to your nostalgic hearts.
Rainbow Six Extraction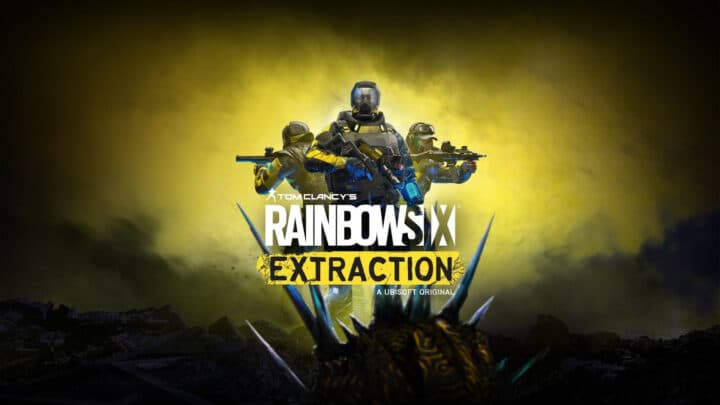 Tom Clancy's Rainbow Six is one of the most long-standing names in the industry, and rightfully so. This franchise gave us some of the most memorable co-op shooter titles such as Rainbow Six Siege.
The Rainbow Six franchise stands among those that helped set the evolution of the co-op shooter genre. It has also successfully reinvented itself on so many levels throughout the years. It holds some of the most nostalgic titles in the history of the co-op shooter genre.
Rainbow Six Extraction (formerly goes by Rainbow Six Quarantine) is the new and promising tactical co-op shooter that evokes nostalgia with many elements of Tom Clancy's Rainbow Six franchise. The game was first announced at E3 in June of 2019.
Reveals
Ubisoft gave us a sneak peek of what to expect from Rainbow Six Extraction's concept (when it was called Quarantine) during E3 2019 in a very intense, though vague teaser trailer.
Then, fast forward to this year's E3. the game reemerges with a new name: Rainbow Six Extraction. Ubisoft gave us an official gameplay overview of the game. It elaborates on many elements of the game including tasks, enemy AI, weapons, and the overall concept of the game.
Development
Rainbow Six Extraction is the follow-up to the limited-time event for Siege, Rainbow Six Outbreak.
Quarantine is being developed by a new team in Ubisoft Montreal, the very office that gave us Rainbow Six Outbreak.
Ubisoft Montreal promises us a full-game co-op shooter experience that capitalizes on the fire that was ignited in the fans by Rainbow Six Outbreak and Rainbow Six Siege's tactical fundamentals of the cooperative shooter genre.
Story
In Rainbow Six Outbreak, a USSR space capsule crashes in Truth or Consequences, New Mexico. The alien parasite in the capsule unleashes an aggressively infectious virus.
The infected transform into various forms, providing the players with different classes of enemies in the game.
Rainbow Six Extraction follows three Operators who will seemingly expand on the story from Outbreak. Many returns are expected from both enemies and Operators, including Ela and Vigil from Siege, with the addition of new arrivals to the game.
The enemies in Extraction (as per the gameplay overview) are called Archaeans. They are much more evolved aliens than those in Outbreak. They revealed a few types such as the Grunt, the Rooter, the Breacher, and the Sprawl. The latter is an Archaean anomaly that connects their ecosystem and helps them move faster. It also slows you down if you make contact with it.
The overview also displayed many React Tech that you will utilize in the game such as the React Blade which you use to perform takedowns, and the Prisma Hologram which functions as a decoy tool in the Rainbow Six Extraction.
Renaming the game
Ubisoft has stated that there will be a rebranding for the game due to the name of the game being fairly associated with the global pandemic.
Recent leaks made the fans think that Quarantine will be renamed Parasite. However, Ubisoft later denied these claims and refused to further entertain them.
It has been confirmed now that the game will officially stick with the name Rainbow Six Extraction.
Release date and platforms
Rainbow Six Extraction has been confirmed to release on September, 16. Ubisoft has already confirmed that the game will be available at launch on PS4, PS5, Xbox One, Xbox Series X/S, and PC.
Halo Infinite
Halo is one of the most popular franchises in the industry that evoke nostalgia. Throughout the years, its success led to it be a pop-culture reference beyond even the video game industry.
Halo Infinite was officially announced during Microsoft's E3 2018 conference. It is the upcoming installment in the franchise. It will be the sixth and probably the last game in the main Halo series for some time.
Story
As per the demo, Halo Infinite is set on 28th May 2560, which is "167 days after we lost". The events of the day when "we lost" are left out.
343 Industries are keeping many things that relate to Halo Infinite's plot close to the vest. Even their tweets that reply to speculations and rumors concerning Halo Infinite tend to be cryptic.
The main antagonists of the game are the Banished who took that very role in Halo Wars 2. Only this time they'll be led by War Chief Escharum. It will be the conclusion to the Forerunner Saga.
Halo Infinite is several times longer than Halo 4 and Halo 5 combined.
It was also part of the Xbox showcase in this year's E3. Joseph Staten, the head of creative for Halo Infinite said that this next chapter of Master Chief's will be "his greatest challenge yet."
Gameplay
The most revealing footage in terms of Halo Infinite's gameplay is the demo that was shown in the Xbox Showcase of 2020. It elaborates on the game's setting, returning cast, story and most importantly, gun-blazing battles.
The Demo featured the new and returning characters, including Master Chief. The demo also showcases some of both new and returning weapons and equipment, including a new grappling hook which seems to be called the Grappleshot.
The variety of tools that you'll use in Halo Infinite ensures that your progression in the game will be based on your equipment, and not on an experience-fueled skill tree.
Multiplayer and co-op
343 Industries has confirmed that Halo Infinite will feature a 4-player split-screen co-op, a multiplayer mode, and PvP (player versus player). It has also been reported that multiplayer mode will be cross-platform.
Release date and platforms
Halo Infinite will be available with free-to-play multiplayer by launch on Xbox Series X, Xbox Series S, and PC.
Microsoft was formerly planning on releasing the game before the end of 2020. However, due to a lack of positive feedback from fans concerning the showcases in July, they pushed the launch to the fall of 2021. They said that it will give them more time to polish the game. They did also admit that the global situation did make an impact on the game's production. And as of the E3 2021 Xbox showcase, they confirmed that Halo Infinite will indeed launch "this holiday."
Evil Dead: The Game
The Evil Dead universe gave us so many memories throughout the years. It still haunts the dreams of horror enthusiasts and tickles their funny bones with its dark humor to this very day.
It gave us some of the best movies that the supernatural horror genre could ever deliver. Evil Dead has even traversed to the small screen to further the legacy with Ash vs Evil Dead. You cannot talk about horror flick nostalgia without having Evil Dead in the conversation.
As of 2020, it was announced that the Evil Dead universe is also making its way into the world of video games.
Evil Dead: The Game was one revealed at The Game Awards of 2020. It being is developed by Saber Interactive and will be published by Boss Team Games.
The footage itself is mostly cinematic. It introduces some of the returning characters who will be playable in the game.
Gameplay bits show these characters as they kill Deadites in the most gruesome ways in a very familiar setting to the nostalgic saga.
Gameplay reveal trailer
Thankfully though, Evil Dead: The Game was part of this E3's Summer Game Fest in the form of a gameplay reveal trailer. It would be much better to just show you the trailer since Bruce Cambell himself narrates it.
Story
Evil Dead: The Game takes inspiration from the three original Evil Dead films and the television series, Ash vs Evil Dead.
Many characters from all of the Evil Dead universe are playable. The ones who have been confirmed so far are Ash, his sister, Cheryll Williams, Scotty, Lord Arthur, Kelly Maxwell, and Pablo Simon Bolivar.
you will work as a team to explore, loot, craft, manage your fear and find key artifacts which you will use to seal the breach between worlds.
Bruce Campbell is fortunately reprising his role as Ash Williams. He has recorded new dialogue for the game along with so many others.
Gameplay
Evil Dead: The Game focuses on multiplayer gameplay. It will feature both co-op and PvP modes. You get to choose along with three of your friends from many nostalgic characters from the original Evil Dead universe.
One of you will even get to play as the Kandarian Demon against the forces of good. Playing as the Kandarian Demon allows you to possess Deadites, the environment, and even other players.
Players will also be able to customize their own skill trees for each and every character they play.
Over 25 weapons, including a Short Barrel Shotgun, a Chainsaw and Cleavers are playable in the game.
Evil Dead: The Game players will use them to survive in multiple maps. One of which, the cabin in the woods has already been showcased in the reveal.
Release date and platforms
Evil Dead: The Game will launch sometime in 2021. It will be available for Xbox X/S, Xbox One, Playstation 4, Playstation 5, Nintendo Switch, and PC.
Aliens: Fireteam
The Alien universe is one of the most expansive franchises to ever grace the world of sci-fi horror. It has been one of the reigning horror brands since the first film, Alien was released in 1979. It presented the film industry with many nostalgic moments in the genre.
The Alien franchise has only proven itself to be timeproof throughout the years by delivering many entries that expand on its universe.
We have many nostalgic horror films thanks to the Alien franchise. The franchise has also crossed to the video game world and gave us a variety of video games that have only evolved and gotten better throughout the years.
The latest major installment in the Alien franchise is Alien: Isolation, a first-person survival horror game that takes credit for being among the best titles in its respective genre.
Cold Iron Studios announced Aliens: Fireteam in 2018 in collaboration with Disney's 20th Century Games. Aliens: Fireteam is a three-player co-op shooter that takes place right after the original Alien film trilogy.
The official reveal of March 2021 is a more elaborative announcement trailer.
Story
The setting of Aliens: Fireteam is in the year 2202. 23 years after Alien 3. You play as one of three Colonial Marines aboard the USS Endeavor who respond to a distress signal from the Katanga Refinery in Orbit LV-895. Your destination turns out to be packed with swarms of Xenomorphs and other species which they'll have to fend themselves from.
Gameplay
Aliens: Fireteam also showcased 25-minute gameplay footage only a couple of days after the game's official announcement.
The gameplay video reveals many different aspects of the game, including customizable skill trees, unlockable gear, and many weapons which you'll use to shoot and survive against over 20 different enemy types. It also showcased different classes of Xenomorphs, Facehuggers, and Synthetics.
Not only do you face off against these different enemy types, but you, but you also get to choose from five different character classes. You get to play as a Demolisher, Gunner, Recon, Technician, and Doc.
Aliens: Fireteam is a four-campaign co-op shooter, in which you need to finish different levels in order to complete each campaign.
In many ways, replayability seems to be a major focus in the game. There are different modifiers to shake up the experience for every campaign.
There is also a Challenge Card System which changes many different aspects of each campaign playthrough.
Cold Iron Studios are still working to add more content to Aliens: Fireteam. They have also confirmed that they will support the game post-launch.
While we don't know exactly what they have in mind for DLC, we have a great chance of finding out as the game nears its initial release.
You can also play the game by yourself with the support of bots for the other team members.
Aliens: Fireteam has not been confirmed to have cross-platform multiplayer. However, we might get to know more about this later on.
Release date and platforms
We do not have a specific release date for Aliens: Fireteam. However, it is certainly nearing its launch seeing as it is planned to release sometime in summer 2021. Aliens: Fireteam will be available at launch on Playstation 4, Playstation 5, Xbox Series X/S, and PC.
Back 4 Blood
If you're talking about nostalgic co-op shooters, then having the Left 4 Dead franchise in the conversation is a must. The whole world of gaming has been anxiously waiting for years to get their hands on the follow-up to Turtle Rock Studios' (formerly known as Valve South) Left 4 Dead 2. And since Valve opted out of making it, Turtle Rock Studios took measures into their own hands and decided to give us the spiritual successor titled Back 4 Blood.
Back 4 Blood was officially revealed in the Game Awards in December, 2020.
Story
You are one of the Cleaners. A group of hardened veterans of the apocalypse who have survived a terrible outbreak that had already wiped out most people.
Those who remain are mostly the Ridden. These are humans who are infected with the parasitic Devil Worm. The Devil Worm turns people into "zombies-like beings," and even mutates some into other more terrifying forms of the Ridden.
It was being studied in a lab in Quebec, Canada when it breached containment and started spreading all over the world by water.
Much like the rest of the cleaners, you are immune to the Devil Worm parasite. After years of hardening survival, you decide to fight back against literally hordes of the Ridden, save humanity from extinction, and shoot their way to get back what remains of the world.
Gameplay
We have been lucky to have already seen so much of Back 4 Blood prior to its launch. The variety of videos on the game reveals many aspects ranging from gameplay systems to playable characters and variations of enemies.
The base of Back 4 Blood is a four-player co-op shooter campaign. Players can either team up online to fight against the Ridden in challenging missions, or play along with AI NPC's as the rest of the team.
Back 4 Blood also includes a multiplayer PvP mode, in which up to eight players compete against each other as both the Cleaners and the Ridden.
There are eight customizable Cleaners in the game, Evangelo, Doc, Hoffman, Holly, Jim, Karlee, Mom, and Walker. Each one has their own abilities, perks, and backstory. You either choose your Cleaner in the lobby, or you get one automatically assigned to you once you join an in-progress online campaign.
Back 4 Blood has different variations of the Ridden. Aside from the common ones, there are the special Ridden who include different families. The Tallboys are Bruiser and Crusher, the Stingers are Stalker and Hocker, the Reekers are Exploder and Retch, and then there is the Snitcher.
There are also boss-like Ridden in Back 4 Blood. They are the Breaker, the Ogre, the Hag, and the Giant Ridden.
Back 4 Blood has a feature called the Game Director. It shows you a set of Corruption Cards which give you different randomized variables which affect your missions to make them more challenging such as larger Ridden hordes, mutated ridden, and even increased fog.
In addition to those, you get your own deck of cards to help you counter the Corruption cards by boosting aspects such as health and ammo.
Swarm mode
The latest that we have on Back 4 Blood is an official PvP gameplay trailer that was released on June, 14 during the E3. Apparently, the Pvp mode is called Swarm. Players are able to choose between playing as humans, or zombies. Those who choose to play as zombies will be able to power up and enhance their abilities in order to pose more difficult challenges for humans.
Release date and platforms
Back 4 Blood releases this October, 12. It will be available on Xbox One, Xbox X/S, Playstation 4, Playstation 5, and PC.
Pre-ordering the game as of August, 5 will give you early access for Back 4 Blood in the form of an open beta.