Specs:

Max resolution: 1080p 60fps
Field of view: 83°
HDR: No

Specs:

Max resolution: 1080p 60fps
Field of view: 80° - 103°
HDR: Yes

Specs:

Max resolution: 4K 30fps
Field of view: 65°, 78°, 90°
HDR: Yes

Specs:

Max resolution: 4K 30fps
Field of view: 65°, 78°, 90
HDR: Yes

Specs:

Max resolution: 4K 30fps
Field of view: 86°
HDR: Yes

Specs:

Max resolution: 1440p 60fps
Field of view: 78°
HDR: Yes

Specs:

Max resolution: 4K 30fps
Field of view: 79.5°
HDR: Yes

Specs:

Max resolution: 1080p 30fps
Field of view: 84°
HDR: Yes

Specs:

Max resolution: 4K 30fps
Field of view: 65° - 95°
HDR: No

Specs:

Max resolution: 1080p 30fps
Field of view: 76°
HDR: Yes
Up until the pandemic, webcams were becoming almost an afterthought. There'd been no significant development in the niche for years, with Logitech dominating the rest. The shift towards working and studying from home has transformed the webcam landscape, introducing new models with untold possibilities. You can even use the best webcam for streaming at a level of quality that comes close to professional equipment.
A webcam might not be a replacement for a full-frame DSLR. Still, it's an inexpensive investment capable of putting out more than adequate video for streaming purposes. Some webcams can stream in 4K, while others come with comprehensive software that lets you shape what the viewer sees down to minor details. We've selected the ten finest to get your streaming journey off to a head start.
Elgato Facecam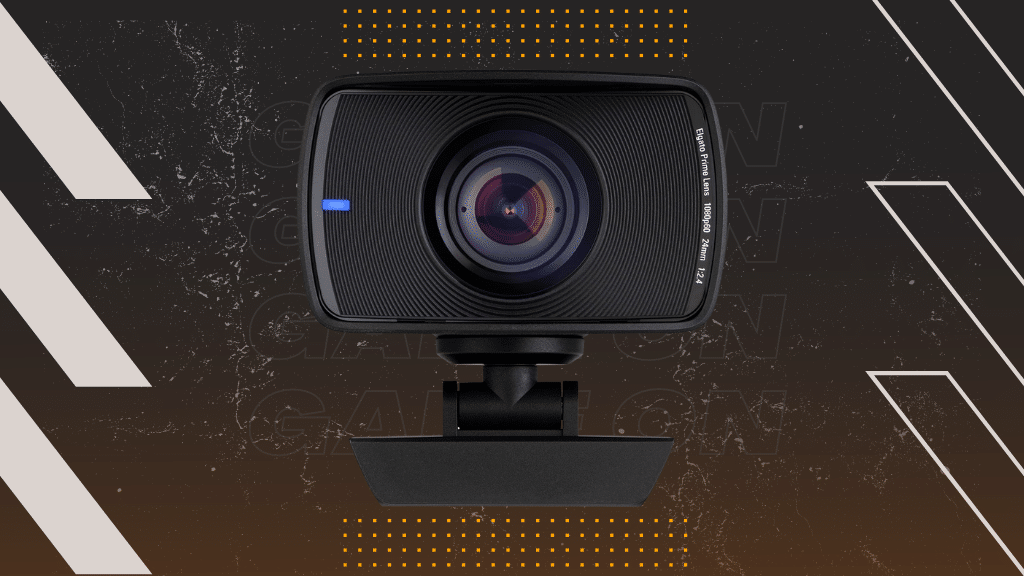 Elgato Facecam
Max resolution: 1080p 60fps | Field of view: 83° | Built-in microphone: No | Autofocus: No | HDR: No
Pros:
Outstanding picture quality and companion software

No autofocus or conflicting mic issues

Tripod mount and versatile stand
Cons:
Not suitable for everyday use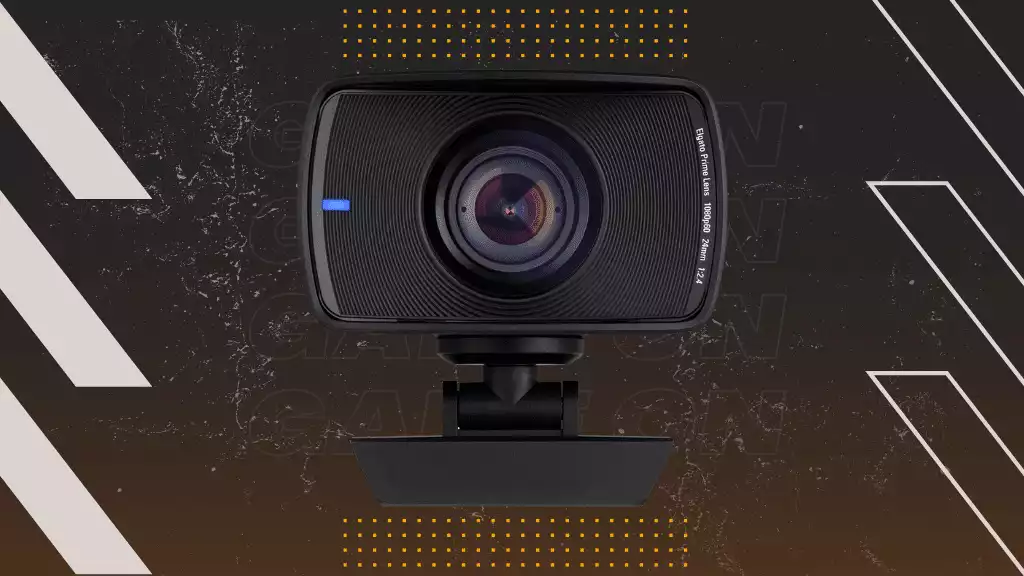 Elgato is the leading name in game capture & streaming equipment, so it makes sense that the company also came up with the best streaming webcam. The Facecam is ideal for streamers tired of ordinary webcams but don't have the money or inclination to invest in a good DSLR or mirrorless. It's hyper-focused on providing highly adjustable video, leaving sound and lighting to other components in your setup.
Even the Facecam's appearance is unusual as it resembles an action cam. The mount that attaches to it can stand on a monitor or your desktop, or you can use the thread on the camera's bottom to attach a tripod. It uses a USB-C to USB 3.0 adapter, so make sure to use one of your motherboard's more modern plugs.
Made Especially for Streamers
The Facecam has a relatively narrow 83° lens made from low dispersion glass to counteract chromatic aberration. It's also coated to minimize flares. Conversely, the camera lacks autofocus and a microphone. That makes it a poor fit if you just need something for Zoom calls. However, streamers will rejoice since they can use their XLR mics and not worry about going out of focus every few seconds.
The video quality is decent if understandably less sharp than on 4K cameras filming in 1080p. This is offset by the breadth and depth of features offered through the Elgato Camera Hub. There you can change so many settings that it feels like you're using an actual DSLR. These include exposure, ISO, color balance, and noise reduction. The picture is slightly overexposed by default but easily correctable here.
Best of all, the time spent finding your ideal settings isn't wasted since you can save them directly to the Facecam. That means it's possible to hook it up to a computer for the first time and look your best instantly.
Razer Kiyo Pro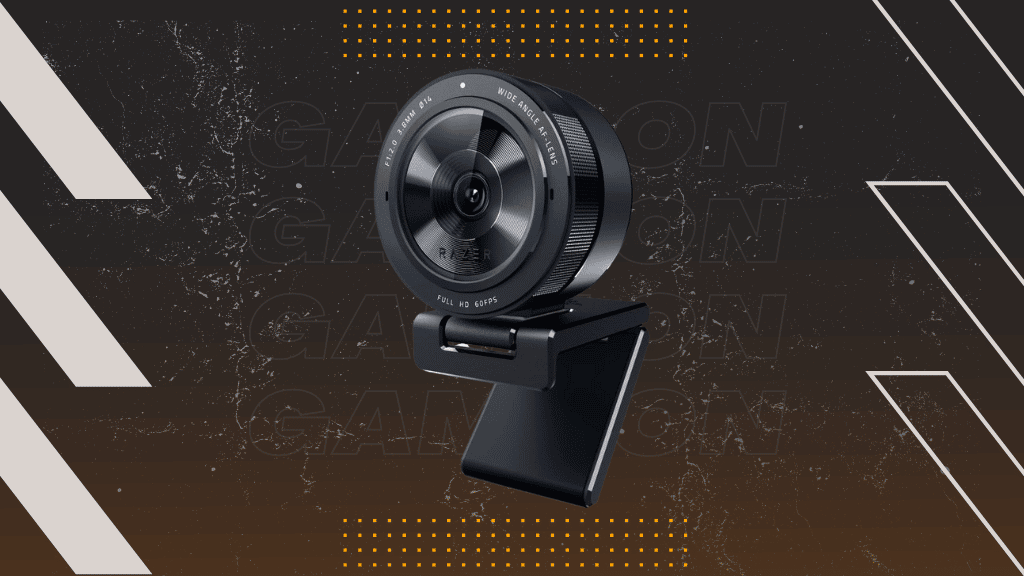 Razer Kiyo Pro
Max resolution: 1080p 60fps | Field of view: 80° - 103° | Built-in microphone: Yes | Autofocus: Yes | HDR: Yes
Pros:
Excellent image quality

Great mount and freedom of movement

Has HDR
Cons:
Synapse could use some improvements
The Kiyo Pro is a large, cylindrical webcam with a rotating ring in the front that, unfortunately, does nothing. Razer put a lot of effort into designing its mount. The mount lets the camera move four ways while tightly gripping and adjusting to your display. It's possible to mount the Kiyo to a tripod with or without it.
Hot on the Facecam's heels is the the Pro version of Razer's Kiyo. It's even more advanced than the original, offering outstanding visual fidelity and excellent low-light performance. It's among our costlier picks, but you can frequently find the camera on sale. Add comprehensive tweaking options through Synapse, and you've got a worthy alternative to our best webcam.
Readers familiar with the original will note that the Pro lacks a ring light. Larger and more powerful ones are easy to find at reasonable prices, and having more room to work with let Razer's engineers focus on improving core features. Chief among them is video quality, which is excellent for a 1080p webcam.
Lookin' Good in Any Light
Improvements are particularly noticeable in low-light situations, where the Kiyo Pro maintains a good balance. Conversely, its HDR mode introduces more contrast and brings parts of the image that would be overblown in SDR mode back in line. The tradeoff is that HDR reduces the max framerate from 60 to 30fps. Unless you're the expressive type, this shouldn't be an issue.
Razer Synapse isn't as sophisticated as Elgato Camera Hub, but it does the job. Several presets already make the video look good. You can dial these in further by playing with the brightness, contrast, saturation, or white balance. The software also allows you to change the field of view and zoom in digitally.
There's nothing to complain about the Kiyo Pro, but Synapse could use some work. Owners of Razer's keyboards or mice already know that the software is a resource hog. Certain features also require registering an account, which some users may be reluctant to do.
Dell UltraSharp 4K Webcam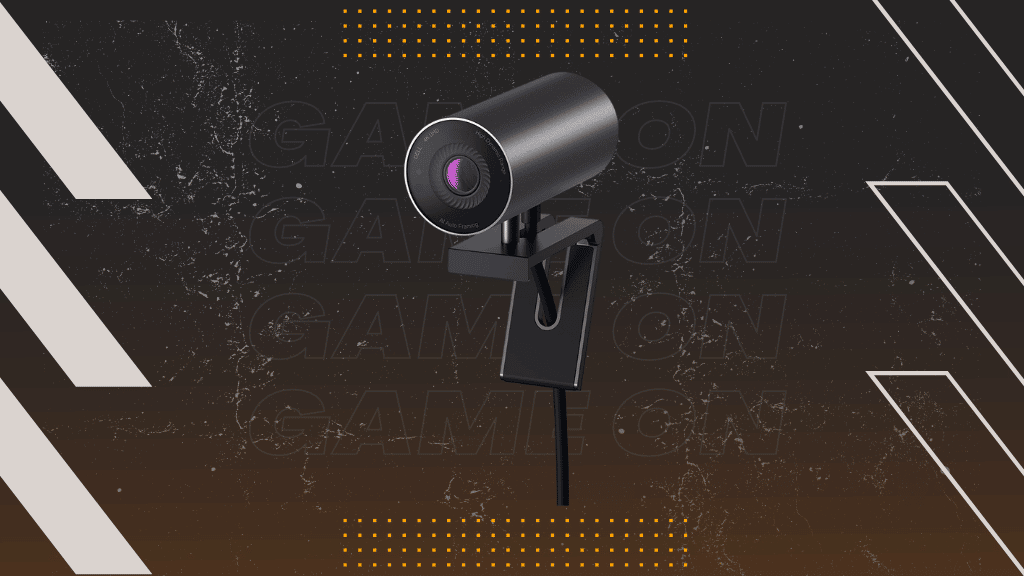 Dell UltraSharp 4K Webcam
Max resolution: 4K 30fps | Field of view: 65°, 78°, 90° | Built-in microphone: No | Autofocus: Yes | HDR: Yes
Pros:
Exceptional picture quality

Attractive and clever design

Large sensor helps boost low-light performance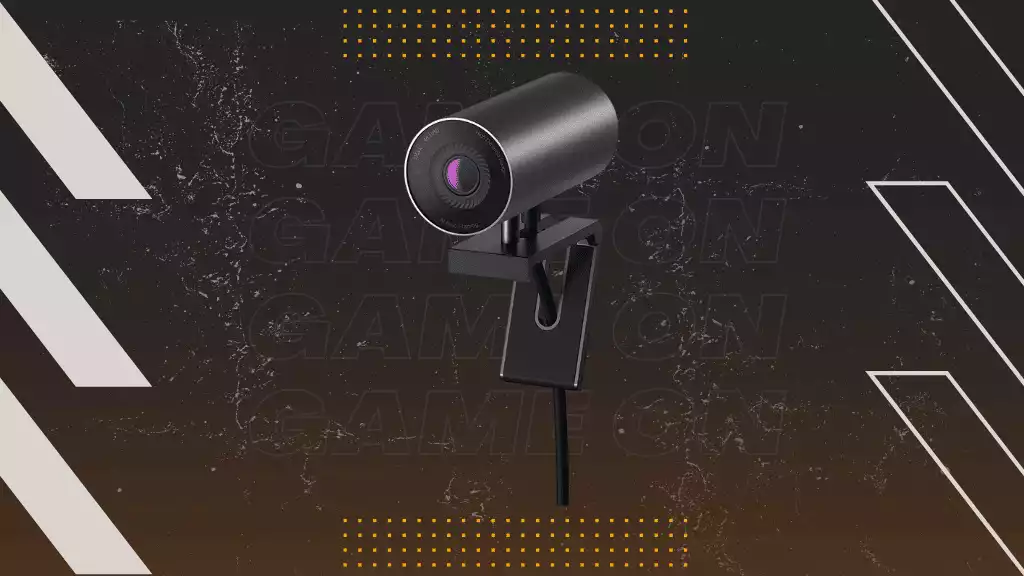 Do you want your audience to see every tiny detail on your face in near-perfect clarity? Ordinary 1080p cameras won't cut it. You'll need to up the resolution to 4K, and Dell's Ultrasharp webcam is the device for the job. Even if your likeness is mainly relegated to the corner when playing games, the added sharpness this camera brings to 1080p is worth the comparatively high asking price.
Dell absolutely nailed the design, making the Ultrasharp one of the finest-looking webcams on the market. It is a long cylinder made from anodized metal that makes excellent use of magnets. One is there to attach the privacy cover either over the lens or in the back for safekeeping. The other keeps the mount in place and lets the camera tilt up and down slightly. As suspected, the resulting contraption is heavy, so you might want to get a tripod instead of mounting it on a flimsy laptop lid.
An advanced Sony Starvis sensor is at the heart of the UltraSharp's success. It maxes out at 8.2 MP and is considerably larger than most webcam sensors at 1/2.8″. Along with a back-illuminated design, this ensures more light hits the sensor and provides greater adaptability in low-light conditions.
Picture Perfect
This is the best 4K webcam, hands down. On the one hand, the amount of detail it can capture is exceptional. On the other, it is quick to focus and can competently adjust to the environment. Expect usable footage even in torturous situations where you're sitting directly in front of a window or rely on a screen as your only light source.
The Peripheral Manage software provides a comparable experience to Synapse in terms of functionality. Apart from several presets and finer adjustments, you can set the camera up to work with Windows Hello or have it lock the computer when you step away from it. Streamers will want to keep that setting disabled, but it's a valuable addition for anyone using the computer the camera is attached to for work.
This is the second webcam we've come across that lacks a microphone. It makes sense – if you're willing to spend close to $200 on a pro webcam, you're also likely to invest in good audio, even if it's just a quality gaming headset.
Logitech Brio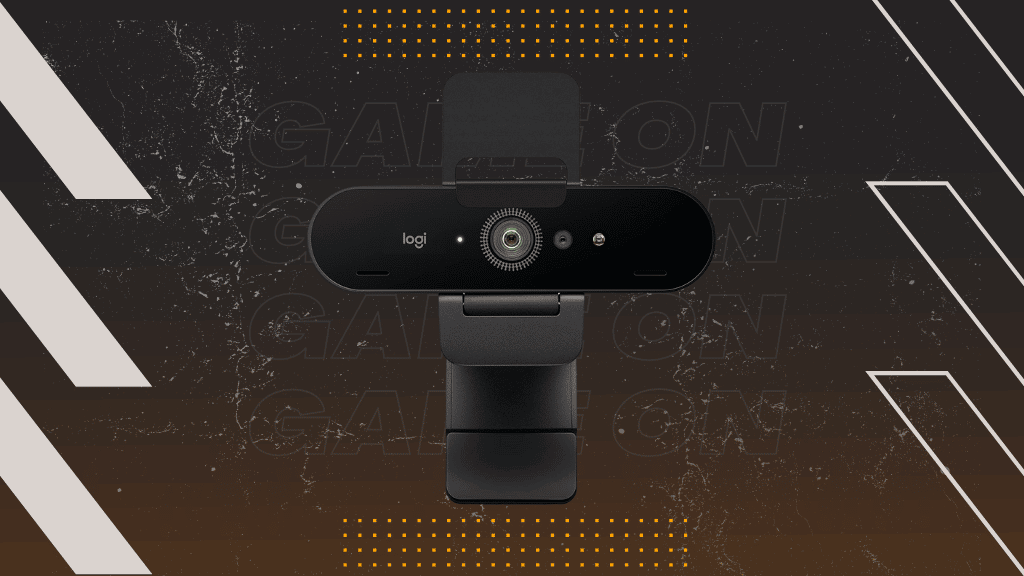 Logitech Brio 4K
Max resolution: 4K 30fps | Field of view: 65°, 78°, 90° | Built-in microphone: Yes | Autofocus: Yes | HDR: Yes
Pros:
Shoots great-looking 4K and 1080p video

Has three fields of view

Less expensive than newer 4K rivals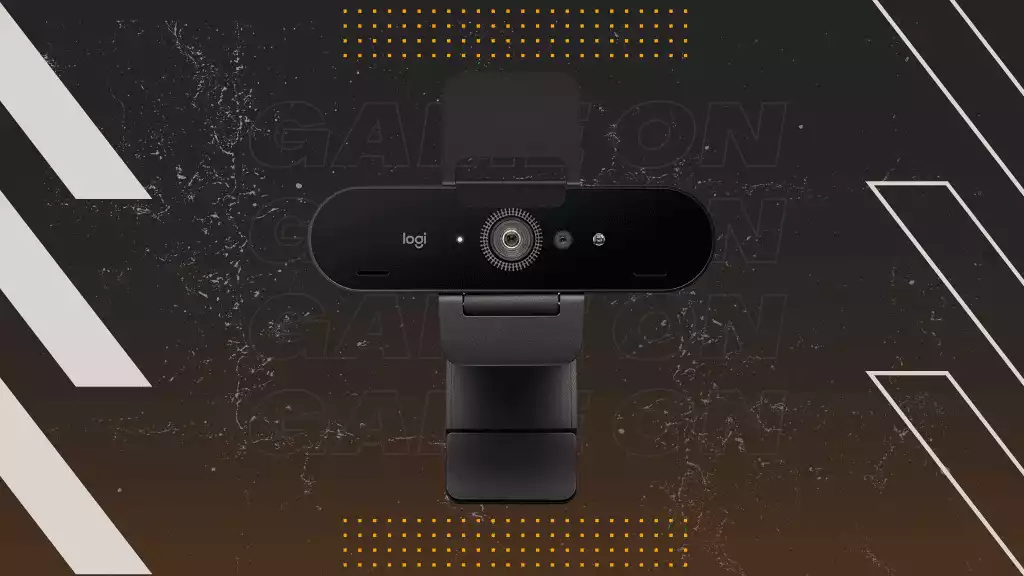 The Brio is a true trailblazer as it introduced 4K to the webcam world when it was barely a thing elsewhere. Even though it's five years old, it could very well be the best webcam for streaming if you crave 4K at a reasonable price. The picture quality is still top-notch, and the user experience only keeps improving as Logitech Capture matures.
Despite its 4K capabilities, the Brio is one of the more conventional-looking cameras on the list. It's oblong, small, and superbly portable. You get a handy drawstring bag and a 7-foot USB-C to USB-A cable among its accessories. An adjustable stand also allows for some tilt while hugging monitors and laptop screens with equal vigor.
How much use you'll get out of 4K as a streamer is debatable, but such a high ceiling helps 1080p shine too. The Brio can put out clear 1080p video at 90 fps, giving those lucky 144Hz display owners something to appreciate. Footage captured with the Brio looks vibrant, and the inclusion of HDR goes a long way when you need to balance harsh shadows with bright light sources.
Still a Contender
While not as good as a dedicated streaming mic, the Brio's two omnidirectional microphones can tide you over until you're ready to invest in better audio gear. They're certainly an upgrade from whatever built-in mic your laptop comes with.
Using the Brio is a plug & play affair since macOS and Windows recognize it instantly. You can go straight into your streaming software of choice or set things up in Logitech Capture beforehand. The Brio has three fields of view, which you'll want to test for a time before streaming. 90° is ideal if you want a wide shot of your surroundings, while 65° is a narrow option that puts your visage in the forefront.
The Brio has gone down in price significantly since release, so we can't ding it for that anymore. This leaves only minor nitpicks like the unstable privacy shutter. It's flimsy and wraps awkwardly around the camera. You're better off covering the lens with a piece of paper when not in use or looking at the indicator light to gauge when the Brio is active.
Obsbot Tiny 4K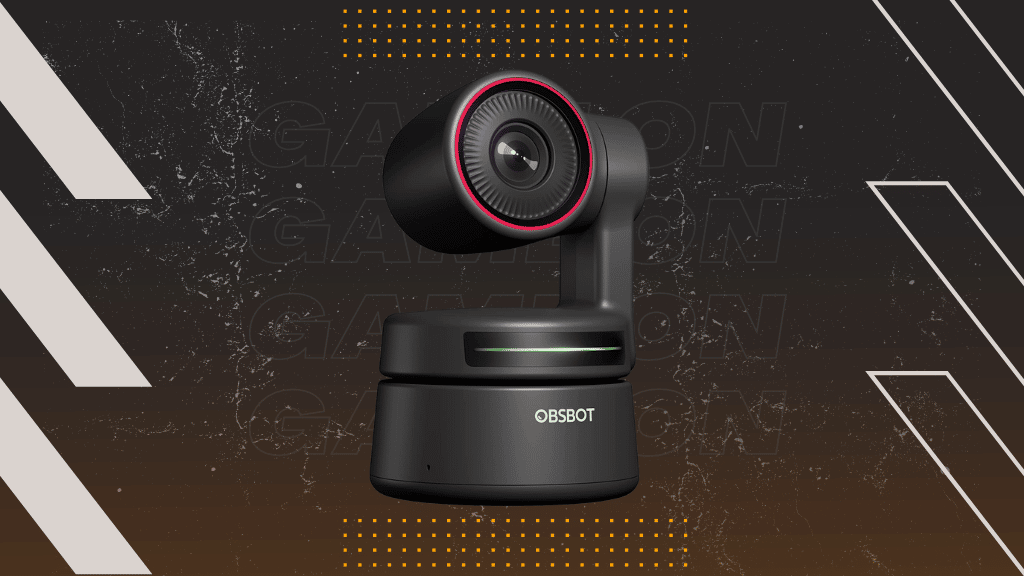 OBSBOT Tiny 4K
Max resolution: 4K 30fps | Field of view: 86° | Built-in microphone: Yes | Autofocus: Yes | HDR: Yes
Pros:
Excellent motion tracking and control

Puts out quality 4K video in SDR or HDR

User-friendly companion software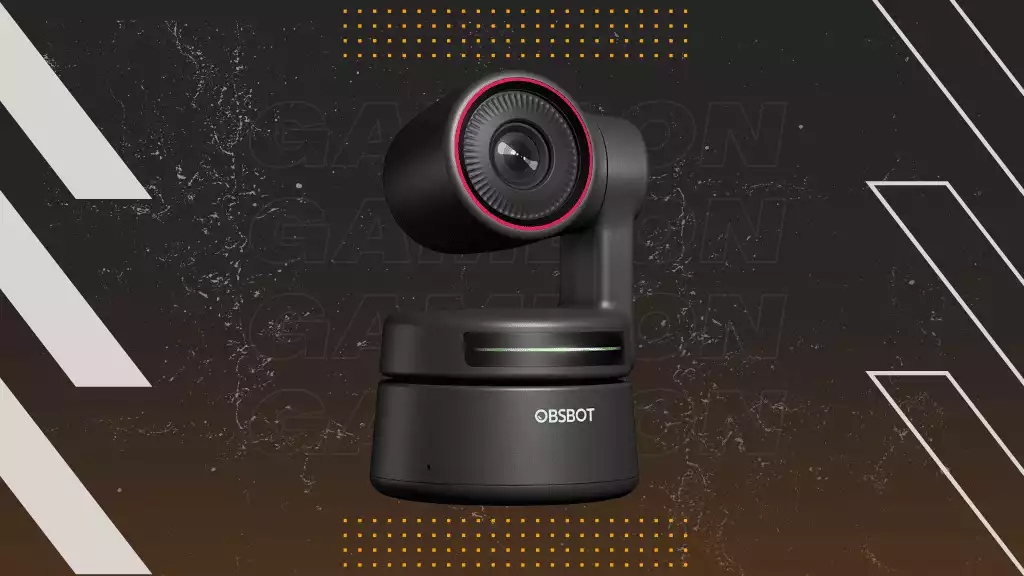 All the webcams we've looked at so far work best when you sit still. But what if your style or type of content requires lots of moving around or centering on objects other than your head? Obsbot has an innovative solution in the Tiny 4K. It's a compact webcam that uses AI and hand gestures for more intelligent control and seamless tracking no matter how active you are.
Unconventionally-shaped webcams seem to be a trend. The Tiny 4k reminds us of motion-tracking security or nanny cams with its gimbal arm and sturdy base. It works flawlessly from any flat surface, and the bottom has a standard tripod screw head. A display mounting clip is also part of the package. The Tiny 4K's freedom of movement is exemplary for a webcam. It's able to pan 150 and tilt 90 degrees, so its main interest is impossible to lose.
Keeping You in the Spotlight
While it's possible to control it through more mundane means, you'll get the most authentic Tiny 4K experience by using hand gestures. Raising your hand, waiving, or forming an L-shape causes it to change focus and zoom level. Sometimes it won't recognize a motion, but the controls are reliable overall.
No webcam equals the UltraSharp's clarity, but the Tiny 4K is in the same league. However, we'd argue that the high resolution is even more important here. The autofocus has two modes. One exclusively tracks faces, while the other focuses on the most prominent object in the scene. Coupled with 4x digital zoom, this is useful if you're showcasing a small product like an SSD and want the camera to snap to it quickly.
Default exposure and contrast settings are adequate. You can enhance them further by engaging HDR or put your own spin on them inside the TinyCam software. That's also where you toggle the autofocus type and set the maximum zoom. Even though the camera can record in 4K, you might want to use 1080p for 60fps and a smoother experience when moving.
Price is the only thing about the Tiny 4K users might find off-putting. It costs around $270 when not on sale, which is a hard pill to swallow with the existence of the UltraSharp and Brio.
Dell Pro Webcam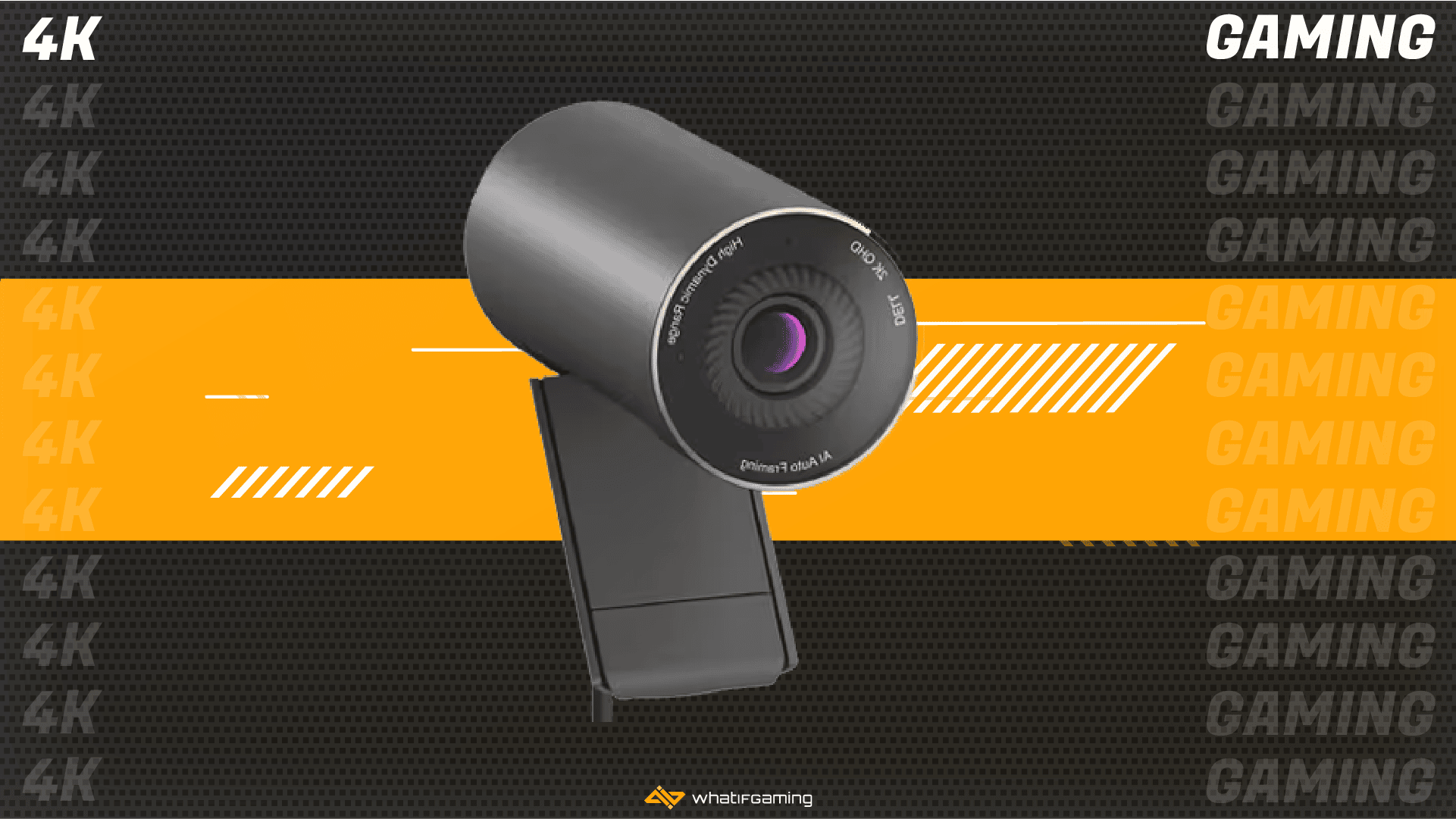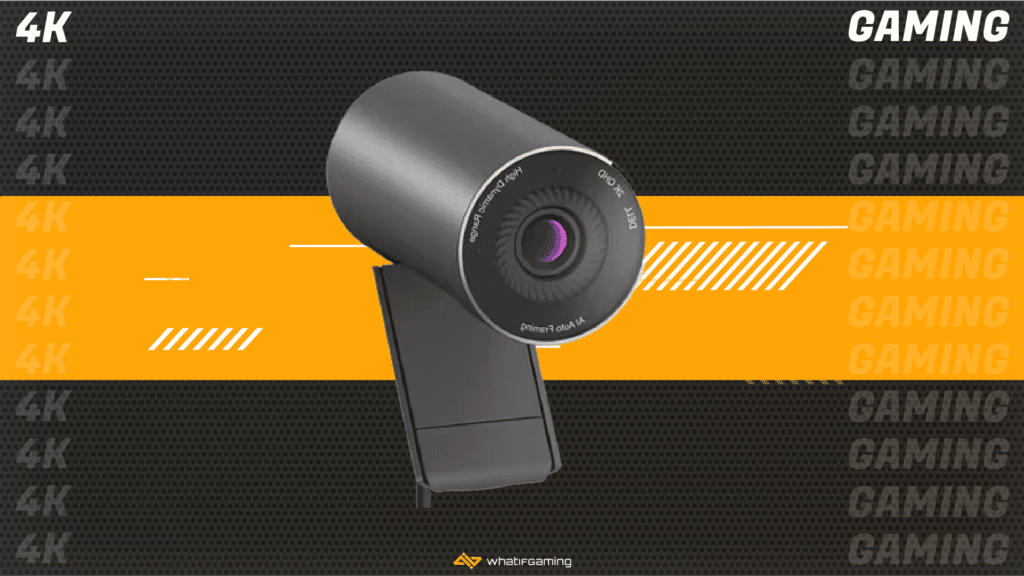 Dell Pro Webcam
Max resolution: 1440p 60fps | Field of view: 78° | Built-in microphone: Yes | Autofocus: Yes | HDR: Yes
Pros:
Outstanding exposure correction

Good balance of specs and value

Great build quality, especially the mount
Cons:
Software offers only basic adjustments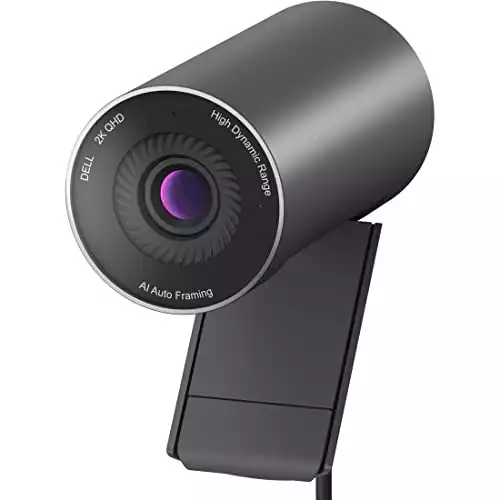 The best cameras for streaming come with comprehensive software, which you'll often need since their out-of-the-box settings aren't that great. Dell's second entry on our list, the more accessible Pro Webcam, trades in-depth software functionality for a look that requires minimal tweaking. Best of all, its output looks great whether you're a lighting pro or rely exclusively on your monitor's glow.
Dell already locked in all the design elements for a successful webcam with the Ultrasharp, so the Pro's minimal aesthetic changes make sense. It's slightly smaller, and the body is made from plastic instead of metal. You can't detach the USB cable this time. The monitor mount is a step up since it is rubberized and sturdy enough to hold on tight to your screen and not budge once you've set the tilt.
Most webcam manufacturers jumped from 1080p straight to 4K, so it's refreshing to see a 1440p model. It's a prudent cost-cutting measure since many users don't have 4K screens yet, and the difference between it and 1440p is hard to spot with your face tucked away in a corner.
Set It and Forget It
You'll love the Pro if you're a fan of the hands-off approach to streaming. Adaptability is the camera's greatest strength as it manages to dial the right amount of exposure or color correction in almost every time.
Lots of light hitting your back that would otherwise leave your face in the dark? No problem! Only one light source directly in front of you to work with? Same thing. Out of all our recommendations, the Pro is clearly the most intelligent at tackling extreme lighting scenarios. Turning HDR on adds another layer of fidelity and successfully brings wrongly exposed parts of the scene back in line.
The lack of in-depth tweaking might put some people off, though. Dell's Peripheral Manager installs automatically & offers some image customization. Pedantic users will miss the ability to fiddle with the exposure or ISO value. Luckily, the Pro's defaults are good enough that many won't miss the absence of such features.
Insta360 Link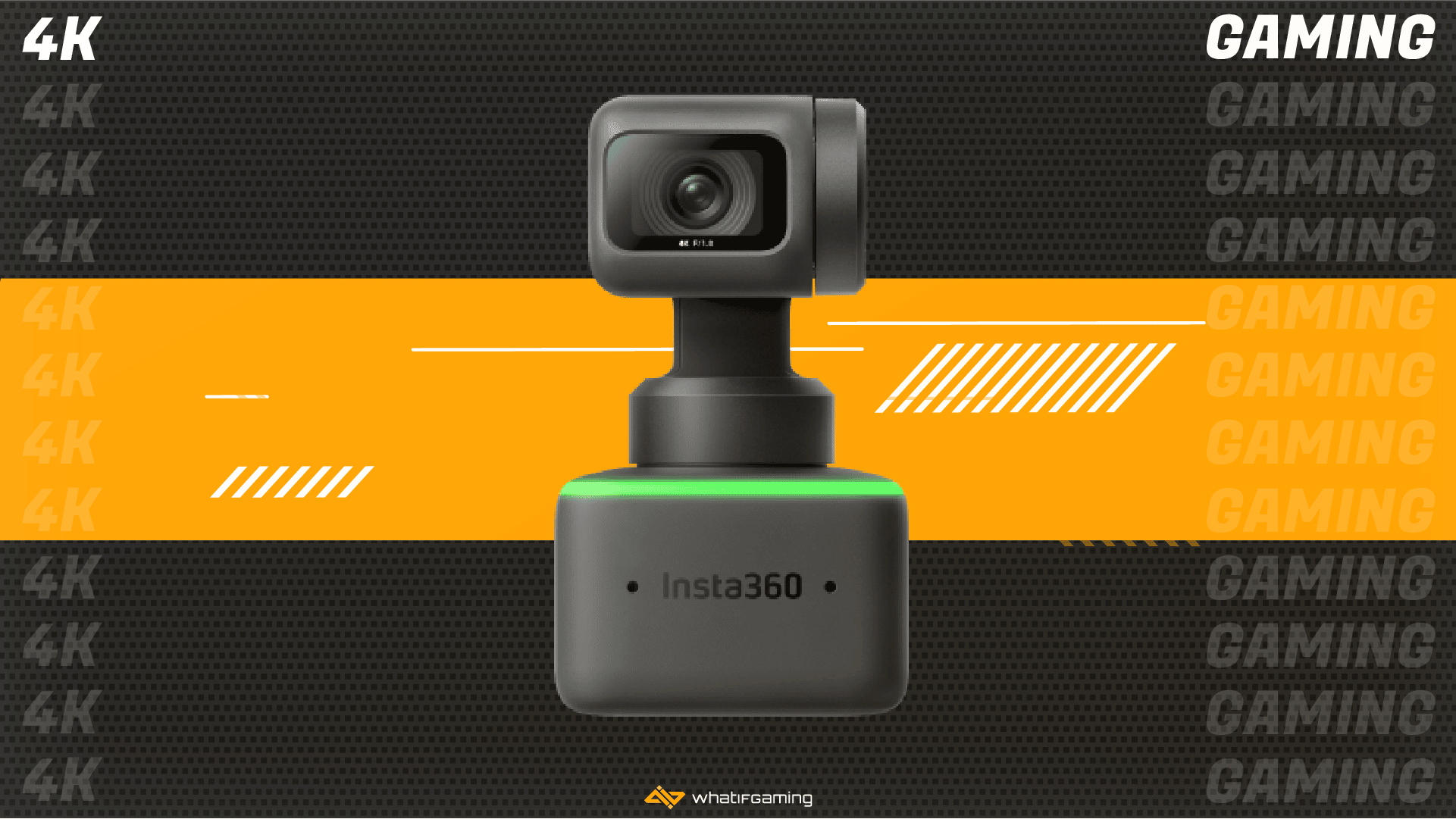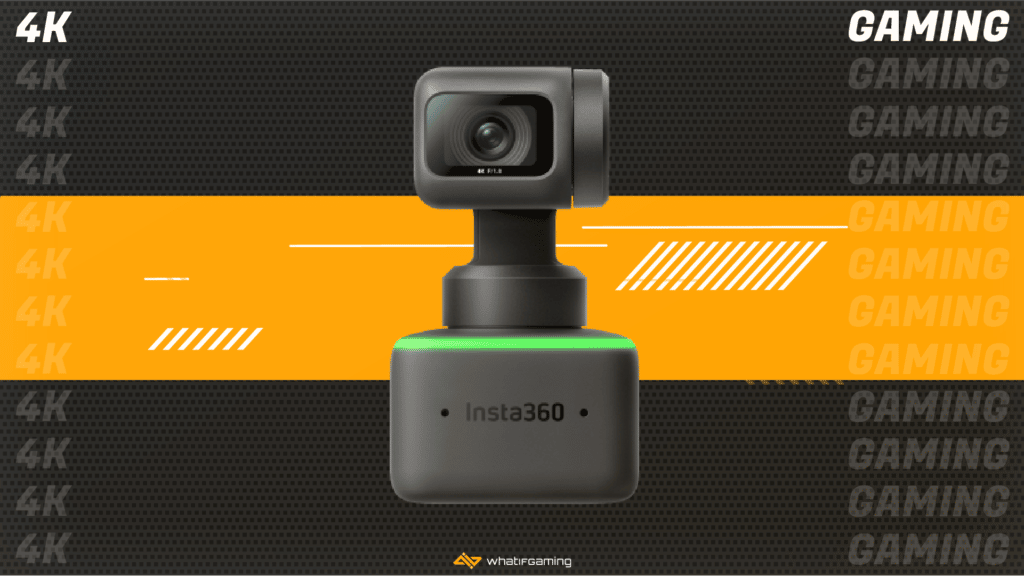 insta360 Link
Max resolution: 4K 30fps | Field of view: 79.5° | Built-in microphone: Yes | Autofocus: Yes | HDR: Yes
Pros:
Bright and crisp image due to large sensor

Responsive and highly configurable motion tracking

Comprehensive app
Cons:
Expensive, gets hot quickly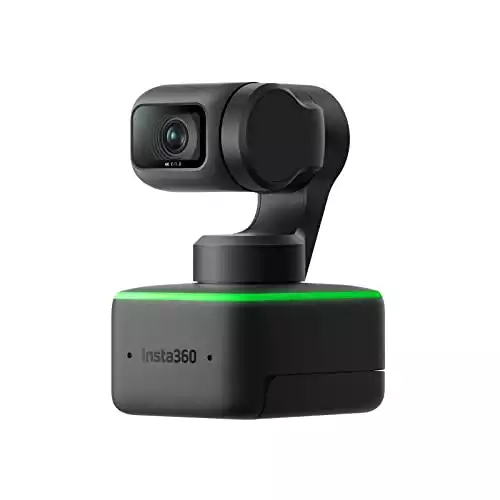 The OBSbot seems to have set off a trend of gimbal-operated face-tracking cameras, and Insta360 picked up the torch! The lauded 360-degree camera manufacturer's first dip into webcam waters is successful, as the Link boasts exemplary picture quality and accurate tracking. OBSbot's camera offers similar capabilities for less, which is one of the main reasons it's two rungs higher.
Since they both come with AI-powered motion tracking, it's not surprising that the Link and Tiny 4K share a design philosophy. The Link's gimbal looks more sophisticated and is reminiscent of those found on DJI's Pocket cameras. Its base contains a clip that folds out to fasten the camera onto a laptop or monitor. You'll find a tripod screw on the bottom and can even get a tripod from Insta360 if you opt for the bonus package.
Even if it weren't for hands-free operation, the overall picture quality would put the Link on the map. It's equipped with a 1/2″ sensor, one of the largest in existence for webcams. The max aperture is a bright f/1.8, allowing much more light hit the sensor than competing products.
That's great news for creators in dim environments since the picture is naturally brighter. HDR on the Link comes with a resolution and framerate penalty, so being able to keep recording at 4K without having to run HDR in challenging light will let your content shine.
You can control some of the Link's operations via hand gestures, but the controls are limited and don't always get interpreted correctly. We're sold more on the AI tracking features that keep either you or a designated space in focus.
A Brighter Outlook
Personal tracking is exceptional and easily contends with sudden movements or position changes, courtesy of the three-axis gimbal. You can set the camera to track your head, but bust and upper body modes work just as well. Lastly, a whiteboard mode has you designating a rectangular area with provided markers. The Link then focuses on objects inside that area, which is useful if you're explaining something to students, for example.
The Link Control software offers minute picture and camera positioning controls. The ability to adjust contrast, white balance, etc., is implemented as well as in other leading camera software. We're more interested in the extensive gimbal adjustments. Link Control lets you move the camera manually in any direction, set up predefined points to jump to, and customize the tracking speed.
Why is this camera lower than the Tiny 4K despite all its nifty features? On the one hand, it's more expensive while not being more advanced than OBSbot's camera. On the other, it gets hot even after moderate use, so you'll have to take that into account when planning streaming sessions.
Logitech Mevo Start
Logitech Mevo Start
Max resolution: 1080p 30fps | Field of view: 84° | Built-in microphone: Yes | Autofocus: No | HDR: Yes
Pros:
Good value for users who need multiple cameras

Comprehensive companion apps

Great build quality and intuitive controls
Cons:
Single camera is very expensive, juggling apps can become tedious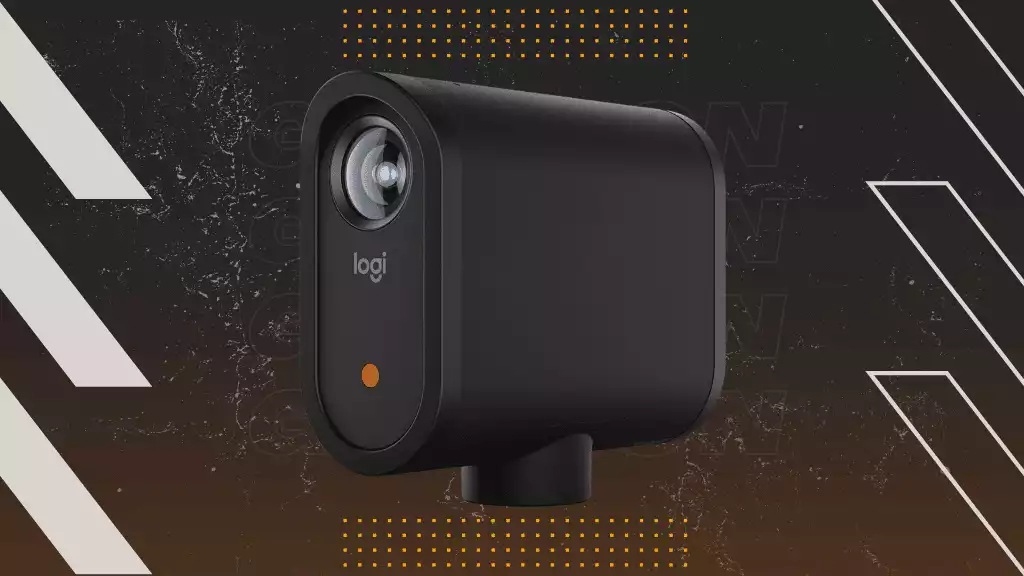 Other webcams we've discussed cater mainly to smaller or sedentary creators who plug their webcam in, find an angle that works, and go with that. What if you're a streamer who goes out of the studio to events or needs multiple angles for their cooking or PC building show? You're in luck, because Logitech has come up with a multi-camera setup that can save you a lot of hassle and even more money.
The idea behind the Mevo Start is ingenious – it's a wireless camera that connects to your phone and can stream from anywhere, provided the connection is good enough. It's larger and tougher than conventional webcams, with ports for MicroSD cards and external mics. The on/off button is the only physical control, while LEDs indicate the recording and battery status. The Mevo Start can record for six hours per charge.
The accompanying apps are essential to the Mevo experience. There's the regular Logitech Mevo app that controls a single camera. It broadcasts a feed of the Mevo Start to the screen, allowing you to change how everything looks. Several buttons let you instantly stream to the most popular platforms.
A Streaming Studio in Your Pocket
You'll want to invest in a Mevo Start 3-pack to truly take advantage of the system. Using all three requires you to install Logitech Mevo Multicam. This app turns you or a friend into a camera operator, seamlessly transitioning from one of the three sources to the next with a tap. That's incredibly useful when you need one camera to face a presenter and others to focus on what's in front of them from different angles.
As for quality, the Mevo Start is limited to 1080p at 30fps. It compensates by delivering above-average picture clarity and better sound than on most conventional webcams.
A high asking price is responsible for the Mevo Start's low ranking. A single camera will set you back around $400, with three of them going for close to $1,000. Granted, this product is intended for a niche within a niche and is considerably cheaper than investing in several DSLR or mirrorless cameras. Still, you're better off with one of our other picks unless you're going for the multicam version.
Lumina 4K Webcam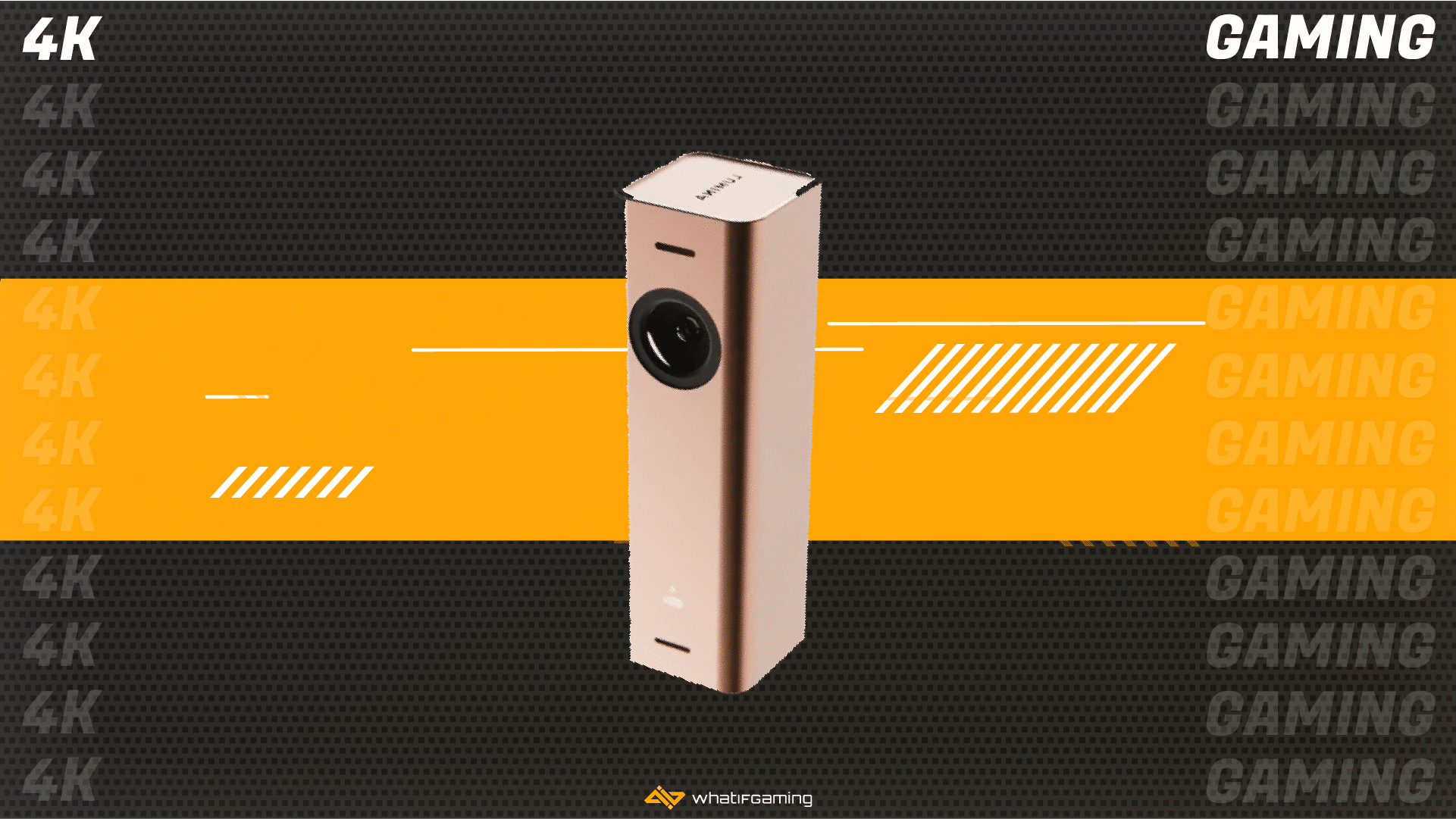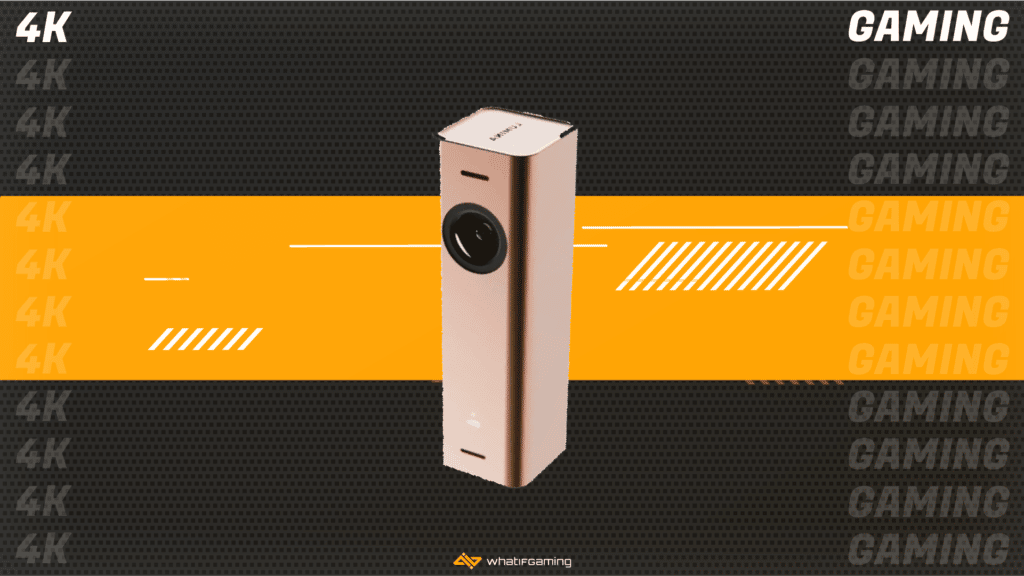 LUMINA 4K Webcam
Max resolution: 4K 30fps | Field of view: 65° - 95° | Built-in microphone: Yes | Autofocus: Yes | HDR: No
Pros:
Stylish and unique appearance

Decent picture quality, even more so when tweaked

Lots of options in the companion software
Cons:
Soft look won't be for everyone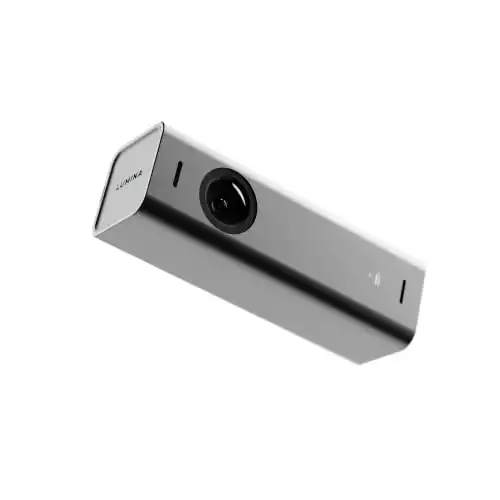 The number and variety of 4K webcams on the market is rapidly increasing, so newcomers have to offer something unique to stand out. The Lumina 4K hopes to do is through extensive color calibration, AI-assisted image blurring, and a stylish exterior. It's not the best webcam for streaming at this resolution, but its feature set might still end up being exactly what you need.
Nothing beats the Lumina when it comes to style & presentation. It sports a minimalistic rounded rectangular design and is no wider than a smartphone. The casing is made from matte aluminum and is available in several alluring colors. There's a noise-canceling speaker close to each edge, while the lens is off-center to the left.
Apart from two connection cables, you get three additional accessories. The first is a small clamp that secures the Lumina to your laptop's lid. The second is a handy magnetic privacy shutter you can attach to the camera and pull down when it isn't in use. A color correction card is last. It has a QR code that was supposed to help you automatically calibrate the correct color values and light balance.
Specs-wise, you're getting a 1/2.5" sensor with an f/2.0 max aperture. While not as great as the Link's, this combination still works well even if the lighting in your room isn't optimal. Face tracking is another similarity with Insta360's camera, although here it doesn't work as well.
The Lumina's default picture settings offer a soft look. While this deserves criticism in situations where you want to draw attention to tiny details, it's a boon for streamers who want to look made-up without having to get ready each time. Conversely, turning Curve Lift on highlights hair and other textured parts of the screen.
Capable 4K Elegance
That color correction gimmick never really took off, but the card is still a useful addition thanks to the Lumina app's abundant correction options. Besides the basics, you can adjust red, green, and blue hues manually and use that card as a reference. Here's where you can also set up the intensity of background and face blur to simulate a look from a more expensive digital camera.
Users who want to customize the Lumina's output through different software can switch it to Raw mode. This displays the image as the camera sees it, without adjustments or embellishments.
The Lumina leaves a positive impression, but cameras higher on the list have better image quality and more fleshed-out features. That shouldn't dissuade you from buying one if you like its style and can find it on sale.
Logitech C922 Pro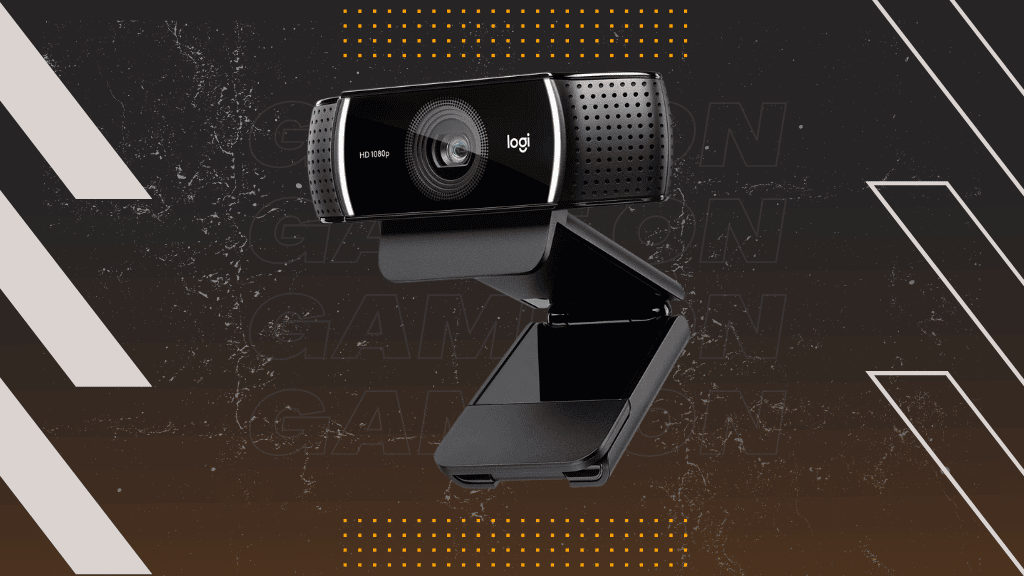 Logitech C922 Pro
Max resolution: 1080p 30fps | Field of view: 76° | Built-in microphone: Yes | Autofocus: Yes | HDR: No
Pros:
Considerable improvement over built-in webcams

Above-average audio quality

Excellent price
Cons:
No privacy shutter or 60fps in 1080p mode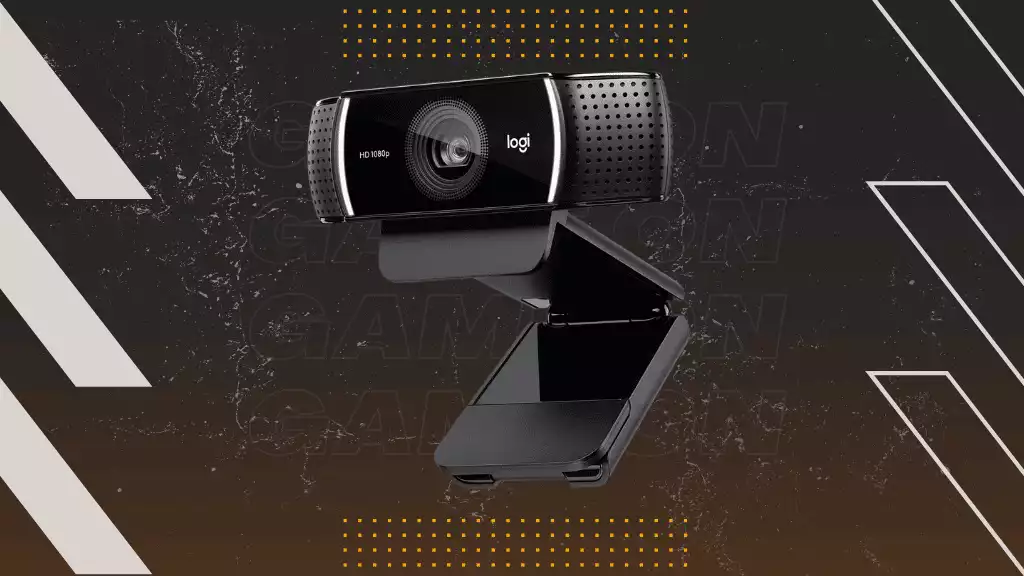 Many would have considered the C922 Pro the best webcam overall upon release, and it's still good enough to make the cut five years later. Newer models have since surpassed its technical limits, but streamers who want a cheap yet significant upgrade to their existing webcam will find the competition lacking.
The C922 Pro shares much of its DNA with the more expensive Brio. It's oriented horizontally, with perforated speakers on the sides. Two white LED bands between them and the lens aren't enough to help with lighting, but they're clear indicators of the camera's activity. You get the standard flip-out mount and even a useful little tripod. A privacy shutter is not included, however.
An Affordable Yet Feature-Rich Gateway to Streaming
A max output of 30fps at 1080p is indicative of the C922 Pro's age. But, don't confuse lack of frames per second with poor video quality. Compared to webcams you'll still find even in the most expensive laptops, Logitech's affordable model is miles ahead. Better resolution is a given, yet the C922 also impresses with its exposure adaptability and smooth handling of motion.
Additionally, the C922 Pro has one of the best built-in microphones. It's a stereo model that captures all surrounding audio, so you'll want a quiet streaming environment for best results. Still, voices sound more natural and lack the pronounced plosives and tinny sound you'd associate with built-in laptop mics.
We've already mentioned the benefits of using Logitech Capture. It works the same for this as for other cameras on the list, except you don't get access to specific features like FOV selection. The C922 Pro is fixed at 76°. It achieves a good balance between keeping your face at the forefront and giving the audience a glimpse of your studio.