Specs:

Type: Mechanical, wireless
Size: Tenkeyless
Per-key backlighting: Yes

Specs:

Type: Mechanical, wired
Size: Standard
Per-key backlighting: Yes

Specs:

Type: Optical mechanical, wired
Size: 60%
Per-key backlighting: Yes

Specs:

Type: Mechanical, wired
Size: Standard
Per-key backlighting: Yes

Specs:

Type: Mchanical, wired
Size: 65% or full 96%
Per-key backlighting: Yes

Specs:

Type: Mechanical, wired
Size: Tenkeyless
Per-key backlighting: No

Specs:

Type: Mechanical, wired + Bluetooth
Size: 60%
Per-key backlighting: Yes

Specs:

Type: Mechanical, wired
Size: Tenkeyless
Per-key backlighting: No
Black has dominated PC design for almost two decades now, and while no one is likely to miss the drab beige setups of the 80s or 90s, some variety wouldn't hurt. White has been gaining popularity as cases, fans, and other internal components prove its aesthetic appeal. You'll want the best white gaming keyboard to accompany such a build, and we have suggestions galore!
It's no secret that the best white keyboards are mechanical. Still, there are almost as many differences as there are models. They vary by the type of available switches, size, connectivity, and the complexity of customization options at their disposal. Our eight picks take all of this into account. Each either excels at one or two features or offers a compelling balance of many. See which white gaming keyboard works best for you and transform the way you type & game forever.
Logitech G915 TKL White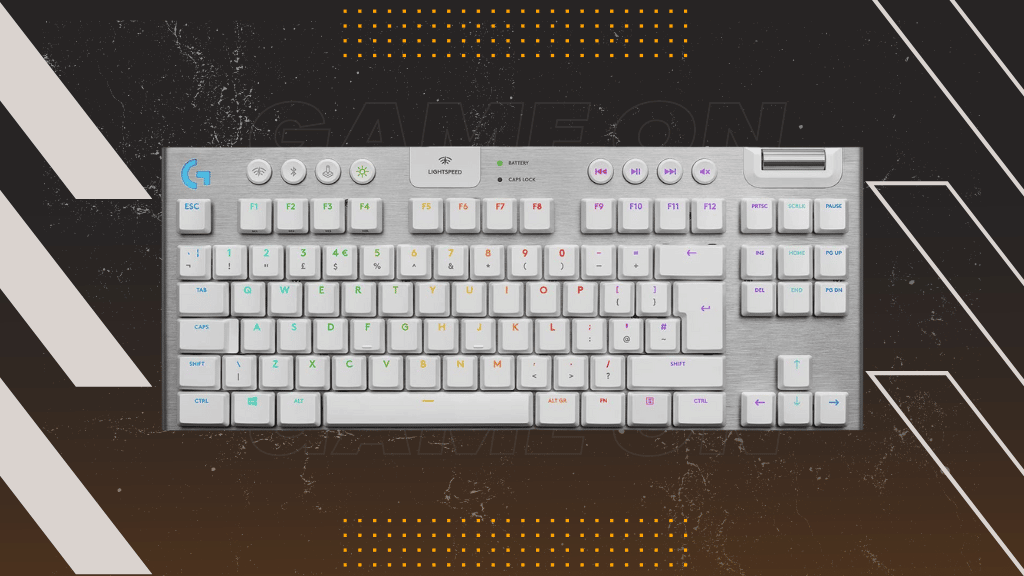 The ultimate white gaming keyboard should be up to any challenge, whether that's dominating a round of Fortnite, or putting together a business report. Unmatched versatility is the G915's strongest feature. It has a sublime typing experience while offering all the bling & advanced customization a gamer could want. Add to that a strong signal & excellent battery life, and you've got the best white gaming keyboard out right now.
A svelte profile is the first thing you'll notice about the G915. It isn't even an inch high yet feels sturdier than many bulkier alternatives. That's thanks to the premium aluminum top plate and steel-enforced base. Even the keys feel sturdy despite being made from thin plastic. There's no wrist rest, but you do get two sets of feet that prop it up at either four or nine degrees.
Logitech uses proprietary tactile GL switches that have a travel distance of just 1.5mm. They require intent to press, so chances of accidental typos should be minimal. You don't get that many extra keys, and dedicated macro keys are absent. Still, you can configure the F row with macros, system commands, and other convenient remapping options from Logitech Go. The keyboard stores three profiles for when you need to switch PCs.
Wireless in White
We're fans of the G915's RGB lighting. It's bright yet focused, with only a hint of glow around each key from the aluminum deck. Logitech Go offers a plethora of customization options. These range from simple zone-based color selection to effect selection & creation and individual key light configuration.
We haven't even mentioned wireless capabilities, which are among the G915's best features. It comes with a dongle you plug into the PC case for use on a wireless frequency but can easily switch to Bluetooth. The signal doesn't degrade while you're within range, so having your monitor in one room and the G915 in another is possible. The battery life is excellent. Logitech puts it at 40 hours with steady lighting, but you can prolong it by turning RGB off.
Corsair K70 RGB MK.2 SE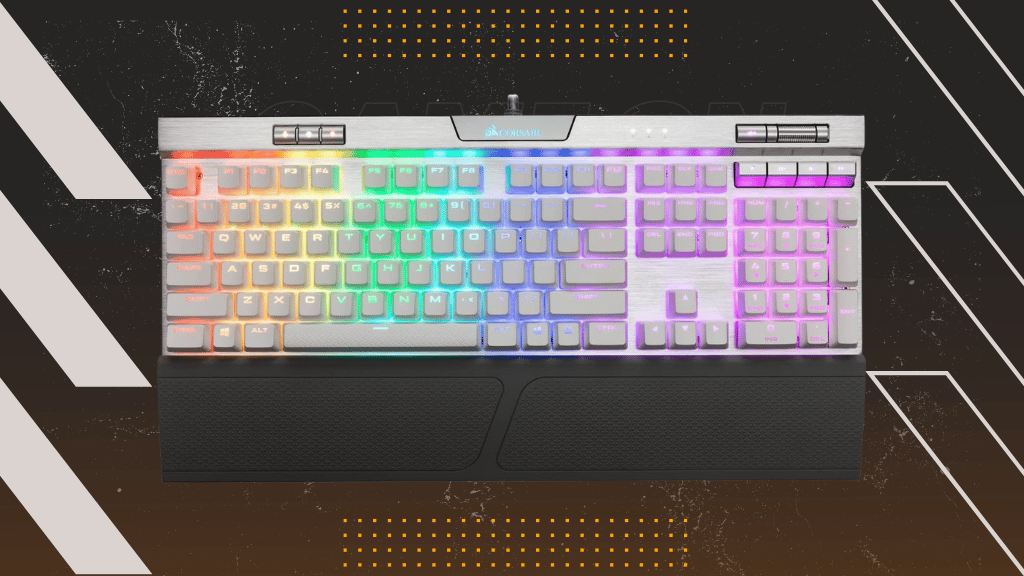 Corsair K70 RGB MK.2 SE
Type: Mechanical, wired | Size: Standard | Switches: Cherry MX Speed Silver | N-key rollover: Yes | Per-key backlighting: Yes | USB passthrough: Yes
Pros:
Outstanding customization options

Premium build quality

Attractive RGB
Cons:
Limited to a single switch type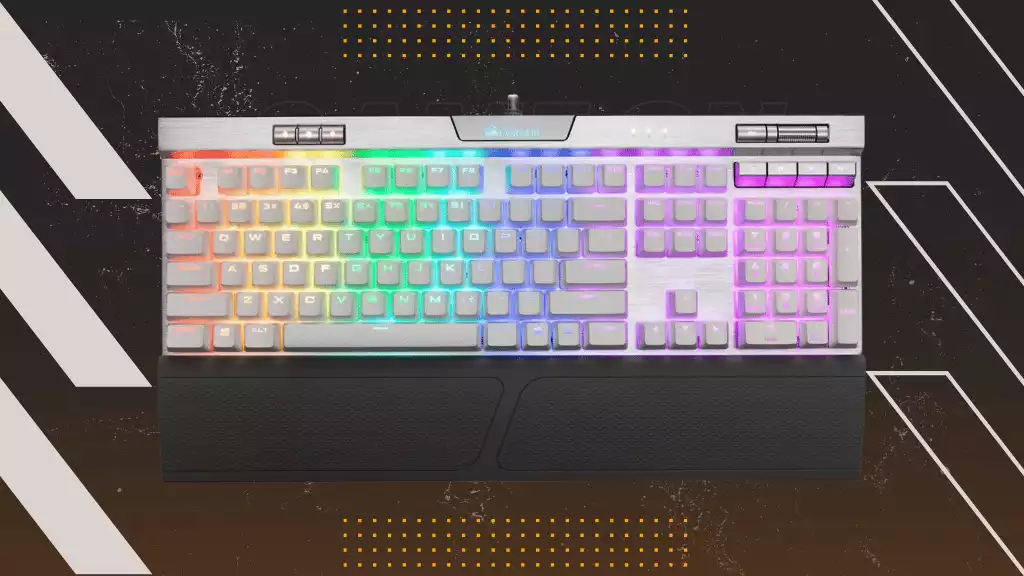 Do you want a premium keyboard as capable as our winner that has a wrist wrest and even better lighting options? Then turn to Corsair and the special edition of the K70. It's the best white gaming keyboard if you're looking for a more conventional take in terms of size. The board is stunning, built to last, and will satisfy even the pickiest gamers' customization preferences.
The K70 is among the most attractive keyboards on the list with its gleaming silver top plate and high-profile keycaps. It's sturdy, too, since most of it is made from metal and doesn't flex at all. You also get a detachable plastic wrist rest that snaps into place via two tabs. Both it and the K70 have reinforced rubber feet that ensure complete stability. The keyboard itself has a pair that extends to the sides and props it up at a slight angle.
The cable is thick and six feet long. It's fixed to one side and terminates in two USB 2.0 connectors on the other. The passthrough is useful for plugging a mouse into the keyboard without causing cable clutter.
The Silver Speedster
Corsair opted to go with only one type of switch for this particular version. It uses Cherry MX Speed Silver. These are akin to MX Red's but with a much shorter travel distance and a design that lets more light through. They're smooth, relatively quiet, and best suited for gaming. Typists who hover over keys might find themselves activating them accidentally.
The keycaps have an easy-to-read font and sit high above the switches. That makes for more bleed than on the G915. The lighting is striking, though, and configurable down to the smallest details. We have to give props to Corsair for the keyboard's iCUE integration. The hub allows you to sync it with other Corsair devices like headsets or change minutiae like an effects speed or orientation.
More importantly, iCUE lets you specify different languages and macro or text inputs. You can assign custom functions to any key and even switch to different layouts like DVORAK. The K70 stores three profiles and doesn't require the software to be installed on the host computer if the saved presets don't include complex lighting changes.
Razer Huntsman Mini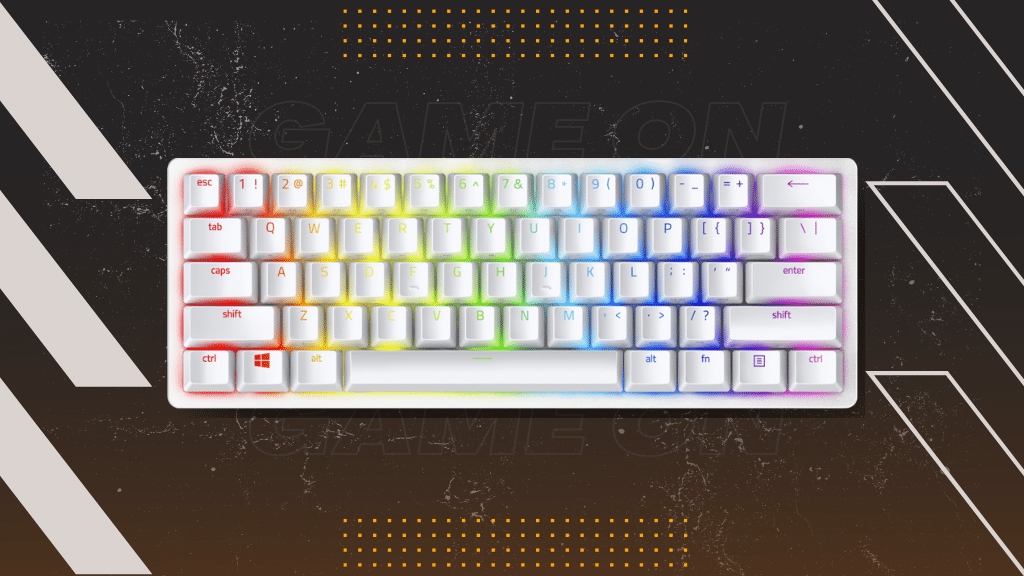 Razer Huntsman Mini
Type: Optical mechanical, wired | Size: 60% | Switches: Razer Optical Clicky | N-key rollover: Yes | Per-key backlighting: Yes | USB passthrough: No
Pros:
Unmatched portability

Excellent typing experience

Good companion software
Cons:
Reliance on shortcuts might be problematic for some
Desk real estate is at a premium for some people, while others like to angle their keyboards to be more comfortable. Up until a few years ago, you couldn't do anything about that other than get a tenkeyless model, but 60% keyboards changed all that. The Huntsman Mini is the best white gaming keyboard in that department – discreet, portable, and highly configurable.
A small footprint is the Huntsman Mini's priority. It's much smaller than even TKL models since both the F row and everything to the right of the Enter key is missing. How do you fully utilize the keyboard then? With lots of alternatives accessed by holding the Fn key down. It takes some getting used to, especially if you've always relied on a full complement of keys. The USB cable helps portability by being detachable.
Razer used high-quality materials for most of the board. Its base is plastic to cut down on weight, but the top plate is aluminum. The keycaps received particular attention as they're doubleshot. This means they're built using an advanced injection method that prevents wear as well as smudging. The RGB underneath each key is easy to spot, as is the thin font.
Setting Its Sights on Quality Typing
This is another model that uses proprietary switches. Razer outfitted it with optical-mechanical Clicky switches, but you can get a Linear version too if you pay extra. The Clicky variant is most similar to Cherry MX Blue. Registering a press requires longer travel distances and a larger actuation force. The experience is favorable for typists and gamers. However, you may want to go with the Linear variant if you don't do much of the former.
Input adjustment is vital to a small keyboard like this, and Synapse nails it. You get to reassign functions, record macros, and store five profiles on the Huntsman Mini itself. RGB adjustments are no less advanced. There are a dozen presets to choose among, including one that reacts to noise. Syncing up the lighting with other Razer products is a cinch. Better yet, you don't need Synapse if you're only after the basics since you can cycle through some lighting presets or assign macros even without installing it.
ROCCAT Vulcan 122 Aimo
Roccat Vulcan 122 Aimo
Type: Mechanical, wired | Size: Standard | Switches: Roccat Titan | N-key rollover: Yes | Per-key backlighting: Yes | USB passthrough: No
Pros:
Lots of gamer-centric features

Adaptive lighting that changes as you use it

Quiet yet tactile switches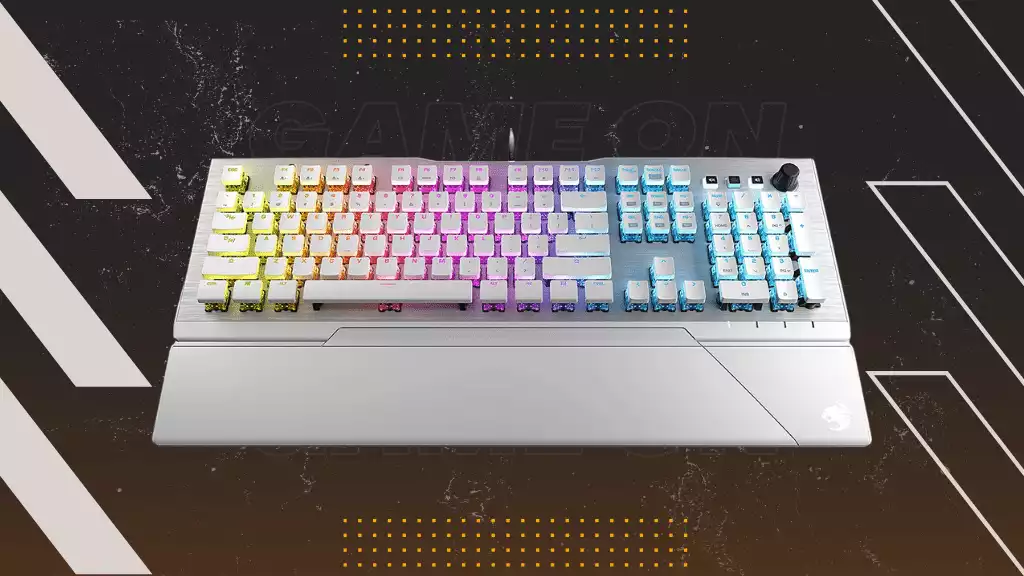 Our white gaming keyboard choices so far were all excellent, but none comes with features that make particular games like Overwatch or Battlefield play more smoothly. Enter Roccat's Vulcan 122 Aimo, a keyboard FPS players will adore. It's silent yet responsive, comes with impressive lighting, and lets you kick back after intense matches, thanks to great multimedia keys.
The Vulcan 122 wins our award for best white gaming keyboard aesthetic. It's larger than most standard models, so the brushed aluminum top plate is even more pronounced. The keycaps are indented for easier typing and lack texture. Something to be aware of if you have sweaty hands. Several multimedia keys sit next to a volume knob. That combined with visible screw holes gives this model a fantastic industrial look.
The wrist rest isn't as great. It's magnetic, prone to detaching, and flimsy. You're better off ditching it or getting a better one instead.
Roccat uses Titan switches to deliver a Cherry MX Brown-like experience. The force needed to press them is comparable to MX Blues, but the noise the switches make is more subdued. The concave keys are easy to press but more spaced out than on conventional keyboards. You might need a brief adjustment period to regain your previous dexterity and WPM.
The Gamer's Keyboard
The Aimo in the Vulcan 122's name refers to Roccat's innovative RGB lighting. Owners of the Roccat Kone will be familiar with its tendency to memorize your patterns and adjust itself accordingly. You can turn the effect off and enjoy vivid if ordinary lighting instead. However, using the keyboard and watching the changes in reaction as time goes by is unique.
Much about the Vulcan 122 is impressive so far, but its slew of game-specific features might convince you it's the best white mechanical keyboard. It has a pip on the W key, so finding WASD is easier. Moreover, the Swarm software stores four layouts you can access through the first four F keys. You can alter them and choose among dozens of preselected games for each. That's on top of having six macro keys, four hardware profiles, and in-depth lighting adjustments.
Glorious GMMK2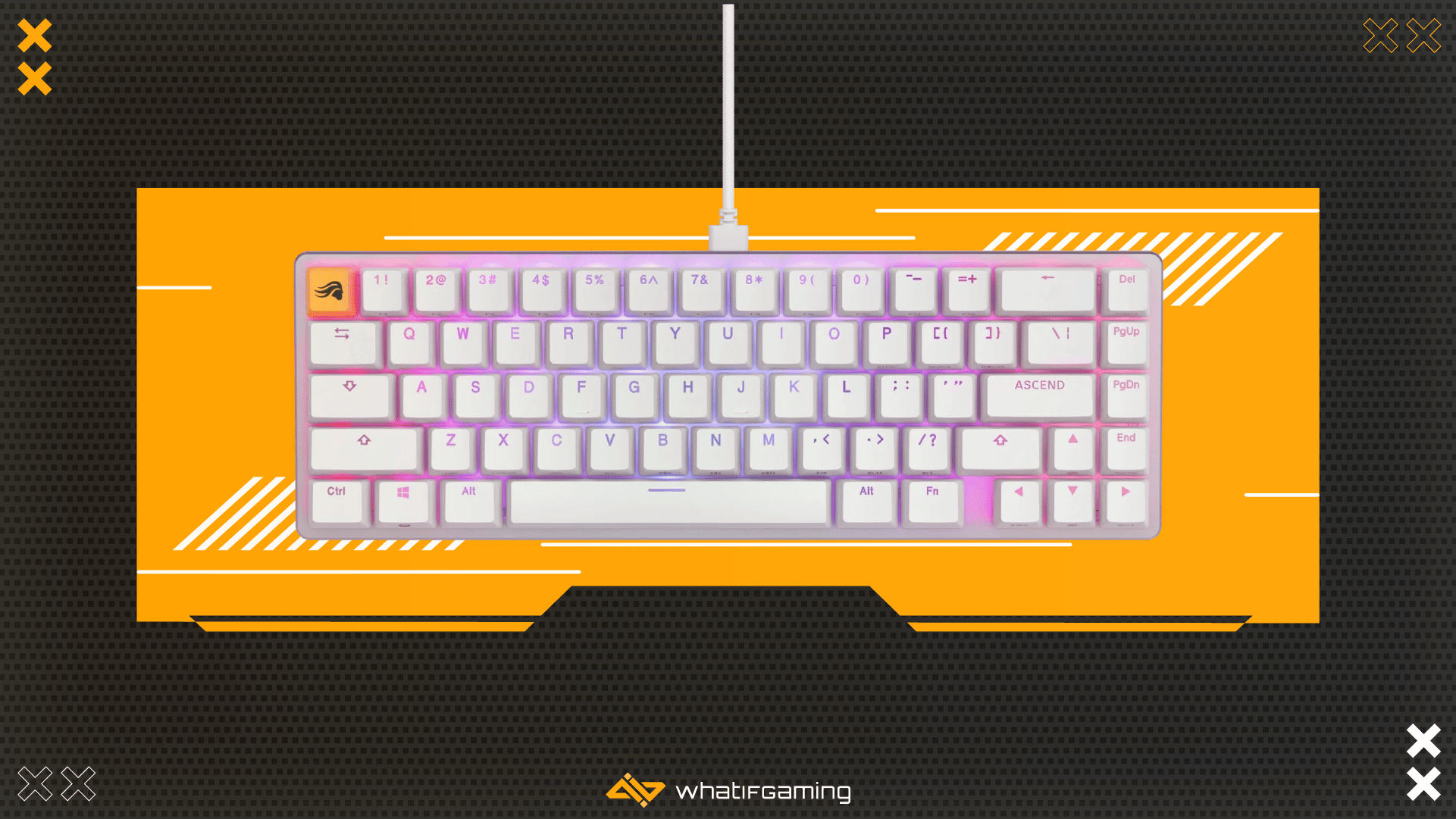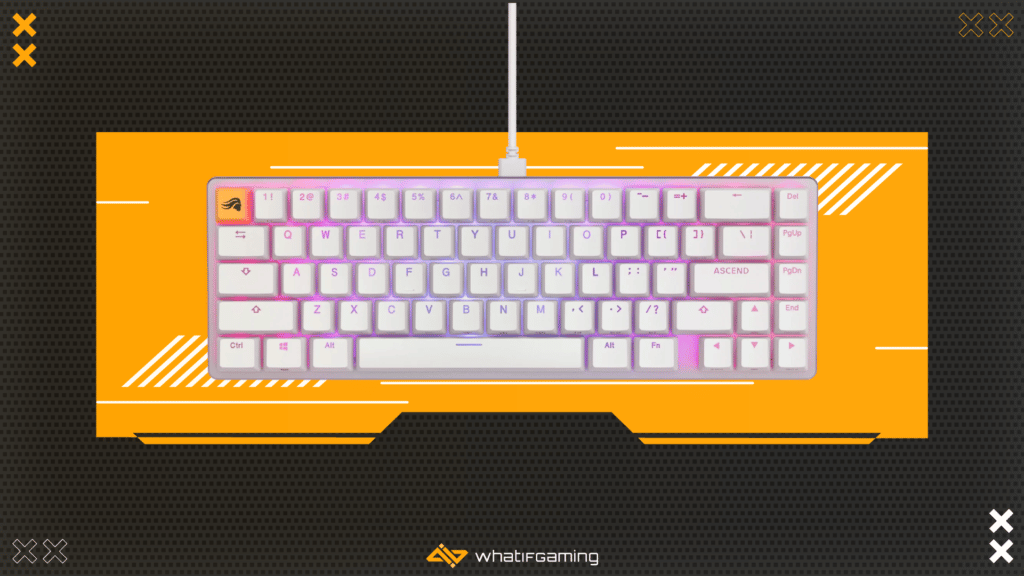 Glorious GMMK2
Type: Mechanical, wired | Size: 65% or full 96% | Switches: Glorious Fox (red) | N-key rollover: Yes | Per-key backlighting: Yes | USB passthrough: No
Pros:
Excellent build quality and lighting

Hot-swappable switches

Intuitive and comprehensive software
The keyboards we've been recommending so far all have soldered switches, meaning you'd have a hard time replacing them if they're not to your liking. Enter the second modular mechanical keyboard or GMMK from Glorious! It has a hot-swappable PCB and switch puller that make replacing the linear switches with clicker or more responsive ones a cinch.
You can get the GMMK 2 in two uncommon sizes. The larger version is 96% the size of a standard keyboard. It lacks a handful of keys, and the space holding the directional keys is smaller. Conversely, the 65% version is slightly larger than the compact keyboards most people are used to.
You're in for a treat whichever size you choose because the build quality is exemplary. The keycaps are concave and have a slight texture. They're made from ABS plastic but thick. The legend is double-shot, so hours of daily use won't wear it down. The top plate is aluminum, while the rest is made from hard rigid plastic.
The keyboard is slightly angled, and you can increase this by two increments using the feet. Sound-dampening foam is packed between the keys, minimizing the relatively silent linear switches even further.
Glorious Hardware and Software Customization
Our overview focuses on the most widely available preassembled GMMK2 with Glorious Fox switches. Think of them as Cherry MX Red alternatives with slightly longer pre-travel. Purists might object, but we like the change since it helps you avoid typos if you also write a lot.
Being able to quickly change said switches is one of the GMMK2's highlights. Doing so is as easy as pulling the keycaps out thanks to the included switch puller. Glorious offers several switch types if you decide to assemble the keyboard on their website. Throw in a wrist rest while you're at it since the ergonomics could be better.
Mediocre latency was the top reason why you didn't see the original GMMK on best white gaming keyboard lists. Its successor made drastic improvements and can almost compete with the world's leading models now.
Backlighting is another essential for many gamers, and Glorious nailed it this time. Each key has its own light source, and the colors blend more naturally than on the GMMK. The main letters and symbols are easy to read in the dark – we just wish that the ones on the sides were also see-through.
Core is Glorious' successful take on keyboard companion software. It offers in-depth customization, allowing you to program up to three layers of macros, key substitutions, and lighting effects into as many onboard profiles. Mac and Linux versions aren't available, but saved profiles work as intended, regardless of the operating system.
Razer BlackWidow Lite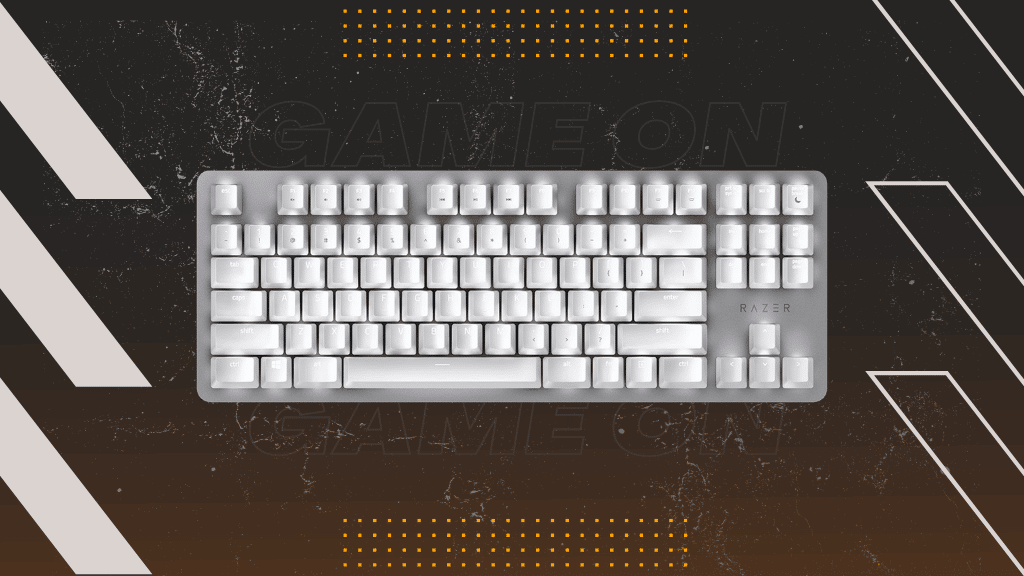 Razer BlackWidow Lite
Type: Mechanical, wired | Size: Tenkeyless | Switches: Razer Orange | N-key rollover: Yes | Per-key backlighting: No | USB passthrough: No
Pros:
Excellent typing experience

Light and portable

Can be used in any setting
Cons:
Lack of RGB might put some gamers off
Gaming on a white keyboard is well & good, but what if you want to use yours for work too? Some workplaces may not take too kindly to an RGB extravaganza but won't bat an eye at the BlackWidow Lite. It's tenkeyless & barely weighs anything, making for extreme portability. While you'll have to give millions of colors up in favor of professionalism, the keyboard is still a gamer at heart.
No-nonsense is the name of the game as the BlackWidow Lite aims to make a clean and business-like impression. It's restricted to white backlighting, but you can adjust the brightness in several stages. The keyboard's conventional look means there are no dedicated media keys. Still, you can control many standard multimedia functions by utilizing various Fn key combinations.
The cable that comes with the BlackWidow is detachable and ends in USB-A for maximum compatibility with various PCs. The board itself weighs under 1.5 pounds. It's tenkeyless, so not a good choice for people who slay dragons at night but work in accounting. Ditching the Numpad has its perks, though, maximum mobility being chief among them.
Gaming on the Down Low
The typing experience on a board like this needs to be sublime to trump its slim gaming-oriented feature set. Razer passed the test by outfitting the BlackWidow Lite with its proprietary Razer Orange switches. They're not exactly linear since a muffled click follows every stroke. However, the keys need just 45g of actuation force and barely any more to travel all the way down. Their actuation point is at 1.9mm, leaving 2.1 more before bottoming out.
The gaming features that do remain are indispensable. Rollover is limited to 10 keys, so you'd need to mash the keys with abandon for it to become an issue. There's no ghosting either. You may use the BlackWidow as a plug & play device or install Razer Synapse. Opting for the software may improve your experience since it unlocks macro creation and keyboard remapping. Synapse is pretty intrusive, though, asking you to create an account.
RK Royal Kludge RK61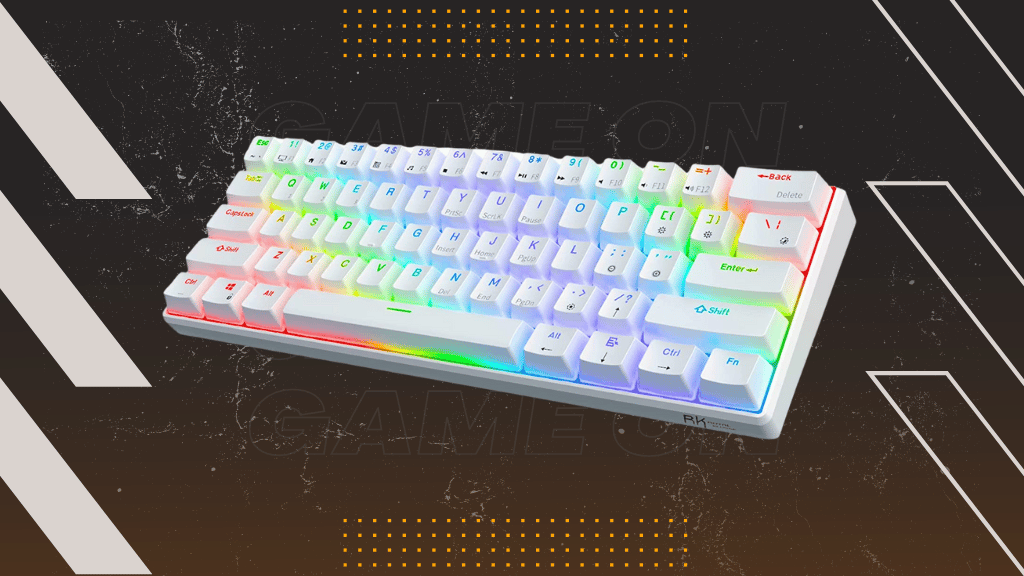 RK Royal Kludge RK61
Type: Mechanical, wired + Bluetooth | Size: 60% | Switches: Proprietary RK | N-key rollover: Yes | Per-key backlighting: Yes | USB passthrough: No
Pros:
Affordable

Decent switch quality and selection

Has Bluetooth mode
Cons:
Wobbly keycaps & high latency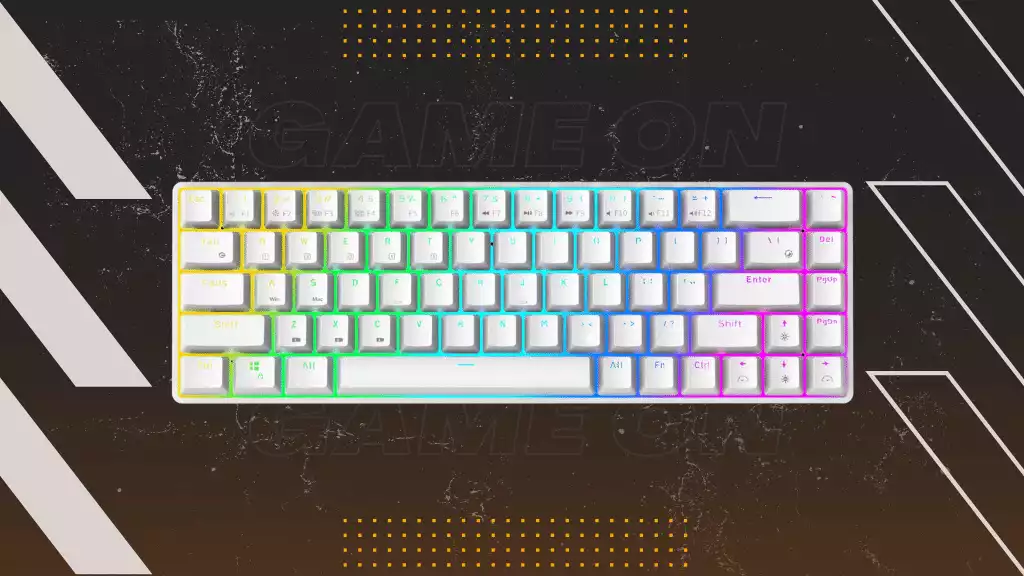 The 60% white RGB keyboards we've covered so far don't come cheap. That's why we're glad Royal Kludge prices the RK61 so competitively. It makes some concessions, like ABS plastic on the keycaps. However, typing is comparable to more expensive rivals, and there's no lack of configuration options for colors or input.
There's not much you can do with 60% keyboards style-wise, so it isn't surprising that the RK61 looks a lot like the Anne Pro 2. Even the high profile and sloping nature of its five rows are similar. Conversely, there's no legend on the key sides since the manufacturer crammed everything onto the top instead.
The cable is among the shortest we've seen and ends in Micro-USB. Fortunately, Bluetooth is a reliable alternative. Turning the lighting off will let you use it for 10+ hours, and power-saving kicks in a minute after your last input. You can pair it with three devices. We wouldn't suggest playing Call of Duty or any other competitive game in wireless mode since the latency is prohibitive.
Smaller Keyboard, Smaller Price
You may choose between three kinds of RK-branded switches, each taking inspiration from a Cherry MX counterpart of the same color. The RKs are slightly quieter and less responsive. The keycaps can wobble, which may have a more significant impact on use. Unlike the Anne, the RK 61 uses a single Fn key in conjunction with Ctrl and Shift to change rows. Or you can just hold Fn down when accessing the desired command.
This is far from the best white gaming keyboard software-wise since the program can sometimes crash. It's serviceable nevertheless, offering tabs for effect choice, per-key lighting, macro creation, and game mode. The last one is useful for when you need to disable keys you don't want to press accidentally in the heat of an intense League of Legends match.
Redragon K552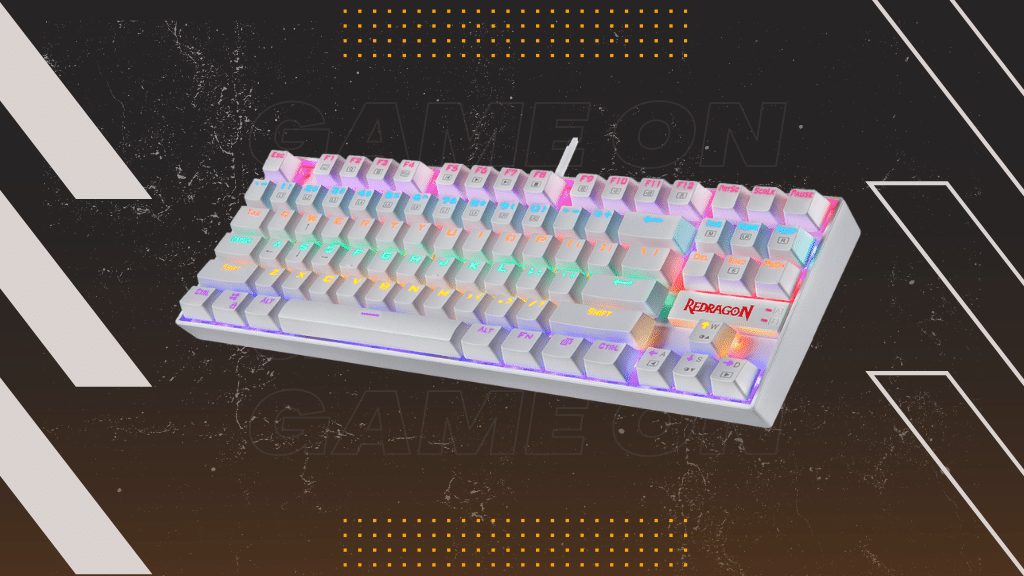 Redragon K552
Type: Mechanical, wired | Size: Tenkeyless | Switches: Outemu | N-key rollover: Yes | Per-key backlighting: No| USB passthrough: No
Pros:
Outstanding value for the money

Bottom row remains intact

Decent Cherry Red-like switches
Cons:
Questionable design & material choices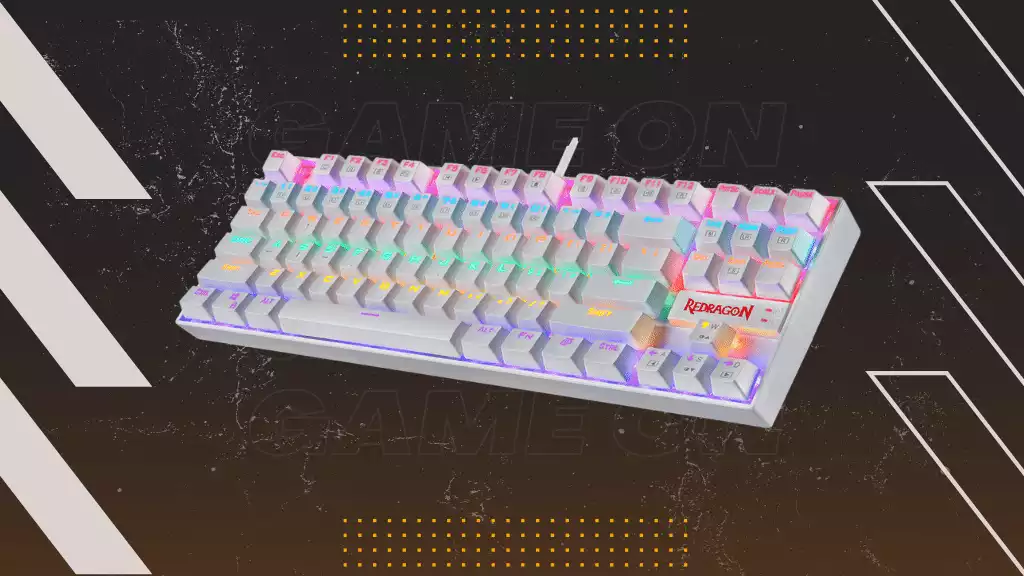 Getting into white gaming keyboards isn't cheap if you want to retain a decent level of quality. Redragon's K552 defies this rule as it's surprisingly robust for a model that regularly costs less than $40. It's the best white gaming keyboard to get if you want to experience the mechanical hype without spending too much.
Aesthetics are our biggest gripe with the K552. It's bog-standard, and we could live with that were it not for the tacky Redragon logo plate above the arrow keys. The font has a sci-fi gaming vibe not everyone will like but is otherwise decently legible. Much of the board is constructed decently – the frame is plastic, and the backplate is made of metal. However, the keycaps are thin and sure to wear out with use.
For White Lovers on a Budget
On to more positive aspects, like the red Outemu switches that come with the RGB variant. They're not the worst as MX knockoffs go and allow you to experience the authentic mechanical feel at a pittance. You'll need to apply slight pressure to execute commands and can do so relatively quietly. You might also come across blue Outemu switches that deliver a clickier, more tactile experience.
The K552 received software support only recently, and it's scarce at that. You can adjust each key's color separately and record macros, but that's about it. Nineteen effects are built into the keyboard and accessible even if you don't install the software. The lighting itself is surprisingly well made, though. There's no bleed between the keycaps, and each letter or symbol is illuminated evenly.