A good-looking case can bring all your components to life. With black cases dominating the market, some of us with more refined tastes will always lean towards white gaming PC cases. Featuring unique aesthetic undertones, great build quality, and spacious form factors, here's our take on 15 of the best White PC cases that'll look great on any desk.
What Makes A Good Gaming PC Case?
Regardless of colour, there's a few aspects of a PC case that can truly set itself apart from the bunch. We'll be constituting all of these factors in the list down below. However, here's a quick look at some of them:
Form
The form or overall design of a PC case can act as the sole metric of one's purchase. While the design is bound to be of subjective taste, some cases definitely appease the masses with their unique design philosophies. Therefore, they play a great role in our criteria as well.
Function
A case that easily fits your components, has great ventilation, and offers modularity is one that truly is functional in all regards. Generally, one good PC case might go through several iterations of different motherboards, GPUs and PSUs. Therefore, having a versatile case is a major bonus.
Durability and After Sales
While not the most important aspect of a PC case, having a durable case with stellar after-sales support does put your mind at ease. Purchasing a case from a reputed manufacturer leads to a better warranty claim in case of shipping damage and guarantees a more robust installation experience.
---
With all these factors in mind, let us get started with our top 15 picks for the best White PC cases that look great, have a stellar function, and are relatively durable with good after-sales support added into the mix as well.
Corsair iCUE 4000X RGB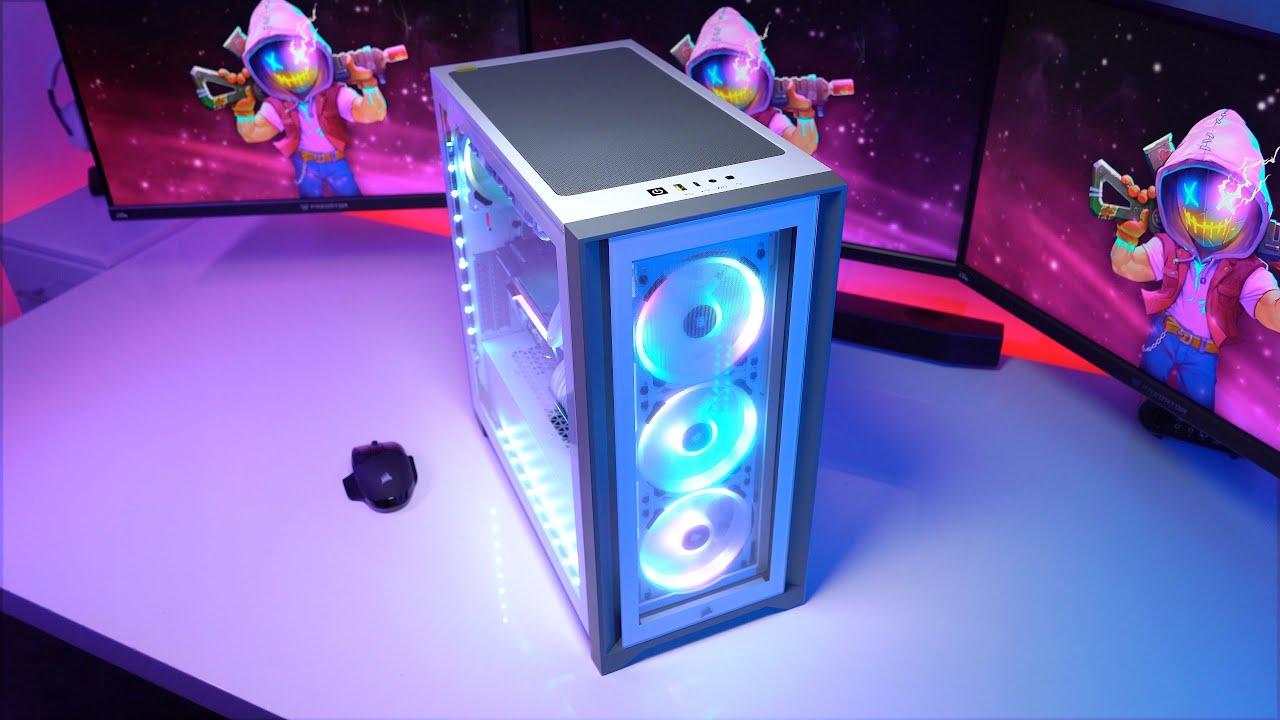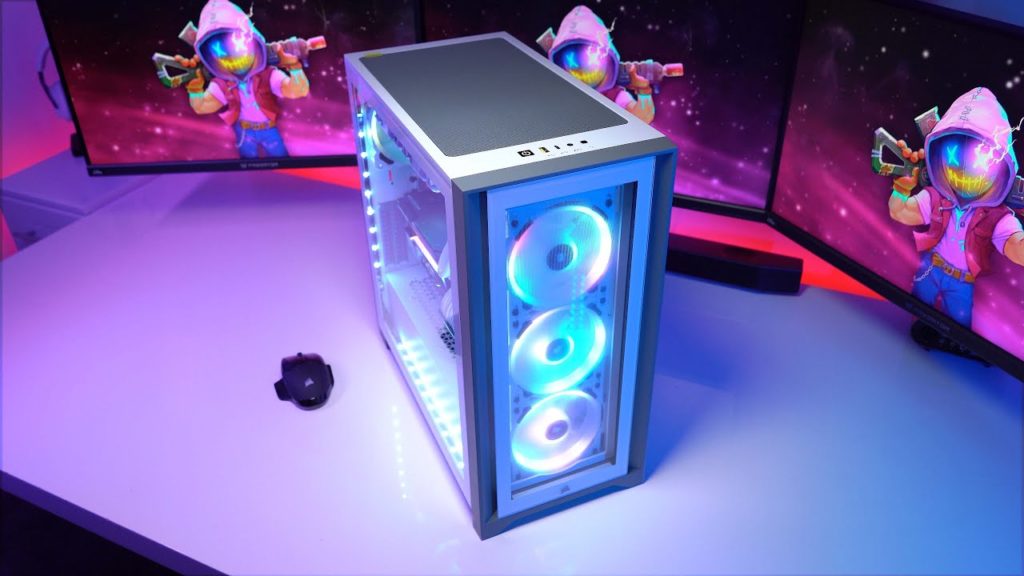 Case Type: Mid Tower | Supported Motherboards: ATX, mATX, Mini-ITX | Fan Size: 120mm
If you've ever been a fan of the old Obsidian 450D from Corsair, the 4000-series is right up your alley. The 4000X features a tempered glass panel with three 120mm RGB fans. The entire case features a tool-free design and is modular enough to let you swap out components with latches present on both the front and side panels.
The top features Corsair's sturdy dust filters which match the case's colour. The 4000 series lets you install a radiator of up to 280mm or two fans up to 140mm depending on your preference. As mentioned earlier, the Front I/O isn't all that great, it consists of:
1 x Audio Jack
1 x USB 3.1 Type-C Port (Gen 2)
1 x USB 3.1 Type-A Port (Gen 1)
Power & Reset Buttons
We would've preferred an extra USB port or two. But, at this price bracket, it really is hard for us to complain. Where the case truly shines is in its cable management featuring Corsair's RapidRoute cable management system. In essence, it is a bracket present inside the case that holds a large chunk of cables together with velcro strips included.
Final Take
If you are looking for a mid-tower case that is affordable, features RGB, and has great airflow, the 4000X RGB is a great place to start from. It is aesthetically pleasing, comes from a reputed brand and it's clear that it is designed with function in mind.
NZXT H510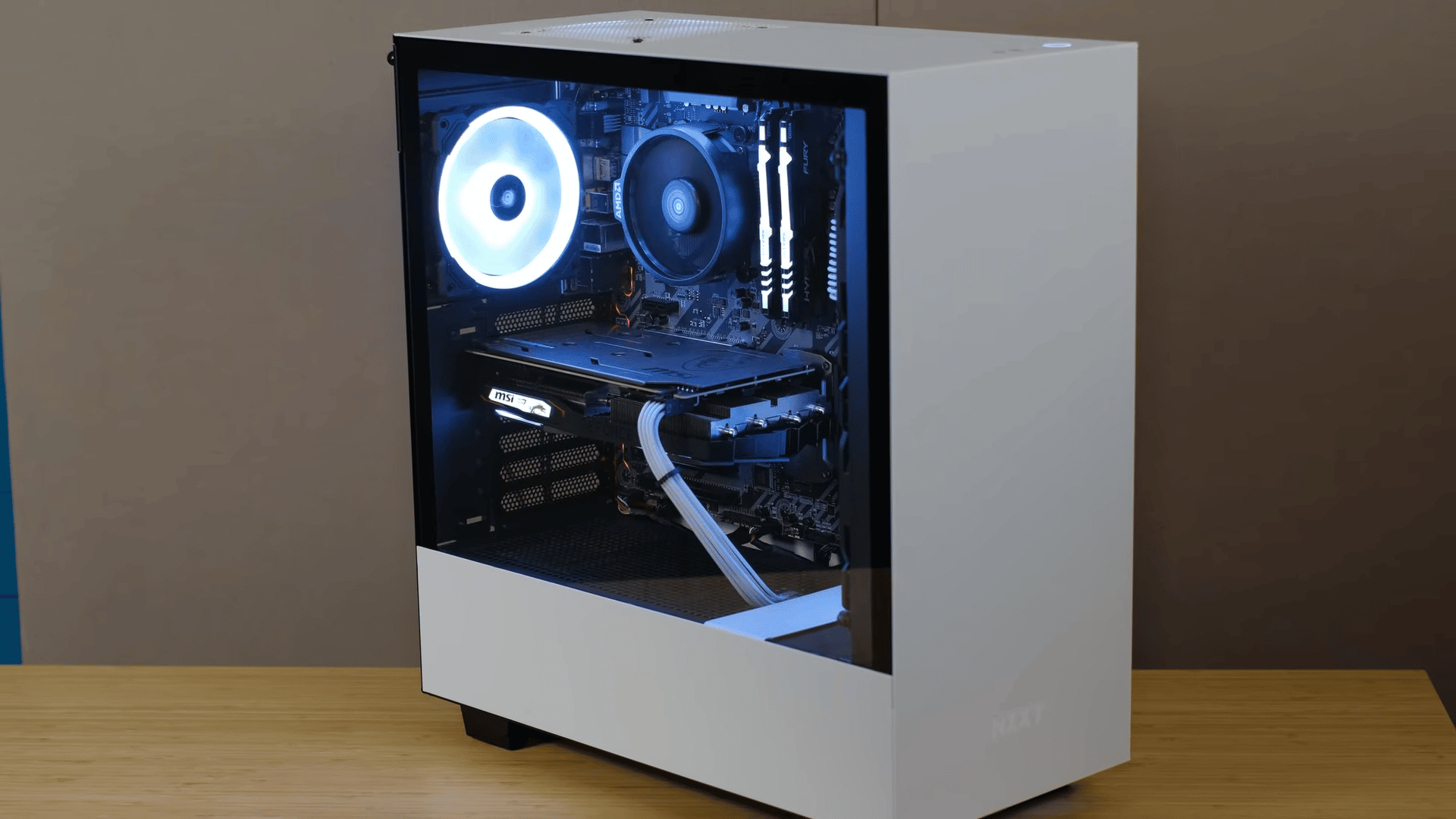 Case Type: Mid-Tower | Supported Motherboards: Mini-ITX, Micro-ATX, ATX | Fan Size: 120mm
Supports water cooling
Great acoustic and thermal performance for the price
Allows for a vertically mounted GPU
Front I/O ports are lacking
Improper airflow leads to dust clogging in some areas
The NZXT H510 might just be the sleekest looking case on this list. The build quality of the case is solid and has been enhanced with premium materials that truly are in cohesion with NZXT's commitment towards a more refined look.
The case has stood through the test of time for a reason, it hardly has any flaws and is spaced out well enough to allow for components to be installed with relative ease. In terms of airflow, the case comes in with two 120mm fans for intake and exhaust. However, expect to have some unwanted dust to build up throughout the chassis with the dust filters not being as efficient as we hoped.
Final Take
The H510 still certainly holds its own by being one of the cleanest and minimal cases out there. With its Elite version featuring an extra fan and a tempered glass panel, the H510 seems to be the more obvious, reasonably priced pick. Meant for both novice and experienced builders due to its overall ease-of-installation, the case's construction, choice of materials and overall function turn it into a no-brainer for someone who's looking for a case that looks good and just works.
Cooler Master Masterbox TD500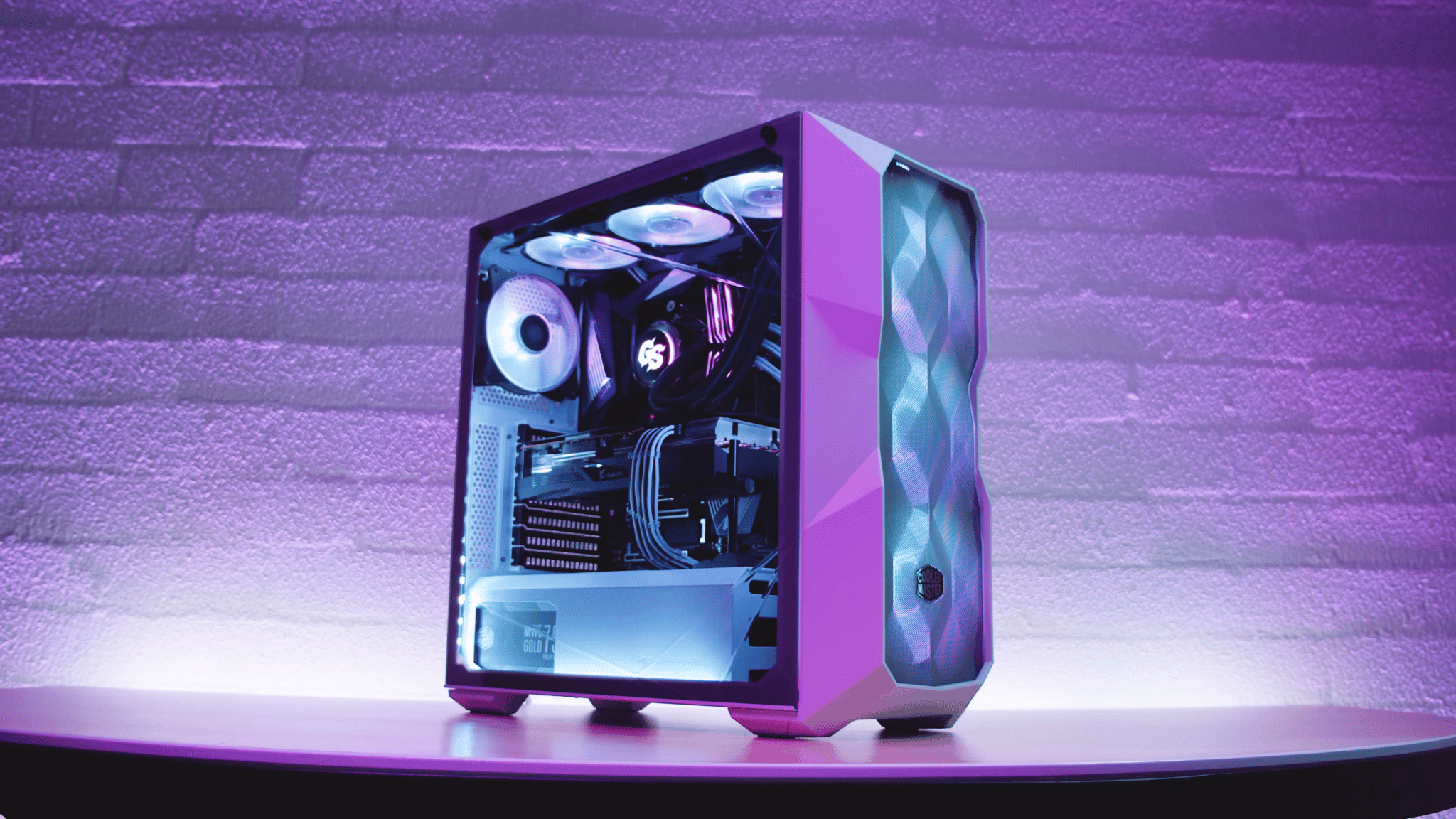 Case Type: Mid-Tower | Supported Motherboards: Mini ITX, Micro ATX, ATX, E-ATX | Fan Size: 120mm
The Cooler Master Masterbox TD500 is a mesh-riddled aesthetically pleasing case that comes in with three 120mm ARGB fans on the front. With a tempered glass side panel and a roomy interior that can fit up to a 165mm CPU cooler, the case certainly checks most boxes when it comes to the bare minimum.
However, it is clear that the brand primarily focused on aesthetics when designing the case. And, that isn't necessarily a bad thing, especially at this price bracket. With no USB-C ports and filters that have seemingly been clipped on with no real rigidity to them. But, none of these factors are dealbreakers in any sense of the word.
Final Take
If you are looking for a case that looks great, functions fine, has a unique crystallised tempered glass finish and adds different hues of white to the mix, the Cooler Master Masterbox TD500 is certainly a good grab given the price.
ASUS TUF Gaming GT501 White Edition
Case Type: Mid-Tower | Supported Motherboards: ATX, micro AATX, Mini ITX, EATX | Fan Size: 120mm
ASUS's TUF brand is known for its durability, build quality and ridiculous sizes. For better or for worse, their TUF Gaming GT501 White Gaming case seems to be no different. Boasting the ability to carry over 30 KGs of components inside the case, the woven-cotton carry handles let you tug the massive case around with relative ease.
With dedicated support for TUF Gaming Motherboards, the case fits up to 7 120 / 140mm fans depending on their configuration. The durability theme carries forward the introduction of 4mm thick tempered glass panels and a chassis made up of 1.5mm-thick galvanized steel.
Final Take
While we aren't sure of why you'd need a case that can withstand a small explosion, the durability the ASUS TUF brand offers is certainly no joke. While the case is indeed massive, it offers great build space for all your components and looks great as well.
Fractal Design Meshify C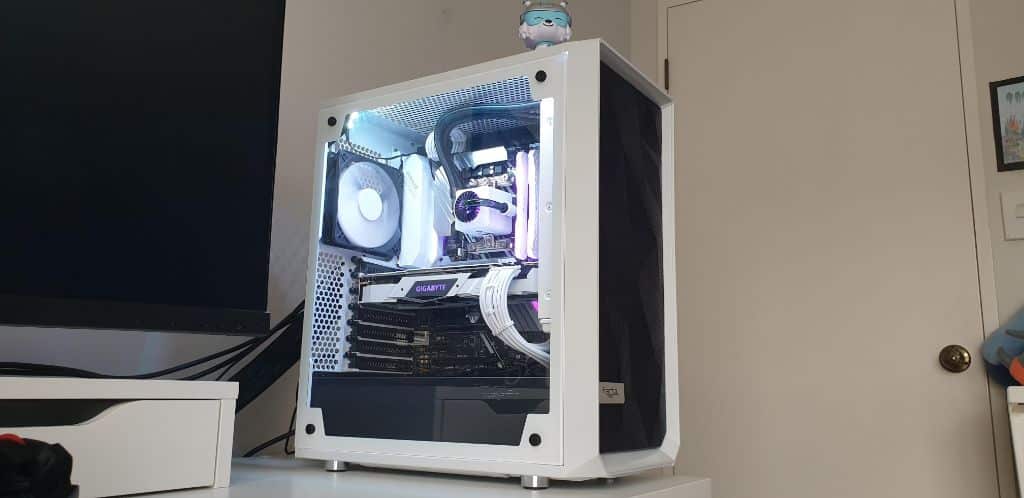 Case Type: Mid-Tower | Supported Motherboards: ATX, mATX, ITX | Fan Size: 120mm
Decent amount of dust filters
Mesh panel allows for decent airflow
Lacks good front I/O ports
Does not allow for great water cooling solutions
Another mesh case makes the list and this time, it's Fractal Design trying its luck at the design concept. Needless to say, the case delivers when it comes to providing your components with a substantial amount of airflow.
With plenty of room to work with and great cable management solutions, you'd be hard stuck on trying to fitting in larger PSUs as the shroud is quite small.
With the mesh ever-present on the front panel, the sound will undoubtedly leak out on every occasion. So, while your fans will be running slower, you'll be hearing a lot of them too. While it isn't unbearable by any stretch of the imagination, it is an aspect to take note of especially if you want to go for a silent build.
Final Take
The meshed-up front panel of the Fractal Design Meshify C allows for some great cooling. While it may lead to a slightly noisy result, the case does factor in the additional airflow with a decent amount of air filters built right in. If your prime objective is to keep your components as cool as possible, the Meshify C is certainly a good pick.
Phanteks Eclipse P600S Hybrid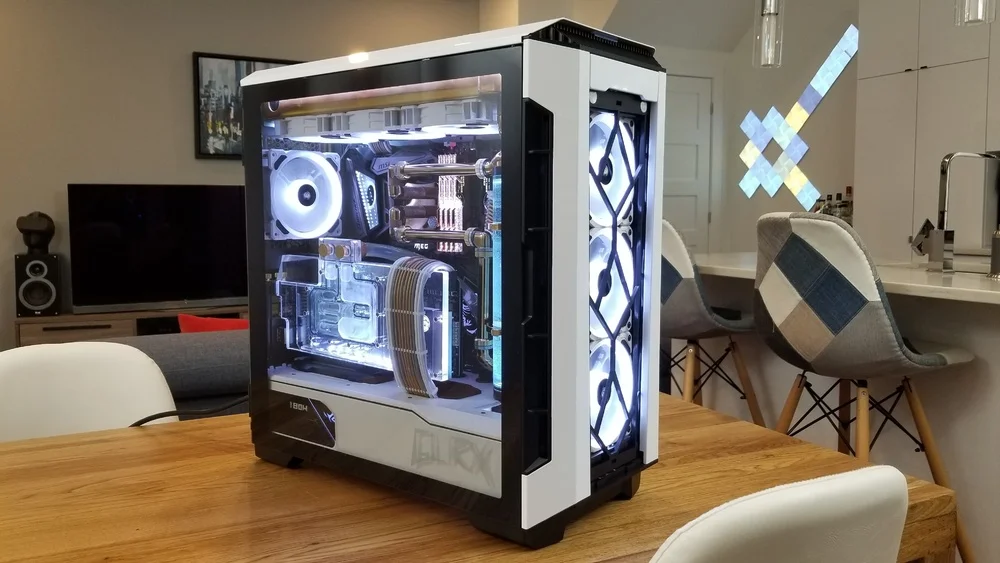 Case Type: Mid Tower | Supported Motherboards: ATX, uATX, mITX | Fan Size: 120mm
The Phanteks Eclipse P600s is an extremely simple, minimal-looking case with robust build quality and a knack for impressive airflow. While the front I/O leaves a lot to be desired, you can remove the front entirely to increase airflow as it is held by magnets.
The case is well-thought-out and comes in with a great cable management system and is compatible with most water cooling solutions as well. The addition of high-quality dust filters to most areas is a welcome touch.
Final Take
Honestly, there are not a lot of negatives about the case. If you aren't into RGB and can make do with the price, it is an excellent grab. Plus, the addendum of a silent and high-performance option can help you ramp up your fan speeds to make way for better cooling or have a more stealthy profile depending on your current workload.
Corsair iCUE 220T RGB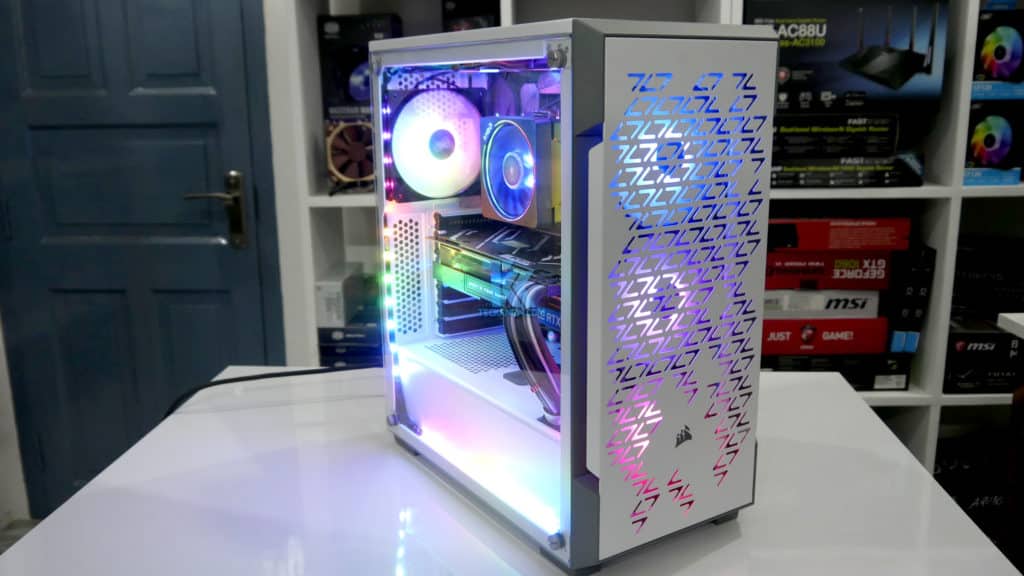 Case Type: Mid Tower | Supported Motherboards: Micro-ATX, ATX, ITX | Fan Size: 120mm
If you are okay with the internal space issues that Corsair iCUE 220T has, the case truly is the definition of value or money. Fitting in a 360mm cooler would be quite hard in this case. However, the case more than makes up for it solid quality and aesthetically pleasing design.
The included proprietary SP or Static Pressure fans by Corsair though certainly don't have the throughput needed to cool down more demanding hardware. The front steel panel features tiny parallelograms sliced together with ARGB fans tucked right behind it gracing the case with quite a unique look.
Final Take
Corsair has certainly innovated when it comes to its design for the iCUE 220T RGB. The small form factor does leave a lot to be desired especially when it comes to the radiator and cooler compatibility. But, if you are interested in a solid, well-rounded case that caters to most applications, this white gaming PC case is certainly worth looking at!
Lian Li O11 Dynamic Mini Snow White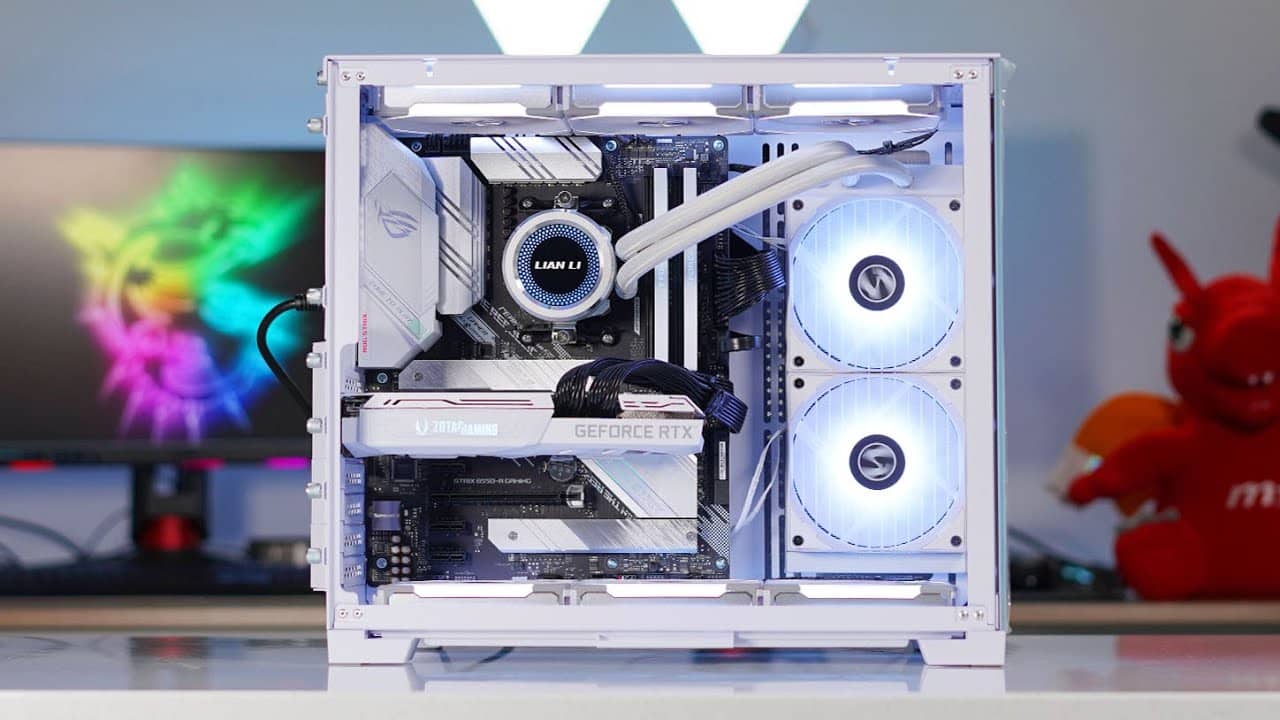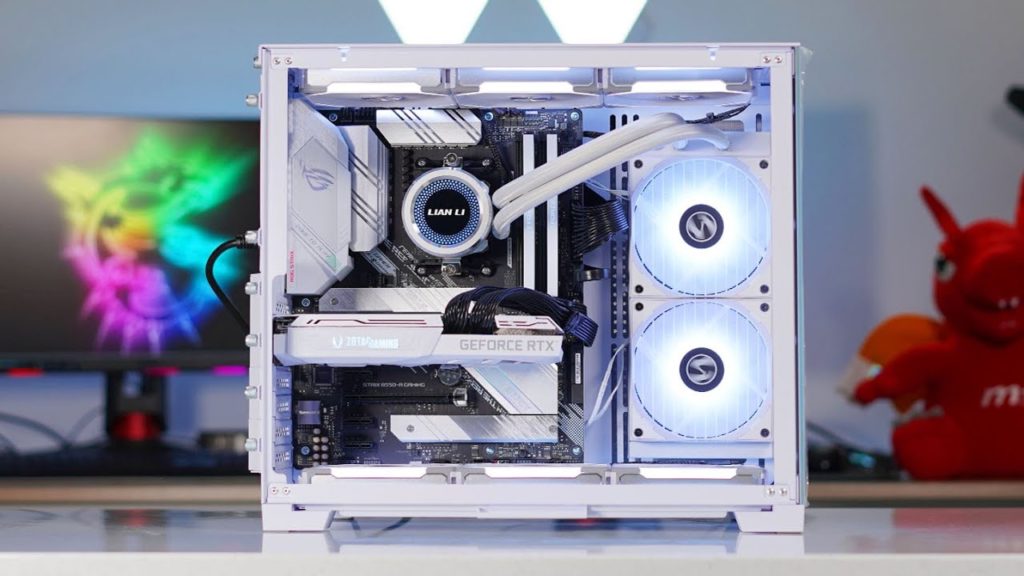 Case Type: Mid Tower| Supported Motherboards: Micro-ATX, ATX, ITX | Fan Size: 120mm
Looks extremely good on your desk
Highly modular design
Does not have a lot of space for full-size ATX
Airflow is lacklustre due to the form factor
If you are a Lian Li fan, the O11 Dynamic Mini is an absolute treat! Sporting a unique, small form factor, the case can easily support a full-sized ATX motherboard without a hassle. However, you'll have to go for an SFX or SFX-L power supply as those are the only two sizes that'll fit.
The O11 Dynamic Mini features excellent cable management, has great support for water cooling, and has good front I/O support given its compact size. With two glass panels, you'll be able to show your components off from any angle while also getting plenty of airflow.
Final Take
If compact-sized PC cases are your thing, the O11 Dynamic Mini is an easy recommendation. While you will need an SFX power supply and an ATX motherboard is a tight fit, it'll house your GPU comfortably and will present a unique aesthetic look that remains unmatched by any other case.
Thermaltake Core P3
Case Type: Mid Tower | Supported Motherboards: Mini-ITX, Micro ATX, ATX | Fan Size: 120mm
The Thermaltake Core P3 might seem overwhelming at first glance for a beginner, and rightfully so. The included manual does not provide us with a lot of information. The assembly process itself will be taking a lot more time as compared to other cases in its list.
However, with all those caveats, the Thermaltake Core P3 thrives in its modularity. You can mount the graphics card sideways for aesthetics or you can even mount drives inside the cases to hide them from prying eyes.
Final Take
The Thermaltake Core P3 is a white gaming PC case that requires a lot of love to be put into it during assembly. While not beginner-friendly, the case's modularity lets your imagination run wild with the plethora of options you have at your disposal.
Corsair 275R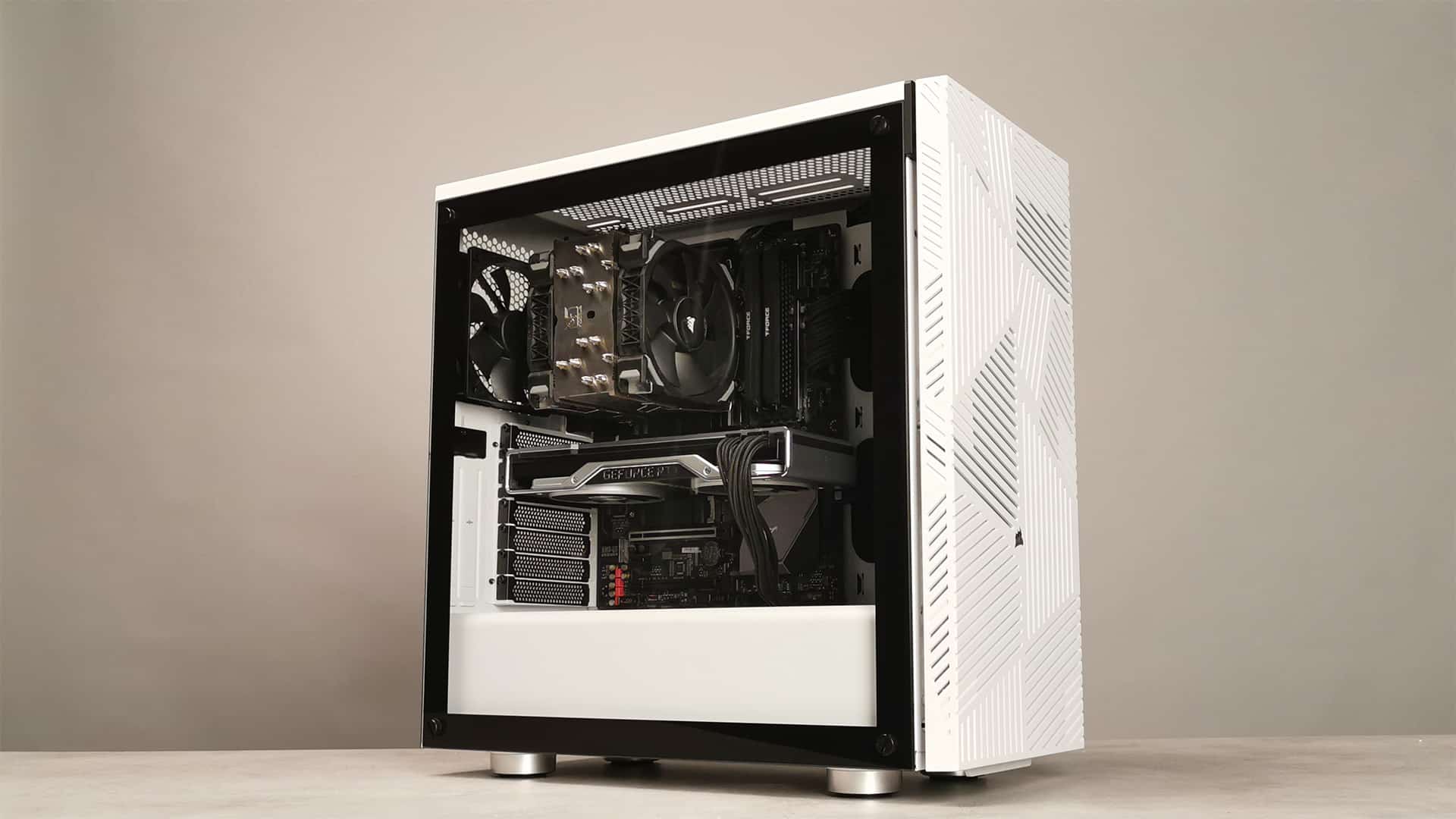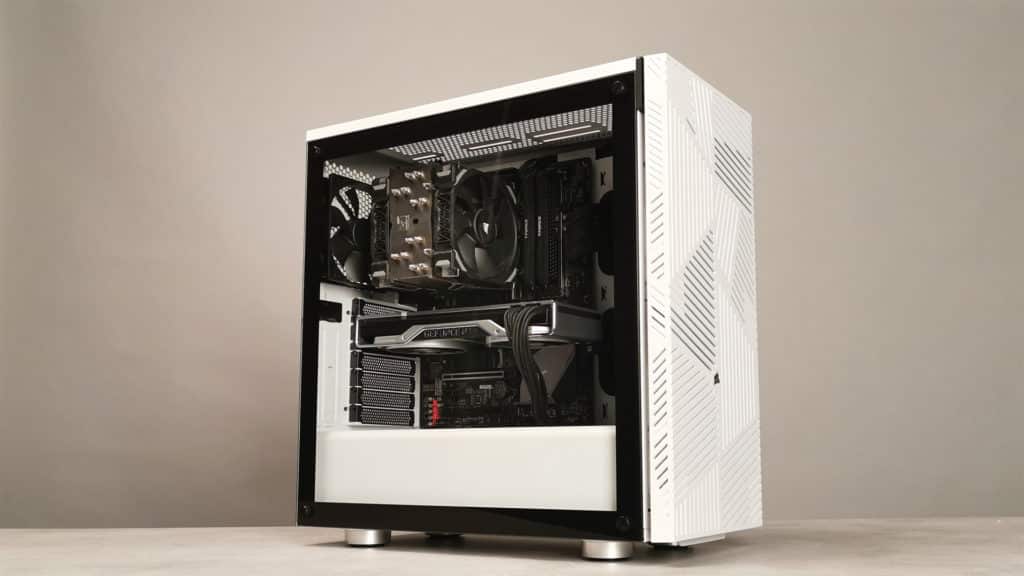 Case Type: Mid Tower | Supported Motherboards: Mini-ITX, Micro ATX, ATX | Fan Size: 120mm
Great acoustics
Easy to build
Relatively inexpensive
Bad airflow / thermal performance
Corsair is a brand synonymous with great value PC cases and the 275R seems to be no different. While the case does cut slack in some areas, it more than makes up for it in others. It is quite compact, features a robust build and has a good-looking front panel that lets you fit in three 120mm fans in the front.
Speaking of the fans though, they aren't all that great. Therefore, you should think about switching them especially if you are going to be fitting a high-end build in the case.
Final Take
The Corsair 275R offers nothing exemplary. But, it nails the basics quite well. Coming in at a reasonable price, it is a worthwhile pickup especially if the more premium Obsidian series from Corsair seems to be out of budget.
Thermaltake S100 Tempered Glasss Snow Edition
Case Type: Mini-Tower | Supported Motherboards: ITX, Micro-ATX | Fan Size: 120mm
Great build quality
Fits a liquid cooler
Compact design
Poor front I/O
Pre-packaged fan is quite weak
The Thermaltake S100 is a premium-looking sturdy Mini-Tower case that fits both Mini-ITX and Micro ATX motherboards. With the ability to install up to 200mm fans and magnetic dust filters included, the case features an adequate amount of airflow and cooling especially given its form factor.
While the case has no shock-absorbing mounting for its drive bays, you can fit a total of four 2.5 inch drives with relative ease. It also features great backlighting but is not extraordinary seems the case seems to be designed with professional settings in mind.
Final Take
With a decent amount of space for its size, this white case is a solid choice for building a mid-range gaming rig. With a lack of space for drives and a lack of dust protection, its price tag remains extremely affordable which leads most to most of these caveats being ignored.
GIM ATX Mid-Tower Case
Case Type: Mid Tower | Supported Motherboards: E-ATX, ATX, Micro Atx, Mini-ITX | Fan Size: 120mm
Unique design
Spacious build area
Relatively inexpensive
Somewhat unknown brand
Poor front I/O selection
The GIM ATX Mid-Tower case is certainly a head-turner, to say the least. Featuring a large amount of space fitting in radiators of up to 360mm, the 2 piece 4mm thick tempered glass side panels put your components in full view.
The case is also equipped with two dust filters at the top and bottom alongside a shroud located behind the motherboard for cable management. The case does not come with fans but instead has an addressable RGB strip baked in instead.
Final Take
The GIM ATX seems to be a clone of Lian Li's O11 Dynamic through-and-through. While not featuring the same build quality, it does a great job of almost reaching the same level of meticulousness and design. However, with a price that almost matches the original, the case is a hard sell unless you get a good discount.
Thermaltake View 51 Snow
Case Type: Mid Tower | Supported Motherboards: ATX, MicroATX, Mini-ITX, E-ATX | Fan Size: 200mm
Featuring a white metal frame and transparent panels on the top, front, and left, the Thermaltake View 51 Snow is a sight to behold. The case allows you to mount your graphics card vertically if needed. However, it doesn't come with PCI-E riser cable which is needed for the operation.
The case comes pre-installed with two larger 200mm fans that have plenty of throughput with a smaller 120mm exhaust fan at the back of the case. You'll also be seeing the following ports in the front:
1x USB 3.1 Type-C Port (Gen 3)
2x USB 3.0 Type-A Port (Gen 3)
1x USB 2.0 Type-A Port (Gen 2)
1x Headphone Jack
1x Microphone Jack
Final Take
While a bit expensive, the Thermaltake View 51 Snow checks all the boxes. It offers great build quality, a subjectively aesthetically pleasing design, good front I/O ports, modularity and a compact design that requires some love to build.
Montech X3 Mesh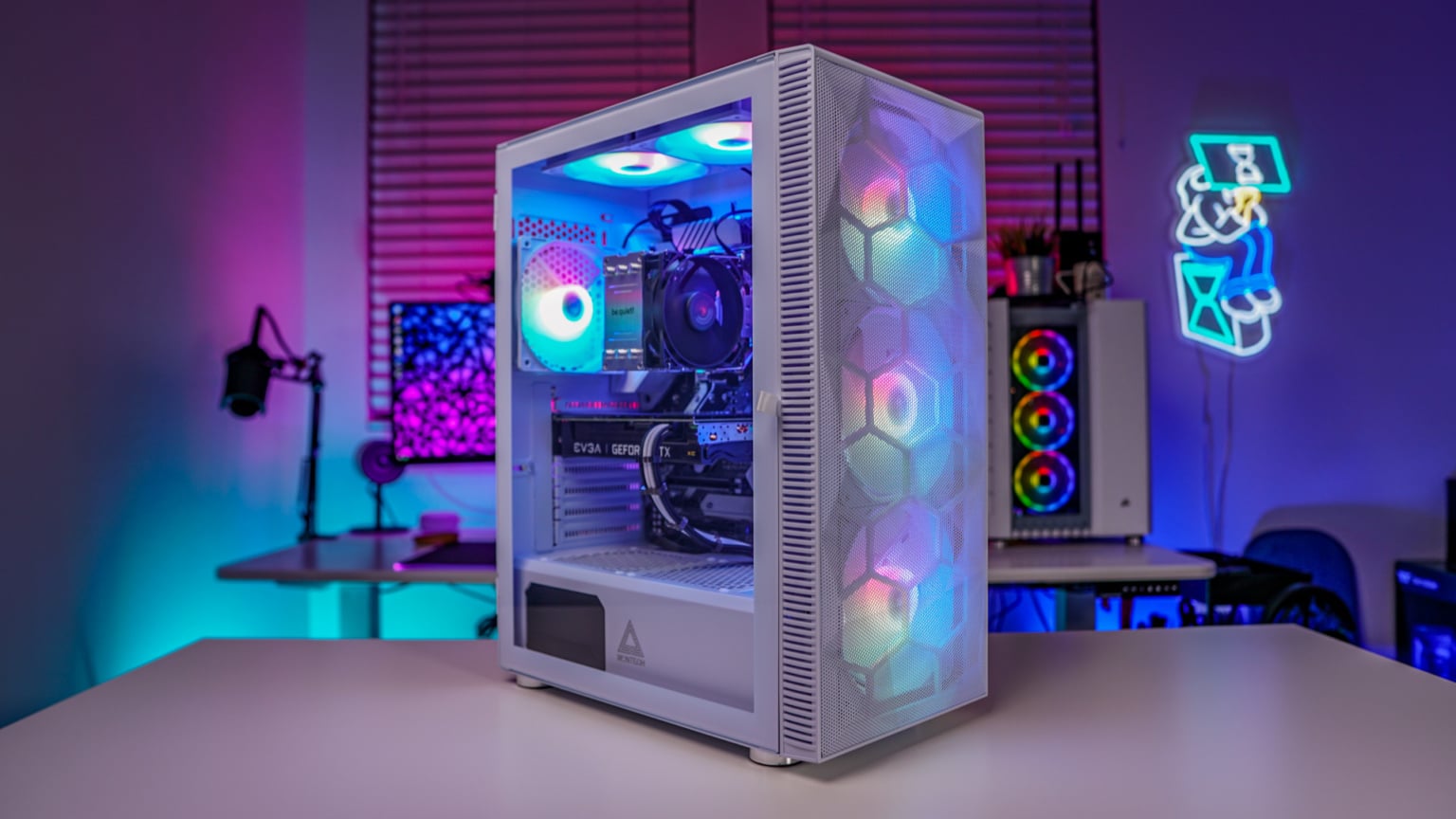 Case Type: Mid Tower | Supported Motherboards: ATX, MicroATX, Mini-ITX, E-ATX | Fan Size: 140mm
Great airflow
Comes with 6 pre-installed fans
Build quality isn't comparable to premium cases
The Montech X3 might just be the best bang for the buck white PC gaming case on this list. Coming in with six pre-installed RGB fans, mediocre build quality and spacious build space, it checks most boxes.
In this range, don't expect the best acoustics or thermal performance. However, you can outfit the case with better fans to see a substantial increase in airflow. The metal used is good enough to keep your components safe. However, we won't be recommending lugging your build around in this case anytime soon.
Final Take
If you are looking for a good, cheap case that gets the job done, the Montech X3 is definitely a worthy choice. With an aesthetically pleasing mesh design, good airflow and dust filters, you'll be hard struck on finding another case in this range that offers the same features.
Phanteks Eclipse P500A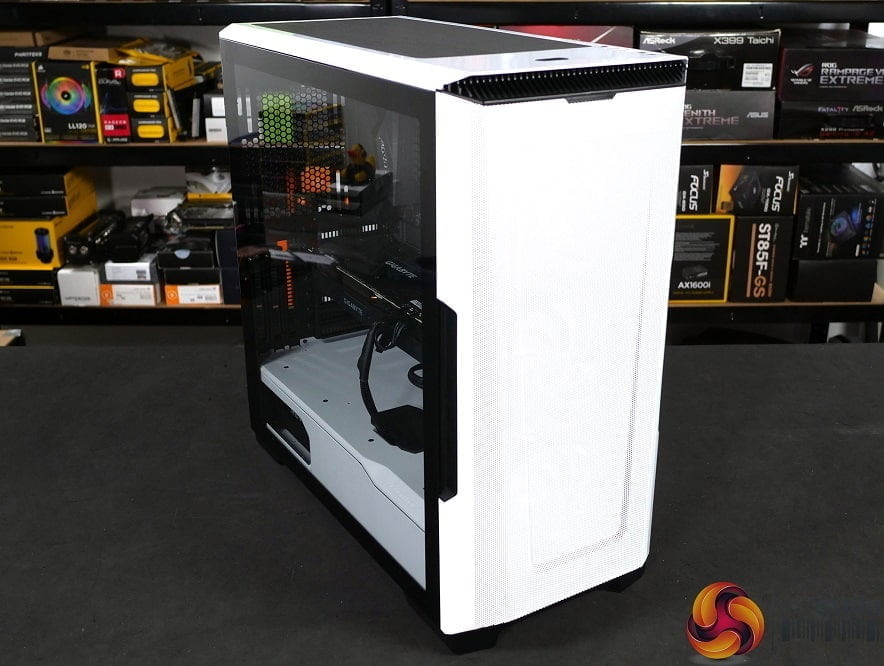 Case Type: Mid Tower | Supported Motherboards: ATX, MicroATX, Mini-ITX, E-ATX | Fan Size: 140mm
Great thermal performance
Can fit in an extra Mini-ITX board
Modular interior
Extremely huge size for some configurations
Pre-installed fans need some fan curve adjustments
With a sole focus towards optimal airflow, the Phanteks Eclipse P500A rids itself of pesky filters in favour of a mesh panel on the front. The case has a generous offering of Front I/O ports and allows you to fit in even the largest of PSUs with ease.
Due to its massive size for a mid-tower, you'll also be able to bring in up two 140mm fans at the top, three 140mm fans in the front and one 140mm exhaust fan in the rear too. The case is easy to build in and has a modular design.
Final Take
The Phanteks Eclipse P500A is a great case for someone who wishes to expand their build with different cooling solutions or even an extra Mini-ITX board down the line. While the lack of RGB leaves room for improvement, the case remains a good grab for an avid PC builder!
---
Whew! That concludes our list of 15 White PC Gaming PC Cases that look great. Which one is your favourite? Let us know in the comments down below.