The Wifi card is often one of the last components people think about when building a new PC. This shouldn't be the case though, because a Wifi PCIe card can have a big impact on performance. In this article, we explore some of the best wifi cards for gaming and speed. Lots of us PC gamers love ethernet cables and are reluctant to trust Wifi. Things have changed though, and it doesn't need to be like this anymore. With the release of Wifi 6 in 2019, wireless is back in the mix.
We've all been there, playing our favorite game and the key moment is approaching. Here is our moment, glory awaits! – "Disconnected from server". Is there really anything worse? Unfortunately, the culprit was often a poor Wifi connection. Luckily, Wifi technology has progressed rapidly in recent years, and things aren't like this anymore! Intel has said that "In theory, a Wi-Fi 6 capable router could hit speeds over 250% faster than current Wi-fi 5 devices". "So what, I haven't got a Wifi 6 router?", this might be the case right now, but before you know it, everyone will. Wifi 6 capable devices have been released all through 2020 and 2021. The rate of uptake is going to increase rapidly until it becomes the new industry standard.
The best Wifi Cards for Gaming and Speed – List
You will notice that our list contains only ones that are Wifi 6 capable. Components often stay in your PC for a long time, sometimes many years. Therefore, it is critical to future-proof yourself in the first instance. Getting a Wifi 6 card now will mean you don't have to spend double buying another card in a few years' time. Gamers like us benefit more from reliable Wifi than anyone else. If you are investing in a new PC setup like this, don't overlook the Wifi card. Be smart, and choose one of the best network cards we have reviewed here.
There is another important benefit to buying a wifi card, convenience. Having your heart set on ethernet can seriously limit where you put your set up. Lots of us have Wifi master sockets in weird places that make using ethernet inconvenient. Wifi is much tidier and frees you from having ethernet cables winding all-around your house. The release of Wifi 6 really could be the downfall of ethernet for PC gamers.
TP-Link Archer TX3000E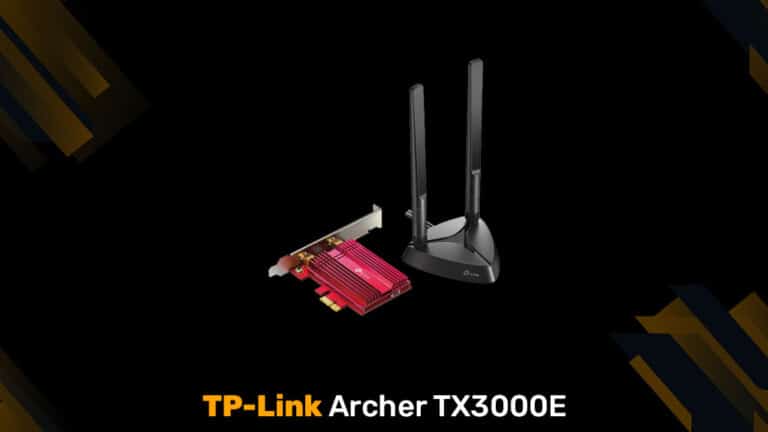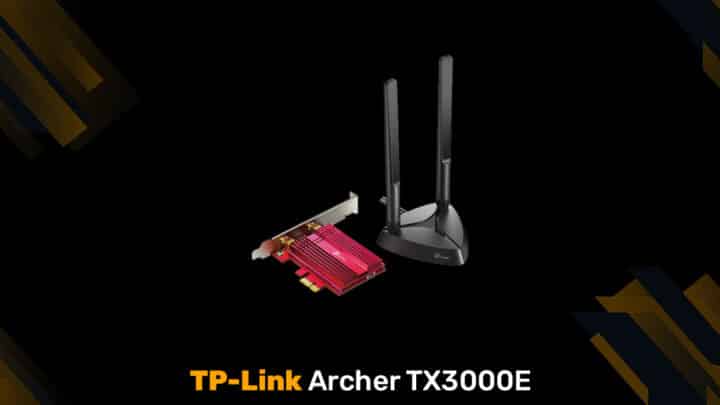 Type: Wifi 6 | Bluetooth: 5.0 | Separate Antenna: Yes | Heat Sink: Yes
Topping our roundup of the best Wifi cards is the TP-Link W-Fi 6 PCIe Card. Currently, far and away one of the most popular Wifi 6 PCIe cards on the market, and for good reason. It comes with all the latest technology, offering you one of the most cutting-edge PCIe cards you can buy. People love to focus on in-game techniques like drag clicking to improve performance, but isn't your Wifi connection just as important?
Wifi 6 offers data transfer speeds of up to 2.4 GB, compared to 867 Mb per second for older Wifi 5 PCIe cards. When Wifi 6 comes, you need to be ready and waiting to capitalize on it. Your opponents won't know what's hit them when you have the most current, flawless, and lag-free connection possible. This card also comes with Bluetooth 5.0 which provides 2x the speed and 4x the coverage area of Bluetooth 4.2. This is great when you need to hotspot or connect peripherals like your headphones.
Wifi 6 uses cutting-edge OFDMA (orthogonal frequency-division multiple access) technology. We won't go into a full breakdown here, but in a nutshell, it means more data crammed into the signal. This new tech brings latency down from Wifi 5's 36ms to a mere 7.9ms. This could make all the difference in those key moments.
In addition to this, the card boasts two large multi-directional antennae. This gives you the best chance of maintaining the best reception possible. A magnetized base is always nice and this card has ones. Sticking the PCIe card to your desktop is super convenient and gives you full control over its location. My one gripe with this card is that it only works with Windows 10. At this point though, who doesn't use Windows 10?
Gigabyte GC-Wbax200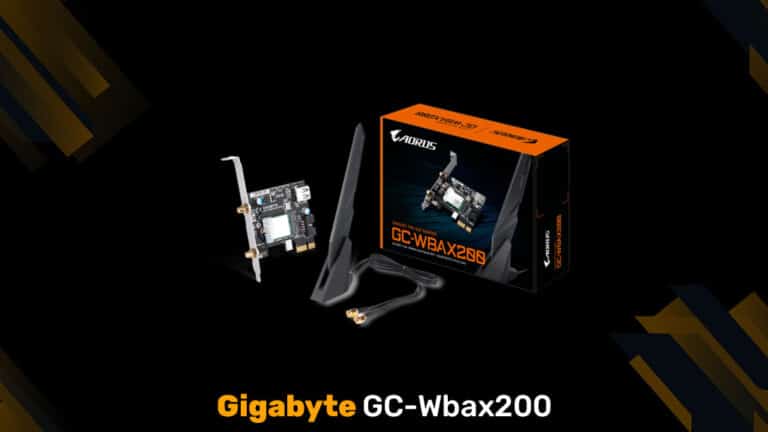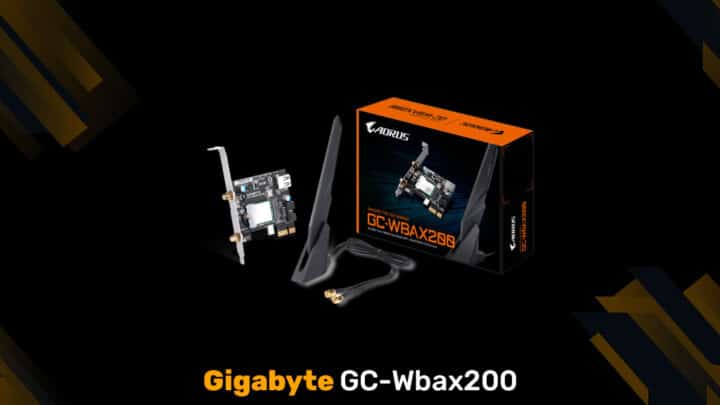 Type: Wifi 6 | Bluetooth: 5.0 | Separate Antenna: Yes | Heat Sink: No
Our next card comes from a brand I am sure you are all familiar with, two brands in fact. We have all heard of Gigabyte and many of us probably have some of their components in our own builds. They are a trustworthy brand that has been around for decades. This is their take on a Wifi 6 PCIe card. It comes in a little pricier than some of the other cards, but you are paying for the quality Gigabyte is known for. This is easily one of the most premium wifi cards available.
AORUS has also had a part to play in this PCIe card. Their high-performance 2Tx2R antenna is included with the PCIe card. In my opinion, it's hard not to love this antenna. It looks super slick and would look good on any PC gaming setup. It's not all about looks though, this card is capable of dual-band Wifi 6. This means you can pick up both the 2.4GHz and 5GHz Wifi bands simultaneously. You won't have to choose which channel you want with this card, just have both!
In terms of speeds, assuming a Wifi 6 router is used, the theoretical max remains 2400Mbps. We also have Bluetooth 5 which significantly outperforms Bluetooth 4.2 (you probably won't see any Wifi 6 cards with Bluetooth 4.2 but always check). I would be happy to recommend this card to anyone building a premium gaming rig. You can guarantee you won't have to upgrade your Wifi card for a long time. You might not see huge speed increases straight away using a Wifi 5 router, but just you wait.
ASUS PCE-AX58BT
Type: Wifi 6 | Bluetooth: 5.0 | Separate Antenna: Yes | Heat Sink: Yes
This card comes from another extremely well know brand in the PC industry, Asus. Their Asus AX300 is their take on the Wifi 6 PCIe card. Similar to other Wifi 6 cards, it comes with a theoretical top speed of 2400Mbps. It also features the same dual-channel functionality as the Gigabyte AORUS GC-WBAX200, along with Bluetooth 5. The Asus AX3000 is the most expensive card on our list. Given it offers similar performance to other cards, I would only recommend it for high-level PC builds. These specs easily make it one of the best network cards for gaming, and perfect for upcoming titles like Sons of the Forest.
Performance metrics aside, this is one of the few all-black Wifi 6 PCIe cards. You might not have thought this was important, and for many of you, it won't be. Picture this, you just built a new PC, you are super happy with your components which are all black, with blue RGB. Then you get your Wifi PCIe card and the heat sink is red?! I don't know about you but this would definitely ruin my day! An all-black card will easily blend into almost any setup. This makes it one of the best wireless cards for gaming because we tend to care more about looks than most.
The rabbit ear-style antennae on the Asus are a novel addition and in my opinion, look really cool. Each antenna is multi-directional giving you full control over where they are placed. This will help you work around any Wifi blackspots in your house.
Another thing to note about these Wifi 6 cards is that they all come with WPA3 (Wifiprotected access encryption). WPA3 was initially released in 2018, replacing WPA2 which debuted in 2004. To cut a long story short, WPA3 is much more secure and comprehensive than WPA2. This will help keep your connections more secure when using Wifi.
Ubit AX WiFi 6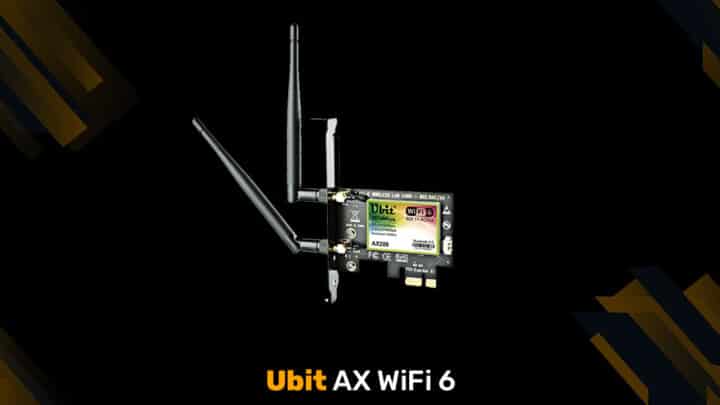 Type: Wifi 6 | Bluetooth: 5.1 | Separate Antenna: No | Heat Sink: No
Ubit isn't a brand we had heard of before, but it looks like they have produced one hell of a budget Wifi 6 card. This PCIe card is one of the cheapest options we will look at today. Surprisingly, it still packs many of the same features as the more expensive PCIe cards we have looked at.
One interesting aspect of this network card is that it offers Bluetooth 5.1. Most of the other cards come with Bluetooth 5.0. The difference isn't huge but location accuracy has been drastically improved. Bluetooth 5.0 can only tell how far away they are from the device. Bluetooth 5.1, however, can identify to within an inch where a device is. This can offer you a more stable and reliable Bluetooth connection.
Another thing to consider when looking for the best wifi card is that virtually all Wifi 6 cards use the same Intel AX200 chip. Wifi is patented by Intel and as such, they are the primary source of chips for these devices. Despite this though, we still have differences such as components quality, antenna, and heat sink differences.
One of the key drawbacks of this card is that you cannot change the location of the antenna. Because they will be poking out the back of your PC, they will likely be squished up against a wall. For most people, this probably won't have an impact on your connection but if you have black spots then it might. It also has no dedicated heat sink. Similar to the antenna issue, this probably won't cause you problems, but you can never be sure. In my opinion, this card also wouldn't look particularly great inside a cool PC setup.
EDUP Wifi 6 PCIe Card
Type: Wifi 6 | Bluetooth: 5.1 | Separate Antenna: No | Heat Sink: Yes
Completing our roundup of wifi cards is the EDUP PCIe card. It ranks on the budget end like the previous card and offers a good alternative to the more expensive cards. Like the other Wifi 6 cards, we have looked at it has a theoretical maximum speed of 2.4GBps. It also supports Bluetooth 5.1 which I really like. You should note that for the Bluetooth features in these cards to work, they must be connected to the motherboard 9-pin interface.
Like the Ubit Wifi 6 card, the antennae are located directly on the back of the card. If you have no Wifi black spots this should be ok but it is not perfect. Another key thing to remember is that virtually all Wifi 6 PCIe cards run on Windows 10 64bit. Unfortunately, this means if you don't use this OS, you are out of luck with Wifi 6. In my experience though, there aren't that many PC gamers currently not using this OS.
I also like that this is a budget PCIe card with a heat sink. There is a bit of a debate in the gaming community about whether a heat sink does anything on network cards. The general opinion is that they don't have much of an impact on performance. Despite this, they do keep the chip cooler AND they make the cards look much better. PCIe cards without heat sink look quite basic and in my opinion, could take the shine off a good PC build.
My main issue with this card is the fact that the heat sink and board are both red. This is the only color option and it may or may not suit your build. Lucky for me I have a black and red theme so it would work. If you have no red in your build though, it could look weird.
Final Thoughts
That completes our roundup of the best Wifi cards for gaming and speed. On some level, Wifi 6 cards share a lot of similarities, for example, they all use the same AX200 chip. They also all run off Windows 10 64bit and need to be plugged into the motherboard via a 9 pin connector to benefit from Bluetooth.
Despite these similarities, though, there are some key differences between the cheaper and more premium cards. The more premium cards come with much more customizable antennae. They also typically have an antenna that is separate from the PCIe card itself, giving you even more versatility. This gives you the best chance at always having the best and most stable connection possible.
The more premium cards also generally look better, come with heat sinks or more attractive color schemes. If you don't care how your setup looks then a budget Wifi 6 card may suit you best. If, however, like many of us you really pride yourself in how clean your setup is, a more premium card is the better choice. People spend lots of time choosing components like the best RAMM for their Ryzen 7, so why not put as much thought into an equally important component?
We hope you found this roundup of the best wifi 6 PCIe cards for PCs useful. Please refer to our F&Q below for some additional information on the topic.
F&Q's
Wi-fi 6 vs Wi-Fi 5?
When using a single device, Wi-Fi 6 top speeds should be up to 40% faster than existing Wi-Fi 5 speeds. Wi-Fi 6 is set to even faster than this in crowded environments, this could apply to apartment blocks, etc.
Why should I get a W-Fi 6 card?
Currently most infrastructure still uses Wi-Fi 5. This will change rapidly over the coming years, however. Since the release of Wi-Fi 6 in 2019, new devices have rapidly begun to adopt the technology. By going straight for a W-Fi 6 card, you are future-proofing yourself for years to come.
Aren't Wi-Fi 5 PCIe cards cheaper?
Not particularly. They may be cheaper than some of the higher-end Wi-Fi 6 cards but they are not significantly cheaper than budget Wi-fI 6 Cards. In my opinion, not going straight for Wi-Fi 6 is a waste of an opportunity.
Don't all Wi-Fi 6 PCIe cards use the same Intel chip anyway?
Most do, yes. Despite this, you still need to consider things like the quality of the antenna, heat sink, brand reputation, and warranty value. Generally, with more trusted brands you will get better build quality and warranties.
Are separate antenna really better than inbuilt ones?
Honestly, for many people, it might not make much of a difference. It all depends on Wifi blackspots, the layout of your setup, etc. People such as myself benefit from an antenna. There is a lot of solid brick between the back of my PC and the router. An antenna helps in these situations.
Do I need a Wi-Fi 6 router to benefit from a Wi-Fi 6 PCIe card?
To benefit from the new theoretical maximum speed of 2.4GBps, yes you need a Wi-Fi 6 router. But if you don't have one yet, it will function fine using a Wi-Fi 5 router. I suspect most of us don't have Wi-Fi 6 routers yet. Most of us probably will in the coming years so it's important to be ready.