Specs:

Form Factor: ATX
Memory Type: DDR4
Memory Speed: 4400MHz
Max RAM: 128GB

Specs:

Form Factor: ATX
Memory Type: DDR4
Memory Speed: 5300MHz
Max RAM: 128GB

Specs:

Form Factor: ATX
Memory Type: DDR4
Memory Speed: 5100MHz
Max RAM: 128GB

Specs:

Form Factor: ATX
Memory Speed: 5100MHz
Max RAM: 128GB

Specs:

Form Factor: ATX
Memory Type: DDR4
Memory Speed: 5100MHz
Max RAM: 128GB

Specs:

Form Factor: ATX
Memory Type: DDR4
Memory Speed: 5100MHz
Max RAM: 128GB

Specs:

Form Factor: Mini ITX
Memory Type: DDR4
Memory Speed: 5000MHz
Max RAM: 64GB
X570 is the culmination of AM4-compatible motherboard design, bringing technologies like PCIe 4.0 that took Intel two generations to implement appropriately. The platform's compatibility is terrific, as is the number of high-speed USB connections it supports. The best X570 motherboard models balance these with challenges like a higher power draw and an overall price increase deftly.
X570 is a mature platform, meaning there are plenty of boards for you to choose from. Price is one aspect to consider. Other factors come into play, too, like the number and type of PCIe slots used, VRM strength, cooling efficiency, and the amount & variety of connections at your disposal. We have taken all of these into account, and the result is this comprehensive list. Find out what each motherboard brings and pick out a worthy home for your Ryzen chip.
GIGABYTE X570 AORUS Xtreme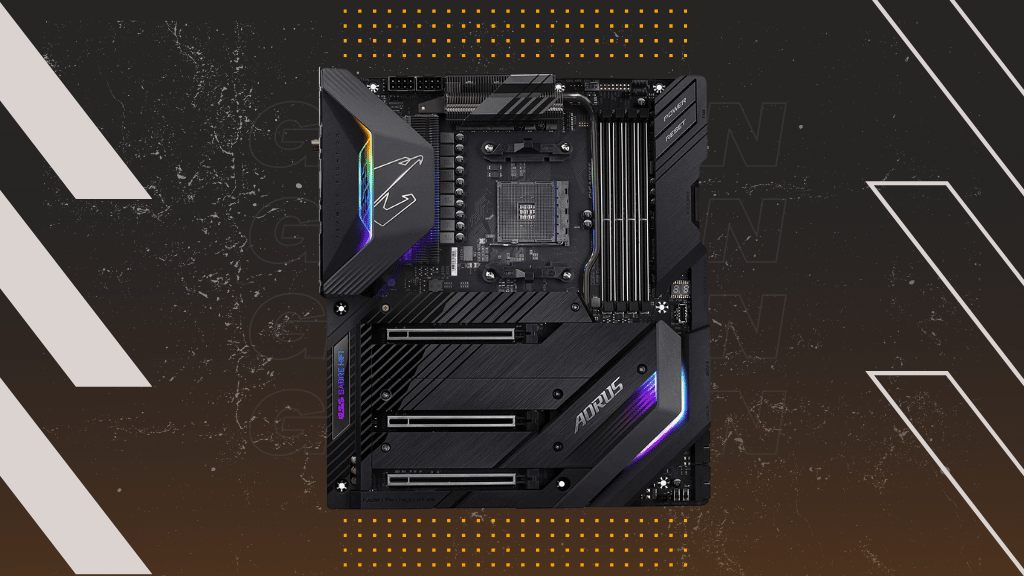 Gigabyte X570 Aorus Xtreme
Socket: AM4 | Form Factor: ATX | Memory Type: DDR4 | Memory Speed: 4400MHz | Max RAM: 128GB
Pros:
Great VRM and thermals

Top-notch port selection

Exceptional build quality
Are you keen on using a 5950X or want to try for a record-breaking overclock with the 5800X? The best X570 board to deal with such extremes has its optimal use case as part of the name! Gigabyte's Xtreme ticks all the boxes, whether you're interested in overclocking, water cooling, plenty of storage, or superb connectivity. It's among the most expensive Zen3 boards but well worth the asking price for enthusiasts.
Gigabyte pulled the Xtreme's look off superbly. You'll notice it's a premium board immediately, if not by looking at its armor-clad brushed exterior, then as soon as you pick it up. All that black metal serves a vital purpose – more efficient heat expulsion. You know it's serious business when an X570 board doesn't need a chipset fan. Three RGB zones mix things up and offer a welcome contrast to the all-black PCB.
The Xtreem continues Gigabyte's streak of top-tier boards focused on CPU overclocking. As such, a VRM with 16 power stages with an individual output of 70A isn't surprising. They don't need doubling due to an advanced controller either. Coupled with an extra 8-pin EPS connector, this ensures any Ryzen chip will have more clean power than it could handle.
Thick armor is among the Xtreme's most recognizable features. You'll find it everywhere, from the three PCIe 4.0 M.2 slots to the audio codec & 24-pin main power connector. Despite this, most internal connections are easy to reach. That makes for straightforward building in all kinds of cases. The three GPU slots all embrace PCIe 4.0 as well. Six SATA ports are there if high-speed storage isn't enough, and some get disabled with M.2 use.
An Extreme Case of Style & Substance
The robust build provides an excellent basis for cooling. The board doubles down on it with eight fan headers. One is for water pumps, while two are hybrid and can accommodate custom water loop equipment. The internal connection layout is rich and versatile. For example, you get USB-C and USB 3.2 headers for the case I/O and headers for sound and temperature detection.
You'll love this motherboard if you're prone to tweaking and regular part changes. It has an 88-style error code readout as well as reset & power buttons. Two BIOS switches also help with recovery if something goes wrong.
I/O optimization is among the best we've seen on any motherboard, regardless of the chipset! Gigabyte respects your intelligence by forgoing video-out, trusting you'll get a powerful graphics card with a board as capable as this. Twelve USB ports occupy most of the layout and include everything from USB 2.0 to USB-C. Exceptionally fast 10Gbps Ethernet sits next to the more mundane Gigabit port, and there's always WiFi 6 for wireless networking.
The all-black audio stack is gold-plated and contains an optical S/PDIF out. It uses the Realtek ALC1220 codec for a noiseless aural experience. The I/O tour ends with two no less important features, the clear CMOS and BIOS flash buttons.
MSI MEG X570S ACE MAX
MSI MEG X570S ACE MAX
Socket: AM4 | Form Factor: ATX | Memory Type: DDR4 | Memory Speed: 5300MHz | Max RAM: 128GB
Pros:
Ridiculously over-engineered VRM

Better sound & networking

Substantially reworked I/O
Cons:
Reduced to a single Ethernet port
The X570 platform is getting long in the tooth, so several manufacturers decided that the end of 2021 was a good time for a refresh. Enter X570S, the silent update that ditches the chipset fans while giving manufacturers the perfect excuse to address existing motherboards' shortcomings. The X570S ACE MAX is the perfect example of this, sporting more storage, better audio, and ridiculous VRM compared to the original.
If not for the menacing light-up dragon logo, one could easily mistake the new ACE for a high-end Gigabyte board. Much of it is clad in brushed black armor with broad diagonal streaks, tasteful golden accents, and prominent screws. The RGB is strong both in the dragon and an accent underneath the massive chipset heatsink.
The old ACE had a solid 12+2-phase VRM. The new one laughs in its face, bumping that to 16+2 Smart Power Stages drawing from two 8-pin EPS connectors to deliver a whopping 90A each! Put into perspective, each phase barely gets hot, and there are so many that work is easily shared among them. Tall heatsinks responsible for cooling them have a dedicated backplate for extra heat dissipation. If you wanted to attempt a new overclock record for the 5950X, this would be the board to try it on.
It's time to dust off your Steam library as the ACE carries enough potential to store most of it on a great high-speed SSD. You now get four padded M.2 slots with PCIe 4.0 support. As if that weren't enough, eight more SATA plugs stand ready on the side. There's no lane sharing, so you can potentially use twelve drives in total.
All three x16 slots have strong metal reinforcement that prevents hefty GPUS from sagging. They're compatible with both SLI and CrossFire, should you need them. The RAM slots received a 300 MHz max frequency bump. You won't see much of a difference in practice due to Infinity Fabric, but the added assurance of stability at higher clocks is welcome.
An ACE Up Your Sleeve
You'll need a way to keep the high-end hardware the ACE is meant for cool, so its headers and related features will come in handy. There are four cooling headers apart from the ones for the CPU and a water pump. However, there's also a connector for a water flow meter and two for temperature sensors. Your case I/O is covered through two 5Gbps USB-A and one 10Gbps USB-C header. A double-digit error code display is present as well.
Kudos to MSI for redesigning and substantially upgrading the I/O. The PS/2 port is gone, but you can stick your peripherals in any of the twelve USB ports on offer. The gold-plated audio stack runs on the newest premium ALC4082 codec. A Sabre DAC ensures excellent audio quality even if you use front panel jacks.
The original had trouble with access to its x1 slots, and the X570S Ace made it worse. This won't be a problem for the overwhelming majority of users, but you can't use its x1 slot and WiFi 6E simultaneously. Luckily, there's 2.5G Ethernet to fall back on. The Ace has chunky BIOS flashback and clear CMOS buttons like every enthusiast motherboard.
GIGABYTE X570S AORUS Master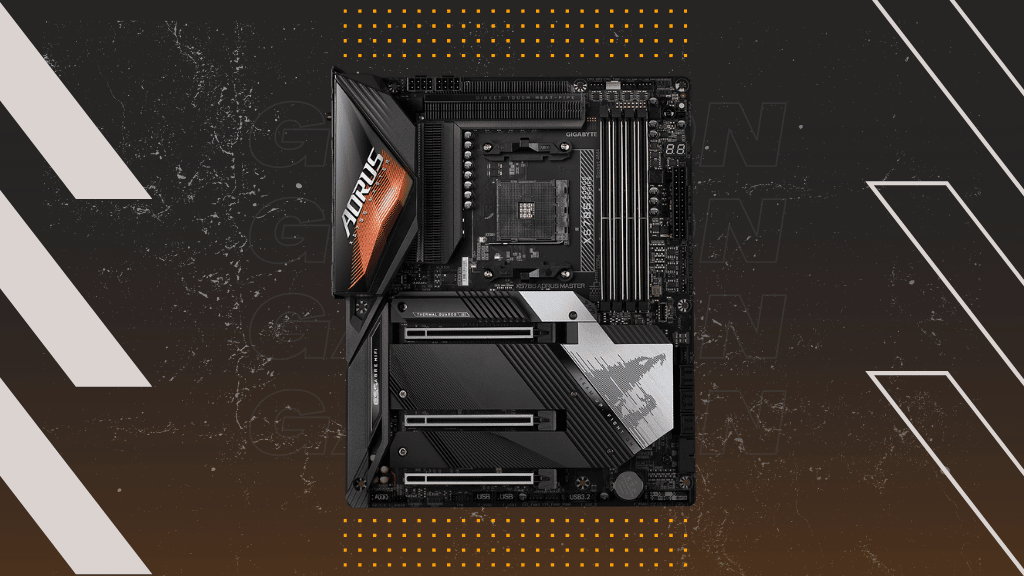 GIGABYTE X570S AORUS Master
Socket: AM4 | Form Factor: ATX | Memory Type: DDR4 | Memory Speed: 5400MHz | Max RAM: 128GB
Pros:
Outstanding VRM and cooling in general

Four M.2 slots

12 USB ports & WiFi 6E on I/O
Cons:
One less Ethernet port than the original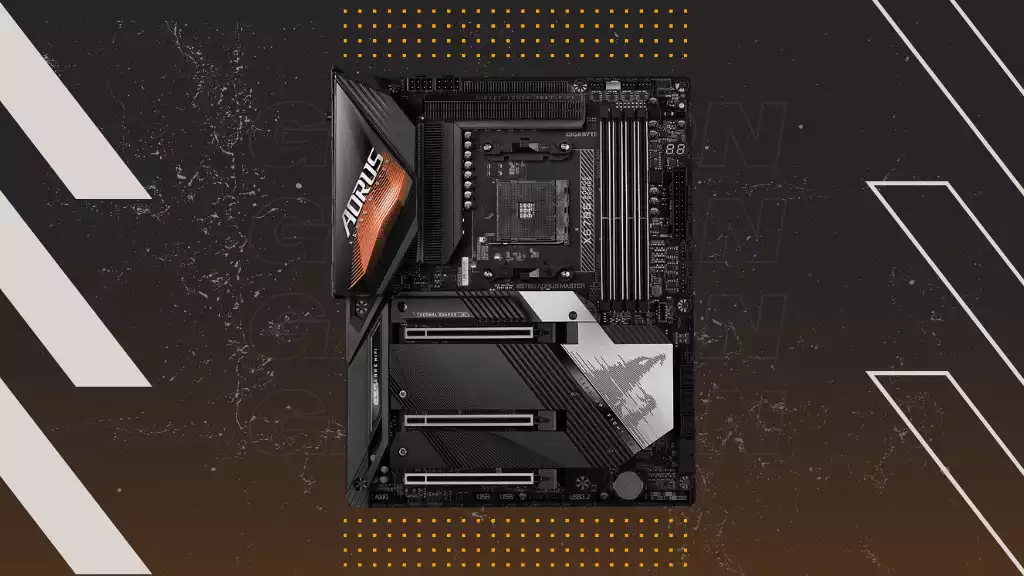 Gigabyte jumped on the X570S bandwagon too. Like MSI, boards in the upper to mid-range got a revamp, including the already well-received AORUS Master. Its newest iteration has even better developed cooling support, beefier VRMs, and expanded storage. We wish the redesign didn't chop off the second Ethernet jack, but that's nitpicking.
The original Master's design didn't exactly befit its station. We're glad to see how the refresh adopts a more serious and aesthetically pleasing look akin to Gigabyte's new Alder Lake models. You may look forward to more armor, less RGB, and an attractive aluminum panel on the chipset heatsink that displays a glitched-out version of Gigabyte's logo.
The new ACE might have more powerful VRMs on paper, but the Master is still its worthy adversary. Gigabyte kept the 12+2 configuration but replaced the 50A MOSFETs with more capable 70A models. The implementation places even less strain on individual phases. It's coupled with one of the best VRM cooling implementations out there, two heatpipe-connected heatsinks with fin arrays that draw heat away with admirable efficiency.
The Master of Cool
That's just the tip of the Master's cooling iceberg, though. The board emphasizes entire system cooling, providing ten related headers. Several of them are hybrids, easily accommodating either fans or water loop components.
Moreover, the Master comes with eight voltage read points which allow you to get precise readings instead of relying on inaccurate software readouts. There's also a smattering of connections for noise & temperature sensors that help control the system's cooling based on minute changes.
Storage has seen an uptick in available M.2 drives. Losing the fan and implementing other rearrangements allowed Gigabyte to up the M.2 drive count to four. All such drives can be 110mm long and don't interfere with the six SATA plugs anymore.
The original supported 4400MHz DDR4 RAM if you stuck to a single DIMM. The X570S version increased that by a whole gigahertz, ensuring that all four slots can comfortably hit 3666 – 4000MHz clock speeds. Other features stayed the same, like the three reinforced x16 GPU slots and the high-end ALC1220-VB codec responsible for the audio stack's excellent sound.
Further changes are best reflected on the I/O. It has twelve USB ports up from ten, and the USB-C got a speed upgrade to 20Gbps. WiFi is now 6E, while the single remaining Ethernet jack delivers 2.5G speeds. The audio stack contains optical S/PDIF out. Video-out ports are absent, but you can count on buttons for CMOS clearing and flashing the BIOS.
MSI MAG X570S Tomahawk Max WiFi
MSI MAG X570S Tomahawk Max WiFi
Socket: AM4 | Form Factor: ATX | Memory Type: DDR4 | Memory Speed: 5100MHz | Max RAM: 128GB
Pros:
Excellent value for the money

Improved WiFi & audio

Solid port selection and VRM
The second MSI board on our list is another refresh, this time of the well-received X570 Tomahawk. It shores up the few shortcomings the original had left, including better HDMI implementation and networking. You can frequently find the board on sale, making it one of the most cost-effective on the list.
MSI decided not to rock the boat of the Tomahawk's busy design. Most of the changes reflect on the chipset area where a brightly textured slab of metal now resides. The color scheme is reminiscent of military themes with lots of urban camo, targeting reticules, and similar motifs. The new heatsink also acts as the RGB hub, with four more headers on either end of the PCB serving as backup.
We have no changes to report on the VRM front. The Tomahawk was already in a better state than the original ACE with 12+2 60A power stages, so that's fine. You can slap the new Ryzen 7 5800X3D onto the socket and not worry about thermals, thanks to thick heatsinks with double contact plates. The RAM slots to the right of them now max out at 5100MHz.
A Well-Rounded Choice
Compared to more expensive motherboards on the list, the Tomahawk's storage offerings are modest yet serviceable. The CPU and chipset each provide lanes for one M.2 drive. Both get effective padding, and the top one can be as long as 110mm. Six more SATA connections round out this segment. The top x16 slot is the most logical for GPU placement due to full lane utilization and armoring. You may also appreciate the two x1 slots for adding capture or similar cards.
The board's miscellaneous internal connections reflect its price. Six headers cover power for the CPU and system fans, while 2x USB-A and a USB-C header ensure good front panel connectivity. There's no sophisticated error code readout like on the ACE, but the four LED debugger does a good enough job when you need to narrow down problems.
The improvements MSI made to the I/O are comprehensive and welcome. Ancient HDMI was a sticking point, so we're glad it's now at the cutting-edge 2.1 standards. Audio received love in the form of Realtek's newest ALC4080 codec backing. The Ethernet jack offers a reliable fixed connection, while WiFi made the jump to 6E. Eight USB ports include 10Gbps USB-C and should suffice for most people's needs. A BIOS flashback button is there, as is PS/2.
GIGABYTE X570S AERO G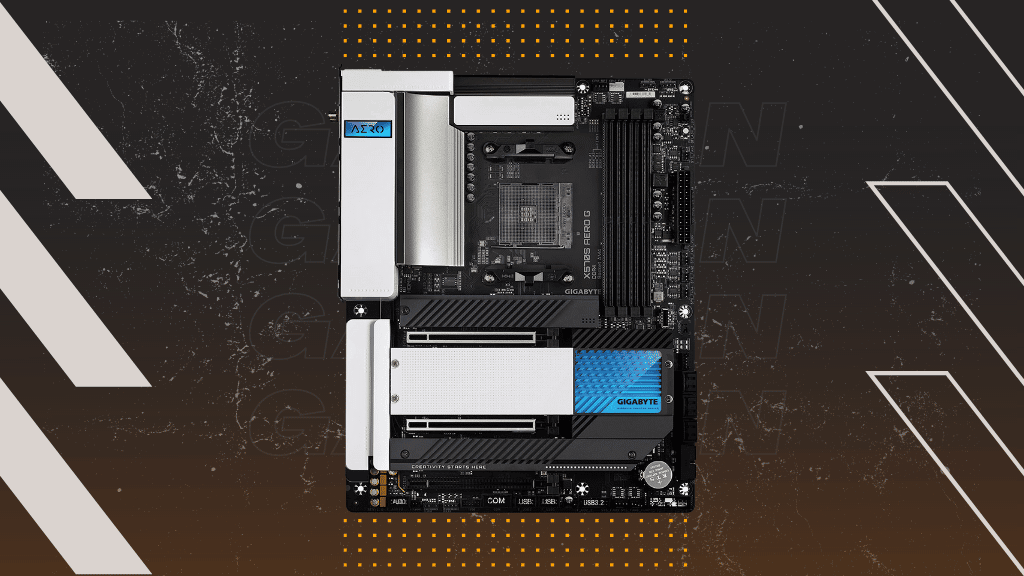 GIGABYTE X570S AERO G
Socket: AM4 | Form Factor: ATX | Memory Type: DDR4 | Memory Speed: 5100MHz | Max RAM: 128GB
Pros:
Four M.2 slots

10 USB ports on I/O, including 20Gbps VisionLink

Premium audio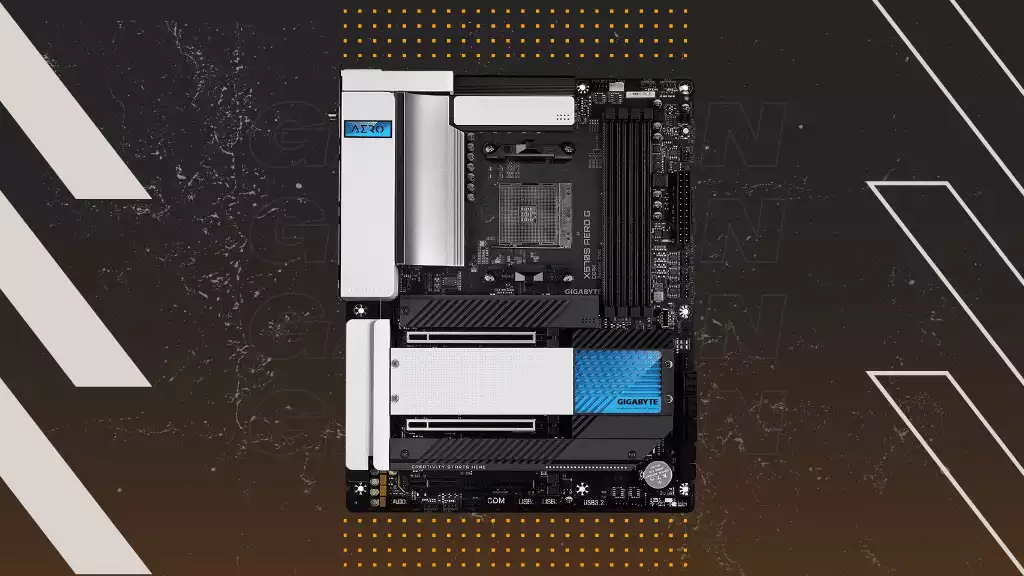 Nothing could beat the 5950X's productivity potential before Alder Lake came along, so it's perplexing that X570 manufacturers didn't try to cater to the productivity & creativity niches more. We had ASUS's ProArt before, and now the X570 AERO G is a worthy contender. It's big on storage and novel connectivity while retaining much of what makes Gigabyte boards recognizable.
You'll notice this isn't a gaming board the instant you behold its plain black PCB and simple yet tasteful white plating. The quarter-pipe main VRM heatsink and a shimmering logo on the fanless chipset are the only compromises Gigabyte makes to an otherwise clean and two-toned look. Augmenting it with RGB is a possibility you can explore on your own.
Creative work calls for storage redundancy, and the AERO G is ready to oblige. Four M.2 slots are a rarity on pre-X670 boards, even more so if all four take on PCIe 4.0 drives. The board provides thermal padding for all such drives. You can add six more SATA III-based disks to store projects of lesser priority. Two will get disabled if you fill the faster slots up with non-SATA disks, though.
You may take full advantage of the RX 7900 XTX or RTX 4090 since the top slot uses PCIe 4.0 x16. The middle one is PCIe 4.0 x8, which is also the bandwidth the top slot defaults to if you use both.
The third slot is full-length and capped at PCIe 4.0 x4. Creative types need RAM more than anyone, so it's great to know you can fill all four slots with 128GB and have it run at 3600MHz or more without trouble.
Your Fully-Realized Creation Station
Such users might not pay as much attention to overclocking, but it's available if needed. The AERO G's 14+2 60A power stages aren't far removed from X570's maximum, so overclocking any Zen3 CPU is more than feasible. Despite its unusual appearance, the main VRM heatsink and its helper adequately deal with any CPU- generated heat.
Excellent cooling potential is another Gigabyte staple this board benefits from. Several of its eight related ports will work with either DC or PWM fans, and there's little need for piggybacking since there are so many.
You don't get advanced features like a POST code reader or the voltage read points associated with premium AORUS boards. Still, the LED debugger is adequate for determining what went wrong during system initialization.
You'll encounter most of the AERO G's interesting features on the lovely white I/O. Its USB connectivity is excellent for the generation – ten ports total with two USB-C. The 20Gbps one is there purely for speed. Its companion has half the bandwidth, but it's a VisionLink port that transfers video and can provide power for devices like graphics tablets.
HDMI 2.1 is your second video source, and a DisplayPort serves as video input. WiFi 6E and 2.5G Ethernet serve as adequate networking options. The audio codec benefits from the then-top-of-the-line ALC 1220-VB codec and several associated high-quality capacitors.
ASUS TUF Gaming X570-PRO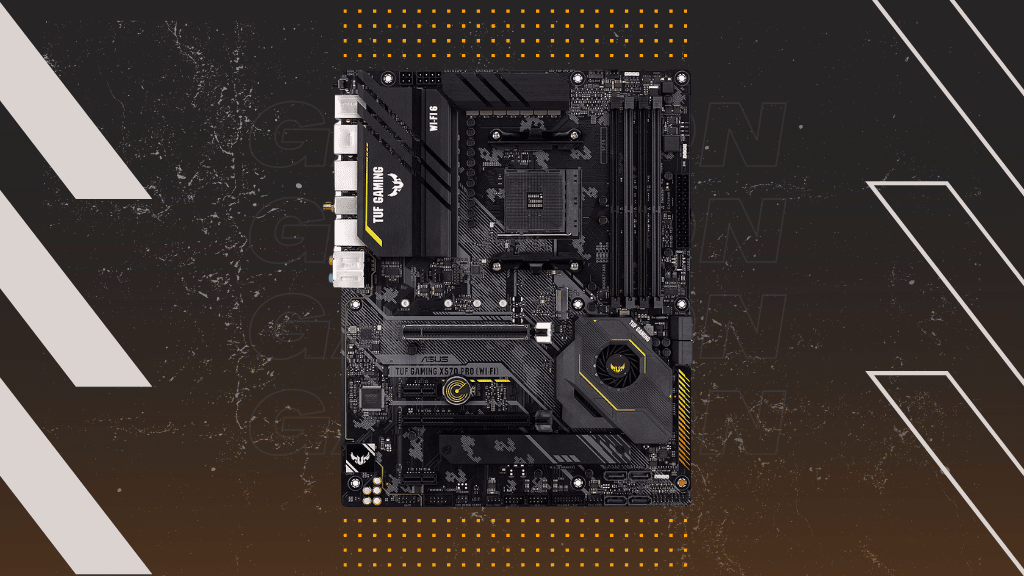 ASUS TUF Gaming X570-PRO
Pros:
Good price for the performance

Ample storage options

2.5G Ethernet and quality audio
Cons:
Top M.2 slot lacks heatsink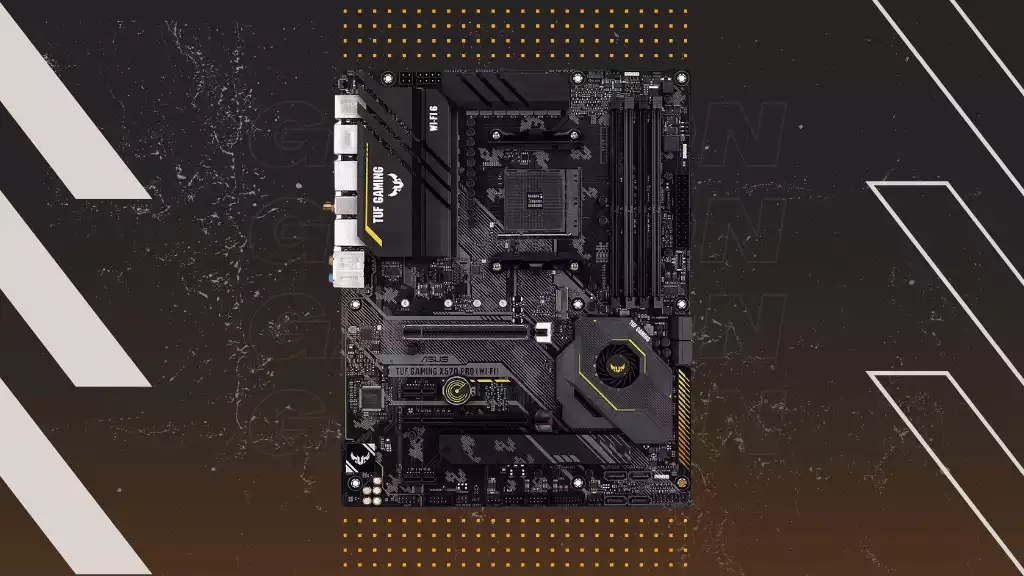 Our final ATX-sized recommendation will pique the interest of gamers looking for comprehensive features at a price that beggars belief. When discounted, the TUF Gaming X570-PRO goes for a song. Even so, it's among the most thoughtful boards in the generation. We wonder if ASUS is even turning a profit on this one. Whatever the answer, the consumer is getting an awesome mobo that punches above its weight class.
TUF boards have a specific aesthetic that may or may not be to your taste. This one has many yellow accents the line is known for. They work well with the black PCB and gray heatsink area. However, the design is outlandish by today's standards and might clash with some setups if you're pedantic about such things. RGB illuminates only a small area in the bottom right corner. An easy oversite to fix by taking advantage of the mobo's RGB headers.
You can connect only two M.2 drives, which makes sense given the price. Conversely, the TUF Gaming X570-PRO offers a whopping eight SATA ports you can use to connect older storage devices. We only wish that the upper M.2 slot had a heatsink. You'll want to get a drive with an integrated heatsink for it to protect against heat radiating from the GPU's backplate.
VRM implementation might be the TUF's most positive surprise. It's much cheaper than other boards on the list yet still has a 14+1 parallel phase layout. If anything, the heatsinks are the weaker link here since they're thinner than most and lack a heatpipe. Still, this is an overkill motherboard for the 5600X that's well in line with the chip's cost.
A TUF Offer to Refuse
The expansion slots favor PCIe 4.0, with the top x16 one and both x1 slots using it. The two other full-length lanes max out at PCIe 3.0, which is still the standard. Six cooling headers dot the board, and one is dedicated to AIO pumps. USB-C & USB 3.2 Type-A leave offer enough connectivity for the case, and USB 2.0 headers are there if you need them to control your AIO's custom lighting.
The fact that this is a budget board only sinks in when you examine the I/O. It's missing the plate and laid out to cover all eventualities. That's why you'll find HDMI & DisplayPort as well as PS/2 there, but this time we really can't fault ASUS for including all of them. Seven USB plugs stand ready, all 5Gbps USB 3.2 or above. WiFi 6 and a 2.5G Ethernet jack handle internet access. That leaves the surprisingly advanced 5+1 audio stack with its optical S/PDIF out and ALC1220 support.
ASUS ROG Strix X570-I Gaming
ASUS ROG Strix X570-I Gaming
Socket: AM4 | Form Factor: Mini-ITX | Memory Type: DDR4 | Memory Speed: 5000MHz | Max RAM: 64GB
Pros:
Can take on any Ryzen processor without throttling

Great cooling and airflow

Two PCIe 4.0 M.2 slots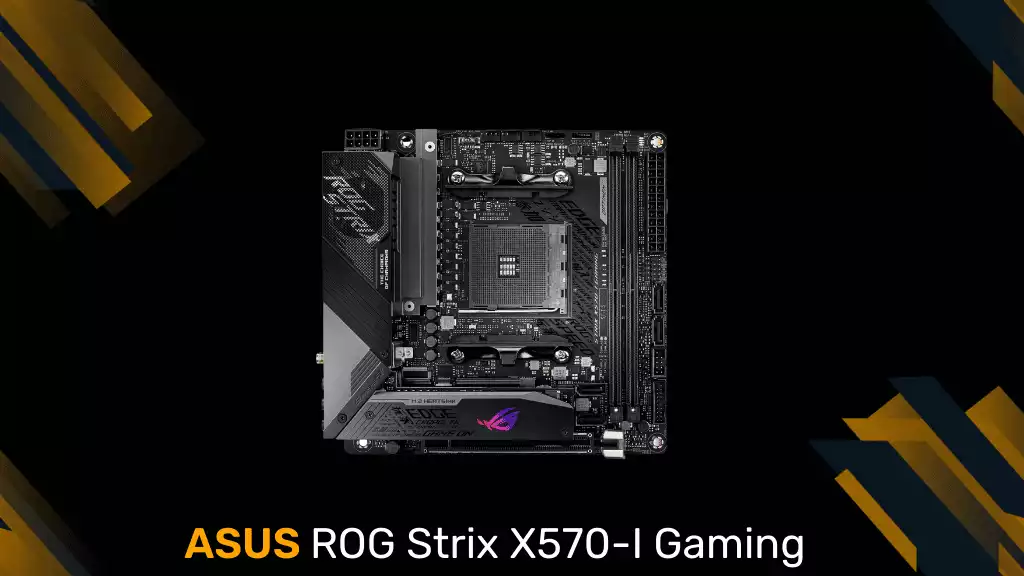 Improved power efficiency over Intel makes Zen3 chips ideal candidates for small form factor builds. Several appropriate Mini-ITX boards vie for your attention, but the ROG Strix X570-I Gaming takes the cake. It has superior cooling and VRM, an excellent layout, and top-notch build quality.
Props to ASUS for making this tiny board visually appealing with so many subtle details. Everything from the faint lettering on the daughterboard to the grey accents & arrays of diagonal lines strewn across the front speaks of class. They even managed to somehow fit RGB on both the ROG logo and PCB's right side. As if that weren't enough, two headers invite you to bling out the board more.
We were incredibly impressed with the VRM implementation. No other ITX-sized X570 motherboard comes close to the combination of 8+2 phases with an output of 70A each. That means the CPU gets a supply of 560A, which is only marginally smaller than what larger arrays would deliver. You could run a stock 5950X without trouble or go to town with a 5800X.
A Palm-Sized Gaming Giant
While the VRMs don't get toasty, overclocking will also depend on ambient cooling. The ROG Strix X570-I Gaming has an I/O shroud fan that helps cool the VRM and circulate air inside the case. This will be of crucial importance to AIO-cooled systems with poor airflow. A second fan resides under the daughterboard and cools the chipset. Three more fan headers allow for even greater expansion.
The impact size has on the mobo's storage accommodation is surprisingly small. It has room for two PCIe 4.0 M.2 disks. One resides in the daughterboard, together with the audio solution. The other is in the back of the PCB, next to a reinforcement backplate. You may connect four more SATA disks as well.
The I/O cover tastefully incorporates vents for the two fans and is otherwise home to a decent port spread. Space limitations didn't stop ASUS from including seven USB plugs, all of them USB 3.2 Gen 1 and above. If you have a processor like the 5700G, you can connect its iGPU through either HDMI or DisplayPort. WiFi 6 antennas and 2.5G LAN connect you to the world. The audio stack contains only three analog jacks due to the associated hardware's unusual placement.