X570 is the culmination of AM4-compatible motherboard design, bringing technologies like PCIe 4.0 that took Intel two generations to implement appropriately. The platform's compatibility is terrific, as is the number of high-speed USB connections it supports. The best X570 motherboard models balance these with challenges like a higher power draw and an overall price increase deftly.
Our Best x570 Motherboard Picks at a Glance
X570 is a mature platform, meaning there are plenty of boards for you to choose from. Price is one aspect to consider. Other factors come into play, too, like the number and type of PCIe slots used, VRM strength, cooling efficiency, and the amount & variety of connections at your disposal. We have taken all of these into account, and the result is this comprehensive list. Find out what each motherboard brings and pick out a worthy home for your Ryzen chip.
GIGABYTE X570 AORUS Xtreme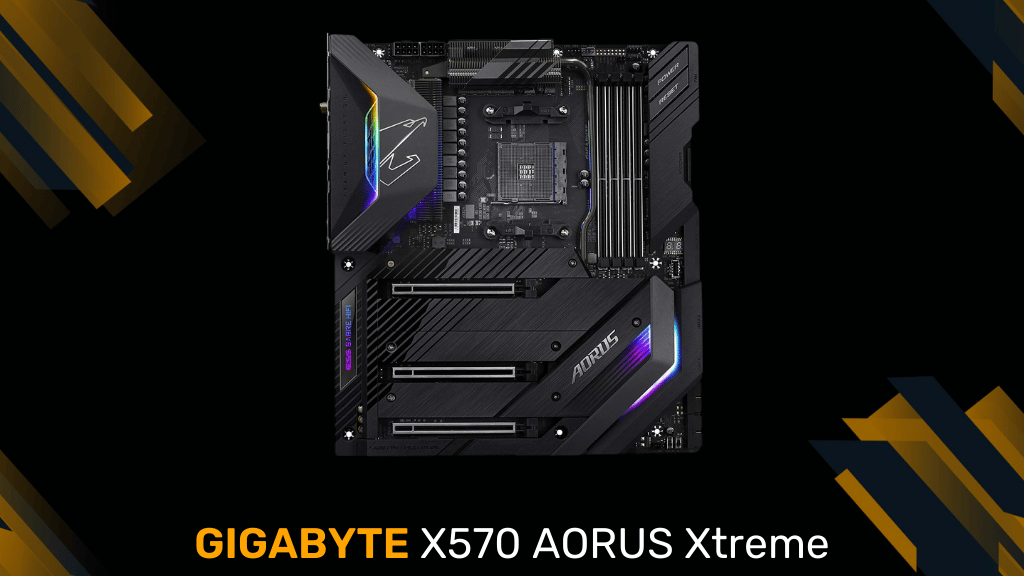 Socket: AM4 | Form Factor: ATX | Memory Type: DDR4 | Memory Speed: 4400MHz | Max RAM: 128GB
Are you keen on using a 5950X or want to try for a record-breaking overclock with the 5800X? The best X570 board to deal with such extremes has its optimal use case as part of the name! Gigabyte's Xtreme ticks all the boxes, whether you're interested in overclocking, water cooling, plenty of storage, or superb connectivity. It's among the most expensive Zen3 boards but well worth the asking price for enthusiasts.
Gigabyte pulled the Xtreme's look off superbly. You'll notice it's a premium board immediately, if not by looking at its armor-clad brushed exterior, then as soon as you pick it up. All that black metal serves a vital purpose – more efficient heat expulsion. You know it's serious business when an X570 board doesn't need a chipset fan. Three RGB zones mix things up and offer a welcome contrast to the all-black PCB.
The Xtreem continues Gigabyte's streak of top-tier boards focused on CPU overclocking. As such, a VRM with 16 power stages with an individual output of 70A isn't surprising. They don't need doubling due to an advanced controller either. Coupled with an extra 8-pin EPS connector, this ensures any Ryzen chip will have more clean power than it could handle.
Thick armor is among the Xtreme's most recognizable features. You'll find it everywhere, from the three PCIe 4.0 M.2 slots to the audio codec & 24-pin main power connector. Despite this, most internal connections are easy to reach. That makes for straightforward building in all kinds of cases. The three GPU slots all embrace PCIe 4.0 as well. Six SATA ports are there if high-speed storage isn't enough, and some get disabled with M.2 use.
The robust build provides an excellent basis for cooling. The board doubles down on it with eight fan headers. One is for water pumps, while two are hybrid and can accommodate custom water loop equipment. The internal connection layout is rich and versatile. For example, you get USB-C and USB 3.2 headers for the case I/O and headers for sound and temperature detection.
You'll love this motherboard if you're prone to tweaking and regular part changes. It has an 88-style error code readout as well as reset & power buttons. Two BIOS switches also help with recovery if something goes wrong.
I/O optimization is among the best we've seen on any motherboard, regardless of the chipset! Gigabyte respects your intelligence by forgoing video-out, trusting you'll get a powerful graphics card with a board as capable as this. Twelve USB ports occupy most of the layout and include everything from USB 2.0 to USB-C. Exceptionally fast 10Gbps Ethernet sits next to the more mundane Gigabit port, and there's always WiFi 6 for wireless networking.
The all-black audio stack is gold-plated and contains an optical S/PDIF out. It uses the Realtek ALC1220 codec for a noiseless aural experience. The I/O tour ends with two no less important features, the clear CMOS and BIOS flash buttons.
ASUS ROG X570 Crosshair VIII Formula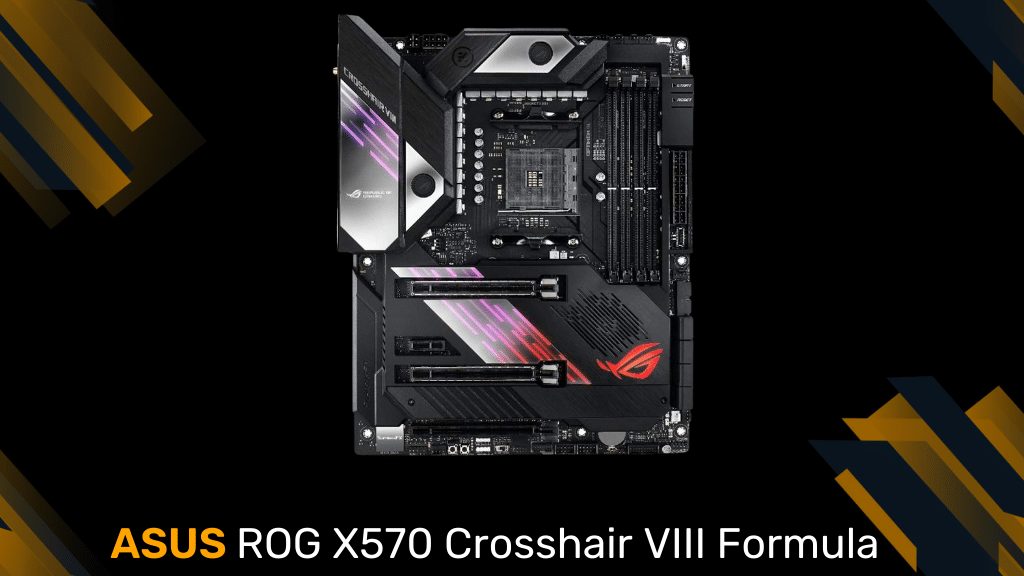 Socket: AM4 | Form Factor: ATX | Memory Type: DDR4 | Memory Speed: 5100MHz | Max RAM: 128GB
Optimized for water cooling
Lots of storage options
Rich I/O with two LAN ports
Very expensive
Most gamers are happy with a rig that will let them achieve high framerates at high settings in the newest games like Forza Horizon. Others aren't content until they extract the last drop of performance out of their system. The Formula is the best x570 motherboard for the latter category. It offers peerless water cooling support, robust OC features, and more ports than most people will ever need.
The board's aesthetics are in line with other ASUS premium models. They blend a black PCB with strategically placed mirrored surfaces infused with subtle but effective RGB. There's also a lot of armor both on the front and in the back. This makes the Formula heavier. It also increases structural stability & heat dissipation.
Even though it's overkill in its own right, the VRM is not the most advanced on the list. ASUS uses 14+2 twinned phases with a delivery of 60A per stage. The resulting amperage exceeds even the 5950X's needs. Having so many phases distributes the heat output handled by two sets of chunky heatsinks. They also have a built-in water block should you want to equip the board with a custom water loop.
It would be a shame not to look into such cooling since the Formula is brimming with supportive features. It has headers for monitoring vital stats like water flow and intake. There's even a header that allows you to go for record-breaking overclocks using liquid nitrogen. Other internal headers are mundane by comparison but every bit as valuable. Two allow for four USB 3.2 and one USB-C port to function on your case's I/O. Eight more accommodate case fans. Overclockers will appreciate the retry & reset buttons as well as an LED error code display.
Support for large amounts of storage is another of the Formula's strengths. It accepts three M.2 drives, two of which are PCIe 4.0. They get thick heatsinks that blend in well with the massive bottom armor. Populating all three will disable a few SATA ports, but that won't matter much since there are eight of them. The upper two x16 lanes are PCIe 4.0 compliant and reinforced to handle heavier graphics cards.
The I/O is a textbook example of efficiency & relevance. There are twelve USB ports in total. One is USB-C, but we're more impressed with the seven 10Gbps USB-A plugs. Networking receives strong representation in the form of WiFi 6 and two Ethernet jacks. One of them is from Aquantia and sports a bandwidth of 5Gbps. The audio stack supports 7.1 Surround sound and uses ASUS's modified version of the ALC1220 codec. There's no room for video-out connections, which is just as well. You do get helpful BIOS flash and CMOS clear buttons, though.
MSI MEG X570 ACE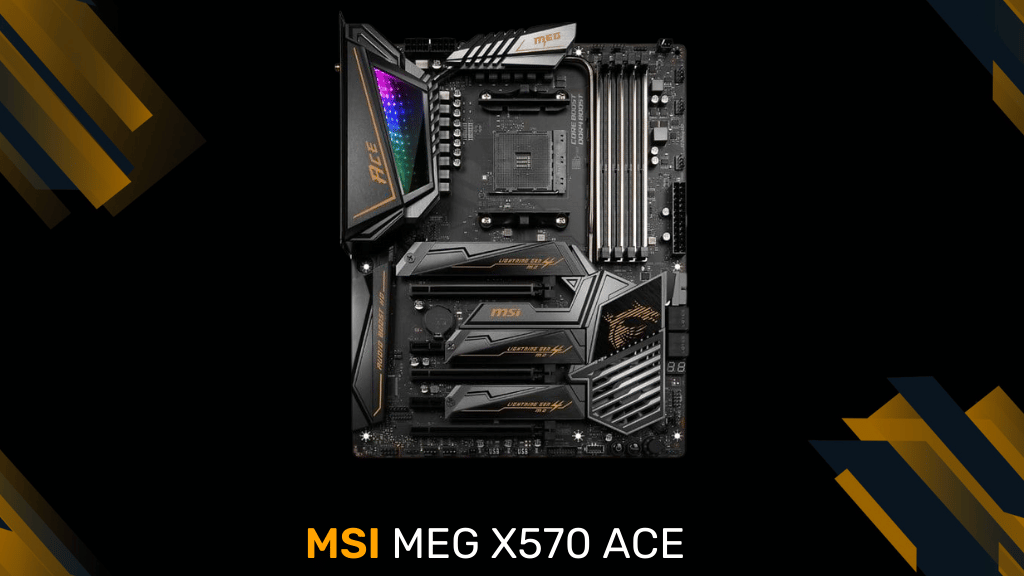 Socket: AM4 | Form Factor: ATX | Memory Type: DDR4 | Memory Speed: 5000MHz | Max RAM: 128GB
Three PCIe 4.0 M.2 slots
Straightforward overclocking
Excellent VRM & chipset cooling
Lets you use only one x1 slot even though there are two
The "high-end but not over-the-top" segment of our list continues with MSI's ACE. It's not as ridiculously over-engineered as the Godlike, yet it retains most of the flagship board's key features. The ACE has a unique visual identity, superb cooling, and a healthy contingent of internal & external connections. It got extremely close to snagging our best X570 motherboard award. Don't hesitate to purchase one if you don't find our first two choices compelling.
Not everyone will like the ACE's design, but we're in favor of anything that shakes up conventions. It's still a hulking black slab with lots of sharp-angled chunks and diagonal lines. However, the gray areas and golden accents help the board stand out. RGB is present only on the I/O shroud, but a series of mirrors creates an infinity mirror effect that looks much better than more garish alternatives.
High-speed SSD owners will love the fact that all three M.2 slots work with PCIe 4.0. Their heatsinks also have generous padding and take seconds to remove due to being secured with a single screw. The ACE supports four SATA drives, half as many as the Formula. On the other hand, you may use seven storage devices simultaneously since active M.2 slots don't disable the SATA ports.
The two PCIe x1 slots are one thing you can't use simultaneously. Due to a wiring limitation, only one may be active at a time. Having the option to choose the most convenient location for your expansion card is nice, but a strange design decision nevertheless. Nothing is strange about the x16 lane layout, though. All three have steel reinforcements and will be able to use PCIe 4.0 once GPUs capable of utilizing it hit the shelves.
Taking a closer look at the VRM and its cooling reveals another of the ACE's strengths. CPU power delivery goes from the 8 & 4-pine EPS connectors through a 12+2 power stage setup, resulting in 720A of clean current reaching the processor. That's enough whether you're on a 5950X or lower. The accompanying heatsinks are tall and have deep cuts for increased surface area. They're connected via a heatpipe that also extends towards the chipset. There's a fan down there, too, but it barely needs to turn due to the added cooling efficiency.
The I/O is clean, labeled, and rocks a cool red-black look. It's not as advanced as the Xtreme's, with eight USB plugs and a PS/2 port you're likely to use only if you're still on a legacy mouse. The remainder of the layout is more contemporary. You've got an ALC1220-backed audio stack with optical S/PDIF out and the two OC help buttons. Two WiFi 6 antenna connections handle wireless networking. On the wired side, you get two Ethernet jacks. The faster one works at 2.5Gbps, while the slower one is a conventional Gigabit LAN connector.
GIGABYTE X570 AORUS Master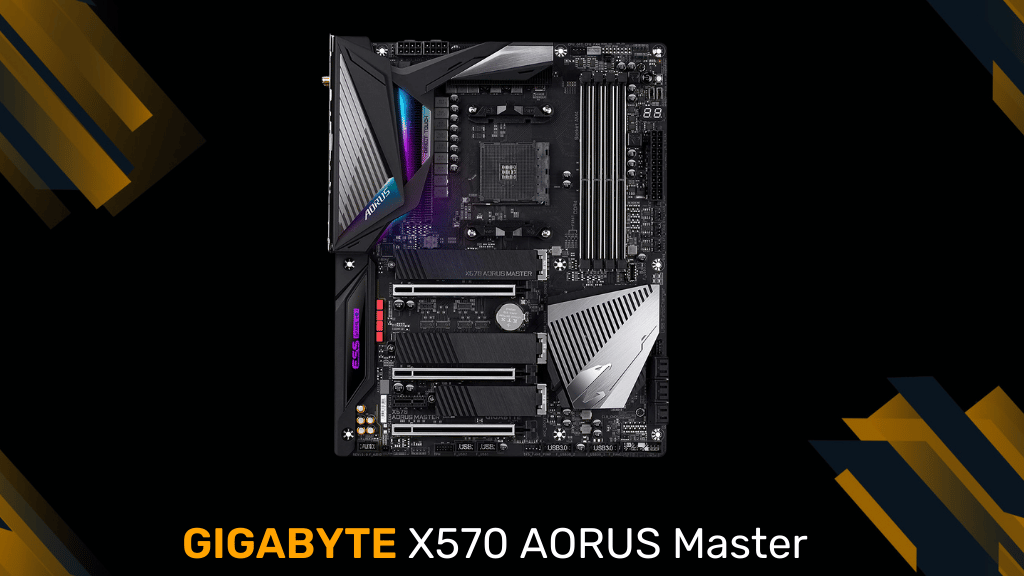 Socket: AM4 | Form Factor: ATX | Memory Type: DDR4 | Memory Speed: 440MHz | Max RAM: 128GB
Do you crave excellent cooling & overclocking potential at a price more reasonable than the Xtreme's? Then the next model down is likely the best X570 motherboard for you. The X570 Master thrives when spurring on CPUs like the 5900X while remaining unaffected by the resulting heat. It's heavy, supports various cooling setups, and straddles the line between affordability and top-tier features.
Unpacking and installing this board can replace part of your daily exercise routine since it's so heavy. Much of the weight is due to the solid steel backplate, but the heatsinks are a factor too. Aesthetically, the board draws attention with a contrast of black & reflective surfaces. Its armor has more segments than the Intel counterpart, which adds further visual interest.
Even though other features are up there with the greats, most users will choose the Master for its overclocking chops. Its PWM chip can individually control 16 phases without doubling and handles two less in a 12+2 configuration. You get two 8-pin EPS connectors for less interference in delivering 600A of power to the chip.
The board's VRM cooling is among the best of the generation. It uses a finned design covered by plastic shrouds. The fins contribute to a massive surface area increase compared to others and team up with the backplate for fantastic heat dissipation.
The mobo is strong in the storage department, with three thermally insulated PCIe 4.0 M.2 drives as the headliners. Using all three will disable two SATA ports, leaving you with four. That's also the number of PCIe 4.0 expansion slots – three x16 and one x1 – to be exact. All of them are reinforced, as are the RAM slots. The ability to run overclocked memory at 4400 MHz means you can fully utilize some of the best DDR4 RAM. Keep in mind that the maximum clock drops the more slots you use, though.
Most of the internal connections we've seen on the Xtreem are present on the Master too. There are seven headers for various system fans this time, and two are hybrids. Noise detection and temperature sensor headers make a comeback, as do ones for case ports and RGB.
Similarities with the Xtreme continue on the I/O, with one regrettable setback. While the Master also has two Ethernet jacks, neither are Aquantia-made. You'll have to be content with 2.5G LAN and WiFi 6. Ten USB ports are nice to see, but it would be even nicer if four weren't USB 2.0. The 5+1 audio stack received the same high-grade treatment, and the clear CMOS & BIOS flashback buttons are there too.
MSI MAG X570 TOMAHAWK WIFI
Socket: AM4 | Form Factor: ATX | Memory Type: DDR4 | Memory Speed: 4600MHz | Max RAM: 128GB
No products found.
Readers who kept up with the X570 launch likely remember the terrible reception the first MSI boards received. They had thin PCBs and were heating up faster than Thoma once he gets in the zone. MSI responded the way all manufacturers should – by seriously rethinking their design. The result is a much improved X570 TOMAHAWK WIFI, the best X570 motherboard value-wise.
The Tomahawk's styling is among the busiest in the generation. The PCB and heatsinks are a jumble of black & gray, studded with white shapes like dots and angled squares. It won't be to everyone's taste but does look good in black and white cases alike. In contrast, the board comes with a single, somewhat subdued RGB strip. It compensates for this by also providing four headers for colorful expansion.
Mid-range boards don't always come with noteworthy VRM, but the Tomahawk is a welcome exception. It's arranged in a 12+2 60A power stage setup, with the CPU receiving 720A. That's enough to push any AMD gaming chip without taxing the phases. Not that a bit of heat would be problematic. The Tomahawk comes with the same beefy steel heatsinks you get with its more expensive cousin, the Unify.
While this motherboard is a fantastic value, MSI had to hit the brakes eventually. That's why it only offers two M.2 slots, albeit with excellent cooling. Six SATA ports supplement them and feature slightly wider spacing for easier cable access. The chipset fan is inaudible during operation, and the accompanying heatsink makes sure it does little work anyway.
Limiting the PCIe x16 lane availability to two was a smart cost-cutting move. Two x1 slots are there as well, which opens up numerous add-in options. Four debug LEDs help diagnose boot-up issues, and many builders will be sure to utilize all four system fan headers. High-speed file transfer is at your disposal too. Two headers allow for the use of four 5Gbps ports on a case, and a single 10Gbps USB-C is the highlight of the header selection.
The I/O is another reminder that this is not, in fact, a premium board. On the one hand, its shield is already mounted, and you get a button for conveniently flashing the BIOS. On the other, you're limited to eight USB plugs, two of them being USB 2.0. We're no fans of the PS/2 port either. Other connections are standard and include an HDMI 1.4 video out, WiFi 6, and 2.5G LAN. We weren't expecting the 3.5mm jacks to be plated, but the optical S/PDIF out and Realtek ALC1220 codec are welcome surprises.
ASUS TUF Gaming X570-PRO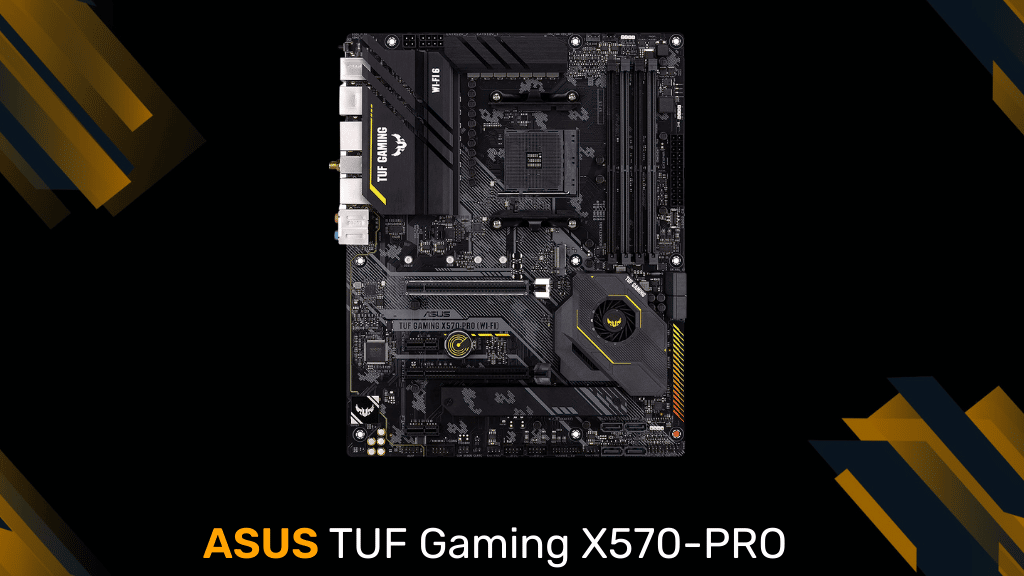 Socket: AM4 | Form Factor: ATX | Memory Type: DDR4 | Memory Speed: 5100MHz | Max RAM: 128GB
Our final ATX-sized recommendation will pique the interest of gamers looking for comprehensive features at a price that beggars belief. When discounted, the TUF Gaming X570-PRO goes for a song. Even so, it's among the most thoughtful boards in the generation. We wonder if ASUS is even turning a profit on this one. Whatever the answer, the consumer is getting an awesome mobo that punches above its weight class.
TUF boards have a specific aesthetic that may or may not be to your taste. This one has many yellow accents the line is known for. They work well with the black PCB and gray heatsink area. However, the design is outlandish by today's standards and might clash with some setups if you're pedantic about such things. RGB illuminates only a small area in the bottom right corner. An easy oversite to fix by taking advantage of the mobo's RGB headers.
You can connect only two M.2 drives, which makes sense given the price. Conversely, the TUF Gaming X570-PRO offers a whopping eight SATA ports you can use to connect older storage devices. We only wish that the upper M.2 slot had a heatsink. You'll want to get a drive with an integrated heatsink for it to protect against heat radiating from the GPU's backplate.
VRM implementation might be the TUF's most positive surprise. It's much cheaper than other boards on the list yet still has a 14+1 parallel phase layout. If anything, the heatsinks are the weaker link here since they're thinner than most and lack a heatpipe. Still, this is an overkill motherboard for the 5600X that's well in line with the chip's cost.
The expansion slots favor PCIe 4.0, with the top x16 one and both x1 slots using it. The two other full-length lanes max out at PCIe 3.0, which is still the standard. Six cooling headers dot the board, and one is dedicated to AIO pumps. USB-C & USB 3.2 Type-A leave offer enough connectivity for the case, and USB 2.0 headers are there if you need them to control your AIO's custom lighting.
The fact that this is a budget board only sinks in when you examine the I/O. It's missing the plate and laid out to cover all eventualities. That's why you'll find HDMI & DisplayPort as well as PS/2 there, but this time we really can't fault ASUS for including all of them. Seven USB plugs stand ready, all 5Gbps USB 3.2 or above. WiFi 6 and a 2.5G Ethernet jack handle internet access. That leaves the surprisingly advanced 5+1 audio stack with its optical S/PDIF out and ALC1220 support.
ASUS ROG Strix X570-I Gaming
Socket: AM4 | Form Factor: Mini-ITX | Memory Type: DDR4 | Memory Speed: 5000MHz | Max RAM: 64GB
Improved power efficiency over Intel makes Zen3 chips ideal candidates for small form factor builds. Several appropriate Mini-ITX boards vie for your attention, but the ROG Strix X570-I Gaming takes the cake. It has superior cooling and VRM, an excellent layout, and top-notch build quality. If you need the best X570 motherboard for a cramped case, look no further.
Props to ASUS for making this tiny board visually appealing with so many subtle details. Everything from the faint lettering on the daughterboard to the grey accents & arrays of diagonal lines strewn across the front speaks of class. They even managed to somehow fit RGB on both the ROG logo and PCB's right side. As if that weren't enough, two headers invite you to bling out the board more.
We were incredibly impressed with the VRM implementation. No other ITX-sized X570 motherboard comes close to the combination of 8+2 phases with an output of 70A each. That means the CPU gets a supply of 560A, which is only marginally smaller than what larger arrays would deliver. You could run a stock 5950X without trouble or go to town with a 5800X.
While the VRMs don't get toasty, overclocking will also depend on ambient cooling. The ROG Strix X570-I Gaming has an I/O shroud fan that helps cool the VRM and circulate air inside the case. This will be of crucial importance to AIO-cooled systems with poor airflow. A second fan resides under the daughterboard and cools the chipset. Three more fan headers allow for even greater expansion.
The impact size has on the mobo's storage accommodation is surprisingly small. It has room for two PCIe 4.0 M.2 disks. One resides in the daughterboard, together with the audio solution. The other is in the back of the PCB, next to a reinforcement backplate. You may connect four more SATA disks as well.
The I/O cover tastefully incorporates vents for the two fans and is otherwise home to a decent port spread. Space limitations didn't stop ASUS from including seven USB plugs, all of them USB 3.2 Gen 1 and above. If you have a processor like the 5700G, you can connect its iGPU through either HDMI or DisplayPort. WiFi 6 antennas and 2.5G LAN connect you to the world. The audio stack contains only three analog jacks due to the associated hardware's unusual placement.