Specs:

Form Factor: ATX
Memory Type: DDR5
Memory Speed: 6400MHz
Max RAM: 128GB

Specs:

Form Factor: ATX
Memory Type: DDR5
Memory Speed: 6400MHz
Max RAM: 128GB

Specs:

Form Factor: ATX
Memory Type: DDR5
Memory Speed: 6666MHz
Max RAM: 128GB

Specs:

Form Factor: ATX
Memory Type: DDR4
Memory Speed: 5333MHz
Max RAM: 128GB

Specs:

Form Factor: ATX
Memory Type: DDR5
Memory Speed: 6400MHz
Max RAM: 128GB

Specs:

Form Factor: ATX
Memory Type: DDR4
Memory Speed: 5133MHz
Max RAM: 128GB

Specs:

Form Factor: Mini ITX
Memory Type: DDR5
Memory Speed: 6400MHz
Max RAM: 64GB

Specs:

Form Factor: ATX
Memory Type: DDR4
Memory Speed: 4800MHz
Max RAM: 128GB
Intel's Rocket Lake processors might have marked the company's return to innovation, but their high-end offerings were met with disappointment. The first batch of 12th-gen CPUs thankfully laid fears of a repeat performance to rest. Every single one performed markedly better than their predecessors. More importantly for the long term, the motherboards that support the 12th and the newer 13th generation mark a true shift in Intel's mindset, bringing new technologies like DDR5 and PCIe 5.0. Such strides naturally require a new socket & chipset. That's why we're here to help you choose the best Z690 motherboard with maximum efficiency.
Z790 brings few meaningful improvements, so the first LGA 1700 generation is still almost as relevant as when it was released. All top players already have a lineup that's more than capable of satisfying even the most discerning gamers. You're sure to find a great motherboard among our picks, whether you're interested in peerless overclocking or enough space to house your entire horror game collection thrice over. Check out their exciting new features and make an informed decision.
Gigabyte Z690 AORUS MASTER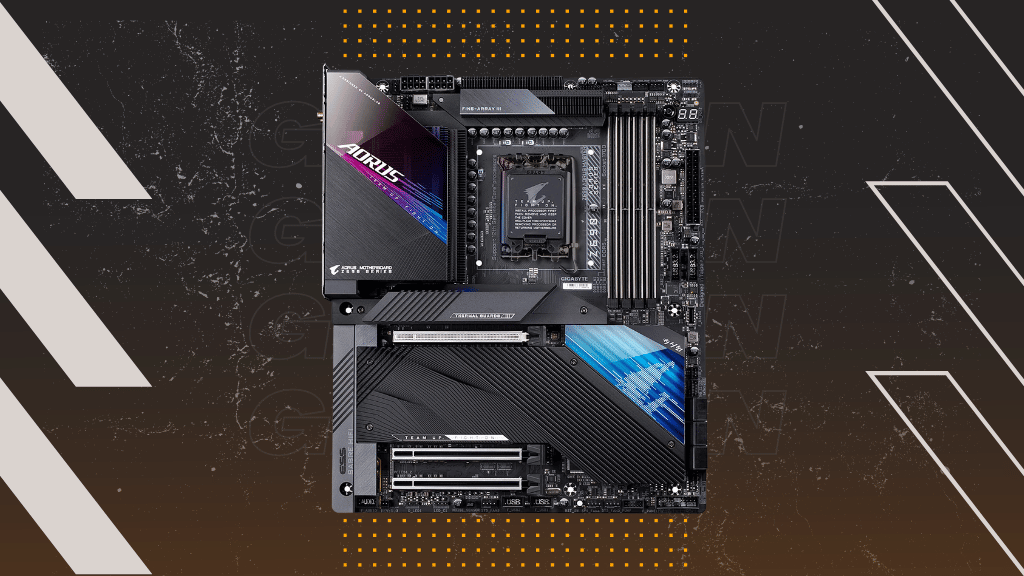 Gigabyte Z690 AORUS Master
Socket: LGA 1700 | Form Factor: ATX | Memory Type: DDR5 | Memory Speed: 6400MHz |Max RAM: 128GB
Pros:
Room for lots of high-speed storage drives

Overkill VRM great for top CPUs

Attractive armor that adds to thermal efficiency
Gigabyte's AORUS Master is synonymous with the apex of overclocking at high prices that still manage to shy away from the absurd. Nothing has changed in that respect as the Master is, unsurprisingly, the best Z690 motherboard for overclocking. Make sure you have a competent CPU cooling solution prepared as the board itself definitely won't be an obstacle to reaching record-breaking speeds.
Gigabyte follows the generational trend of making its Z690 motherboard looks simultaneously simpler and more awesome. You'll see it in the greater focus on black coupled with tastefully brushed aluminum and gunmetal gray accents. Be careful not to drop the board since it's heavy due to a back panel and sports more armor than Rammus from League of Legends.
We can't but gush about the Master's main selling point – the over-the-top VRM. It consists of a whopping 22 phases, 19 of which supply the CPU with 105A of purified power each. You read that correctly, 105A! That brings the total to more than 2000, and even the 12900K will only need a fraction of it when overclocked. Expect the VRM to remain cool as any excess heat gets dissipated through the steel backboard and heatsinks.
Speaking of heatsinks, the main VRM ones are something else. They're solid and heavy in accordance with the theme. Each also has a tight array of small thick fins that turn it into a quasi-radiator with excellent dissipation. Heatsink quality doesn't drop off as you venture downward either. The CPU-fed M.2 drive has a massive one since it's so close to the GPU. The other three drives are also PCIe 4.0 and share a sizeable padded heatsink with the chipset.
Exceptional Overclocking Meets Comprehensive Cooling
One thing that hasn't changed is Gigabyte's fixation on slot reinforcement. Using solid pins for the EPS connectors and shielding the GPU makes sense. Reinforcing memory DIMMs? Not so much. XMP works well, allowing you to push new DDR5 kits as far as 6400MHz.
The Master is engineered to provide optimum cooling, but it also offers plenty of headers to keep the whole system from overheating. No less than ten headers handle various cooling sources, and four of them are hybrids that accept both fans and water pumps. Pairs of addressable and RGB headers can help make the already attractive lighting even prettier. USB 3.2 Gen1 and Gen2x2 headers ensure your case's I/O is as competent as the one in the back.
There are 11 USB plugs on the I/O, including two USB-C variants. This is not the main feature, however. That honor goes to a 10Gbps Ethernet port made by Aquantia, which goes well with the pair of WiFi 6e antennas next to it. BIOS flashback and quick CMOS clearance are a given for this type of board. It's also nice to see the gold-plated audio stack. That leaves room only for a single DisplayPort whose chances of seeing use are slim anyway.
Asus ROG MAXIMUS Z690 HERO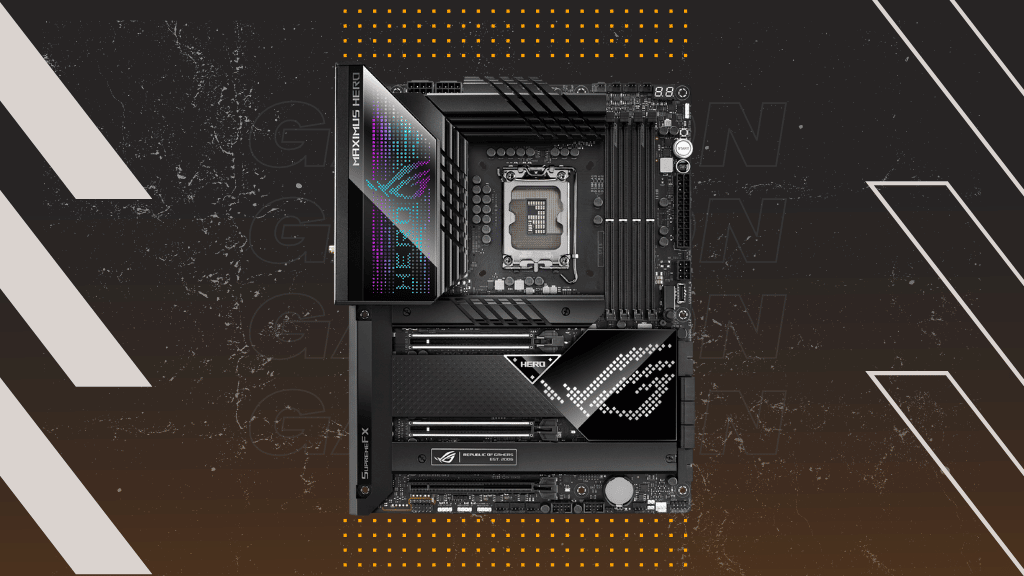 ASUS ROG Maximus Z690 Hero
Socket: LGA 1700 | Form Factor: ATX | Memory Type: DDR5 | Memory Speed: 6400MHz | Max RAM: 128GB
Pros:
11 USB ports on the I/O, including Thunderbolt 4

Easy to build on due to several QoL features

Exceptional build quality
Cons:
Single 2.5G Ethernet port seems stingy for the price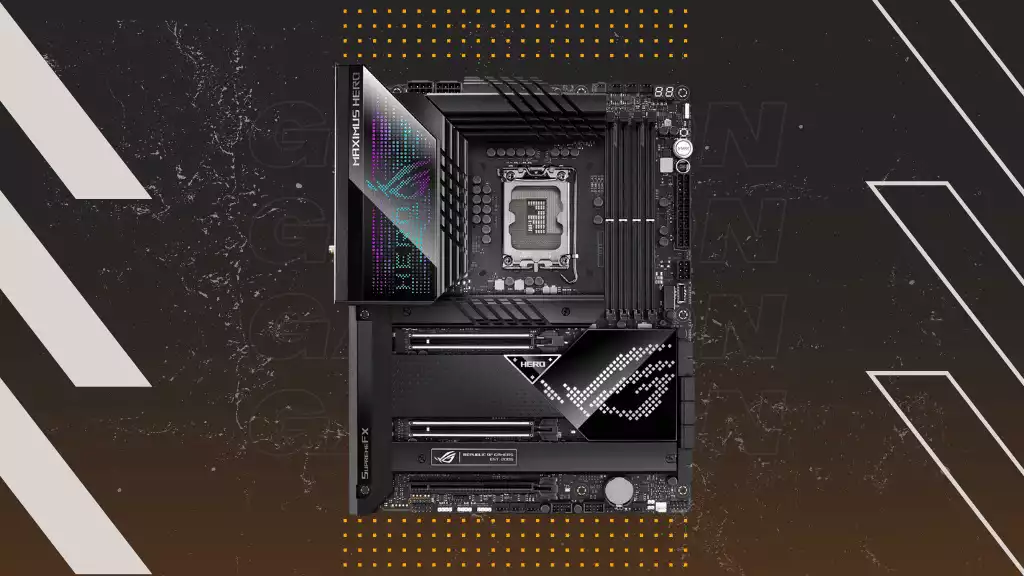 While you can get even pricier boards from ASUS like the Extreme, the newest Hero offers everything an enthusiast gamer equipped with an Alder Lake CPU needs & then some. It doesn't excel at any one stat but provides the discerning user with a top-tier mix of impressive options. These include Thunderbolt 4, beastly VRM, and enough water cooling expansion to build your dream system.
The MAXIMUS Z690 HERO dispenses with the Roman numeral nonsense and presents itself as a stealthy yet head-turning piece of premium hardware. It's almost entirely clad in black, except for the ROG eye and a large mirror surface on the I/O shroud. Try to avoid touching it during installation, as fingerprints are instantly visible.
While not quite as ridiculously tuned as the Master VRM-wise, the Hero's 20+1 90A stages offer an excess of power no Alder Lake desktop CPU will ever utilize. The heatsinks cover a good portion of the stages and feature a multi-tiered design that enlarges their surface area without hampering cooling. Combined, these two elements form a solid basis for the carefree overclocking of any 12th-gen chip.
The bracket has changed, so your old cooler will need a replacement mount to work with the new platform. DDR5 is another new addition. While we have yet to see how its faster frequencies translate into actual in-game performance, the fact that the Hero supports 6400MHz kits sounds impressive.
An Engineering Triumph
A glance at the board's layout reveals some intriguing changes. For example, there's a second 6-pin connector next to the standard 24-pin ATX one for better power distribution and fewer voltage fluctuations. Power & reset controls are available on the right, as are several boot-up troubleshooting tools. Six headers handle fan power, while five more are for water-specific tasks like AIO control, intake, and regulation.
There's no shortage of storage on the Hero due to plenty of onboard M.2 connections and a useful accessory. The box contains an M.2 expansion card you can plug into the bottom x16 slots. Using the card brings the M.2 drive total to five! PCIe 5.0 makes an appearance as well since the two reinforced x16 slots now have increased bandwidth. GPUs don't even use PCIe 4.0 yet, but knowing your board is compatible with several future generations is reassuring.
The Hero has one of the most versatile back I/O offerings we've ever encountered. The two Thunderbolt 4 plugs immediately draw attention. They offer fast transfer speeds and supplement the single HDMI plug by doubling as DisplayPorts. Connectivity is covered further thanks to nine USB ports, a 20Gbps USB-C among them. The audio stack is up to the 7.1 standard and has gold-plated analog jacks together with an optical S/PDIF out. Buttons for CMS clear & BIOS flashback encourage overclocking, while WiFi & 2.5G Ethernet ensure lag-free gaming.
MSI MPG Z690 Carbon WiFi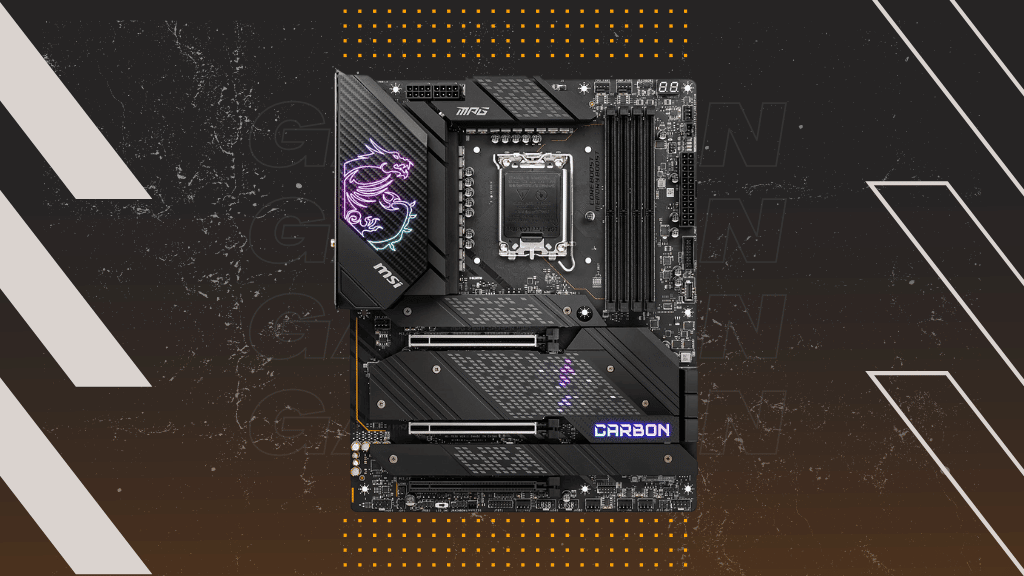 MSI MPG Z690 Carbon WiFi
Socket: LGA 1700 | Form Factor: ATX | Memory Type: DDR5 | Memory Speed: 6666MHz |Max RAM: 128GB
Pros:
Exceptional overclocking potential

High-speed wireless & wired internet access

Great thermal management and cooling support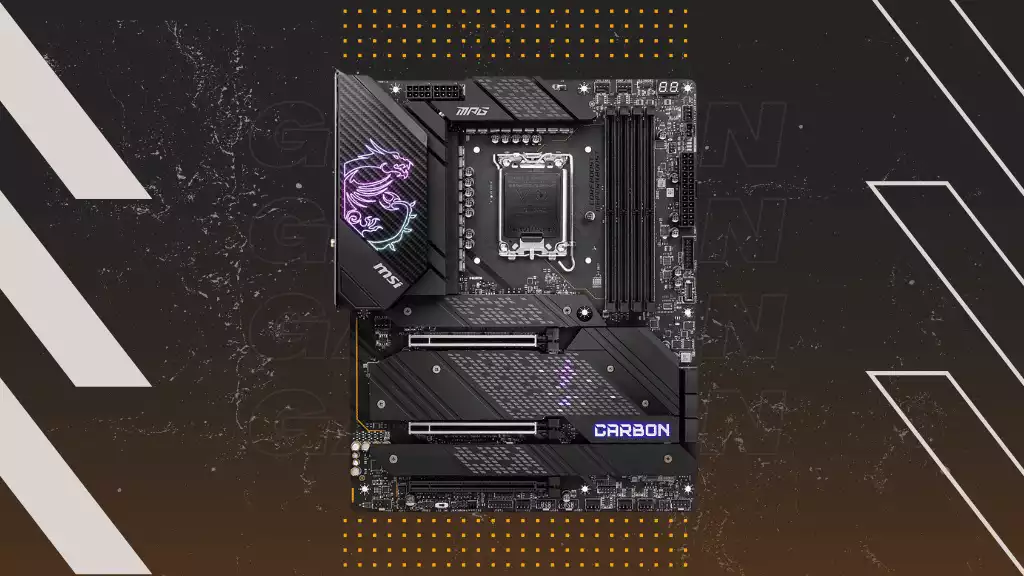 MSI's MPG line has always been tempting for gamers that seek performance without having to sell a kidney to get their hands on a Godlike. The tradition continues with the newest Carbon WiFi, a board that provides massive storage and overclocking capabilities. It's certainly pretty and backs its looks up with a host of next-gen doodads that come together to form a worthy home for Alder Lake heavyweights.
Compared to its Z590 predecessor, the newest Carbon board is a bit more understated without losing the distinctive carbon fiber aesthetic. We're sad to see the cube-like heatsinks go, but at least MSI replaced them with ones that look equally beefy. The lighting is limited to CARBON on the chipset heatsink and a menacing dragon logo on the I/O shroud. Four headers offer opportunities for further expansion. One of them is tailored for Corsair products.
MSI certainly didn't cheap out on the VRM, which arrives in an 18+1+1 configuration. Power comes through two 8-pin EPS connectors to minimize fluctuations. Each VRM stage provides 75A to the CPU for a welcome overkill that ensures no single-phase generates excessive heat. Additionally, the new heatsinks benefit from a connecting copper heatpipe and an airy design that naturally draws heat away & into the case.
The Dragon Spreads Its Wings
Armor abounds on the Carbon WiFi's lower part, protecting and hiding the mass of storage options inside. You get a whopping four PCIe 4.0 M.2 slots and an additional PCIe 3.0 one for Optane drives. Better yet, using all of them up only disables a single SATA drive, leaving you with five. Speaking of PCIe, the two upper x16 slots are armored and both feature support for PCIe 5.0 – hurray for futureproofing!
Other internal offerings aren't shabby either. You can connect USB-C and two USB 3.2 Gen 1 ports from your case and outfit the system with seven fans plus a water pump through the appropriate headers. The debugger has both a code readout and four LEDs that improve diagnosis efficiency. It's next to the four DDR5 slots capable of accommodating 128GB at an almost devilish 6666MHz.
We're satisfied with the I/O since its panel is already in place, and the connection choices offer something for everyone. HDMI & DVI will help with GPU troubleshooting, while the BIOS flash button expedites updates. Four USB 2.0 plugs are a bit much for today's standards but are accompanied by five 10Gbps USB 3.2 Gen 1 and one 20Gbps USB-C port. You can reach the world either via WiFi6 or 2.5G Ethernet. The audio stack is a complete 5+1 affair with an optical S/PDIF out and support from Realtek's ALC4080 codec.
Gigabyte Z690 AERO G
GIGABYTE Z690 AERO G DDR4
Socket: LGA 1700 | Form Factor: ATX | Memory Type: DDR4 | Memory Speed: 5333MHz |Max RAM: 128GB
Pros:
Caters to creatives

Reasonably priced

Decent VRM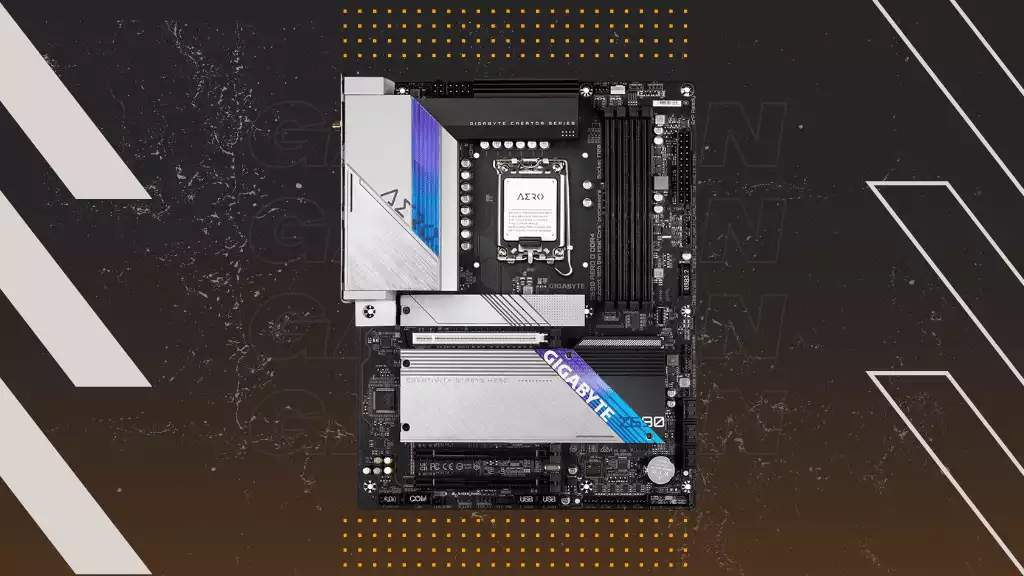 Intel had gaming in the bag for a while but couldn't quite catch up to AMD in productivity. Alder Lake changes this and creates a bigger demand for non-gaming motherboards. Enter Gigabyte's Vision G, an innovative and multifaceted motherboard equally capable of running Cyberpunk 2077 or helping to develop its successor. It's moderately priced, brimming with ports, and seems to have a tool for every eventuality.
Everyone not into the gaming aesthetic can breathe a sigh of relief since the Aero G looks nothing like our edgier suggestions. It's still harmonious due to several large silver heatsinks that contrast the black PCB. However, there are no blocky protrusions or swathes of RGB – only a professional-looking board that exudes capability.
Chances are you'll quickly agree after taking a look at the bottom half. It's home to four M.2 slots, all of which safely house 110mm long drives under thick heatsinks. Each drive can also take full advantage of PCIe 4.0 transfer speeds. They work in conjunction with six SATA ports, four of which are available if the last M.2 drive isn't SATA-based.
The AERO G doesn't aspire to be an overclocker yet comes with the necessary hardware. It has an 18+1 phase layout with quality MOSFETs that supply the CPU with 70A each. They efficiently share the burden, so individual phases don't have time to get too hot. Even if they did, the improved aluminum heatsinks would take care of any excess heat.
Turning Your Dreams into Virtual Reality
Speaking of, heat is something you don't have to deal with in a system running the AERO G if you utilize its cooling potential. Apart from headers for the CPU cooler and water pump, there are four standard fan headers and two hybrid variants that also work with water cooling.
Noise detection and temperature sensor headers improve your system's ability to respond to small thermal changes. You may augment its USB-C and USB-A ports through Thunderbolt, afforded by two add-in connections. Finally, the debugger provides a broad overview of potential snags during boot up and helps clear them up.
The I/O is where you'll meet most of the AERO G's unique features. Ten USB ports are a welcome sight, especially since two are of the USB-C format. One is a high-speed 20Gbps connection, while the other uses Gigabyte's VisionLink technology. It's similar to Thunderbolt since it provides DisplayPort out for your monitor along with data transfer and charging.
A DisplayPort input is the second specific connection creatives will appreciate. There are also conventional HDMI 2.5G Ethernet, and WiFi antennas. The ALC4080 codec powers the audio stack. It has optical S/PDIF out but only two analog plugs.
MSI MAG Z690 Tomahawk WiFi DDR5
MSI MAG Z690 Tomahawk WiFi DDR5
Socket: LGA 1700 | Form Factor: ATX | Memory Type: DDR5 | Memory Speed: 6400MHz | Max RAM: 128GB
Pros:
Excellent balance of price and specs

Has four M.2 slots and WiFi 6E

Solid VRM implementation and audio
Cons:
I/O has only seven USB-A ports
Tomahawk boards are always a hit with the mainstream crowd since they offer many of the same features you'd otherwise pay a fortune for at attractive prices. The Z690 version Is no different, substituting gaming bling for lots of storage, modern networking, and excellent audio. It's fallen in price since the advent of the underwhelming Z790 generation, so get one while they're still around!
MSI takes the prevalent dark theme that's sweeping the motherboard world to heart. The Tomahawk is darker than night, with only brushed textures and a series of holes & lines serving as a diversion from its uniformity. The heatsinks have a military panel look, and you'll have to supply any RGB yourself since there's none natively.
The most expensive motherboards tend to overcompensate on the VRM, so we're glad it's more sensible here. Eighteen phases are laid out in a 16+2 spread where teamed pairs supply the CPU with 1,120A of power sourced from two 8-pin EPS connectors. This, along with the two imposing heatsinks, should keep the VRM area from heating up too much even if you use the board with a 13900K.
While storage-oriented PCIe 5.0 is available on Z690 boards, the Tomahawk wisely keeps all 16 lanes for the top, steel-reinforced GPU slot to avoid conflicts. That means most of its four M.2 slots adopt the PCIe 4.0 standard, with a single PCIe 3.0 exception. Moving older storage over won't be a problem thanks to six SATA III ports, none of which gets disabled if you use all the M.2 slots up.
There are three more expansion slots besides the first one. Their usefulness is limited since all are PCIe 3.0, and the third full-length one only has x1 wiring.
The Comprehensive Z690 Toolkit
We recommended the DDR4 version elsewhere, but this one uses DDR5 and is arguably a better deal now. Both are less expensive than before, and the difference is only $20. Paying that extra gives you access to 6400MHz DDR RAM and WiFi 6E instead of 6. Both add value and futureproofing to the board.
The Tomahawk's internal connections are reasonably varied. Eight support cooling for the case and CPU, while four let you add RGB. You can hook a 10Gbps USB-C and two 5Gbps third-gen USB-A ports up from your case I/O or add Thunderbolt in from a card. Overclocking features are sparse, and you'll have to depend on an LED debugger for boot-up diagnostics.
The I/O's black backplate is in line with the overall design & has easily legible gray labels. The USB section comprises eight ports, with two USB 2.0 on one end of the spectrum and 20Gb USB-C on the other. While this should suffice for most, some users might need more.
A 2.5G Ethernet jack joins the previously mentioned WiFi 6E in providing online connectivity. DisplayPort 1.4 and HDMI 2.1 may come in handy if you ever need the iGPU. The audio stack comes with optical S/PDIF out and benefits from Realtek's recent ALC4080 codec.
ASUS TUF Gaming Z690-Plus WiFi D4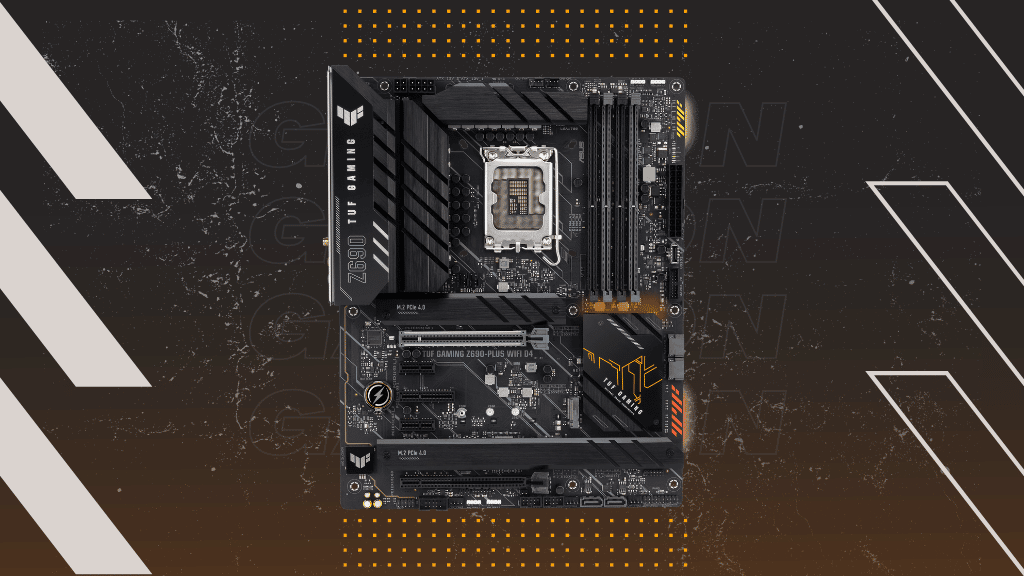 ASUS TUF Gaming Z690-Plus WiFi D4
Socket: LGA 1700 | Form Factor: ATX | Memory Type: DDR4 | Memory Speed: 5133MHz |Max RAM: 128GB
Pros:
A solid feature set at a good price

Doesn't require expensive RAM upgrades

Has four PCIe 4.0 M.2 slots
Cons:
Back I/O could do with more USB ports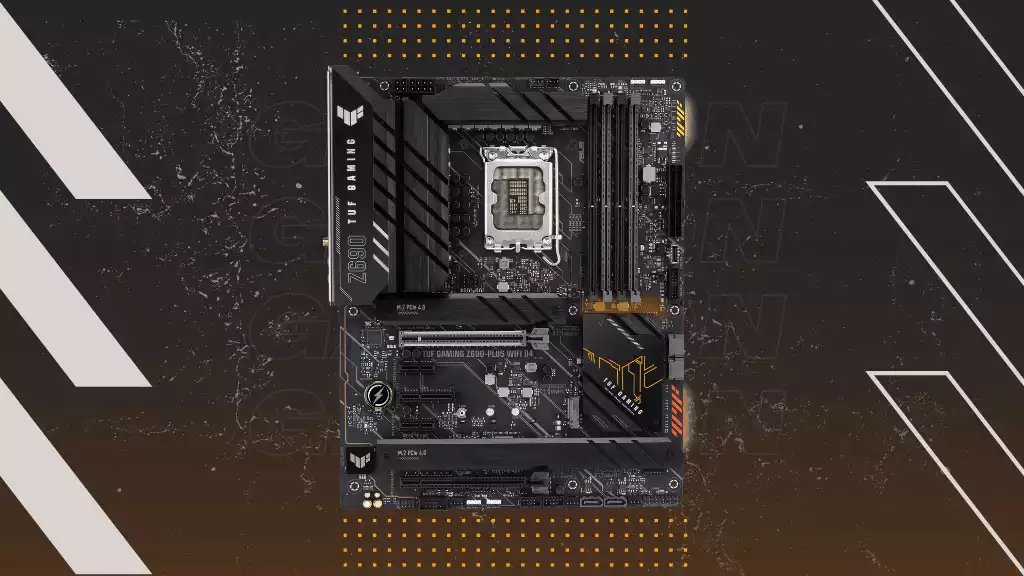 Models that offer a lot of bang for your buck are sure to find themselves on many best LGA 1700 motherboards lists. We're confident that the TUF Gaming Z690-Plus WiFi D4 will become a mainstay on them since it offers most of what Alder Lake brings without the associated costs. Its VRM is a solid basis for overclocked mid-range or stock high-end CPUs, and the number of connections on offer is fair for the price.
The D4 continues the TUF brand's evolution from garish and military-grade to tamer but more attractive. It's almost entirely black, where its predecessor was a combination of black and gray. There are even fewer dashes of the brand's recognizable yellow color than on its AMD counterpart. They're limited to the chipset heatsink and right edge, where you'll also find the board's only integrated RGB. Interestingly, ASUS dispensed with standard RGB headers, going for three ARGB and one Aura header instead.
While appearance changes are debatable, everyone will agree that the VRM and associated heatsinks are much improved. The 14+2 DrMOS power stage setup remains the same, but each phase now delivers 80A to the CPU. You can use an additional 4-pin connector for more stable power delivery. On the other hand, the heatsinks have several horizontal channels and vertical cutouts intended for better air regulation and cooler results.
On the PCIe front, we have three x16 and two x1 slots, the latter being ideal for expansion or capture cards. The top x16 slot is the only one supporting PCIe 5.0 and with access to all 16 pins.
TUF, Reimagined
The new chipset lets you connect a total of four M.2 drives, two of which share an extended heatsink towards the board's bottom. It looks like Z690 motherboards might be the last hurrah for SATA since there are four such plugs to begin with, and two don't work once all the faster slots are populated.
The I/O is the most obvious sign of the board's budget nature. It isn't crowded since there are only eight USB plugs available. Luckily, USB 3.2 Gen1 is the oldest variant, and you get two USB-C ports to boot. DisplayPort and HDMI will be of help for gamers who don't mind spending time smoking their opposition in CS:GO using Xe graphics in hopes of riding out the GPU shortage.
There's nothing on the I/O to help with overclocking, but you can choose between WiFi6 and 2.5Gbps Ethernet with LAN Guard. ASUS used an older audio solution that still sounds alright. The stack is 7.1 Surround Sound capable and features an optical S/PDIF out port.
ASUS ROG Strix Z690-I Gaming WiFi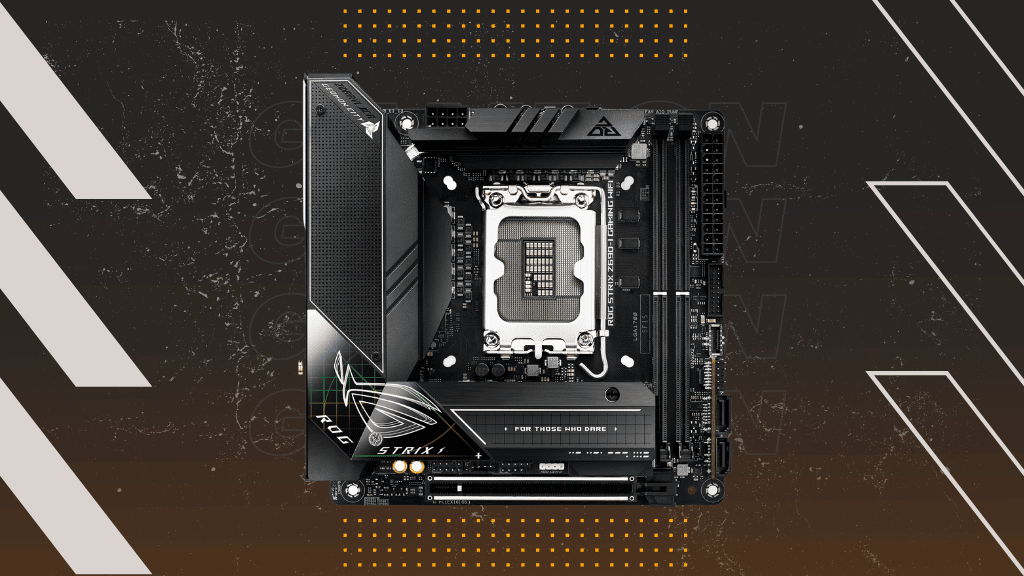 ASUS ROG Strix Z690-I Gaming WiFi
Socket: LGA 1700 | Form Factor: Mini-ITX | Memory Type: DDR5 | Memory Speed: 6400MHz | Max RAM: 64GB
Pros:
The best VRM design on a Z690 mITX board to date

Excellent use of limited space

Two USB-C ports that double as Thunderbolt 4
We've only talked about standard ATX-sized boards so far, but SFF enthusiasts itching for a high-end Alder Lake CPU will also come into their own. ASUS is responsible for many top-tier pieces of hardware. Still, the Strix Z690-I Gaming WiFi is a marvel even in such ilustrous company. It's the best Z690 motherboard in the mITX department and can come to grips with a 12900K thanks to outstanding VRM design. The price tag may give many potential buyers pause, but you'll be glad you pulled the trigger if pocket excellence is what you're after.
The Strix Z690-I Gaming WiFi is barely larger than an outstretched palm yet teems with details worth examining. Most of it is clad in black armor, with only room for a mighty Alder Lake CPU in the middle. There's a variety to behold even so, like a mirrored segment in the left corner that lights up with RGB goodness.
Size constraints or not, this board offers one of the best VRM implementations for desktop PCs to date. Other mITX boards don't come close, even in this generation where everyone's beefing up their power delivery. Ten single power stages deliver 105A of interference-free power each to your CPU of choice! That's on par with the last gen's heavyweights and dwarfs even the 12900K's power requirements.
Cooling is an issue any SFF builder must contend with, and the Z690-I Gaming WiFi is nothing if not accommodating. The reinforced backplate doubles as an efficient radiator, while three fan headers cover case as well as CPU cooling. The VRM heatsinks are understandably small. Both are thick, though, and there's an auxiliary fan inside the I/O shroud that kicks in if the case's airflow isn't optimal.
Even a tiny motherboard like this one has room for two M.2 drives. Some manufacturers place the second drive on the back, but ASUS uses a mezzanine with great success. The mezzanine houses both SSDs amidst ample padding. It's also home to the board's audio capacitors and one of two RGB headers. Removing all the parts exposes an array of fins that acts as another effective heatsink.
Standing Tall
The board itself doesn't have SATA ports. Rather, two USB-C connections in the bottom right corner accept a daughterboard that ships with it. The even smaller board is essential since it connects four SATA drives and an RGB header. It's also where you'll find front panel audio connectors.
Feel free to add the I/O to the long list of this board's praiseworthy features. It has a backplate and more USB ports than several full-sized motherboards. Two of these have USB-C and Thunderbolt 4 capabilities to boot! Not even the vent needed for the small VRM fan prevents the inclusion of HDMI & DisplayPort, not to mention both WiFi 6e and 2.5G LAN.
The audio stack is the only component that experienced downsizing and now has three analog jacks and an optical S/PDIF out. Finally, ASUS's engineers even managed to fit clear CMOS and BIOS flashback buttons onto the backplate.
NZXT N7 Z690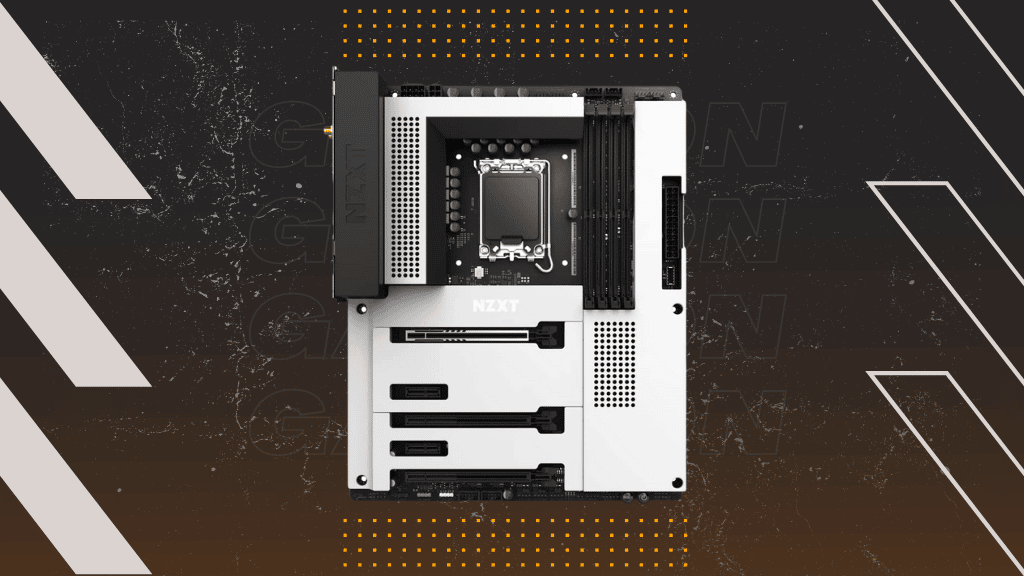 NZXT N7 Z690
Socket: LGA 1700 | Form Factor: ATX | Memory Type: DDR4 | Memory Speed: 4800MHz |Max RAM: 128GB
Pros:
Appealing aesthetics

Decent port layout

Seamless CAM integration
Cons:
Comparatively expensive, fewer storage options than the competition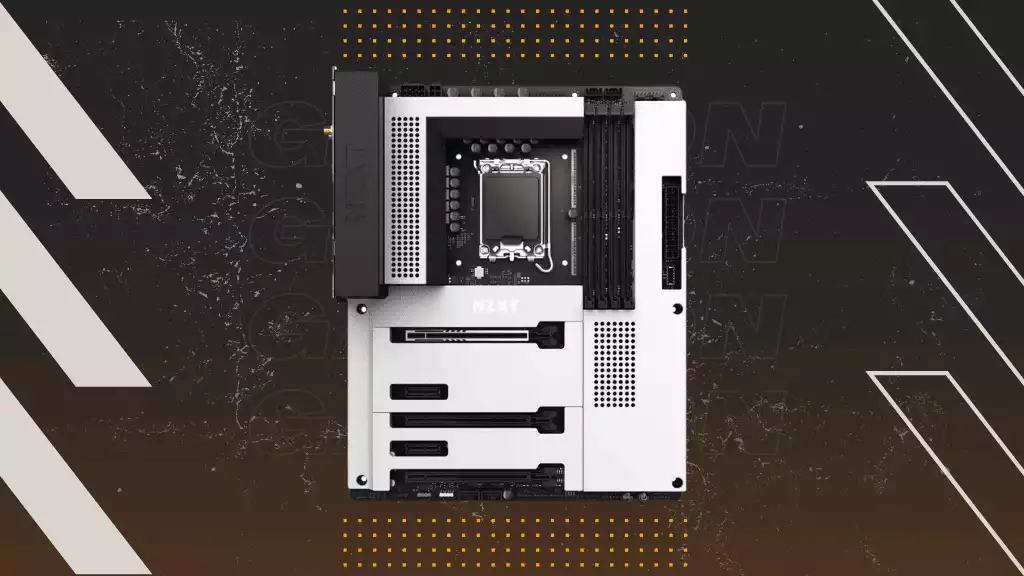 NZXT is a latecomer to our Z690 lineup, having launched their N7 and N5 motherboards half a year after Alder Lake's release. Still, many will find the more developed of the two appealing due to its aesthetics and overall solid feature set. We feel that it could have been priced better, but that might change in your favor at a later date.
Motherboard manufacturers take note – this is how you design an appealing product! Not everyone is into the hardcore gamer aesthetic, so models like the N7 are even more important. The amount of cover on display puts even Gigabyte boards to shame, and yet the N7 has a basic, clean look that would feel right at home inside an office PC. NZXT gets bonus points for including a white version.
The best thing about the covers is how most of them are held down by magnets, so getting to your fastest SSDs is more straightforward than on most models. There's room for three of them, with the topmost receiving a separate, beefier heatsink excellent for mitigating your GPU's thermal output. NZXT opted to include only four SATA plugs, which luckily don't conflict with faster storage.
Three x16 slots await graphics cards, although you should only use the top one to get PCIe 5.0 capabilities at max speeds. The other two are PCIe 4.0 and PCIe 3.0, respectively. You also get two PCIe 3.0 x1 connections handy for add-in cards.
NZXT didn't build the N7 with overclocking in mind. Its VRM consists of 12+1 Dr.Mos phases that won't get unduly hot during regular operation but may struggle to keep up with an overclocked 12900K. Decorative covers partly obscure the accompanying heatsinks, so their efficiency in dealing with excessive heat is questionable.
Blending Style with Substance
Overall system cooling fares better since you may connect up to five fans. The board itself doesn't have RGB, but it does sport two NZXT-specific and two more regular headers to that effect. It has CAM integration, allowing for more nuanced control of individual fan curves & lighting effects through NZXT's comprehensive software.
Other internal connections are standard for current motherboards. There's a 10Gbps USB-C and a 1st-gen USB 3.2 Type-A header that supports two ports on the case I/O. The four LED debugger isn't as accurate at diagnosing problems as the code displays on more expensive boards. Still, it helps narrow the problem down to several key parts of the system.
The I/O is decent, if not remarkable. The presence of only seven ports is its top shortcoming mitigated somewhat by one of the connections being 20Gbps USB-C. The rest is standard I/O fare and includes WiFi & Ethernet and HDMI 2.0 if you need to temporarily connect your monitor to the iGPU. The audio stack has optical S/PDIF out and uses the ALC1220 codec. We appreciate the BIOS flashback and clear CMOS buttons, as they'll help with updates and diagnostics.