Specs:

Form Factor: E-ATX
Type: DDR5
Memory Speed: 7800MHz
Max RAM: 128GB

Specs:

Form Factor: E-ATX
Type: DDR5
Memory Speed: 8000MHz
Max RAM: 128GB

Specs:

Form Factor: ATX
Type: DDR5
Memory Speed: 6400MHz
Max RAM: 128GB

Specs:

Form Factor: ATX
Type: DDR4
Memory Speed: 5333MHz
Max RAM: 128GB

Specs:

Form Factor: Mini ITX
Type: DDR5
Memory Speed: 7600MHz
Max RAM: 64GB

Specs:

Form Factor: ATX
Type: DDR5
Memory Speed: 6800MHz
Max RAM: 128GB
Raptor Lake was released in October of 2022 and quickly reaffirmed Intel's dominance in the desktop CPU market. Its launch was the perfect opportunity to introduce the second and last generation of LGA 1700 motherboards. We're still eagerly anticipating B660's successors, but the best Z790 motherboards are already here!
As refreshes go, Raptor Lake proved to be much more exciting and impactful. Z790 boards have more lanes and can offer a broader USB complement. Their DDR5 support is considerably better, allowing you to get more and faster RAM without stability concerns.
We've assembled the most successful Z790 representatives at several price points, so you're sure to find at least one that fits your needs.
ASUS ROG Maximus Z790 Hero
ASUS ROG Maximus Z790 Hero
Form Factor: ATX | RAM type: DDR5 | Memory Speed: 7800MHz | Max RAM: 128GB | M.2 sockets: 5 | Audio: Realtek ALC4082
Pros:
Outstanding port selection, including USB4

Excellent VRM that can take on any overclocked CPU

Exemplary build quality
Cons:
Expensive, could have come with 10G Ethernet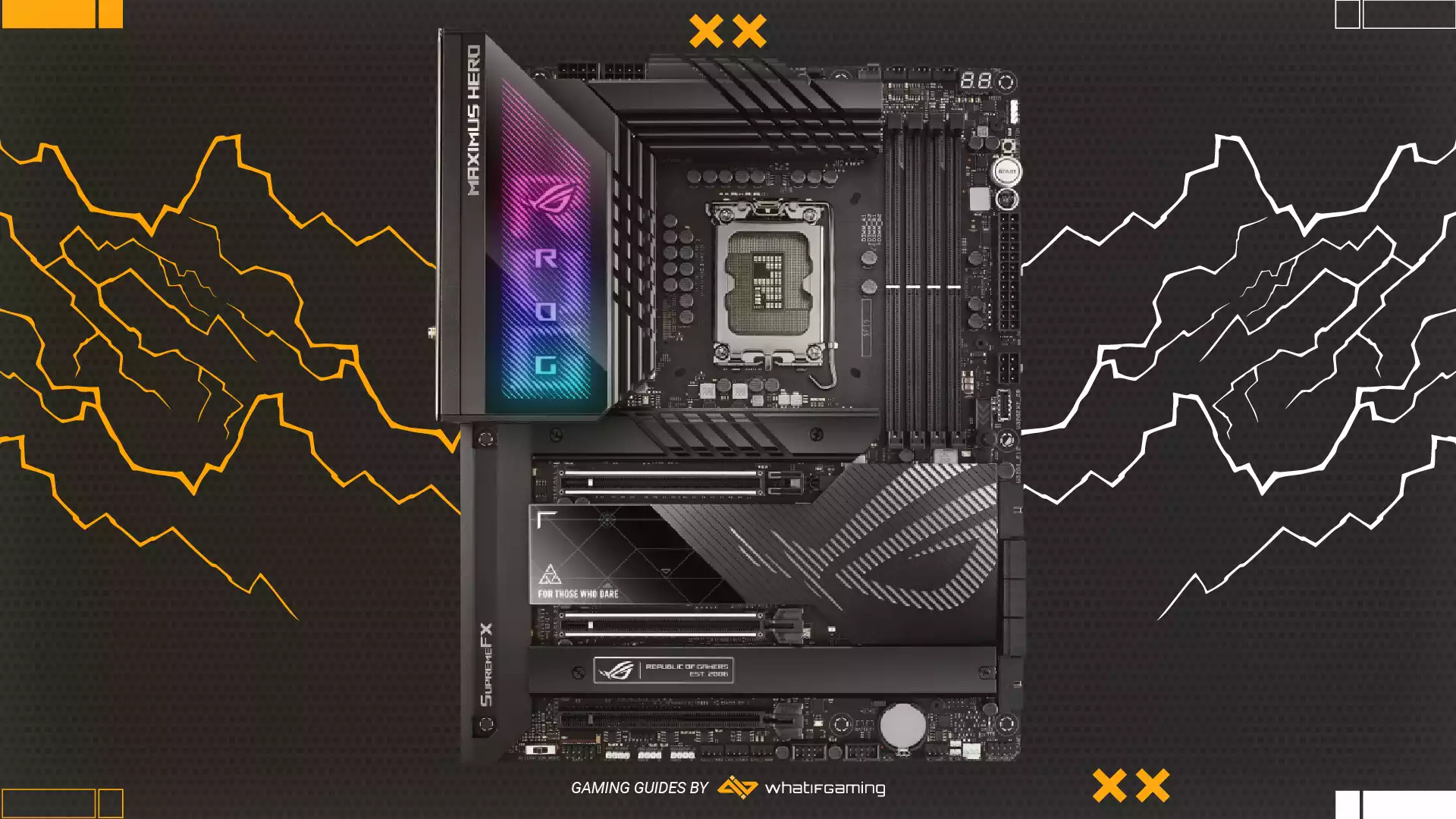 The Z790 Hero is among the most feature-rich motherboards we've ever encountered, short of the Godlikes and Extremes that cost even more ridiculous sums.
There's something in it for any type of high-end user. Content creators will appreciate the diversity and abundance of various connections, while hardcore gamers benefit from excellent RAM support and a chilling cooling potential.
Aesthetically, the Hero is a tried mix of shiny & matte black surfaces with a gray line art ROG eye and several slogans to make it more interesting. The board is built like a tank, as evidenced by ample armoring in the front and a high-grade backplate. The I/O shroud is a striking RGB area whose color and effects are easily customizable.
Manufacturers have been going overboard with their VRM designs for a few generations, so the Hero's 20+1 teamed power stages aren't even the most ridiculous setup Z790 has to offer. They set the stage for world-class 13900K overclocking since not even this hot-headed CPU can bring so many out of balance.
Hefty multi-story heatsinks surround the CPU area, ensuring that the VRMs are properly cooled. The Hero also pays attention to different kinds of CPU and system cooling in general.
It has four fan headers besides three for CPU air or AIO cooling. Additionally, you can use dedicated water in, out, and flow headers to construct an elaborate loop that will keep the hottest components in check.
ASUS crammed a staggering amount of features onto this ATX-format board, so some had to spill over. Only three M.2 slots on a board of this caliber may sound strange, doubly so since they're all PCIe 4.0. That's where the storage expansion card comes in.
The Hero has three full-length PCIe x16 slots. The first accommodates even the mighty four-slot RTX 4090 and shares 16 PCIe 5.0 lanes with the second.
It also has an improved version of ASUS's quick-release mechanism, which has become a major QoL feature for anyone who's ever dealt with the hassle of removing a graphics card.
The Hero LGA 1700 CPUs Need
The expansion card mentioned above adds room for another two NVMe SSDs. Connecting it to the second x16 slot enables PCIe 5.0 support for one of the drives, else both will run at PCIe 4.0 speeds. The Hero supplements its speedier drives with six trusty SATA ports.
The internal port & feature selection befits a board this refined. Owners of the latest PC cases will have a field day since the internal USB headers support nine ports, culminating in 20Gbps USB-C. Four RGB headers are present, as is a thermal sensor header.
Overclocking and troubleshooting benefit from the Retry, Start, and FlexKey buttons. A two-digit debug code display provides much better guidance than a simple LED debugger if something goes wrong during boot-up.
If only all motherboard I/Os were this well-endowed and organized! It's a content creator's dream, with two Thunderbolt / USB4 connections on top of ten more third-generation USB ports, including 10Gbps USB-C. Video-out capabilities are part of the new USB4 standard, so only including HDMI makes sense.
We'd hoped for 10G Ethernet, given the cost, but 2.5G and 6E WiFi are still fine. ASUS didn't curtail the audio stack and augments it with the most high-end ALC4082 codec. That leaves an area to the far left where you'll find BIOS flashback and CMOS clear buttons.
Gigabyte Z790 AORUS Master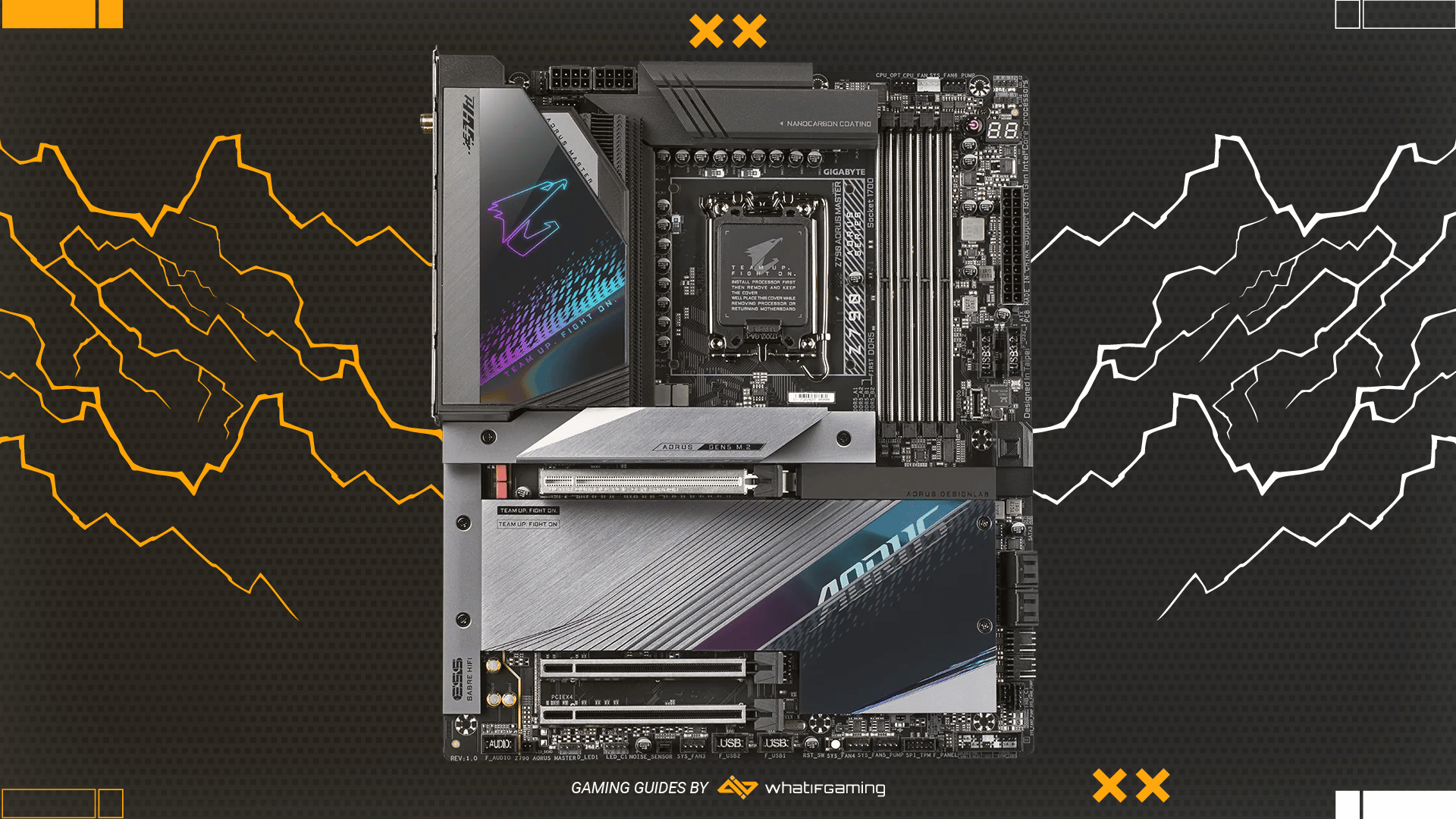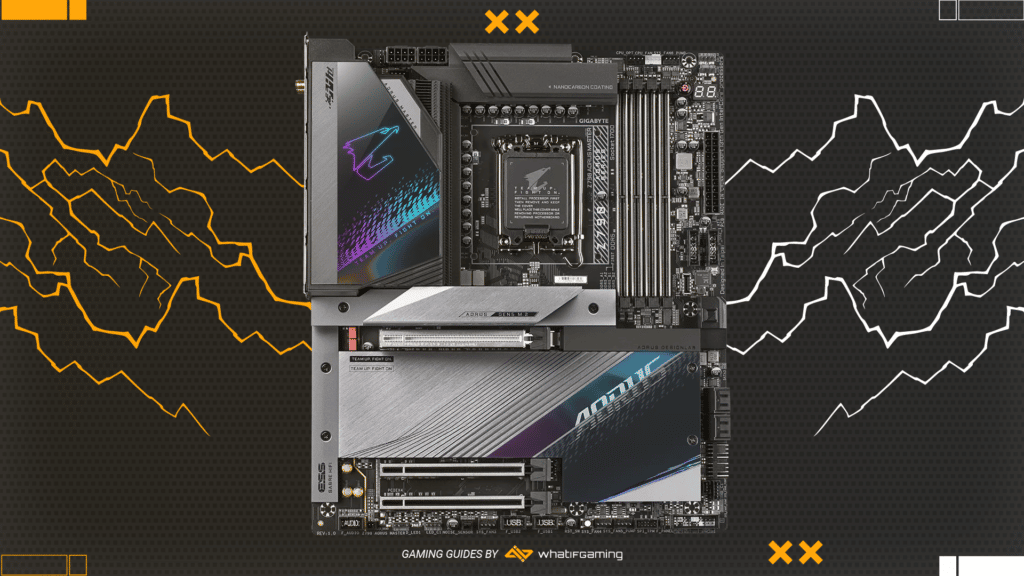 Gigabyte Z790 AORUS Master
Form Factor: E-ATX | RAM type: DDR5 | Memory Speed: 8000MHz | Max RAM: 128GB | M.2 sockets: 5 | Audio: Realtek ALC1220-VB
Pros:
Overkill VRM and cooling support

Rear I/O holds 14 USB ports

10G Ethernet
A common complaint about Z790 motherboards is that there's not much innovation compared to each board's Z690 counterpart. The Z790 AORUS Master is an exception.
It offers much better RAM support, but the VRM, associated heatsinks, and I/O USB connectivity all got a boost too. Add to that a considerably lower price than the Hero's, and you've got not just one of the best Z790 motherboards but one of the best Masters to date.
We love Gigabyte's updated take on the Master's design. The glitchy bird has been replaced by clean AORUS branding. The central armored area's gray tones contrast nicely with the remainder of the board. Two RGB areas light up a cooler version of the logo on the I/O shroud and AORUS on the chipset heatsink.
If the Hero's VRM is overkill, then we're at a loss for words regarding the Master's. No less than 23 105A power stages barely lift a finger each to supply an overclocked 13900K with enough power while keeping temperate. This is a board for record-breaking if ever there was one.
Gigabyte doubles down with the latest version of its unique VRM heatsinks. The top one is standard if chunky, but the one on the left features a nano-coated fin array instead.
The surface area of such a heatsink rises exponentially, allowing for much better heat transfer. Moreover, an 8mm heatpipe connects the two and ensures more even heat distribution.
Cooling shenanigans continue with the Master's related headers. Ten headers in total means you won't need to use splitters, and most of them effortlessly switch between PWM and DC power. It's possible to pull off a complex water loop and monitor system temperatures down to the smallest change due to two temperature headers.
That's just scratching the internal connection surface. Pairs of addressable and standard RGB headers on the top and bottom right side expand your PC's coolness potential.
A slew of voltage measurement points along with Reset, Power, and CMOS clear controls make dialing in the perfect overclock easier. Even if something doesn't add up, the debugging lights and post-code display will speed up troubleshooting.
Masterful Z790 Execution
Outstanding memory support is another noteworthy feature. The Master accommodates 128GB of DDR5 RAM clocked at 8000MHz! That's great news whether you're a gamer looking for the fastest memory or a creative who needs all four slots to work at 6000+MHz without issue.
The Master matches the Hero's storage capabilities without add-in cards. The single PCIe 5.0 slot is easy to recognize by its reinforced heatsink. Four more PCIe 4.0 drives fit under the combined central plating and are no worse off due to good padding and less extreme heat mitigation requirements. Six SATA III plugs round out the selection.
It would scarcely be a Gigabyte board without reinforcements everywhere. They're cosmetic on the DIMM slots but important for supporting the weight of the current generation's massive GPUs. The Master now has a release mechanism similar to ASUS's, along with Gigabyte's take on screwless M.2 fastening.
The I/O offers enough connectivity even for the most demanding users. No less than fourteen ports await your peripherals, external storage, and any other compatible device under the sun. None are USB4, but none are USB 2.0, either. We're fine with 10 and 20Gbps USB-C, and you can get Thunderbolt 4 through two add-in card headers.
The Master has some of the best networking support due to 10G Ethernet and WiFi 6E. Its 5+1 audio stack relies on last gen's flagship ALC1220-VB codec backed by several Nichicon and WIMA capacitors. DisplayPort is the only video-out option. Finally, you'll find Q-flash and CMOS clear buttons on the left.
Gigabyte Z790 AERO G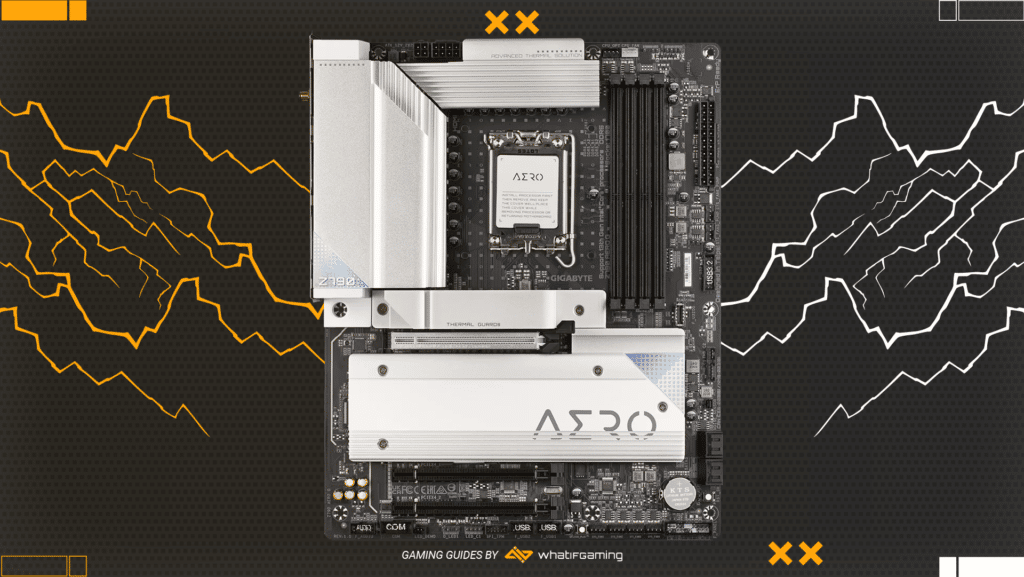 Gigabyte Z790 AERO G
Form Factor: ATX | RAM type: DDR5 | Memory Speed: 6400MHz | Max RAM: 128GB | M.2 sockets: 5 | Audio: Realtek ALC1220-VB
Pros:
Excellent value for the money

Five M.2 slots, including PCIe 5.0

VisionLink and DisplayPort in

Solid VRM that can handle any Raptor Lake CPU
Cons:
Same I/O as last version, no USB4

Few upgrades compared to the Z690 version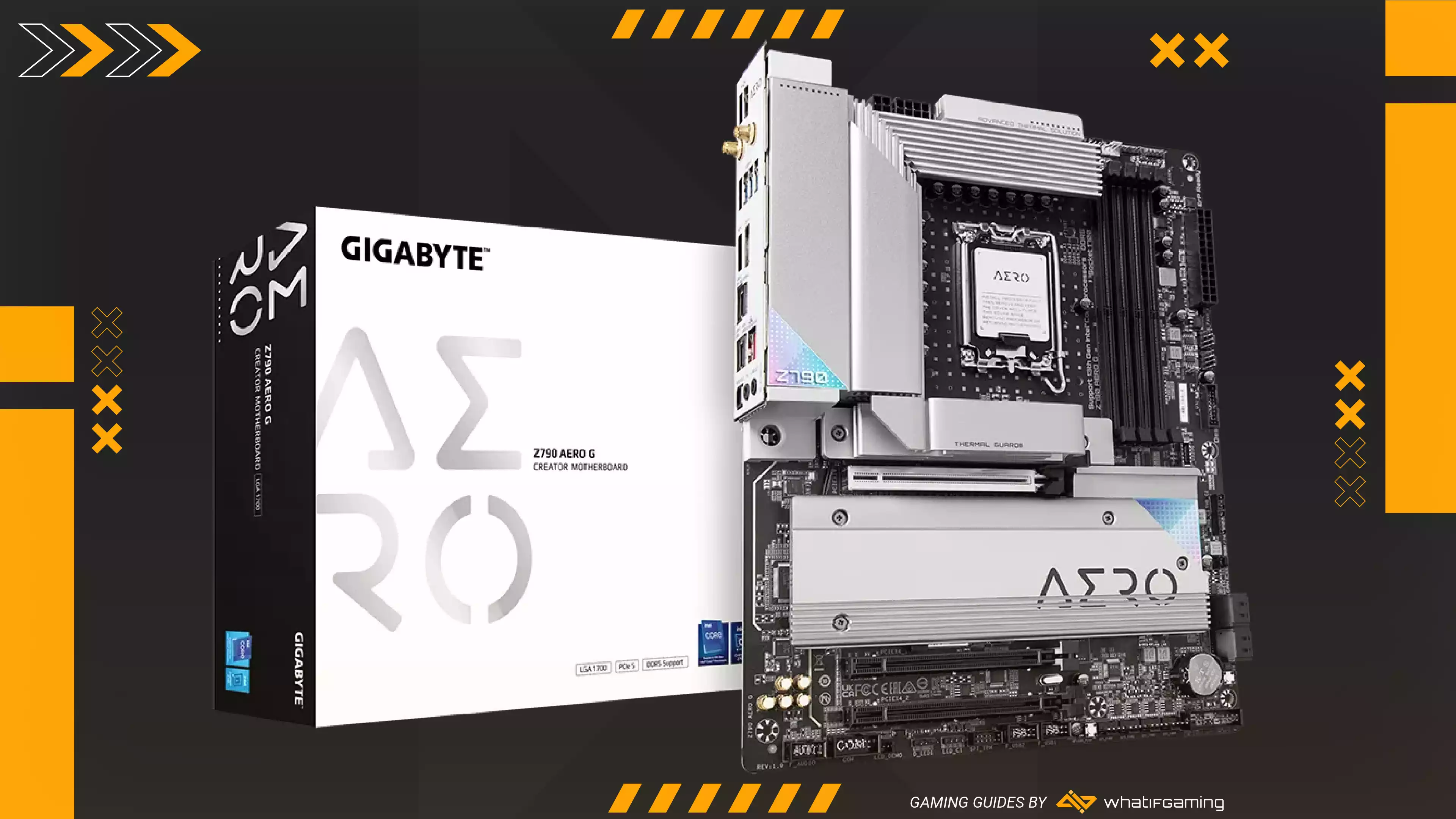 You don't need to spend $500+ on a high-end motherboard to benefit from Z790's meager improvements.
Case in point, the Z790 Aero G! Gigabyte might market it as a model focused on content creation, but the Aero G has what it takes to stand beside the best Z790 motherboards for any purpose. Access to next-gen storage, a good I/O, and Gigabyte's customary attention to cooling & diagnostics will leave many gamers glad they didn't spend more.
You'll like the Aero G's aesthetics if you don't care about gamer appeal. You'll love it even more if you're building a white PC since much of the dark PCB is clad in beautiful silver & white armoring. Two shimmering triangular areas give the board an air of playfulness, and you can always unleash the colors via four RGB headers.
Gigabyte didn't pay as much attention to the Aero G's VRM as the Master's. The 16+1+2 stages draw power from the 8-pin EPS connector and its 4-pin auxiliary, delivering 70A each to the SoC and associated components. While weaker on paper, the solution can easily handle anything up to a 13900K so long as you don't go crazy with overclocking.
The silver heatsinks stick to soaking heat up with their imposing weight. They adhere tightly to the chokes & MOSFETs and successfully cool the VRM area despite not having many area-enhancing design elements.
Conversely, the PCIe 5.0 SSD heatsink is among the tallest and most elaborate we've seen. It should accommodate even the most thermally inefficient drives given its height, heft, and a chunky fin configuration that boosts surface area immensely.
Five M.2 slots are among the Aero G's best-selling features. We've already mentioned the top drive, which shares its PCIe 5.0 lanes with the GPU expansion slot underneath. Connecting a PCIe 5.0 drive cuts the GPU's available lane count to eight. This shouldn't matter for several years, if then, as graphics cards in 2023 still operate firmly within PCIe 4.0 confines.
Four other M.2 slots all receive ample padding and accept PCIe 4.0 drives. One of them works with SATA as well as NVMe, and four more SATA plugs make for a satisfactory storage offering. The other two expansion slots don't get the reinforcement treatment. Both utilize four lanes, the difference being that one is PCIe 4.0 and the other PCIe 3.0 compatible.
Excellent Specs, No Gaming Frills
The Aero G has only two fewer cooling headers than the Master, an excellent compromise when you consider the price difference. Specialized headers let you monitor temperature & sound changes and have your system respond accordingly. There's also a Q flash and an innocuously named Reset button. You can have the latter turn the RGB headers off or boot straight into the BIOS.
A look at the I/O reveals several interesting connections. Ten USB ports should be plenty whatever you use the board for. Two USB-Cs are among them, one of which is labeled as VisionLInk.
It's a versatile plug that unifies charging, data transfer, and video out to satisfy different demands on the fly. HDMI is ready for your monitor, and you also get a DisplayPort in plug.
On the more mundane side, we have WiFi 6E and 2.5G Ethernet for networking. It's become popular to streamline the I/O's audio portion, so optical S/PDIF out, headphone, and mic jacks are all you get.
The Aero G uses the same ALC1220-VB codec seen on the Master. Peculiar for a multimedia-focused board but more than good enough considering it was the premium codec up until recently.
MSI MAG Z790 Tomahawk WiFi DDR4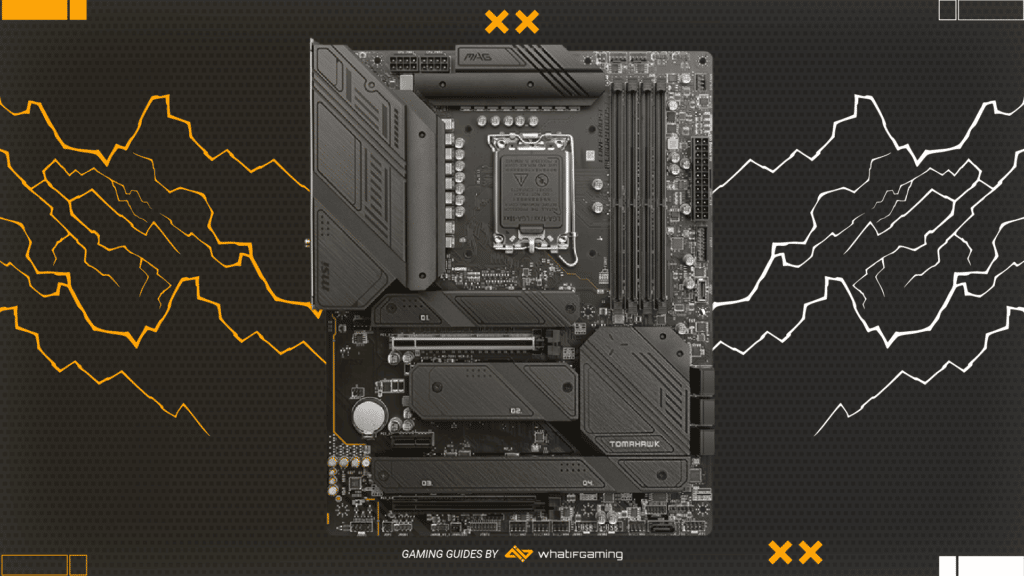 MSI MAG Z790 Tomahawk
Form Factor: ATX | RAM type: DDR4 | Memory Speed: 5333MHz | Max RAM: 128GB | M.2 sockets: 4 | Audio: Realtek ALC4080
Pros:
Supports DDR4

Improved I/O and storage support

Better VRM than the original

Reasonable price
Cons:
Not suitable for overclocking

Lack of PCIe 5.0 SSD support

Few changes from Z690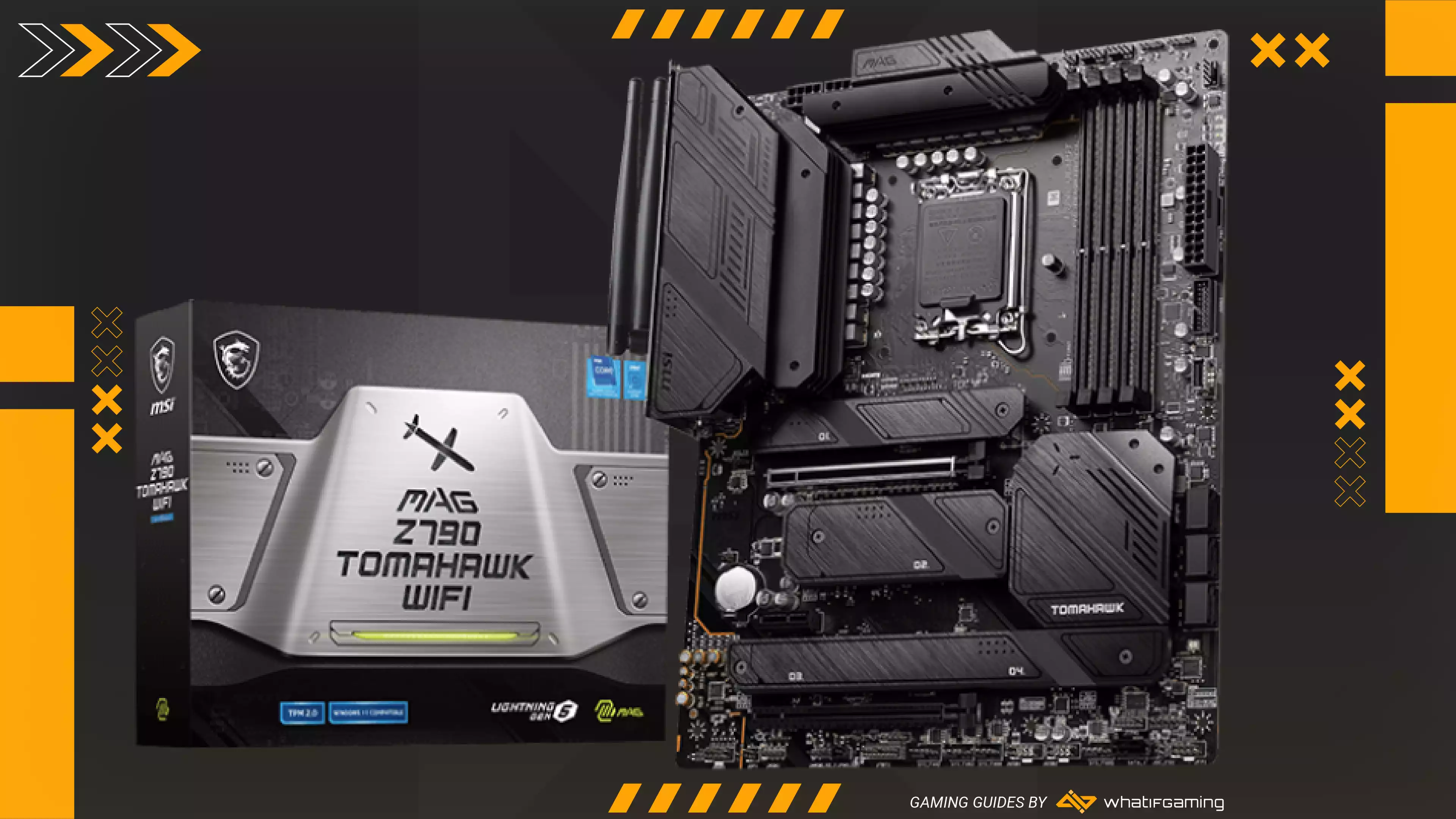 The Z790 generation is pricier than the first LGA 1700 motherboards. Luckily, you can still offset some of the cost by sticking to your old high-quality DDR4 RAM. Its successor has yet to demonstrate real-world superiority, so boards like the newest Tomahawk remain more than viable.
Although Z790 is the focus of this article, we can't help but remark on how little has changed between the current and the Z690 Tomahawk. A rearrangement in PCIe slot layout is the most significant difference, with a few different patterns thrown in on the heatsinks so MSI can say they tried. It's a gorgeous board if you like a stealthy, minimalist approach to design and don't miss RGB.
The Tomahawk continues the beefy VRM trend, offering 16+1+1 90A power stages fed by two 8-pin EPS connectors.
While it delivers less power than our two top picks, the Tomahawk's output is still large enough to supply any 13th-gen chip several times over. Considering the price, it's among the best Z790 motherboards to get for overclocking CPUs like the 13700K or 12700K.
VRM cooling is also less refined than on the Master. Then again, you're paying around $200 more for the privilege. The lack of a heatpipe means that the smaller top heatsink will get a bit hotter. Still, their double contact plates chunky cores, and deep groves help with efficient heat dissipation.
MSI opted not to offer PCIe 5.0 drive support. Some users would have reaped greater benefits from the faster drives, but PCIe 4.0 is still plenty for gaming and productivity alike.
As it stands, you get four PCIe 4.0 slots with screwless latching and sturdy thermal protection. A lucky seven SATA III plugs ensure there's plenty of connectivity left for your legacy drives.
A Balanced Axe
The board comes with two full-sized expansion slots and an x1 slot for add-ons like capture or external sound cards. Only the top slot uses all 16 lanes. It's reinforced against GPU sag and PCIe 5.0 compliant, so you've got graphics card compatibility covered for several generations. The second slot is as long but only has four PCIe 4.0 lanes.
Single cooling and pump headers keep processor temperatures in check. You get six more fan headers, none of which are of the hybrid variety we've come to appreciate from Gigabyte. You can nullify the board's stealth through four RGB headers or enable plenty of USB connections ranging from USB 2.0 to 10Gbps USB-C.
MSI stepped its I/O game up by ditching USB 2.0 and bumping the port count from eight to ten. One of the USB 3.2 Gen 2 connections is USB-C, with an even more advanced 20Gbps variant sweetening the deal. HDMI and DisplayPort offer video out, which may come in handy if your GPU ever needs troubleshooting.
Next to them is a dedicated BIOS flash & CMOS clear area with recessed and easily accessible buttons. Online connectivity runs through 2.5G Ethernet and WiFi 6E. That leaves the complete audio stack powered by the new ALC4080 codec. It's a step up from the last generation you'll appreciate the most if you record as well as listen.
ASUS ROG Strix Z790-I Gaming WiFi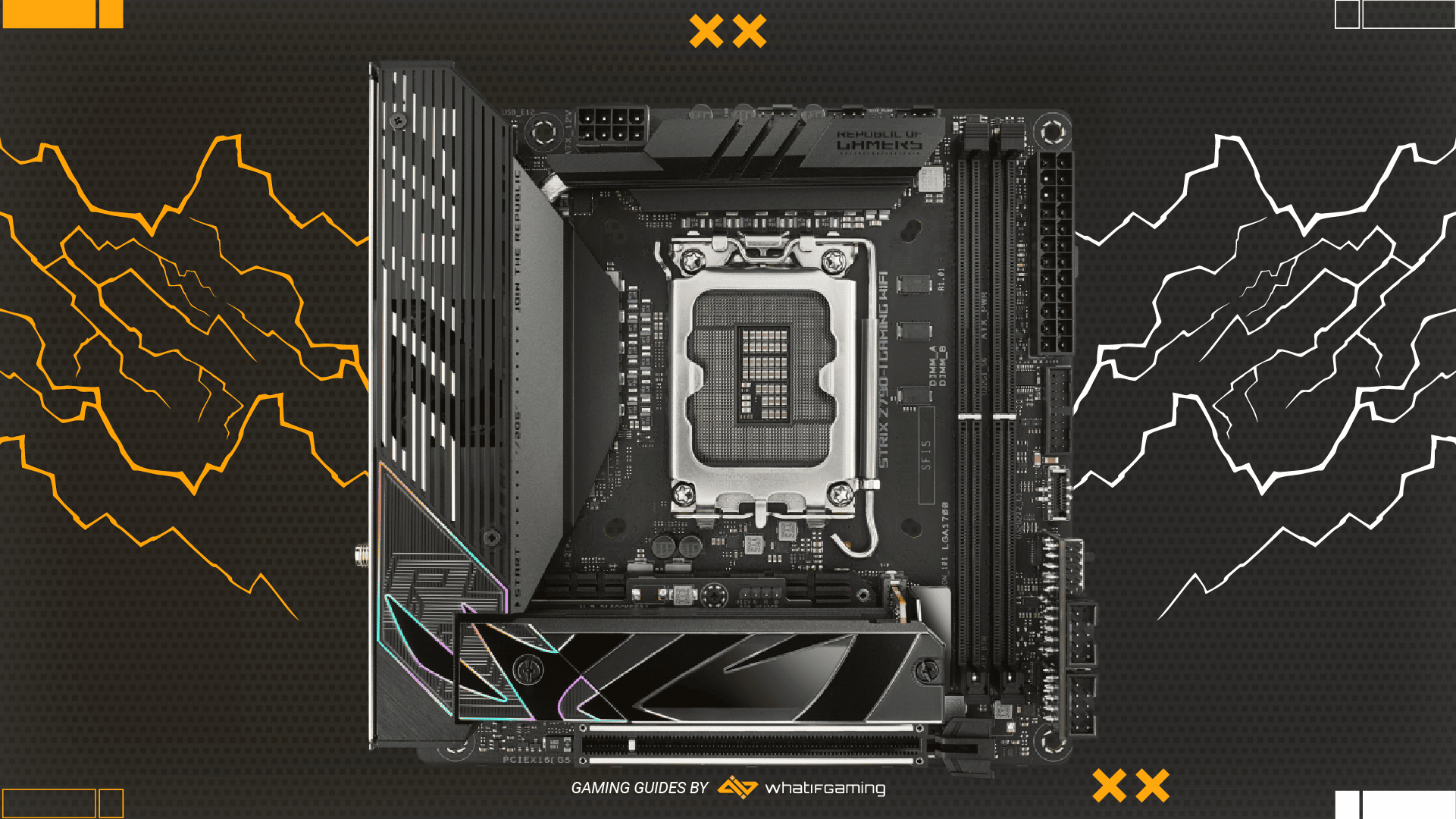 ASUS ROG Strix Z790-I Gaming WiFi
Form Factor: Mini ITX | RAM type: DDR5 | Memory Speed: 7600MHz | Max RAM: 64GB | M.2 sockets: 2 | Audio: Realtek SI1220
Pros:
Outstanding cooling and VRM for the size

Hive is a welcome and innovative add-on

Fantastic I/O with two USB4 ports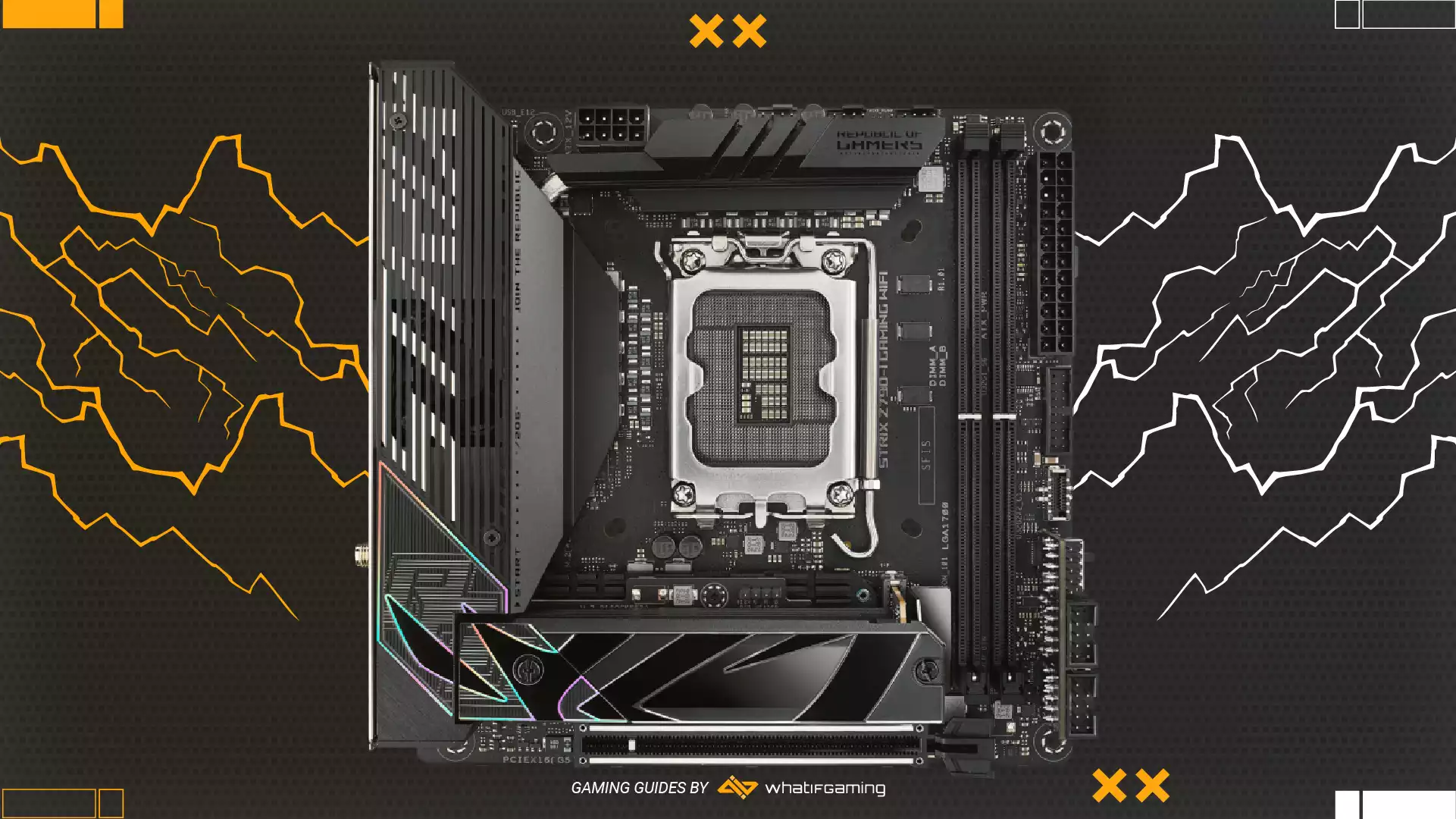 Small form factor cases might save on space, but building a great gaming PC inside of one comes with unique challenges. What better way to combat them than a unique board, which the Z790-I Gaming WiFi certainly is! It's at the top of our best Z790 motherboards list for SFF enthusiasts and justifies every penny of its steep price for the right user.
Having a palm-sized board to work with didn't hamper ASUS in developing a popping and recognizable style. Much of the PCB is black, but a bright Strix logo on the I/O shroud and bold lines on the M.2 heatsink balance things out. RGB-obsessed gamers needn't worry, as two headers can make their colorful dreams come true.
The Z790-I Gaming WiFi has some of the most advanced VRM and associated cooling we've ever encountered on a mini ITX mobo. Its power stages are set up in a 10+1 configuration, each with a maximum 105A power draw. It's tricky to overclock high-end Raptor Lake CPUs in cramped and hot SFF cases, but the VRM won't add to the challenge.
Few boards this small have a top VRM heatsink. Even fewer have an additional fan that blows air directly onto the power stages. An additional fan in the bottom left corner helps cool the M.2 assembly. Only three headers are related to CPU & fan cooling, which is standard for mini ITX.
Storage is handled economically and vertically. A heatsink directly under the CPU is actually comprised of several padded surfaces. Two M.2 drives fit between them, and one runs at PCIe 4.0 speeds. Additional storage options become available once you slot in a tiny daughterboard that carries two more SATA plugs.
A single x16 slot is all this board can take. ASUS Provided heavy reinforcement and made it PCIe 5.0 compliant. You could technically connect an RTX 4090 to it and experience no issues, provided you have a case that can accommodate such a large card.
Smaller (and Smarter) Than Your Average Board
Internal connections are limited to one 20Gbps USB-C and USB 3.2 Gen 1 connector, plus a temperature sensor. The daughterboard adds two USB 2.0 headers for four more ports, another thermal sensor, the front panel header, and a switch that toggles PCIe generations.
More wouldn't fit on the board itself, so ASUS came up with a nifty add-on. Known as the Hive, it's a sci-fi-looking triangular device that plugs into a dedicated I/O port and stands on your desk. It has BIOS flashback and reset buttons, the latter being able to take on multiple roles.
The four debugging tools also take up residence in the Hive. One of the sides provides a USB passthrough, and you can plug your headset there instead of the case. A convenient volume knob makes adjustments easier, especially if a 60% keyboard is part of your SFF setup.
On to the I/O, which is another sign of the Z790-I Gaming WiFi's premium status. Eight USB ports are plenty for its size, and the fact that two are USB4 is phenomenal. 20Gbps USB-C puts the high-speed port count at three, surpassing many ATX rivals.
Space on the I/O is in short supply since about a third is reserved for two fan grilles. Even so, you still get WiFi 6E antennas, 2.5G Ethernet, and HDMI out. A clear CMOS button peeks out from the bottom right corner, completing the selection.
ASRock Z790 Steel Legend WiFi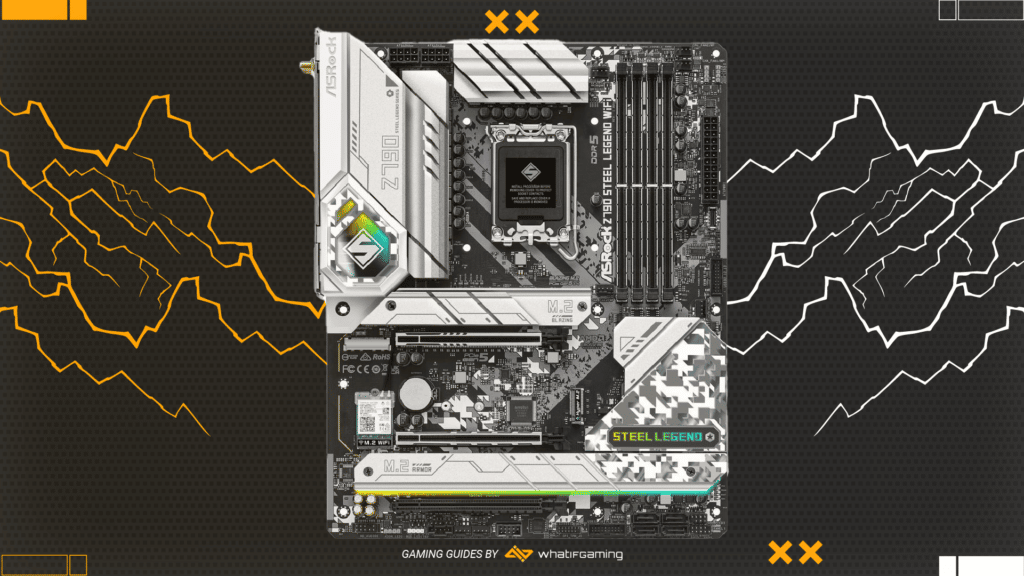 ASRock Z790 Steel Legend WiFi
Form Factor: ATX | RAM type: DDR5 | Memory Speed: 6800MHz | Max RAM: 128GB | M.2 sockets: 4 | Audio: Realtek ALC897
Pros:
Abundance of storage options, including PCIe 5.0

Excellent cooling support

Good value for the money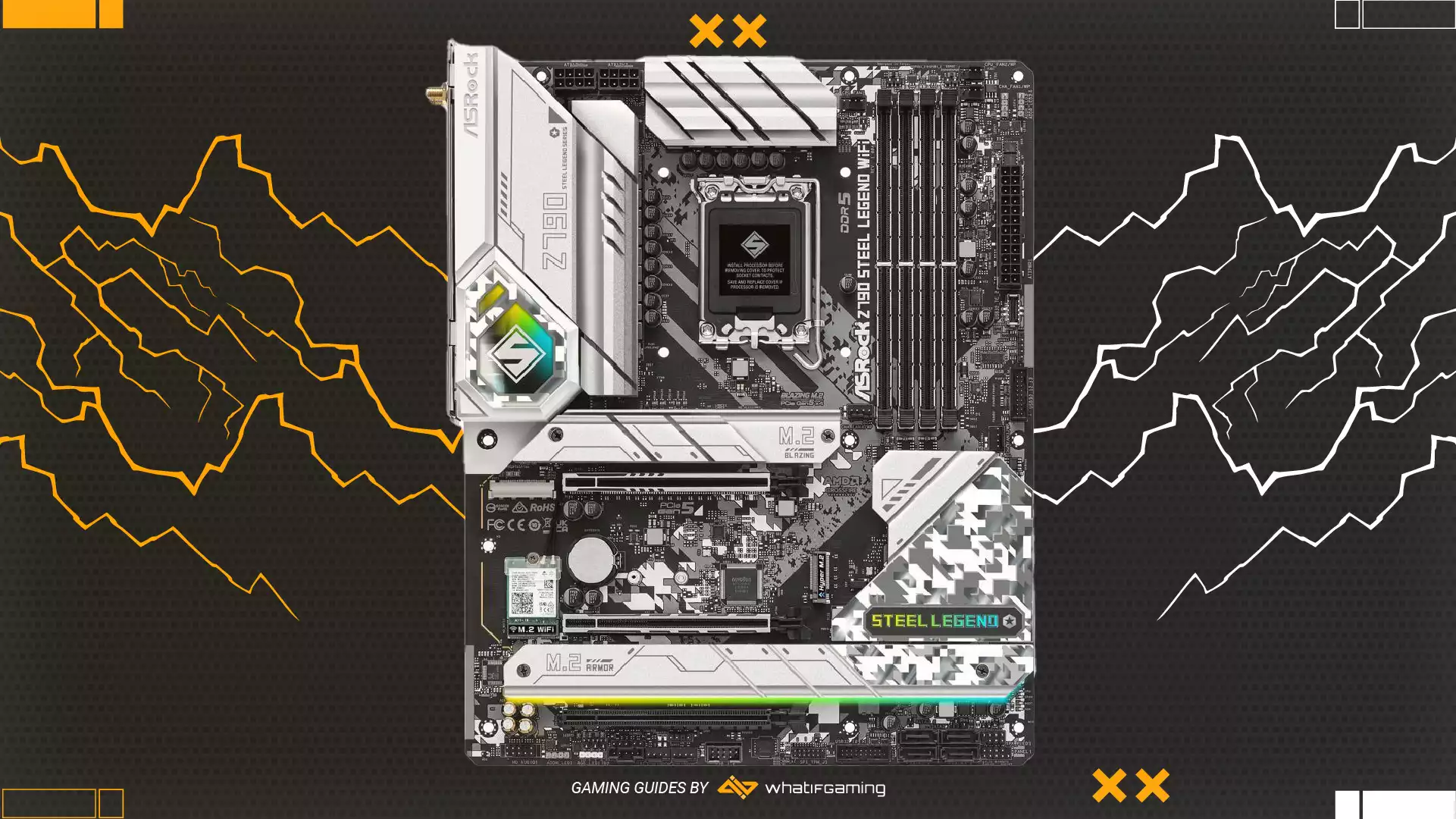 All the best Z790 motherboards we've covered so far cost at least $300 when not on sale, sometimes much more than that. Are cheaper boards even worth considering?
Yes, if we're talking about something like the Z790 Steel Legend from ASRock! Its specs are decent for the price, DDR5 RAM is supported, and excellent connectivity should meet all your past and future storage needs.
The Steel Legend breaks away from the black norm while maintaining a distinctive gaming aesthetic. Its layout is remains mostly unchanged from the Z690, except for a larger heatsink to accommodate the PCIe 5.0 drive. The I/O shroud, top heatsink, and M.2 covers live up to its name, while the chipset heatsink is covered in a dizzying urban camo pattern.
Other than our most expensive picks, the Steel Legend has the most built-in RGB. You'll see it proudly lighting up the I/O logo, and there's a strip's worth under the double-length SSD padding. Not enough? Then avail yourself of four more RGB headers.
The power solution is similar to the Tomahawk's, with 16+1+1 phases handling the CPU and miscellanea. Two 8-pin EPS connectors are nice to see since they ensure a continued and abundant power supply. The heatsinks look as cool as they perform. You'll find diagonal slashes across both. These let hot air escape more freely, speeding up the thermal exchange.
Support for DDR5 at this price goes in the Steel Legend's favor. It's not as robust as other Z790 alternatives since the maximum cited overclock stands at 6800MHz. However, that still gives you enough headroom to use four 5600MHz sticks and not worry about compatibility or throttling.
ASRock's Blazing M.2 heatsink is a dead giveaway that the SSD underneath can be PCIe 5.0. Even more expensive boards regularly don't have this feature, which is arguably more impactful in the short to mid-term than PCIe 5.0 for the GPU. As it happens, the Steel legend has both.
Storage excellence continues with three more M.2 drives. Only two have padded covers, so make sure that the last SSD has an integrated heat spreader. Sticking with eight SATA III plugs is a nice touch since it lets you painlessly transfer over lots of legacy storage from an older machine.
Punching Upward
Two of three full-length PCIe slots are reinforced by steel to better handle heavy graphics cards. As usual, the top one is the sole PCIe 5.0 beneficiary, while the others make do with PCIe 4.0 and PCIe 3.0. The bottom slot is only wired for x2, so plugging older GPUs in there if you were hoping for SLI doesn't make sense.
The Steel Legend handles case cooling competently, too. It has seven related headers, and all five non-CPU ones are hybrids! Internal connectivity is excellent as well, with 20Gbps USB-C and two USB 3.2 Gen 1 headers for the case. Users interested in Thunderbolt connectivity can enable it via an add-in card and the appropriate header.
The I/O is well-equipped with relatively modern connections. There's no 20Gbps USB-C, but a 10Gbps alternative is accompanied by first and second-gen USB-A 3.2 plugs. WiFi users can expect improved signal strength thanks to the 6E standard.2.5G Ethernet is there if you prefer a more grounded connection.
You can connect a monitor to the DisplayPort and HDMI ports in a pinch. Audio is where the board falls flat, though. Although it has a full 5+1 stack, the codec that supports it is the old and mediocre ALC897.
Not that many will care unless they use their PC for media creation. This isn't an overclocking mobo, so the lack of flashback or CMOS clear is more of a convenience issue than a real drawback.