Specs:

Memory: 16GB GDDR6
Ports: 3x DP 1.4, 2x HDMI 2.1, 1X USB-C
TDP: 300W

Specs:

Memory: 16GB GDDR6
Ports: 2x DP 2.1, 2x HDMI 2.1
TDP: 300W

Specs:

Memory: 8GB GDDR6
Ports: 2x DP 1.4, 2x HDMI 2.1
TDP: 270W

Specs:

Memory: 12GB GDDR6
Ports: 3x DP 1.4, 1x HDMI 2.1
TDP: 350W

Specs:

Memory: 12GB GDDR6
Ports: 3x DP 1.4, 2x HDMI 2.1
TDP: 220W

Specs:

Memory: 8GB GDDR6
Ports: 3x DP 1.4, 1x HDMI 2.1
TDP: 200W
1080p might still be the most popular gaming resolution, but things are looking up! There are more quality 4K monitors & TVs than ever, but the most powerful GPUs continue to cost an arm and a leg. The best cheap 4K graphics cards will set you back only a fraction of the price while still letting you enjoy peak fidelity. Get the right one and experience the difference for yourself.
XFX Speedster MERC319 AMD Radeon RX 6800 XT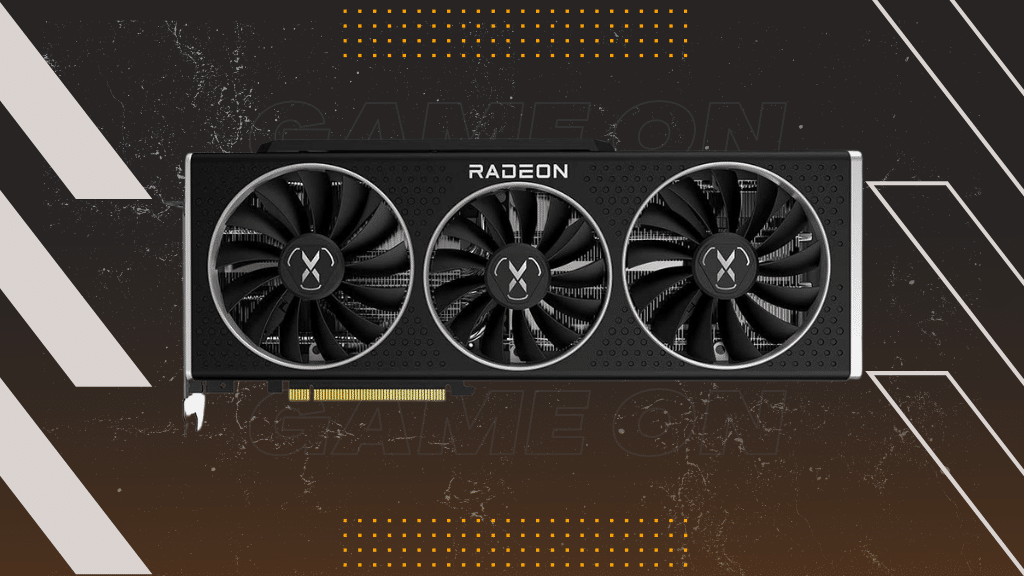 XFX Speedster MERC319 AMD Radeon RX 6800 XT
Base clock: 2110MHz | Boost clock: 2360MHz | Memory: 16GB GDDR6 | Ports: 3x DP 1.4, 2x HDMI 2.1, 1X USB-C | TDP: 300W
Pros:
Exceptional value for the money

Runs almost all demanding games at 4K 60fps on Ultra

Superb power efficiency
Cons:
Trails behind NVIDIA GPUs in raytracing
We've finally reached a point where you can buy an excellent GPU like the 6800 XT for much less than the original MSRP. It costs around $600, which gets you superb 4K performance without compromises now and in the near future. Best of all, XFX did not skimp on quality to get you there.
The 6800 XT is AMD's answer to the RTX 3080. Whereas NVIDIA's last-gen flagship gamer is still prohibitively expensive, XFX undercuts the competition and provides awesome value. The card is based on second-generation RDNA technology. It has a monstrous 16GB of GDDR6 VRAM. While its bus is narrower than on Team Green's models, 128MB of Infinity cache mostly makes up for the difference.
The Speedster Merc version has a sleek design without RGB. We don't object, as the metal shroud and uneven silver-rimmed fans radiate quality. One can say the same for the cooling setup, which consists of an imposing heatsink, seven heatpipes, and loads of padding. There's even a support bracket in the middle that helps your motherboard's PCIe slot combat sag.
You can pay less for a competent 4K card, but this one tops our list due to its amazing value. It will run the vast majority of AAA games at more than 60fps on Ultra presets. Besides, switching to high is hardly a visual downgrade if you're dealing with poor optimization in games like Cyberpunk or Hogwarts Legacy. Turning FSR on will propel even these two into triple digits.
Worse raytracing than on comparable NVIDIA cards is the only downside. Since its implementation in actual games has yet to impress, it's not a bad negative to have. The 6800 XT has low power requirements, and the Merc version doesn't get uncomfortably warm.
XFX Speedster MERC310 AMD Radeon RX 7900XT
XFX Speedster MERC310 AMD Radeon RX 7900XT
Base clock: 2175MHz | Boost clock: 2535MHz | Memory: 20GB GDDR6 | Ports: 2x DP 2.1, 2x HDMI 2.1 | TDP: 300W
Pros:
Sells for well under MSRP

Superb cooling and aesthetics

Substantial 4K performance gains over 6800 XT
Before you get your pitchforks out, we realize that a 7900 XT is far from cheap. However, XFX steps its game up again, offering the Merc310 version for around $100 less than MSRP! That's an outstanding deal if you can find one at this price. That should take care of your GPU needs for the next five years or more. Yes, that includes cutting-edge 4K gaming.
Basing their design on chiplets has been the staple of several AMD CPU generations. Their newest GPUs benefit from the experience and are also chiplet-based now.
A graphics compute die is at the center of this design and houses the most size-sensitive components like shader engines. It's built using TSMC's new 5nm manufacturing process. Six memory cache dies connect to the GCD and don't need to be as small. One of them is disabled on the 7900 XT.
XFX made subtle changes to the Merc310's exterior, keeping the iconic understated look. Some models can take up four slots, but this one remains reasonable. It's still 34cm long, so check case compatibility before purchasing.
The 7900 XT and XTX are the first GPUs to feature DisplayPort 2.1. The latest video connection standard theoretically allows for triple-digit 8K and 400+ fps at 4K. While the most advanced cards and current monitors are far from reaching such heights, AMD laying the groundwork is commendable.
The Merc310 adopts its predecessor's affinity for overengineered cooling. This bears fruit when gaming since it's among the coolest 7900 XT models available. The three fans pass 40dB at 100%, whichever of the two BIOS presets you choose.
The 7900 XT's 4K performance is superb for the price. It surpasses the 6800 XT by more than 30% at that resolution, making it well worth the upgrade if you can afford it. That's enough for a 60fps maxed-out experience in any game.
GIGABYTE GeForce RTX 3070 Gaming OC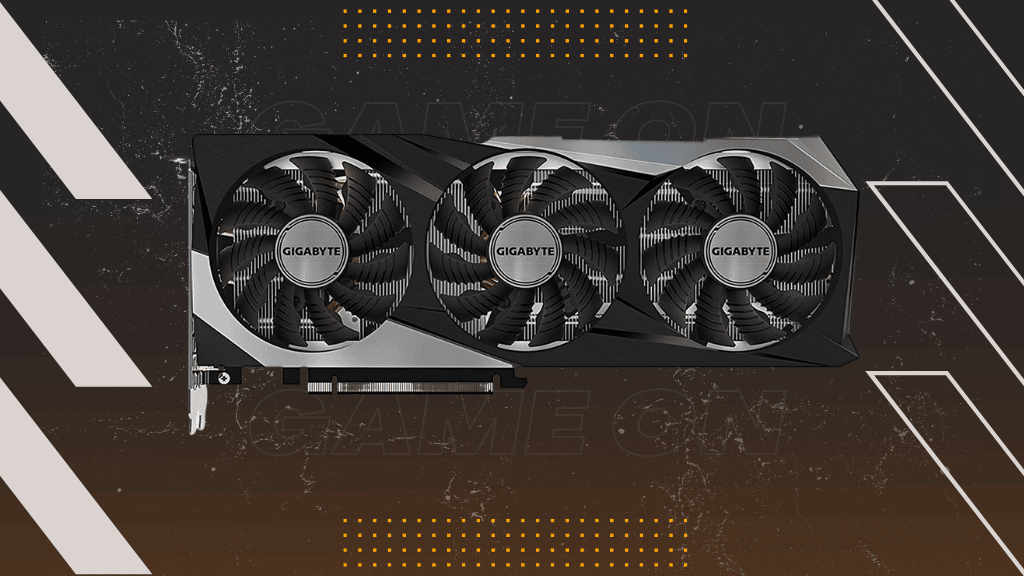 Gigabyte GeForce RTX 3070 Gaming OC
Base clock: 1500MHz | Boost clock: 1815MHz | Memory: 8GB GDDR6 | Ports: 2x DP 1.4, 2x HDMI 2.1 | TDP: 270W
Pros:
Acceptable 4K performance

Useful dual BIOS feature

Good power efficiency
Our price-based list may skew in favor of AMD cards, but several NVIDIA models are also compelling. The RTX 3070 is among the best cheap 4K graphics cards and certainly the stand-out price-to-performance deal in Team Green's camp. It's stylish, quiet, and good enough for 4K gaming with few concessions.
The Ampere series of GPUs expands upon and solidifies Turing's innovations. It comes with newer generations of CUDA, tensor, and RTX cores. These – along with improvements achieved through DLSS 2.0 – make the RTX 3070 the equivalent of the older and much more expensive 2080 Ti.
The Gaming OC is customarily industrial, with an angular black & gray shroud as the visual highlight. Gigabyte paid much attention to cooling. You'll see it in the large cold plate and the room left over on the side so that one fan can blast air through the card directly.
Unlike on XFX's cards, the two BIOS options differ here. The default setting achieves higher temperatures while noise barely exceeds 30 dB. Switching to the OC BIOS causes a temperature drop of 2-3 degrees, bringing the card into the 60s at a small noise penalty.
Ports include two HDMI 2.1 and DisplayPort 1.4. Rather than use NVIDIA's 12-pin connector or go with a pair of standard ones, the card has 6 and 8-pin EPS connectors that draw 300W.
NVIDIA's RTX 3070 is a tier below the 6800 XT at 4K and puts out around 20% fewer frames. However, it's worth getting due to improved raytracing and much better support for non-gaming applications like 3D or video editing software.
MSI Radeon RX 6750 XT Gaming X Trio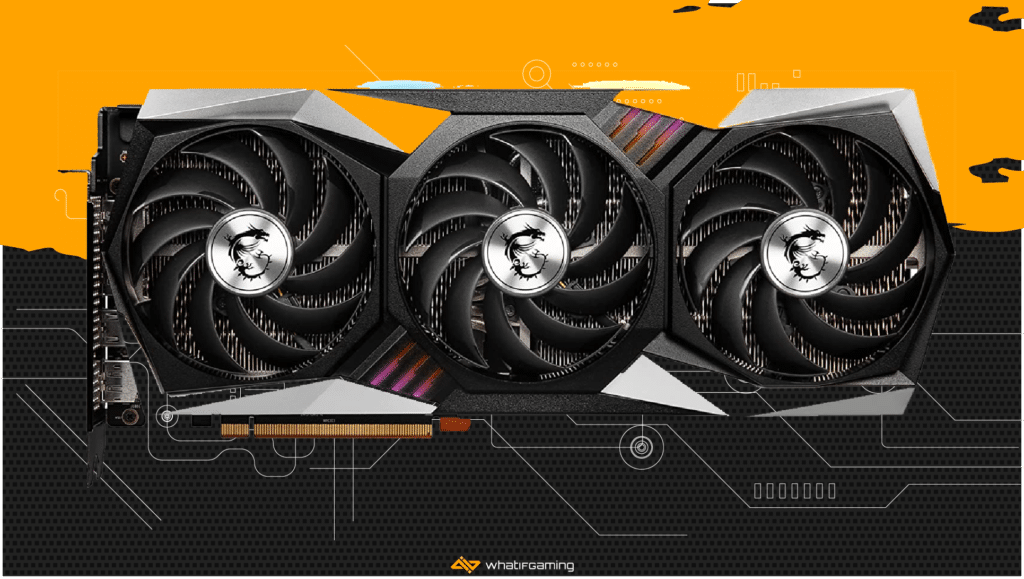 MSI Gaming Radeon RX 6750 XT Gaming X Trio
Base clock: 2554MHz | Boost clock: 2623MHz | Memory: 12GB GDDR6 | Ports: 3x DP 1.4, 1x HDMI 2.1 | TDP: 350W
Pros:
Performs markedly better than the 6700 XT it's based on

Exceptionally quiet and reasonably cool

Attractive RGB
Cons:
Can't maintain 4K 60fps without lowering the details or using FSR
The last GPU generation came out in 2020 and 2021. Manufacturers started refreshing their lines in 2022 in anticipation of the next wave, and the 6750 XT rose to the top. It's a souped-up 6700 XT, almost rivaling the RTX 3070's 4K performance.
AMD already had an excellent baseline for the refresh in the 6700 XT. They upped both base and boost clocks while also giving the card more memory throughput. Coupled with some undisclosed software tweaks, this makes the 6750 XT viable. The pricing could better reflect its standing compared to the 3070, but there's not much grounds to complain otherwise.
The Gaming X Trio comes with MSI's recognizable sharp-edged shroud. It sports unique RGB slashes and a top bar, making it the most colorful card on the list so far. It has a default port selection and draws up to 375W through two 8-pin EPS connectors.
Removing the shroud exposes the hefty cooling solution. A large heatsink matches the overall length, while the PCB underneath is shorter to enhance overall airflow. The single BIOS favors silence rather than cooling efficiency. Even so, the Gaming X Trio is among the cooler 6750 XTs and the best at staying quiet.
Kudos to MSI for making meaningful improvements over the base version! The Gaming X Trio outpaces it by several frames in any scenario, which you'll feel the most at 4K. You'll have to start lowering the settings too high to enjoy comfortable framerates at this resolution, and raytracing is a no-go.
PowerColor Red Devil AMD Radeon RX 6700 XT
PowerColor Red Devil AMD Radeon RX 6700 XT
Base clock: 2424MHz | Boost clock: 2649MHz | Memory: 12GB GDDR6 | Ports: 3x DP 1.4, 1x HDMI 2.1 | TDP: 220W
Pros:
Silent operation

Overbuilt for its conservative power draw

Affordable
Cons:
Needs FSR to play demanding games decently at 4K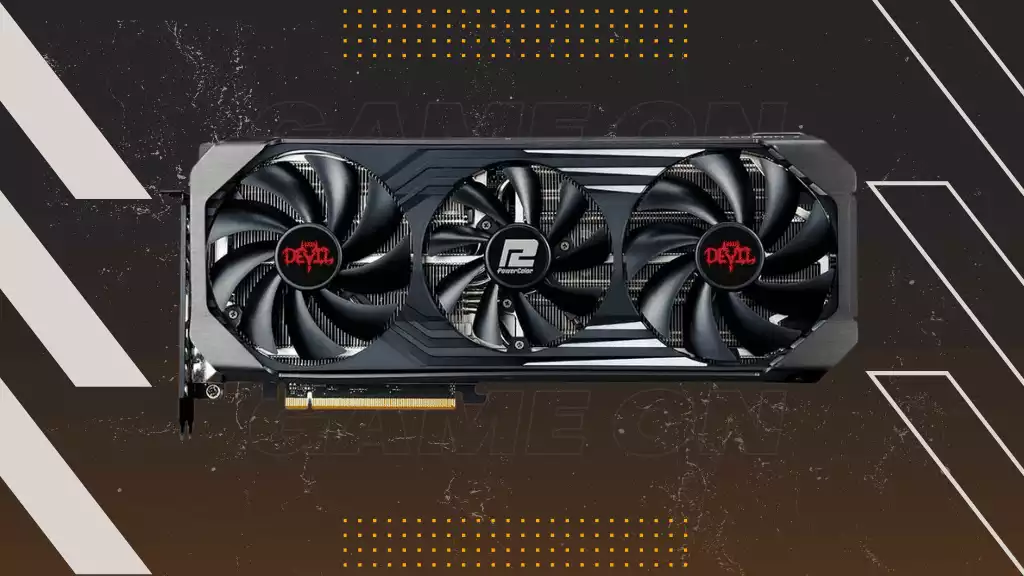 Let's kick off the budget segment with the card that inspired the 6750 XT. Few can match the 6700 XT Red Devil's feature set when it comes to the best cheap 4K graphics cards, let alone at its sub-$500 price point. It may not be able to pump out 6800 XT-like frames, but you'll barely hear anything at 100% use.
The 6700 XT is essentially a 6900 XT with its compute units and associated graphics hardware cut in half. It didn't make sense to use the same die as on more expensive GPUs, so AMD went with a smaller variant called Navi 22. The card has 12 GB of VRAM partially blunted by a 192-bit bus. However, a version of the 3D V-cache that's become popular on AMD CPUs helps iron out the rough spots.
Power Color went above & beyond with the Red Devil's presentation. One wouldn't expect three fans on a GPU that draws less than 250W during stress testing. One of the most elaborate GPU lighting setups accompanies them, bathing more than half the card in colorful lighting. As if that wasn't overkill, the cheeky devil logo also lights up!
You have two BIOS choices – normal and quiet. The former is the better choice since it cools the card by several degrees more yet only contributes a couple of decibels to the noise output. Expect sub-30 dB aural bliss even then.
Recommending the 6700 XT for 4K is a stretch. It works wonderfully for competitive gaming and will let you put a high refresh rate 4K monitor to full use. You'll have to settle for medium or low details if you prefer more graphically intensive modern games. It's possible to get many of these details back if you don't mind turning FSR on.
Zotac GeForce RTX 3060 Ti Twin Edge OC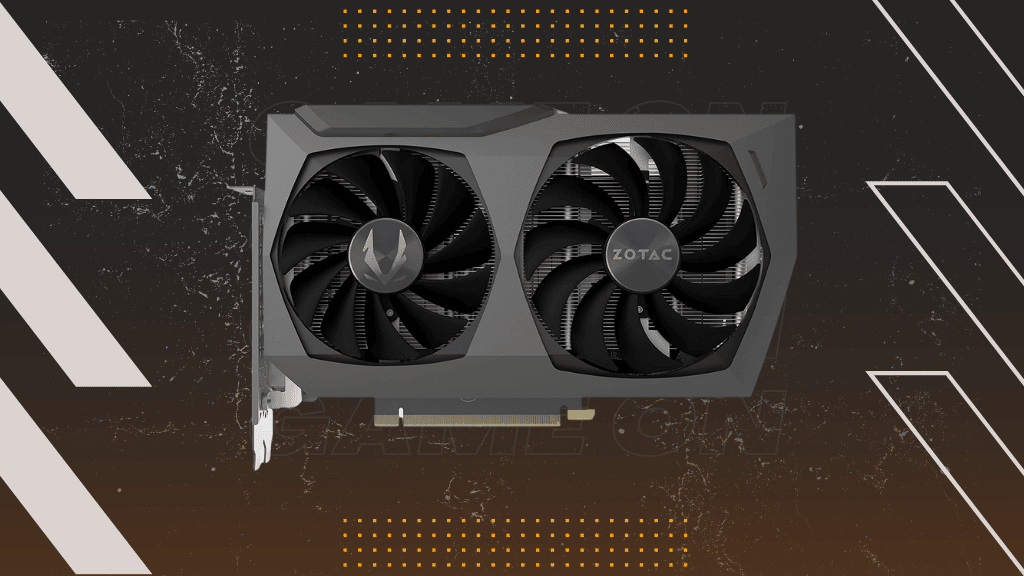 Zotac Gaming GeForce RTX 3060 Ti Twin Edge OC
Base clock: 1410MHz | Boost clock: 1695MHz | Memory: 8GB GDDR6 | Ports: 3x DP 1.4, 1x HDMI 2.1 | TDP: 200W
Pros:
Will run games well enough at 4K if you're willing to compromise

Compact design

Attractive price
Cons:
Hotter and louder than three-fan designs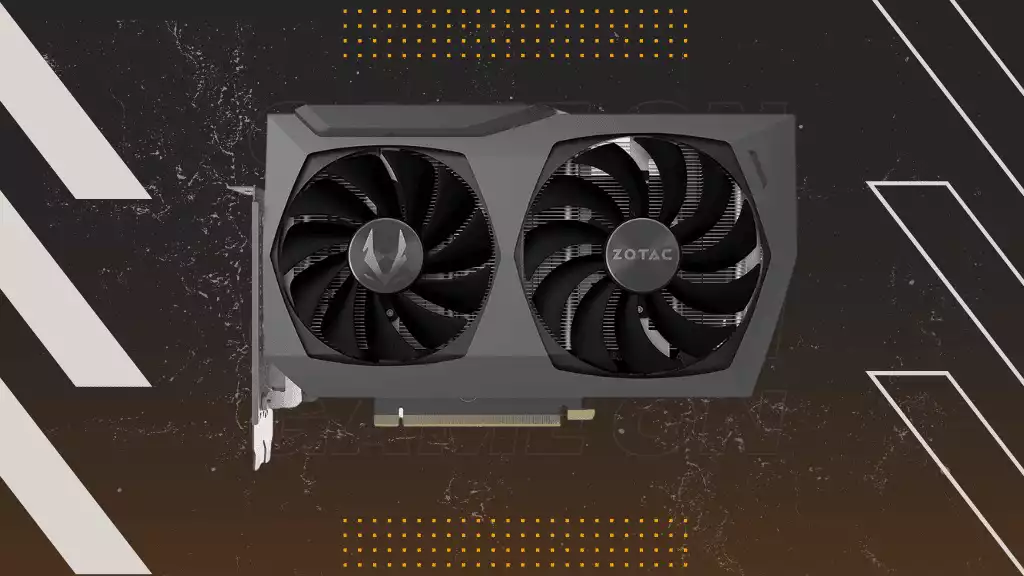 What's the lowest amount you can pay and still get one of the best cheap 4K graphics cards? If you don't mind a barebones look, the answer is a little over $400. That's how much modest versions of the RTX 3060 Ti like Zotac's Twin Edge OC are going for. What it lacks in bling, this GPU makes up for with decent performance and excellent case compatibility.
While we value hushed fans and low temps, a two-slot graphics card is also a welcome sight. The Twin Edge OC won't have trouble fitting inside SFF cases, and a mere 200W power draw ensures its surroundings won't get toasty even then.
Zotac did much with very little to elevate the aesthetics. The gunmetal gray shroud has a few geometric accents, and the metal backplate curves forward. Between them are the PCB and a suitably beefy cooling array coupled with four heatpipes.
The RTX 3060 Ti shares the 3070's memory configuration. It also uses the same smaller die, albeit at 80% capacity. It's rated at 200W, but expect 20W more to account for pikes when the GPU is 100% engaged. One fewer fan makes a difference despite the lower power demands. The Twin Edge OC is warmer and louder than other cards we've talked about, but still well within acceptable limits.
There's a slight difference in the 6700 XT's favor if we're talking strictly about rasterized performance. Those extra few frames mean little at 1440p, but you may need to turn an additional setting or two down at 4K.