A trusted leaker has uncovered the veil from the final two characters of Smash Ultimate. According to an anonymous leaker on a 4chan archives board, Crash Bandicoot and a Monster Hunter Hero are coming to Smash Ultimate in 2022 as the closing acts to the second fighter pass.
Apparently, Nintendo is planning to host a 3 hour long live concert where the symphony orchestra will perform the theme songs of all the characters in the current Smash Ultimate roster. Towards the end of the concert, the orchestra will perform 'N. Sanity Beach' from Crash Bandicoot and 'Proof of a Hero' from Monster Hunter.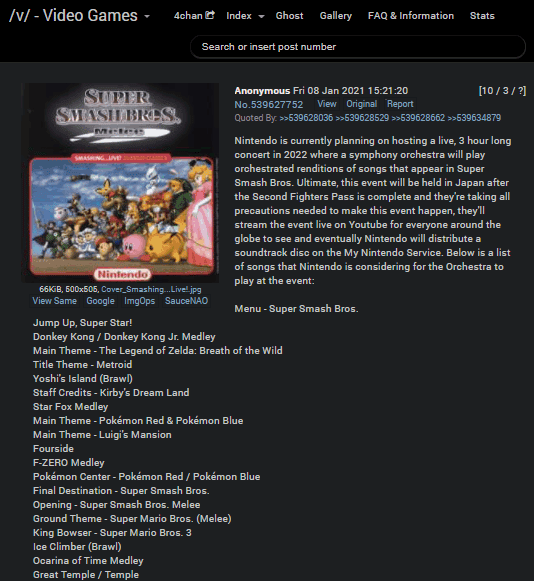 If you'd be listening to the concert live or streaming it on Youtube, you'd go like "Wait a minute! Crash Bandicoot and the Monster Hunter cast aren't a part of the Smash Ultimate roster."
And then Nintendo would lift the curtains and be like "Huzzah, now Crash Bandicoot and the Monster Hunter cast ARE a part of the Smash Ultimate roster."
At least that's how I imagine the reveal would go down. The concert will be in Japan sometime in 2022 and it is said this where the second fighter pass will complete itself. The attendees will be limited and Nintendo is taking all the necessary precautions to make this event a reality. For the rest of us who can't be in Japan around that time, the concert will be streamed live on Youtube and, once the event is over, Nintendo will distribute the complete concert on the disc on the My Nintendo service. The complete list of 95+ songs can be found on the original thread.
The leak is coming from the same person who, back on 8th January 2021, tipped the fact that Pyra and Mythra from Xenoblade Chronicles would join the Smash Ultimate roster. They did this by quoting one of the songs in the list, specifically, Counterattack from Xenoblade Chronicles 2, which was the track that played when Pyra and Mythra were confirmed on the Nintendo Direct that took place on the 17th of February.
Credibility aside, Crash Bandicoot has long been. The craziness and 'N.Sanity' of Crash make him the perfect Smash Character. On the other hand, a new Monster Hunter is coming exclusively to Nintendo Switch, so it's only natural for Nintendo to welcome the series and make it feel at home.