Fallout 4 is an action RPG (Role Playing Game) which is developed by Bethesda Game Studios and published by Bethesda Softworks. It is the fourth game in the series and successor of Fallout 3 and is available to be played on PC, Xbox and PlayStation.
The game is an open-world game based on a post-apocalyptic world that encompasses the region of Boston and Massachusetts which are collectively known as "The Commonwealth".
In these challenging times, everyone needs somebody to rely on a friend, a family with whom you can share your sorrows with and someone who can fight alongside with you.
Dogmeat – Not the Ideal Companion?
To overcome this problem, Fallout 4 presented the players with a dog called Dogmeat who would accompany you everywhere you go. Still, there were few problems with Dogmeat which made it not one of the most ideal companions players would want during a post-apocalyptic environment.
Live and Love don't apply to Dogmeat.
The Lone Wanderer perk isn't disabled when with Dogmeat.
Dogmeat has a low carry capacity and Damage Per Second compared to other companions.
To heal Dogmeat, you would need companion affinity interactions, which would require you to have another companion because it can also be increased when Dogmeat is with another companion.
If you also feel the same as we do, then we just have the right solution for you.
Everyone's Best Friend Mod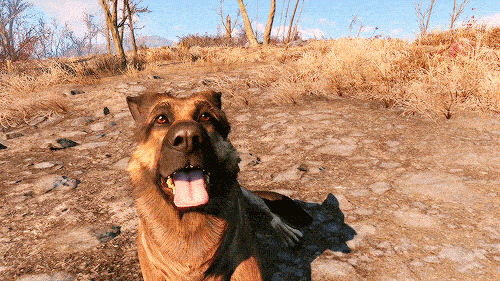 To overcome this problem which was ruining gameplay experience of the player, developers created a solution for it – Everyone's Best Friend Mod for Fallout 4. There is a reason why this mod is a favorite among the Fallout 4 community, it's even made it into GadgetGangs best fallout 4 mods top list.
This mod allows you to have an extra companion while still keeping Dogmeat by your side. The best part is that for the mod to work you neither need console commands nor need to use hacks as it can get frustrating sometimes as it interrupts your game in between.
Also, there are quite a lot of shreds of evidence in the game that suggests that Dogmeat wasn't meant to be counted as a companion rather was meant to accompany the player all the time. This all suggests that there was always a companion space open for someone else to fill in.
Also, Bethesda has reported that earlier there were two slots for the companion types which could allow you to have both Dogmeat and a single human companion.
That's the reason there were two aliases with two separate functions. Later on, they changed their mind and allowed users to only have either Dogmeat or a single human companion, which would help players to minimise the risk of breaking everything by trying to unify everything into a single alias.
Though, after Bethesda made their decision only to allow one companion which could be either Dogmeat or a single human companion, Bethesda didn't take the load of making Dogmeat a loyal companion by affection Live and Love, disabling the lone wanderer perk, increasing the carrying capacity and damage per second. Though still, they tried to make Dogmeat the ideal companion by releasing quite a few bug fixes even they could never replace the idea of having two companions at the same time.
Download Everyone's Best Friend Mod
This mod is only available for PC and Xbox One players, and we have provided the download links below:
PC: Download here.
Xbox One: Download here.
Installation Guide
Fallout 4 mods are easy to install, though we have provided the guide to download the Everyone's Best Friend Mod below.
You will need to download the Nexus Mod Manager to download and install this mod which would make your task easier. You can download the Nexus Mod Manager from here.
With the help of the Nexus Mod Manager, you can easily install and uninstall Fallout 4 mods.
Once you have downloaded the Nexus Mod Manager, the next step is to just click on the activate button, and now you are ready to enjoy your game with two companions accompanying in your journey.
In case you don't wish to download the Nexus Mod Manager and want to continue without it, then you can follow the below-mentioned guide.
Download the Mod it would be compressed so you would need to use any extractor software.
You can use any extractor software to extract the files (7z, WinRAR).
Extract the mod contents in /Data folder.
The mod requires two files: EveryonesBestFriend.esp and EveryonesBestFriend-Main.ba2.
Copy the file to the destination folder: C:/Program File (x86)\steam\steamapps\common\fallout4\data
Then the next step would be to activate the .esp that could be triggered simply like you usually do with your other mods.
Final Verdict:
This mod is one of the most popular mods among the players of Fallout 4 and surely will make your game experience relatively better as two companions are always better than one. In case you love this mod and want to try more mods in future you can always head out to Gadget Gang and check out more amazing mods that will surely enrich your gaming experience.
Happy Playing!