Are you trying to build your budget FUT League Un team? Well, to be honest with you, a lot of us are, and here's why.
With Messi, Neymar, and Mbappe all being in the League One Uber Eats, and PSG acquiring even more players like Donnarumma, Ramos, Hakimi, and Wijnaldum no wonder people with lots of coins are going to go with that deadly trio in front. So naturally, they'll make their FUT teams more French league One heavy.
But I'm not gonna lie to you… The French League Un doesn't house lots of high-quality players, so, you'll have to get by with some mostly average players until you collect the coins to build up your team into the attacking monster that it has the potential to be.
Understandably, with most of the players being average at best, I needed to do a lot of digging to come up with a budget FUT League Un team that's going to satisfy your needs to get through the divisions and achieve the awards needed to get the coins for your team of the dreams. But, as I tell you in all my articles, getting the team of your dreams in any league is a journey, and you'll have to travel the way up.
PS: If you're experiencing the FIFA 22 Crash on Language screen take a look at this article.
Best Budget FUT 22 League Un team 50K
As with every budget team this season, I decided to go with the budget of 50K coins which is pretty achievable especially in the starting point of the game, with all the coin boosts, prizes, and packs you get in the beginning. But, try and do your own research as the prices in this article are taken from FUTBIN and understandably they will fluctuate, so you might end up not meeting your budget if you don't check the price of the team before you go for it!
Goalkeepers
There aren't many goalkeepers to choose from in the French league, and Donnarumma and Navas will set you back a fortune when we're talking FIFA coins with each of them being worth 75K and 20K respectively. So I wouldn't recommend you going for either of them because that would make a pretty big dent in your budget if you get Navas, and it is actually 1.5 times of your budget to only get Donnarumma.
GK Anthony Lopes' card is a good 82 rated card with better than average stats for a goalkeeper. If you decide to go with this card, it will cost you 750 coins.
GK Steve Mandanda has an 80 rated card which although a lower-rated card compared to Anthony Lopes' card it's a more well-rounded card with most of his stats being around the 80 mark. The fact that he is a more well-rounded goalkeeper than Lopes, will cost you 3.2K coins.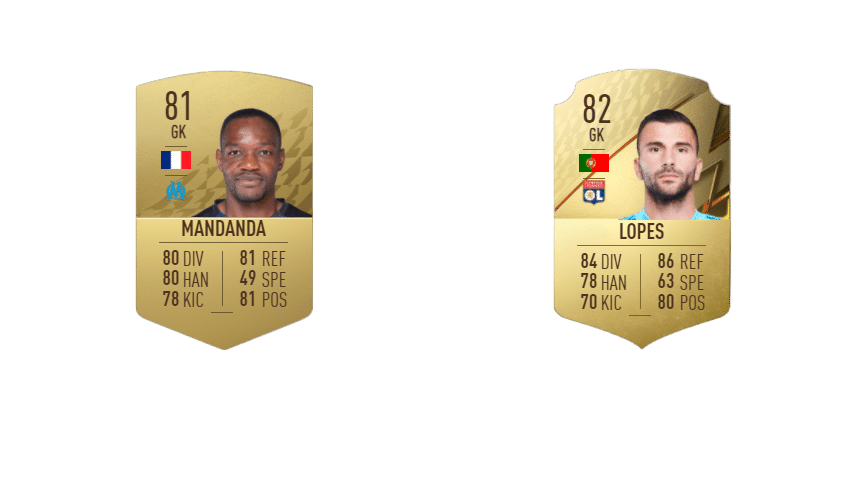 Defenders
RB Hamari Traore's card will cost you 950 coins. And although his card is rated at 79, you get a good player for that money. With 85 pace, 72 passing, and 73 defending Traore is a pretty good starting choice for right back.
RB Leo Dubois has a pretty good defensive card if you ask me. His defensive stats are even better than the higher-rated Traore. For this 78 rated card, you'll be paying 1.2K coins.
CB Jason Denayer from Olympique Lyon will set you back 1.4K coins, and for that you get a great defender alongside our other option which will blow your mind!
CB Sergio Ramos is an 88 rated center back. He offers a lot of defensive abilities to the table especially alongside the pacey Denayer who'll be able to cover Ramos on longballs and quick strikers. This will be the most expensive buy in your whole team and it will take 20K coins out of your FIFA pocket.
LB Juan Bernat Velasco is 1.8K coins buy and he can offer a lot going forward. He has 82 ratings for both dribbling and passing which makes him a great attacking-minded left back.
LB Hassane Kamara's card will cost you much fewer coins than Bernat at 800 coins. For this, you'll get a pacey left back with good defensive stats.
Midfielders
CDM Georginio Wijnaldum is a great defensive option for your budget FUT League Un team if you're trying to pass out from the back. He has great defensive rating as well as great passing. Ginie Wijnaldum's card will set you back 4K coins.
CDM Aurelien Tchouameni is a great physical central defensive midfielder. He's also going to be able to dish out some great passes. His 79 rated card will only cost you 800 coins.
CM Houssem Aouar's card is 81 rated and it will cost you 950 coins to get it. For 950 coins you'll get a great dribbler. He'll allow you to get the ball out of the midfield and into the more threatening positions.
CM Renato Sanchez has a great attacking-minded card. With his 84 dribbling, pace and physics you'll be able to get out of almost any situation by using either one or all of these attributes. His card will set you back 2.3K coins.
CM Marco Verrati is a great choice if you have the coins to spare. And, let me tell you, he's totally worth every penny you pay to get him into your team. His card is a pretty well-rounded card for your budget FUT League Un team. You get 91 dribbling, 87 passing, and 79 defending. Although he leaves a lot to be desired in the shooting and pace department. Verrati's card will cost you 15K coins.
CM Christopher Nkunku is a much cheaper option than Verrati coming in at 800 coins. But, because of this price cut, you're sacrificing a lot of dribbling, passing, and defending.
PS: Take a look at the eFootball 22 system requirements here!
Attackers
RW Jonathan Ikone's card is great if you're trying to play with a pacey winger (although our next option is one of the fastest wingers in the game), but the pace is not all that this player can do! He can also offer a great range of passes as well as great dribbling skills in order to complete this card. You'll need to separate 1.3K of your coins for this card.
RW Gelson Martines is one of the fastest players in the game, and in order to accommodate this, you also get a good dribbler. But, keep in mind that in order to use him in his full potential, you'll also need a fast striker.
ST Wissan Ben Yedder is one of the best budget strikers out there. And if you know what you're doing, you'll get a lot of goals with this player. Ben Yedder has an amazing card with great stats except for the physicality which can be accommodated by passing and positioning. His card will cost you a hefty 12K coins.
ST Kevin Volland is a great striker for FUT 22, and if you're looking for the physical dribbler type of player Volland will satisfy your needs. His card only costs 950 coins.
LW Jonathan Bamba is a great player he has pretty good pace and dribbling stats with the only lacking part of his attacking abilities being shooting. This card will set you back only 1K coins
LW Justin Kluivert only has a 76 rated card but this card is amazing. It will only cost you 900 coins.
My Team of Choice for the French League Un Uber Eats
GK – Anthony Lopes 750 coins
RB – Hamari Traore 950 coins
CB – Jason Denayer 1.4K coins
CB – Sergio Ramos 20K coins
LB – Juan Bernat Velasco 1.8K coins
CDM – Georginio Wijnaldum 4K coins
CM – Houssem Aouar 950 coins
CM – Christopher Nkunku 800 coins
RW – Gelson Martines 1.7K coins
ST – Wissan Ben Yedder 12K coins
LW – Jonathan Bamba 1K coins
PS: You might also want to take a look at my budget FUT League Premier League team.
Thanks for taking the time to go through my budget FUT League Un team. I hope it helped you decide which players to get. Also, If you have any other players that you think I might have mentioned in this price range please do tell me in the comments section below!