Only two weeks have now passed since the release of FIFA 22, one of the most demanded and most played games across the globe, and slowly but surely the best teams for FIFA Ultimate Team are coming out. After going through a couple of roads to glory and doing some digging myself, I finally have the best budget-friendly FIFA 22 FUT cards for you to start building your team up.
As you already probably know, building the best budget FUT Premier League team is not an easy thing to do, especially when you take into consideration that this year, unlike in FIFA 21, the pace is not everything. And, with buyers of FIFA 22 Ultimate getting the free FIFA Points, the price of mid-range cards got fairly low with some 84, 85, and even some 86 cards being worth less than 10K. But, we'll get to those cards, because the FUT experience is a battle, not the whole war. Firstly, you'll have to get by, by using some of the lower-rated players and climbing your way up the ladder.
So, here you go… Here are the budget options for building squads in each of the best leagues. Keep in mind that you need to have a set card in your mind that you really like (Cristiano Ronaldo, Lionel Messi, Robert Lewandowski), so you're able to build up the team around them and get the chemistry needed.
Platform (PS, XBOX, Origin) also plays a great part in deciding the price point of your squad, in this article, we will be taking the prices from Origin from the FUT BIN database.
Best Budget FUT Premier League Team 50K
When building the best budget FUT Premier League team, the best thing to do is start researching the market at the moment (because as you know, prices are constantly fluctuating), and choosing your cards accordingly. At the time of writing, prices on lower-rated cards are fairly low, and as we mentioned above, even some higher-rated cards are a steal. There are lots of strong cards that you can get in the PL.
PS: If you're experiencing the FIFA 22 crash on language screen, here's how to fix it!
FUT 22 Goalkeepers
For a GK we'd recommend you splurge a bit more because that's the only position that you can't control and that the rating plays a big role in the card's performance. Here are our choices for the GK position in your budget FUT Premier League team:
GK David De Gea has an 84 rated card this season with his diving and reflexes being his strong side, at the moment David De Gea's card is priced at 2000 coins.
GK Berd Lenohas an 83 rated card and he's a cheaper option to De Gea with his card being priced at 850 coins.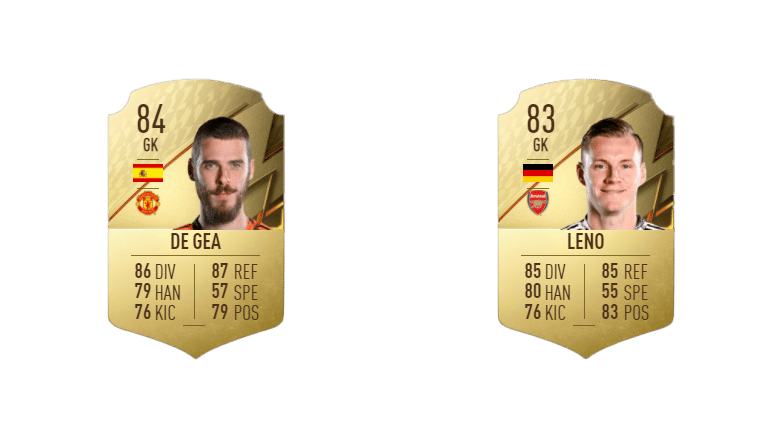 FUT 22 Defenders
As we mentioned before, pace is everything in defenders. As you can already notice most players have attackers like Timo Werner and Phil Foden, who are pretty pacey. So the best thing to do to build the best budget FUT Premier League team is to implement more pace into your defense.
RB Ricardo Pereira has an 84 rated card this season. He's a pacey right back with 84 pace and 78 passing which makes his card a pretty desirable one in the early stages of your FUT journey. His card is priced at 2.5K coins.
RB Aaron Wan-Bissaka has an 83 rated card with better defensive and pace stats than Pereira's card but lower attacking ratings. This is why his card is much more expensive than Pereira's priced at 9.4K coins.
CB Cesar Azpilicueta has an 83 rated card this season and would fit in most premier league teams because of the 84 rated defending. His card is priced at 850 coins.
CB John Stones has an 83 rated card similar to Azpilicueta's card with 84 defending although he has a bit more pace. You'll pay 850 coins to get his card.
CB Thiago Silva in order to get a bit better defensive stats you'll need to pay 3.4k coins and get 86 defending with Silva's card.
CB Aymeric Laporte – 6.2k coins get you Aymeric Laporte and with his card, you get an all-rounded defensive card with both defending and physics increasing.
LB Ben Chilwell gets you 78 defending and 76 pace which isn't the best but you get what you pay for, and for this card, you'll only pay 750 coins.
LB Luke Shaw has a much better all-rounded card with both his defensive and attacking stats being somewhere around the 80 marks. Therefore, you'll have to pay 2.2K coins for his card.
FUT 22 Midfielders
This season the battle is won in the midfield. So it's a pretty crucial part of your squad, this is where you'll spend a lot of time with the ball. Passing is the most important stat in your cards!
CDM Wilfred Ndidi will be your CDM giving your defense the support it needs to take the ball from the back to the attack. FIFA rated his card at 85 and for it you'll need to pay 3k coins.
CDM Allan Loureiroan 83 rated CDM with good defensive stats but it's 7 points less than Ndidi's defensive stats. You'll pay the same price for him as you would for Ndidi.
CM Thiago Alcantara this season his card got a 1-point boost compared to last season. He has amazing passing stats with 86 points. Choosing this card will get you a great outlet with a great range of passes. Thiago's card will cost you 6.8K coins
CM Thomas Partey will only cost you 850 coins and looking at his card you'll see a pretty well-rounded card.
CM Ilkay Gundogan gets an amazing range of passes with his 85 rated card. This is what you need in your budget FUT Premier League team. His dribbling and shooting stats make this a great attacking-minded card. This card will cost you 2.2K coins.
CM Bernardo Silva is the most expensive option out of our choices. To get his card you'll pay 9.9K coins. For the coins, you get an 86 rated card with 91 rated dribbling and 83 passing.
FUT 22 Attackers
Cheap options are lacking in the attack. But with 50K coins to spend on your budget FUT Premier League team, this is the area where you'll be spending most of your coins. You can mix and match all of these cards and get the team that most suits your style of playing. Are you attacking on the counter? Then make sure to get pace and dribbling in your wingers and pace on your striker. If you're trying to get a slower build-up game, then go with a more physical striker.
RW Adama Traore has a whopping 96 pace and 86 dribbling. This is great if you're trying to hit teams on the break. His card costs only 800 coins.
RW Jadon Sancho on the other hand is a slower build-up player. With great dribbling at 91 and a better-rounded card with much higher attacking stats. But, you'll have to pay 16.7K coins to acquire this card.
ST Romelu Lukaku is a physical striker, he's an 88 rated striker with great shooting, physical, and pace stats. You'll need to pay a hefty 19K coins if you're trying to get his card.
ST Gabriel Jesus is priced at only 950 coins which are pennies when compared to Lukaku. This card is great if you're trying to hit teams on the counter-attack.
LW Jack Grealish goes well with Lukaku and Sancho because it's a great card if you're trying to build up your attacks. This card will cost you 1.8K coins.
LW Christian Pulisic is a great counter-attacking option with his 89 pace. You can get this card for only 750 coins.
The Best PL FUT 22 Team in My Opinion
GK – David De Gea 84 rated for 2K coins
RB – Ricardo Pereira 84 rated for 2.2K coins
CB – John Stones 83 rated for 850 coins
CB – Cesar Azpilicueta 83 rated for 850 coins
LB – Luke Shaw 84 rated for 2.2K coins
CDM – Wilfred Ndidi 85 rated for 3K coins
CM – Ilkay Gundogan 85 rated 2.2 coins
CM – Thomas Partey 83 rated 850 coins
RW – Jadon Sancho 87 rated for 16.7K coins
ST – Romelu Lukaku 88 rated for 19K coins
LW – Christian Pulisic 82 rated for 750 coins
This team is our choice of players. A great bunch of players at the back with De Gea leading the lines. Ndidi is a great player to take out the ball with. The CMs offer outlets with a huge range of passes to the frontline. Sancho can dribble his way into the box and offer chances to Lukaku.
Keep in mind that you can mix and match these players as long as you meet your budget.
Thanks for taking the time to go through our article! I hope you liked my selection of players. If you have anyone you think I might have included in the price range tell me in the comments section below!