May 30, 2023 – Checked for new Genshin Impact codes
We've all witnessed how Genshin Impact rose to stardom with its pristine anime-style graphics, open-world gameplay, and exciting new content every few weeks. Given that it is a gacha game, we know it could be hard for Travelers to resist shelling out some money to get their desired character or weapon. Thankfully, Genshin Impact codes are here to help you step up your Primogems game!
From Discord servers, official live streams, and Fandom wikis, we've combed through many platforms to deliver you a one-stop article for all Genshin Impact codes released by miHoYo. Simply redeeming these limited-time codes is enough for an Intertwined Fate or two. You'll definitely appreciate these rewards more if you're just a few pulls shy of your hard pity (Sad, but it happens).
Whether you're an F2P or P2P, check out our complete list of Genshin Impact codes for Primogems and lots of other freebies! We also made a short but detailed how-to if you're wondering how you can make use of these redemption codes. Read on to know more about these Genshin Impact codes and how you can use them!
What are Genshin Impact Codes?
Genshin Impact codes are redemption codes that you can exchange for Primogems, Mora, weapon enhancement materials, character EXP (Experience Points) materials, food, and possibly other valuable resources. They are regularly released during upcoming version live streams and to celebrate the game's milestones such as its arrival on other gaming platforms and awards received.
By far, there is only one Genshin Impact redeem code that does not expire. Typically, Genshin Impact codes expire within 24 hours after their release, especially if they're from a live stream. With that, it would be best to use them as soon as they are released so you can still enjoy the extra Primogems. Keep checking this article as we always look for new codes and immediately update this list.
NOTE: The list below has been updated for May 2023 and will be continually updated throughout the month and year.
| | |
| --- | --- |
| LEGEND | DEFINITION |
| (Permanent) | No expiration dates unless stated otherwise by developers |
| (America) | Available to players in Global – America server only |
| (Asia) | Available to players in Global – Asia and TW, HK, MO servers only |
| (Europe) | Available to players in Global – Europe server only |
| (China) | Available to players in China server only |
Working Genshin Impact Codes
9S83F34ZFDVV – 10 Adventurers Experience, 10k Mora, 5 Fine Enh. Ore, and foods
3SRJF25GXCU5 – 10 Adventurers Experience, 10k Mora, 5 Fine Enh. Ore, and foods
5B93WJMGXVFZ – 10 Adventurers Experience, 10k Mora, 5 Fine Enh. Ore, and foods
WTQ2E83WS869 – 60 primogems and 5 Adventurer's Experience
GA9FPD42SJ4V – 60 primogems and 5 Adventurer's Experience
LAQZMTPKNTYH – 10 Adventurer's Experience, and 10k Mora, 5 Fine Enhancement Ore. And foods
9ARE6VLJT34H – 100 primogems and 10 Mystic Enhancement Ore
KBRE7D4KA2MM – 100 primogems and 5 Heros Wit
7S9X6V4JB2M9 – 100 primogems and 50,000 Mora
SSRCJ8HSV7UM – 10,000 mora, 10 Adventurer's Experience., 5 Fine Enhancement Ore, and foods
LA9C3RHPPHQH – 60 primogems and 5 Adventurer's Experience
DAQS9FPX2U35 – 60 primogems and 5 Adventurer's Experience
GENSHINGIFT – (Permanent) 50 Primogems, 3 Hero's Wit
Expired Genshin Impact Codes
FTRUFT7AT5SV
SQTVCKYRMDM
NS8TUVJYR4UH
XBRSDNF6BP4R
2T9AUV3YPV49
NT8SU92DKFRZ
MA6RPW8GGJAM
LB8SDUJYQ4V9
SB8UJ9H7NH8V
5SRC28YNNYP9
KARU3RG6NY65
8ARAU6FNBNPV
NS8BD6EPS77Z
ET9SUPENB765
WARBDRR9MCQ9
6SP942Z3XVWH
KS6QL3YJFCWM
GS6RLKGKWUER
6A6VJTWGCPYV
2BP9HY6BYFR5
JT78YH7SGWRZ
3B6RYY7AHX9D
XTNDKTEBWA59
8ANCKTWYVRD5
EA7VKTFHU9VR
KT7DKSFGCRWD
MTNUJBXDD72R
DTNVKAWBWSF5
WANVJAFAXTER
HA6C2AFBXSZV
MS7C3SV8DMZH
LANVJSFUD6CM
DTNUKTWCC6D9
HSNUKTXCCPWV
ZSPDKSC3V8V5
AB7CKBVQULE5
3TPUKSV8C5X9
UT7C2TD8C5ZD
9BPCJCQGHAWZ
VTPU3CQWYCSD
AB7VJC9EGDAZ
WT7D3CQEHVBM
FANRONGCHANGSHENG
ETNU2DN5NZRR
5SPDKV8ZHBFV
PSNVJURZZSD9
SA7V2DRZGAU5
BSPD3ZRXU985
KB6DKDNM7H49
BSNDJC747Z7D
AS7CJDP4NG7H
BSNUJGQFUTPM
NB6VKHQWVANZ
LBNDKG8XDTND
NTPVU7JTJYPD
CB7UU6KT2H59
DSPVUN2BKH5M
GENSHINGALAXY
GENSHINEPIC
LS6T4L9ZZ7TH
GBNA9J5H9Y4H
AS6BQKLY9GLD
SBNBUK67M37Z
GS6ACJ775KNV
UTNBBGSZ3NQM
8A6ABHTH2N9Z
WTNTBYSZJNRD
FS6SU367M279
4BNSD3675J8D
ATPTUJPP53QH
2T7E9CPA7YJE (China)
EBPWQU6SNZ22 (China)
CBNXRD6S7H3N (China)
TT7BVJNPL249
PSNTC8FEQK4D
ET7ADQFF8KJR
KTNSCQWW922M
jsSK8n23jzR
dU2mhjQL1ZT
nBEm3myAL2b
153YuSaenh
CUUPMBJSVD
GSIMPTQ125 60
G3tQq6TOqmE
5KVeIbSxDUU
eATDgIXLD56
GOLNXLAKC58
GENSHIN1111
GenshinZHB30
GENSHINMHY0M (America)
GENSHINMHY0I (Asia)
GENSHINMHY0O (Europe)
GENSHIN1006A (America)
GENSHIN1006S (Asia)
GENSHIN1006U (Europe)
GENSHIN0928N (America)
GENSHIN0928E (Asia)
GENSHIN0928A (Europe)
How to redeem Genshin Impact codes
Note that your account has to be at least Adventure Rank (AR) 10 in order to redeem these codes from the developers. There are currently two ways to redeem them, which are through this official link and through the game itself. We made a short but detailed step-by-step guide on how to exchange these codes in-game.
1. Open Genshin Impact.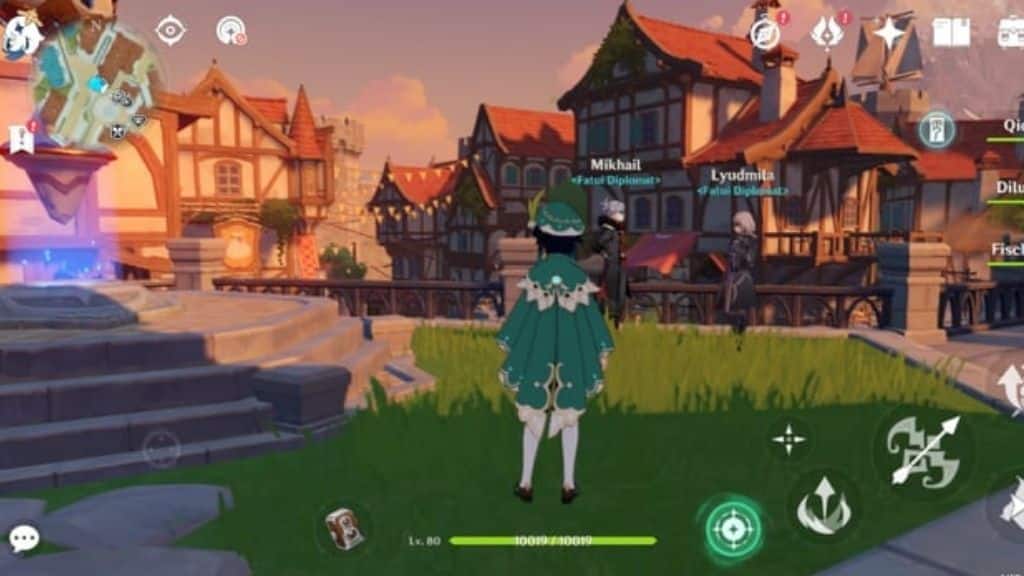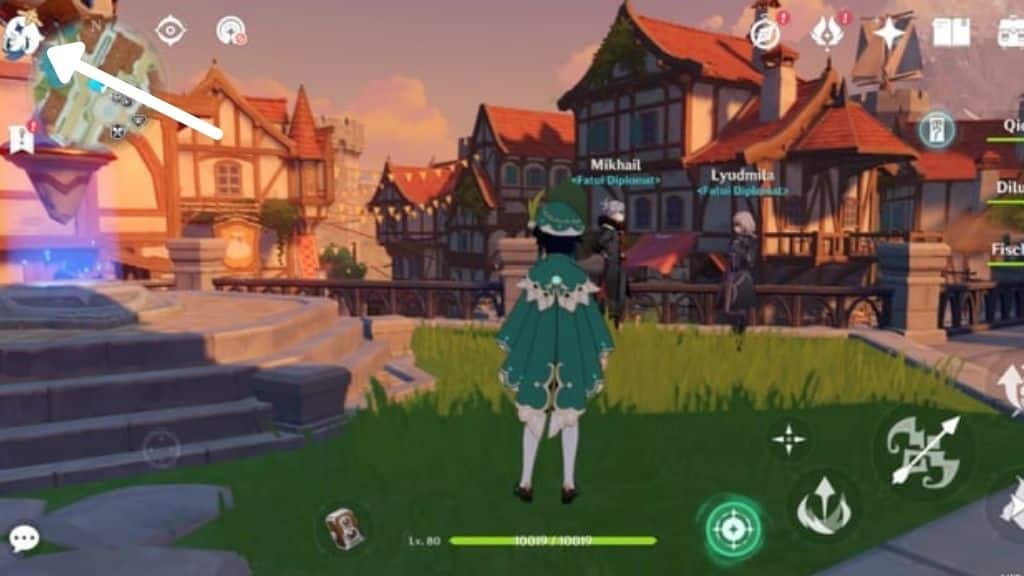 3. Select Settings.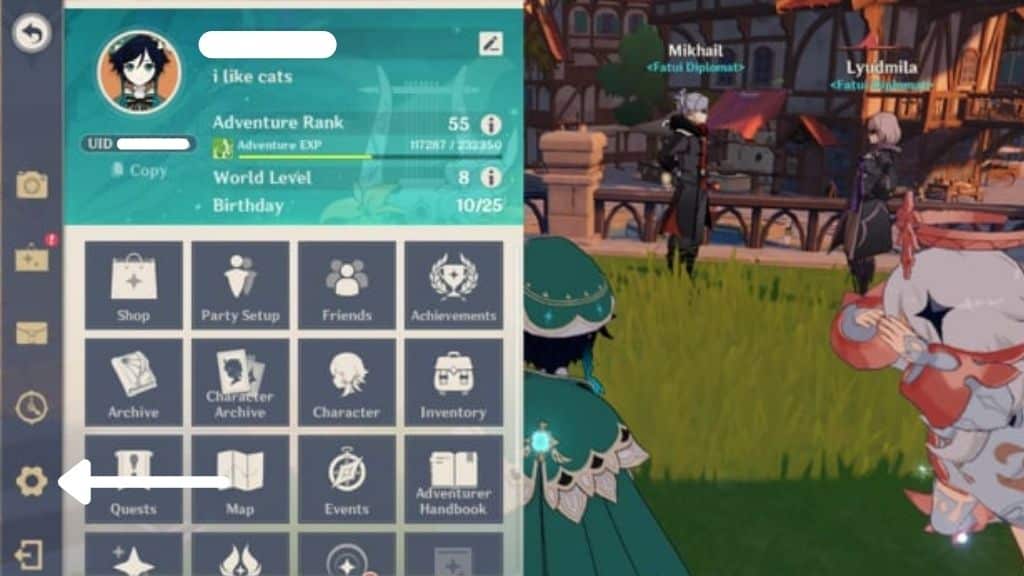 4. Select Account.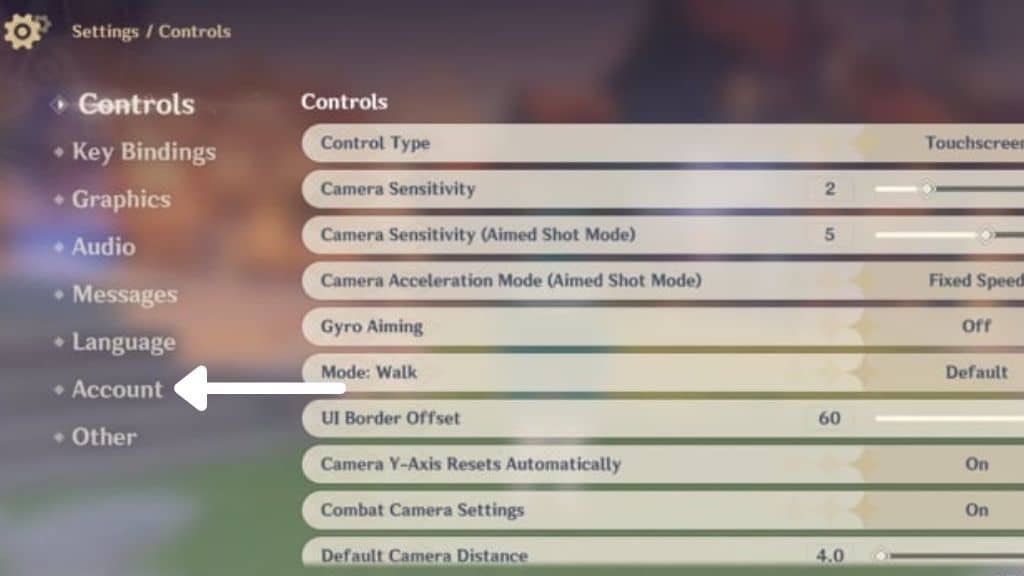 5. Select Redeem Now next to Redeem Code.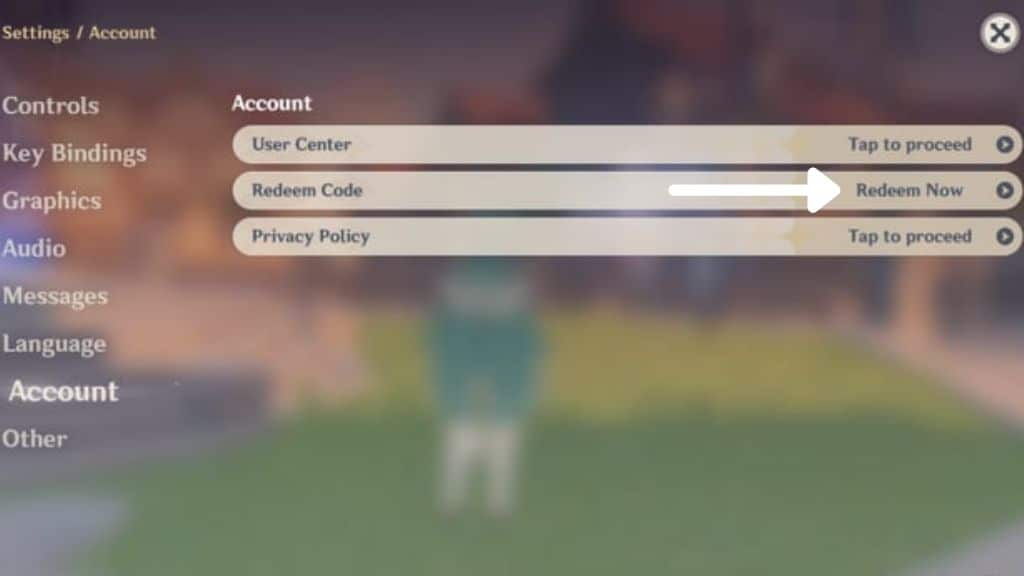 6. Insert or paste the code on the provided text box.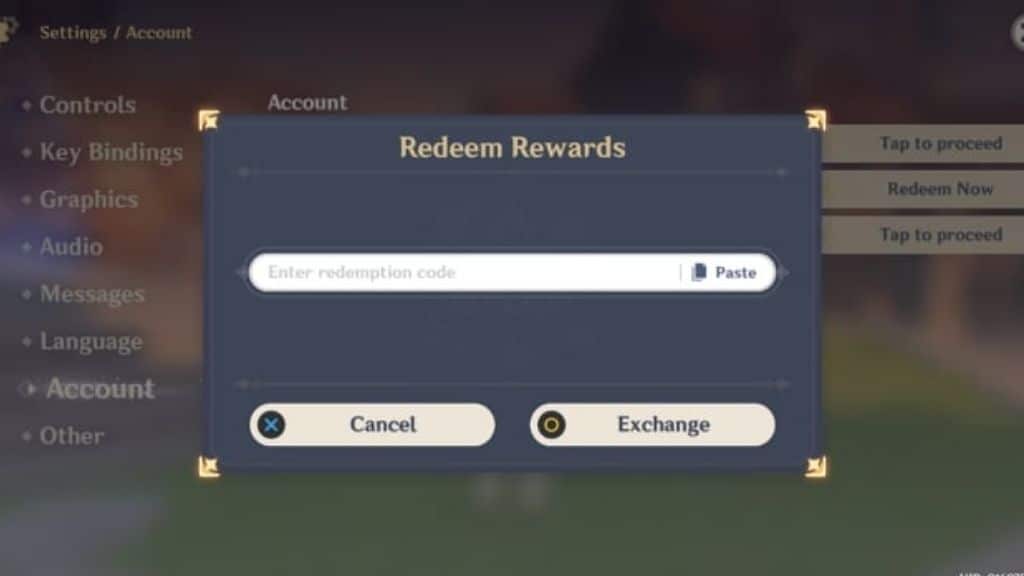 7. Select Exchange.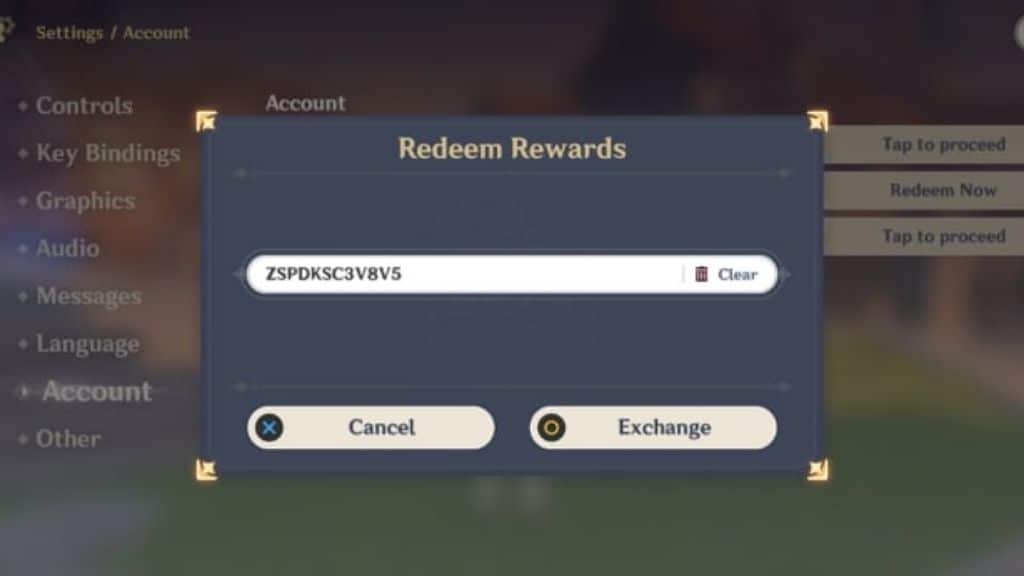 8. Select Confirm.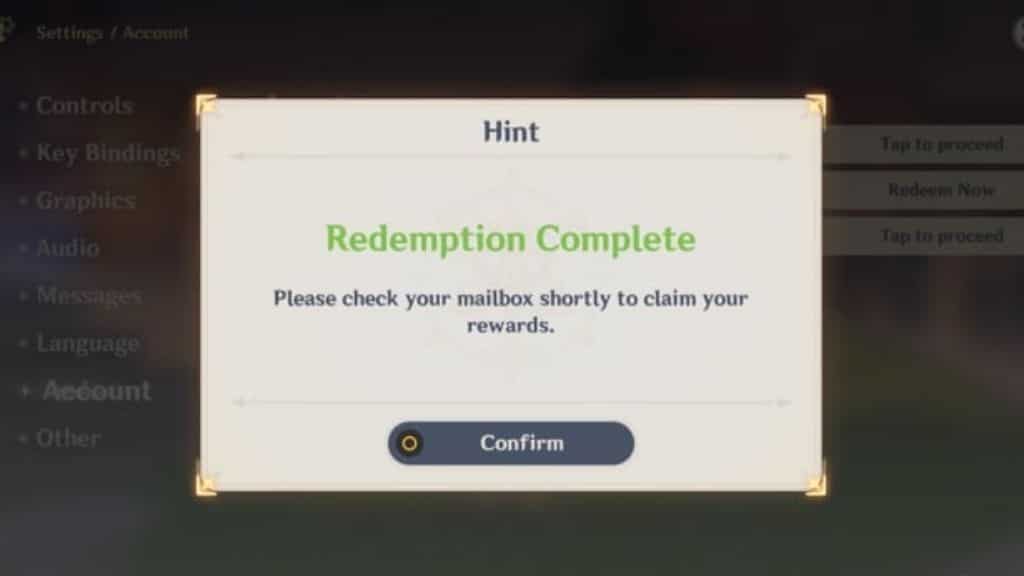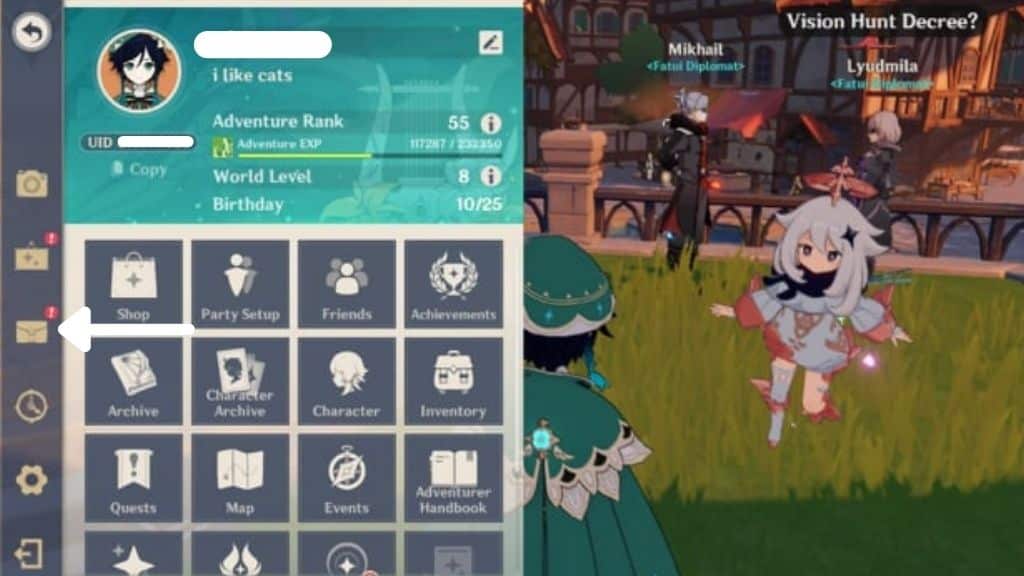 10. Select Claim or Claim All to redeem the rewards.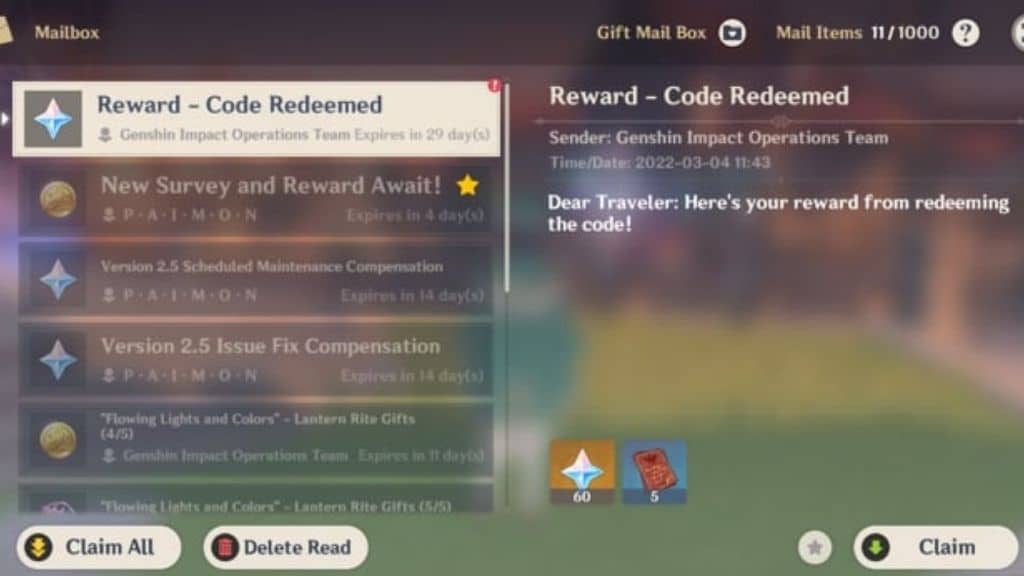 When do Genshin Impact codes expire?
Genshin Impact codes have various expiration dates. For redemption codes released during live streams or special programs, they typically last for 24 hours upon release. However, for some codes like the latest one listed under 'working,' they may be redeemable for two weeks or more. Some special codes are also active for less than a week, more than a month, and supposedly permanently. Moreover, while some codes may not have announced expiration dates, the catch is that they may have a maximum usage limit. This means that only the fast-moving population of Travelers are eligible to redeem these codes. With that, whether these codes have expiration dates or a maximum usage limit, we encourage players to use them as soon as possible.
Are new Genshin Impact codes added with each update?
Yes! Luckily, the developers intermittently release three codes with various rewards during each upcoming update's special program. These codes allow more Travelers to watch the live stream for it to garner more viewers. Since miHoYo adds new content every six weeks, you can regularly expect at least three new codes you can redeem for Primogems and other rewards.
How many Primogems do I get with each Genshin Impact code?
As you will see on our list of working and expired codes, there is no constant number of Primogems you can get for every code. However, miHoYo has made it clear that every live stream gives three codes with 100 Primogems each. Random Genshin Impact codes can give 160, 60, 50, 30, or even zero Primogems. If you like other rewards like Mora, food, weapon enhancement materials, or character EXP materials, you'd still want to redeem these codes.
Do Genshin Impact codes work on mobile?
Yes! In fact, Genshin Impact codes work on all available platforms such as PlayStation 4, PlayStation 5, Microsoft Windows, Android, and iOS (Hopefully, also in Mac and Nintendo Switch in the future). However, for the sake of convenience, you can always use the online code redemption method on any device so your rewards will automatically reflect on your account, regardless of whichever platform you're playing on.
What region do Genshin Impact codes work on?
The majority of Genshin Impact codes work on all servers, whether Global or CN. On our list, we tagged region-specific codes so you don't have to waste time copy-pasting them. The rest of the codes with no regions tagged are available for redemption for all players.
How many times can I use Genshin Impact codes?
All Genshin Impact codes are available for one-time redemption only. While inputting the same code again will show you a confirmed valid redemption, you will instead receive an in-game mail that says that you have already claimed that code.
Conclusion
We hope you got all the Genshin Impact codes you need to save some Primogems and wish for your desired promotional 5-star character (or 5-star weapon, in case). Keep checking this page for more updates as we instantly update this list as soon as new codes are released.
If there are missing working or active codes in this list, let us know by commenting below so we can share these freebies with everyone. Also, notify us of any expired code listed under 'working' here so players don't waste time and effort copy-pasting them.
In the meantime, why don't you check out our Genshin Impact character guides, specifically for the current promotional characters Raiden Shogun and Sangonomiya Kokomi?
If you're curious about the game's latest updates, we also have a summary of all events and exciting new stuff for Version 2.5 of Genshin Impact so you'll know what to anticipate!
Thanks for reading this article!