Have you always wanted to donate to your favorite streamer but don't know how to? Well, here's a complete guide on how to donate on Twitch in 2023. Donations are one of the primary ways for streamers to make money and support their passion to entertain their subscribers.
Twitch has made it easy for you to support your favorite streamers, and you can show your support without jumping through complicated hoops.
Using the Twitch Donation Button
Most streamers set up their own customized donation buttons that will take you to a link where you can donate to them. These sites are managed by different third-party software like Twitch bots or other services that automatically send donations to the stream.
Follow these steps to donate directly to your favorite streamers and have your donation show up on stream.
The first thing you have to do is to open up your preferred browser and head over to the lucky streamer's channel.
On their About page, scroll down to the bottom, where you will see a bunch of different buttons or links. One of these will be for donations, like the one shown below: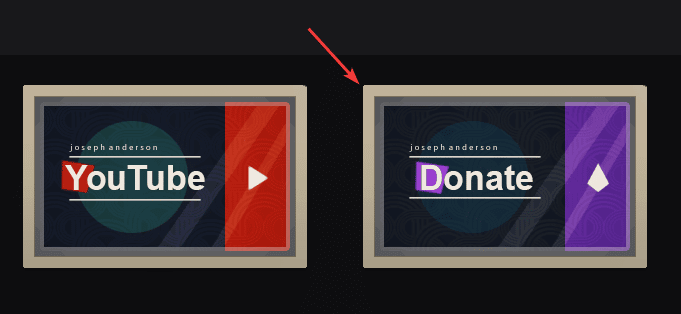 Clicking on the button should open up a new tab and redirect you to their donation website.
Sometimes other donation websites require you to log in to your Twitch account or input your Twitch username to connect your donation. Make sure to do this if you want your donation to appear on stream or if you want your donations to stack in the long run.
From there, all you have to do is fill in additional information like amount, message, and effects (if any) to complete the donation.
Finally, choose your preferred payment method to pay for the donation.
Usually, people use PayPal since it's widely supported across various donation websites. However, you can also use things like credit cards or other payment services supported by the site.
That's basically it. All you have to do now is wait for your donation to appear on stream.
Remember to read their donation rules first. Some streamers require a minimum amount for your donations to appear on stream. Others also have a minimum amount to enable text-to-speech.
Common Donation Amounts
Usually, the amounts range anywhere from $5 to $10, so don't worry about having to spend too much. Just make sure to double-check the rules, especially if you want your donation to appear on stream.
Donating on Twitch by using Bits
The other way to donate on Twitch is by using Bits to cheer. Bits are basically Twitch's own currency that you can use to show your appreciation for a streamer. It's basically tipping, but instead of relying on a third-party website, you're using Twitch directly.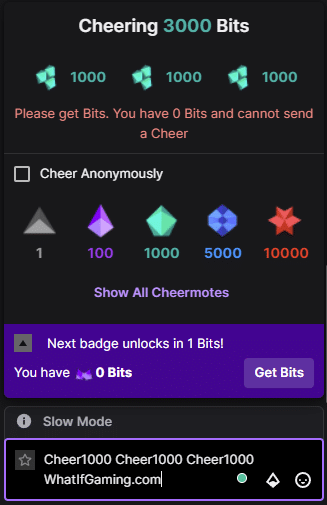 Here are a few things to know about Bits, the Twitch currency.
You can buy Bits in exchange for real money.
Each Bit costs roughly $0.01, but you can buy in bulk for bigger discounts.
Bits can be purchased using Amazon, PayPal, or credit card payments at the moment.
Twitch takes a 25-30% cut from the donation before adding them to the streamer's account.
Here are the steps to cheer your favorite streamer using Bits:
Open up a browser and log into your Twitch account.
Click on the "Get Bits" button right next to your profile photo.

Clicking this will open up a drop-down tab, and show you the number of bits you currently own, and the price of buying in bulk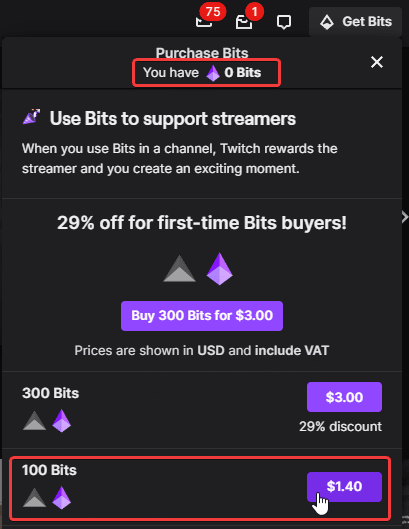 Select the number of Bits you want to buy and click on the button.
Choose your preferred payment method and fill in the necessary payment information to purchase your Bits.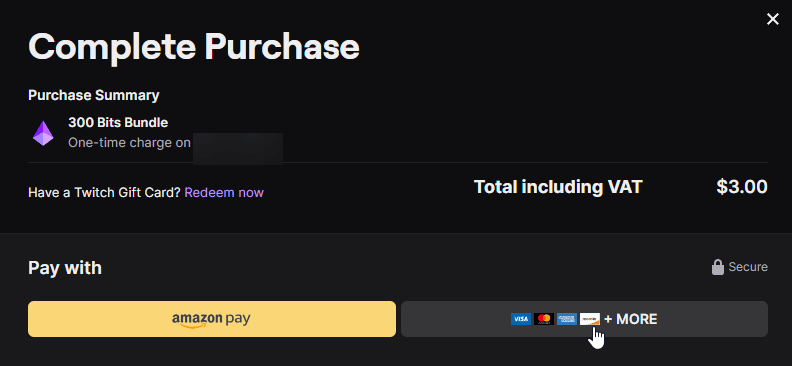 Now that you have bits in your currency, you can use these in the chat by clicking on the bits icon
Select the number of bits you want to cheer with, select an emoji, or add a message and send.
There you go. Wait for your Bits to appear on stream and continue to cheer your favorite streamer.
Minimum Bits
Reminder: Check if the streamer has any rules regarding cheers showing up on stream. Others require a minimum Bits donation for your cheer to appear on stream. Here is an example:
Just make sure to check so that you won't end up having to cheer all over again.
Subscribing to your Favorite Content Creator
The final way to donate on Twitch is by subscribing to the streamer's channel. Although, this isn't actually donating directly to the streamer since you do gain some extra perks on the channel in exchange. However, you're still supporting and giving money to your favorite streamer, so I'll count it as a donation.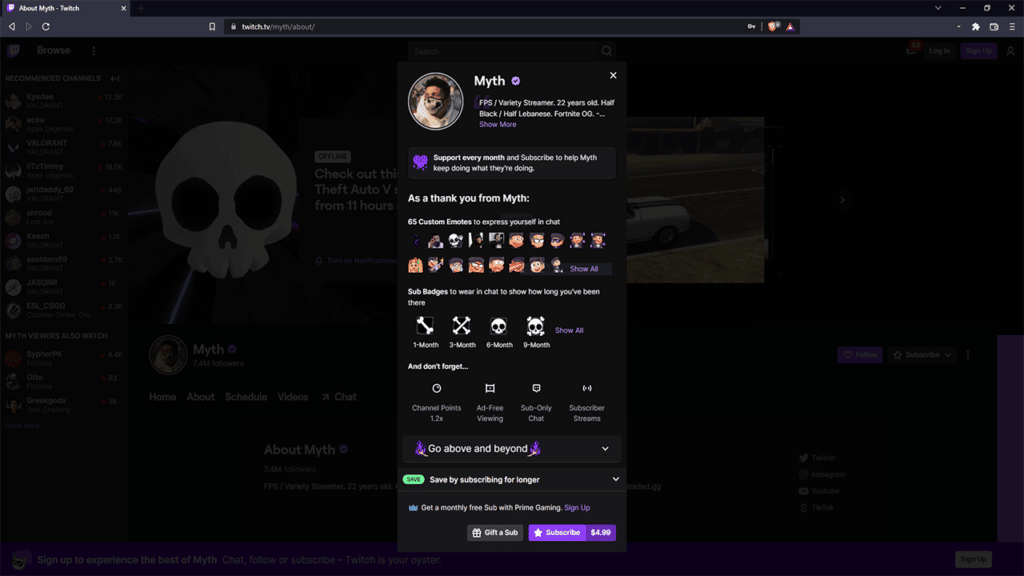 Subscriptions are monthly payments or donations that you make to streamers to show your support and love for them and their content. In return, streamers give you extra privileges that you can use on Twitch.
Follow these steps to subscribe to your favorite streamer:
Go to Twitch and log into your account.
Navigate to your selected streamer's channel, and you'll see a Subscribe button on the right

This should take you to a new tab where you can see all the benefits of subscribing and the amount that you have to pay monthly for the subscription
Now, click Subscribe again at the bottom, with the amount of a month shown

In the "Complete Purchase" window, you'll be able to select how many months you want the subscription to renew after

Choose your preferred payment method and fill in the necessary payment information requested by Twitch.
Voila! You are now subscribed to that streamer and will be charged the subscription amount on a regular basis.
Subscriber-Only Perks and Benefits
By subscribing, you're essentially supporting the streamer on a regular basis. Here are some of the benefits that you can get by subscribing to streamers on Twitch.
Access to custom channel emotes
Sub Badges that appear on the chat
Earn extra channel points
Ad-Free stream viewing
Access to subscriber-only chat
Access to subscriber-only streams
You can save more money by subscribing to longer durations and paying the sums in bulk. So, if you're planning to support your favorite streamer long-term, it's definitely best to do it in durations of 3 or 6 months.
You can also gift subs to other people within the community or to your friends if you want to share the love.
Subscription Tiers
Additionally, you can also donate a bit more monthly for even more perks and a higher level of support.
These are all the ways you can donate on Twitch and support your favorite streamers. Let us know if you found this guide helpful and if you have any questions in the comments below.