Rocket League was originally released over five years ago in 2015, immediately grabbing the attention of both sports and racing fans in one swoop. In the game, two teams of players face off in intense games of soccer, with the notable change being the athletes. Instead of quick-footed soccer players, Rocket League has you controlling rocket-powered race cars, equipped with the ability to flip, boost, and even fly. Just recently, Rocket League went entirely free-to-play, encouraging tons of new players to hop into the game. While playing and customizing your car in Rocket League is mostly free, if you want to unlock the flashiest customization items, you'll need Rocket League credits. How to get Rocket League credits might seem like a mystery to new players, but it's not as difficult as you might think. Whether you're looking for how to get free Rocket League credits, or are just searching for the most efficient way to collect them, this article will help you obtain hundreds of credits as you fight for first place.
How to Get Rocket League Credits
If you're curious about Rocket League credits and you've got some cash to spare, you're in luck. Like most other free-to-play games, Rocket League contains a premium currency that is mainly collected by spending real cash. Following the new free-to-play update, the best way to get Rocket League credits is the old fashioned way – busting out your wallet.
In order to get Rocket League credits fast, navigate to the Item Shop from the main menu. Here, you can check out the various items that can be purchased using credits. You'll also see a small button that says "Buy Credits". By pressing that button, you'll be presented with how to buy Rocket League credits. Credits in Rocket League come in four different packs, 500 Credits, 1100 Credits, 3000 Credits, and 6500 Credits. The more credits you buy at once, the better deal you'll get! Keep in mind that you can also use Rocket League credits to unlock various blueprints that you've collected, so you might want to hold onto some credits for any especially cool blueprints you find.
How to Get Free Rocket League Credits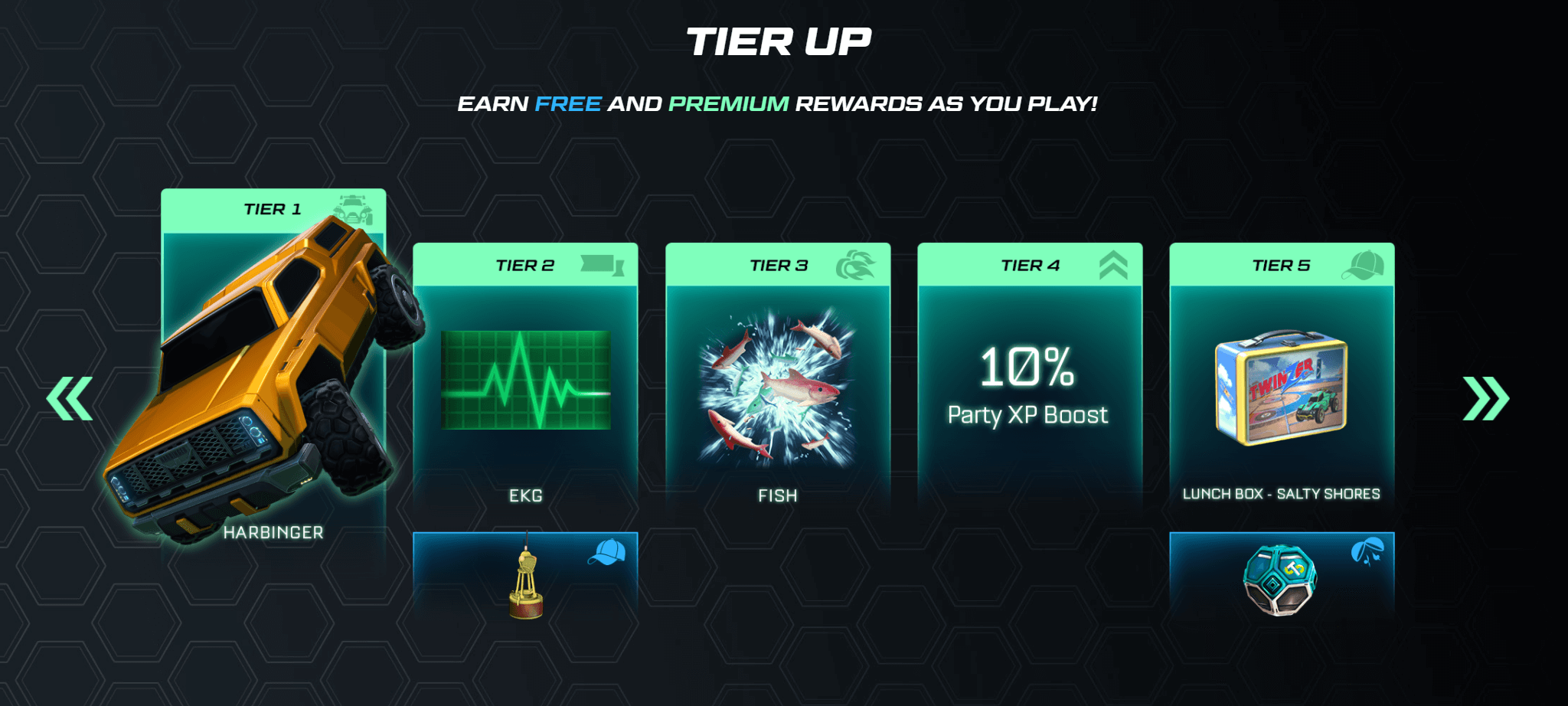 For those wondering how to get free Rocket League credits, things are a bit more complicated. Truthfully speaking, there are no quick and easy ways to get free Rocket League credits, with the exception of the Rocket Pass. Like Fornite's Battle Pass, the Rocket League Rocket Pass occasionally rewards players with supplementary credits. By completing various challenges, both weekly and season-wide, you'll level up your experience bar and gain a higher Rocket Pass level. Every 10 levels or so, you'll win approximately 100 free Rocket League credits. Whether you're unlocking an exotic blueprint or buying a new import car in the Item Shop, leveling up your paid Rocket Pass is the fastest way to earn free Rocket League credits. Apart from any official promotions by Epic Games, leveling up your Rocket Pass is the only way to get free Rocket League credits. Don't fall for shady online scams!
If you want to increase your Rocket Pass level as fast as possible, we recommend checking out the challenges page every time you play. There are six weekly challenges to take on every week, with three of those challenges only available for paid Rocket Pass owners. These challenges range from easy to intermediate in difficulty, but you should be able to complete them without too much trouble. You can also find nearly 50 different challenges spread across the four pages of Season challenges, allowing you to level up your Rocket Pass and get free Rocket League credits fast. While there's no simple way to earn free Rocket League credits, completing challenges and working on your Rocket Pass is the quickest way to rack up credits.