Nobody enjoys having graphical issues, especially when you're in the middle of a gaming session or just watching something on your PC. It tends to be pretty rare these days to have strange stuttering and freezing issues, but it's not unheard of.
In this article, we'll cover how you can reset your graphics driver if you happen to run into issues while gaming.
Why Should I Reset My Graphics Driver?
You probably don't need to reset your graphics driver in most cases. Usually, if you're having issues with stuttering and flickering, it is generally temporary and should go away on its own. It could also be something specific to a game itself, rather than your GPU.
However, if these issues persist and are happening in every game and software, you should try resetting them.
How To Reset Your Graphics Driver for Windows
The easiest way to reset your Graphics Driver is by using the following command on your keyboard.
WIN + CTRL + Shift + B
This shortcut works for Windows 10 & 11, and it will immediately reset your driver. Your screen should flicker and beep before finishing the reset. If you have multiple monitors, each will reset in sequence. Since this is a Windows command, it will work on whatever GPU you have, whether it's from NVIDIA, AMD, or Intel.
Behind the scenes, though, this command actually sends some telemetry data to Microsoft regarding GPU bugs, as confirmed on Reddit by a Microsoft employee.
Per that employee, "A driver reset/recovery is a likely side-effect but not the primary intent and not guaranteed." It might not always work, and repeated attempts may crash your PC in some cases.
For macOS
Unfortunately, if you're gaming on a Mac and are having graphical issues, all you can do is reboot your machine. macOS treats the graphics driver as part of the operating system, so only a reboot will fix it.
For Linux
Currently, there is no known way to reset GPU drivers on Linux, and you will have to reboot your machine as well.
What If I Still Have Problems?
If you're still experiencing issues with your graphics card, you may need to take some bigger steps.
Update Your Graphics Drivers
If resetting your GPU drivers doesn't do the trick, the first thing you want to do is update your GPU drivers. You can get the latest ones for your particular GPU by visiting the following links.
Additionally, in NVIDIA, users can also update their GPU drivers through GeForce Experience.


AMD users can do so through the Adrenaline Software and similarly update the GPU drivers through that.
Reinstall Graphics Drivers Using DDU
If this doesn't do anything, it's possible that you need to do a clean install of your GPU drivers to get rid of any residual data left behind by outdated drivers. While driver utilities have an option for clean installs, it's best that we use the excellent tool DDU for this.
Here is how you can use DDU.
Head over to Guru3d, which provides official download links for DDU
Scroll to the bottom, and use one of the download links to download DDU

Extract the downloaded file using Winrar or 7zip
Install DDU using the executable
Launch DDU, and you'll be greeted with a few settings. You don't need to do anything here; just click Close.
Once DDU actually launches, you need to select GPU in the drop-down on the right.
It automatically selects your GPU brand, like NVIDIA, AMD, or Intel. If it doesn't, you can manually choose it.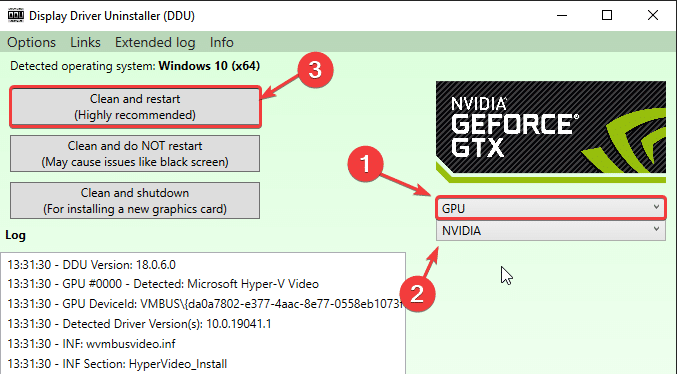 Now, click on the Clean and restart button at the top left
This will initiate a small process, and your PC will restart
After you're done, your GPU drivers will be completely removed from your PC. Now, you can manually install the latest ones from the links we provided above.
Update your Windows
Make sure your Windows is updated because that usually handles a lot of additional software that ensures your GPU is working correctly.
In Windows Search, type "Update", and click on Check for Updates
This will take you to the Windows Update section, and you can make sure you are on the latest version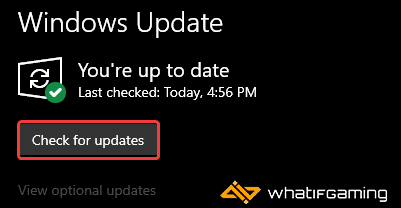 Check Cable Connections
It's possible that the display cable (HMDI, DisplayPort Cable) might be a bit loose and is actually causing instability and display problems, and not the graphics driver. Double-check to see if everything is connected properly.
Monitor GPU Temperatures
If you're noticing constant graphical problems, there's a chance that your GPU isn't getting adequate cooling, or its fans might be faulty, or there's a wire stuck in between.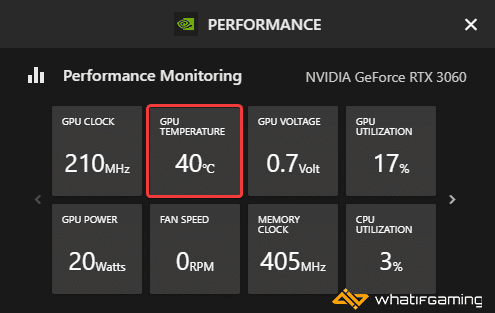 Carefully examine your GPU and monitor your GPU temperates to see if it's running too hot. You might need more ventilation or have to change the thermal paste as well. Dust can also lead to higher temperatures, and using a can of compressed air spray to clear out your GPU could improve things.
Wrapping It Up
Graphical issues can be scary for anyone, especially when you can't figure out what's causing those. Thankfully, there are plenty of troubleshooting options we can take to fix any potential software issues long before you need to worry about replacing a GPU.
While resetting your graphics driver may not be an end-all-be-all fix, it can quickly get you back up and running without needing to worry about complicated solutions. All you need to do is WIN + CTRL + Shift + B!