June 02, 2023 – Checked for new Idle Heroes codes
"Idle" and "RPG" have never been an iconic combination until the game Idle Heroes entered the scene. This passive and fantasy-themed RPG lets you assemble an optimized lineup of heroes to battle against monsters. By passive, your heroes will grind levels for materials and loot even when you're not around. What makes it even better? There are also lots of Idle Heroes codes for you to redeem in-game from the developer itself.
These codes for Idle Heroes can be exchanged for different in-game materials used to summon and upgrade heroes. These rewards range from gems and Heroic Summon Scrolls to Glorious Relics and Prophet Orbs. You have to be fast, though, as these codes can expire quickly and there are only a few permanent codes available.
Luckily, we at WhatIfGaming compiled a regularly updated list of codes for Idle Heroes for you. Whether you're an F2P or a P2W who just wants to amplify your resources, you can use these codes to summon new heroes and upgrade your lineup to defeat evil monsters. We also added a short guide on how to redeem these codes if you're still not sure how. Basically, everything you need to know about Idle Heroes is in this article!
Working Codes
HOTIHMAY – Claim your reward (New)
IHUAHUA520 – Claim your rewar
IH999 (Permanent) – 60 Heroic Summon Scrolls
IH777 (Permanent) – 40 Heroic Summon Scrolls
Expired Codes

HUITAILANG
IMPGIFTIH
HV6CK5
FAIRYIHMAR
XIEXIENI
SPRINGIHDAY
IHNEWYEAR2023
OCTTCOIH
NOVEGIFTIH
DECXMASIH
XMASFORYOU2022
2023HAPPYCNY
BLESSING2023IH
SEPLUTZIH
SUMVIBE2022
DHXIH2022
FELIZJULIO
HIJUNE2022
HAPPYMAYDAY2022IH
SPRINGTIME2022IH
IHEASTERBUNNY4
REUNION2022IH
MARZOIH2022
HAPPY2022CNY
2022HAPPYCNY
SUMMER
AJINGHETUZI
HAPPY5TH
HAPPY2021IH
NEWYEAR2022IH
2022NEWYEARIH
NEWYEAR2022
XMAS2021IH
ASPEN2021IH
IHNOV2021
IHOCT2021
FZQBZSY
autumn2021
IHAUG2021
IHLIGHT2021
IHsuper9
AYUMIT
IHHAPPY8
FZKHY666s
FZQB1023
ZSY666
SWK888
101GIFT
ZHONGQIU
IHBEST10
IHXSG 500
IH2021JULY
4THANNIV
LOVE77
SUMMER
ESUTEAM
IHLUCKY7
IHTHX11
idlewargo
Intothemoon
idlewar888
IHNICE12
MerryXmas2020
IHSPRING2021
SURPRISE
IH2021APR
SUMMERPARTY
How to Redeem Idle Heroes Codes
1. Open Idle Heroes.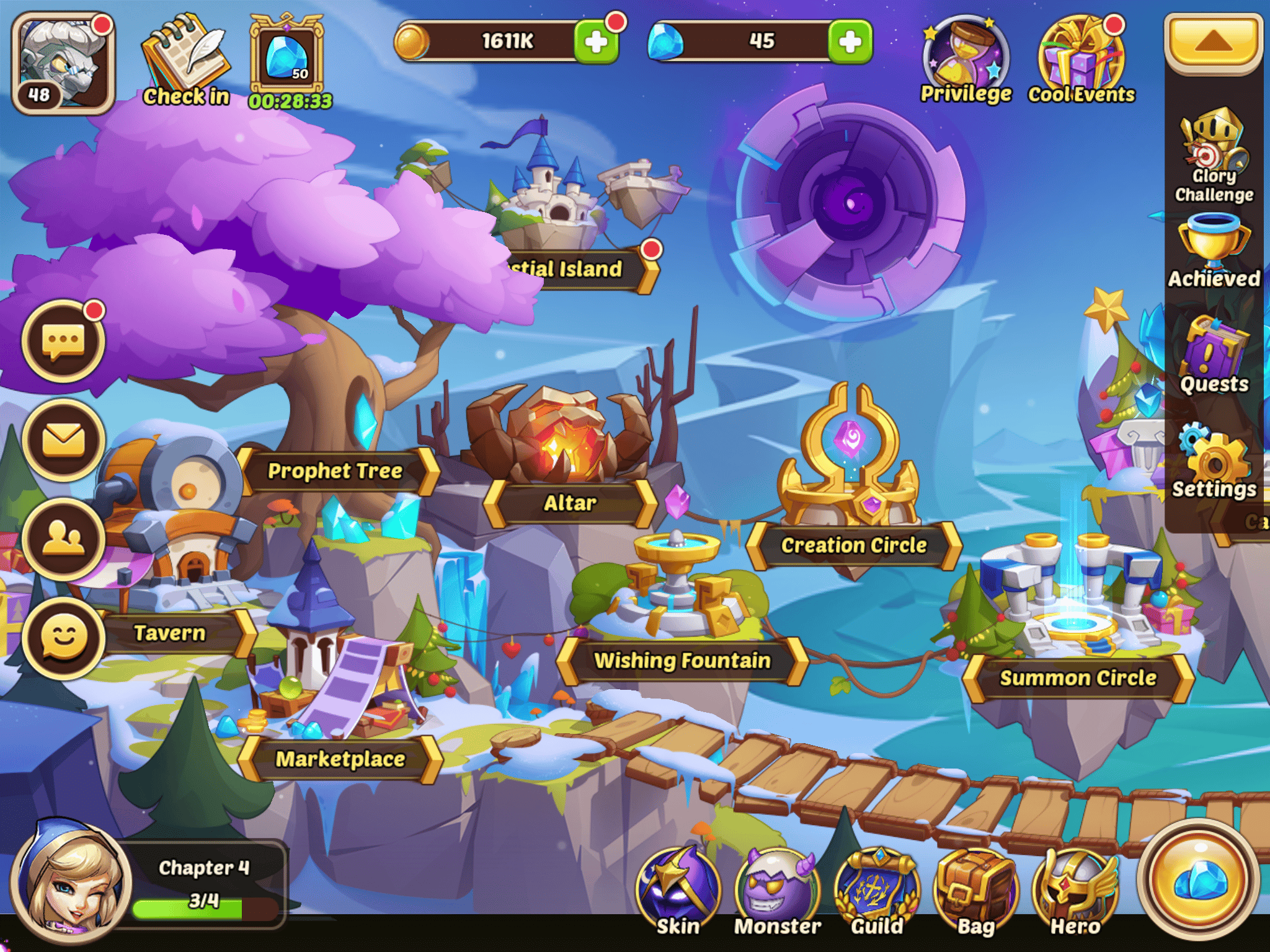 2. Select "Cool Events."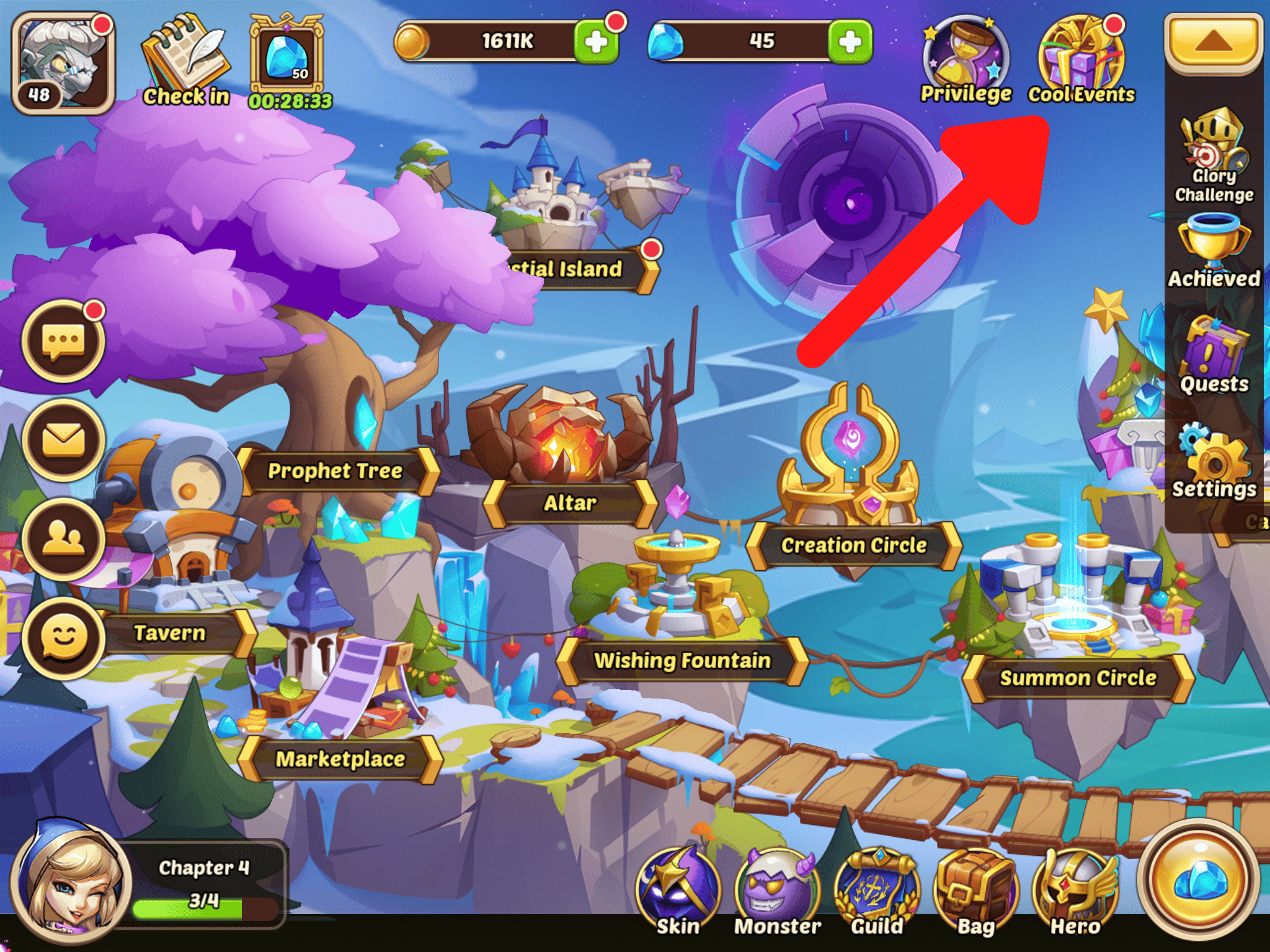 3. Go to "Exchange Gifts" under "Cool Events."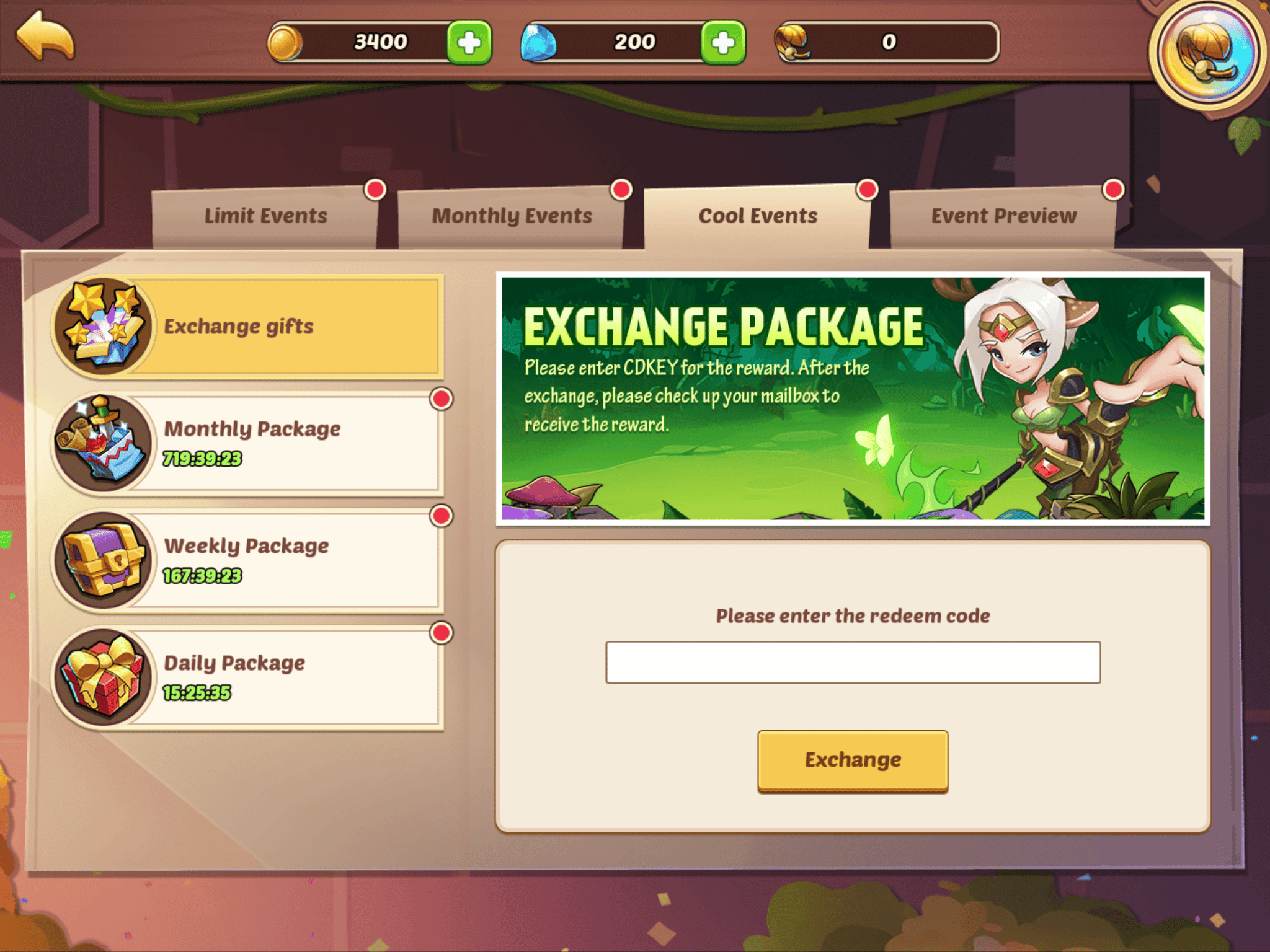 4. Copy then paste the CDKey or redeem code (Use uppercase letters). Then select "Exchange."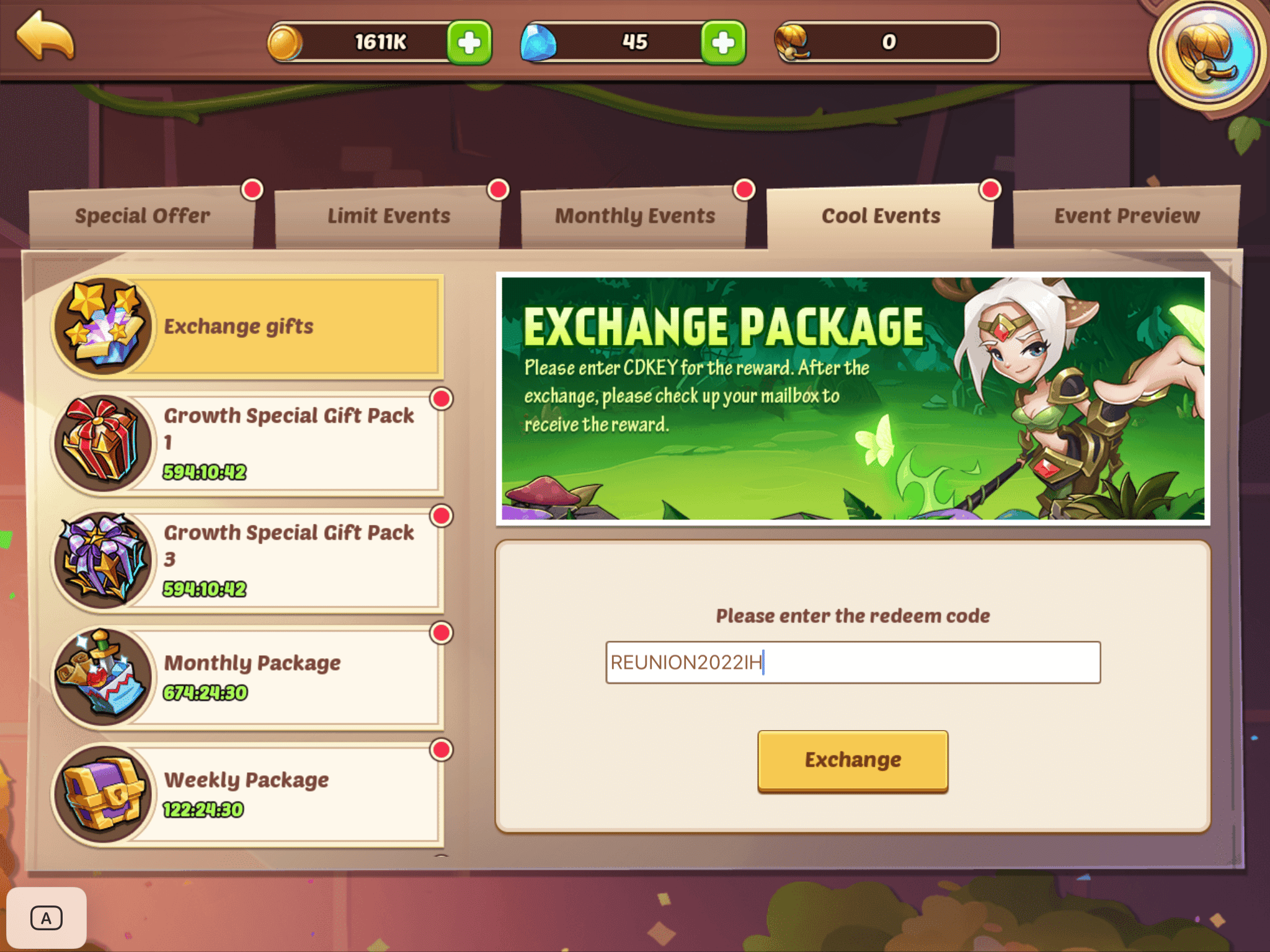 5. To redeem the rewards, go back to the main page and select the "System Mail" icon.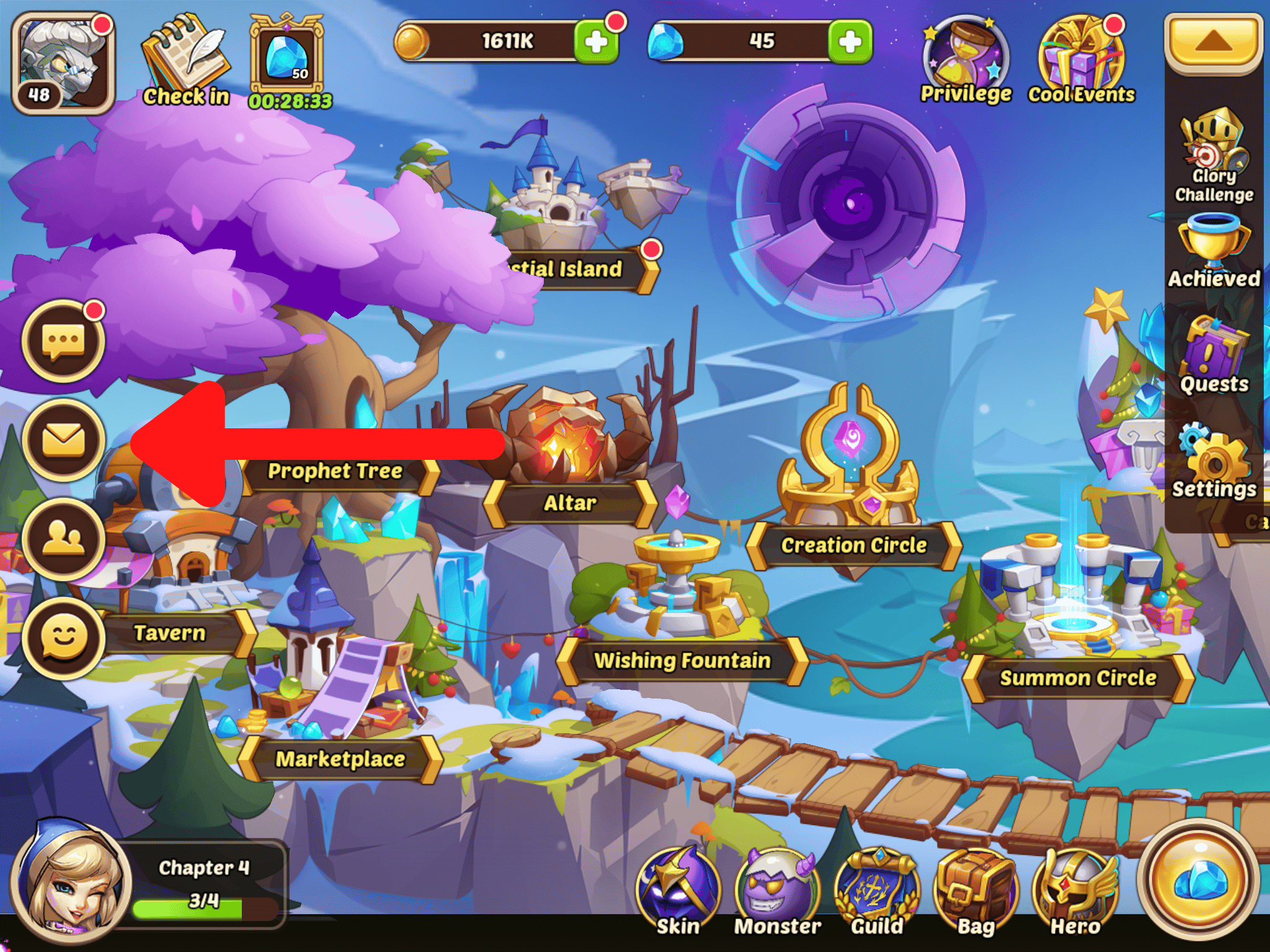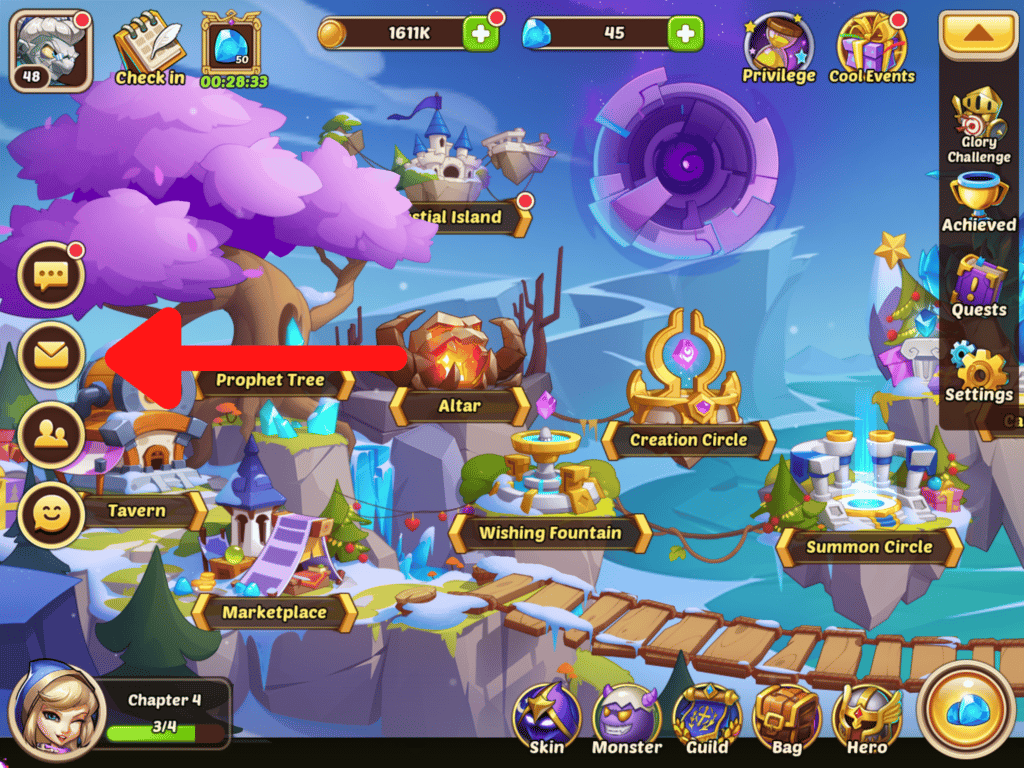 6. Select the message and "Claim" or "Claim All."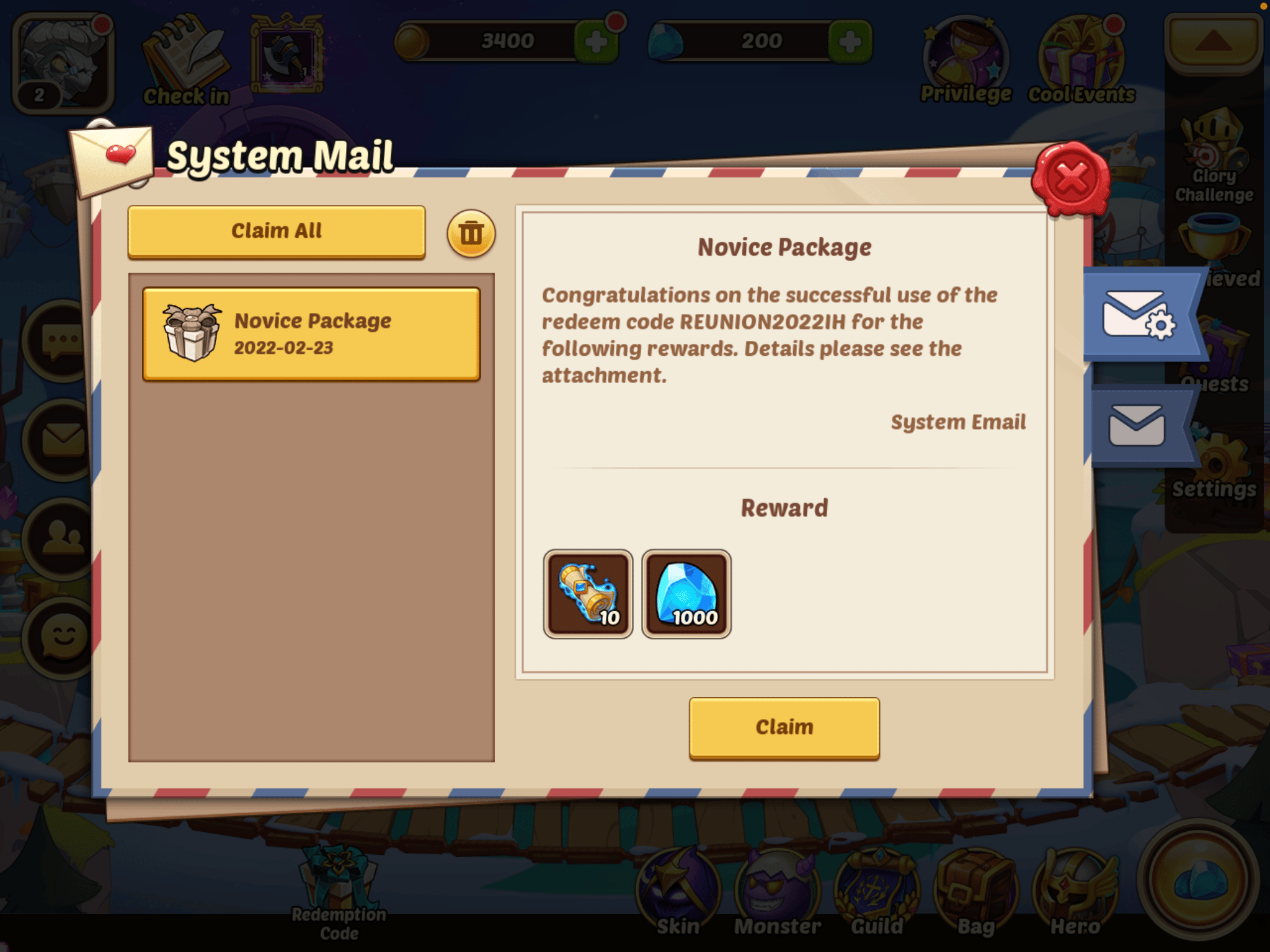 What are Idle Heroes Codes?
Idle Heroes codes or CDKeys are redemption codes regularly released by the developer DHGames Limited. They can be used once in exchange for various in-game valuables such as gems, Heroic Summon Scrolls, Skin Shards, Glorious Relics, and other resources. These rewards can be claimed via the System Mail and be utilized for summoning new heroes or upgrading your hero lineup.
What is Idle Heroes?
Idle Heroes is an idle mobile RPG released by DHGames Limited for Android and iOS. Here, you're in control of a team of six heroes battling the dark forces in a turn-based setting. Currently, there are over 200 heroes available in the game, which come from different classes, star levels, and factions.
In terms of class, a hero may be a Warrior, Mage, Ranger, Assassin, or Priest. A hero's class also affects their stats' distribution, consisting of health, defense, and attack. Each class has its own strengths and weaknesses.
For star levels, a hero may have up to 5 initial star levels which determine their rarity, strength of base stats, and strength of spells. The higher the initial star level of a hero, the stronger their stats are.
There are also six hero factions which are Dark, Light, Forest, Shadow, Fortress, and Abyss. A hero can be affiliated to one faction only. There are also team bonuses for putting heroes of the same faction in the same team.
Summoning Heroes
In order to get heroes from various classes, star levels, and factions, you can randomly summon them in the Summon Circle or collect their Skin Shards. The Summon Circle employs a gacha mechanic where you will randomly receive a hero, similar to a raffle or lottery. Summon Items are the "tickets" used to draw heroes. There are currently three types of Summon Items, which are Basic Summon Scrolls, Heroic Summon Scrolls, and Hearts.
Basic Summon Scrolls are used for Basic Summons to summon one random hero from 1 star to 5 stars. Players receive a free Basic Summon Scroll every 8 hours.
Heroic Summon Scrolls are used for Heroic Summons to summon one random hero from 3 stars to 5 stars. Players receive a free Heroic Summon Scroll every 48 hours. You can also buy it for 250 gems.
Hearts are used for Friendship Summons to summon one random hero from 2 stars to 5 stars. Each summon in the Friendship Summons requires 10 Hearts, which can be acquired by using the in-game friends list.
Conclusion
We hope this article on Idle Heroes codes has helped you know more about the game and strengthen your team of heroes! Keep on checking this article as we regularly update it as soon as the codes are released from the developers.
Also, let us know if we missed any working codes or if a code listed under "working" here is already expired or invalid. We will update the article shortly so players can still enjoy these freebies!
If you want another game with a gacha mechanic, check out our Genshin Impact content for character guides, leaks, and everything in between. On the other hand, if you want more idle games like this one, you can read our best offline games for mobile. For Roblox content and codes, go to our Noob Army Tycoon codes article to redeem in-game freebies.
Thanks for reading this article!