Microsoft Flight Simulator received a Pegi 3 rating from videostandards.org.uk for Xbox One as recently as 31 March 2021. The surprising part is the fact that the Microsoft Flight Simulator was rated for Xbox One, rather than Xbox Series S/X.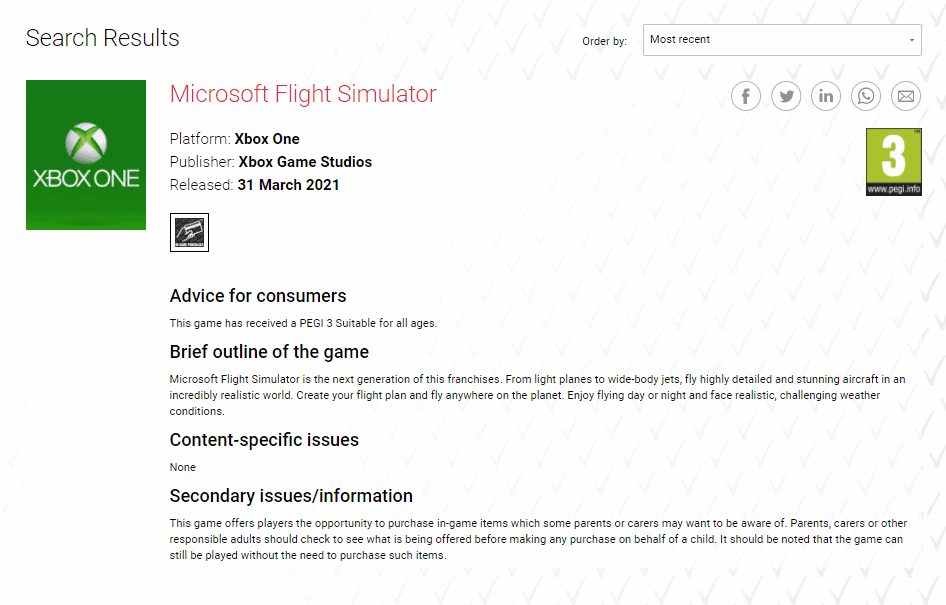 Microsoft Flight Simulator is one of the most demanding games out there, on par with the likes of Cyberpunk 2077. The only difference is that the Microsoft Flight Simulator is flawless without any bugs. The renders are the closest literal translation of "the world is your oyster" as you can travel anywhere in the Microsoft Flight Simulator.
All these praises come at a cost, and that is a thirst for power. The next-gen consoles from Microsoft, Xbox Series S/X, are capable enough to handle the game in its full glory. Subsequently, the game was announced for the next-gen Microsoft consoles in 2020.
However Microsoft Flight Simulator Xbox One sounds a bit iffy. Cyberpunk 2077 made it evident that seven or eight-year-old consoles are not up to the mark to keep up with the thirst for modern, cutting-edge, AAA games. Hence, the Xbox One version of the game sounds odd due to the console's graphical limitations. Given that it's a first-party game, Microsoft may strip out the glorious sky and downgrade the graphics to run the game on Xbox One smoothly.
At the same time, we can't rule out the fact that Pegi has made a mistake and they intended to list the game for Xbox Series S/X. After all, Microsoft officially announced that Microsoft Flight Simulator will be available on Xbox Series S/X, but the said version hasn't received any official ratings so far. To be honest, this seems like the more obvious answer, Pegi messed up and listed the game on Xbox One instead of Xbox Series S/X.
"Microsoft Flight Simulator will be opening the skies to millions of new pilots on Xbox Series X|S in Summer 2021 and will be available via Xbox Game Pass on launch day itself."
Xbox News, Microsoft's Official News Outlet for Xbox