Specs:

CPU: Intel Core i7-11800H
GPU: NVidia GeForce RTX 3060
RAM: 32GB DDR4, 3200MHz
Screen: 15.6",1080p, 144Hz

Specs:

CPU: Intel Core i7-11800H
GPU: NVidia GeForce RTX 3050 Ti
RAM: 16GB DDR4, 3200MHz
Screen: 17.3", 1080p, 144Hz

Specs:

CPU: Intel Core i7-11375H
GPU: NVidia GeForce RTX 3060
RAM: 16GB DDR4, 3200MHz
Screen: 15.6",1080p, 144Hz

Specs:

CPU: Intel Core i7-12650H
GPU: NVidia GeForce RTX 3050 Ti
RAM: 8GB DDR4, 3200MHz
Screen: 15.6",1080p, 120Hz

Specs:

CPU: AMD Ryzen 5700U
GPU: Vulcan integrated graphics
RAM: 16GB DDR4, 3200MHz
Screen: 15.6",1080p, 60Hz

Specs:

CPU: Intel Core i7-1195G7
GPU: Intel Iris Xe
RAM: 32GB DDR4, 3200MHz
Screen: 15.6",1080p, 144Hz
Even twelve years after its debut, Minecraft continues to be a staple of gaming culture. A lot has changed since the simple pre-enchantment, pre-sniffer times. Still, the community's amazing creative tour de force remains as strong as ever. Want to create intricate structures or do battle with others on the go? Then the best Minecraft laptop is all you need!
Well, technically, there is no such thing. You could run vanilla Minecraft on a potato – would you want to, though? Mods, texture packs, and shaders bring unprecedented immersion into the game's blocky world, to say nothing of the addition of RTX. You'll need beefy hardware to run such a kitted-out version of the game smoothly, so our suggestions range from powerhouses that can easily contend with more demanding titles to entry-level laptops Minecraft will still work great on.
ASUS TUF F15
ASUS TUF Gaming F15
CPU: Intel Core i7-11800H | GPU: NVidia GeForce RTX 3060 | RAM: 16GB DDR4, 3200MHz | Screen: 15.6", 1080p, 144Hz | Storage: 1TB SSD | Battery life: 8h
Pros:
Great price-to-performance ratio

Versatile companion software

Excellent battery life
Cons:
Mediocre screen, esthetic isn't for everyone
Minecraft might be your primary interest, but what if you want to comfortably run any other game in 1080p for the foreseeable future? ASUS has the perfect machine for just such a need in the TUF F15. It has an outstanding balance of specs & price, decent sound, and a battery that won't give up. This is also a laptop that will run heavily modded Minecraft and something like Sniper Elite 5 with similar smoothness.
Gone are the days of garish yellow accents and overly bulky designs that defined TUF before. The F15 is still recognizable as a gaming laptop, but its features are more subdued. We're fans of the black plastic finish with a faux aluminum look. The side bezels are thin, while the top now features a 720p webcam that meets modern needs.
We're glad to see a full-sized keyboard on the F15. Better yet, its backlighting is now fully RGB instead of monochrome. Only the top row is smaller than usual, and the keys do nicely for gaming and prolonged typing alike. The Trackpad's buttons are on the bottom and rather clicky. Going with a lightweight mouse will serve your gaming and everyday tasks better anyway.
The connections are lopsided, with only one USB 3.2 Type-A port on the right. Two more and USB-C with Thunderbolt 4 functionality are on the left, as is HDMI, Ethernet, and a combo audio jack.
We can let mediocre screens slide for some of the cheaper models on the list, but it's a drawback worth considering here. The F15's IPS panel is its weakest link. It's dim at a max brightness of 250 nits & requires shaded indoor use. It also covers just around 60% of the sRGB color space, meaning it's not as vibrant as even bog-standard monitors. Absolutely fine for Minecraft, not advisable for color grading.
Acer Nitro 5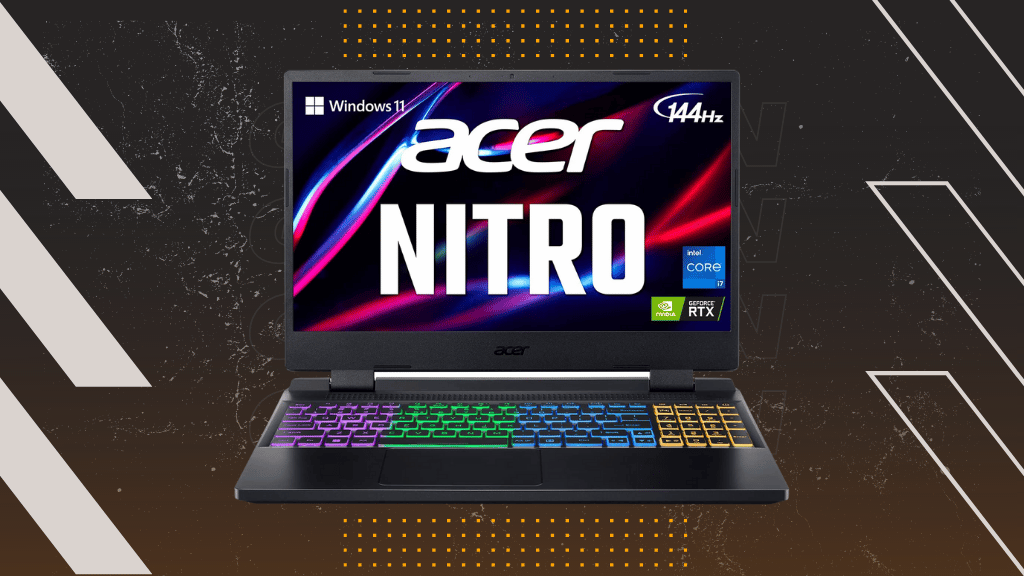 Acer Nitro 5
CPU: Intel Core i7-11800H | GPU: NVidia GeForce RTX 3050 Ti | RAM: 16GB DDR4, 3200MHz | Screen: 17.3", 1080p, 144Hz | Storage: 512GB SSD | Battery life: 4:00h
Pros:
Great value for the money

Large & colorful screen

Solid keyboard & audio
Cons:
Gets hot after intensive use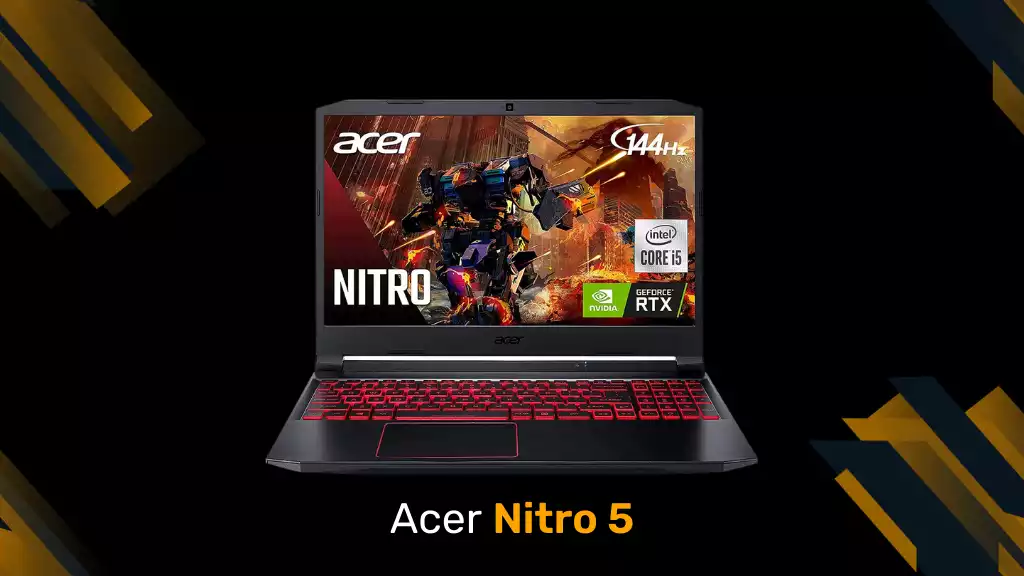 Want to immerse yourself in Minecraft's diverse biomes completely? Great specs will help, but a large screen may do the trick even better. The Acer Nitro 5 delivers on both fronts as it's equipped with a large 17.3″ IPS panel & has hardware good enough to contend with texture and shader packs with ease. To top it all off, it's not expensive either.
Unlike some other laptops on the list, the Nitro 5 firmly retains a gaming aesthetic. It's a heavy-duty all-black beast you'll rarely want to move from its place on your desk due to its 6 pounds of weight. The corners are chamfered to inject even more sci-fi elements into the look, and the bottom bezel is thick. Everything is made from plastic and flexes slightly, but the laptop remains structurally sturdy.
The 17-inch screen is this version's instant turn-on. It's an IPS panel, so great viewing angles and acceptable contrast ratios are a given. Its brightness peaks at 270 nits. While not bad, it's on the lower end and best suited for gaming indoors. Color space coverage is a problem once more since it's even a little bit worse than on the F15. Still, it should be adequate if you aren't hung up on getting every color picture perfect.
A larger real estate didn't have much of an effect on port selection. The right side is home to the power and audio input as well as one USB-A port. Two more plus USB-C are on the left, along with HDMI 2.0 and Ethernet inputs. The laptop also connects wirelessly via WiFi 6.
MSI Stealth 15M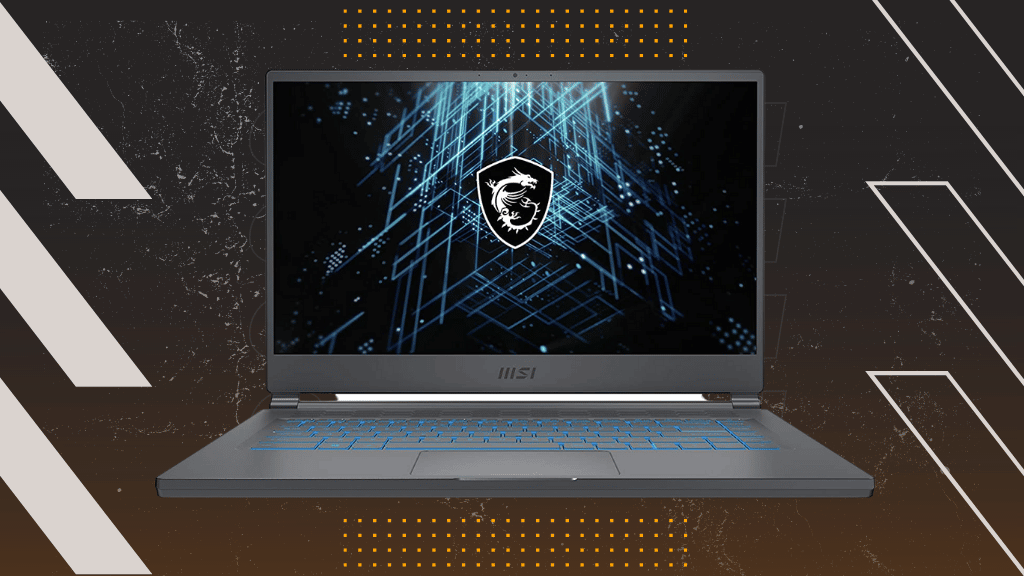 MSI Stealth 15M
CPU: Intel Core i7-11375H | GPU: NVidia GeForce RTX 3060 | RAM: 16GB DDR4, 3200MHz | Screen: 15.6", 1080p, 144Hz | Storage: 512GB SSD | Battery life: 5h
Pros:
Lightweight and portable

Decent specs, especially the GPU

Excellent port selection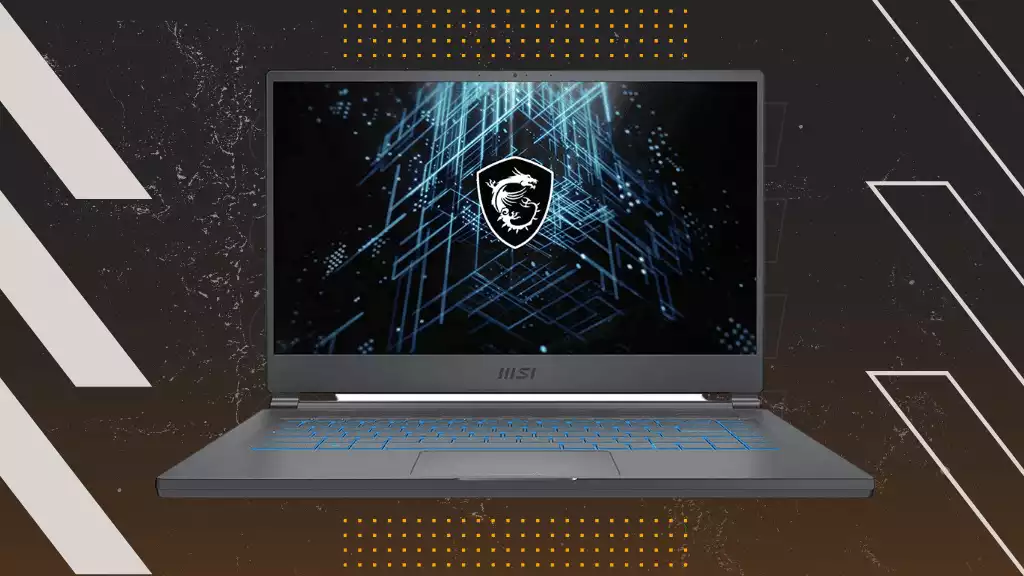 Do you want to sneak in a few minutes of underground canyon exploration on your lunch break or between classes? An inconspicuous mobile laptop is what you need, and MSI's Stealth 15M delivers! It's the lightest Minecraft gaming laptop on review yet comes armed with an RTX 3060 and plenty of ports.
MSI nailed the stealth aesthetic as the laptop is suspiciously devoid of design details, except for the logo on the lid. Some might see this as a drawback, but it's a real boon for people who want a competent gaming and office machine in one. Opening the lid reveals a thick bottom bezel, thin sides, and sturdy hinges.
The 15M sports a fantastic port selection for its size and price! For starters, you get two USB-C ports. Both have DisplayPort capabilities, while one of them also doubles as Thunderbolt 4. Two more USB-A ports are there for conventional peripherals. That leaves the audio & Ethernet jacks, HDMI 2.0, and a handy MicroSD card reader.
We're also fans of the keyboard. MSI opted to ditch the Numpad in favor of more space for the typing area, and you're better off for it. The larger keys make transitioning from a conventional keyboard easier, while typing is speedy & silent. RGB lovers will get their fill since the single zone supports millions of colors. The Trackpad is medium-sized and responsive enough for everyday work needs.
Lenovo IdeaPad Gaming 3i
Lenovo IdeaPad Gaming 3i
CPU: Intel Core i7-12650H | GPU: NVidia GeForce RTX 3050 Ti | RAM: 8GB DDR4, 3200MHz | Screen: 15.6", 1080p, 120Hz | Storage: 512GB SSD | Battery life: 4.5h
Pros:
Good specs for the price

Excellent thermals

Large and comfortable keyboard
Cons:
Dim screen with bad color coverage
A previous version of this list already had an older IdeaPad Laptop, and we're happy to see Lenovo continuing to innovate.
The Gaming 3i leverages a mid-tier Alder Lake CPU, a 3000-series graphics chip, and a fast screen to provide some of the smoothest Minecraft action a little more than $800 can get you. The best Minecraft laptops still perform better in certain areas, but it's worth a buy if you want a current machine at an excellent price.
Barely anything in its design gives the Gaming 3i's purpose away. The entire laptop is made from matte black plastic that looks unobtrusive aside from vents on the sides and back. A dip in the middle of the front edge lets you easily flip open the screen, which has sturdy hinges and extends farther back than most.
Ports are few and far between as most are concentrated in the back. There's a single USB 3.2 Gen 1 port on each side, with a combo audio jack on the left.
The back is more diverse, offering HDMI 2.1 for external monitor support. There's enough room under the Ethernet jack that you don't have to lift the Gaming 3i when plugging a cable in. That leaves the AC plug and a Thunderbolt 4 port with charging and DisplayPort capabilities.
The bezels around the keyboard are almost as slim as the screen's since all but the F-row keys are regular size. Using the keyboard is a neutral experience since it's geared more towards typing than gaming, save for the arrow keys positioned lower than the rest. You get functional and pretty-looking white backlighting perfect for chipping away at school essays. The trackpad's size and responsiveness are both adequate.
HP Envy x360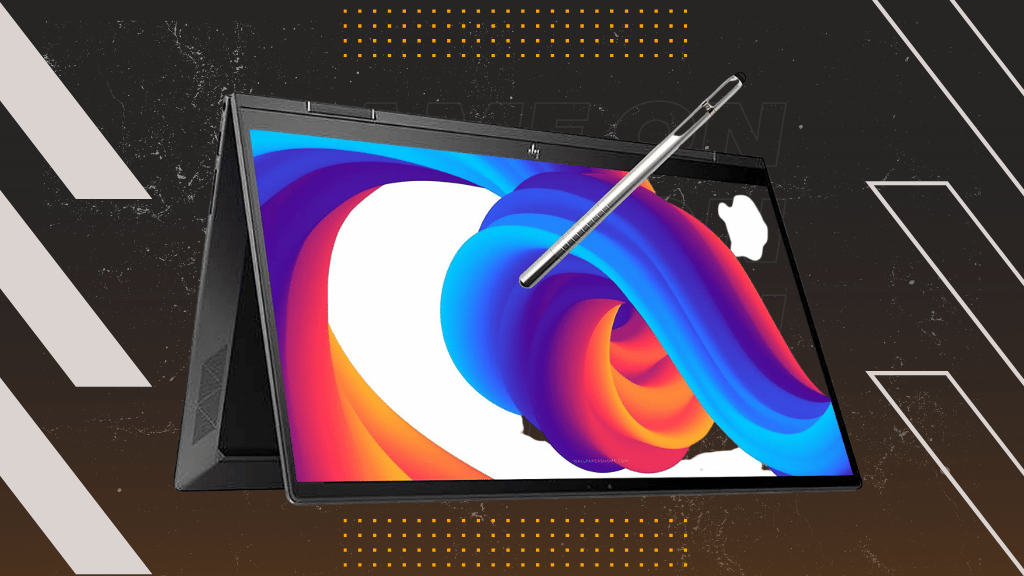 HP Envy x360
CPU: AMD Ryzen 7 5700U | GPU: Vulcan Integrated Graphics | RAM: 16GB DDR4, 3200MHz | Screen: 15.6", 1080p, 60Hz | Storage: 512GB SSD | Battery life: 8h
Pros:
Excellent screen

Doubles as a tablet

Outstanding battery life
Cons:
No discrete graphics card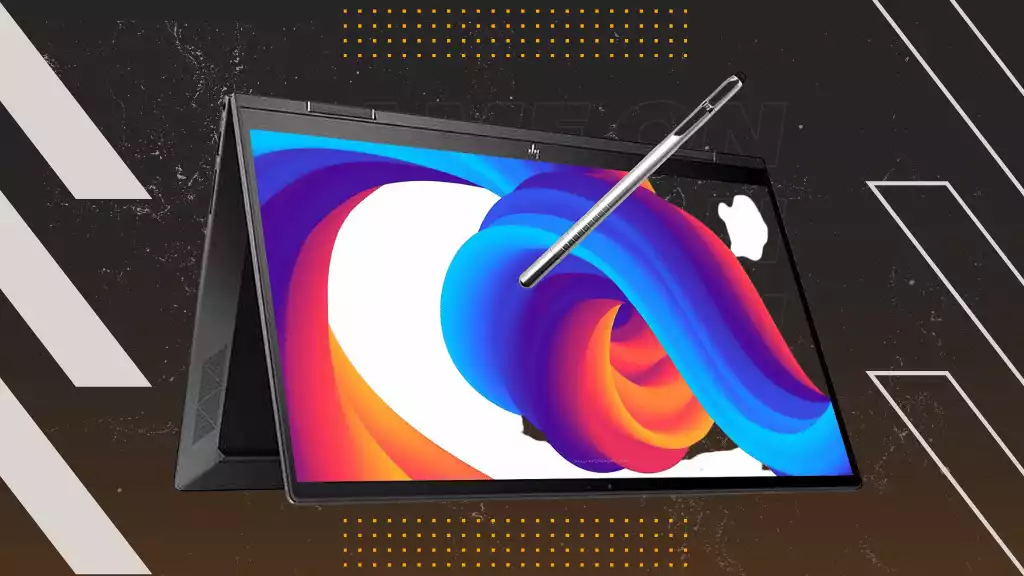 All of our Minecraft laptop recommendations have been gaming laptops so far, and all of them had mediocre screens. What if Minecraft is the only game you play and need better color fidelity, though? A 2-in-1 like the newest Envy x360 may be a better fit. It has an excellent screen for the price, lasts for hours, and packs a decent CPU punch.
The Envy x360 continues in the Stealth's footsteps appearance-wise. It's gray and unassuming, with only the HP logo as a mark of distinction. It features two solid hinges that allow the screen to rotate a full 360° and effectively turns the laptop into a tablet. You get a stylus to operate it in tablet mode, but sadly there's no holder integration.
Finally, a laptop with a great screen! The X360 sacrifices framerates in favor of visuals as the IPS panel drops to 60Hz yet covers 99% of the sRGB color gamut. That means shows will be more vibrant, and you'll be able to touch up photos accurately. Moreover, the screen's top brightness is 400 nits. That's comfortable for use in well-lit rooms and outside on overcast days.
We're not as thrilled with the keyboard. Much of it is normal-sized, with the arrow keys & the ones above them being cramped and displaced. Typing is pleasant enough, but shallow travel might need getting used to. We recommend you try it out for a bit and then hook up your old keyboard if the feeling isn't satisfactory. The same goes for the Trackpad and your rodent of choice.
Acer Aspire Vero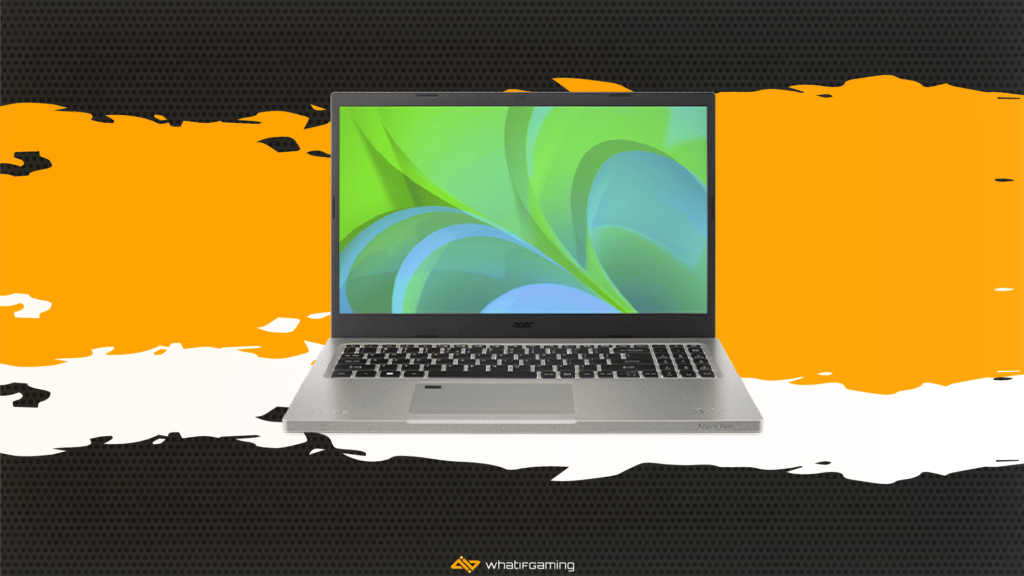 Acer Aspire Vero
CPU: Intel Core i7-1195G7 | GPU: Intel Iris Xe | RAM: 16GB DDR4, 3200MHz | Screen: 15.6", 1080p, 144Hz | Storage: 512GB SSD | Battery life: 8:30h
Pros:
Affordable

Great battery life

Decent speakers
Cons:
Entry-level hardware & no discrete graphics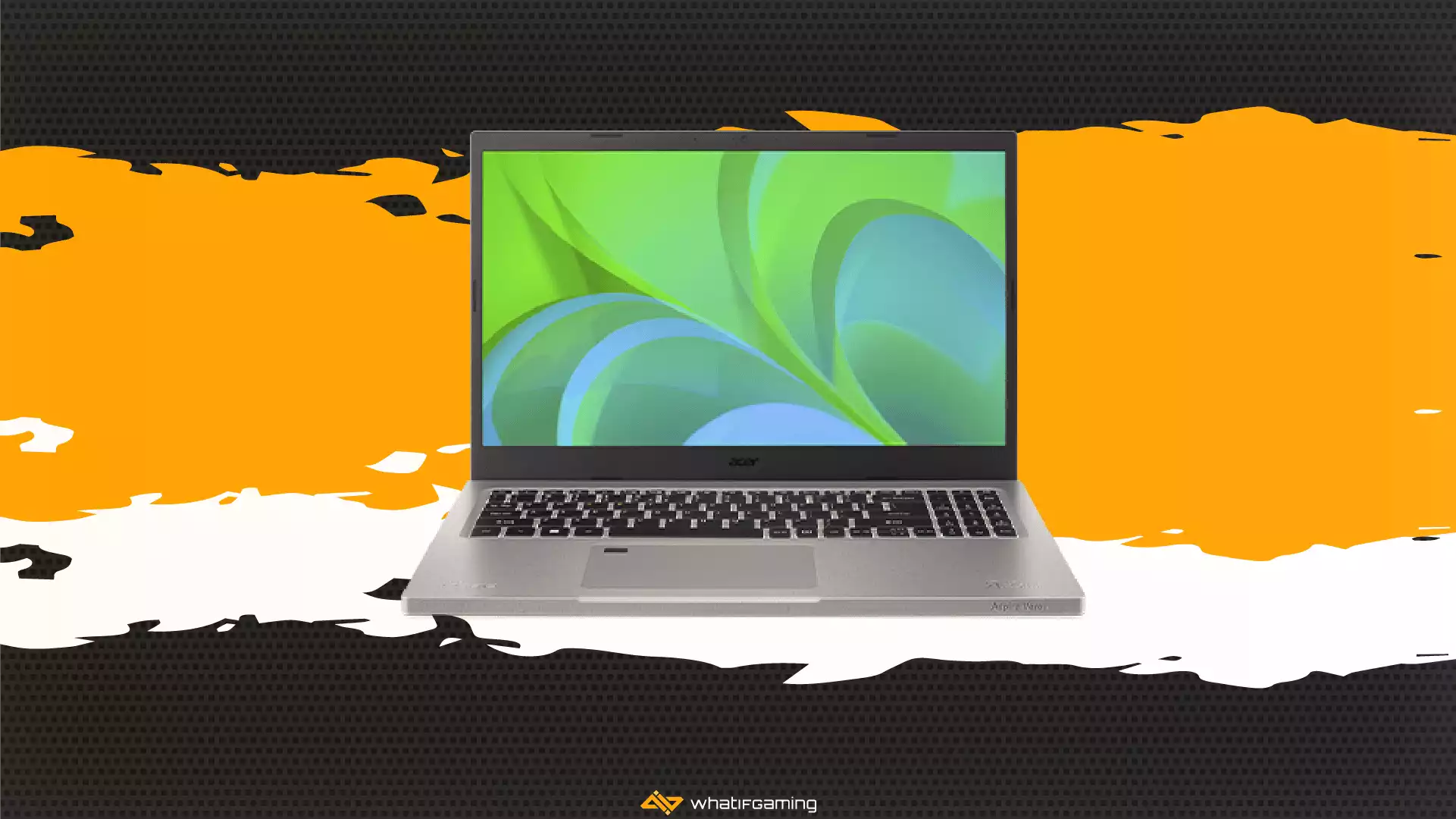 The final entry on our list will let you kill the ender dragon while saving the environment at the same time! The Aspire Vero is partially made up of recycled components, and Acer claims that the impact its production has on the environment is a quarter less than usual. Admirable, but is that enough to make it good Minecraft laptop material?
A funky color scheme is the first thing you'll notice about this laptop. It doesn't have a conventional coat of paint, which makes sense due to the potentially harmful chemicals that can be present in them. Most of its surface is a grayish beige instead, with small yellow flecks for added interest. The keyboard and screen bezels are black—certainly a unique and divisive look. We're giving it a thumbs up, though!
The same is harder to do for the overall build quality. For a laptop that's supposed to contribute less to e-waste, the Vero is a bit too flexible and flimsy. Its keyboard is a good example since the keys rustle when pressed. At least typing feels comfortable, and the backlight is bright. Unlike laptops that highlight movement keys, this one emphasizes its recycled nature by flipping the E & R keys and coloring them a bright yellow.
There's plenty of room for external storage and peripherals since the Vero has four USB plugs. Two are USB 3.2, while the others are USB-C and USB 2.0 Type-A. You also get HDMI, audio in, and an Ethernet jack. This is the only laptop In the guide with a fingerprint reader integrated into the Trackpad.