Mojang has announced their newest addition to their collection of games – Minecraft Legends. While the initial announcement trailer left us without in-depth information, Minecraft Live answered most of our questions!
The cat's out of the box regarding the Minecraft Legends release date, gameplay, and what we can expect from the game. Here's everything we know about Minecraft Legends and what we can expect from the new strategy-based game.
---
Minecraft Legends – Release Date
Announced during Minecraft Live, players can expect to see Minecraft Legends release date to be in Spring 2023.
We're excited that the new game will be coming to our favorite platforms pretty soon and will update this article as soon as we have a confirmed date.
---
What is Minecraft Legends?
Minecraft Legends is a brand new action-strategy game from Mojang Studios in collaboration with Blackbird Entertainment.
The game is a tale of a legendary hero that stood up against the Piglin hoards attacking the Overworld. Players can strategize and defeat the Piglin bases by bringing together new and familiar mobs.
Rally unlikely friends, explore the world, choose your combinations, build battle defenses and defeat your enemy.
---
A New Minecraft-Themed Action Strategy!
The developers at Mojang Studios mentioned that Minecraft Legends is based on strategy and action. The action part takes the form of a hero that needs to defeat the hoards of Piglins. Your character can run through the world, swing their sword, and take action against your foes.
Strategy comes into play as you're the commander in the come – bringing mobs into the loop to aid your conquest. These mobs possess unique abilities, and combining them can lead to a fantastic strategy against the Piglin hoards.
---
Minecraft Legends: Platforms
So far, Mojang has announced that Minecraft Legends will be available on the following platforms:
Xbox Game Pass
PC Game Pass
Windows
Xbox Series X/S
Xbox One
PlayStation
Steam
Nintendo Switch
Check out our article on the system requirements you'll need to play Minecraft on your PC.
---
System Requirements for Minecraft Legends
Here are the official minimum & recommended system requirements for Minecraft Legends:
Processor & OS Type: 64-bit
OS Version: Windows 10 (November 2019 Update or higher), 8 or 7 (64-bit with the latest updates; some functionality not supported on Windows 7 and 8)
Processor: Core i5 2.8GHz or equivalent
Memory: 8 GB RAM
Graphics: NVIDIA GeForce GTX 660 or AMD Radeon HD 7870 or equivalent DX11 GPU
DirectX: Version 11
Storage: 8 GB
Additional Notes: Performance increases with higher-end systems. Not supported on Windows 10S
---
Is Minecraft Legends Cross Platform?
Yes, Minecraft Legends will have complete cross-platform compatibility. This will allow you to initiate challenges or team-ups with your friends to have a blast at the game.
The cross-play feature will be linked to your Minecraft account. Therefore, you will most likely be able to access your in-game progress regardless of the platform.
There might also be an option to turn off cross-platform play, but that hasn't been officially confirmed yet.
---
The Development Team
Mojang Studios, which brought us Minecraft teaming up with Blackbird Interactive – an independent game developer. BBI has worked on games such as Homeworld and Hardspace: Shipbreaker. Their experience only adds to the collaboration as they've worked on a project with similar gameplay to Minecraft Legends.
BBI has a good reputation and so far, what they've brought to the table looks fantastic!
---
Will Minecraft Legends Have PvP?
Yes, we will witness an online PvP and co-op mode that lets you play with your teammates to explore the world.
At the same time, it also possesses a multiplayer campaign mode promising exciting gameplay with boatloads of content!
---
Minecraft Live Recap
During Minecraft Live, we saw exciting content, gameplay, cinematic looks, and short clips of Minecraft Legends.
Magnus Nedfors (Creative Director) and Kevin Grace (Narrative Director) lead the conversation with the host. The two directors walked us through their new game and unveiled a bunch of new characters.
These include Minecraft's first three speaking mobs called the hosts. The three hosts are Foresight, Action, and Knowledge – key aspects players will need to defeat the hoards.
Probably the most engaging content they released was the brand-new footage of the gameplay.
---
The New Mobs of Minecraft Legends
Thanks to the second Dev Diary released by Mojang and BBI, we've learned much more about the mobs in Minecraft Legends.
For example, we learned that Zombies and Skeletons wear hats in Minecraft Legends so that they don't burst into flame in the sunlight. We also learned that Minecraft Legends has been in development since before the Nether Update release. That's exciting news since it means the game's developers have had the time and resources to create a detailed and immersive game.
Throughout the Minecraft Live event, they introduced new mobs like Regal Tigers and smaller mobs called Piggos that looked like Hoglins.
While we still don't know much about all the new mobs we'll see, they've released information on the new Golem types. Hopefully, we will be meeting them soon in Spring 2023!
---
Golems
We've seen Iron Golems in Vanilla Minecraft and their capabilities. Now, in Minecraft Legends, we're introduced to new boulder-sized golems and can't wait to see what they can do.
Each comes with its own set of skills, and knowing how to leverage each type of golem is a massive part of the in-game strategy.
So far, four main types of golems have been introduced in Minecraft Legends:
Cobblestone Golems – Melee Unit
Plank Golems – Ranged Unit
Mossy Golems – Support Unit
Grindstone Golems – Cavalry Unit
Golems are the first types of units that players can summon without exploring the world to unlock new spawners. Here's a closer look at what we can expect from our new friends:
---
Cobblestone Golems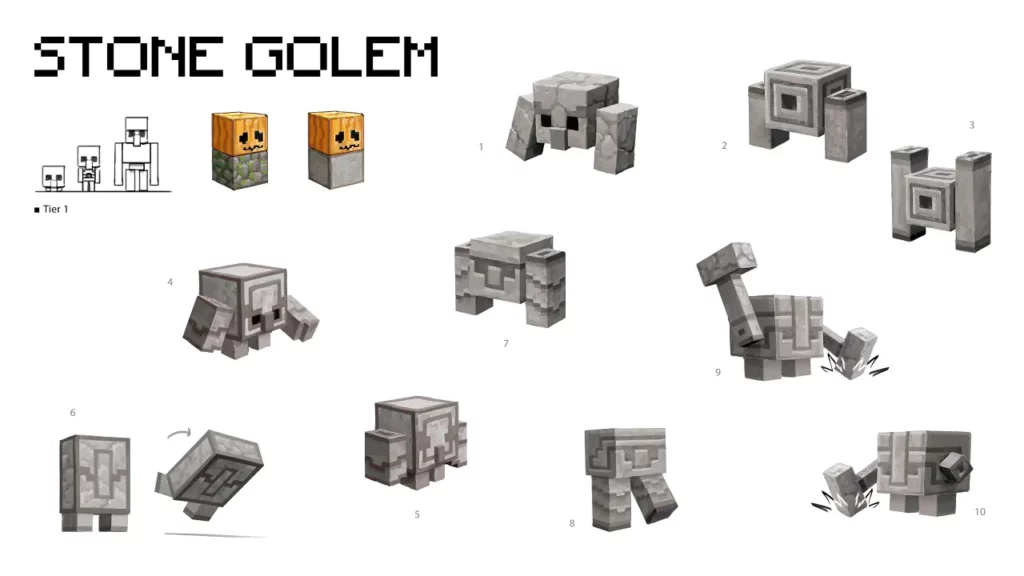 Cobblestone Golems are the game's melee units – unleashing damage to everything in their path. They're fantastic warriors with tough exteriors and rocky fists. They'll damage the hoards of Piglins and destroy any structures that threaten the Overworld.
Undoubtedly, Cobblestone Golems are key to defeating the Piglins and will likely be many players' go-to units.
---
Plank Golems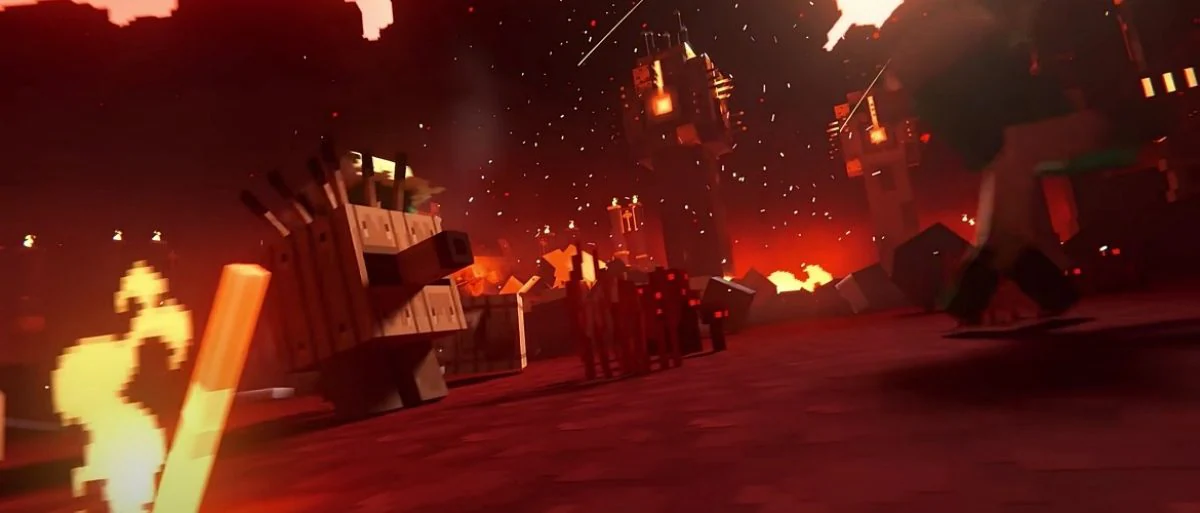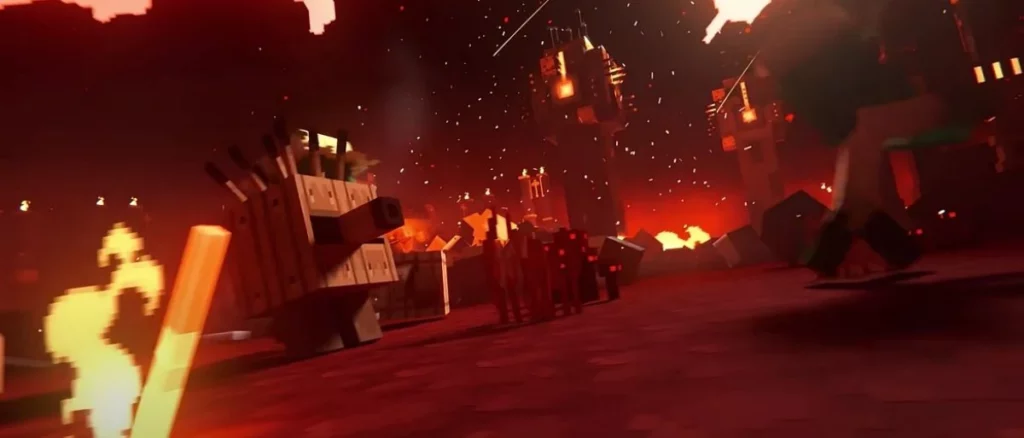 Made from wood, these cute golems are perfect for ranged combat. Their snoot shoots arrows that deal a fair amount of damage, making them an essential unit to your forces. While they may not be as strong as Cobblestone Golems, these golems volley arrows at Piglins in their sight.
The trick to keeping them alive? Keep them out of the chaos that ensues in the middle of the battlefield.
---
Mossy Golems

Mossy Golems are the support units in Minecraft Legends, healing all friendly units around them. Their healing water will vitalize units, restoring energy and ensuring the battle for the Overworld continues.
However, these units aren't as hardcore as Cobblestone Golems. While they are invaluable to your strategy, they never attack a Piglin or their structures. Instead, they have one priority, to support other units.
---
Grindstone Golems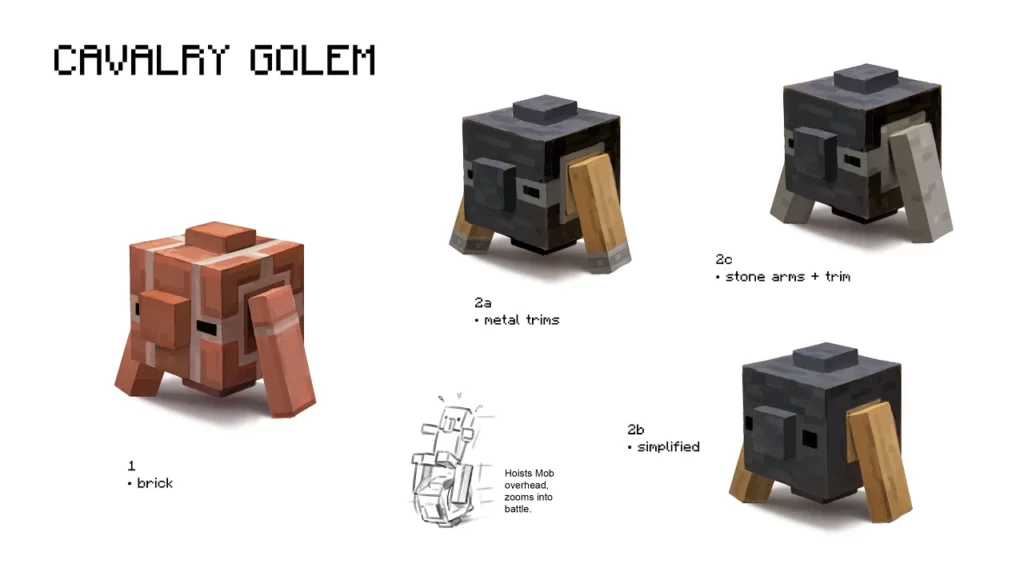 Grindstone Golems are a Cavalry unit designed to disrupt the Piglin's coordinated attacks. In Minecraft, we've associated the relatively new Grindstone as a workbench to remove unwanted enchantments from our weapons. However, Grindstone Golems are much simpler than that.
Instead, they'll charge into battle and tumble through large groups of Piglins, creating the chaos you need to push forward.
---
Minecraft Legends Gameplay
We were excited to take a first look at the gameplay of Minecraft Legends before its release date, and we weren't disappointed!
Starting Tools: You'll start with three tools – a lute to control the Allays, the Flame of Creation to spawn mobs, and the Banner of Courage to rally your allies. Then, starting at the Well of Fate, you're free to explore the randomly generated world, collect materials, find allies, and more.
Battling Piglins: Along your journeys, you will encounter the Piglins as they spread and corrupt the Overworld. It's up to you, the player, to destroy their bases and defend your home.
Allays: Using music to coax them into doing your bidding, they collect materials and build structures while you carry on with your adventures. In addition, they leave random chests around the world filled to the brim with loot.
Flame Of Creation: This item can generate spawners near Piglin bases. These are used to spawn battle allies such as Creepers, Golems, and more. We imagine that as you run around the world, you can discover new spawner recipes to strengthen your army.
Mounts: Your player will roam the world on a mount. We assume that the original mount is a horse, but it was mentioned that players could even ride tigers!
---
Is Minecraft Legends Free To Play?
Unfortunately, all good things must come at a cost. However, you're in the clear if you have any of the following:
Xbox Game Pass Ultimate
Game Pass for Console
Game Pass for PC
Luckily, you can buy it directly from the store as well. However, with the game pass exclusivity going strong, we might not see a day-one standalone release on its destined date.
How Much Will MC Legends Cost?
Since the game is launching in 2023, there's still time before we're made aware of the price tags. However, seeing Mojang's past pricing trends on Minecraft, we reckon it won't drain your pockets.
Either way, we'll be sure to update you on that as soon as possible, so make sure to keep your eyes peeled!
---
Final Thoughts
As we're almost through 2022, the Minecraft Legends release date will surely sneak up on us. We can't wait to see what Mojang has in store for us.
Their new action strategy will be perfect for Minecraft fans and new players joining the Minecraft universe.
If you can't wait for Minecraft Legends, you can enjoy these Minecraft 1.19 seeds. Alternatively, you can find out everything we know about Minecraft 1.20 here.
You can follow us on Twitter to get the latest updates. Also, let us know your feelings about Minecraft Legends in the comments below!