MultiVersus is finally announced, and according to Warner Bros, the game is set to compete with Nintendo's Super Smash Bros. The free-to-play platform fighting game will include characters from multiple Warner Bros franchises.
The three-minute trailer showcases a glimpse of the initial roster. Fan favorites such as Bugs Bunny, Tom and Jerry, and Scooby-Doo will be available during the game's release. Of course, DC favorites such as Batman and Superman are present too.
Tony Huynh, game director, said, "MultiVersus emphasizes teamwork and social play with an ever-expanding diverse cast of characters that you know and love."
Huynh also added that the game is the company's take on the competitive platform fighter genre. This hints at a big competitive scene coming upon its release.
Now that the MultiVersus first look reveal is out and the first open beta is on its way, here are the things we know so far.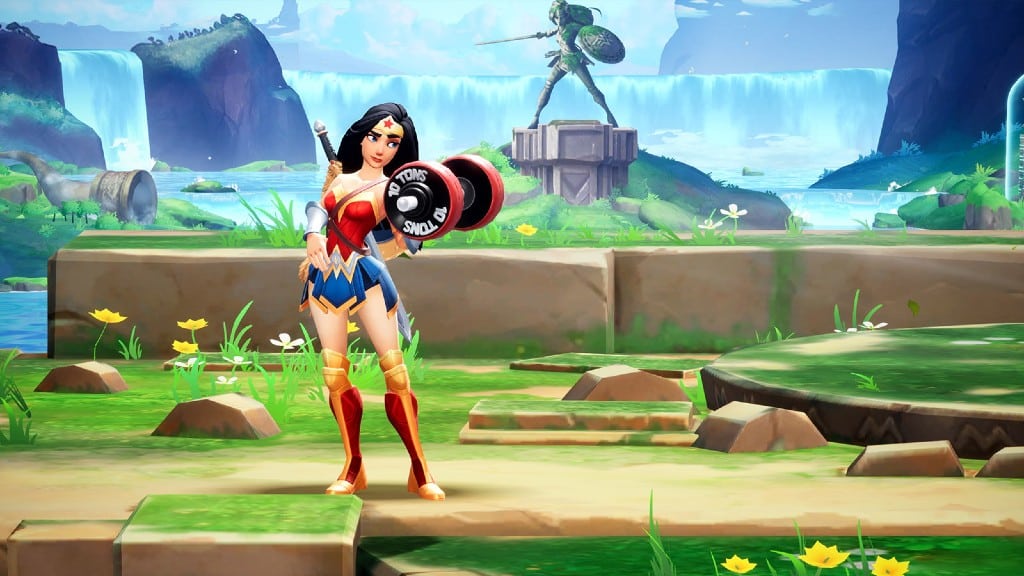 When is MultiVersus Release Date?
The MultiVersus early access goes live on Tuesday, 19th of July 2022. The open beta will open next week on Tuesday, 26th of July. Here are the release timings:
West Coast USA: 9 am PDT
East Coast USA: 12 pm EDT
Europe: 6 pm CEST
UK: 5 pm BST
The timing for Europeans and British gamers is perfect as they can get their hands on in the evening. While gamers in the USA will either need to skip work/school or play a few hours later.
The end date of the open beta isn't announced yet. That is good news for those who were aiming to fully test out the game.
Another good news is that the progress and unlocks will carry over to the full release of the game. We've seen beta tests not carry over progression to the full game in a lot of games, so this is welcoming news.
The game will arrive on the PlayStation 4 and 5, Xbox One, Xbox Series X/S, and PC. Cross progression is fully supported between platforms as well. No Nintendo Switch version has been announced.
How To Access MultiVersus Open Beta
There are currently 4 ways you can get access to the MultiVersus early access beta. We will list the easiest ones to the hardest:
MultiVersus Founder's Pack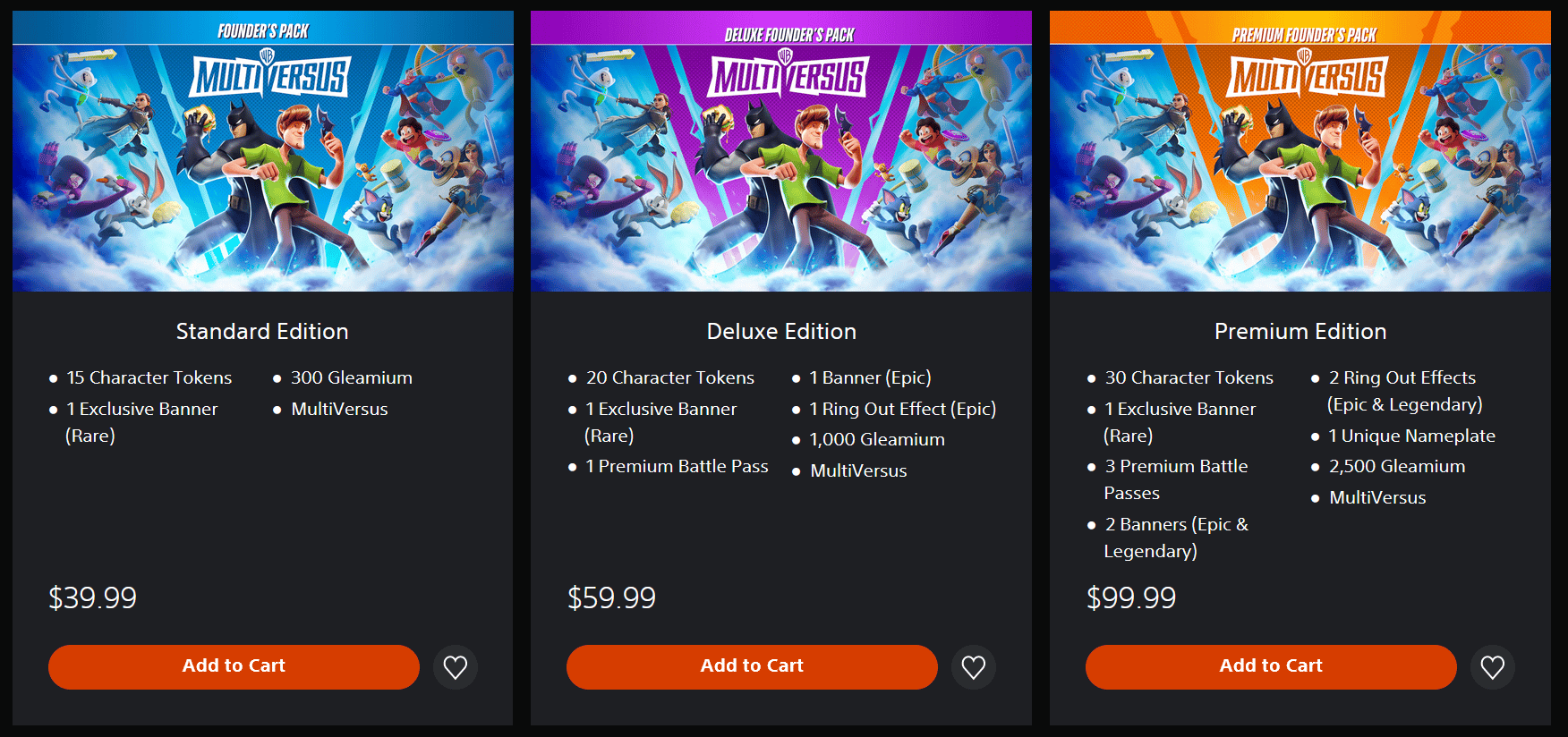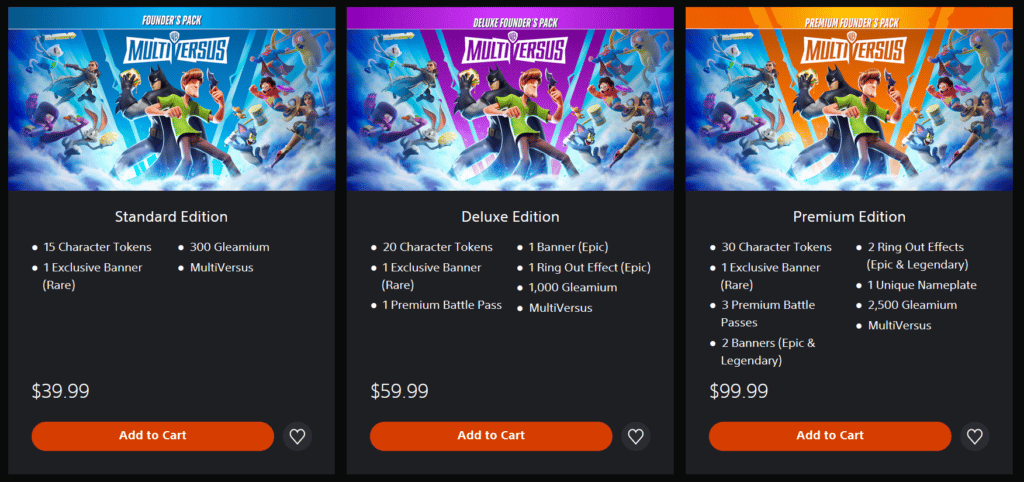 MultiVersus is going to be a free-to-play title however, if you want in on the early access beta you can opt to pay for it. There are currently three founder's editions available.
Standard Edition – This edition gets you 15 Character Tokens, 1 Exclusive Banner (rare), 300 Gleamium, and early access to the beta.
Deluxe Edition – The Deluxe edition has 20 Character Tokens, 1 Exclusive Banner (rare), 1 Premium Battle Pass, 1 Banner (epic), one Ring Out Effect (epic), 1000 Gleamium, and early access to the beta.
Premium Edition – This one gets you 30 Character Tokens, 1 Exclusive Banner (rare), 3 Premium Battle Pass, 2 Banners (epic and legendary), 2 Ring Out Effects (epic and legendary), 1 Unique Nameplate, 2500 Gleamium, and early access to the beta.
MultiVersus Twitch Drops
This is the best way to gain access to the game without paying. Throughout the week, players can receive early access codes through Twitch drops. All you need to do is watch one hour of a MultiVersus stream from a streamer that has Twitch drops enabled.
You also need to attach your Warner Bros Games account to your Twitch account. After watching the stream, you can check your Twitch drop inventory and after that, just get the code from the Warner Bros. Games account.
Participate in Closed Alpha
If you've played the closed alphas of MultiVersus, you'll automatically get a code in your email.
The progression from the alpha wont carry over to the beta or the full game though.
If you are playing the game on consoles, the game will be automatically updated to be redownloaded from the store. The PC players will get a code in their email.
Register for Evo 2022
This one is the hardest to get into, but if you already are competing in Evo 2022, you can gain access to the game early. The company will send you an email with instructions on how you can get early access to MultiVersus beta.
MultiVersus Beta Content – What To Expect?
Here is what will be available in the MultiVersus Beta:
Characters: Batman, Superman, Wonder Woman, and Harley Quinn (DC); Shaggy and Velma (Scooby-Doo); Bugs Bunny and Tasmanian Devil a.k.a. Taz (Looney Tunes); Arya Stark (Game of Thrones); Jake the Dog and Finn the Human (Adventure Time); Steven Universe and Garnet (Steven Universe); Tom and Jerry (Tom and Jerry); The Iron Giant (The Iron Giant), and an extraordinary original creature named Reindog. Please note, Harley Quinn, Shaggy, Jake the Dog, and Taz will be immediately available to play when the Open Beta begins. All other characters can be unlocked through gameplay.
Maps: The Batcave (DC), Tree Fort and Tree Fort 1 vs. 1 (Adventure Time), Scooby's Haunted Mansion (Scooby-Doo), Trophy's E.D.G.E., Trophy's E.D.G.E. 2, Classic 3 Platform, and Training Room.
Modes: 2 vs. 2 team-based cooperative mode, 1 vs. 1 matches, 4-player free-for-all, 1-4 player local matches, co-op vs. A.I. matches, custom online lobbies, The Lab (practice mode), and tutorials – all offering different ways to play and experience the game.
MultiVersus Gameplay
The MultiVersus' gameplay is similar to other platform fighting games. Players battle it out on a floating platform until the opponent's health runs out. But the highlight is teaming up with someone to win.
"Everything's better with your friends, and that's a bond one emphasized across your modes, especially in 2v2," Huynh said.
Warner Bros emphasizes that team play is essential in this game, considering each character's skill set. Unlike other fighting games, the characters have skills that synergize with their teammates.
"Every character has unique moves that focus on team play, whether that's a smoke bomb or batman to cover your team's movement. Steven shielding his ally for extra defense. Saving someone with a lasso," Huynh added.
With the first look focusing on team play, how will solo players do in this game?
Huynh mentioned that solo players should not worry as the company supports it too. A 1v1 and a 4-player free-for-fall game mode are also available.
For hardcore fighters, a ranked competitive game mode is present as well.
MultiVersus Complete Roster Details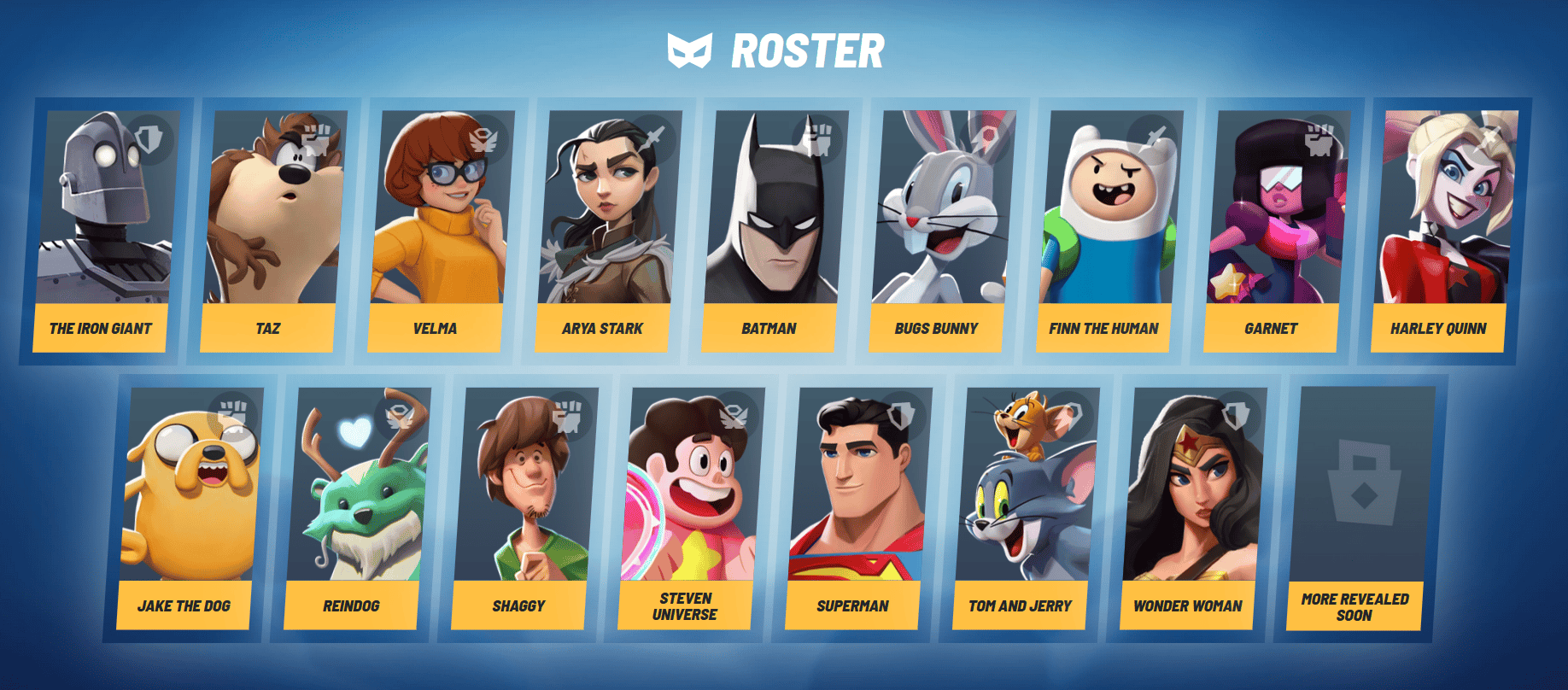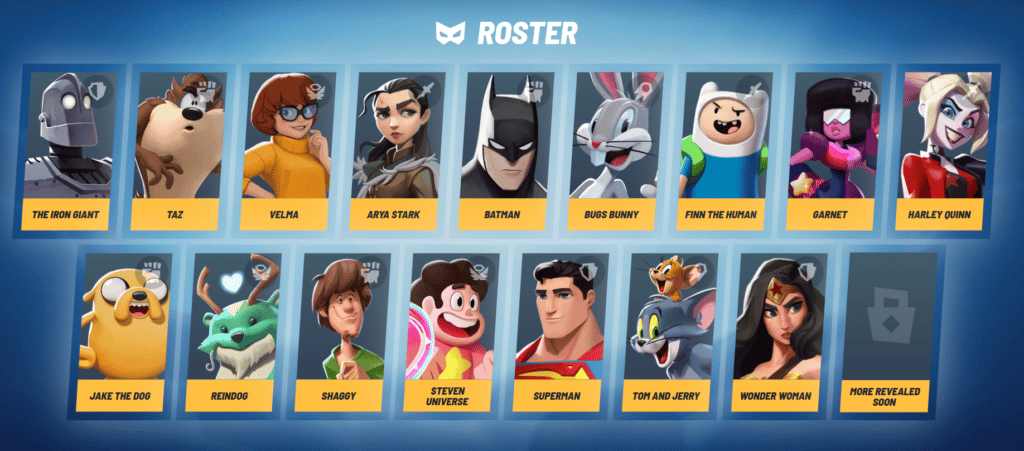 There are 13 playable characters at the moment, and more characters are coming soon. These characters are from multiple Warner Bros franchises.
The available characters are:
Arya Stark
Bugs Bunny
Finn the Human
Garnet
Harley Quinn
Jake the Dog
Shaggy
Steven Universe
Superman
Taz
The Iron Giant
Tom and Jerry
Wonder Woman
Reindog
Velma
There is one character that is not from a notable franchise – Reindog. But who is Reindog?
According to the game's website, Reindog is a fluffy guardian of Zanifeer's royal family and the 6th wearer of the gem of power.
The 165-year old dog is the first original character for MultiVersus and is a Support character.
Its special moves include Love Leash, Dude! And Power Crystal.
What are the character classes in MultiVersus?
There are five character classes in the game too. You may choose between Bruiser, Assassin, Mage/Ranged, Tank, and Support.
Bruiser – Batman, Garnet, Jake the Dog, Shaggy, and Superman, Taz
Assassin – Arya Stark, Harley Quinn, Finn the Human
Mage/Ranged – Bugs Bunny, Tom and Jerry
Tank – Wonder Woman, The Iron Giant
Support – Reindog, Steven Universe, Velma
With the low number of Tank and Support characters, there is a high chance that the upcoming releases will include more of them.
Who knows, Velma from Scooby-Doo might be the next Support character.
What maps are available in MultiVersus?
The confirmed maps are Batman's Bat Cave, Jake and Finn's Treefort, and Themyscira from Wonder Woman.
More maps are confirmed to arrive but the three maps are more than enough for the playtests.
MultiVersus Character Customization Details
According to Warner Bros, the game will include different skins for each character. You may dress up your character in any way you want.
The sneak-peak includes Black Lantern Superman, Classic Batman, and "Bruce Lee" Shaggy.
But besides character skins, each character also has perks. This means you have multiple options to customize your character.
There are customizable offense, defense, and utility perks plus a unique perk that could be a passive or an ultimate skill. So there is no single similar character. It all depends on your play style.
Going for Authenticity with Familiar Voices
Warner Bros has a lot of franchises under its wing. This includes the DC Superheroes, Looney Tunes, and Adventure Time. But is it enough to attract players?

If there is one way to get players into the game is to bring the actual character. No, not just the image or model, but the character as a whole. This means, getting the actual voice actor to play their part in the game.
"Our roster has some of the most recognizable characters that bring them to life with as close to one-to-one representation as possible through visuals, their worlds, their music, and more is important to us," Huynh said.
"That's why iconic voice talent powers many of our characters like Kevin Conroy as Batman," he added.

"In fact, you'll recognize a lot of them," Huynh said.
Other characters with their original voice actors include Jake the Dog, Finn the Human, and Harley Quinn.
Is MultiVersus cross-play?
Yes! The game will arrive with cross-play, and cross-progression enabled. So if you have a PC and a gaming console, you can play the game and retain your progress.
This is a huge edge compared to the other platform fighting games such as Super Smash Bros Ultimate and Brawlhalla.
Super Smash Bros is a Nintendo exclusive, which means you need to have a Nintendo Switch in order to play the game.
On the other hand, Brawlhalla has cross-play enabled, but there is no cross-progression.
With this information alone, Warner Bros is on the right track to attracting a huge number of platform-fighting fans.
Warner Bros sets eyes to competitive MultiVersus future
The company's vision for MultiVersus is to "bring regular updates, character modes, skins, and events throughout the year."
But a smooth launch is not possible without excellent servers, and Warner Bros has confirmed that dedicated servers will be put up.
The goal is to reduce input lag and be the best in class online.
"We're investing a lot into making the most responsive gameplay in net code in addition to dedicated servers from day one for the life of the game," said Huynh.
What do dedicated servers do?
Basically, having servers for each region makes it easier for players to connect with other players in the same area.
At the same time, this reduces input lag as players do not need to send data from one region to another and vice-versa.
Meanwhile, rollback netcode makes the gameplay look smooth and instant regardless of the opponent's connection. It tries to predict the next input and process it instantaneously.
The game will benefit greatly with rollback netcode. Casual players may not benefit much, but it is huge with competitive multiplayer games.
MultiVersus is set to be the next big crossover fighting game, and the future is looking bright for Warner Bros.
You may check the full MultiVersus game reveal below.