Persona 5 Strikers, the highly anticipated entry in the Persona universe, has been cracked and leaked a whole day ahead of launch. The Duveno DRM-free build of the game was cracked by GOLDBERG and the update was posted on Crackwatch.
While Crackwatch only provides a listing of cracked games and not the actual sources of leaked games, the DRM free version of Persona 5 Strikers is being seeded around many shady websites.
User "hes3nberg" on Crackwatch said:


Some guy on some forum 50min ago posted game files,without denuvo + crack (he used steamless) its 27GB. also includes DLC's.


A crack watch user on Persona 5 Strikers' leak
The following still from from the game was attached as a proof.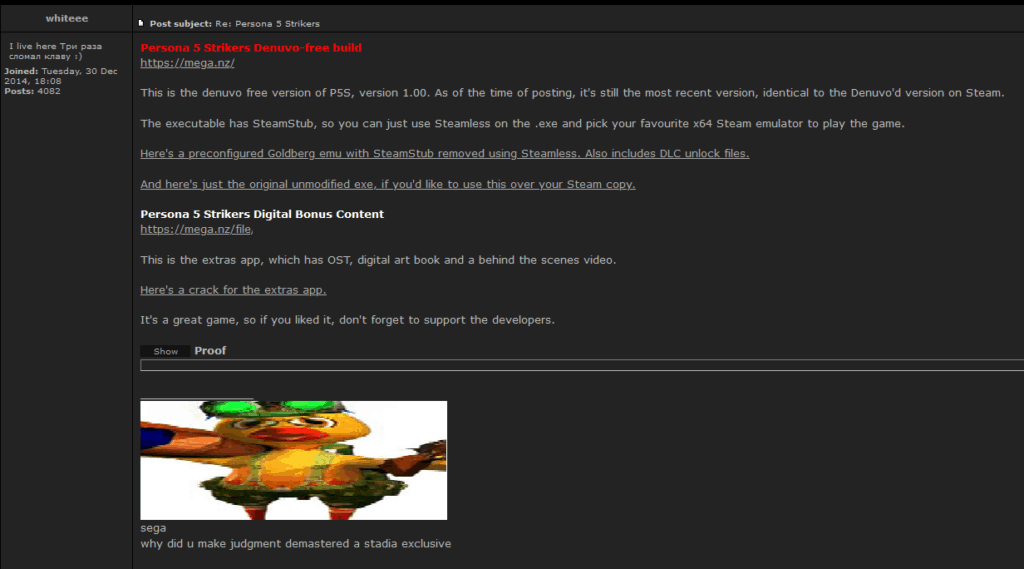 Persona 5 Strikers is an action role-playing game developed by Omega Force and P-Studio and published by Atlus. The game is a crossover between Koei Tecmo's Dynasty Warriors franchise and Atlus' 2016 role-playing game Persona 5, and is set six months after the events of the original Persona 5. It follows Joker and the rest of the Phantom Thieves of Hearts as they investigate a series of mysterious events involving people across Japan.
The game release in Japan on Nintendo Switch on February 4th, while the Windows version and the worldwide release is slated for February 20, 2021.
Duveno DRM is renowned for its security. Publishers have adopted it as the standard 'very hard to crack' security measure for their video games. Red Dead Redemption 2's DRM took about a year to be cracked while Assassin's Creed Valhalla is still going strong and uncracked three and a half months after release.
The DRM-Free leak of the game not only indicates that the game was cracked ahead of launch but also sheds light on the fact that the leaker had access to the base game ahead of launch. Perhaps it was an insider, a PR connection or a person with strong connections. Either way,