June 08, 2023 – Checked for new Roblox Aimblox codes
Hear that? It is an adventure calling, and she brought along a whole arsenal. Yes, dealing with your problems is fun and all, but virtually shooting and blowing up fellow players is even better for stress relief. Pick your weapon of choice and go to town. Our personal favorite is the new karambit that the awesome developers just added.
Being the wonderful people that we are, we will let you in on a little secret. You can escalate your gaming experience and rain down chaos like never before by using these fresh Aimblox Codes. They are safe, legitimate, and most importantly, free!
Aimblox Codes
Make sure you don't miss the chance to level up your Aimblox game with our amazing selection of codes in Roblox. These codes will give you a serious edge just when you need it most. Plus, who doesn't love some sweet rewards and freebies?
2yearparty – 1k cash
LIKES400K – 1k cash
AIMBLOXEASTER2023 – Bunny Tech Sight
Gun – 100 cash
Expired Codes
Did you know that expired codes in Roblox can still be valuable? Even though they won't give you any rewards, they can be handy as a reference point if a code that you've entered correctly still doesn't work.
Likes375K
1millfaves
LIKES325K
SORRY
100MIL
NEWPLAYER
LIKES300K
LIKES277K
LIKES230K
LIKES250K
LIKES215K
NEWPLAYER
LIKES200K
LIKES180K
AimbloxEaster
AimbloxTweets
LIKES165K
LIKES150K
LIKES140K
LIKES130K
aimissue
joemama
kreekcraft
Imposter
SHINOBI
PLAYBETA
LIKES120K
LIKES110K
LIKES100K
LIKES90K
LIKES80K
LIKES70K
LIKES60K
LIKES50K
LIKES40K
LIKES30K
LIKES25K
How to Redeem Codes in Aimblox?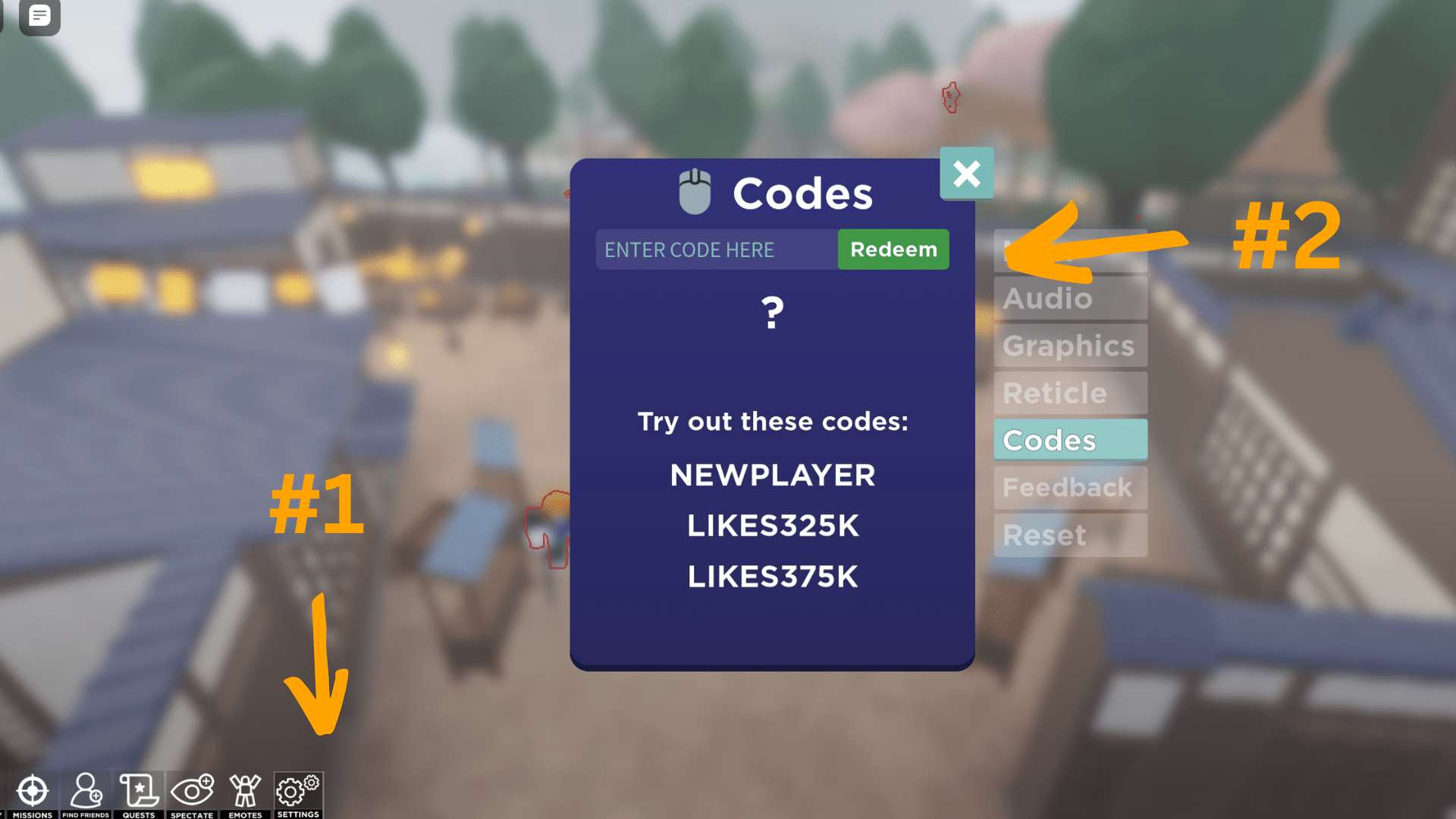 These codes will prove to be worthless unless you know exactly how to redeem them. We did our homework so you would not have to. Follow our simple steps to learn how to redeem Aimblox codes:
Start the game and turn your attention to the icons at the bottom
Click on Settings
Click on Codes from the side of the menu
The Codes menu will pop up
Simply type in a code from our list exactly as displayed
Click on Redeem
Enjoy the freebies
Aimblox Codes Not Working
Don't sweat it if your codes aren't working. Just take a deep breath and try entering the code again, making sure there are no typos or capitalization errors. Remember, entering the code exactly as it appears is crucial.
If that doesn't do the trick, check out our helpful list of expired codes. It's possible that the code has already expired, and a quick check can save you time so you can move on to the next awesome code. Good luck!