May 24, 2023 – Checked for new Roblox Anime Weapon Simulator codes
Welcome to the ultimate anime showdown in Roblox Anime Weapon Simulator! Are you ready to slice and dice your way through hordes of enemies with epic weapons? Then gear up, because this game will take you on a wild ride through a variety of worlds and dimensions, where only the strongest and coolest survive.
With your trusty weapons in hand and a team of anime characters by your side, you'll be unstoppable! So click your way to victory, earn rewards, and show off your skills as you climb the leaderboard ranks. It's time to bring your A-game and become the ultimate anime warrior in Roblox Anime Weapon Simulator, developed by the talented team at BestBunny! When you are in need of a boost to spice up your game, the Roblox Anime Simulator codes have got your back, so you can continue slaying (literally).
Anime Simulator Codes
Whether you choose to immerse yourself in the greatness of anime classics like Yu Yu Hakusho!, or discover new favorites like Ryohgo Narita's Durarara! and Satoshi Kon's Paranoia Agent, the irresistible allure of anime knows no bounds. Playing an anime-centered game is always a treat, but with exclusive and legit codes, finding new pets and navigating the game has never been easier. Don't miss out on the chance to level up your anime gaming experience. Get ready to join the ultimate anime masters with these awesome codes!
NEWGAME – free rewards (new!)
5000LIKES – Temar hero
NINJAWORLD – Lucky boost
Expired Anime Weapon Simulator Codes
Don't let expired codes be a thing of the past in Anime Weapon Simulator. While they may not work during gameplay, they still hold value as a point of reference. These codes were once active and functional, and could come in handy when you're stuck searching for new weapons and characters. Don't write them off just yet – keep them in mind as you battle your way through the game. With a little creativity and resourcefulness, even expired codes can save you time and help you achieve anime gaming greatness.
No expired codes as of yet!
How to Redeem Roblox Anime Weapon Simulator Codes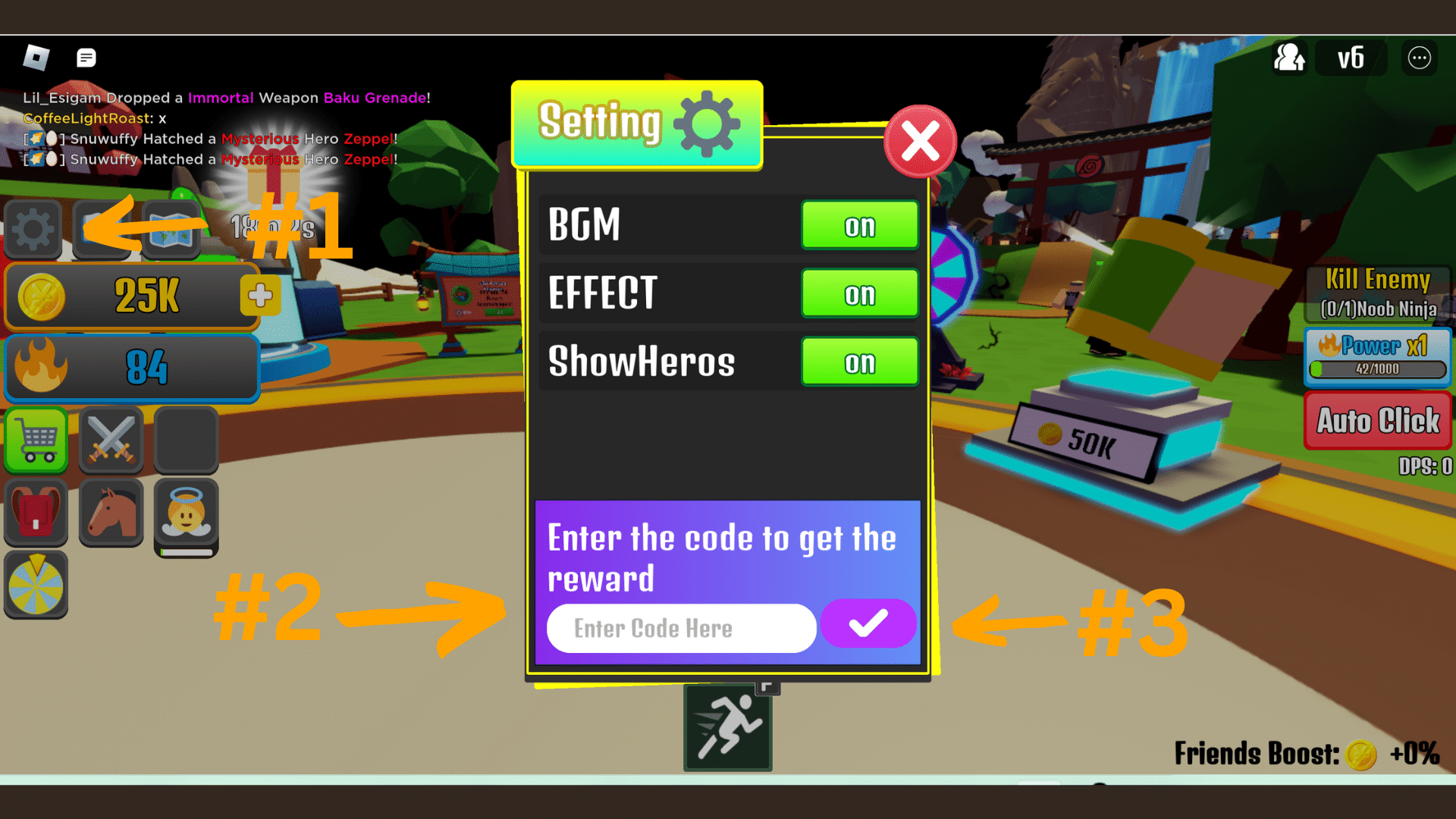 We know you're eager to jump right into battles and take down countless enemies in Anime Weapon Simulator (we feel you!), but it's important to understand how to redeem codes first. The good news is that the process is a breeze, and you'll be rewarded with amazing freebies and bonuses in no time. Don't let your haste get in the way of maximizing your gameplay – take a moment to redeem those codes and level up your experience like a true anime warrior.
Following these easy steps will have you successfully redeeming Anime Weapon Simulator codes in no time!
From the main menu, press the Settings icon on the side of the screen
The Codes menu will pop up at the bottom
Enter the codes exactly as displayed
Click on the tick mark to redeem the codes
Boom! It's really that simple
Anime Weapon Simulator Codes Not Working
Hey, if you're having trouble redeeming codes in Anime Weapon Simulator, no sweat – it happens to the best of us. There could be a few reasons why the codes aren't working, but the most important thing to double-check is whether you've accurately entered the code. Take a beat to make sure there aren't any pesky typos, spelling errors, or funky capitalization issues. Inputting the code exactly as shown is key to ensuring a successful redemption. Trust us, a little extra attention can go a long way in getting those sweet rewards.
Don't let expired codes bring you down in Nuke Simulator! In addition to typing errors, they could also be the reason why your codes fail to work. If you've already double-checked your code and it's still not working, take a look at our list of expired codes. If you spot the code you're trying to use on the list, then it's no longer valid, and you'll need to search for an active code to redeem instead. Always be sure to confirm that you're using an active code before attempting to redeem it. With the right code, you'll be slaying demons (wink, wink!) in no time!