Da Hood is a nitty-gritty game that focuses on role-playing and surviving. You have to choose between becoming a Cop or a hardened Criminal. Players will have to look for essential resources, create alliances, use weapons, and take out enemies to rise to the top.
If you want to make progress faster, you can use this guide to check out all the Roblox Da Hood codes. We have also mentioned the expired codes so that you do not waste time typing them into the game. With that said, let's get started!
Working Codes
Here's a complete list of all the working/expired Roblox Da Hood codes for your redeeming pleasure!
NOTE: The list below has been updated for Febuary 2023 and will be continually updated daily throughout the month and year.
| CODES | REWARDS |
| --- | --- |
| secretcodeinmain | 100K DHC |
| LunarNewYear | 200K DHC |
| MLK | 196K DHC |
| HappyNewYear2023 | 250K DHC |
| RifleWinter2022 | 100k and a Wrap |
| RevolverWinter2022 | 100k and a Wrap |
| SMGWinter2022 | 100k and a Wrap |
| ShotgunWinter2022 | 100k and a Wrap |
| P90Winter2022 | 100k and a Wrap |
| TacticalShotgunWinter2022 | 100k and a Wrap |
| FlamethrowerWinter2022 | 100k and a Wrap |
| DrumWinter2022 | 100k and a Wrap |
| DoubleBarrelWinter2022 | 100k and a Wrap |
| GlockWinter2022 | 100k and a Wrap |
| AugWinter2022 | 100k and a Wrap |
| Ak47Winter2022 | 100k and a Wrap |
| RPGWinter2022 | 100k and a Wrap |
| LMGWinter2022 | 100k and a Wrap |
| SilencedGlockWinter2022 | 100k and a Wrap |
| SilencedAR15Winter2022 | 100k and a Wrap |
Expired Codes
The reason we have mentioned the expired codes is so that you do not waste your time copy-pasting them in the game.
HAPPYHALLOWEEN!—Redeem for Halloween AR and 10k Da Hood Cash
WASHINGMACHINE—Redeem for 100k Da Hood Cash, 7 Premium Crates, and 2 Random Marker Knife Skins
ACCOMPLISHMENT—Redeem for 200k Da Hood Cash, 5 Premium Crates, and 5 Knife Crates
AUGUST2022!—Redeem for Knife Skin Crates and Da Hood Cash
DHSUPRISE!—Redeem for 50k Cash, 10 Crates, and 8 Premium Crates
#FREED—Redeem for 50k Da Hood Cash
2022JUNE—Redeem for several Crate Rolls
June2022—Redeem for 250k DHC, 3 Premium Crates, and 5 Regular Crates
FIREWORKS—Redeem for 100k Da Hood Cash, 5x Premium Crates, 5x DHC Crates, 5x Fireworks
freepremiumcrate—Redeem for a premium crate roll
easterdahood—Redeem for a free crate roll
Stars
DHUpdate
How to Redeem Roblox Da Hood Codes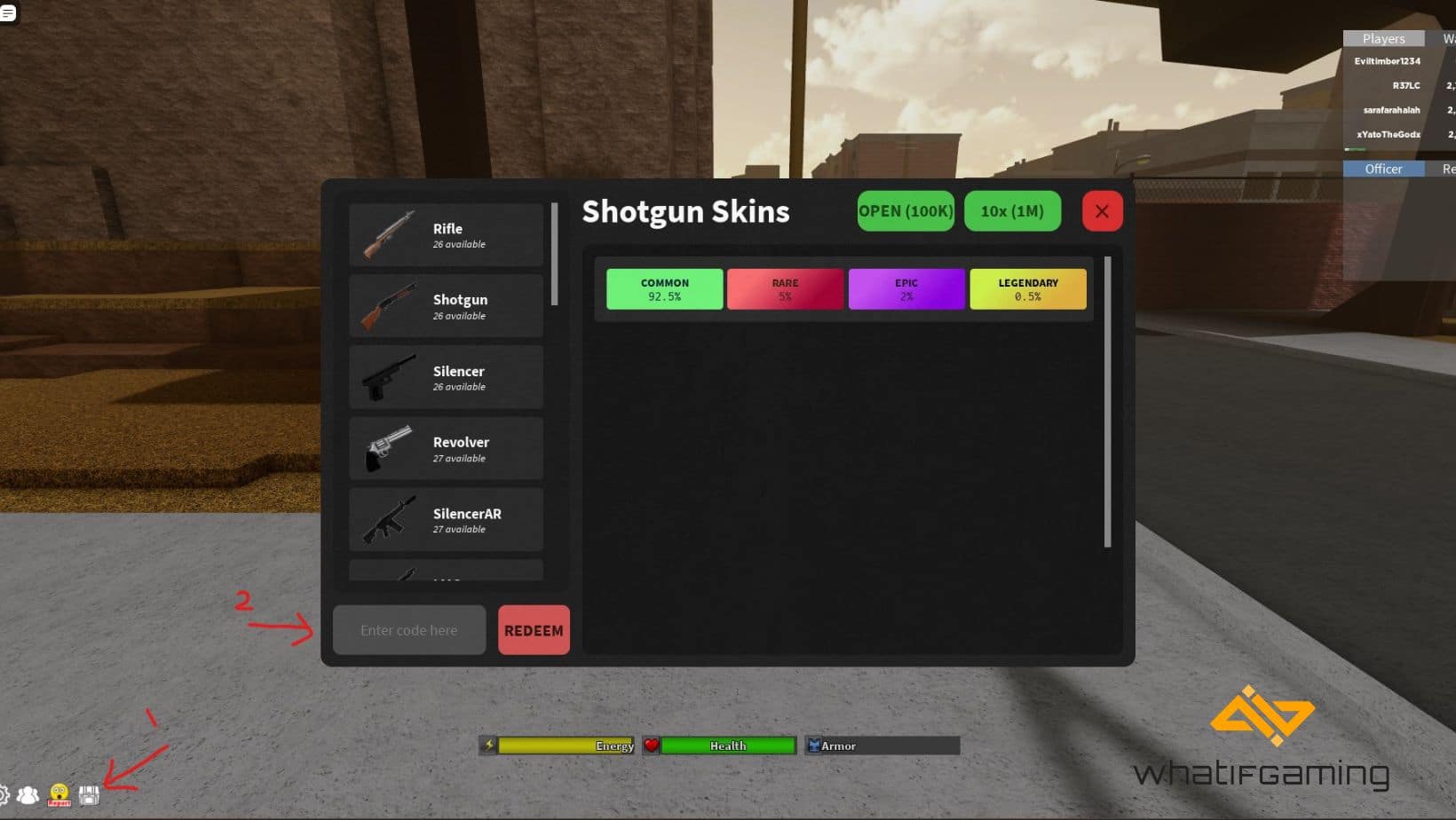 Once you have the working codes, you will want to redeem them in the game. Luckily, redeeming these codes is extremely easy in Da Hood. To redeem Roblox Da Hood codes, you need to:
Launch Da Hood.
Press the Treasure Chest icon in the bottom-left corner of the screen.
Enter the code exactly as it appears in the text box.
Press the Redeem button to claim your reward!
Keep in mind that you can only use a working code once. So, if you have already used a code, it will not work if you type it in again.
When are Roblox Da Hood Codes Released?
As you can probably see from the list of working codes above, Da Hood codes are rarely released. There is no specific schedule since milestones are achieved randomly and the updates aren't out daily.
So, if you are following the developers, you will know when a new update comes out so that you can redeem your codes.
How To Get Da Hood Codes?
Roblox Da Hood codes are posted on Da Hood's Discord server. You can visit their social pages to check out their game announcements and find new codes.
Some third-party sources also share working Da Hood codes that are not posted on Da Hood's official accounts. However, if sourcing out these codes from various platforms seems tiring to you, you can simply hop on to this regularly updated article for new links!
Why Aren't Your Da Hood Codes Working?
There can be multiple reasons why your Da Hood codes aren't working. The most common issue is if you are typing the code incorrectly. Even if you mistype a single thing in the code, it will not work. So, make sure that you type the exact code as written above or on the Da Hood socials.
Secondly, another reason for codes not working is if they are expired. You will get a prompt that tells you if a code is expired or not. Plus, if you are typing a code you have already redeemed, it will not work. So, make sure that you type the code only once.
Can You Use These Codes in Other Games?
Unfortunately, these codes are only limited to Roblox Da Hood. Since they are meant for this game, they cannot be used in any other game.
The rewards these codes offer are only for the Da Hood game and are not recognized by other games. However, you'll be pleased to know that we have working codes for other games, such as the Roblox Noob Army, Race Clicker, and Wisteria.
What is Roblox Da Hood?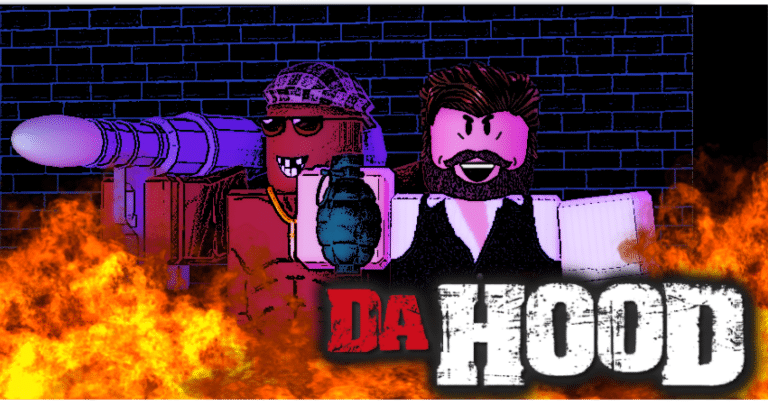 As the name suggests, Da Hood is a game where you are placed in a violent area. You can either become a Cop to improve the situation or join the Criminals. Either way, you will have to climb up the ranks and find powerful weapons. You can find money spread across the map or by doing various jobs.
The main purpose of the game is to role-play with other players and create a fun environment. You can use force or create alliances to help enhance your chances of survival. Customize your character according to your preference and conquer Da Hood.
Conclusion
And there you have it, those are all the working and expired Roblox Da Hood codes. If you find a code we haven't listed in our guide, let us know in the comments below, and we will add it. Plus, we will be updating this list regularly, so make sure that you check it out from time to time so that you can get all the latest working codes before they expire.
In the meantime, check out our Coin Master links as well to gain tons of spins and coins in that game.