June 02, 2023 – Checked for new Roblox Dragon Blox codes
Roblox is known for being a hub of dreamers and ambitious creators who strive to create a little something for everyone. Over the decades, Dragon Ball has evolved from a simple shounen to a franchise that is loved globally. Now, players can experience the badass Saiyan lifestyle with Roblox's Dragon Blox.
You can choose to be a square (unlike Maajin Buu hah gottem!) or you can have some fun with the game by using Roblox Dragon Blox codes, which can help you out of a rut when you need it the most. The best part? They are free and legitimate, courtesy of the generous developers!
Dragon Blox Codes
Don't let this opportunity slip away to add some excitement to your Roblox experience by using our extraordinary selection of codes that will provide you with an advantageous edge at fortunately the right moments. Seize the chance to obtain your Zenny's and costless freebies while they are still fresh.
May2023REBIRTH&GOLDCODEWeek4 – 2 Rebirths and 25 Gold Zenny (New)
May2023REBIRTH&GOLDCODEWeek3 – 2 Rebirths and 25 Gold Zenny (New)
May2023REBIRTH&GOLDCODEWeek2 – 2 Rebirths and 25 Gold Zenny
May2023FREEREBIRTH! – Redeem for 2 Rebirths
May2023FREESKILLRESET! – Redeem for 3 Resets
May2023REBIRTH&GOLDCODEWeek1 – Redeem for 2 Rebirths and 25 Gold Zenny
100KYTSUBS – 5 Rebirths, 3 Skill Resets, and 25 Gold Zenny
400MPLAYS! – 3 Skill Resets and 2 Rebirths
Expired Dragon Blox Codes
Even expired codes matter, you know? They might not help you redeem anything, but they can be useful for reference if you enter a code correctly and it still doesn't work.
April2023REBIRTH&GOLDCODEWeek4
MARCH2023REBIRTH&GOLDCODEWeek4
MARCH2023REBIRTH&GOLDCODEWeek3
MARCH2023REBIRTH&GOLDCODEWeek2
MARCH2023FREEREBIRTH! – 2 Rebirths
MARCH2023REBIRTH&GOLDCODEWeek1
MARCH2023FREESKILLRESET!
100KYTSUBS
400MPLAYS!
FEB2023REBIRTH&GOLDCODEWeek4
FEB2023FREESKILLRESET!
FEB2023FREEREBIRTH!
BeastRelease
FEB2023REBIRTH&GOLDCODEWeek3
FEB2023REBIRTH&GOLDCODEWeek2
FEB2023REBIRTH&GOLDCODE#1
2023REBIRTH
GOLDCODE#2
JAN2023FREEREBIRTH!
JAN2023FREESKILLRESET!
XMAS22SECRETCODE!
XMAS22CODE!
FREE5REBIRTHDAY
2023ISALMOSTHERE!
DEC2022FREEREBIRTH!
DEC2022FREESKILLRESET!
FREE3SKILLRESETS!
5REBIRTHS
1MGAMEFAVORITES!
NOV2022FREEREBIRTH!
NOV2022FREESKILLRESET!
How to Redeem Roblox Dragon Blox Codes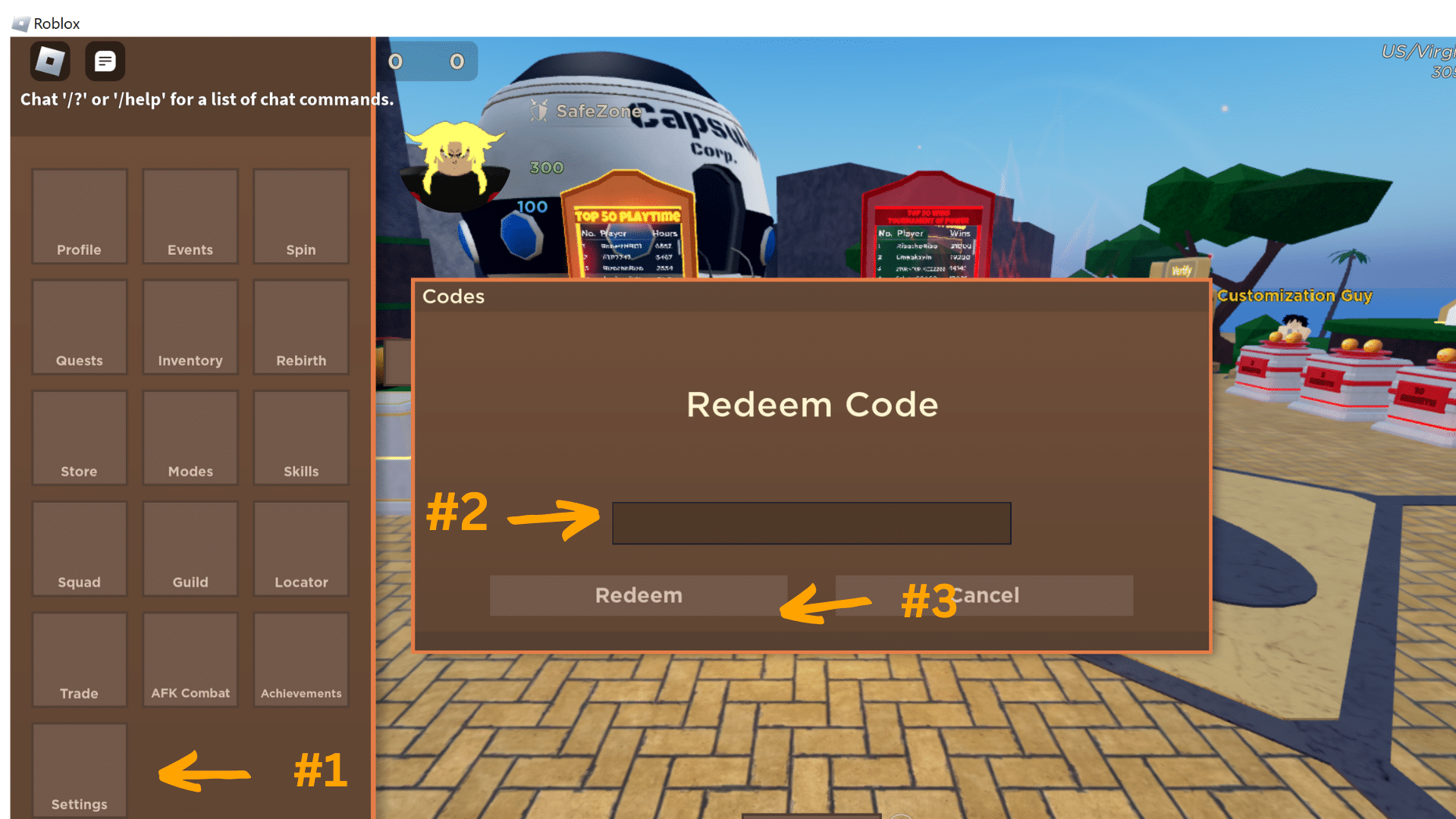 Namekians are known for their impatience, but it's crucial to learn how to redeem codes in Roblox's Dragon Blox if you want to unleash your Super Saiyan powers and kamehameha your foes out of existence.
Follow these steps to successfully redeem our Dragon Blox codes:
Once the game has started, open the menu from the left side of the screen
Locate the Settings button and click on it
The Codes Menu will pop up in the window that is displayed
Enter a code from our list exactly as shown
Click on Redeem Code
Boom. You are done-zo!
Dragon Blox Codes Not Working
If you're facing difficulties while redeeming your codes in Dragon Blox, there could be a few reasons behind it. The initial step is to make sure that you are accurately typing the code, as it's common for typos or capitalization mistakes to occur. It's always wise to double-check your entry to be absolutely certain!
Moreover, if a code that you entered accurately appears to be invalid, it's possible that the code has expired and is no longer functional. It could be helpful to check our list of expired codes to determine if that's the cause of the problem.