June 08, 2023 – Checked for New Roblox Legends of Speed codes
Life is unfair for many. Not you, though. You're fast. You have all the zooms and whooshes nailed down, am I right? Roblox's Legends of Speed is the perfect escape for fans of casual gaming who just want the simpler pleasures in life, like being very fast bois and gals. Fun times await as you zoom up on the leaderboards.
You will be delighted to know that there is a way to progress even faster in the game, and that is by making use of the Legends of Speed codes that the generous developers have provided the players. Get your hands on some awesome freebies and upgrades and spice up your Roblox gameplay like a champ.
Legends of Speed Codes
Don't miss out on this cool chance to jazz up your Roblox game! We've got a bunch of awesome codes that'll give you an edge exactly when you need it. So go ahead and grab some freebies while you can!
speedchampion000 – 5,000 gems
racer300 – 300 steps
SPRINT250 – 250 steps
hyper250 – 250 steps
legends500 – 500 gems
sparkles300 – 300 gems
launch200 – 200 gems
Expired Legends of Speed Codes
The times fly by faster than you did the last time you were playing this game. Codes expire, but they still hold some value. It's best to keep them in mind as a reference for when a correctly entered code is not working.
No Expired codes, As of yet!!
How to Redeem Roblox Legends of Speed Codes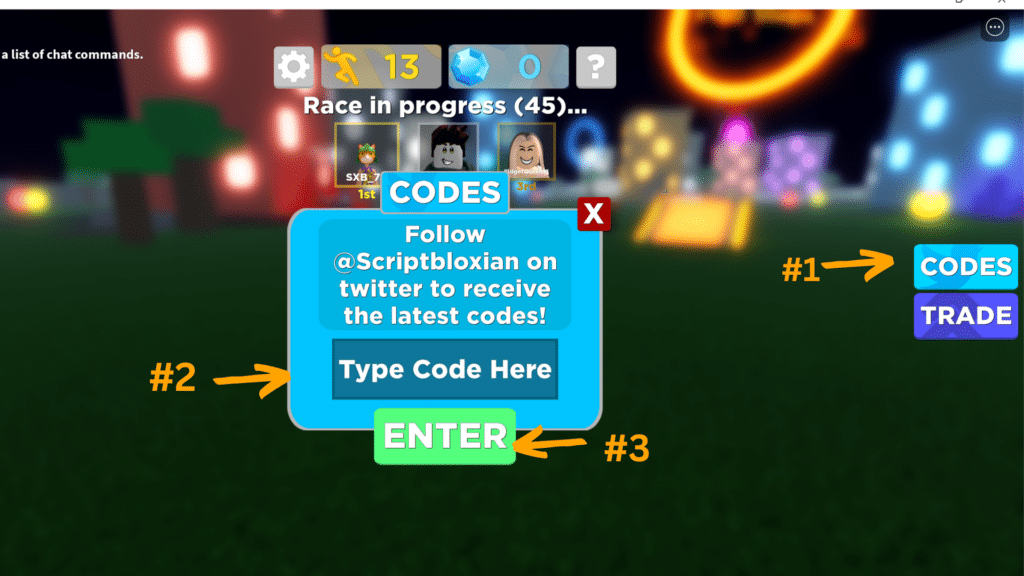 Before you can tell slow Roblox players to eat your dust, it is crucial that you learn how to redeem codes in Legends of Speed. Fortunately, it is a simple and straightforward process that will have you loaded with freebies in no time.
Follow these steps to successfully redeem codes in Roblox Legends of Speed:
From the menu, press the Codes button on the right side of the screen
Enter a code from our list exactly as displayed
Click on Enter
Voila, you are done!
Legends of Speed Codes Not Working
In case you encounter issues while redeeming your codes in Legends of Speed, there may be several factors at play. The first step is to ensure that you are correctly entering the code, as typos and capitalization errors are common. It's prudent to review your input carefully to ensure accuracy.
Additionally, if a code that you've accurately entered appears to be invalid, it may have expired and is no longer valid. Checking our list of expired codes could be beneficial in determining if that's the root cause of the issue.