March 21, 2023 – Checked for new Roblox Project Slayer Codes
Project Slayer is a fun game that is action-oriented and is inspired by the famous anime, Demon Slayer. Players have to travel the vast open world and find new friends and enemies along the way. You can either help humanity or go against it and become a Demon yourself.
To make the entire process easier – and fun – we have listed down the working and expired Roblox Project Slayer codes just for you. If you were looking for these codes, you have come to the right place. With that said, let's dive right in and get started!
Working Project Slayer Codes (March 2023)
Here's a complete list of all the working/expired Roblox Project Slayer codes for your redeeming pleasure!
NOTE: The list below has been updated for March 2023 and will be continually updated daily throughout the month and year.
Thanksfor500k! – Huge Rewards
ThanksFor200milVisitsRace – Race Reset
ThanksFor200MilVisitsBreathingReset – Breathing Reset
Expired Codes
ThanksFor500kVotes
ThanksFor200milVisitsRace
ThanksFor200MilVisitsBreathing
ProjectShutdown
ProjectShutdownRace
ProjectShutdownBreathing
450Kupv
450KupvRaceReset
450KupvBreathingReset
HappyNewYears!
HappyUpdateYears!
2023BreathingReset
MerryChristmas2022
MerryChristmas2022RaceReset
MerryChristmas2022BreathingReset
400Klikes
400Klikesracereset
400Klikesbreathingreset
Sh0wC4s3beast
Miniupdate3
MiniUpdate3racereset
Miniupdate3breathingreset
FlAm3!Shawcas31
1o0millvisits-
1o0millvisits-_-breathingreset
miniupd2
miniupd2breathreset
miniupd2racereset
twittaspins
lastcode?lol
anotherdayanothershutdown
shutdownnumb2
shutdown!
miniupdate
miniupdatedaily
350Kupvotes!Breathing
350Kupvotes!
200K+upvotestysm
sorryforanothershutdownlol
100K+likesiglol
gettingthere!
Sorryforshutdowns!
FINALLYRELEASETIME!
werebackup
How to Redeem Roblox Project Slayer Codes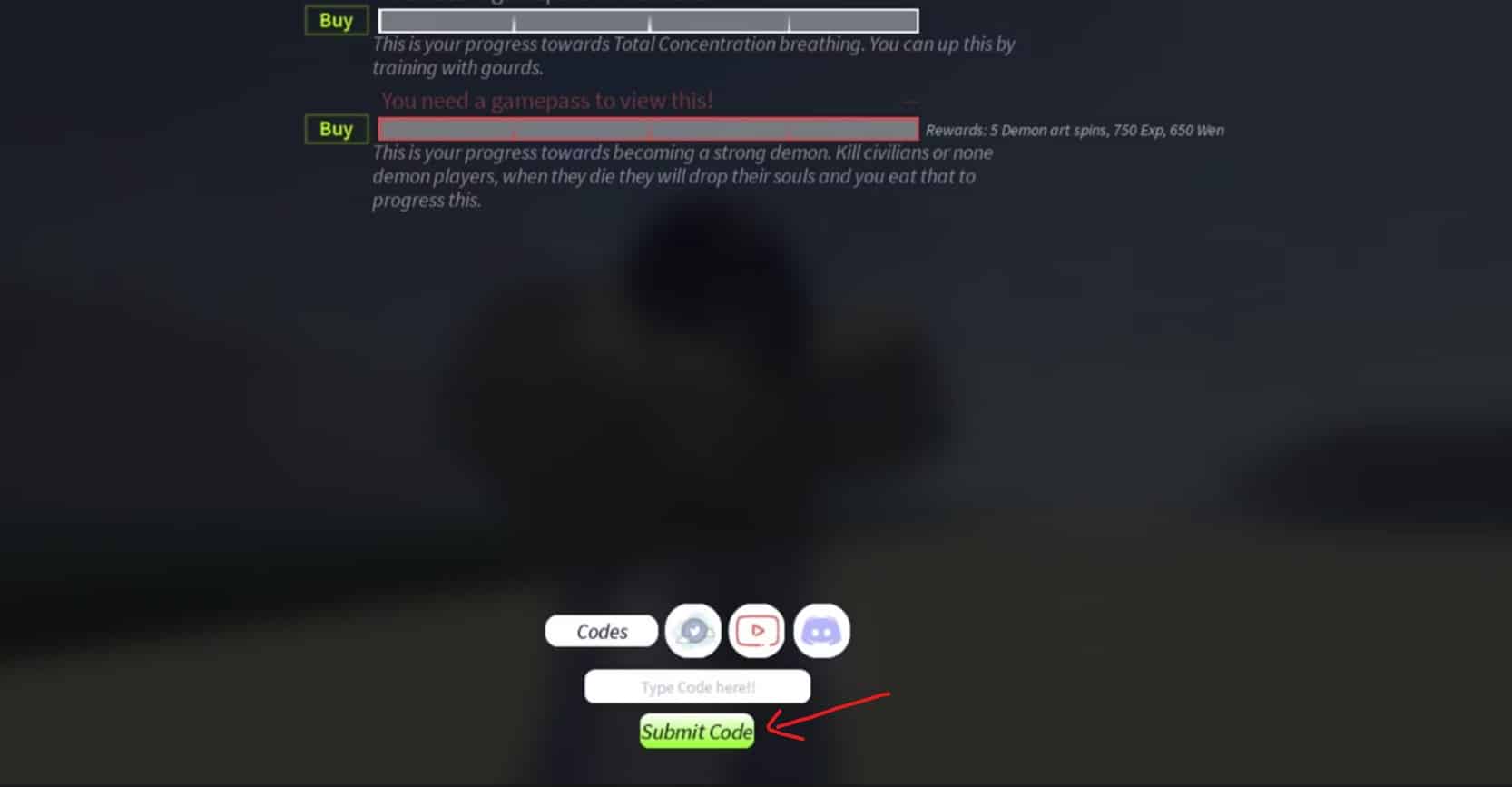 Once you have the working codes, you will want to redeem them in the game. Luckily, redeeming these codes is extremely easy in Project Slayer. To redeem Roblox Project Slayer codes, you need to:
Launch Project Slayer.
Choose your character.
Click on Play.
Press the M key on your keyboard.
Click the Book icon in the center of the menu.
A new screen will pop up, look to the bottom to find the codes box.
Enter your code and press Submit Code to get your rewards.
If you are playing Project Slayer on your mobile, you will have to hold down the menu button instead of pressing the M key. The rest of the steps are the same on both devices.
How To Get Project Slayer Codes?
Roblox Project Slayer codes are posted on Project Slayer's official Discord server. You can visit their social pages to check out their game announcements and find new codes. Another way to see what the developers are planning is to visit their official Trello page.
Some third-party sources also share working Project Slayer codes that are not posted on Project Slayer's official accounts. However, if sourcing these codes from various platforms seems tiring, you can simply hop on to this regularly updated article for new links!
Why Aren't Your Project Slayer Codes Working?
There can be multiple reasons why your Project Slayer codes aren't working. The most common issue is if you are typing the code incorrectly. Even if you mistype a single thing in the code, it will not work. So, make sure that you type the exact code as written above or on the Project Slayer socials.
Secondly, another reason for codes not working is if they are expired. You will get a prompt that tells you if a code is expired or not. Plus, if you are typing a code that you have already redeemed, it will not work. So, make sure that you type the code only once.
How To Get More Spins in Project Slayer?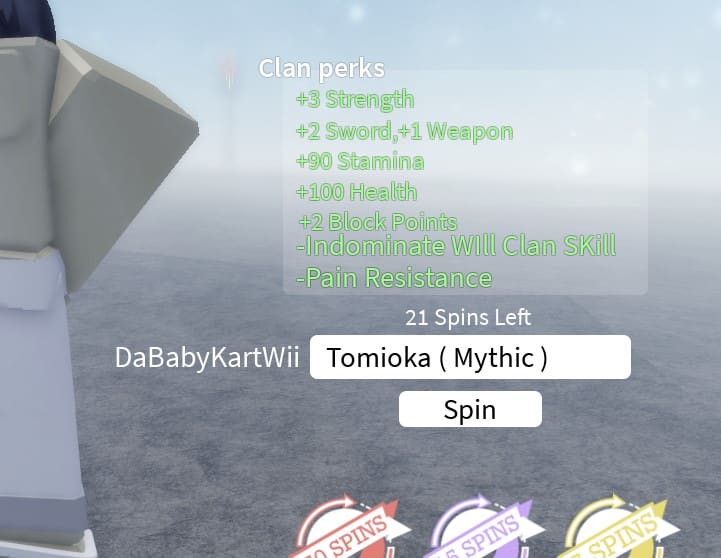 Getting spins is crucial in Project Slayer since it allows you to change your Demon Arts. If you are familiar with the anime, you will know that the Demon Arts play a vital role. It allows you to deal more damage and find your perfect style.
Currently, the only way to change your Demon Arts or get new ones is to use the codes and get free spins. Alternatively, you can get more spins by finding Ore, which you can then trade for in-game items. Plus, you can also spend Robux to purchase them. However, since the last option requires you to spend real money, I do not suggest that.
What is Project Slayer?
Project Slayers is a game made for Roblox that is heavily inspired from Demon Slayer. It is an open-world RPG that features a lot of action and combat. You have to roam around the world and get quests from various characters. As you progress, you will get new weapons that will help you on your journey.
The game features a lot of combos that allow you to become stronger and deal a lot of damage to the enemy. One of the best features of this game is that you can choose whether you want to be a good demon hunter or an evil demon.
Conclusion
And there you have it, those are all the working and expired Roblox Project Slayer codes. If you find a code that we haven't listed in our guide, let us know in the comments below, and we will add it. Plus, we will be updating this list regularly, so make sure that you check it out from time to time so that you can get all the latest working codes before they expire.
In the meantime, check out our guide about the Coin Master links and the Roblox Noob Army Tycoon codes as well.