March 31, 2023 – Checked for new Roblox Race Clicker Codes
Race Clicker is a fun game that is fast-paced and can be quite competitive. Players have to reach the finish line in under 2 minutes to earn rewards and win the game. To make the process easier, we have compiled a list of all the Roblox Race Clicker codes so that you can get more wins.
Since the game is updated regularly, there are a lot of codes coming out. So, if you want to get tons of wins and earn various rewards, check out the list of working codes below. We have also mentioned the expired codes so that you do not waste time typing them in the game. With that said, let's get started!
Working Codes
Here's a complete list of all the working/expired Roblox Race Clicker codes for your redeeming pleasure!
NOTE: The list below has been updated for March 2023 and will be continually updated daily throughout the month and year.
x330min5 – free pet
x3wincode2 – free pet
FREEPET1 – limited time free pet
X3WOWCODE – x3 Different Boosts
Accelhidden – 15 minutes of acceleration boost
hallowx3 – x3 Wins for 15 minutes
candy500 – 500 Candy
opx3code – x3 wins for 15 minutes
500KLikes – free wins
Almost100MVisits – 25 wins
ThankYou50M – 25 wins
1MGroupMembers – 15 wins
ThanksFor5MillionsVisits – 8 free wins
LetsGo5KLikes – 6 free wins
NewUpdate – 3 free wins
Expired Codes
myvalentine
Currently, there are no expired codes for Roblox Race Clicker. When a code will expire, we will update this list to let you know. All the Race Clicker codes work for a specific period of time. However, we are not sure exactly how long they last for since the codes are relatively new.
How to Redeem Roblox Race Clicker Codes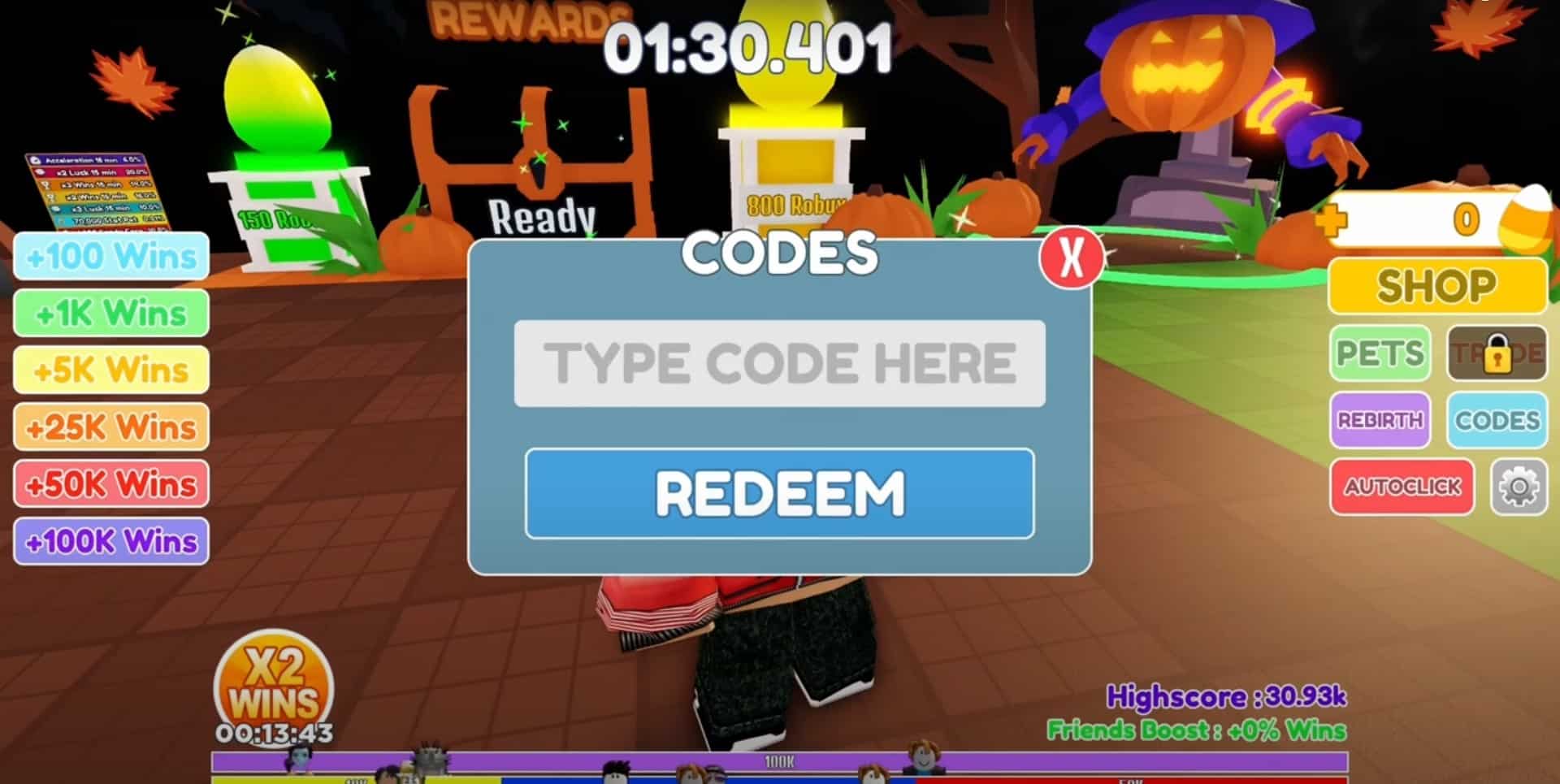 Once you have the working codes, you will want to redeem them in the game. Luckily, redeeming these codes is extremely easy in Race Clicker. To redeem Roblox Race Clicker codes, you need to:
Open Race Clicker through Roblox on your PC.
Press the 'Code' button on the right side of the screen.
Type the working codes into the 'Type Code Here' text box.
Click the 'Redeem' button to claim your free rewards.
Keep in mind that you can only use a working code once. So, if you have already used a code, it will not work if you type it in again.
When are Roblox Race Clicker Codes Released?
New Roblox Race Clicker codes are released when an update comes out or the game hits a milestone. There is no specific schedule since milestones are achieved randomly and the updates aren't out daily.
So, if you are following the developers, you will know when a new update comes out so that you can redeem your codes.
How To Get Race Clicker Codes?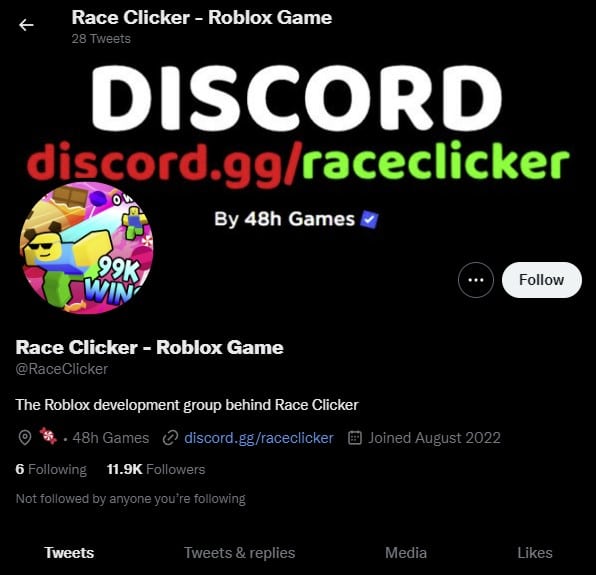 Roblox Race Clicker codes are posted on Race Clicker's official Twitter account or Discord server. You can visit their social pages to check out their game announcements and find new codes.
Some third-party sources also share working Race Clicker codes that are not posted on Race Clicker's official accounts. However, if sourcing out these codes from various platforms seems tiring to you, you can simply hop on to this regularly updated article for new links!
Why Aren't Your Race Clicker Codes Working?
There can be multiple reasons why your Race Clicker codes aren't working. The most common issue is if you are typing the code incorrectly. Even if you mistype a single thing in the code, it will not work. So, make sure that you type the exact code as written above or on the Race Clicker socials.
Secondly, another reason for codes not working is if they are expired. You will get a prompt that tells you if a code is expired or not. Plus, if you are typing a code that you have already redeemed, it will not work. So, make sure that you type the code only once.
How Many Wins Can I Get From Each Code?
There is also no constant number of wins you can get from each Race Clicker code. Nonetheless, the developers can be generous with the usual 5 and 25 wins for each code. Likewise, you can get candy and temporary wins for each code as well. Candy allows you to run faster, which is a welcomed addition.
Why Did I Receive Fewer Wins Than What Was Stated?
For some reason, some players tend to get fewer wins than what is stated in the codes' descriptions. We have yet to hear anything about this from the developers themselves or other third-party sources.
Rest assured, though, that the Race Clicker codes listed here are all valid and still offer a good amount of wins and other rewards.
What is Race Clicker?
Finally, let's take a look at what is Race Clicker. It is a game in Roblox where you have to click your mouse button as fast as possible. The faster you click, the faster your character will run forward. You will race against other players to see who can complete the entire track within the time limit.
The best part is that the more wins you have, the faster your character will be. So, getting tons of wins is extremely important in Race Clicker. Luckily, these codes will allow you to get free wins to increase your overall acceleration.
The game also allows players to get various unique pets that help you win more races and increase your overall speed as well.
Conclusion
And there you have it, those are all the working and expired Roblox Race Clicker codes. If you find a code that we haven't listed in our guide, let us know in the comments below, and we will add it. Plus, we will be updating this list regularly, so make sure that you check it out from time to time so that you can get all the latest working codes before they expire.
In the meantime, checkout our Coin Master links as well to gain tons of spins and coins in that game.