June 02, 2023 – Checked for new Roblox Treasure Hunt Simulator codes
Always fantasized about being a pirate and getting filthy rich off of the loot, but never had the guts to actually act on your instincts? Well, Roblox has outdone itself again in making sure that you do not die without acting out your fantasies.
Gathering so much loot is no easy feat. One might wonder what to do if one needs an extra boost for making their treasure-seeking adventures easier. While working hard is a sure way to achieve success in the game, a little help never hurt anybody. Right? Use our latest Treasure Hunt Simulator Codes to boost your progress.
Treasure Hunt Sim Codes
Don't miss out on this chance to spice up your Roblox game! We've got a killer selection of codes that'll give you an edge when you need it most. So why not grab some freebies while you can? Carpe diem, my friend!
dino – 100 coins
magma – 10 crates
volcano – 1,000 gems or rubies and 1 Rebirth
heart – 1,000 gems or rubies and 1 Rebirth
jailcity – 1,000 gems or rubies and 1 Rebirth
intel – 100 coins
v2update – 500 coins
freerubies – 1,000 gems or rubies
Launch – 3,000 gems or rubies
Martian – 300 gems or rubies and 1 Rebirth
Godly – 5 Sacred Hat Crate
Moon – 500 gems or rubies and 1 Rebirth
Finally – 300 gems or rubies and 1 Rebirth
200million – 200 gems or rubies and 2 Rebirths
400klikes – 500 gems or rubies
medieval – Sacred Hat Crate and 1 Rebirth
Expired Treasure Hunt Sim Codes
Believe it or not, expired codes can still be helpful! While they won't get you any rewards, they can come in handy as a reference. If you enter a code correctly and it still doesn't work, checking against expired codes might help you figure out what went wrong.
No Expired codes as of yet!!
How to Redeem Roblox Treasure Hunt Simulator Codes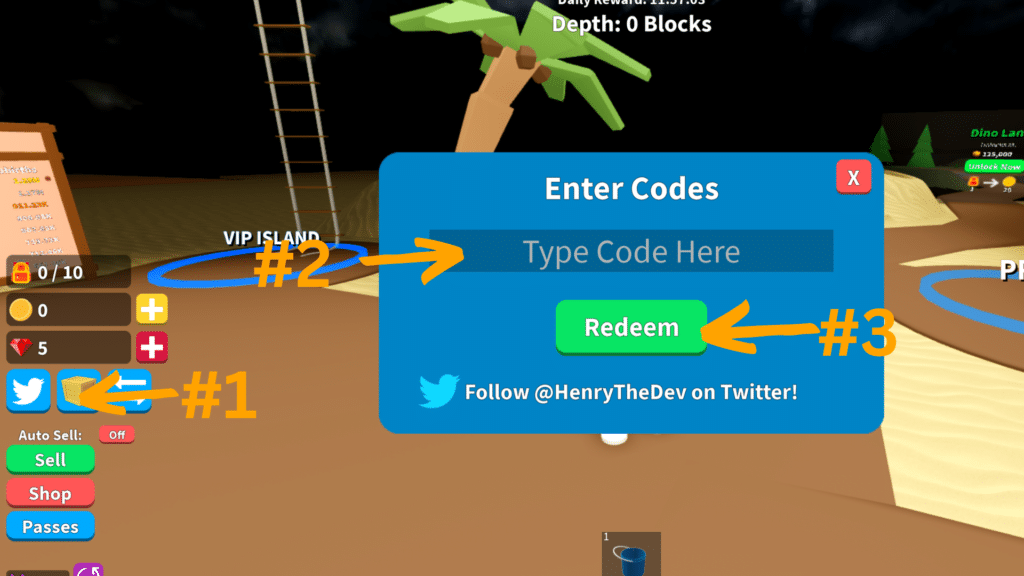 Now that you have your hands on an awesome lineup of codes, the next step is learning how to successfully redeem them to make sure nothing goes to waste. Luckily, it is a straightforward process that will only take you a minute.
Follow these steps to redeem codes in Roblox Treasure Hunt Simulator:
From the main game screen, click the blue Twitter logo on the left side of the screen
The Codes menu will pop up
Enter a code exactly as it is displayed
Hit that Redeem button
Easy as pie!
Treasure Hunt Simulator Codes Not Working
If you're having a tough time redeeming codes in Pickaxe Mining Simulator, don't fret too much. There might be a few factors at play that are causing issues. First and foremost, make sure that you're entering the code accurately. Typos and mistakes with capitalization can crop up without warning, so be sure to give your entry a double-check. It's better to be safe than sorry!
In addition, even if you've accurately entered the code, it might still appear to be invalid. This could be because the code has already expired and is no longer functional. To confirm if this is the case, take a glance at our rundown of expired codes. It could assist you in getting to the root of the problem.