A perfect blend of gameplay and culture, the Sims 4 Snowy Escape is an expansion pack you don't want to miss. While it may rub off as a snowy theme park pack, it has a more resounding theme – one of culture and vibrant world-building.
Being the 10th expansion pack to the Sims 4 franchise, it's no surprise that EA blew us away. However, the expansion pack surpassed our expectations and created an expansion pack nobody should pass upon.
The Sims 4 Snowy Escape allows Simmers to experience a new culture and winter sports. It also introduces a stunning new world, gameplay, and festivals.
---
Mt. Komorebi – A New World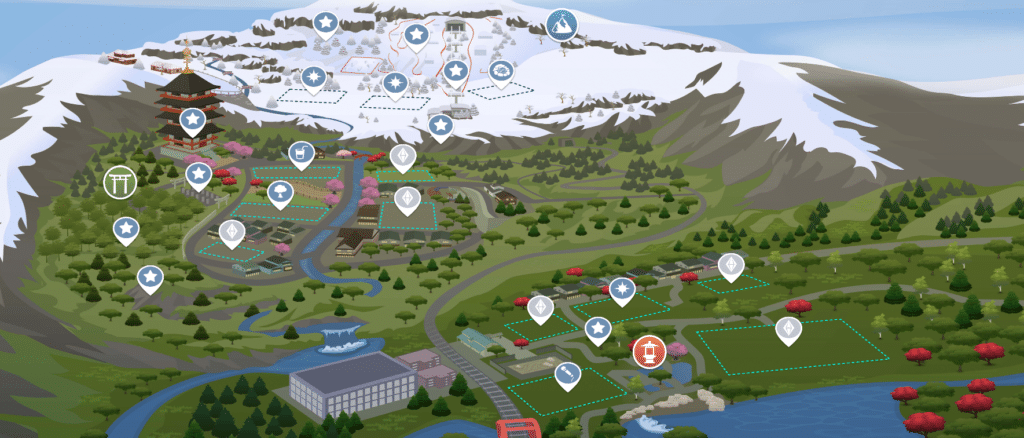 Welcome to a new world filled with rich wonders and vibrant colours – Mt. Komorebi. The world is a snowy mountain region with a Japanese-inspired feel and looks to it. The world has residential and rental lots, making them perfect for vacations and permanent residences. There are three neighbourhoods in this world:
Yukimatsu: Located on the slopes of Mt. Komorebi, this neighborhood is named after its snow-covered pines. It's a popular tourist spot for its extreme snow sports and vacation rentals.
Senbamachi: Also known as the town of a thousand leaves, locals believe this neighborhood is deeply grounded in nature. You can take hikes through bamboo forests where you might find unique spritely creatures and meet the guardians of the trees.
Wakaba: The newest town in the Mt. Komorebi region, Wakaba is more modern and embodies the concept of youth. It's a small town that's still up and coming but boasts a fantastic Festival of Youth. It also has a cute mascot named Yamachan.
---
Extreme Thrills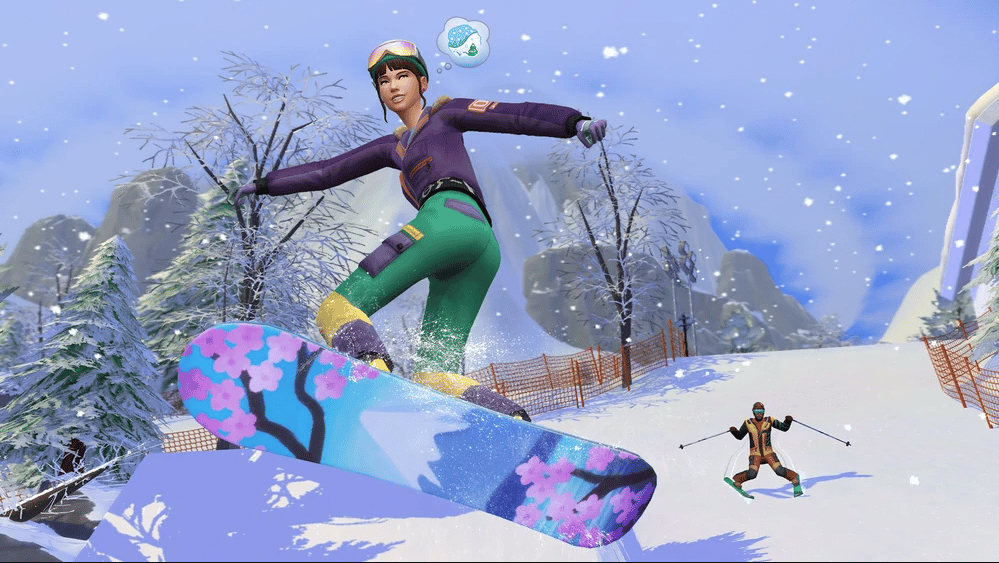 Now that you know the new region of the Sims 4 Snowy Escape a little better, we can ski into the details. Yukimatsu is known for its winter sports, including snowboarding, skiing, sledding, rock climbing and hiking.
---
Skiing
The first new snow sport in the Sims 4 Snowy Escape is Skiing. Head to one of the slopes in Yukimatsu and grab a pair of skis from a vending machine. Once you've unlocked new tricks and skills, you'll be able to score yourself new skis.
Related: The Sims 5: Release Date and All We Know
---
Snowboarding
While there are no designated snowboarding half-pipes or areas, you can still share the slopes with the skiers. You can make friends with other snowboarders (called snow bros) and level up to unlock new moves and tricks. Of course, you've got to try snowboarding – and the boards look fantastic too!
---
Rock Climbing
If going down a slope isn't for you, then perhaps climbing one is. Rock climbing is a new activity and skill in the Sims 4 Snowy Escape. So get your gear on and get ready to scale Mt. Komorebi. And once you have a high enough skill level, you'll finally be able to reach the summit of Mt. Komorebi. It's a challenge we highly recommend.
---
Hiking
While not an actual skill and more of a walking feature, your Sim can explore different hiking trails around the world. These include the old graveyard and the mountain monastery visit. Your Sim can also use their phone to plan a mountain excursion event. Currently, this is the only way your Sim can explore Mt. Komorebi without rock climbing.
---
Welcome To Your Sanctuary
If extreme sports aren't for you, let your Sim relax in natural hot springs and unwind over hot pots. The Sims 4 Snowy Escape adds more than one way to retreat from life – runaway to your sanctuary. You'll be able to meditate around scenic gardens and bamboo forests or sit around the kotatsu table and socialise. Alternatively, your Sim might enjoy mindful walks or music to soothe their inner emotional beasts.
Just like the gameplay, the look and feel of the world are also inspired by Japanese furniture and architecture. You can build with shoji doors, windows and tatami mats. Incorporating a genkan entryway to your garden can help your Sim achieve inner Zen. Our favourite part? This expansion pack allows you to build your own rock garden outside your home!
Other items added to the game include heaters, shoes-off signs, plants, wall decorations and more! There's even cute new trash can design.
In addition to building your own sanctuary, you can explore existing locations around the world. These include the Stefani Onsen Bathhouse, the perfect place to relax in hot water springs. The natural springs have rejuvenating properties that will get rid of any weariness or bruises. In addition, you can visit the mountain temple to meditate and reflect.
---
Define Your Lifestyle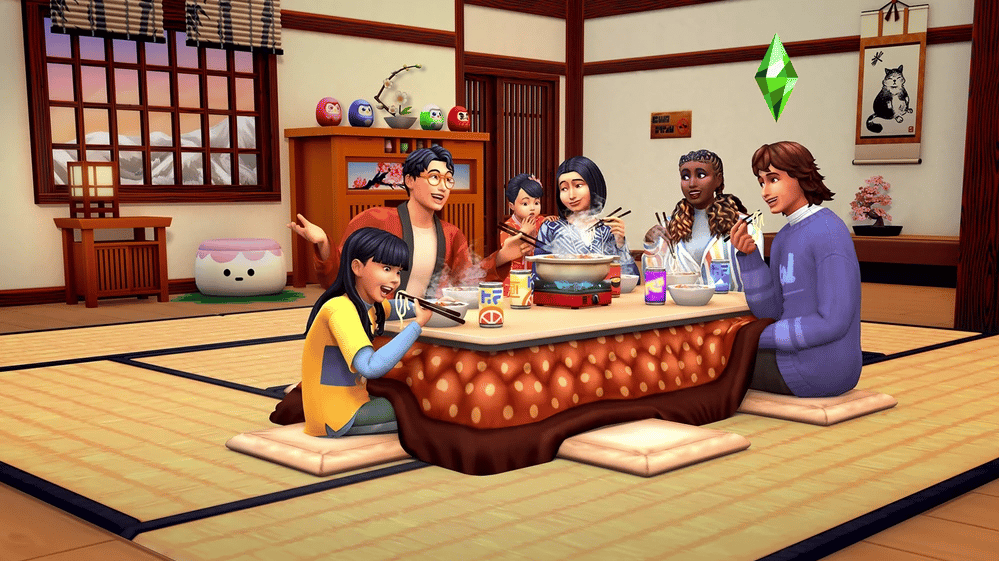 Lifestyles and sentiments are new aspects added to the game that is influenced by your Sim's actions. Their behaviours and habits change your Sims lifestyle appropriately. For example, a computer sim would gain the' Techie' lifestyle.
When you gain a lifestyle, they'll act similarly to traits, giving your sims various emotions. Different lifestyles will also open certain gameplay elements that deepen your Sim's personality. For example, a Sim with the techie lifestyle will tense when on a lot without power. They'll also prefer to use technology over non-electronic items.
There are 16 new lifestyles in this expansion pack, each with its own unique traits. Here's a list of lifestyles you can expect to see in the Sims 4 Snowy Escape:
Adrenaline Seeker
Close-Knit
Coffee Fanatic
Energetic
Frequent Traveller
Health Food Nut
Hungry for Love
Indoorsy
Junk Food Fiend
People Person
Single and Lovin' It
Outdoorsy
Sedentary
Techie
Technophobe
Workaholic
Just as certain behaviours can bring on different lifestyles, they can remove lifestyles too. For example, if your Outdoorsy Sim starts spending all their time indoors, they'll lose the lifestyle. If you lose the lifestyle, you lose the perks that come with it.
There's also a daily lifestyle cap that limits the number of changes to your lifestyle per day. Lifestyles add a whole new dimension to the game and are worth playing around with.
Related Reading: 20 BEST Sims 4 Mods: Top Picks (2022)
---
Final Thoughts
Honestly, Mt. Komorebi is an enchanting world that we keep returning to. There are tons of gameplay activities and scenic views that blend into a seamless world. In addition, the new sporting actions are fun and engaging and add a refresher to the current gym and athlete setup.
With lifestyles, your Sim can earn additional traits that are temporary and easy to change. They're affected by your Sim's behaviour and actives. Lifestyles are entertaining to play around with and open new social interactions.
Snowy escape is arguably the best expansion pack since the Sims 4 Seasons. What are your thoughts? Share them with us on Twitter or in the comments below.