Developed by Capcom, Street Fighter has become one of the staples for fighting games, especially in today's era. And recently, Capcom announced the next installment in the massive franchise.
It's been almost seven years since we had the last Street Fighter game, and Capcom isn't coming in slow this time around. The developers behind the game seek to take full advantage of next-gen consoles and push the series to even newer heights. Here's everything we know about Street Fighter 6: rumors, release date, and everything else! 
Street Fighter 6 Release Date
Street Fighter 6 is coming out on June 2nd, 2023. The big reveal was made during The Game Awards 2022.
The wait is finally over. Capcom has announced the release of its 6th installment in the Street Fighter Series.
Street Fighter 6 Pre-Order
Street Fighter 6 is available for pre-order now, and there is also some bonus content that comes with the game if you decide to get it early. The Pre-order bonus consists of Outfit 1 Color 10 for Chun-Li, Jamie, Manon, Dee Jay, Juri, and Ken.
The game will be available in three different versions, Standard, Deluxe, and Ultimate (digital version only), all varying in terms of extra content aside from the main game and bonus pre-order content.
Price Comparison of All Editions
You can find out the complete breakdown of every version of Street Fighter 6 here.
Street Fighter 6 Collector's Edition (GameStop Exclusive)
Aside from the above three mentioned versions of the game, there is also a Collector's Edition which is GameStop Exclusive, and it contains everything that the Ultimate Edition offers plus some physical goodies as well. The physical gifts contain,
Mad Gearbox
Luke and Kimberly figures
Artbook
Sticker set
Figure diorama boards
If you are into physical merchandise, then this is a good place to start. The Collector's Edition costs $249.99 and is available for Xbox Series X | S, PlayStation 5, and PlayStation 4.
Pre-Order Trailer
Capcom revealed the Pre-Order trailer for Street Fighter 6 on December 9, 2022, and the trailer has some interesting things worth noting.
The trailer features the World Tour Mode, where you will be walking around the streets with your customizable character, interacting with other people, and taking on fights.
Dee Jay, Marisa, Manon, and JP are coming to Street Fighter 6 as new additions to the character roster.
The custom character is fighting with Ryu on his team against two opponents, which could be a hint towards a possible 2v2 mode.
Mini-Games added to World Tour Mode.
Street Fighter 6 Closed Beta
The Street Fighter 6 beta is divided into the following sections:
1st Closed Beta
Capcom rolled out a closed beta for Street Fighter 6 on October 7th, 2022. It remained active for 3 days until October 10th, 2022, and was released with only 8 characters. It was a closed beta, and only a select few were allowed to take the game for a test run. People who got to try it early were instant fans of the new and improved game, and they thoroughly enjoyed their time.
2nd Closed Beta
Capcom just revealed that there would be another closed beta coming to all platforms from December 16th – December 18th, 2022. Be sure to fill up the form and get a chance to test the game early.
Anyone who played the first closed beta will automatically be invited to play the second one as well.
Street Fighter 6 Platforms
During Sony's State of Play last month, we got a glimpse of Street Fighter 6 in the Capcom Showcase on June 13th. It's not some obscure teaser but a full-fledged gameplay trailer, to the surprise of many fans. We also got a look at the newest featured fighters Jamie and Kimberly, along with classic characters such as Ryu and Chun-Li.
Going back, at the end of the gameplay trailer, Capcom revealed the platforms that Street Fighter 6 will be on PS5/PS4, XBOX X/S, and PC. Unfortunately, they excluded the last generation XBOX One for some reason.
Will Street Fighter 6 Have Crossplay?
Street Fighter 6 will have crossplay between all the platforms it releases on. While this hasn't been directly confirmed with the developers themselves, journalists and content creators who got their hands on the game have made it clear.
One of these content creators, Youtuber Maximilian Dood, said he had confirmed it from the devs themselves. So, it looks like we're going to have Crossplay after all. It could be a great factor in growing the player base for the game. And with that, it's not going to be long before the developers make an official statement on the matter.
Street Fighter 6 Trailer
Capcom released the official trailer for Street Fighter 6 on June 3rd, 2022. The trailer revealed a lot of things that we will be seeing in the new installment of the Street Fighter Franchise. There were are few things in particular that stood out.
Luke got a lot of attention which means that a lot of the story might be revolving around him, so we should keep an eye out for that.
Next, we got a hint of the new modes coming, fighting ground, battle hub, and world tour.
We got a teaser of the characters we will see in the game. Keeping the original lineup with the addition of a few new ones.
We got to see the major visual changes in the game, but that is still a question of debate since the actual game might do it differently according to your specs.
Gameplay and Mechanics
Before starting this section, I would like to thank VesperArcade for educating me on most of the gameplay and mechanics. You can see his full video here:
The gameplay involves Luke (a recurring character from the Street Fighter franchise) and Ryu, along with their revamped model design. The HUD is minimalistic yet colorful simultaneously, allowing players to distinguish each bar quickly.
Most gauges remain similar, with the super arts gauge still at the bottom of the screen, and we have a new mechanic in Street Fighter 6 called the "Drive System." Capcom has been using their proprietary RE Engine which makes it much easier to develop their own games. The dev team decided that they will be using their own game engine rather than a 3rd Party engine.
Capcom has preferred their new in-house game engine, RE Engine for the development of Street Fighter 6 and that is for a lot of reasons. The first one is the improved anti-aliasing and volumetric lighting feature that allows the developer to add life-like lighting and a much higher-quality finished product.
RE Engine also works better for the development of VR games as it is able to achieve much higher framerates that reduce the chances of motion sickness. Using a self-developed game engine comes with its own set of pros which in most cases outweigh the cons.
Rollback Netback Support for Online Play
Rollback netcode is a vital part of any fighting game that relies heavily on online play and is in need of that extra bit of quality. Needed for responsive matches online with a minimal amount of latency in online regions and matchmaking.
It's something that used to be a feature in games and has slowly turned into a requirement, especially in games like Street Fighter. Considering how the competitive nature of these games becomes intense, this feature is a must-have for Street Fighter 6, and we'll likely be seeing it in the latest game in the series.
Modern Controls in Street Fighter 6
While they're called "Modern" controls, they're essentially an entry point for beginners and casual players. According to the demos, the new control scheme takes away the character's normal attacks and replaces them with 3 buttons. Furthermore, there's one dedicated button for performing special attacks without the need for special movement. Additionally, shoulder buttons have dedicated actions set to them as well, making moves like grabs and auto combos easier to pull off.
Modern Controls make fighting simpler in a way and allow for auto combos to be performed a lot easier. Players new to the game don't have to remember complex movements and key combos to enjoy dishing out popular special attacks like the Shoryuken or Chun-Li's fireballs. Casual players can finally enjoy the essence of the Street Fighter series without worrying about memorizing complex combinations and movesets.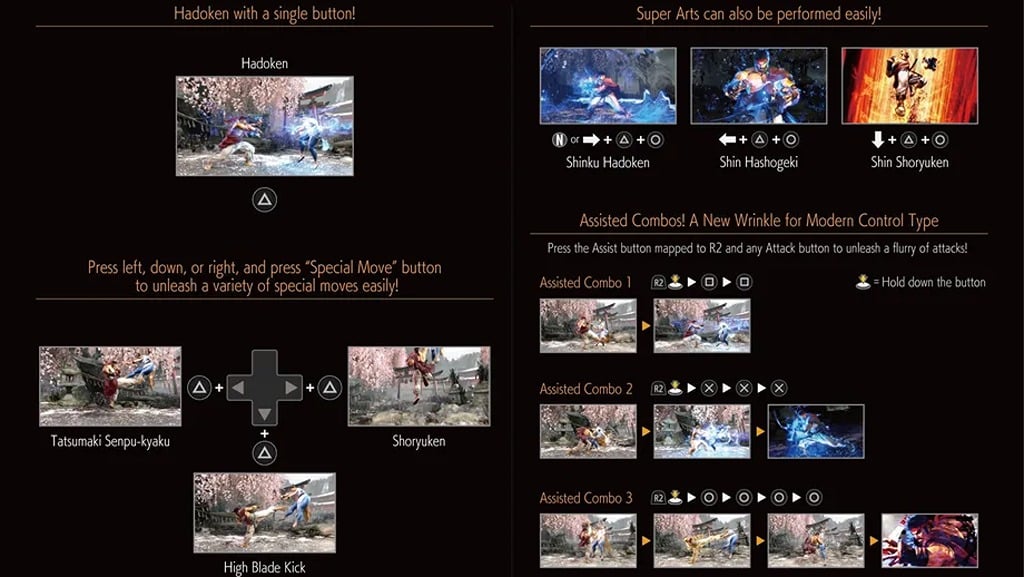 While these new controls seem like an "easy mode" for some, there are still downsides to them. For instance, there are only 4 slots for special attacks in Modern Controls, and anything outside of them is unavailable to perform even with the traditional input. And with the game in beta testing and still being worked on, the developers will make sure to balance the new scheme out with competitive gameplay.
The Drive System
The Drive System is a gauge that acts like a stamina meter. You can expend this gauge to make "Drive-Related" moves, and once you run out of Drive, you'll be in a burnout state, which is detrimental to your fights as opponents will have a massive advantage over you. If an opponent happens to wall-splat your burnout character, you will automatically enter the "Stunned state."
There are five different drive moves that drain your drive gauge:
Drive Impact– A powerful strike that can absorb an opponent's incoming attack. You can also perform this move when your opponent is near a corner to induce a wall splat. This attack will ignore your opponent's block. I find this similar to the "Red Focus Attack" in Street Fighter 4.
Drive Parry – A move that will automatically repel your opponent's attack and replenish your drive gauge if successfully done.
Overdrive – When performing a special move, press two of the same button type simultaneously, i.e., heavy punch + medium punch. This mechanic is similar to the EX-Drive in previous games; however, it is now tied to the Drive Gauge rather than the Super Arts bar.
Drive Rush – Perform a quick rush forward from a Drive Parry or a cancelable normal attack. Similar to how you can quickly cancel a focus attack in previous games.
Driver Reversal – This move will allow you to get out of a high-pressure situation by performing a counterattack while blocking an opponent's attack.
Game Modes
The developers have openly announced that the game will feature 3 major modes for players. Fighting Ground, Battle Hub, and World Tour, all with their distinct gameplay features. Let's get into each mode and see what they're all about.
Fighting Ground
The first mode we'll get into is Fighting Ground, your stop for local multiplayer and honing your skills against bots. Here you can find all sorts of training modes along with all of the various modes from previous iterations of the game, such as survival modes and arcade ladders. You can train here, test your battle endurance, or have fun fighting against friends in local battles.
Battle Hub
Next is the Battle Hub, your gateway to online play, where you can fight with players and climb the ranks showcasing your skills. There's not enough footage of the mode itself out there, but from the glimpses shown, we can assume it's the main online hub for the game.
There's also an online lobby feel to this mode, where players can create custom avatars and roam around and challenge other players to fights. Areas and settings include iconic locations from the series and even feature old-school arcade machines to interact with. This mode is all about VS battles and proving your worth in online competitive play.
World Tour
Onto the last and most interesting mode for the game, we have the World Tour. Very little is known about this particular mode, but it seems to be something the series has never done before. It features an open-world setting based on a setting from an 80's classic Capcom game, Final Fight.
Here you can meet actual characters from Street Fighter and its expanding universe and get into all sorts of trouble. There's no confirmation on how exactly the mode will play out, but it has been described as an "immersive single-player mode."
Chances are the mode might feature the player's custom character as the main protagonist. However, it remains to be seen if the custom character is the same for other modes as well or not.
2v2 Mode
For a brief moment in the pre-order trailer, we saw the custom character, basically summoning Ryu to fight alongside him against two opponents. At this moment, this is just a speculation but we might be getting a 2v2 mode in Street Fighter 6.
Some Reddit users also suggested that this might actually not be a 2v2 mode and it could be a simple summoning technique. One where you would be able to summon a champion to help you in the battle. We are unsure about the fact that if we will be able to pilot the summoned/partnered character or not.
I guess we will have to wait and see when more light is shed on the topic. Until then, this is all we have for now.
Custom Character in Street Fighter 6
Street Fighter 6 will allow you to create your very own custom character. The will feature a very comprehensive avatar creator menu where you will be able to tweak all sorts of aspects of your character. From height to body type to eye color, you will be able to pretty much do anything you want with your character.
In the closed beta, there were a total of 27 customization options under the Avatar Creator menu. You will be able to build your character from the ground up or you could also make use of the presets that have been provided by the devs.
You will be able to put your character in the ring against famous characters like Ryu or Chun-li. They will also teach your avatar some moves which you will later be able to perform. You will be able to take your custom character out for a spin in either the World Tour mode or the Battle Hub mode.
With so many customization options, imagination is your only limit. Another thing worth mentioning here is that we are not sure how the hitboxes will work on the custom character, in case people go ham and create an absurd-looking character with lower than-normal height or anything of sorts. Capcom must have thought of something and we will have to wait until they officially address the matter.
Real-Time Commentary in Street Fighter 6
Capcom is leaving no stone unturned this time around to make sure that this is the best Street Fighter game to have ever been released. Another spicy new feature they have incorporated into their game is Real Time Commentary.
The feature aims at giving battles a feel of a real-life competitive match with commentary from the real artists in the background, narrating everything happening on the screen.
The Street Fighter developers stated Real-Time Commentary is added to give the battles a bit more character to fights. At the same time, narrating everything on the screen will help new players get a better grasp of what's actually happening. This will help in assessments of matches and a slightly lower learning curve for the new entrants.
Capcom is working with known faces from the Fight Game Community to add their voice to the game. They have already signed up Jeremy "Vicious" Lopez, Aru, Tasty Steve, and James Chen for the commentary with more people to come.
Street Fighter 6 will also have subtitles for commentary in 13 different languages for accessibility. Overall this is something that will add further depth to the game while giving people from the community the recognition they deserve.
Will Street Fighter 6 have a Multiplayer Mode?
Yes, Street Fighter 6 will have an online multiplayer mode known as Battlehub where you will engage in real-time battles against real players. If you are on PC, you have nothing to worry about but if you are on PlayStation or Xbox, you will need a PlayStation Plus and Xbox Gold membership to take part in online battles.
Character Roster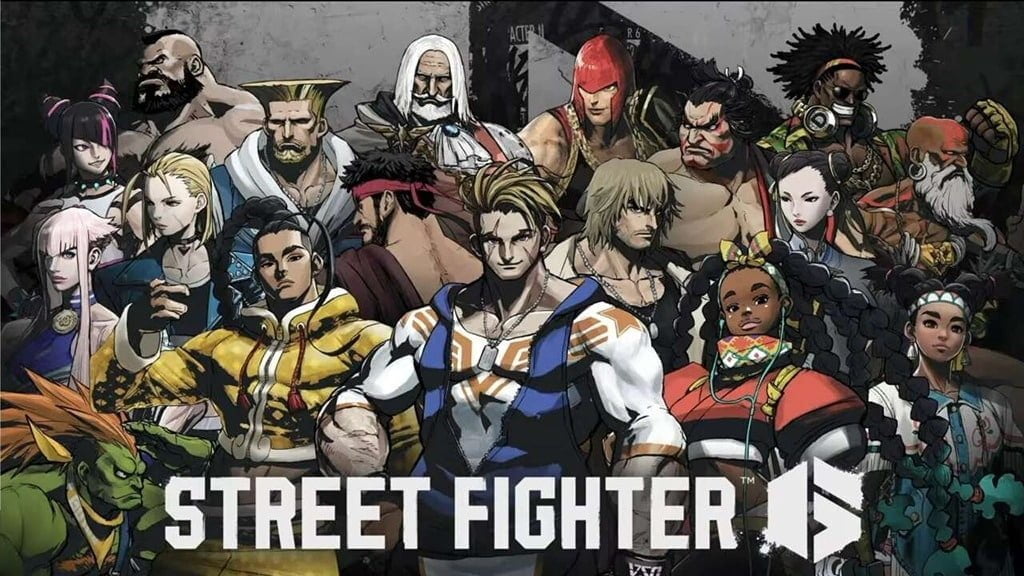 With the hype surrounding the game, it's no wonder fans are craving for any bit of information regarding the game. With no official confirmations on this, all players can do is focus on the possible theories that talk about the variety of characters we might see in the game.
Apart from the main headliners seen in every game, there were a few characters we caught a glimpse of in the official trailer and the pre-order trailer for the game. That being said, with all the information at hand from the trailers and other sources, here is the unconfirmed character list for Street Fighter 6.
| Character | Status |
| --- | --- |
| Ryu | Confirmed |
| Chun Li | Confirmed |
| Luke | Confirmed |
| Jamie | Confirmed |
| Gulie | Confirmed |
| Kimberly | Confirmed |
| Juri | Confirmed |
| Blanka | Confirmed |
| Dhalsim | Confirmed |
| E. Honda | Confirmed |
| Ken | Confirmed |
| Dee Jay | Confirmed |
| Manon | Confirmed |
| Marisa | Confirmed |
| JP | Confirmed |
| Zangief | Unconfirmed |
| Cammy | Unconfirmed |
| Ed | Unconfirmed |
| Akuma | Unconfirmed |
| Mimi | Unconfirmed |
| Lilly | Unconfirmed |
| A.K.I. | Unconfirmed |
This list consists of 22 characters. Some of these characters are confirmed; however, not every character on this list is expected to show up when the game is released. They could be tied to DLCs later on or hidden behind paywalls, as is a usual tactic for the Street Fighter games.
Are you hyped up for Street Fighter 6? What do you think of the new characters and the new designs? Please leave us your thoughts in the comments section!