When you're putting together a PC for VR gaming, you have a wide variety of choices. Some of these choices even include very low-cost options (Android VR). However, in being here and reading this, it's pretty obvious that you're not into Android VR! You're here as a custom PC VR gaming system builder. With all custom-built VR gaming PCs, you'll want to start out with the best CPU for VR gaming.
Naturally, you can start out or even stick with a type of pre-built system. Unfortunately, that won't always do. Upon checking system requirements for some PC VR setups, you'll notice some differences which tell you to custom build. The second piece for custom building PCs is always the CPU. One main aim of custom building PCs is to make sure your PC in general can handle anything. So which one is the best CPU for VR and everything else you want to throw at it?
You'll Need Some Extra VR Info First
Initially, it's easy for anyone to think that all VR concerns are graphics-related. So the easy part would be to get a powerful GPU. That was never true. Yes, having a powerful GPU certainly helps! However, the CPU still has a lot of work to do. It has to handle all the features and functionality of the VR software. From there, it needs to keep the Operating System (OS) up and running.
It's also very easy to think about adding more RAM to the mix. However, it's commonly known that the CPU and RAM combined strength go hand in hand. So that won't do the trick entirely either. When checking the system requirements for the various PC VR gaming setups, you'll notice that the minimum and recommended hardware is almost the same across the board. In custom build PCs, you almost never want to go with the minimum requirements for anything. That'll limit your PCs capabilities. So you'll want a CPU that's plenty potent for VR gaming and everything else.
So here are the contenders for being the best VR CPU
1: AMD Ryzen 9 5900X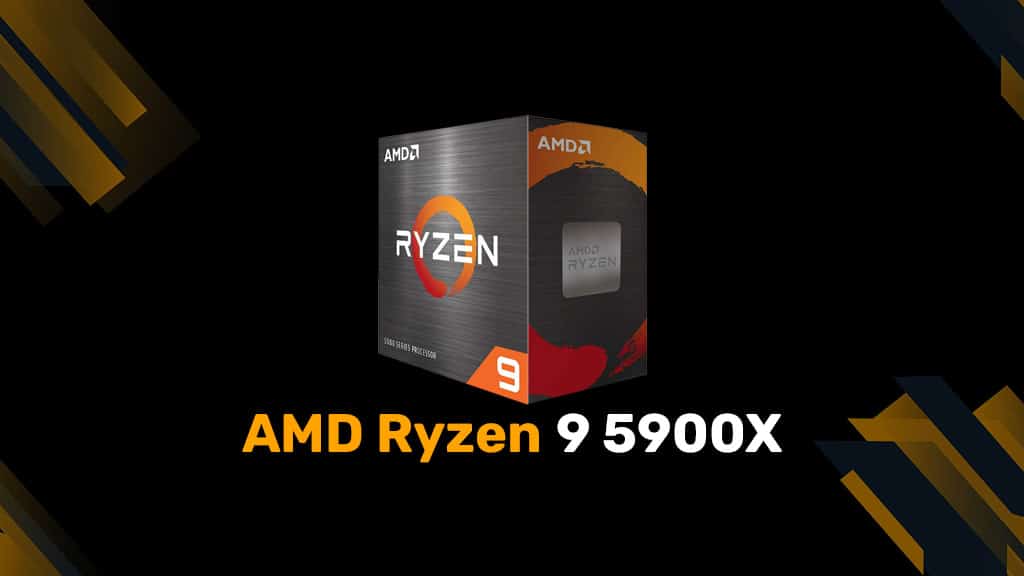 Cores: 12 | Threads: 24 | Base Clock: 3.7GHz | Socket: AM4
Currently, this is the most sought-after CPU in the world. So what'd you think was going to happen when you use it for PC VR gaming?! If you're thinking "we have liftoff", you're not wrong. This little monster will run faster than your cheap ex-girlfriend chasing a rich man! The Ryzen 9 5900X is built on the Zen 3 architecture (as with the Ryzen 7CPU here). What this means is that it's built for increased performance/capability on each core.
The Ryzen 9 5900X starts out with a Max Boost speed of 4.8GHz. That's fine and dandy for pretty much everything. However, overclocking it can get it over 5GHz. In terms of VR gaming, that's really strong even on stock. The 5900X comes with 70MB of L3 cache. Each of the cores has more L3 cache to work with thus improving the performance. Next, add in the fact that the 5900X can be used on "older" motherboards such as those in the B450 range. The cost of this CPU for VR gaming isn't so wallet-friendly. Having the chance to salvage some money via the motherboard comes in handy.
The main concern with this CPU for VR gaming is the temperature. This starts out with a lack of a cooling system in the box. The good news is that you're custom building a PC for VR gaming. So go get any cooler you're convinced that has high BBQ prevention features! The typical case is that the 5900X hits around 38° C while idle. It averages 75°C while gaming. All things considered, this isn't bad at all. A lot of it will depend on your environment. The other problem is its popularity. You should already be able to guess that it's not an easy gain!
---
2: Intel Core i9-10900K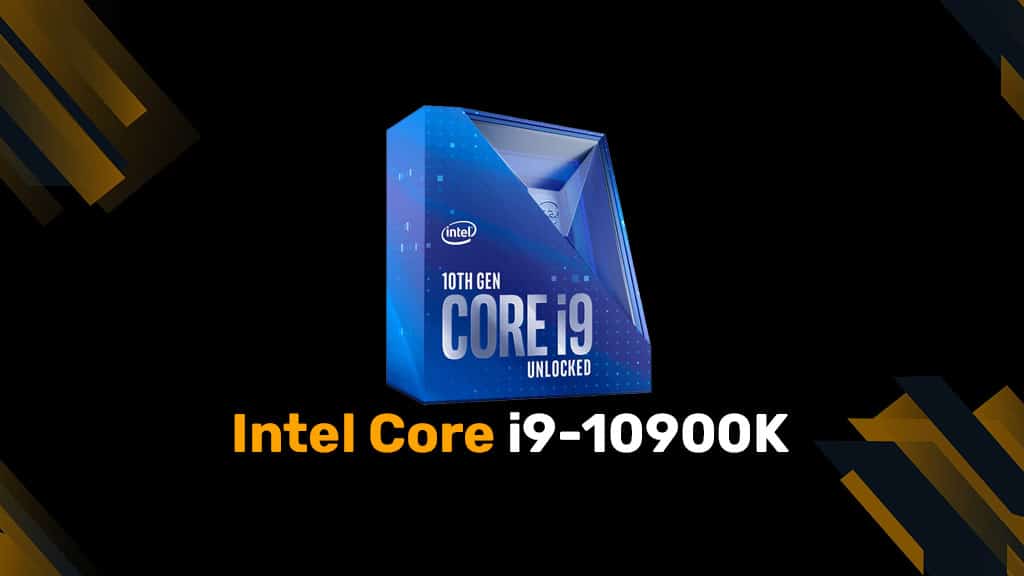 Cores: 10 | Threads: 20 | Base Clock: 3.7GHz | Socket: LGA1200
Good overclocking potential
Seriously fast gaming performance
For a 10th generation Intel CPU, the Core i9-10900K doesn't disappoint. Have a look at the LGA 1200 motherboards that can handle it. You'll quickly notice this is a feature-rich combination with lots to play with for your VR gaming PC. Now that you're dealing with a beast of a CPU and board, you should highly consider a powerful GPU for the mix! Yes, this CPU for VR does have a video chipset built into it but don't rely on it. It's ok since its price tag still leaves you with money for a new GPU.
The i9-10900K starts out with a 3.7GHz base clock. From there, the Intel Turbo Boost can make it crank up to over 5GHz. That's on stock. The Intel Turbo BoostMax is a basic form of overclocking set on automatic. That's all well and good but don't forget the real overclocking involved. First, just set your CMOS Setting to "Gaming" and you're already started into overclocking it. You can get the Intel Tuning utility which makes overclocking impressively easy. When fully put together, you'll be waving "Bye Bye" to that slowpoke SR-71A-Blackbird!
As with high-end CPUs, heat will always be a problem. Then again, this still depends on your environment and chosen cooling system. Some of that heat is caused by the built-in graphics chip. You can/should disable that internal GPU. Essentially, you end up with the same temperatures as the Ryzen 9 5900X. You might be thinking that with "missing" cores/threads compared to the Ryzen 9 5900X's 12/24 there'd be some type of slowdown. Simply put there isn't. The i9-10900K has the same base speed. That and it can easily get over 5GHz. It's when you add up the prices, this is a very high consideration as the best VR CPU.
---
3: AMD Ryzen 7 5800X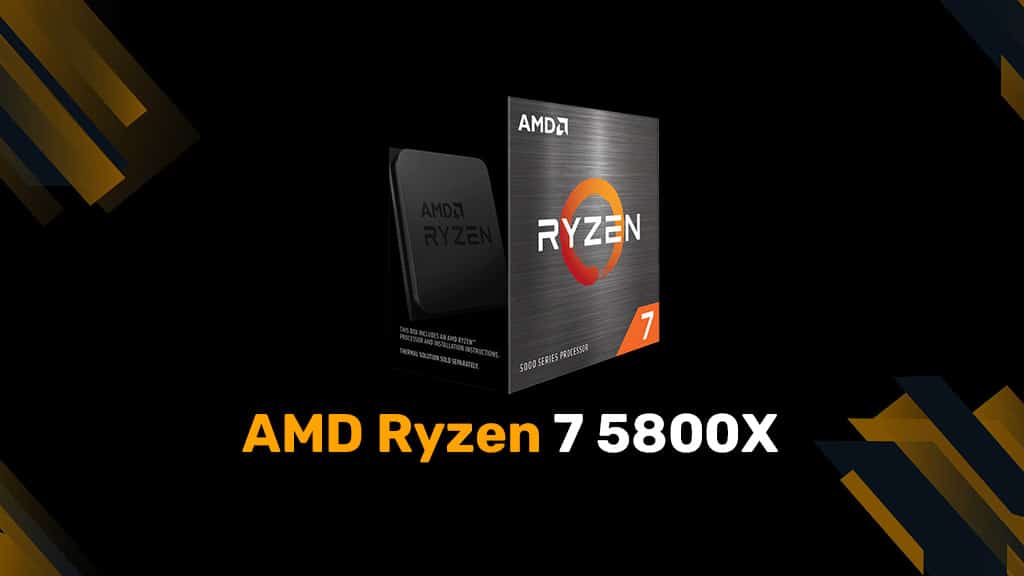 Cores: 8 | Threads: 16 | Base Clock: 3.8GHz | Socket: AM4
AMD does it again but this time, with fewer cores! In comparison to the Ryzen 9 5900X above, you still have a seriously strong CPU for VR gaming. This time it's just a bit more budget-friendly! Then you can overclock it. That is if you had to. Even on stock, this can easily qualify within the top 3 contenders for the best processor for VR. They're really good reasons why this CPU scores so highly to so many gamers. Yes, this can also work with older B450 range motherboards.
The Ryzen 7 5800X starts out with a base clock of 3.8GHZ just above the Ryzen 9 5900X. With the automatic overclocking Max Boost system, it gets up to 4.7GHz. This is just under the Ryzen 9 5900X. Again, that's the automatic overclocking system built into it. You can get over 5GHz with typical overclocking. Now add in the Zen 3 Architecture and 32MB L3 cache. The whole thing is designed to fly! In this case, the aim is VR. Just like the 5900X, the 5800X also uses AMD VR-Ready Premium. This is very effective at leaving the others far behind in the ozone!
Once again, get a really well-built cooling system. There seems to be a heat problem pattern here! The good news is that it's not hard to keep it cooled off. The bad news is that "X" series Ryzens don't have a built-in GPU of any kind. You won't even have one for backup puposes. The good news is that you're still building a custom PC. That's why you're here trying to select the best CPU for VR gaming! Along with that custom PC building comes having to buy a GPU. However, if you happen to have one on hand anyway, that GPU might work fine!
---
4: Intel Core i7-10700K
Cores: 8 | Threads: 16 | Base Clock: 3.8GHz | Socket: LGA1200
Supurb CPU for price
Intel Optane Memory support
Great temperatures
When the i9-10900Ks are out of stock, this CPU for VR puts a lot of smiles on gamer's faces. Quite often, the i7-10700K has been discovered as equalling the i9-10900K in performance. That's right, you can have all that and a bucket of ice cream caused by the lower price! Then, once again, mix in the feature-packed LGA 1200 motherboards. This will keep you busy trying out all the bells and whistles!
The Core i7-10700K starts you out at 3.8GHz. All on its own it'll get clear into 5.1GHz via the Intel Turbo Boost Max. At that rate, you can skip the typical overclocking all together. However, you're still aiming for a war beast of a PC for VR gaming here. So yes, the overclocking options are there just like the i9-10900K. Yes, they're also equally as easy to deal with. Now mix in the Intel Optane Memory support. When set up properly, this results in loading times dropping faster than a 200-ton block of cement!
The good news is that this CPU doesn't have the heat problems as others do (how refreshing!). The bad news is that this CPU for gaming in general will need a good cooling system anyway. Yes, there's a built-in GPU. Yes, it's really meant as a backup GPU. Oddly enough, the cache is only 16MB which is half of the main competition. The good news is that it didn't matter much at all. The i7-10700K is just so well built that users are struggling to find faults in it.
---
5: AMD Ryzen 5 3600XT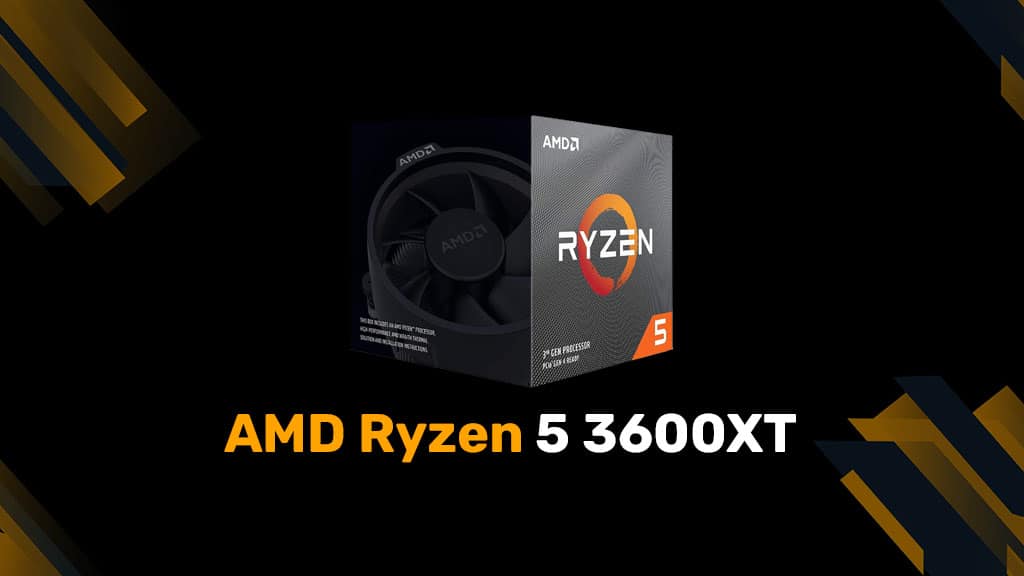 Cores: 6 | Threads: 12 | Base Clock: 3.8GHz | Socket: AM4
Extremely popular CPU
Support for a huge range of motherboards
Great temperatures
Hmm? There seems to be a Ryzen CPU not in the 5,000 series here. How can that thing handle VR you might ask? Simply put, very easily and very well. The Ryzen 5 3600XT is among some of the most popular CPUs for VR. The 3,000 series CPUs are also among the most popular for custom gaming PC builders that are on a budget. The fun part is that the Ryzen 5 3600XT is a lot more available compared to the Ryzen 9.
The Ryzen 5 3600XT starts you out at no less than 3.8GHz. Next, it automatically gets up to 4.5GHz with the Max Boost. This one is built on the AMD Zen 2 architecture. That's nice and all but what matters is that this CPU is supported on a huge range of motherboards. This includes the entire B450 to the X570 boards. So mixed properly, you'll get the full range of VR features from your hardware combinations. Next is the AMD StoreMI Technology. This jumps up the performances via faster loading times. Lastly, the AMD Master Utility is used for the not-so-automatic overclocking given by Max Boost.
In a surprise twist, the Ryzen 5 3600XT comes with a Wraith Spire cooler. Twisty or not, yeah, get a better cooler! The bad news happens to be the same as the good news. This CPU works on a range of motherboards. We won't be surprised if a request for "best VR motherboards" suddenly shows up! Yes, you'll quickly find out that certain ports are required and they're on the motherboards! Ultimately, this CPU is a great way to have a custom VR gaming PC without spending massively.
---
6: Intel Core i5-10600K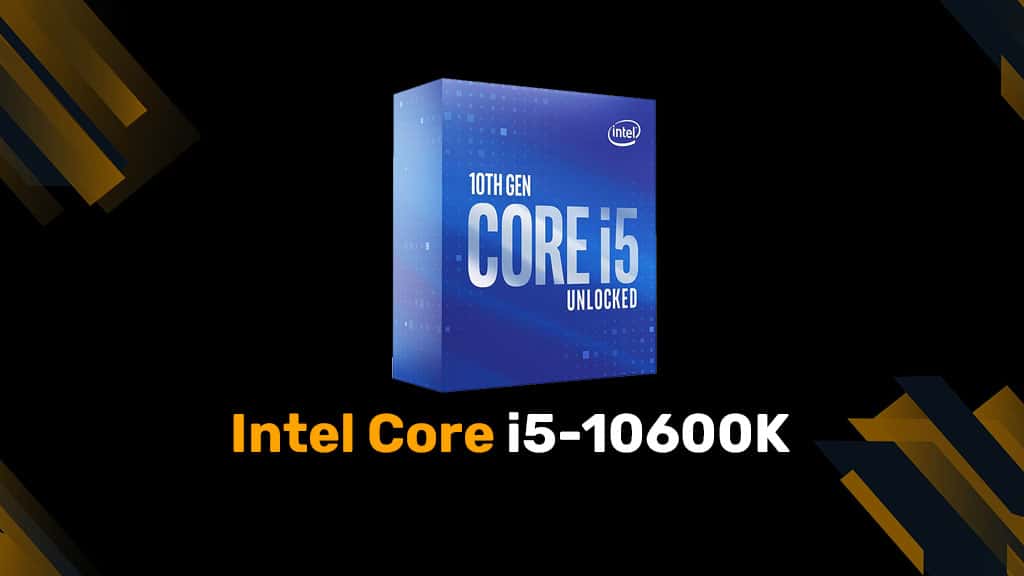 Cores: 6 | Threads: 12 | Base Clock: 4.1GHz | Socket: LGA1200
In keeping with the 10th gen CPUs of Intel and on a budget idea, the i5-10600K qualifies. Here's the kicker. Notice the base speeds of the i5-10600K and the i9-10900K? You didn't yet because you probably didn't look into both already! However, if you did, did you spot the difference?! Ultimately, it won't outperform the i9-10900K. It's when you see the price difference, you'll not care! This is especially true when you notice it works pretty fast anyway.
Now back to the fun part, that starting speed. The i5-10600K gets clear into 4.1GHz as a standard. The difference is that the i5-10600K uses Turbo Boost technology (not Turbo Boost Max). Even as is, it'll automatically crank clear into 4.8GHz. Already you won't have to worry about which VR headset will work with this CPU. They all easily will. Naturally, this CPU is meant for socket LGA 1200 motherboards. You'll have that same wide variety of options to play with like the other Intel CPUs here. Lastly, this one also features the Optane Memory support for those speedy loading times.
Just like the other 10th gen Intel CPUs here, there's no cooling system. Just like all the CPUs here, you should get a good one anyway! The good news is that the i5-10600K doesn't heat up nearly as bad as the other CPUs here. With that, overclocking is a much more acceptable idea. With overclocking, you can get clear into the 5GHz range. However, if you're going that far with it, you'll need something for a strong cooling system.
---
So Which One is the Best CPU for VR Gaming?
You have to look at this from as many different angles as possible. The main being; are you custom building a gaming PC? Anyone can tell you that you're never truly going for the specified type of PC. The reason is that you don't want to anyway. What you always want to do is build a PC for all-around use that you can willingly afford. This is every time, without fail. The trick to it is that you never know what you'll need your PC for at any given time. Are your pockets so deep you can build PCs for specific uses? Who's to say you won't suddenly need to use your "gaming PC" for developing Android apps?!
When it comes to all-around use, and all other considerations, it's the AMD Ryzen 7 5800X is the best. This starts out with all the testing that was done comparing Intel CPUs and AMD CPUs. Ultimately, Intel's "won" in the gaming department. AMDs "won" in the all-around uses department. So when you have the all-around uses, you have the gaming anyway. So pound for pound, core for core, and coin for coin, it's the Ryzen 7 5800X that has them all beat. It's the CPU for just about everything and it won't break your wallet's heart!