Why should you look for the best headset for Valorant? Do you even need a Valorant gaming headset?
If you have ever spent any time in Valorant, then you already know just how competitive the game can be. It's the natural law of competitive multiplayer FPS games: every kill counts. So, players will always be looking for new ways to improve their performance.
Of course, there are a lot of ways to up your game in Valorant. You could change your Crosshair Settings to improve your accuracy, for instance, or try to improve your PC specs.
But, if you didn't already know, a great quality headset can be like a gaming superpower:
It's hard to explain just how handy it is to be able to hear your enemy's footsteps whole seconds before you see them. To do so, you will want great quality stereo or surround sound, preferably with immersive features and noise cancellation.
A high-quality gaming microphone can help you and your team navigate the complex challenge of arranging plays, exchanging strategies, and calling out enemy movements.
Finally, having a comfortable gaming headset can help you stay relaxed during long play sessions, especially if you are currently using earbuds.
So, it's simple: if you want to play at the top of your game, you need a great quality Valorant gaming headset.
But wait! Trawling through Amazon and looking at hundreds (if not thousands) of potential options can be a total nightmare. So, what you may be looking for is a comprehensive overview of six of the best options. And, luckily for you, that's exactly what we have assembled:
The Best Headphones for Valorant
Everyone's needs and requirements are different when it comes to picking a headset. Based on your preferences, goals, and play style, it's up to you to decide.
So, included below are reviews of six of the most popular gaming headsets for Valorant: a breakdown of their specs and a general overview of their pros and cons.
If Valorant isn't your main game of choice, don't fret. Check out our guide for the Best Gaming Headsets for PUBG. Or, if you are just into chatting, here are the Best Gaming Headsets for Discord in 2021.
HyperX Cloud Alpha S
Connectivity: Wired | Sound: 7.1 Virtual Surround Sound | Mic: Detachable | Driver: 50mm Dual Chamber | Frame: Aluminium | Compatibility: PC and PS4 | Weight: 321g
The Robust, Multi-Purpose, Choice for Committed Casuals
Let's start this list off right, with what is likely the best Valorant headset for committed casuals looking for a leg-up in competitive play. In other words, this is the one I'll be picking if that rumoured Valorant Battle Royale ever launches.
The Cloud Alpha S delivers perhaps the best quality 7.1 Virtual Surround Sound emulation out there. Sonically, you will get the perfect mix of deep immersion and crystal clarity, helping you pick out enemy footsteps and gunfire and get the drop on anyone unfortunate enough to fall in your path. The awesome onboard audio controls are simply a bonus.
Driver and Sound
The HyperX 7.1 surround sound technology that services the Cloud Alpha S can auto-detect supported games, selecting the perfectly optimized surround sound profile to up your game on PC.
HyperX designed their patented Dual Chamber Drivers to tune mids and highs separately, providing more distinction between sounds. It also serves to minimise distortion at the same time.
This won't just improve your listening experience. It will actively serve to give you the upper hand in Valorant matches, helping you to identify enemies and prepare for engagements before they even happen.
Microphone
The HyperX Cloud Alpha S has been Discord and TeamSpeak certified, meaning that you can rest assured your voice will be clear, crisp, and noise-free when you are wearing the HyperX. This is all thanks to HyperX's detachable noise-cancellation microphone, which can be plugged in or removed at will via a 5mm jack.
Control Sliders
The headset's 1m wire comes with an advanced audio control mixer, which will allow you to active 7.1 surround sound, mute the mic, adjust the volume, and control the game and chat audio balance – all from within a meter of your head. While the headset also has a 3-setting bass adjustment slider, this is located on the ear covers.
Weight, Comfort, and Aesthetics
When it comes to designing the Cloud Alpha X, subtly seems to be the name of the game. Available in either the 'Blackout' or 'Blue' variant, the headset looks largely the same either way. The only difference is the colour of the connective frame between the ear covers and the strap. The rest is a rather subtle black coating, decorated only with the HyperX logo on each ear.
The robust aluminium frame is covered by Leatherette and fabric ear cushions, lending to an extremely comfortable gaming experience – with a design subtle enough to also serve you in the office or when working from home. This one isn't just the best headphones for Valorant, but for around the office, on the train, or anywhere else you need good quality headphones.
Razer BlackShark V2 Pro
Connectivity: Wireless | Battery: 20+ Hours | Sound: THX 7.1 Spatial Surround Sound | Mic: Detachable | Driver: TriForce Titanium 50mm | Frame: Aluminium | Compatibility: PC, PlayStation, Xbox, Switch | Weight: 320g
The Bona Fide Esports Comfort Pick
Designed by and for Esports participants, this headset is designed to be effective and comfortable.
The sound drivers on this thing are insane. Razer's TriForce Titanium Drivers are designed to emulate the effects of three speakers, replicating richer trebles, brighter sounds, and extremely powerful bass.
This is aided by the titanium-coated diaphragm, which means that enemy footsteps and gunfire will come through with crystal clarity.
Driver and Sound
Razer's TriForce Titanium Drivers emulate the effect of three distinct drivers, allowing for the individual replication of high, mid, and low audio ranges. The result is richer trebles, brighter sound, and powerful bass. The headset also has a titanium-coated diaphragm, meaning that footsteps, weapon sounds, or communications from your Valorant teammates are never lost within the high-quality audio.
But don't worry about sacrificing sound quality with a wireless headset. The headset works because of patented Razer hyperspeed wireless technology, which brags of high-speed transmission with extremely low latency and an industry-leading 2.4GHz connection. The result is near-lossless audio which will always stay synced perfectly to your game.
Microphone
Razer's detachable Hyperclear Supercardioid Microphone is Discord certified, meaning that you can trust transmissions will be sent loud and clear. Its distinctive voice pickup area and noise rejection technology mean that it can provide a more true-to-life recreation of your voice.
Control Sliders
Unfortunately, sound customisation is where the BlackShark falters. Although it features on-headset controls for mic toggling and volume adjustment, it does not feature the bass slider or game-chat mixer you may expect from other wired headsets on this list. Given that this headset is wireless, to some extent this can be forgiven. But if your idea of the 'perfect' Valorant soundscape differs from the masses, the BlackShark may not be for you.
Weight, Comfort, and Aesthetics
Pros choose the Razer BlackShark V2 Pro for a reason. It is a robust gaming headset that was designed for all-day gaming sessions.
But you wouldn't know it just by looking at it. The BlackShark's matte black finish is non-negotiable – which, in hindsight, is kind of obvious given the name. That means there are no other colour options, and the Razer logo is so subtle that you'd hardly know it's so popular among gaming pros.
The Blackshark's slick frame is covered with 'All-Day Comfort' technology: its strap and ear cushions are infused with cooling gel, helping to prevent overheating and pressure build-up.
Logitech G PRO X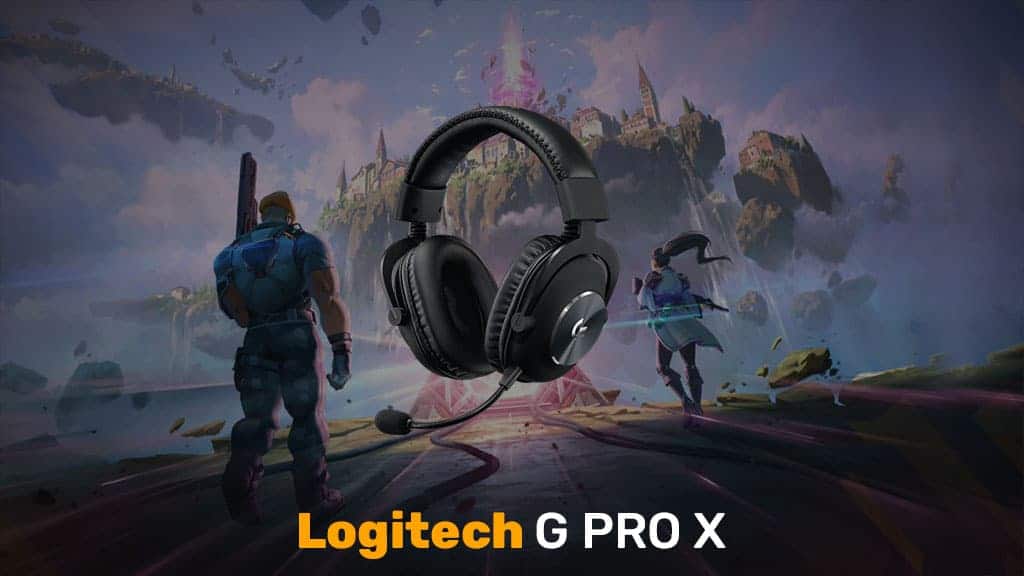 Connectivity: Wireless | Battery: 20+ Hours | Sound: DTS HEADPHONE:X 2.0 Surround Sound | Mic: Detachable | Driver: PRO-G 50mm Precision Drivers | Frame: Aluminium, Steel ­­| Compatibility: PC and PS4 | Weight: 370g
The Lightning-Fast Wireless Pick
When it comes to deciding on a wired or wireless headset, there are quite a few things to keep in mind. But if you are looking for a taste of what lightning-fast wireless can do, look no further than the Logitech PRO X Wireless.
Powered by Logitech G's patented Lightspeed wireless technology, the headset offers comfortable, wireless Valorant gameplay, without any compromise in latency, connectivity, or battery life.
Driver and Sound
The PRO-G 50mm Drivers focus on delivering amazing clarity and precise sound imaging. The resulting DTS HEADPHONE:X 2.0 surround sound is certainly impressive.
Essentially, it is 7.1 channel surround sound on insane mode. Enhanced bass rendering, audio clarity, and proximity cues add a level of depth that is essential to scraping the upper hand in a competitive Valorant match. The Logitech G PRO X can offer something none other on this list can: a new level of distance awareness and sound imaging.
Microphone
Best of all, the microphone makes for one of the clearest headset mics on this list, thanks in part to the VO!CE technology devised by influential audio firm Blue. The Blue VO!CE microphone delivers real-time voice filters, reducing noise while making your voice sound richer, cleaner, and more professional.
Control Sliders
Unfortunately, the PRO X features only the most rudimentary physical volume and mic toggle switches on the headset itself. EQ and other audio features can be customised via the G HUB Gaming Software, however.
Weight, Comfort, and Aesthetics
The PRO X is built on a durable steel and aluminium frame, meaning that this thing can take quite a few emotional Valorant tournaments without giving way or loosening up.
The steel headband and aluminium fork don't get in the way of comfort, either. The frame is surrounded by extensive ultra-comfortable memory foam, wrapped in a premium leatherette or velour. Extra memory foam earpads add even further customizability.
Not only does this make the Logitech G PRO X the perfect companion to an extensive gaming session, but it also helps wick away sweat, keeping you feeling fresh and comfortable. Although the design is a little flashier than the Razer BlackShark V2 Pro – thanks in part to the shiny panels that adorn the ear covers – the Logitech PRO X retains the premium aesthetic, through and through.
HyperX Cloud Flight
Connectivity: Wireless | Battery: Up to 30 Hours | Sound: Stereo | Mic: Detachable | Driver: Dynamic 50mm drivers with neodymium magnets | Frame: Steel ­­| Compatibility: PC, PS4, PS5 | Weight: 315g
The Wireless Pick
'Wireless' is the main selling point here. But it is also backed up with all the necessary hardware to make the Cloud Flight a reliable – if not incredibly sophisticated – gaming headset.
Driver and Sound
HyperX has included dynamic 50mm drivers, which work well to maximise the distinction between lows, mids, and highs. Unfortunately, the focus here seems to be more on enhancing ambience and immersion with uber high-quality stereo, rather than giving you the edge in picking up enemy footsteps or distinguishing gunfire in a surround sound environment.
Microphone
The Cloud Flight features a rather standard – but still completely functional – detachable mic but does not boast the Discord or TeamSpeak clarity certification of its wired cousin.
The website also explains that the microphone is "engineered to function only when in wireless mode and only on PC and PS4". This severely limits the scope of the detachable mic's usefulness, essentially taking plug-and-play sessions off the table.
Control Sliders
Although the Cloud Flight features convenient volume and mic toggle controls on the ear cups, it does not feature any of the game-chat balance or bass control sliders that the slightly pricier Cloud Alpha X does. Of course, many of these controls were attached to the wire, while the Cloud Flight is a wireless headset.
Weight, Comfort, and Aesthetics
The headset comes with all the comfort features you'd expect from a HyperX product. Steel sliders and insulated memory foam cushioning cover all the points the headset would meet your head. The Cloud Flight's ear cups even rotate up to 90-degrees, allowing you to wear your headset comfortably around your neck.
However, the red LED light and bright red details which run around the headset may be a turn-off for those who are looking for a subtle black headset that they can also take into the office or wear on a train. You can turn the LED off, however, which extends the battery life significantly.
Corsair HS70 Pro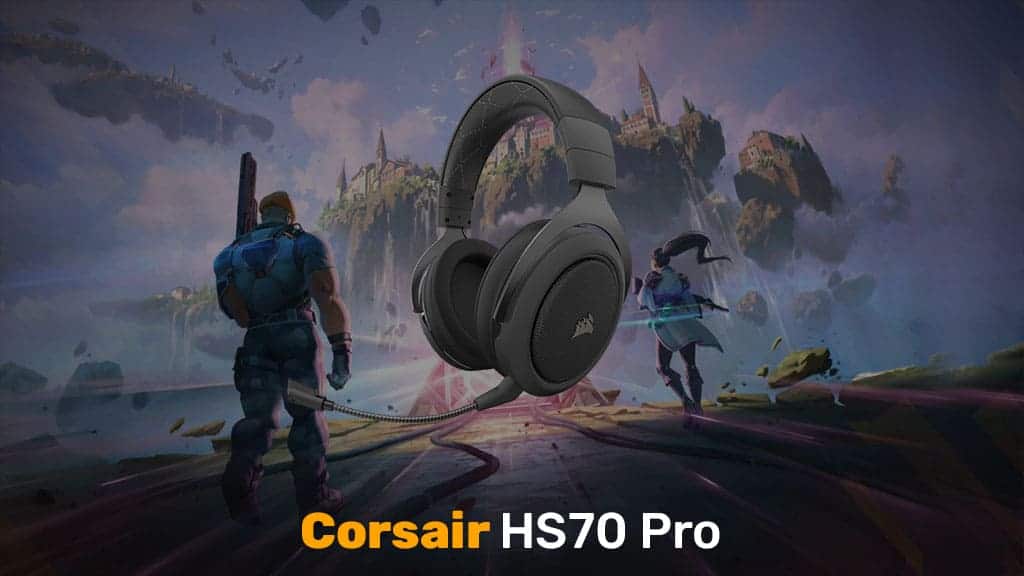 Connectivity: Wireless | Battery: Up to 16 hours | Sound: 7.1 Surround Sound (PC Only) | Mic: Detachable | Driver: Custom-tuned 50mm Neodymium Drivers | Frame: Aluminium | Compatibility: PC (Stereo only on PS4) | Weight: 330g
The High-Quality Budget Option
All the headsets on this list are around the same price and quality. However, this brilliant wireless headset could probably be considered the 'budget' option, thanks to its relatively low price, robust design, and decent surround sound on PC.
Driver and Sound
The headset's custom-tuned 50mm neodymium drivers deliver an outstanding 7.1 channel surround sound experience, making you feel like you're physically in the middle of whatever Valorant action you find yourself in. Although perhaps not as high quality as some of the other picks on this list, this should be more than enough to make you feel immersed and to start to find the upper hand when picking up footsteps and gunfire.
Unfortunately, while the headset is compatible with the PS4, 7.1 Surround Sound functionality is only compatible with PC. If you plan to use this as a PS4 headset, expect to receive only very high-quality stereo.
Microphone
Like others on this list, the HS70 Pro's microphone is unidirectional, helping to minimise any ambient noise or noise pollution and primed to pick up excellent vocal clarity. Also, like others on this list, it is fully detachable.
Luckily, you already know that clarity won't be a problem: the Corsair HS70's microphone is fully Discord-certified, meaning that you can be sure you won't be having to deal with any teammates despairing at the quality of your mic.
Control Sliders
Unfortunately, like other Wireless headsets on this list, onboard controls are limited to only Volume control. The microphone comes fitted with a flip-up mute, so no need to worry about finding a Mic Toggle on the side of your ear.
Weight, Comfort, and Aesthetics
The HS70 Pro's adjustable ear cups are also fitted with plush memory foam, designed to make you feel relaxed and comfortable for all 16 hours of your headset's battery life. However, the lack of ear fold means that you may struggle to wear it on your neck.
It certainly looks the part, too. The standard 'Carbon' decoration is a classy mix of greys and blacks, with cosmetic details covering the whole headset.
Of course, this is also not the most subtle headset on this list, meaning that you may not feel comfortable wearing this one out and about. If you are looking for something more unique, the Special Edition Cream variant features a vintage patterned cushion. That is, if you can get your hands on it!
Sennheiser Game Zero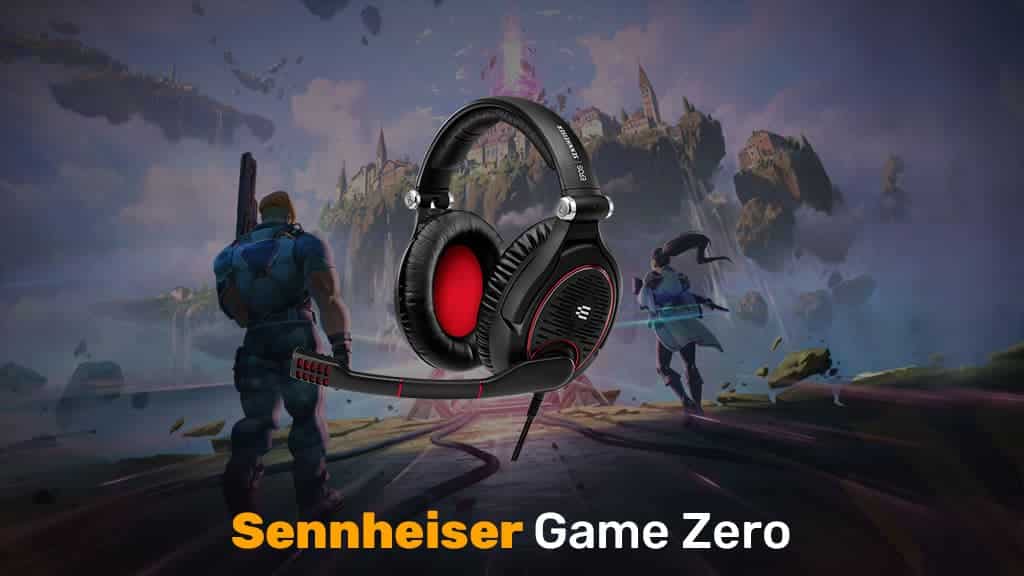 Connectivity: Wired | Sound: Stereo | Mic: Built-in | Driver: Standard 50mm Drivers | Frame: Aluminium | Compatibility: PC, PS4, Xbox One, Nintendo Switch, Mac, Smartphone | Weight: 300g
The Best of Most Worlds: Sound Quality, Convenience and Comfort
The Game Zero features standard 50mm drivers with a unique closed acoustic design. The result is a deeply immersive stereo mix with quite possibly the best noise cancellation on this list. It is also incredibly flexible and ergonomic, which allows you to change the physical configuration to your heart's content.
However, this comes at a cost, as the lack of surround sound, detachable microphone, and wireless capability may leave you wanting. But if you want an affordable, versatile headset, then the Game Zero could be for you.
Driver and Sound
The standard 50mm drivers deliver a solid stereo mix but do not provide 7.1 surround sound out of the box.
Sound quality is also aided by a closed acoustic design. This allows for an incredibly natural, high fidelity audio experience, with perhaps the best noise cancellation of any headset on this list.
Not only that, but the Game Zero delivers deep bass extension, helping to create a deeply immersive audio experience without sacrificing the tonal clarity that can help you locate enemy footsteps and gunfire.
Microphone
Finally, the microphone is not detachable. For a permanent gaming headset, this is perhaps not the end of the world. But it does limit how you can use this new headset in other circumstances.
If your microphone breaks, it is therefore not replaceable. But if it falls within the 2-year warranty period, you can easily get a replacement.
Control Sliders
Unfortunately, like other Wireless headsets on this list, the Game Zero's onboard controls are limited to only Volume control, which is controlled by an intuitive loudness wheel integrated into the side of the ear. The microphone comes fitted with a flip-up mute, so no need to worry about finding a Mic Toggle on the side of your ear when you need to mute.
Weight, Comfort, and Aesthetics
This is one of the lightest on this list. Matched with the ergonomic design and memory foam padding, this could also be the most comfortable on this list. The acoustic design works to keep your ears feeling cool and prevents sweat build-up, helping you play comfortably for longer.
However, despite the excellent sound quality, convenience, and total comfort, the Game Zero is also the most aesthetically intricate. With a vented ear cup, silver decals, red padding, logo branding, and lack of ability to remove the mic, this headset is perhaps less appropriate for a professional setting.
That being said, your headset colour scheme might match your Valorant weapon skins, if that's what you are into.
Best Headset for Valorant
So, there you have it: six options for the best headset for Valorant. There should be something here to fit any play style, budget, and set of requirements.
But if you are still a bit lost choosing a Valorant gaming headset, why not bring it back to basics? When looking for a great headset, you just need to worry about these three things:
Sound Quality: This will allow you to hear enemy footsteps and identity gunshots to help you plan specific strategies.
Microphone Quality: To help you work out strategies with teammates and make sure you never have to hear "mute your mic, dude. It sucks" ever again.
Comfort: Because we all know Valorant sessions last a lot longer than an hour or two. Don't be ashamed of it, make sure you have a headset you can wear for hours – fuss-free.
And if you want a leg-up even past that, check out our list of the Best Laptops for Valorant in 2021 or the Best Valorant Mouse for 2021.
Which do you think are the best headphones for Valorant? Which headset did you end up going for? Find any great ones not included on our list? Let us know in the comments below.