Naturally, there's going to be DOTA 2 players running around looking for every legit advantage they can get. Then again, if you're reading this, clearly you're in that same boat! Your best bet would in fact be to start with your hardware. Of course, you want to take it with you so a laptop it is! Thankfully, the system requirements are not massive. This leaves you with a large variety of laptop choices to play with. Unfortunately, the bad news happens to be the same thing. Here's what to look for when looking for the best laptop for DOTA 2 currently available.
[ninja_tables id="5820″]
You wouldn't want something cheesy so you can't enjoy all the eye candy. You certainly don't want something so powerful it needs your own nuclear power plant to start it. Your wallet is going to hate you for eternity on that one! So try for a happy medium that can still handle pretty much everything you throw at it just the same. Now let's see about narrowing down the choices.
---
Overall Best Laptop for DOTA 2 –

Acer Nitro 5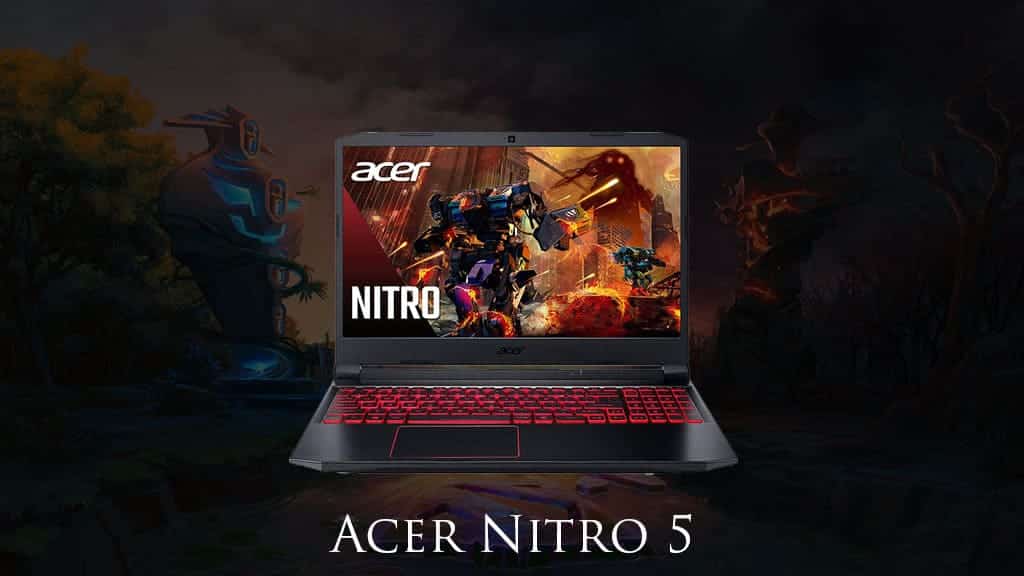 Let's start this off with pretty much one of your all-around best laptops for DOTA 2. First off this one is lightweight. When you go for a gaming session pretty much anywhere, you don't want to be lugging a 200 ton laptop! The good news is that this little beasty didn't sacrifice the specs or your options for a lower weight. It all starts with that Intel Core i5-10300H CPU. You might think it's just a puny quad-core processor. That's until you notice it can kick clear into 4.5GHz. That can already rival a lot of desktop processors.
Now that it works with the CPU, time to make it pretty. The Acer Nitro 5 sports a NVIDIA GeForce GTX 1650 Ti GPU. Most players know this as a pretty decent starting point for higher graphics settings. DOTA 2 players are well aware that stutters/lags will definitely cause floor hugging. Using higher graphics settings without the GPU to handle it is what can easily cause stutters/lags. That 144Hz refresh rate is certainly no joke. There is a reason why we've also rated this the best laptop for Valheim.
From there, mix in that battery which averages 9 hours. So you'll get roughly 5-7 hours of hardcore DOTA2 laptop gaming while on the battery. Then add in 8GB DDR4 at 2933MHz and the NVMe SSD storage for speedy loading times. Lastly, if you're gaming in a not so well lit area, that backlit keyboard helps you find the keys! With all things considered, this one will be very difficult to beat in terms of specs and price.
Your main concern with this laptop is the cooling. Then again, if you don't know how to keep your gaming laptop cooled off, you shouldn't be gaming on a laptop. Cooling happens to be a deep concern for all PCs/laptops. That's just how it is! The good news is that Acer laptops are known to not die easily.
---
Best Runner up –

ASUS TUF Gaming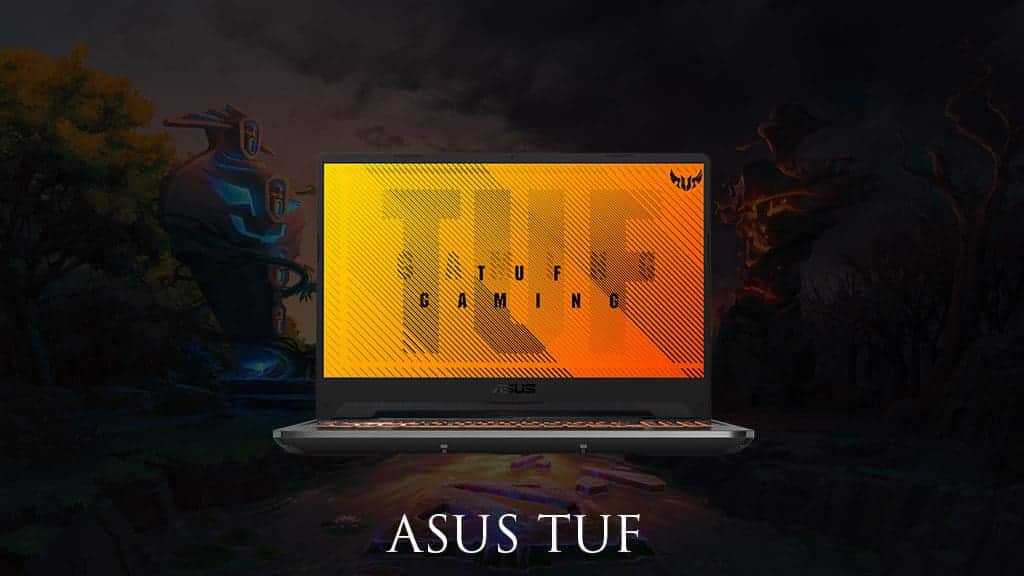 The typical case with Asus computers/laptops/related parts is that they are known to be seriously tough. Part 2 is that they're known to be impressively feature-packed. Naturally, you wouldn't want something "lesser" in said terms. Even though this one has some" lesser" specs compared to the Acer Nitro 5, it's still no slouch when it comes to gaming in general. This one starts out with an Intel Core i7-9750H hexa core CPU which can get up to 4.5GHz. This provides nice options for certain other gaming ideas beyond DOTA2 such as Valorant or Genshin Impact, so for all-around use this is a good choice for laptops.
The Asus TUF Gaming uses a lithium ion battery so you'll still get plenty of gaming time on a single charge. Packed with a 15.6" screen, a 144Hz refresh rate and a NVIDIA GeForce GTX 1650 4GB GPU. What makes you think this will lag/stutter graphically?! The DOTA2 loading times will be pretty good with the nice sized NVMe SSD and 8GB DDR4 2666MHz RAM. This one includes and anti-dust system along with the very noticeably strong cooling fans. Top it all off with a backlit keyboard, Wi-Fi and Bluetooth 5 and sweet looking design!
This one has 2 main concerns. The cooling fans tend to get loud. The good news is that there are ways to fix that. You can use software and adjust as needed. You can also simply use a headset. The other concern is a 3 key multi-key pressing limit. More often than not, you're not pressing more than 3 keys in DOTA2 at the same time. Yes, i7s are known to heat up quite a bit. Then again, most laptops are not meant to be used on your lap!
---
Best Budget –

Acer Aspire 5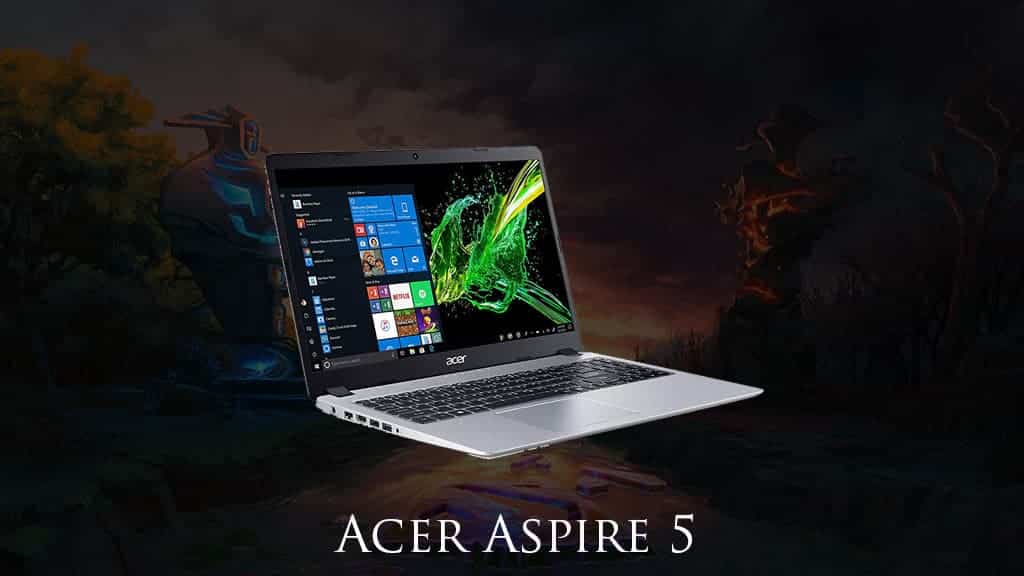 According to the above 2 laptops, you'd want to do much of that same gaming. At the same time, you'd also want your wallet to at least like you. You won't be gaming if you can't keep the lights on! The Acer Aspire 5 becomes quite a nice choice for several reasons. The cost isn't hefty even though its options can add to it if you wanted. The specs as is will certainly get DOTA2 up and running. It's less than 4LBS so it's not like you're lugging the Titanic here! That and Acer laptops are not known to be cheap junk. So, in terms of budget, this is the best laptop for DOTA 2.
This one starts out with an AMD Ryzen 3 3200U. That CPU ranges from 2.6GHz to the boosted 3.5GH depending on usage. So yes, the CPU speeds are plenty for DOTA 2. With the 4GB DDR RAM at 2400MHz and the 128GB NVMe SSD; it won't take forever to get loaded. The Vega 3 isn't the latest and greatest. Thankfully, it's no slouch in the gaming department so you'll be fine with it.
The backlit keyboard has a nifty trick. Its LEDs time out when you're not typing which helps salvage some battery life. What helps the battery life's average 7.5 hour span is the fact that it's a lithium polymer battery. Now mix in the crispy15.6" 1080p screen which is a decent/common size for mid-ranged gaming laptops. Top it off with the typical USB connectors, HDMI connector and standard Wi-Fi for a good variety of options for you to work with.
The main concern with the Acer Aspire 5 is the Operating System (OS). You can either get it out of Windows 10 S Mode or just reinstall a copy of Windows you happen to have. The dual core CPU might seem like a concern. However, a bit of a RAM upgrade + overclocking can fix that. Yes, you can overclock this system. Just remember that lower DOTA 2 settings are what makes "budget" gaming possible!
---
Best Budget Runner up –

Asus VivoBook 15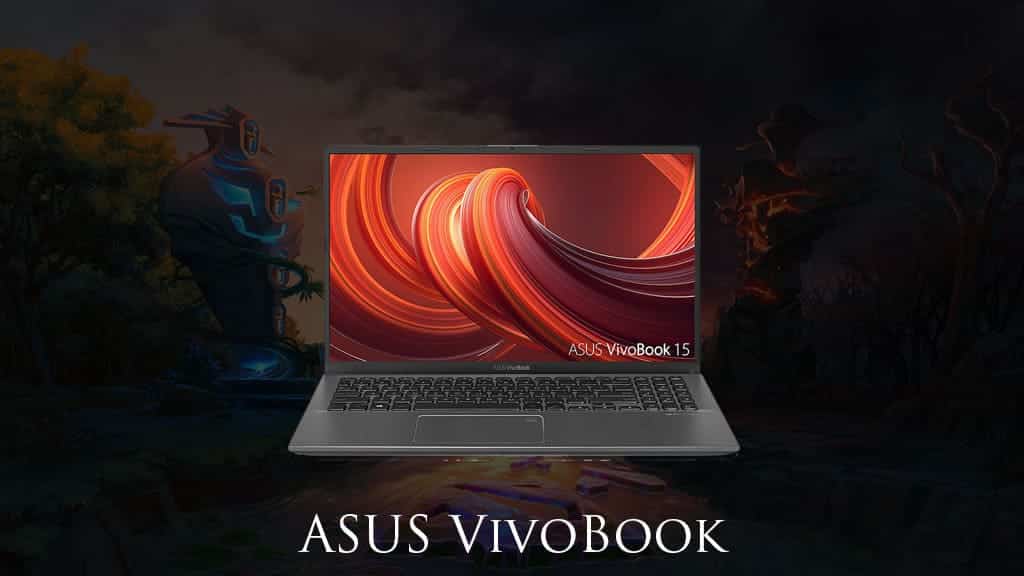 While you're into budget gaming laptops, the Asus VivoBook 15 makes for a close runner up. The main difference is in the GPU. You really can't compare an Intel UHD to a Vega! However, this doesn't mean you'll be setting graphics in DOTA 2 vastly lower. What it does mean is that you'll be starting out with an Intel Core i3-1005G1that maxes out at 3.4GHz. The 8GB DDR4 RAM shows up at 2666MHz which helps catch it up to the Acer Aspire 5.
From there the specs are nearly identical to the Acer Aspire 5. Both can get you going in DOTA 2 and still be pretty ok. What helps make this a strong contender is the lower price tag. For its specs and features, the VivoBook 15 is certainly hard to beat. It's still very capable in the gaming and other departments. Budget gamers won't have much to complain about!
Again, the main concern is the Windows 10 S Mode. Again, that can be fixed! The other main concern is the lack of an RJ45 port. You might think this was a puny concern. That's until the Wi-Fi goes haywire. Not really breaking down and gone, but Wi-Fi can cause problems. Including the RJ45 port would have been a welcomed idea. The screen seems to be a love/hate concern. This highly depends on what type of nitpickers you're dealing with!
---
Best High End –

Razer Blade 15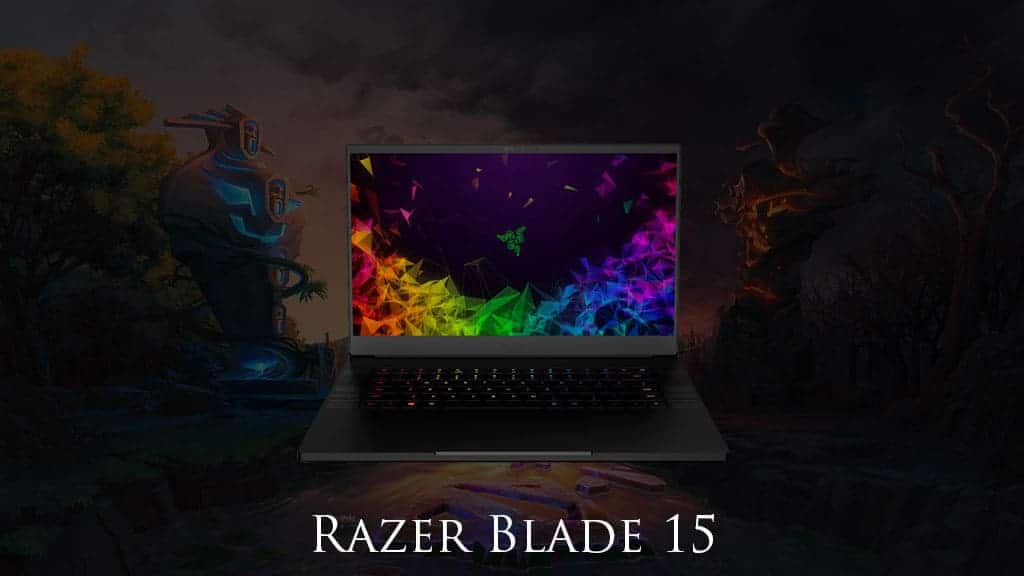 Now let's have some fun with a heavy duty, true blue gaming laptop. You didn't think this was an "all low cost" idea, did you?! It's true; a lot of gamers have deeper pockets than they let on. Here's a great way to put those deep pockets to good use! The Razer Blade 15 pretty much has it all. This one basically does not relent on much of anything for its specs. It comes with a pair of M.2 NVMe slots for those storage drives (1 is already taken of course). With all things considered, this one sets a standard for getting into DOTA 2 with the best laptop.
This little monster starts you out with a hexa core 10th Gen Intel Core i7-10750H which maxes out at 5GHz. Next, sprinkle on a dash of 16GB DDR4 RAM at 2933MHz. Very carefully include a 6GB GDDR6 NVIDIA GeForce RTX 2060. At the right time, check on the 15.6" 144Hz screen. Decorate with a good amount of varied USB ports and TB3, include the Wi-Fi 6 and throw in the customizable backlit keyboard for extra flavor. Lastly, wrap it in an anodized CNC aluminum case for that extra shininess. Congratulations, you now have a 8.75 pound high end DOTA 2 gaming laptop! It is pretty strong stuff and, as is, it doesn't get crazy expensive.
Unfortunately, it's not all fun and games. The main concern with this little monster is that it can heat up heavily while gaming. Oddly enough, that's exactly what you might buy it for! No, you don't have to eye it 24/7 with a fire extinguisher. You will have to learn how to configure things in an attempt to avoid the fire extinguisher. It is a lithium polymer battery but while gaming using the higher settings, it will drain the battery a bit quicker. The good news is that it charges fast.
Conclusion
With all things considered, this list of the best gaming laptops for DOTA 2 provides quite a selection. Now it just comes down to the main rule for PC/laptop/related parts buying. The main rule is to always buy the strongest stuff you can willingly afford. The high emphasis is on "willingly". It doesn't matter if you're on the lowest or highest end of budgets. The real target here is to help you to get you going in DOTA 2 with a gaming laptop. So pick something and have fun!