If you venture into the world of gaming, have an internet connection, and are made of organic matter, you have most likely heard about Genshin Impact. The free gacha action-RPG game had an insane launch, breath-taking revenue, and to this day has a huge player base.
Although you can play the mobile version, you probably want to play on a laptop since you are here. Considering it's is a recent, open-world game and quite flashy in combats, its requirements are a bit demanding. We know swapping laptop parts is harder than implanting a new kidney, so buying the right one is a great responsibility.
That is why I am going to list The 5 Best Laptops for Genshin Impact for 2021 so that you are not left in uncertainty and buy the "most expensive" one available or one that leaves something to be desired in the specifications and gives you a headache later on.
Best Gaming Laptops for Playing Genshin Impact
---
Acer Nitro 5
Best Laptop for Genshin Impact
Great battery life
Hard-to-read keyboard
One of the most essential parts of any gaming laptop is to have a dedicated GPU, and I guarantee that every piece listed here does. After all, you want beautiful graphics to watch your enemies get buried before your majestic combos, scorching hot swords, and spells that distort nature's elements.
Acer Nitro 5 is the budget gaming laptop of the family. Although you can upgrade it directly on the checkout to make it the most powerful and also the most expensive on the list, let's talk about its already great low specs. The incredible GeForce GTX 1650 Ti is more than enough to handle the Genshin requirements, as is the 4.5GHz CPU speed of the 10th Generation Intel Core I5, which is only slower than a cheetah on steroids.
With a 1080p display and 144Hz refresh, you will feel the smoothness coming out of the screen. It's imperative in a frenetic action-RPG that the game doesn't feel staggering. Great graphics with a laggy refresh rate is like a subcelebrity Instagram. Great to look at while static, but when it starts talking and moving, oh boy. However, the screen is a bit darker than others with the same specifications.
The laptop design is simple but beautiful. The red details remove the impression of an office laptop and show you off as a trendy gamer.
But since nothing is perfect – except your smile on a sunny morning – the fans will be more apparent than desirable. When using the full processing power to play, the laptop will get way too hot and the cooling system will have to do its work. Even with Acer CoolBoost technology (which, by the way, they probably put in because they knew we would need to use it), it is nice to have a headset to eliminate the constant fan noise.
---
Lenovo Legion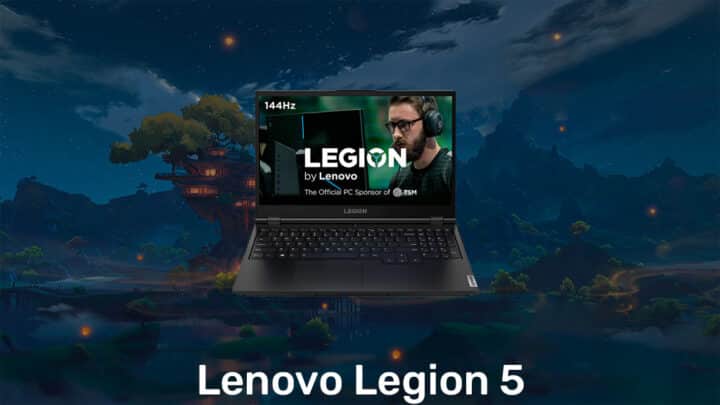 Solid build quality
Can run Gensin easily
Boring design
Legion is a great name for a laptop, point for Lenovo. It boasts a GTX 1660 Ti which is slightly but still better than the aforementioned. It's AMD Ryzen 7 8-core processor with 2.9GHz CPU Speed will make your Photoshop open up in less than 15 seconds! It also works for gaming, like Genshin Impact, for instance.
Packing 16 GB of Memory Size, you will be able to multitask without problems. Imagine streaming the game's gorgeous graphic worldwide. The 512GB SSD aids in boosting the Legion performance.
If Acer's laptop was lacking in display dim, Legion makes the most of this feature. With an average of 325 nits of brightness, the 1080p 144Hz display will become more vivid and bright with up to 100% sRGB, amplifying the magical effects of Genshin
Like most gaming laptops, it also has an average battery, holding up to 4 hours of heavy use. The design is quite bland and its weight a bit above average, weighing 5.41 lbs. But it comes with Legion Coldfront 2.0 technology, which cools its system and dissipates heat as if Diona was cryo healing it. This is what makes Legion one of the best laptops for Genshin Impact.
---
ASUS TUF A15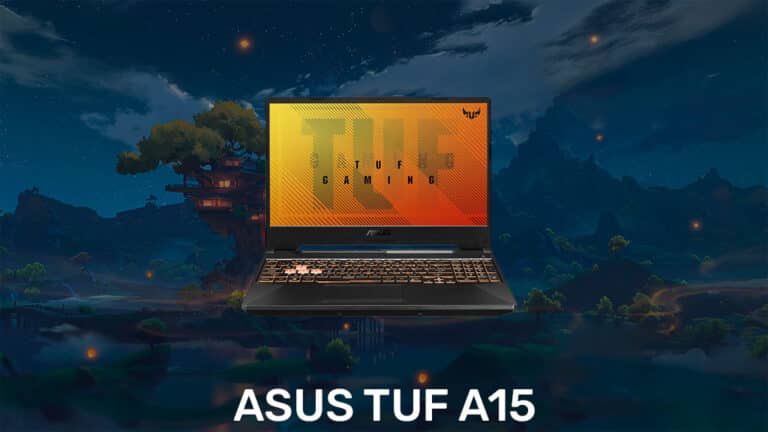 ASUS TUF A15 has an older GPU and processor than Legion's, and is still more expensive, why should I even consider this one?
Hold on, young gamer. I tell you why. And yes, ASUS TUF does have a GeForce GTX 1650 and an AMD Ryzen 5 4600H 6-core processor and 3.00 GHz CPU Speed, which is slightly worse, but it doesn't mean it's a worse laptop overall. Both configurations are more than enough to run Genshin Impact without problems and have a great time while spending thousands of dollars in the gacha system.
This laptop exceeds its storage system, possessing 1TB SSD and an upgraded RAM of 32 GB. That is enough power to watch more than five anime at the same time on Crunchyroll. Although Genshin specs do not demand that much RAM, the laptop is a great choice if you are going to do worldly tasks like editing your Genshin's video highlights and posting on Youtube to achieve stardom.
Orange-black design is better than no design at all.
Still not convinced? I saved the best for last. The laptop comes with a black cloth. Now you understand why it's one of the best laptops for Genshin Impact. It's the cloth.
---
ASUS ROG Zephyrus G14
No products found.
There's a lot of customization in this notebook checkout, so we're gonna pick the best because you're the best and you deserve it.
ASUS Zephyrus has a beautiful 8-core AMD Ryzen processor up to 4.20 GHz and the well-known GeForce GTX 1650. Specs you are sure will run Genshin Impact. I don't know if you bother, but the screen is a bit smaller than the others, at 14″, so it is also slightly lighter.
With the upgrade selected, it has 1TB of space and 24 GB of RAM, more than needed for the game, but great if you want to venture into others. The big highlight is the battery, which has an average battery life of 11h! And when I say average, I mean average use, not 83 Chrome tabs, 4 Steam tabs, 2 calculators open while mining cryptocurrencies.
The display refresh rate is 120Hz, still good. Remember when I said no design at all is bad? I take that back. The black design is simple but elegant and slim as if the laptop is preparing for its graduation.
---
MSI GL65 Leopard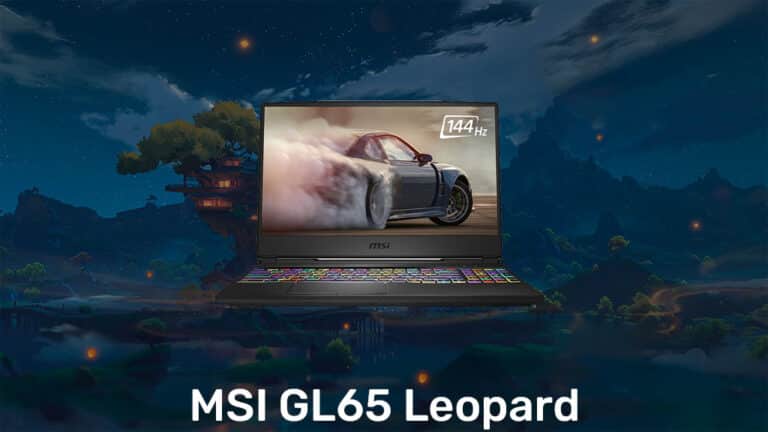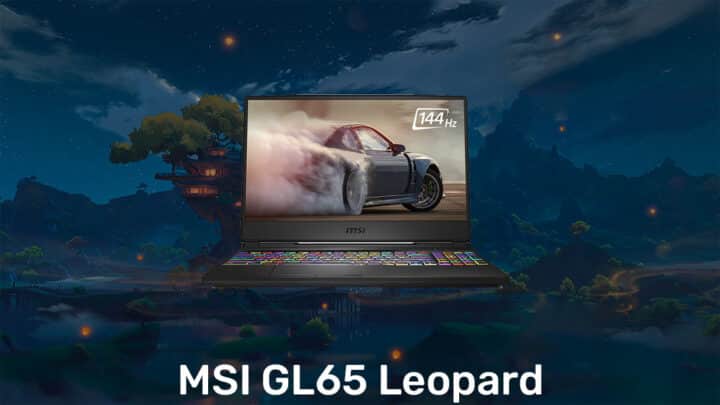 Run Genshin impact on max graphics
Impressive specs
Heats up fast
Think carefully before buying this laptop, because when you turn your back, this bad boy will be playing Genshin Impact and dominating all the electronics in your house to reign supreme.
Do you wanna be enchanted with the dragon spirit? I do. Even more, if the dragon spirit is a corporeal laptop boasting the 10th Gen Intel Core i7 with 6 cores. If you boost the CPU, hold it tight or it can fly. Or not, because it will eat so much battery power that it won't be able to leave the house.
What about the GeForce RTX 2070? Now we're talking. With this GPU you won't need to change laptops for a long time. Genshin will easily run with all graphics on Ultra for you to enjoy everything the game offers. But expect the fans to wake up when playing heavy-graphic games.
Is it expensive? Yes, but the value for money is worth the price. With this video card, you can be sure that you will be able to play not only Genshin but many releases. But not all at the same time, since 512GB of space will be filled up faster as dining on Thanksgiving.