It's a testament to AMD's engineering prowess that the 5950X remains the go-to productivity CPU more than eighteen months after release. It can effortlessly juggle multiple processor-intensive applications and games simultaneously. It's not the kind of CPU you'd buy just to game on, but expect 12700K-level smoothness once it's time to relax & frag some zombies. You'll need some serious memory to get the most out of this beast, so sit back and take in the best RAM for Ryzen 9 5950X available today.
The Best RAM for Ryzen 9 5950X at a Glance
Zen3 is specific in that RAM for it works best when fulfilling certain criteria. For example, don't expect many gains after reaching 4000MHz. It's also beneficial for a kit's clock speed to align with Infinity Fabric, so 3600MHz and 400MHz increments around it are ideal. All the models on our list fit these criteria, but there's still a difference in optimization, price, and extra features. Strike the perfect balance between the three and pick the RAM you like best.
TEAMGROUP T-Force Xtreem ARGB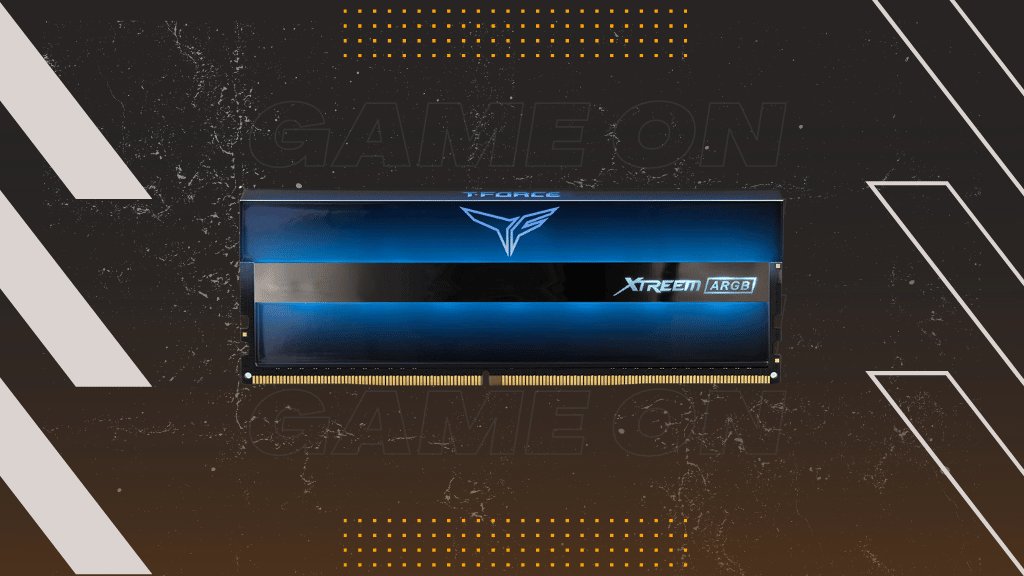 Capacity: 32GB (2x16GB) | Clock speed: 3600MHz | CAS Latency: 14 | Die: Samsung B | RGB: Yes
When manufacturers claim that a kit is optimized for a given platform, it's usually a marketing ploy. We're not as sure in the case of the T-Force Xtreem ARGB as it's as primed for AMD as a kit can be. It looks unique, features tight timings, and performs better than other kits in its class. There's a sizeable price gap between it and most of our other suggestions, but that's what someone looking for the best RAM for Ryzen 9 5950X should expect.
Teamgroup took their RAM in a completely different direction than the competition design-wise. It has a black 10-layer PCB almost entirely covered by a thick heat spreader. This, in turn, is made from a strip of aluminum alloy and dark blue plastic that hides two rows of RGBs. Unlike other kits where the lights shine from above, the Xtreem's LEDs occupy the middle and illuminate each stick from two sides.
The effect is both unique and highly customizable. You can either use the T-force Blitz utility or leave lighting coordination up to your motherboard's software. Either way, you're in for a treat. The single-rank 16GB sticks are 49 mm tall. That should work with most CPU cooling solutions, but make sure before purchasing just in case.
A Match Made in Silicon Heaven
The Xtreem benefits from high-end Samsung ICs colloquially known as B-die. They're famous for combining high overclocking potential and low CAS latencies. Indeed, the single XMP profile the RAM carries is already markedly better than what many lesser kits can achieve with manual overclocking. A straightforward setting adjustment separates you from 3600MHz at 14-15-15-35.
That translates to top results, whichever test you subject the kit to. Expect excellence, whether it's memory read or write, rendering performance, or getting those last few frames extra in Deathloop. Better yet, users who don't mind fiddling with their RAM can achieve still more impressive results. It's possible to slightly lower the latency at 3600MHz or maintain the XMP profile's settings at a few MHz more. You could also sacrifice the latency a little and bring the memory up to 4000MHz.
G.Skill Trident Z Neo
Capacity: 32GB (2x16GB) | Clock speed: 3600MHz | CAS Latency: 16 | Die: Samsung B | RGB: Yes
Are you weary of paying that much extra for the best RAM for what amounts to a performance boost of a few percentage points? In that case, there's no better alternative than G.Skill's new take on memory. The Trident Z Neo features updated styling and improves upon the reliability and raw power at the core of Trident's being.
The Trident in the line's name refers to three prongs on top of the heat spreader unique to G.Skill RAM. Older models were monochrome, but the Neo spices things up with a dual-color approach. Part of each stick is black and brushed, while the other gleams a bright silver. A milky white strip runs along the top, diffusing the RGB lighting coming from within.
Like Teamgroup, G.Skill accompanies the Neo with comprehensive lighting software. If you'd like your AIO, fans, and other components to remain in sync, you can forego that. The Neo is 5mm shorter than the Xtreem, making height conflicts unlikely.
Teaching an Old Dog New Tricks
Even though it's less expensive, the Neo uses similar Samsung B-die as the Xtreem. The price difference comes down more to the lower default CAS latency. Running at 16-16-16-36 is still a respectable result, especially since the Neo doesn't need more than 1.35V to maintain it. Remember that enabling the XMP profile is the only way to achieve these results; otherwise, you'll be stuck at 2133MHz.
The Neo holds its own with aplomb when it comes down to raw numbers. It's among the top choices for a gaming PC, whichever synthetic or real-world metric you use. Moreover, increasing the voltage by 0.1V and relaxing the timings lets you achieve OC speeds above 4GHz. That's the only area where the Neo falters, though. Whether or not you'll be able to push it past XMP much depends on luck, as some kits are better at it than others.
Corsair Vengeance RGB Pro SL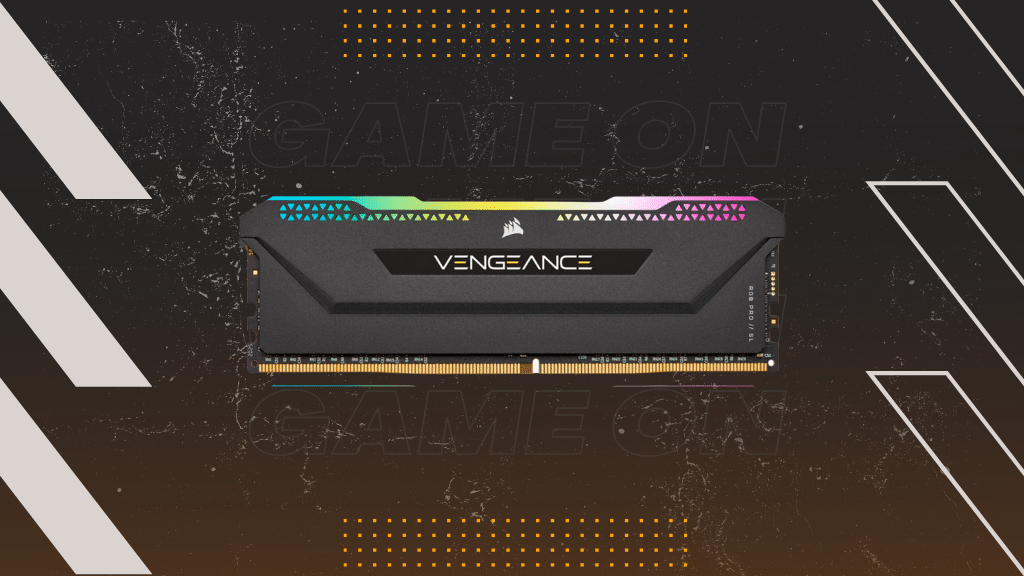 Capacity: 32GB (2x16GB) | Clock speed: 3600MHz | CAS Latency: 18 | Die: Samsung B | RGB: Yes
The original Vengeance RGB Pro remains some of the best RAM for Ryzen 9 5950X. However, many users with high-end systems had to pass on it due to the sticks' excessive height. Corsair went back to the drawing board and came up with the SL version. It's sleeker yet maintains the original's vibrancy and excellent performance. The price difference is negligible, making this one of the more cost-effective modules on our list.
It might not dawn on newcomers right away, but existing Pro users will spot the changes immediately. Much of the SL's appearance remains the same, including the black anodized aluminum heat spreader on an equally dark 8-layer PCB. The RGB area has undergone the most changes. It's now flanked by cool-looking arrays of triangle cutouts that let more light through on the sides.
The addressable LEDs per stick vie for your attention. They're as bright as the original's and equally dependent on iCUE for color and effect tweaking. The most significant change comes in the new modules' height. It's now 45 instead of 51mm tall, a significant reduction that alleviates most issues users had with their tall cooling solutions.
Slimming Down & Shaping Up
The SL maintains an operating frequency of 3600MHz at 1.35V, albeit at a lower CAS latency of 18. Still, the frequency lets it compete with most 5950X RAM and emerge victoriously. It regularly occupies the top third in head-to-head tests against kits that include more expensive rivals. The results are even better in titles like Far Cry 6, and AIDA64 gives it high marks for memory copy.
The bad news is situational and won't affect users who are happy to engage the XMP profile and start using their PC. Tinkerers will be disappointed in the SL's lackluster overclocking chops. The RAM can barely get past its XMP speed even though it has B-die ICs. Expect 3866MHz at best, with the need to lower timings and up the voltage.
G.Skill Trident Z Royal Gold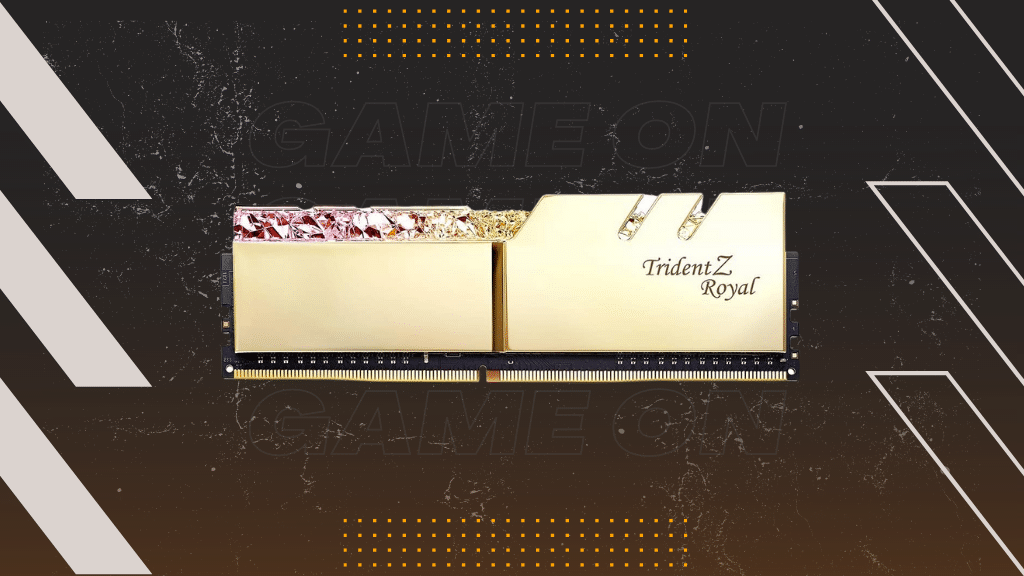 Capacity: 32GB (2x16GB) | Clock speed: 3200MHz | CAS Latency: 16 | Die: Samsung B | RGB: Yes
Excellent overclocking headroom and stability
Extravagant and unique appearance
Decent value, if overclocked
Over-the-top styling might not be for everyone
The Neo wasn't the first RAM kit G.Skill used to breathe some life into the Trident series. Before it came the Royal, the pinnacle of memory customization in the style department. It's flashy and offers one of the most satisfying RGB implementations on a memory stick seen to date. More importantly, G.Skill backs the bling up with performance worthy of the lofty title.
The Royal's aesthetic is extraordinary and, unsurprisingly, polarizing. Some people will find that the mirror finish of its golden heat spreader is awesome; others will decry it as going too far. We're in the former camp, and you'll likely be too once you see the RAM in person. You'd better put some cotton gloves on when installing it if you don't want the pristine finish to get covered in prints. Owners of white cases can rejoice since a silver version is also available.
RGB deserves its own paragraph due to its remarkable implementation. Each stick comes with eight addressable LEDs you can customize individually. However, it's the diffuser that draws the most attention. It's made up of dozens of faceted transparent "pebbles" that are supposed to mimic crushed ice or diamonds. Light passing through them produces a mesmerizing pattern with one-of-a-kind transitions.
G.Skill's Crown Jewel
That's all well & good, but is the RAM any good? In short, yes! All the prerequisites are there – a custom-made 10-layer PCB, Samsung ICs, and reasonably tight settings for its XMP profile. Engaging the profile sets the frequency to 3200MHz, while the timings hold steady at 16-18-18-38 with a 1.35V power supply. That's alright, but these numbers don't represent the kit's limit.
In fact, you can increase the frequency by 400MHz without changing a thing! It's like getting a free upgrade and also makes the Royal's price more palatable. Is the increase enough to challenge the Trident Z Neo? Not quite, but the two modules are evenly matched in almost every respect.
Patriot Viper Steel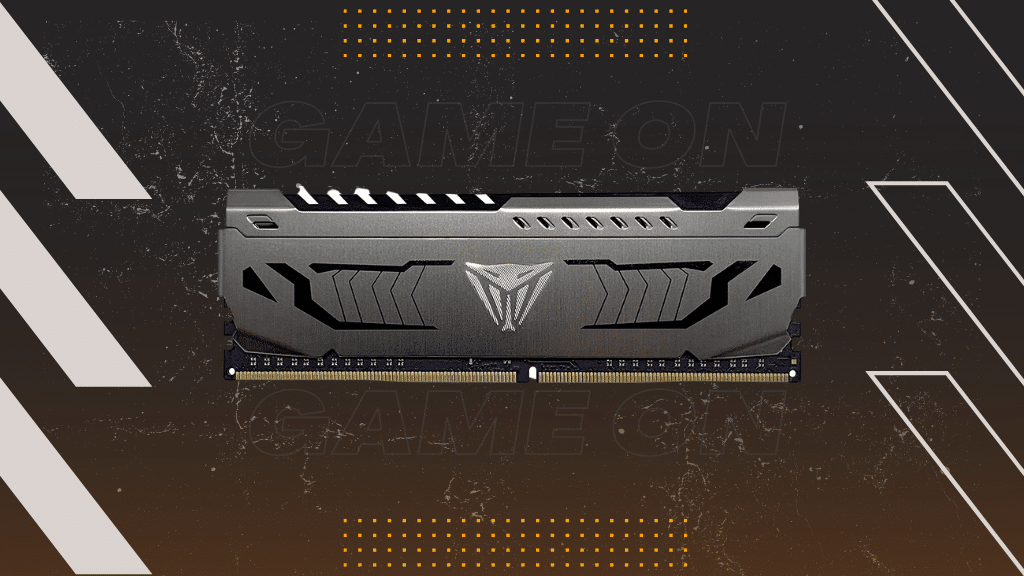 Capacity: 64GB (2x32GB) | Clock speed: 3600MHz | CAS Latency: 18 | Die: SK Hynix M | RGB: No
While you can undoubtedly crush any modern title like Rainbow Six Extraction with it, the 5950X is not a gaming processor. It's a godsend for filmmakers, 3D artists, and anyone else who benefits from blazing multicore performance. Such creatives need A LOT more RAM than your average gamer. How about 64GB in one compact kit? Because that's exactly what Patriot offers in its balanced Viper Steel kit!
This is the first memory on our list that doesn't have RGB. Anyone who doesn't want their case looking like a Christmas tree all year long can appreciate the thought. That's not to say that the Viper Steel doesn't have a distinct style. Its grey aluminum heat spreader is finely decorated with black accents. Let's not forget the menacing snake bearing its fans in its middle, either.
No RGB means no lighting conflicts. Speaking of which, this is another kit where modules stand 45mm tall, so fears of compatibility issues are unfounded.
Scaly Satisfaction
We've dealt with Samsung B-die so far, but Patriot decided to go with SK Hynix's popular M-die instead. These ICs are more cost-effective and only slightly less capable than their more acclaimed competitor. Case in point, the RAM effortlessly achieves a latency of 18-20-20-40 at an ideal 1.35V. Couple that with its base 3600MHz clock speed, and you've got competitive memory at a reasonable price.
Patriot designed the Viper for all-around performance, but we're still glad that content creation is where it pulls ahead the most. The RAM's speed is reassuring whether you're juggling millions of vertices in Blender or using Handbrake to encode 4K video.
Little to no headroom for manual improvement is the only drawback. M-die isn't built for overclocking, so expect a 200MHz boost at best while giving up its good timings. Conversely, you can bring the timings to CL17 while sticking to 3600MHz. You'll have to bump the voltage up considerably in either case, however.
Corsair Dominator Platinum RGB
Capacity: 32GB (2x16GB) | Clock speed: 3200MHz | CAS Latency: 16 | Die: SK Hynix C | RGB: Yes
Corsair's lighting-focused RAM reaches its apex with the Dominator Platinum RGB. It's a tall, stylish, and capable kit that turns heads and runs all manner of programs smoothly. It has a unique aesthetic, and the brightest LEDs money can buy. That's enough to include it as a worthwhile pick for the best RAM for Ryzen 9 5950X. However, only you can decide if the investment and potential clearance issues are stumbling blocks or not.
While the Dominator is a distinct RAM line, its general design is similar to the Vengeance RGB Pro's. They have the same penchant for tall heat spreaders and top edges that chamfer an angle downward. The platinum doesn't have a conventional light diffuser, though. You'll find rows of gold fins in its place, while the lights shine mainly through squares and the Dominator logo on top.
The change in positioning is due to the debut of Capellix. The LEDs in question take up considerably less space. Even so, they manage to outshine the competition while needing less power to do so. The lighting they produce is something else, but there's a catch. You can't configure it without iCUE, so syncing is only an option if you have other Corsair products like fans or peripherals.
The Epitome of Shiny!
The Dominator's specs are seemingly just OK for 5950X RAM. Its frequency is popular if a bit on the low side, and maintaining a latency spread of 16-18-18-36 at 1.35V is commendable. Putting the RAM through its paces at these settings suggests above-average performance with a slight preference for tasks like video encoding.
Overclocking is where the Dominator gets into its own. It has Hynix C-die ICs, which behave differently from Samsung's. On the one hand, you're able to push clock speeds to 4000MHz and net a sizeable performance gain. On the other, a shift to CL 20 and at least 1.45V accompany this push for the configuration to remain stable.
Corsair hasn't released an SL version of the Dominator yet. That could be an issue if you're using a large air cooler like the Noctua NH-D15 since the sticks are the tallest in the list at 55mm.
G.Skill Ripjaws V
Capacity: 32GB (2x16GB) | Clock speed: 3200MHz | CAS Latency: 16 | Die: SK Hynix C | RGB: Yes
When you strip otherwise competent memory from the unnecessary frills so much 5950X RAM exhibits, what do you get? A good deal, embodied in the most affordable G.Skill kit on show. The Ripjaws V doesn't sacrifice performance, fits into any build, and tackles productivity or gaming with equal vigor. There's no room for growth, but that shouldn't concern budget buyers, to begin with.
You'll appreciate the Ripjaws aesthetic if RGB is not on your priorities list. There's still room for creativity without lighting, as the stamped black heat spreader attests. There's a practical reason for the look, too – the large cutouts in the side fins help with more efficient heat dissipation. A sticker with the red Ripjaws logo is the only element that breaks up the otherwise monotonous black color.
A height of 41mm isn't short enough to make it onto our favorite low-profile RAM list. Even so, it shouldn't become a point of contention during system building, no matter which cooler you use.
Chomping Its Way Into Your PC
While this isn't the best RAM for Ryzen 9 5950X from a performance perspective, you know exactly what you're getting with the Ripjaws V. Its C-die IC maintains a respectable 3200MHz at a standard 1.35V and 16-18-18-38 timings. There's not that much you can do to change this. It's possible to boost the clock speed to 3600MHz and take a hit on other stats.
You should do so since even the slight MHz increase can push the kit past several competitors in areas like memory read & write speed or render times. Compression is an area that could use some work, but even there, the difference won't matter for real-world tasks.