March 27, 2023 – Added 1 new Code
Gearbox Software – the developers of the game – publishes various codes on their social platforms for all players. If you redeem these codes for Tiny Tina's Wonderlands, you can get Skeleton Keys, which are used to open the Skeleton Chest in Brighthoof. That is why we will check out the Tiny Tina Wonderlands SHiFT codes.
This is an amazing way to get good loot as well as gear that you cannot find anywhere else. You have to be quick to redeem these codes because they expire pretty quickly. Since the game has a lot of rare loot, it can take a long time to collect it all. That is why these SHiFT codes will help you out. With that said, let's take a look at the Tiny Tina Wonderlands SHiFT codes.
What Are Tiny Tina Wonderlands SHiFT Codes?
SHiFT codes in Tiny Tina Wonderlands are redeemable codes that are regularly released and updated. These mostly provide you with in-game cosmetic items or golden keys. You can further use them to unlock some of the legendary weapons and armor.
Working Tiny Tina Wonderlands SHiFT Codes
There are some Tiny Tina Wonderlands SHiFT codes that are permanent. Most of these, however, are time sensitive – so you need to be quick and redeem them as soon as possible!
NOTE: We have updated this list for March 2023. Once more codes are released, we will keep you updated by adding them to this list, so keep an eye out for them.
JTRB3-WTZ9T-HB36W-T3JBJ-93TC6 – Frying Pan Weapon (Exp: 07 Apr)
TBF3B-KHSXT-FKJKK-T3T33-CT6JS – 3 Skeleton Keys (Exp: 31 Mar)
3BXTB-JT9HB-9JB6C-JBTJB-ZFXSS – Live Wire Weapon (Exp: 28 Mar)
TJRB3-CKZRB-F5JK5-B3BBB-3FZC9 – 3 Skeleton Keys
Expired Codes
We have also mentioned the expired codes so that you do not waste time typing them in the game and getting an error.
J3F3T-3Z9XT-RWTW5-BT33J-ST55C
33XJB-C6KST-65TWW-JJJTJ-S36SW
JTX3T-WFZXJ-XW3CC-JTTBB-K3F56
BTRJB-BFZXT-XW3KW-3JBTJ-HZ5WK
3TX3T-R9XST-933RW-3BBTT-WJBCC
TTF33-K9XH3-ST3RC-TTJT3-RW66W
336BB-H3TFZ-W5BK5-3JT33-SBC5S
J3FBT-63JFS-KK35K-TJ3J3-JRJ6W
JJXTB-CJ3X9-WWTC5-3J3J3-ZHJ6T
BTR3T-TJJXZ-WKBCC-BJTJ3-HXZ5F
JJRTJ-J9RZT-H3T65-BTJ3J-J3FTZ
JJRTJ-9HZCS-C53CC-BJBTJ-BXXSH
KKR3B-TWFSF-3JJKW-3BB33-HBWS6
BBXTT-6HHWH-WW3KC-TJBJ3-3H9TX
TB63J-WSH5H-CK3WW-BTBT3-TBXTC
J3F33-9HCSJ-9TTR5-33BJ3-5XKBW
BBX33-69CZJ-STTXW-T3J3J-BHXJ6
J36TJ-WS5S3-STJR5-TJJT3-9FS9B
TBFTB-JHC93-9J36K-3T3BB-Z6X99
TBF3T-ZXW93-ZBJFW-JJ33B-3TF3Z
BTRB3-FRCS3-SBB65-JBTJ3-ZFKK3
B363J-K6K9J-ZB36C-3TB3T-R9Z55
T36B3-JRKST-HBT6K-BT33B-ZBSJC
3TFJ3-SCC93-HJBRK-33JTB-F9XXK
BTRJ3-RWCH3-ZB3XK-JJJ33-K6H95
JJ6T3-9CSRB-RKJ5W-JBJJJ-WRXRC
KCRB3-F6CTB-H9S35-33JBT-XCFBT
W5RJB-CFWJ3-ZHZ35-J3J3J-FRHZF
J36J3-K5WZJ-STBXW-3BJBJ-BR93C
J3FJT-BWKSJ-9JBXK-T33T3-RT966
3TFTB-XKHXB-F5BC5-JTJTJ-HK96X
JTR3T-TCHR3-XK3W5-J33T3-TF6H5
WKRJ3-R59F9-X993K-3T3TJ-5BCHW
JT63T-TS9WS-W5TW5-J3TTJ-WB6RX
JBRTJ-S6ZCH-5WJWW-JTTJB-KFHFS
5H533-9XT3T-FXWFZ-RJTTB-6FXKJ
3BFBT-R6H5S-CKTW5-JBTBB-Z6FRR
BTXJT-5XZW9-WC3C5-TTJ3B-TCXWB
3BRBB-36HWS-CKJCC-3BTTT-K53HX
3JF33-TCH5S-K5JW5-TJ3TJ-3SJH6
3JF3T-H3ZKH-WKTWW-33TTB-THJJF
3BR3J-F39KH-C5B5C-J3JJT-RHBSB
BBRBB-JBHCH-5WJCK-BJ3JB-JT96S
TBXTT-9H6W9-KC35C-BBTJT-35CJ5
JJ63T-FS659-KWTKC-B33JT-3C663
TBRT3-KZ6C9-5KBCC-JBT3J-CKJRH
BJR3T-THR59-CCJKW-TBJJB-BTZS5
JB6BJ-SR6WS-5WJ5K-JBBT3-FK9TK
T3FJT-F6RCH-WWJKW-B33BT-KRRHB
BBFJB-W665H-5W35C-JTB3J-55H6B
BBF33-TFFWZ-KC3KW-3JJJJ-WCXZR
J3RT3-9W6W9-WCJ5C-333J3-5CJRF
3J6BT-6CFWH-W5T5W-BJJTB-RKZ3W
3BRTJ-5K659-K5355-BTB3T-633F3
TBRJJ-TW659-W5B5C-T3B3J-3BTBK
W9CJT-5XJTB-RRKRS-FTJ3T-BTRKK
T3R33-9BRWH-KKBKW-B3TTB-36TBF
JJRJB-CS3WZ-WWTW5-33BJT-JZ9RJ
B3F3J-3S3KZ-CWBWC-BTT3T-SHF5F
BTX3T-6RTWZ-K5BW5-3BBB3-3TFCZ
JBRTT-BZH6F-CC3W5-3TTTB-XB9HH
BTFTB-RSJKZ-WWB5C-T3JJT-BS36S
TB6BT-SWJCS-WKTK5-3B3B3-5BJW9
B36T3-KSZ6F-K5TKK-JJ3B3-B6B3J
BJFBJ-9W9K9-KC3WW-TTBB3-WX5J9
When Do Tiny Tina Wonderlands SHiFT Codes Expire?
There isn't a set time or schedule for when a code will expire. Each code may have a different life. In general, it's better to redeem a code as soon as you can since once it expires, you won't ever be able to redeem it again!
How to Redeem the Tiny Tina Wonderlands SHiFT Codes?

Once you have the working codes, you will want to redeem them in the game. Luckily, redeeming these codes is extremely easy in Tiny Tina Wonderlands.
Once you launched the game, go into the Social Menu.
Select the Shift icon.
It launches a different Shift view where you will find a small menu.

If you have no Gearbox account, you will have to create one.

To enter the Shift Code, select Rewards (Gift Icon).
Enter the code and click on Redeem.
On the other hand, you can redeem your SHiFT codes online on the Gearbox SHiFT website. Regardless of which method you choose, you should get a mail in-game with your reward. Claim it to receive the Skeleton Key and use it to open the chest.
How To Get Tiny Tina Wonderlands SHiFT Codes?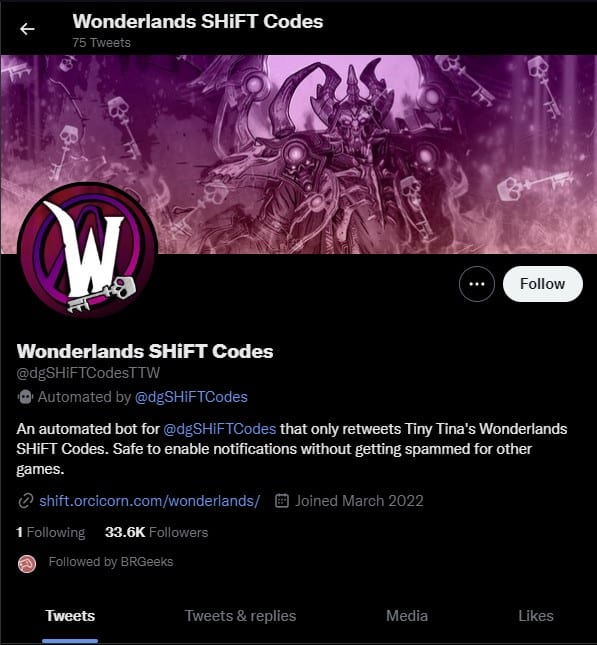 Tiny Tina Wonderlands codes are posted on Tiny Tina Wonderlands SHiFT codes Twitter page. Enable notifications for this account, and you will know exactly when new codes come out. Since they are updated regularly, keeping up with them can be quite overwhelming. However, if you follow this page, you will not have any issues whatsoever.
Some third-party sources also share working Tiny Tina Wonderlands codes that are not posted on Tiny Tina Wonderlands official accounts. However, if sourcing these codes from various platforms seems tiring, you can simply hop on to this regularly updated article for new links!
Why Aren't Your Tiny Tina Wonderlands SHiFT Codes Working?
There can be multiple reasons why your Tiny Tina Wonderlands SHiFT codes aren't working. The most common issue is if you are typing the code incorrectly. Even if you mistype a single thing in the code, it will not work. So, make sure that you type the exact code as written above or on the Tiny Tina Wonderlands socials.
Secondly, another reason for codes not working is if they are expired. You will get a prompt that tells you if a code is expired or not. Plus, if you are typing a code that you have already redeemed, it will not work. So, make sure that you type the code only once.
Are New Codes Added With Each Update?
Codes are added with each update, but that's not a milestone for them to be added. Instead, SHiFT codes are updated for Tiny Tina Wonderlands throughout the year and don't have any specific requirements for when they will eventually come out.
If the game reaches a certain milestone, the devs will release a lot of SHiFT codes. However, there will be times when you won't get a new code for a few updates. So, keep an eye on this guide to check out the latest codes whenever they come out.
Conclusion
Those are all the Tiny Tina Wonderlands SHiFT codes that you can redeem right now. Make sure that you redeem the working codes as soon as possible before they expire. Hopefully, you get good RNG and get rare loot to help you on your journey.
We would love to hear your thoughts on the game and what loot you got with the latest codes. Are there any codes we missed? Let us know in the comments below!