Wild Hearts came out of nowhere and surprised everyone with its fancy action and graphics. The Wild Hearts release date was even more of a surprise, especially coming from EA. The game was announced on September 28, 2022, and seems to be ready for release at the start of next year.
Wild Hearts release date is February 17, 2023. It is releasing on PS5, Xbox Series X/S, and PC. The game follows Need for Speed Unbound as the second AAA next-generation-only game from EA.
In a surprise collaboration between EA Games and Koei Tecmo, the game aims to be the next "Monster Hunter" on all new generation consoles. The game is being developed by Omega Force, the studio that made the excellent but underrated Toukiden series. So the developers have plenty of experience crafting monster-hunting games. With Monster Hunter: Rise also releasing on PlayStation and Xbox, it will be a fun start to 2023 for monster-hunting fans.
What's Wild Hearts Release Date?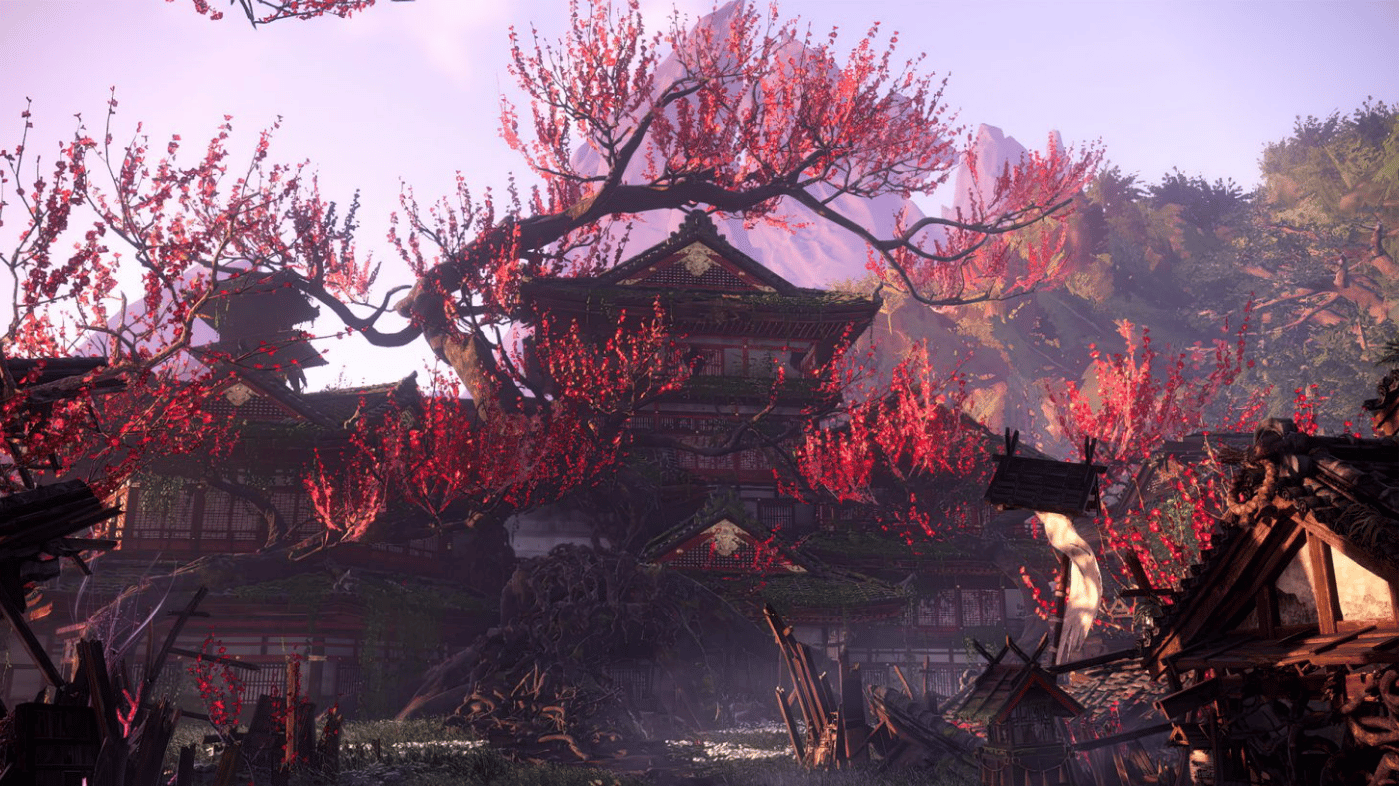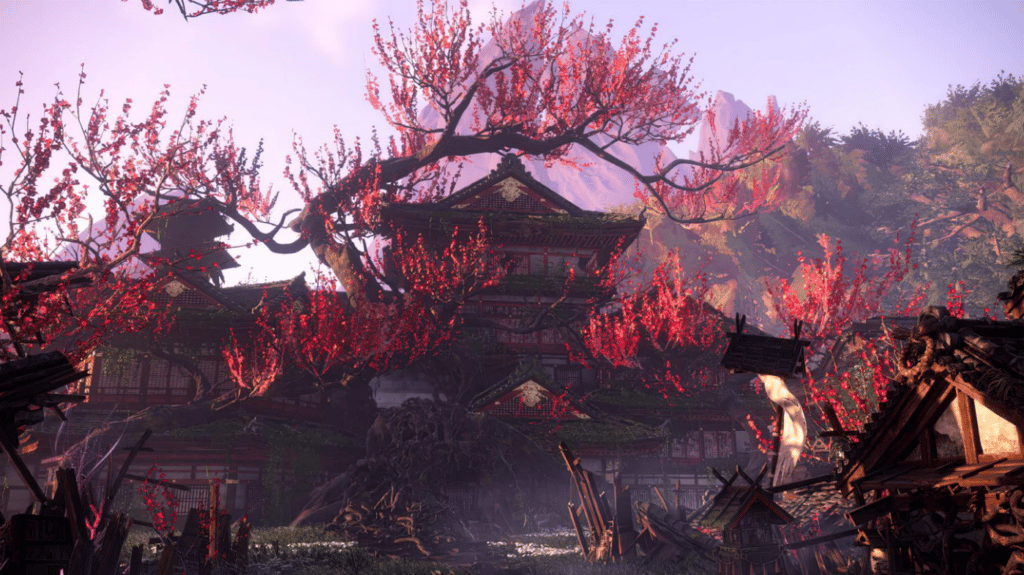 Wild Hearts release date is February 17, 2023. The window between the announcement and the release date is quite short, especially considering companies take years to market their games. The game is being called "the first AAA hunting experience for a new generation" and we have to agree there, the game does look stunning.
A big Wild Hearts trailer was released with the announcement that showed off a big slice of gameplay. It didn't seem staged but did have some "marketing" camera angles to show off the flashy gameplay in the game. This is also a surprising move, coming from EA Games.
What are Wild Hearts Platforms?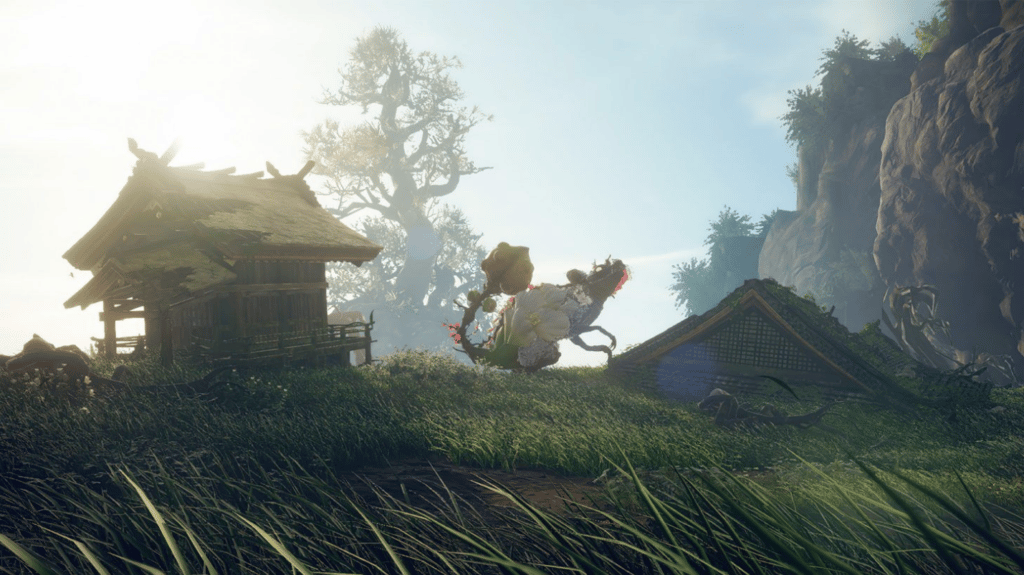 Wild Hearts is releasing on PS5, Xbox Series X/S, and PC. This is a next-gen exclusive game that will use the full capabilities of the new and powerful hardware. EA is marketing Wild Hearts as the next-generation monster-hunting experience in a bid to differentiate it from other hunting giants like Monster Hunter.
Wild Hearts will also be available on EA's Origin store on PC as well as Steam and Epic Store. PC gamers will have a complete choice of selecting their preferred online storefront on PC. Previously EA was rigid on only releasing their games on Origin.
Who are Wild Hearts Developers?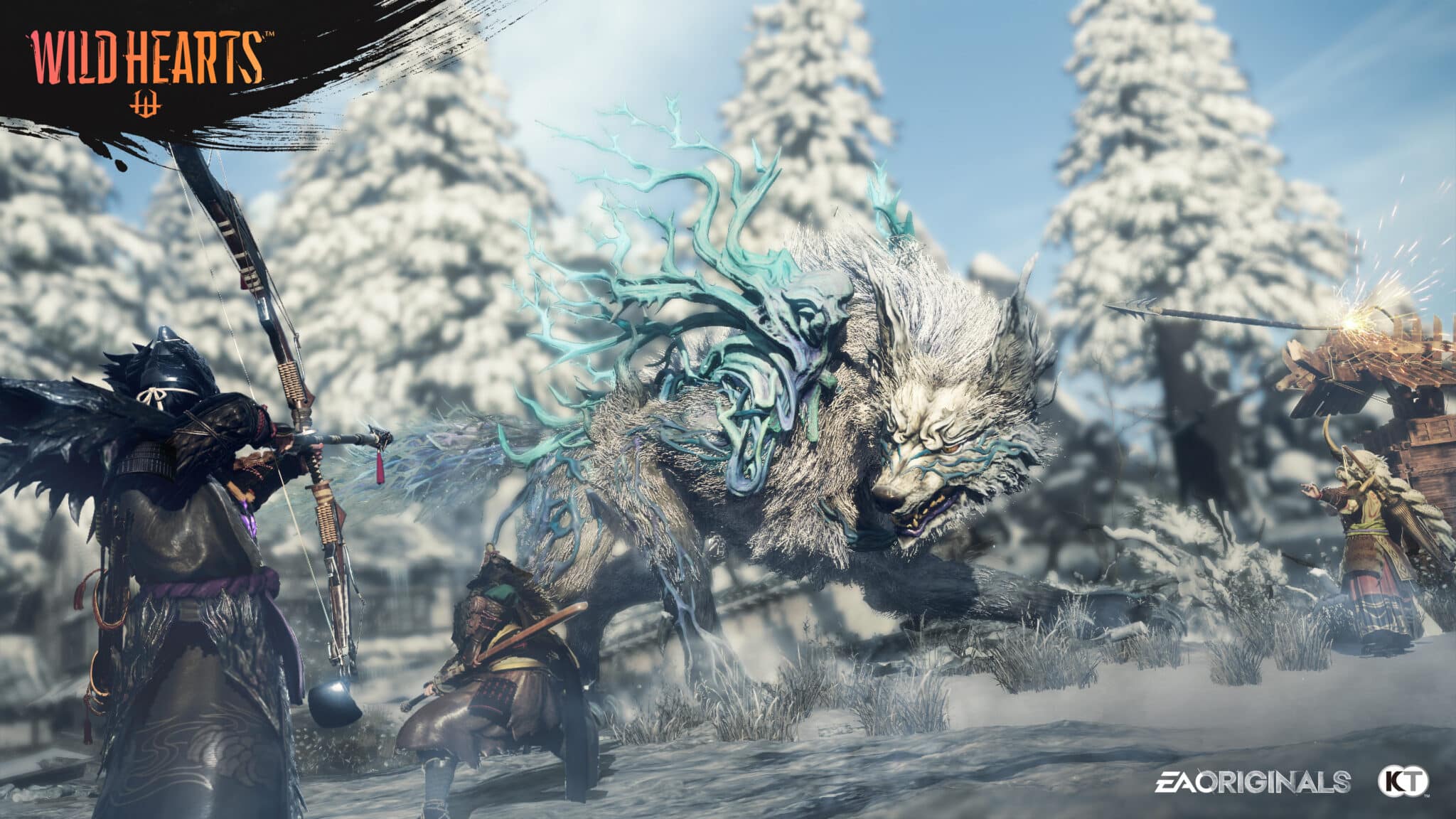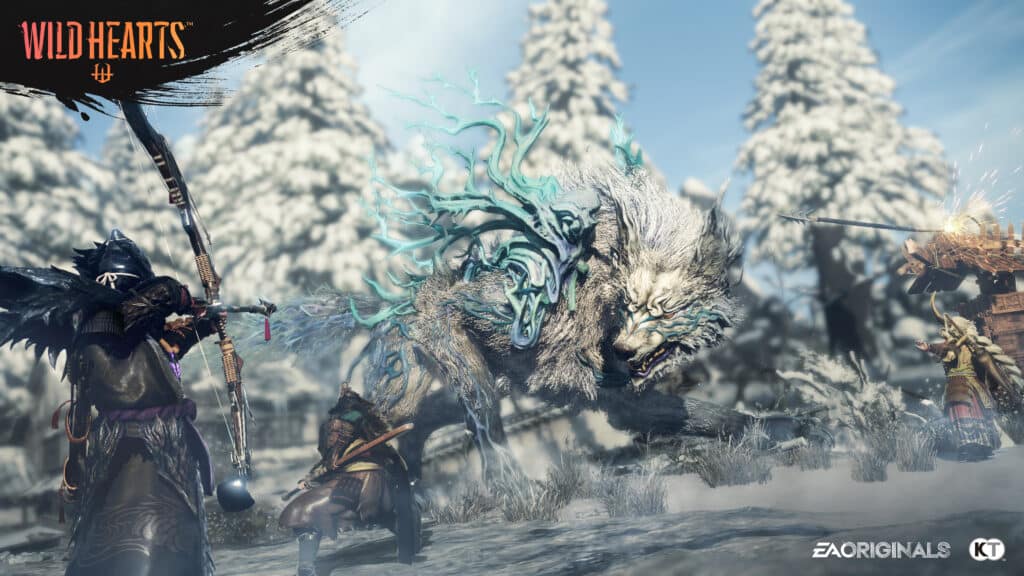 Wild Hearts is being developed by Omega Force. EA is publishing the game under their EA Originals banner. Omega Force is a Japanese video game studio that comes under the division of Koei Tecmo. They've previously made games like Dynasty Warriors, Fire Emblem Warriors, and Attack on Titan 2.
Omega Force has plenty of experience when it comes to making warrior-based games. They've recently released Hyrule Warriors and One Piece: Pirate Warriors. They also have experience making monster hunting games, namely the Toukiden series.
What is Wild Hearts?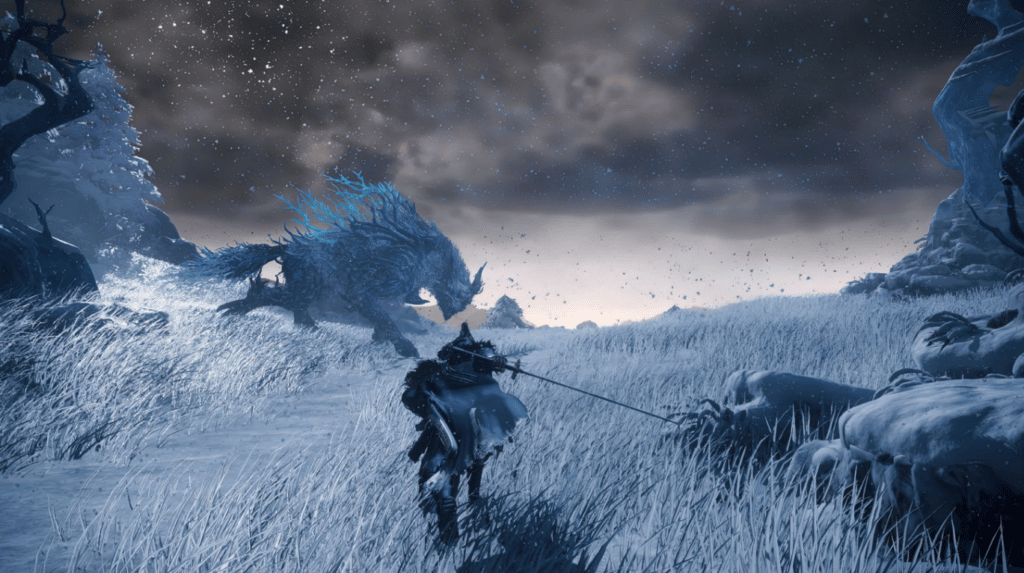 Wild Hearts is a monster-hunting game set in fantasy feudal Japan. It's an online multiplayer game that teams up various hunters on a mission to take down a giant monster. The game differentiates itself from other established franchises by emphasizing on-the-fly crafting and traps.
What is Wild Hearts Story?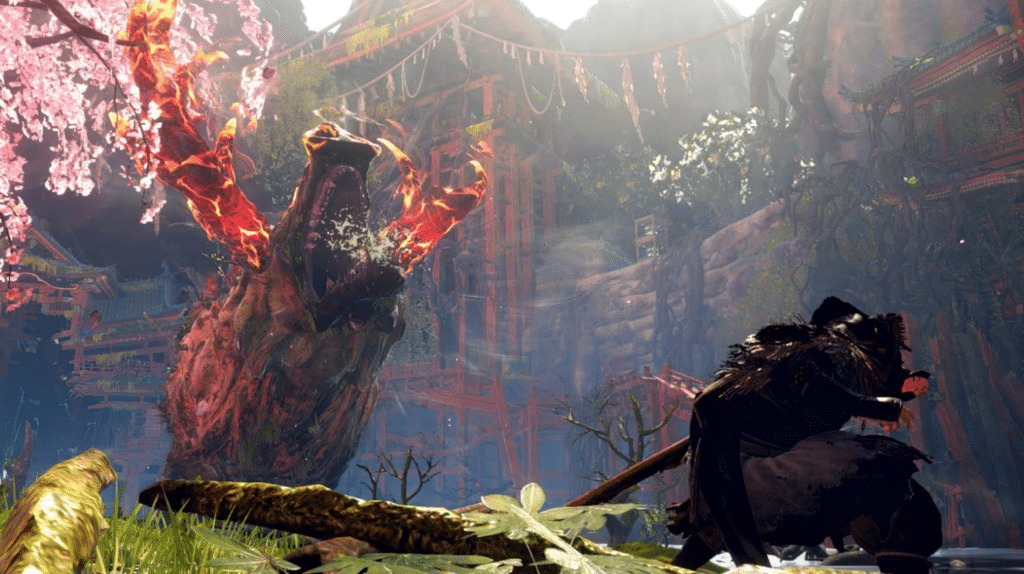 The game is set in feudal Japan in an area called Azuma. You and your fellow hunters take down nature-based beasts called Kemono. You have access to numerous weapons and also ancient traps called Karakuri. Your job is to clear the land of harmful beasts and restore balance to the land.
The full story isn't revealed yet but we hope there are at least some narrative layers to the combat just like in the Monster Hunter series.
What is Wild Hearts Gameplay Like?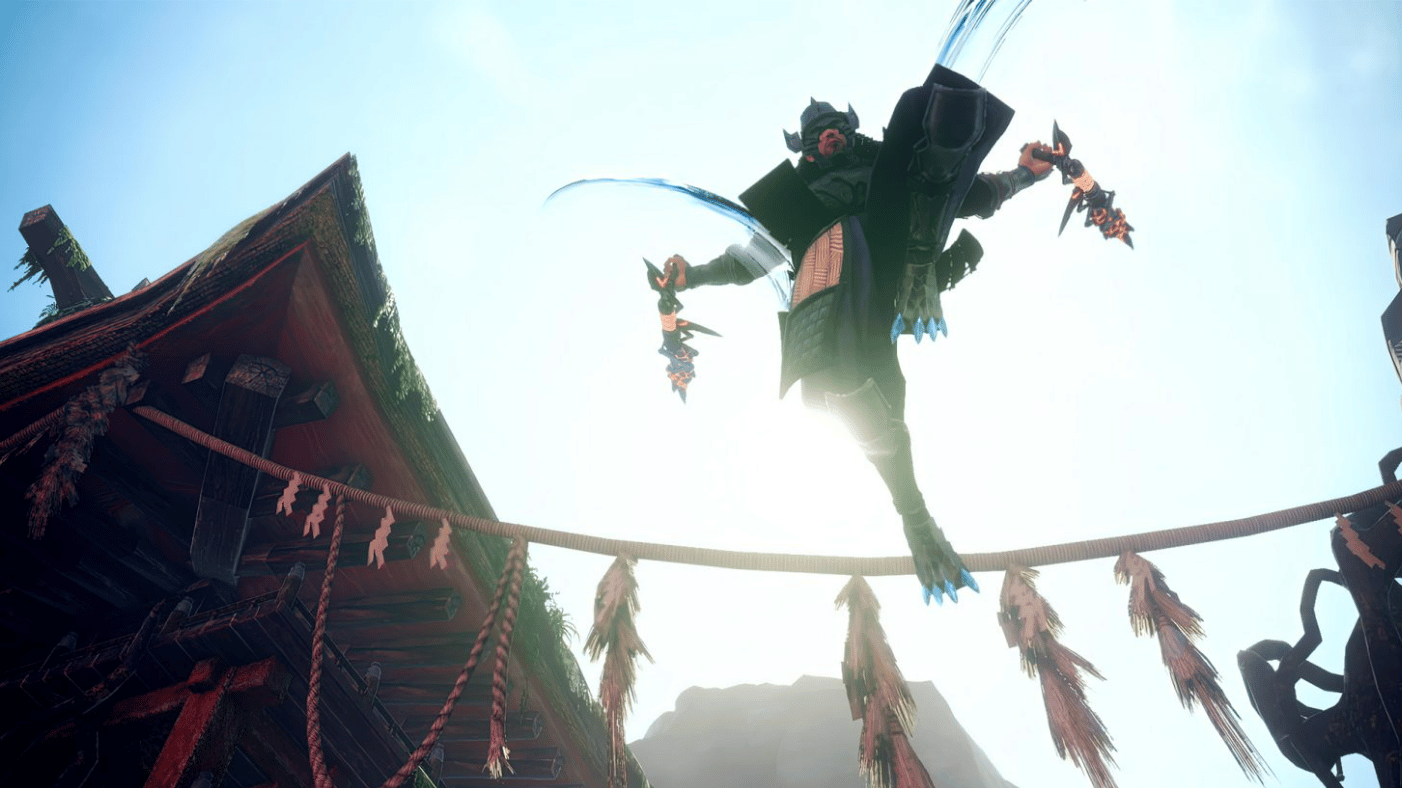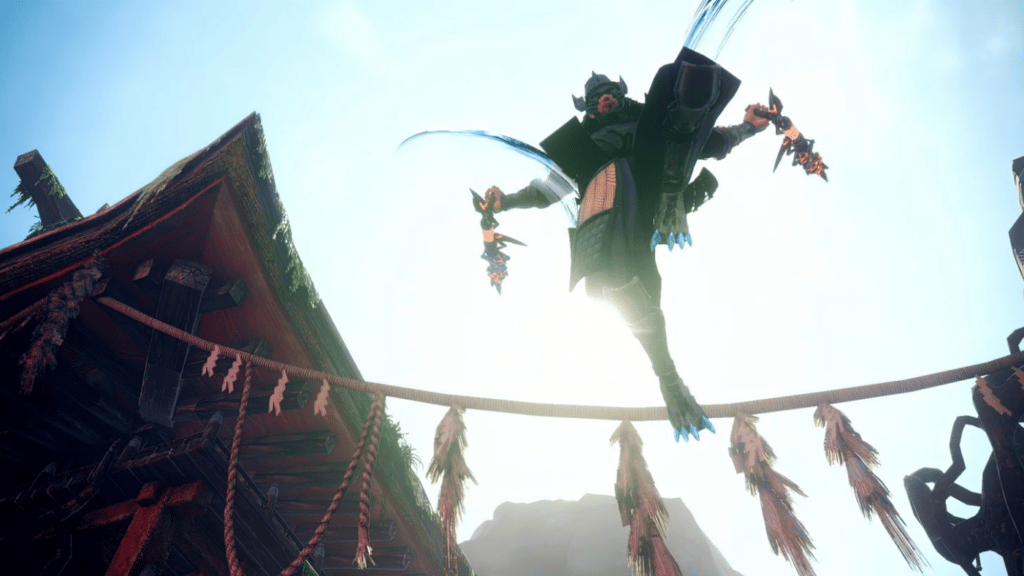 If you are familiar with the Monster Hunter, Toukiden, or even God Eater series, the gameplay of Wild Hearts will feel similar. From what we've seen, the gameplay involves scouting a location for monster clues, getting ready for battle, setting up traps, and then getting down to the business of taking down giant monsters.
We don't have any information about the progress system yet. In Monster Hunter games, you take down a monster, harvest its parts, make new weapons and armor, take down a bigger monster, and so on. That is an addictive and rewarding gameplay loop, if Wild Hearts follows a similar system, we will have a hit on our hands. We will have more information once the Wild Hearts release date comes closer.
Combat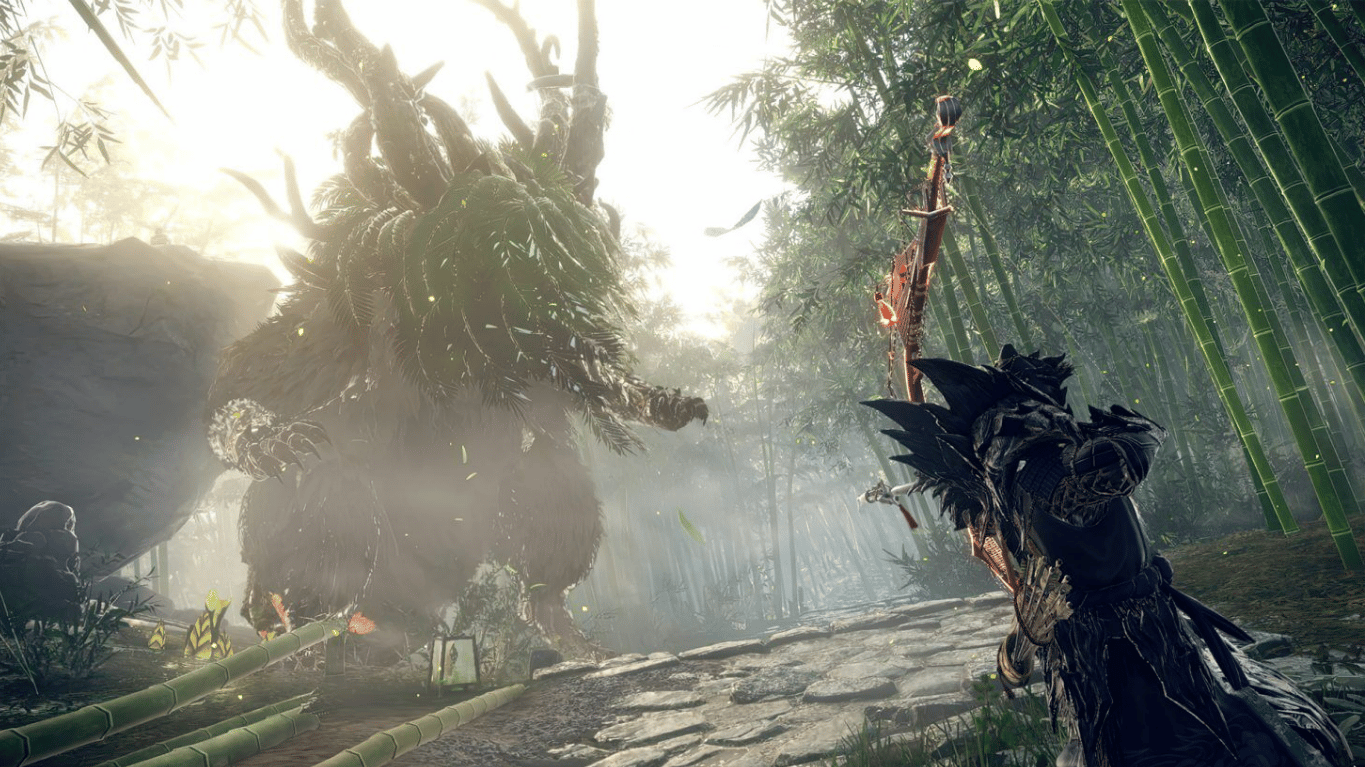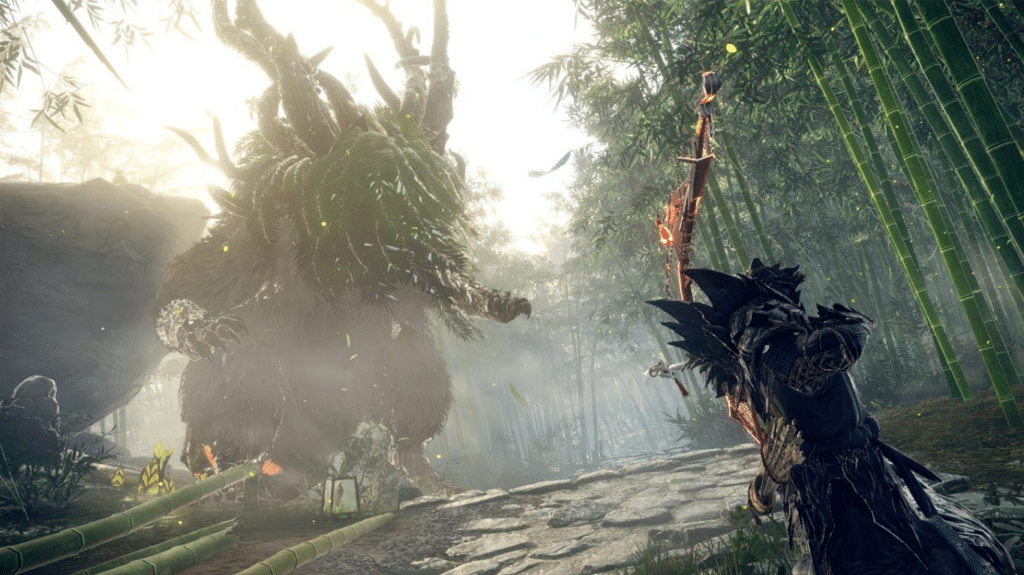 The combat looks stylish, flashy, and responsive from the footage we've seen. It isn't too far from the Monster Hunter series either. The monsters are huge and pose a genuine threat. One or two hits from the giant monster will slay your hunter, so dodging and timely reactions are a must if you want to succeed. There are numerous ways you can use the environment and your weapons to take down the beasts as well.
There are combos and special moves to dish out more damage. We will have more details about the status effects and elemental damage once the Wild Hearts release date is near. It seems to be a robust combat system which will be the biggest draw of the game.
Weapons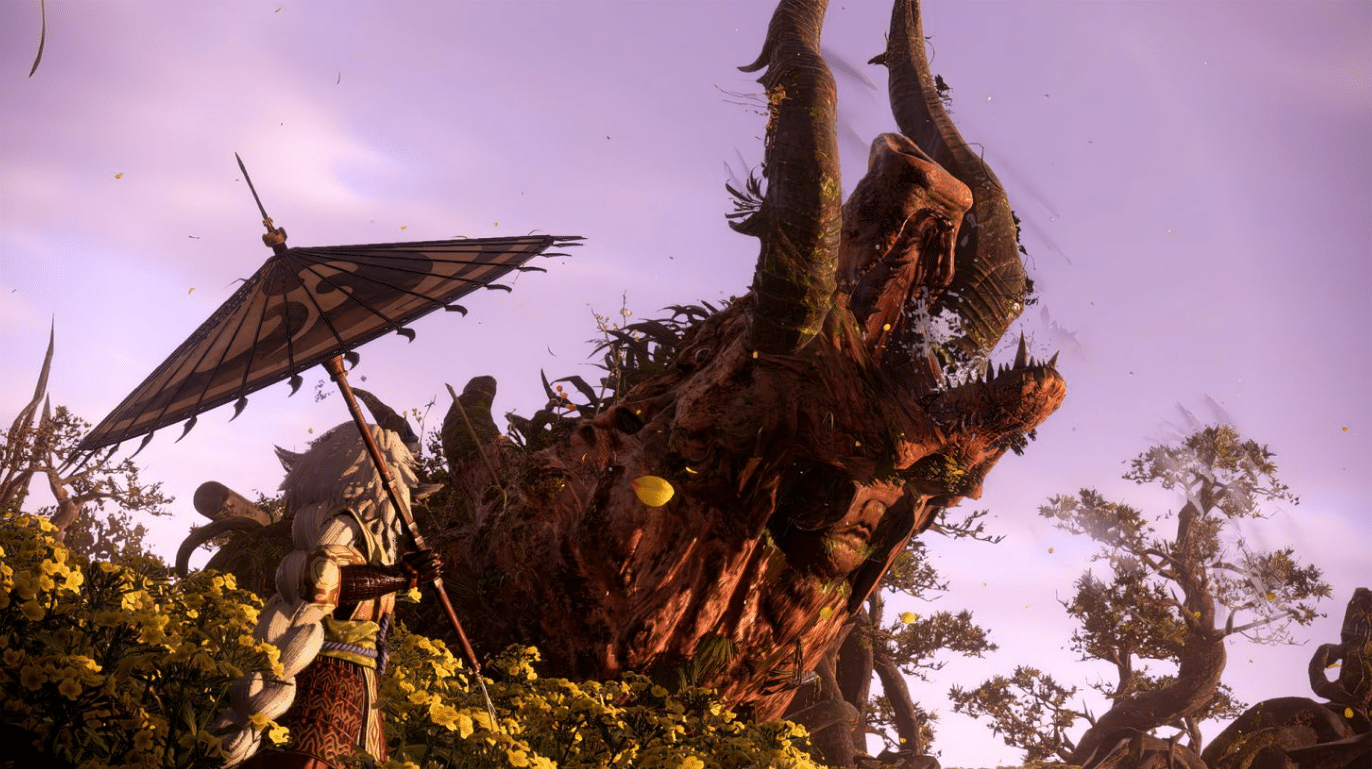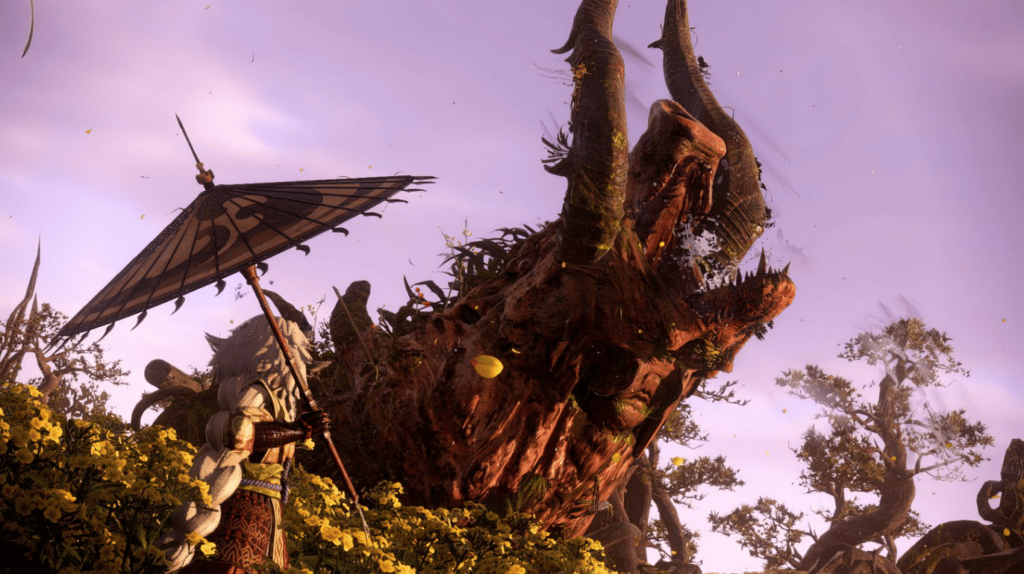 Weapons and weapon types are the meat and bones of a monster-hunting game. Wild Hearts features 8 different weapon types that you can use to take down the monsters. All of them will drastically change the way you play the game, so having the main weapon will determine what type of action you'll see.
There is the Katana, the Bow, the Bladed Wagasa, the Maul, the Nodachi, and the Staff. The bow is for the range-based hunter but the game has a Wagasa, which is essentially a bladed umbrella. The staff can transform into 5 different weapon types on the fly as well. The selection of weapons is pretty good and we cannot wait to see how well they handle.
Traps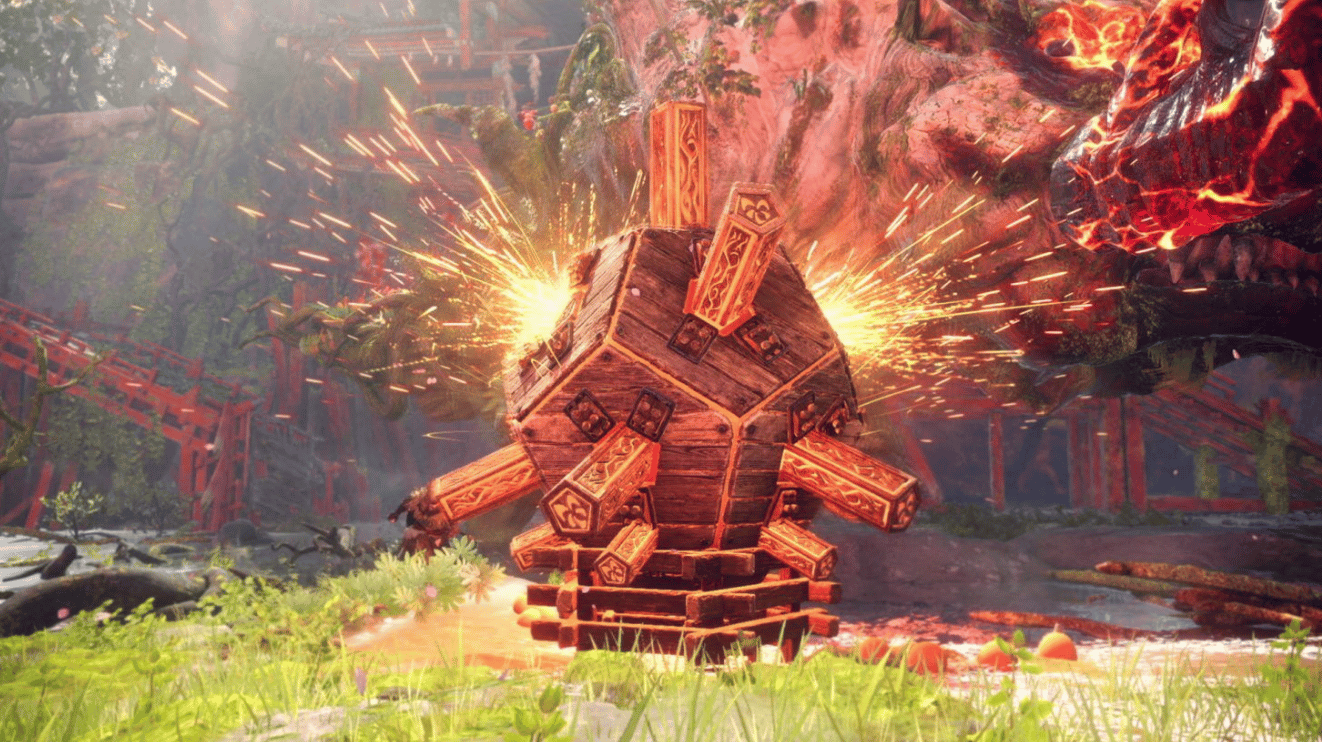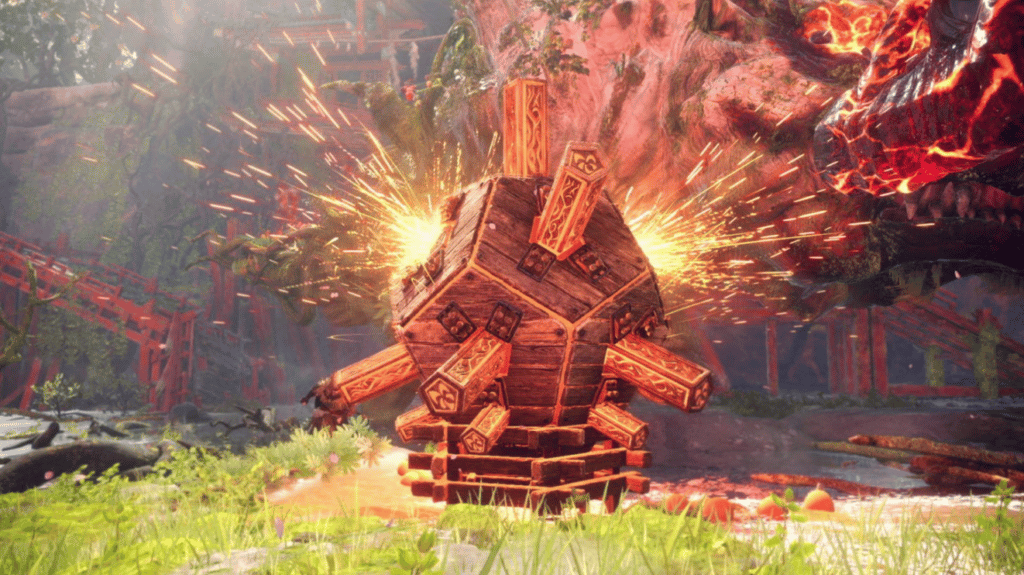 The traps are ancient, sophisticated mechanisms crafted from a lost technology. Yosuke Hayashi is the executive vice present of Koei Tecmo and states that the developers at Omega Force want to "create a game where crafting was at the core of the experience, redefining what can be possible in a beast hunting game."
The developer team's ambition can be seen from the extended gameplay trailer they showed off. There are several types of traps you can craft and set during the battle. The traps range from simple platforms that can aid in mobility to harpoons that can stun-lock a monster for easy hits. There are several others, including explosive types. Crafting and setting traps on the go is going to be a major gameplay element in Wild Hearts.
Wild Hearts Enemies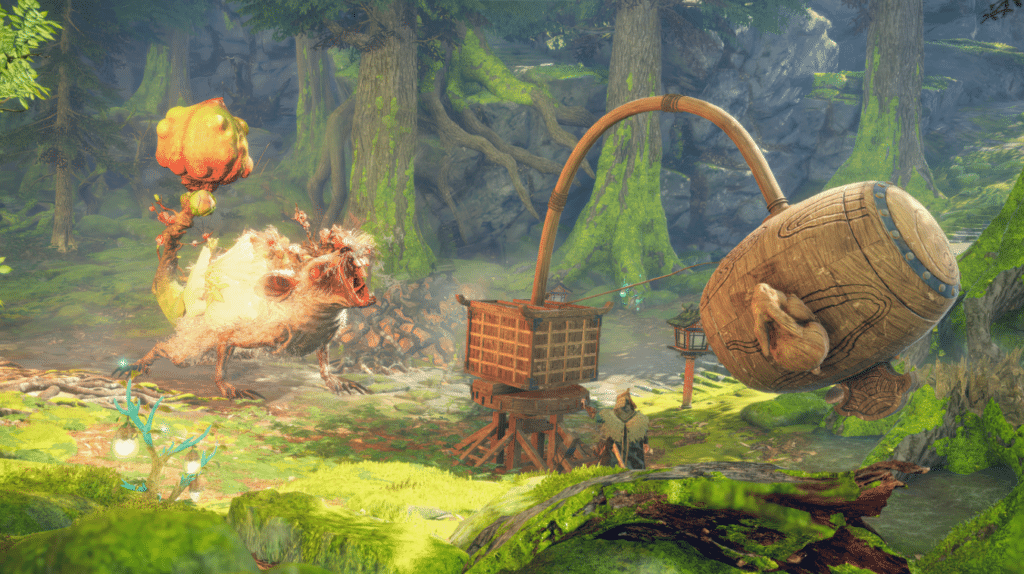 The monsters in Wild Hearts are called Kemono. We've seen a couple of them in the reveal and gameplay trailers. One is a giant boar, another is a giant ice-based wolf and another is a fire-based ape.
The developers don't want the players to feel bad when they defeat a monster. Talking to The Verge, the developer stated, "We weren't exactly going for fear, but more the threat of nature suddenly becoming dangerous to you." So there probably won't be cute monsters like Pukei Pukei or Kulu-Ya-Ku in the game. We will know for sure once the Wild Hearts release date comes close.
Is Wild Hearts Multiplayer?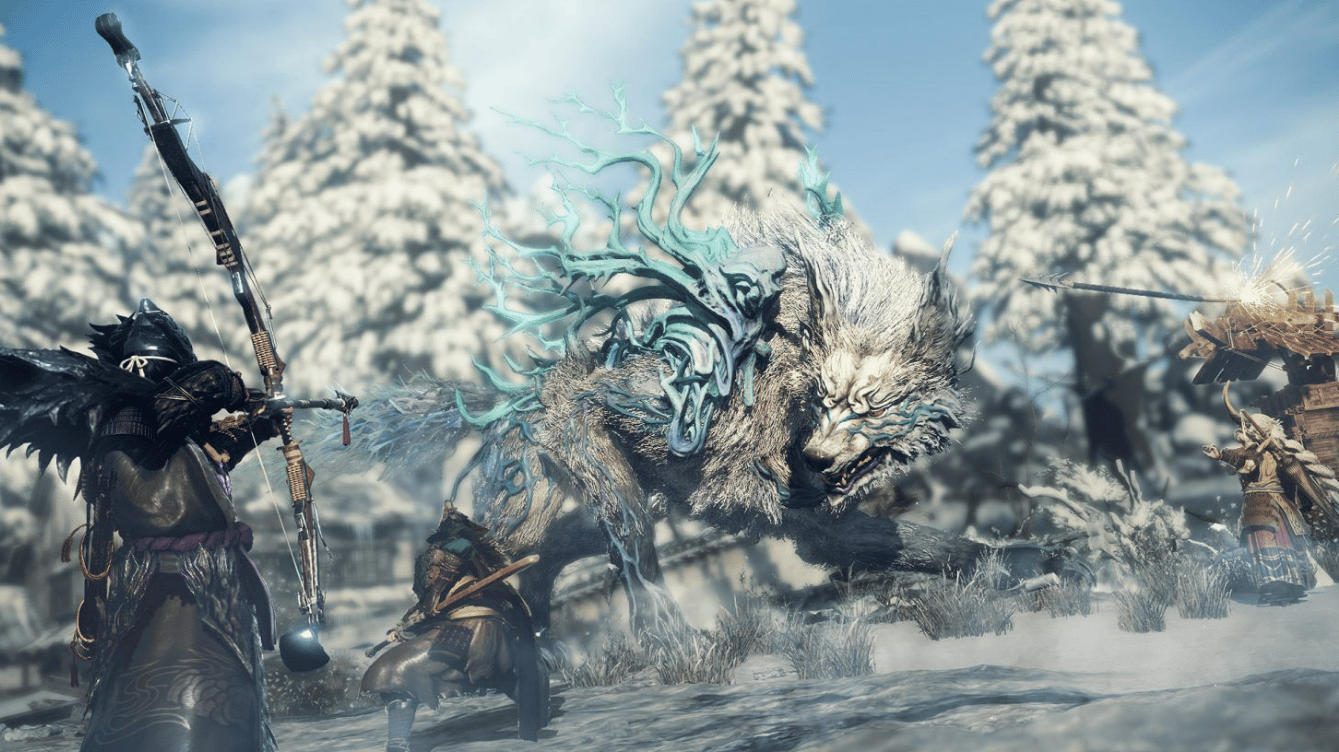 Yes, Wild Hearts has multiplayer co-op. Three players can join forces in cooperative hunts. This is one less party member than Monster Hunter. This may seem like a bad thing but the developers have a pretty good reason behind this.
Talking to IGN, Takuto Edagawa, the co-director at Koei Tecmo explained, "Originally, we considered having four players for cooperative play," he said. "However, during development, we realized that due to the power of the Karakuri (the traps), three-player combat provides the best balance for maintaining a sense of tension and cooperative combat."
So four-player co-op was dropped probably because the game became too chaotic and perhaps due to power constraints.
What is Wild Hearts Engine?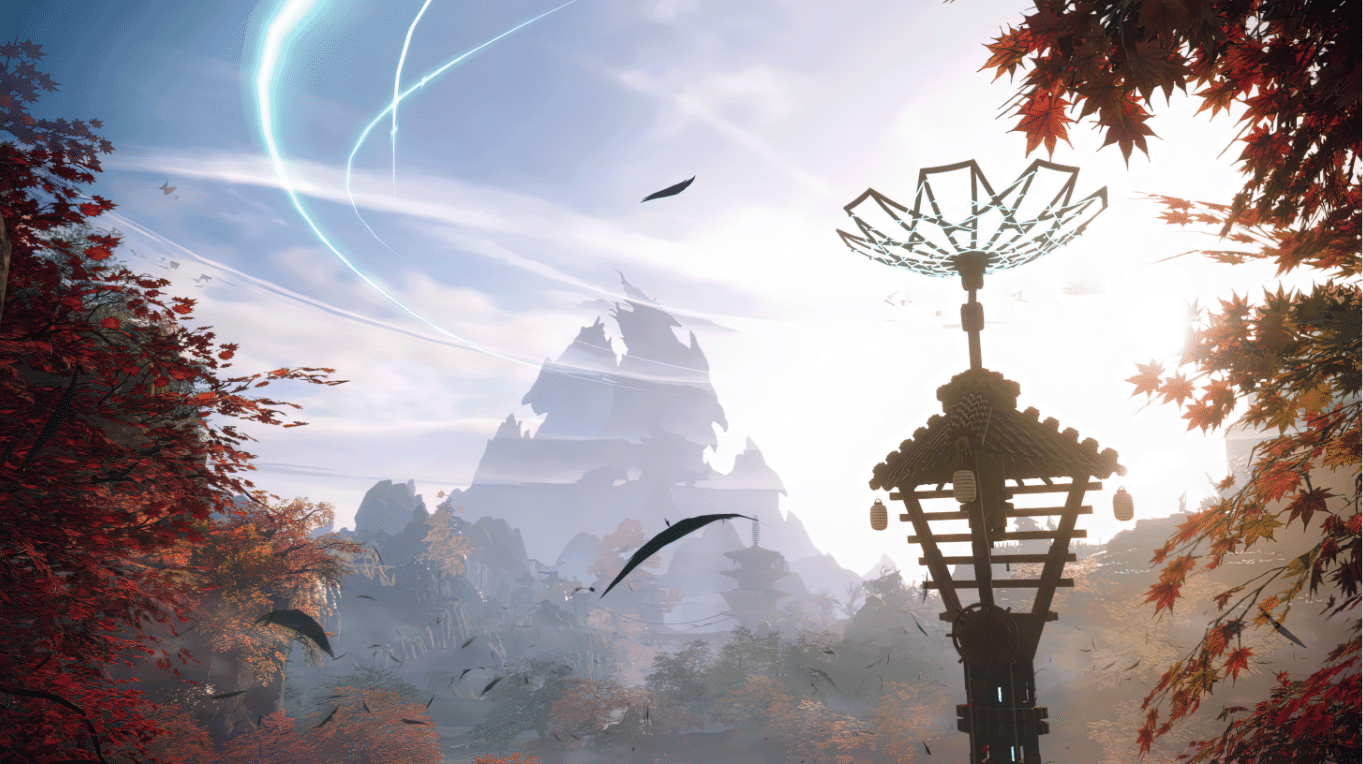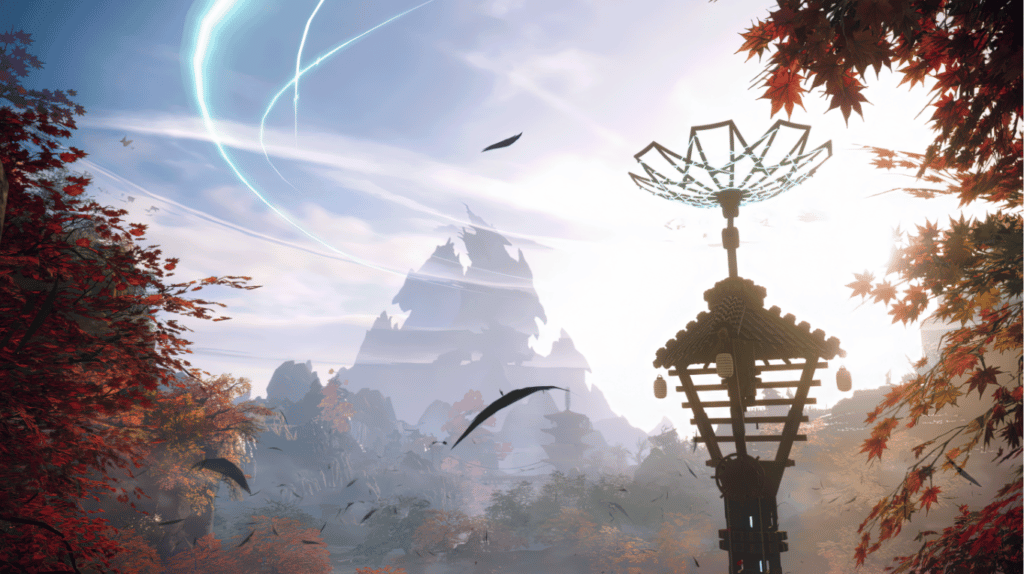 Wild Hearts is using a proprietary engine called the Katana engine. Koei Tecmo is simultaneously making the engine as well as Wild Hearts. This makes development a bit difficult but Koei Tecmo is hard at work.
The game won't support RTX at launch but that can change after the Wild Hearts release date. As for now, PC gamers with high-end Nvidia GPUs won't have RTX features available in the game. Here are the PC requirements.
Is Wild Hearts on Game Pass
Wild Hearts is not available on Xbox Game Pass. That may change in the future but for now, the game isn't available on the service. If you are looking for a "heart" game, Atomic Heart is going to be a day one Game Pass title.
If you are craving some monster hunting and don't want to play Monster Hunter: World (or already have 1300 hours on it) you can try out Dauntless or wait for Monster Hunter Rise to make the jump to PlayStation and Xbox. Monster Hunter Rise will be a day one Game Pass title and is releasing on January 19, 2023.
Can we Preorder Wild Hearts?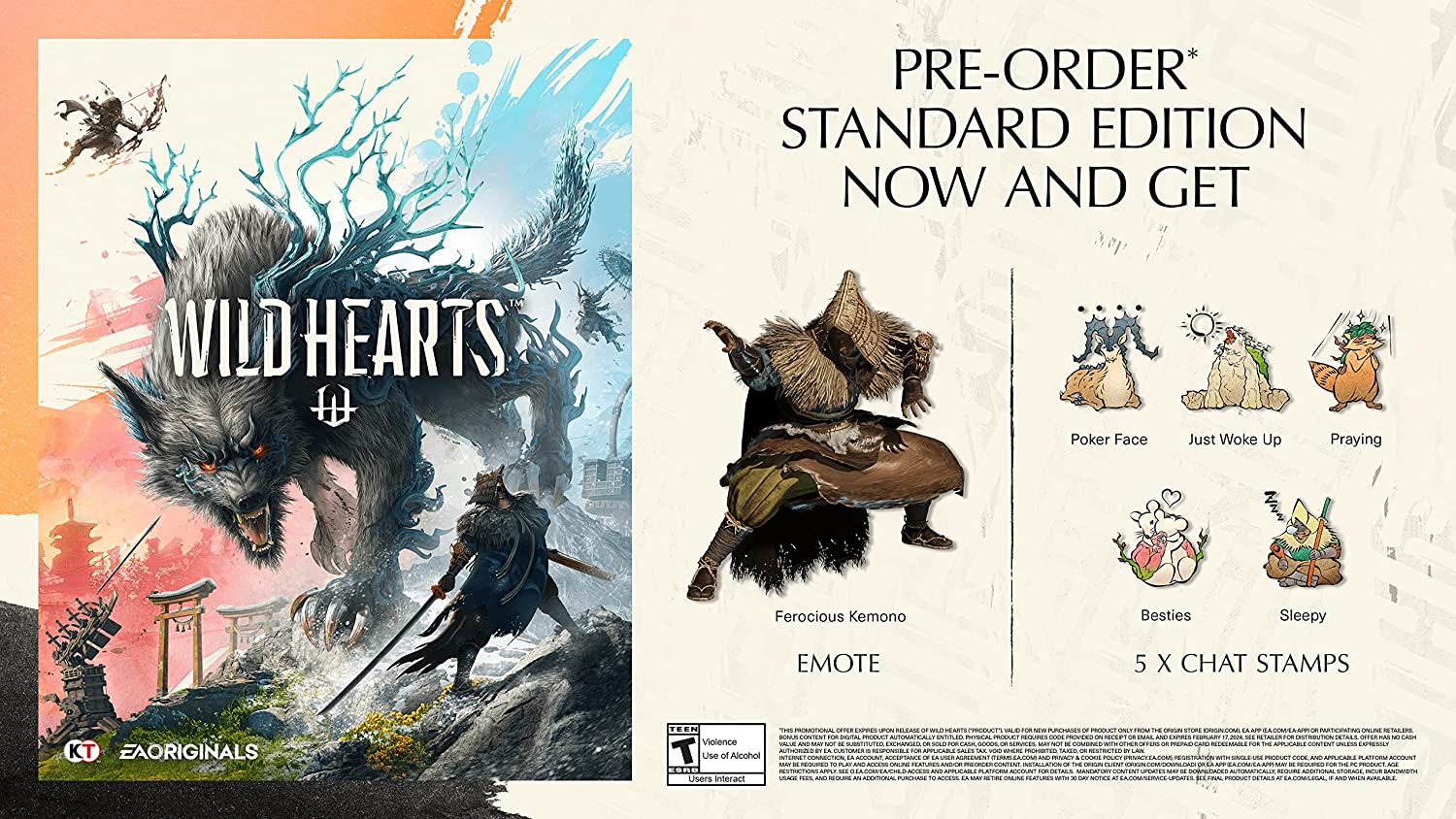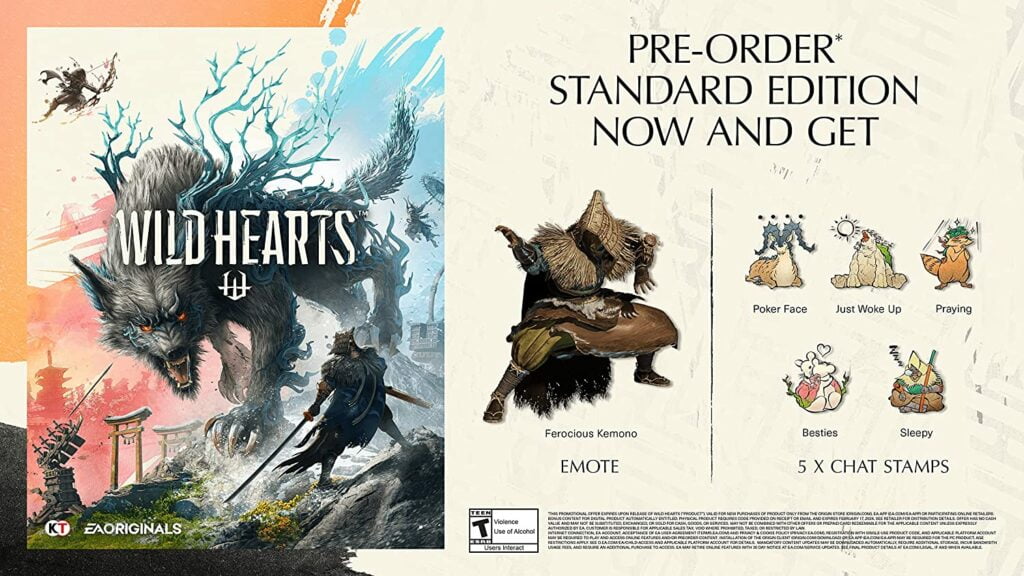 Yes, Wild Hearts is available for preorder now. You can get the game from Origins, Steam, and Epic Games Store on PC. On consoles, you can preorder Wild Hearts on the PlayStation Store and Xbox Store.
There are preorder-exclusive digital items as well. If you preorder the standard edition of Wild Hearts, you get 1 Emote (Ferocious Kemono), and 5 Chat Stamps (Poker face, Just woke up, Praying, Besties, Sleepy).
Wild Hearts Editions
There are 2 Wild Hearts Editions available for launch. The Standard edition and the Karakuri edition.
Standard Edition – The Standard Edition comes with the base game and the preorder bonuses if you buy the game before the Wild Hearts release date.
Karakuri Edition – The Karakuri Edition comes with the base game along with 2 full armor sets (Karakuri Samurai and Karakuri Ninja), Decorative Tsukumo Lantern, and 3 Emotes (Fighting Spirit, Grovel, Conch).
Conclusion:
The Wild Hearts release date is pretty near, the game is coming out in a couple of months on February 17, 2023. Monster Hunter Rise is also coming to consoles soon, so it will be fun to see which game grabs gamers' attention. A fresh new IP is always welcome but Monster Hunter Rise has decades of refined gameplay.
Will you be getting Wild Hearts on the release date? Or are you going to wait and see more of the game before pulling the trigger? Do tell us your plans in the comments.