Wrestling games have always been popular and fun to play, especially with friends. The same can be said about the latest entry in the WWE 2K series. That is why we will show you 6 games like WWE 2K23 so that you can find a perfect wrestling game to play.
The games mentioned will have some resemblance with WWE 2K23 so that you can ease your way into the genre. With that said, let's get started and find out your next favorite wrestling game.
AEW Fight Forever
Release Date: June 28, 2023
Platform: PlayStation 5, Nintendo Switch, PlayStation 4, Xbox One, Xbox Series X and Series S, Microsoft Windows
AEW Fight Forever is the first game in AEW games, and it feels amazing. While it isn't exactly like WWE 2K23, you will get a more arcadey game in the shape of Fight Forever. The best part is that you can finally play as wrestlers like Kenny Omega, Young Bucks, and many more.
Over the years, modders have been adding various characters from AEW to WWE 2k games. Now, you can finally play as them and have the full experience. The best part is that there are tons of new game modes and features in Fight Forever.
If you are feeling a bit hardcore, you can spread thumbtacks all over the ring and throw your opponent in it. Plus, you can even play a career mode just like in WWE 2K23. The career mode can get a bit repetitive and feel short, but it is a good attempt for a first AEW game.
While AEW Fight Forever isn't a simulation experience, you will certainly enjoy playing the game in all its glory.
Wrestling Empire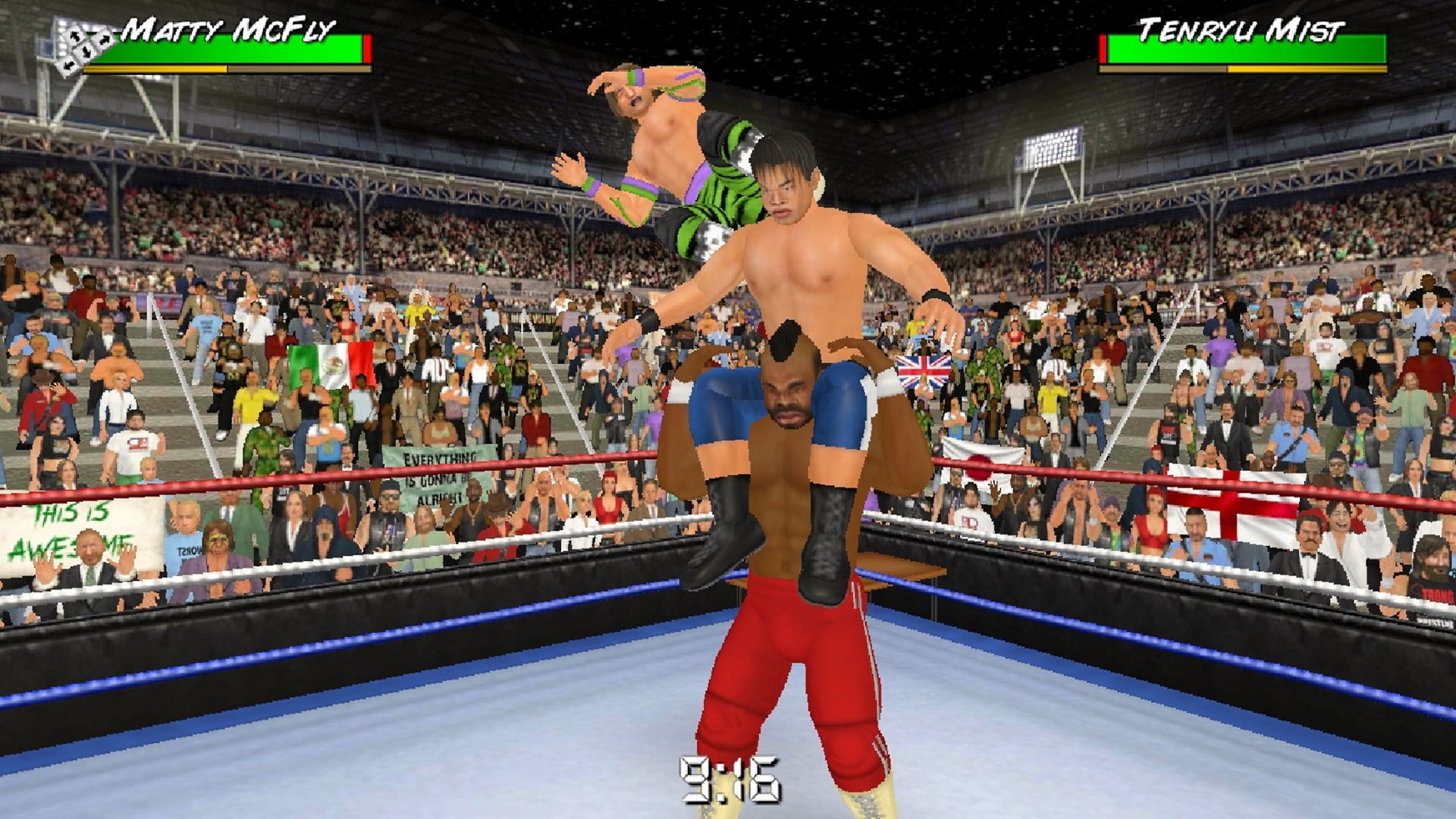 Release Date: January 2021
Platform: iOS, Microsoft Windows
Wrestling Empire is an indie, action, RPG, and simulation game that doesn't take itself too seriously. You can start a career mode like in 2K23 and live the life of a wrestler. The game features tons of wacky moments and various events where you have to make a decision.
Eventually, Wrestling Empire gets so wacky that your opponents can even pass away after a match. Playing through the career mode is always fun since no two playthroughs are the same.
TNA Impact: Cross the Line
Release Date: June 18, 2010
Platform: PlayStation Portable, Nintendo DS
TNA Impact: Cross the Line is full of bone-crunching action and intense battles that will keep you on the edge of your seat. Unlike the 2K games, TNA Impact features more arcadey controls for casual fans. You can pick up your opponents and throw them on the mat to truly feel the impact.
The game also features a storyline that will keep you hooked and playing it for hours to come. Plus, you can play as your favorite TNA wrestlers like AJ Styles, Kurt Angle, Abyss, Samoa Joe, and many more.
Fire Pro Wrestling World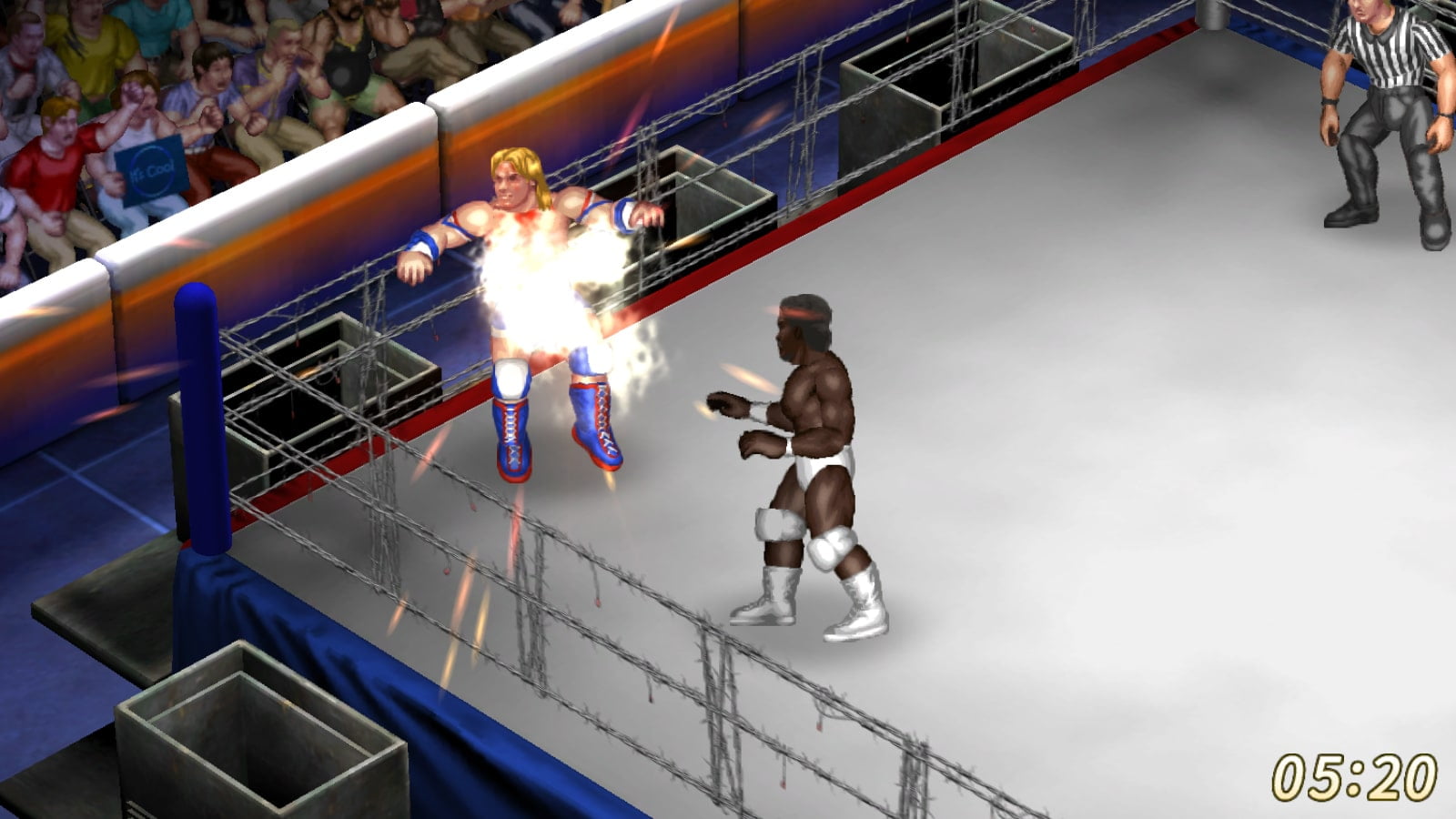 Release Date: July 10, 2017
Platform: PlayStation 4, Microsoft Windows
Fire Pro Wrestling World is a classic game that focuses more on the grappling aspect of wrestling. Much like WWE 2K23, you can choose from a vast roster of characters and customize almost every aspect of the game. From the ring, wrestlers, and the match itself.
Plus, the game features a beautiful artstyle that is satisfying to look at. While it can be a bit troublesome to get used to the controls initially, once you do, you will have a great time playing the game.
Wrestling Revolution 3D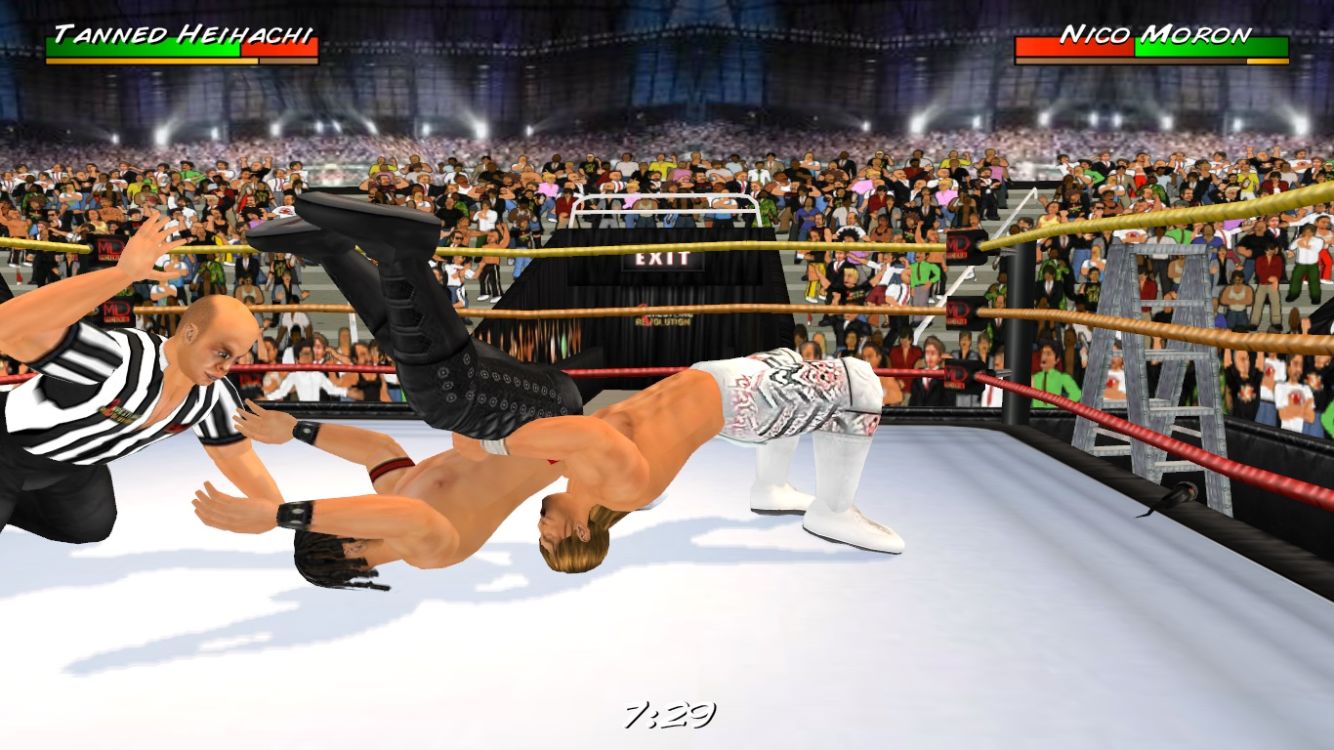 Release Date: October 4, 2014
Platform: Nintendo Switch, Android, iOS, Microsoft Windows, Ouya, Mac operating systems, Classic Mac OS
Moving on to another game by the creator of Wrestling Empire, let's talk about Wrestling Revolution 3D. If you are a fan of the Universe Mode/GM Mode in 2K23, you will love this game. You can either be a wrestler or a booker behind the scenes.
Playing as a booker is extremely fun because you can call the shots and create any match or rivalry you want. Be careful, though. Some wrestlers will hold a grudge and might even quit your company if you're too harsh on them.
WWE 2K22
Release Date: March 8, 2022
Platform: PlayStation 4, PlayStation 5, Xbox One, Xbox Series X and Series S, Microsoft Windows
Finally, let's talk about the game that feels extremely similar to WWE 2K23. I know this might be technically cheating to include the previous entry in the series, but WWE 2K22 will give you an extremely similar experience.
The game has a similar control scheme, and the graphics won't feel far off, either. The roster is also quite similar to WWE 2K23 since 2K22 came out just a year before. So, you can still play as your favorite superstar without any worries.
Conclusion
And there you have it; those are 6 games like WWE 2K23. If you love WWE 2K23 and are craving a similar experience, make sure that you try out some of the games mentioned on this list. They not only feel similar, but some of them also have a lot of familiar mechanics as well.