Flooring is one of the most important parts of building in Minecraft. Without flooring your not able to build a base (unless you're using temporary blocks). So today, I'll show you 10 awesome Minecraft floor designs that you can use in your base!
Related: Best blocks to build in Minecraft
---
Basalt and Blackstone Floor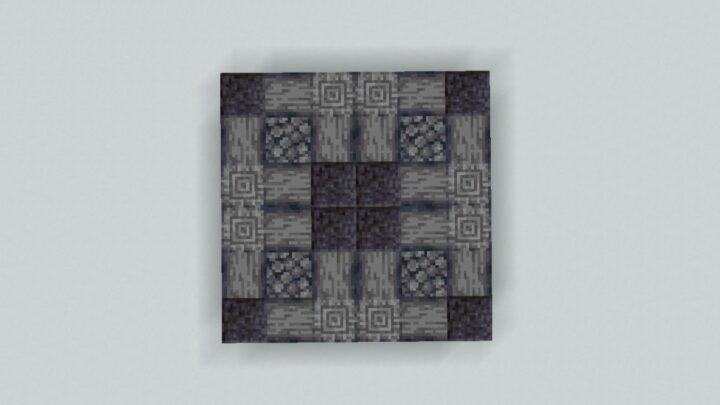 Materials: Polished Blackstone, Basalt, and Polished Basalt.
Theme: Nether-style, blacksmith, or ancient builds.
The first floor pattern is quite simple with a 6×6 original size, containing Polished Blackstone at the center and corners, followed by Polished Basalt with a different facing angle.
You can expand this to fit your base by extending from the Polished Blackstone. That means repeat the 5×6 or 6×5 pattern depending on which direction you choose.
The materials are super basic and you can start gathering them easily as long as you have an access to the Nether.
Wooden Floor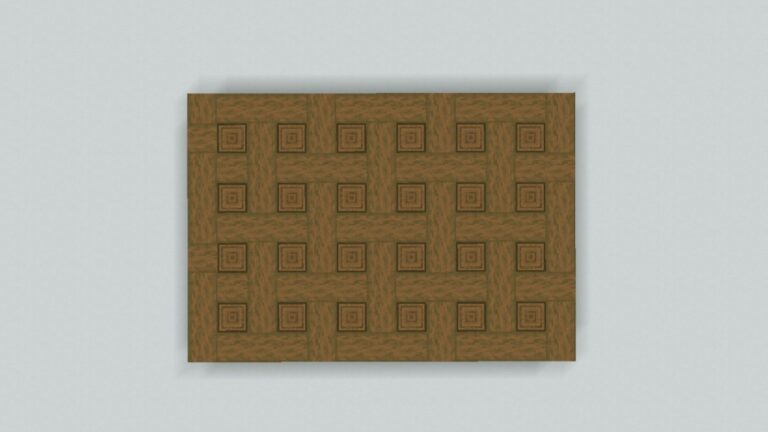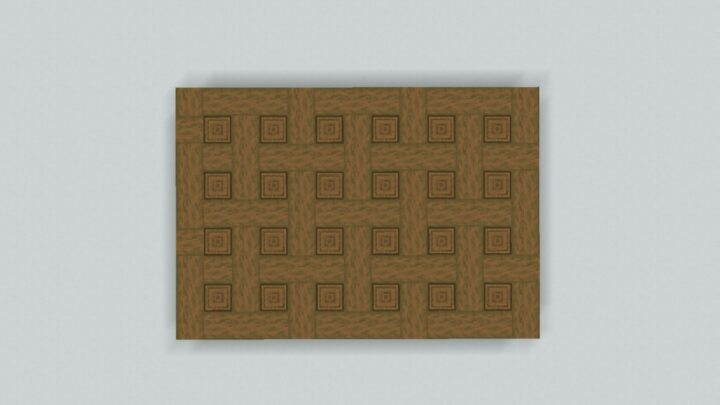 Materials: Any type of Stripped Wood.
Theme: Rustic, medieval builds.
This Minecraft floor pattern is based on a basket in real life, where two lines of stripped wood cross each other, and 4 stripped wood facing upwards in the corner.
The wooden floor is 100% made of wood (Yes! The floor here is made out of the floor). As long as you have trees or saplings around, you're good to go with this design.
You can use pretty much any type of wood from Oak, Spruce, Birch, Jungle, Dark Oak, Acacia, Warped Hyphae, and even Crimson Hyphae. So choose any that fit your building theme.
Construction Floor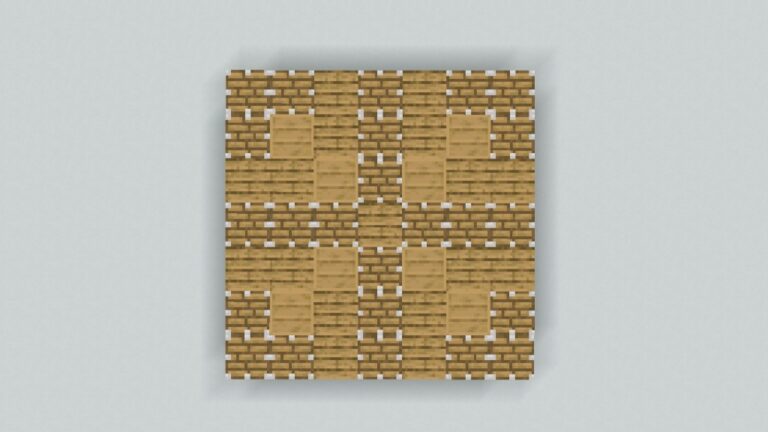 Materials: Piston, Beehive, and Oak Wood Planks.
Theme: Modern construction zone, medieval shop.
You can see this floor design in some kind of small shop (especially a fish shop, or storage). And piston usage makes this pattern have a lot of detail, it looks like there are tapes connecting the wooden planks to make the whole structure steady.
The material, however, is kinda hard to mass-produce. Each piston required 4 cobblestones, 3 wooden planks, 1 iron, and 1 Redstone. So to build a 7×7 pattern, you will need about 24 irons and Redstones.
The other material is Beehive, which required 3 Honeycomb – a material you can only get by farming Bee in Minecraft.
Sticky Glowing Floor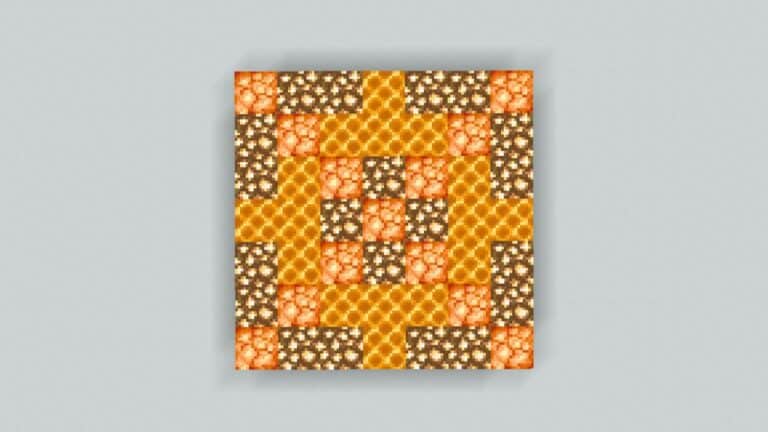 Materials: Glowstone, Shroomlight, and Honeycomb Block.
Theme: Fairy and Forest build. Also, fit well with the Futuristic theme.
Another expensive but attractive floor design in Minecraft. With a Shroomlight in a cross pattern, wrapping around by Glowstones and Honeycomb Block. This floor provides a lot of lights, making your house glow at night and no mob will spawn at all.
You can get Glowstones and Shroomlights naturally in the Nether. But if you're going to build a large scale of this flooring, have fun grinding those!
Another material is Honeycomb Block, which you can craft by combine 4 Honeycombs in a 2×2 shape. So these Bee farms may come in handy.
Nether Hall Floor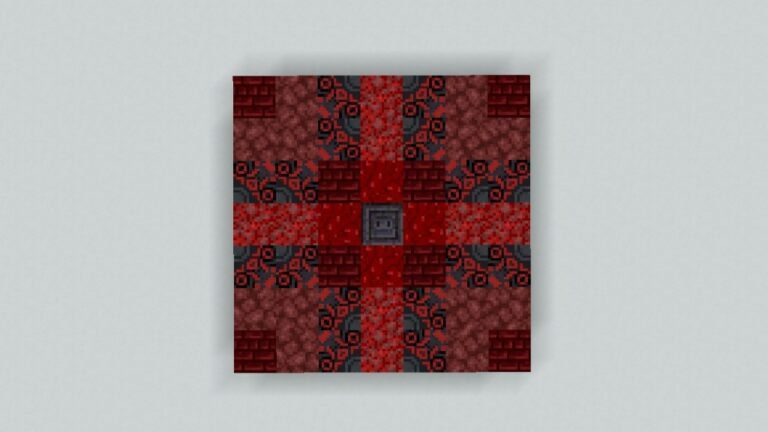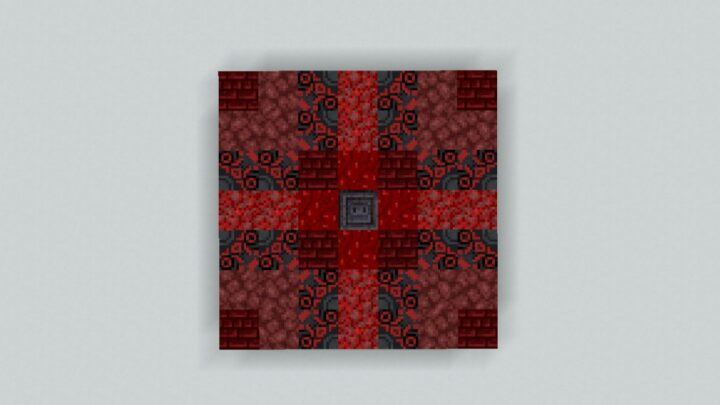 Materials: Netherrack, Red Nether Brick, Crimson Nylium, Black Glazed Terracotta, Nether Wart Block, and Chiseled Polished Blackstone.
Theme: Nether and creepy builds.
This Minecraft floor idea is symmetrical. You put a special block in the center, in this case, it's Chiseled Polished Blackstone (or Gold Block). Then surround it with Nether Wart Block and Red Nether Brick at the corners.
For this pattern, you will need to farm a lot of nether warts since it's the main ingredient for most of the blocks. And you will also need Clay, or find yourself a Mesa biome for the Terracotta.
Ruined Stonebricks Floor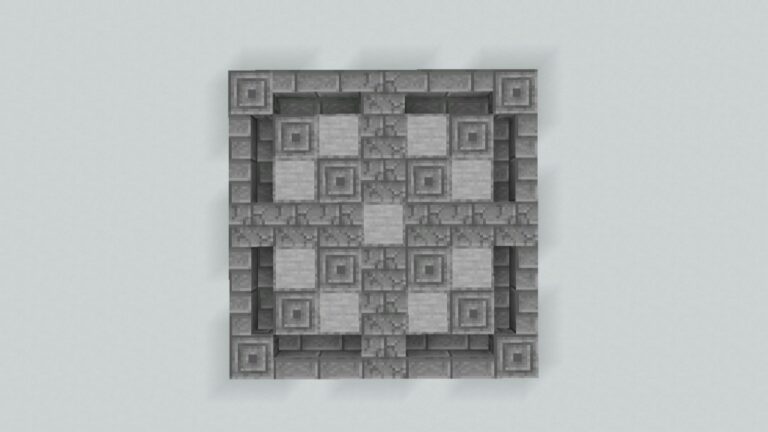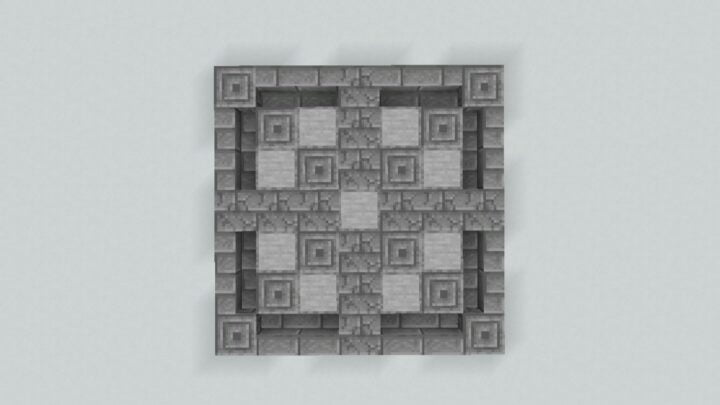 Materials: Chisel Stone Brick, Stone Brick Stair, Cracked Stone Brick, and Smooth Stone.
Theme: Castle, Temple, or Ruin builds. Fit well with Medieval theme.
Another 7×7 symmetrical flooring idea with Stone Brick as the main block. You put a special block at the center and 12 blocks around it follow the plus symbol. Then make one quarter using 3 Chisel Stone Bricks, 4 Stone Brick Stairs, and 2 Smooth Stones. Finally, replica to the other quarters.
This flooring has a little bit of detail, especially the trench created by the Stone Brick Stairs. You can even put water in the stair to make it look like the sewer. And remember to place some Mossy Stone Bricks to make your floor realistic.
About the material, this build is can be built with only stone and 1 iron ingot for the Stone Cutter.
Entwined Wooden Floor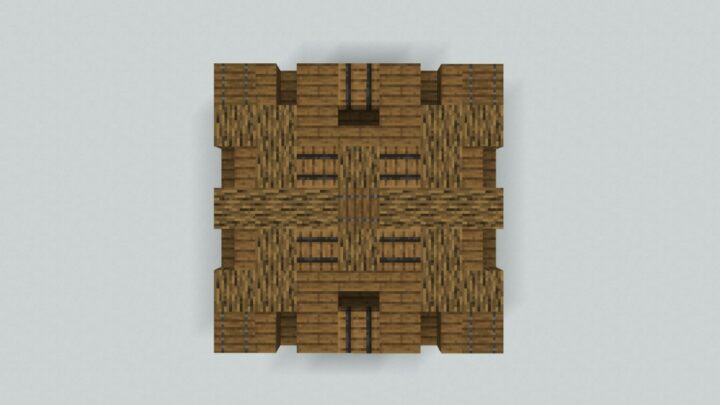 Materials: Barrel, Oak Wood, Spruce Planks, Spruce Stairs, and Spruce Trapdoor.
Theme: Rustic and Medieval builds.
This floor design is my favorite one because it looks so good and fits super well with any medieval building. The colors blend into each other, combine with Barrels and trapdoors to make the floor even more detailed!
The material is quite simple! You just need Spruce and Oak Logs. The tricky part is how you place the log and barrel since the direction you place will affect how the block looks.
If you're committed to this floor design, check this wood farm!
Wave Pattern Floor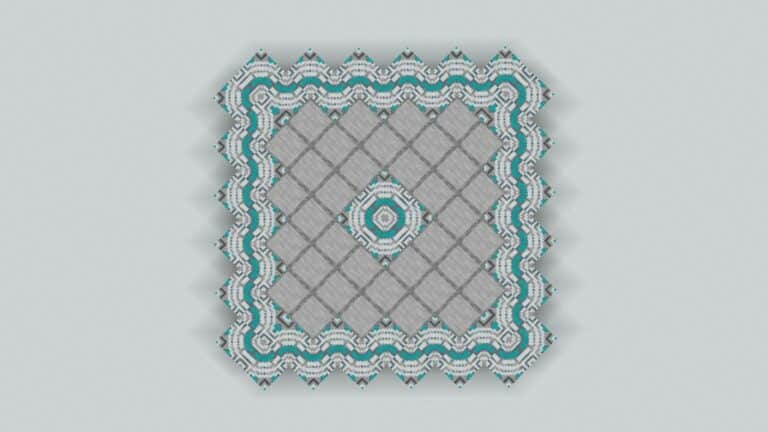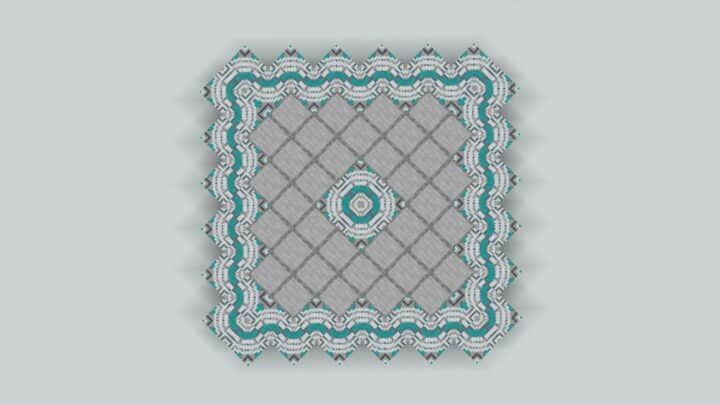 Materials: Light Gray Glazed Terracotta and Smooth Stone.
Theme: Aqua and futuristic builds.
When talking about Minecraft floor designs, glazed terracotta is the essential block to go! These blocks having so much detail and usage possibility. With 4 of them, you can create up to 16 combinations of the floor pattern.
This flooring idea is very clean and unique because it leverages the curves of the Glazed Terracotta block. However, it's incredibly tricky to build! First of all, this is a diagonal build, which means you need to rotate your camera 45 degrees to see the above effect.
Secondly, you will need to place the Light Gray Glazed Terracotta in the right direction in order to create the wave pattern. I'd recommend practicing to feel familiar with the Terracotta block directions.
Dead Coral Floor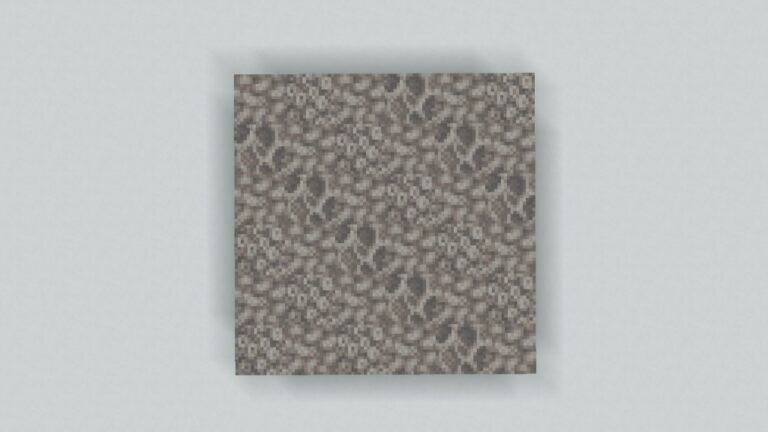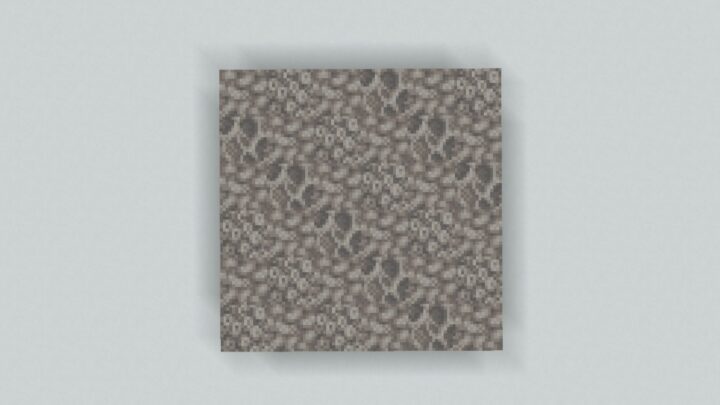 Materials: Dead Tube Coral Block, Dead Bubble Coal Block, and Dead Brain Coral Block.
Theme: Rustic, Ocean, Scary, or Medieval builds.
The coral floor idea is creepy, it creates a vibe of a non-living atmosphere. You can use them in a basement of an old laboratory, the base of the medieval structure, or an underwater temple.
With a diagonal pattern cycle through each Dead Coral Block, it creates a nice effect like each Coral overlaps onto each other. Right now I use only 3, but you can even use all of 5 Dead Coral Blocks in this pattern to mix the texture a little bit more.
You need to find a specific structure called Coral Reef located in the Warm Ocean biome for the material. And remember to bring a Silk Touch pickaxe to mine the living corals.
Copper Floor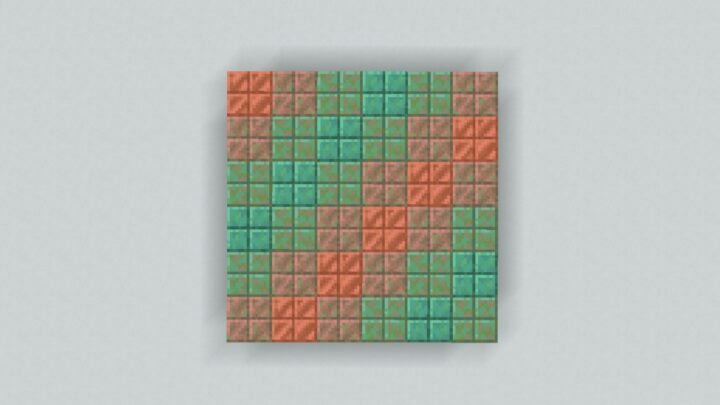 Materials: Cut Copper, Exposed Cut Copper, Weathered Cut Copper, and Oxidized Cut Copper.
Theme: Industrial and modern builds.
The final floor design leverage the new block in Minecraft 1.17 update, Copper. Again, like the Coral, you create a diagonal line of each state of the Cut Copper block.
This is by far the most expensive flooring! For one Cut Copper block, you will need 9 copper ingots and a Honeycomb to make it keep its current state. So in order to make a 6×6 flooring, you will need 324 copper ingots!
---
Conclusion
So I've covered some of the interesting Minecraft floor ideas that you can use to decorate your base. Some are easy to make, some pretty hard. Depending on the materials and how you place the block will create a different pattern for your Minecraft flooring.
Let me know which Minecraft floor design is your favorite one, and why?