Alan Wake Remastered was recently announced by Remedy Entertainment. Some footage was shown for it during Sony's recent showcase, and we got a good look at what the remaster looks like. Now, the remaster has been announced for a bunch of consoles including Xbox One, Xbox Series S|X, PS4, PS5, and PC. However, it seems that Alan Wake Remastered for Nintendo Switch might be happening as well.
Control is another Remedy title available on Nintendo Switch as well, though through its cloud service.
Alan Wake Remastered for Nintendo
The game has been rated in Brazil, and it mentions an additional platform. This is indeed the Nintendo Switch, and we might be hearing an announcement soon. Check out the screenshot of the rating below, in case it gets removed.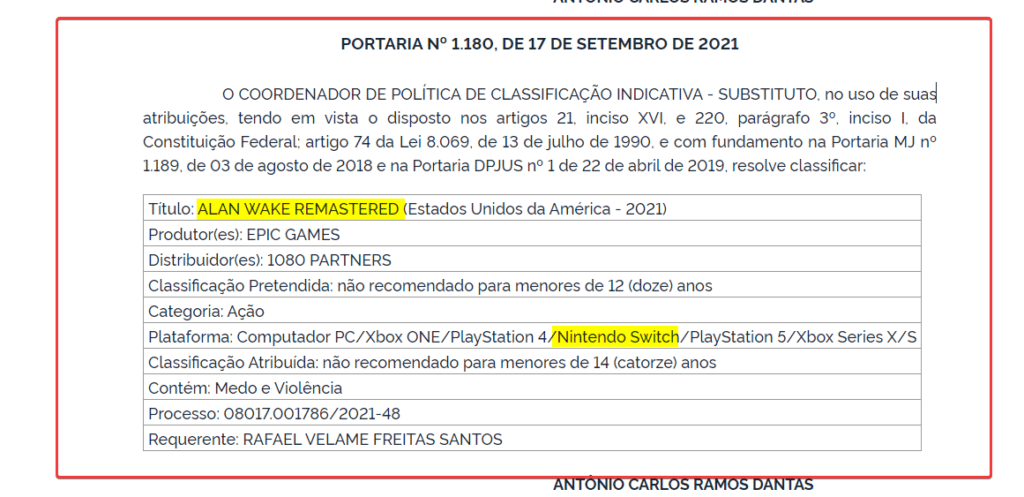 Now, it's possible that this remaster on the Switch will run like Control, as a cloud title. However, given how this is a remaster of a fairly old title, there's a chance that the Switch might be able to handle it, with lower visuals, and framerate.
Nintendo or Remedy have not announced a Switch version. The most obvious reason for that could be that Nintendo wants to show this during their next Direct. We have no idea when that Direct could be, but considering this remaster comes out next month, there's a chance we'll see the announcement, and the direct soon.
Again, since neither the developer nor Nintendo have officially announced the remaster for the platform yet, take this with a grain of salt.
Make sure you check out some leaked screenshots for Alan Wake Remastered at the following link.
There are many titles that obviously can't run on Switch that make use of cloud technology. These include heavy-hitters like Hitman 3, and even Assassin's Creed Valhalla.
What do you think of this rating? Do you want to play Alan Wake Remastered on the Nintendo Switch? Share your thoughts in the comments below.