The knife is an iconic weapon in CS2. It's one of the most coveted items in the game. If you're anything like me, I know you've already spent hours window-shopping different knife skins. If you're not, well, I've got you covered because, through my time window-shopping, I was able to curate a list of the best CS2 knife types.
| Image | Knife Name | Knife Tier | Starting Price | Release Date |
| --- | --- | --- | --- | --- |
| | Butterfly Knife | S | ~$1,330.00 | July 1, 2014 |
| | Karambit | S | ~$882.00 | August 14, 2013 |
| | M9 Bayonet | S | ~$959.00 | August 14, 2013 |
| | Skeleton Knife | A | ~$650.00 | November 18, 2019 |
| | Bayonet | A | ~$449.00 | August 14, 2013 |
| | Talon Knife | A | ~$401.00 | August 1, 2018 |
| | Paracord Knife | A | ~164.00 | November 18, 2019 |
| | Stiletto Knife | B | ~$310.00 | August 1, 2018 |
| | Survival Knife | B | ~$162.00 | November 18, 2019 |
| | Falchion Knife | B | ~$148.00 | May 26, 2015 |
| | Flip Knife | B | ~$324.00 | August 14, 2013 |
| | Ursus Knife | B | ~$243.00 | August 1, 2018 |
| | Nomad Knife | C | ~$386.00 | November 18, 2019 |
| | Classic Knife | C | ~$283.00 | October 18, 2019 |
| | Huntsman Knife | C | ~$199.00 | May 1, 2014 |
| | Gut Knife | D | ~$105.00 | August 14, 2013 |
| | Bowie Knife | D | ~$137.00 | February 17, 2016 |
| | Shadow Daggers | D | ~$126.00 | September 17, 2015 |
| | Navaja Knife | D | ~$103.00 | August 1, 2018 |
Butterfly Knife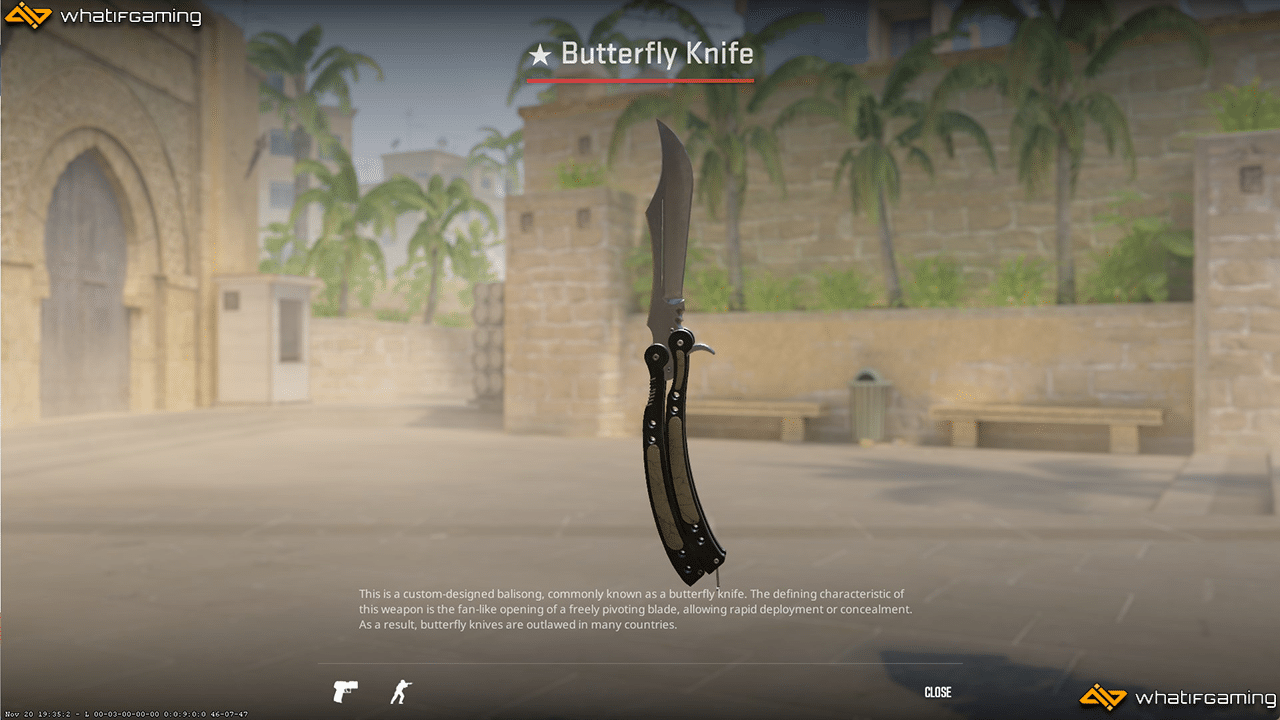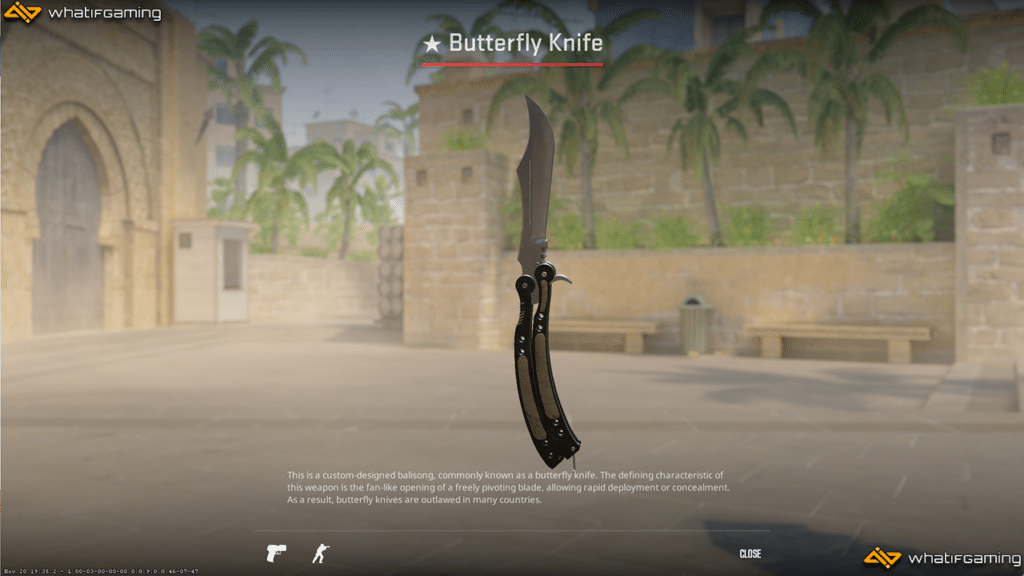 I think it goes without saying that the Butterfly Knife is one of the most beloved types in CS2. It showcases a cool shape, has amazing skins, and offers one of the best inspect animations in the game. How can you not love it, right?
Karambit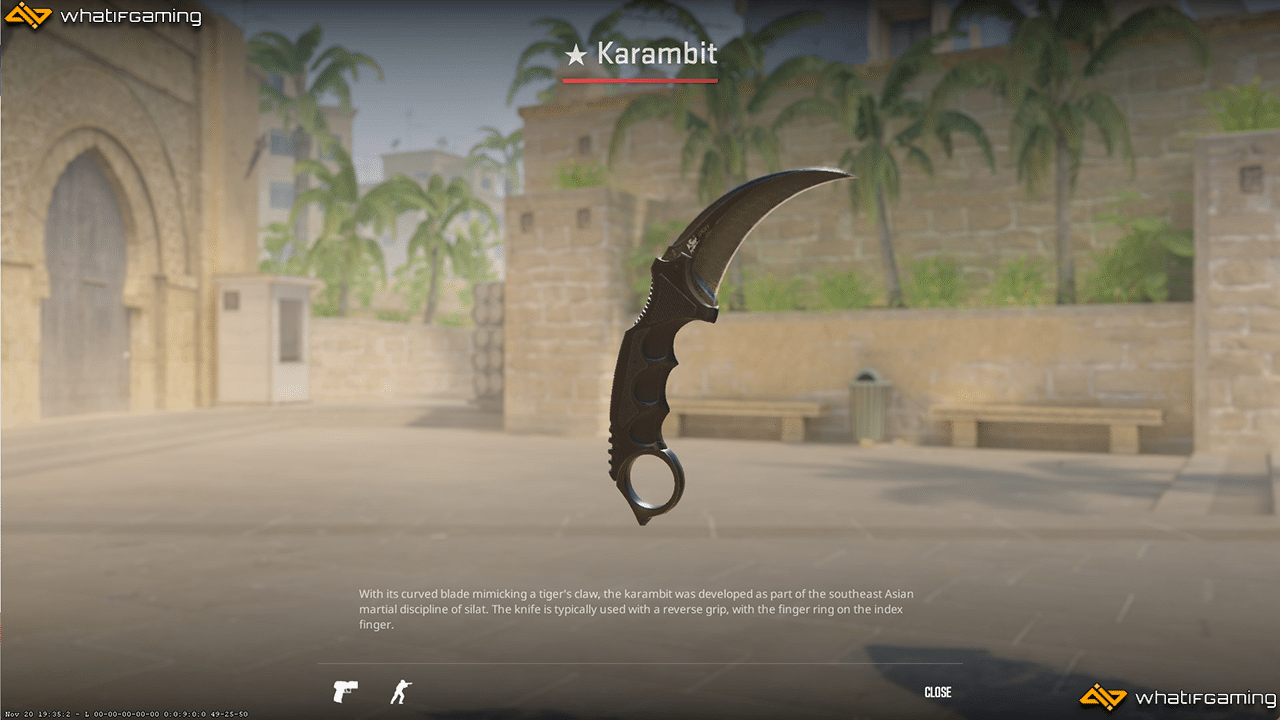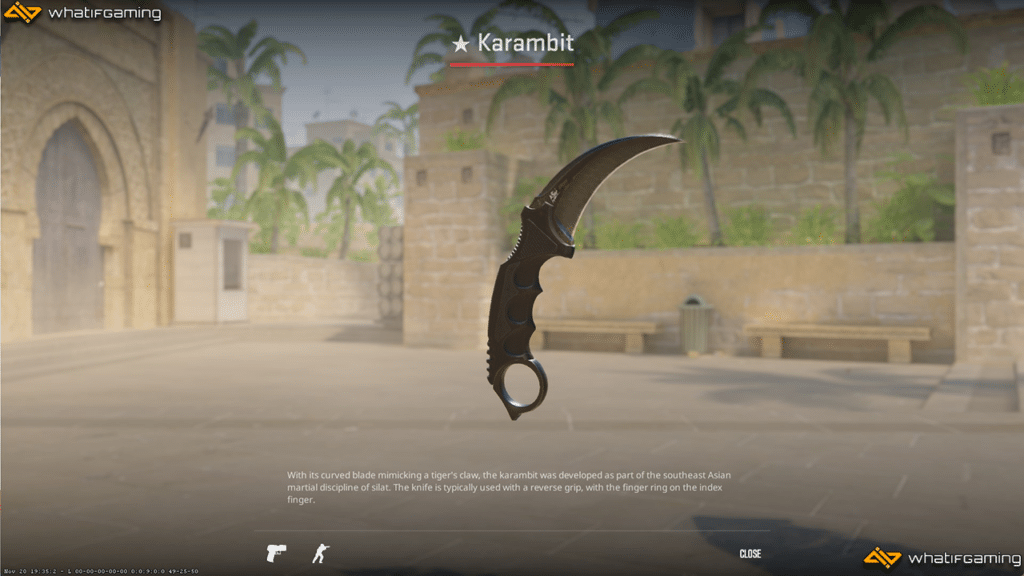 The only type worthy of challenging for first place is the Karambit. The Karambit is another crowd favorite because of how sleek and stylish it looks. Everything from the curved blade down to how the player model holds it is just perfect, earning its well-deserved runner-up placement.
M9 Bayonet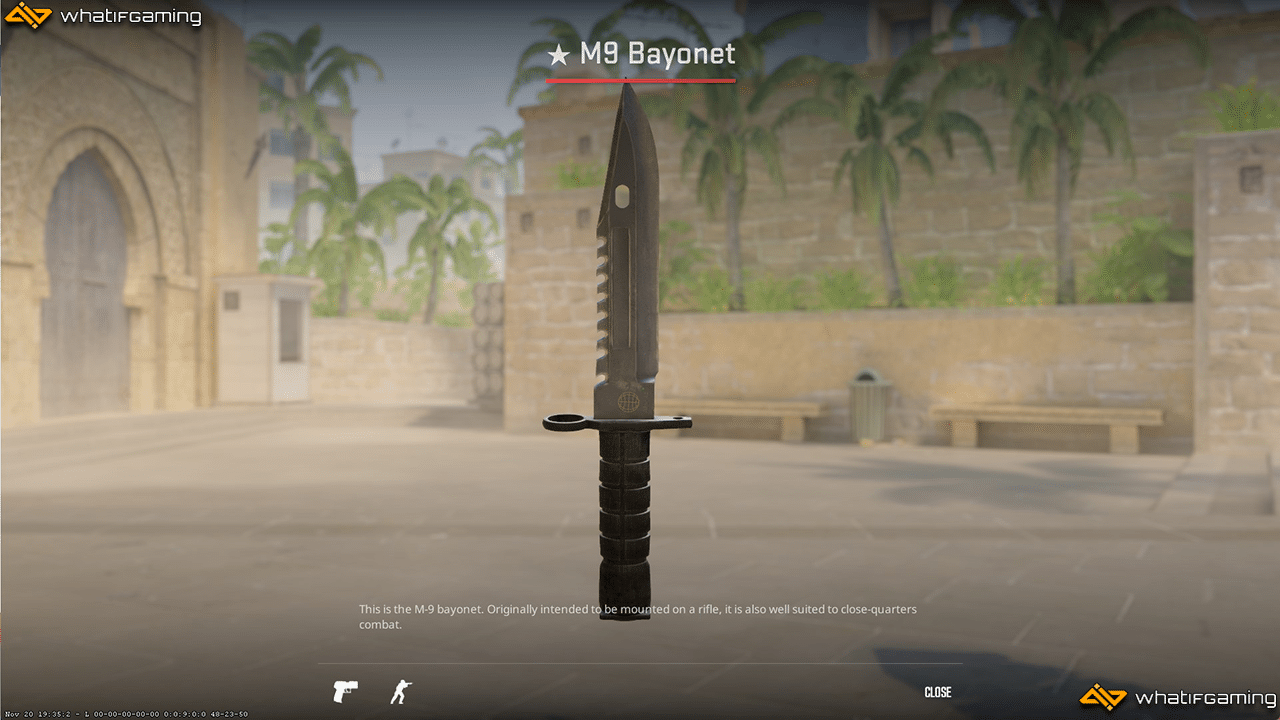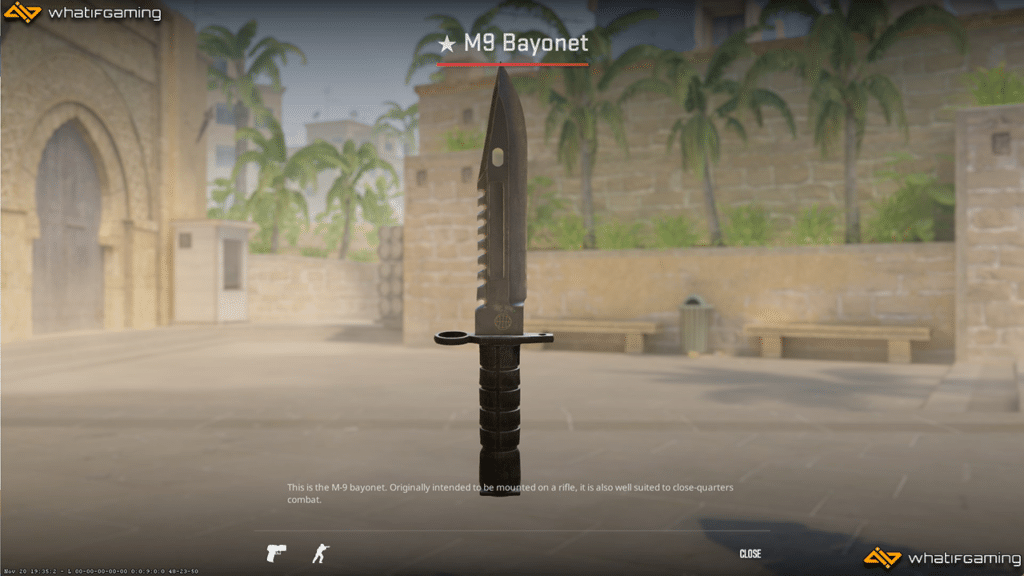 The M9 Bayonet makes an appearance to claim the last spot in the s-tier. It's a chunky boi that allows you to fully showcase the shine of your skin. The blade's simplicity and wideness easily make it a prime choice for collectors and casual skinners alike.
Skeleton Knife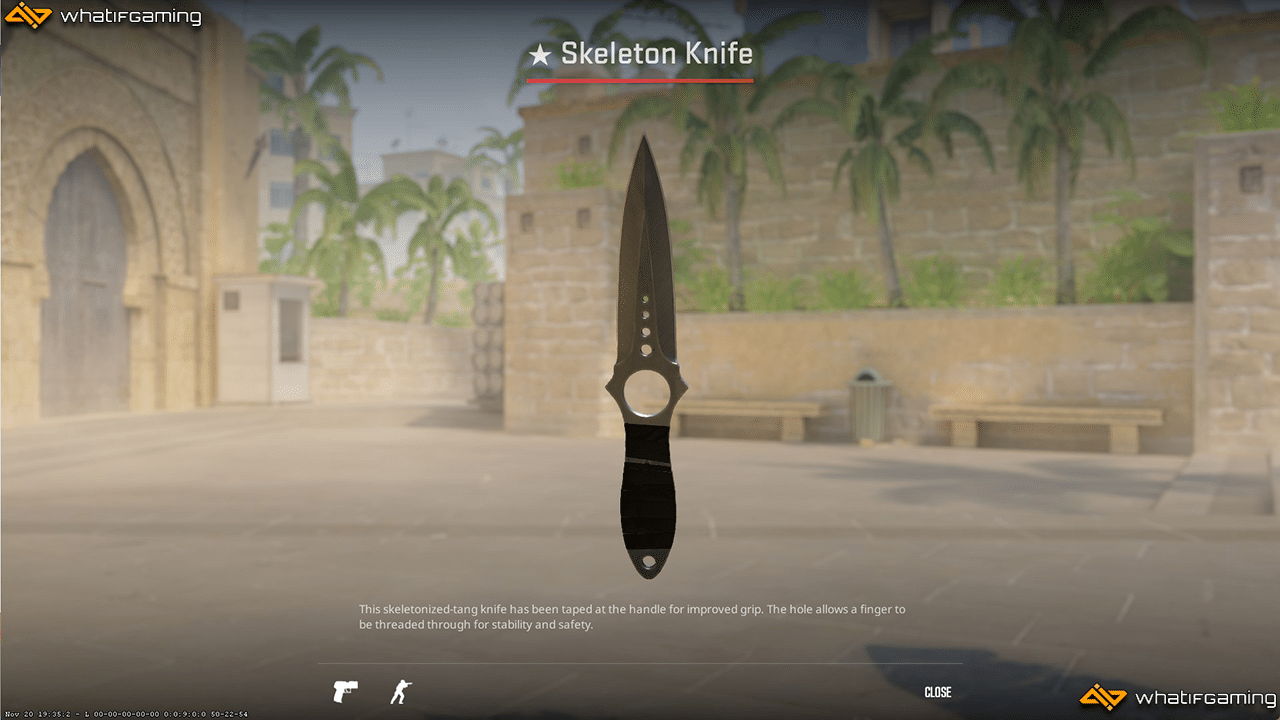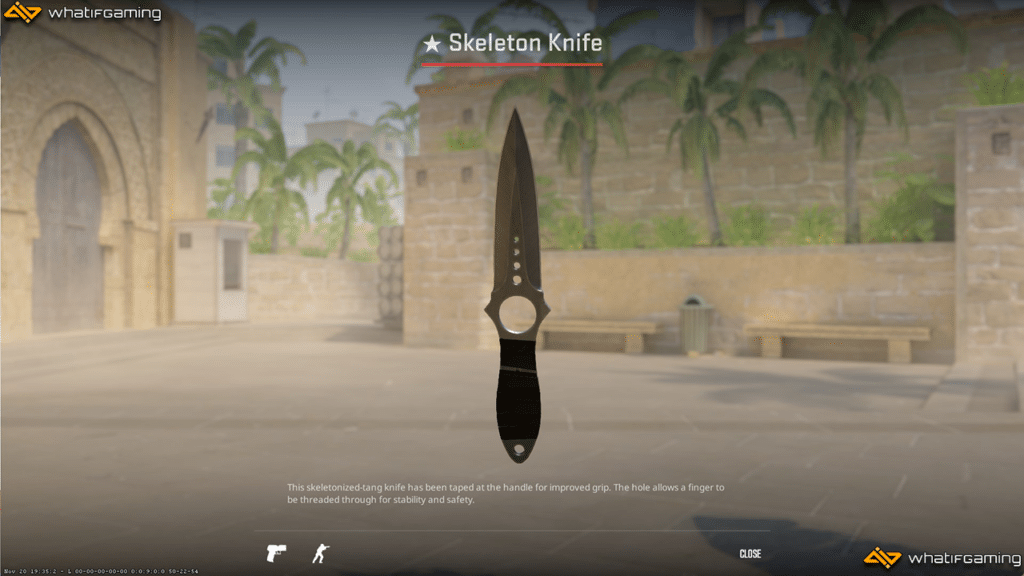 The Skeleton Knife isn't actually made of bones. However, it remains as awesome as the name sounds. It features one of the more peculiar shapes with a kunai-shaped blade along with a hole in the middle. It's a badass blade fit for those knife kills requiring Assassin's Creed-like stealth.
Bayonet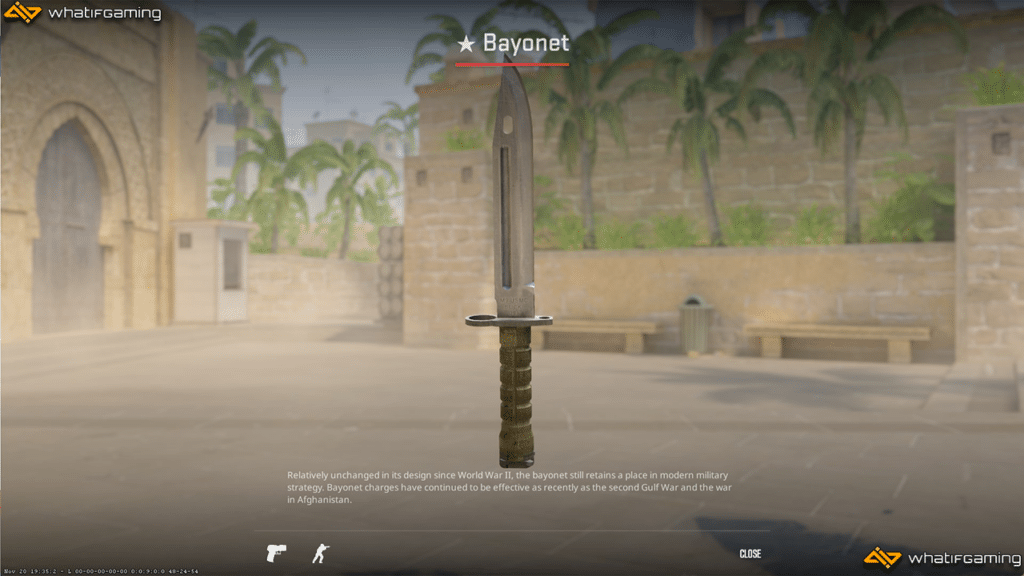 We can't leave the OG Bayonet CS2 knife type too far behind. It has a smoother edge and is smaller than the M9, but is almost identical to it. So, it mostly boils down to personal preference. It should come as no surprise that both Bayonets are popular within the community.
Talon Knife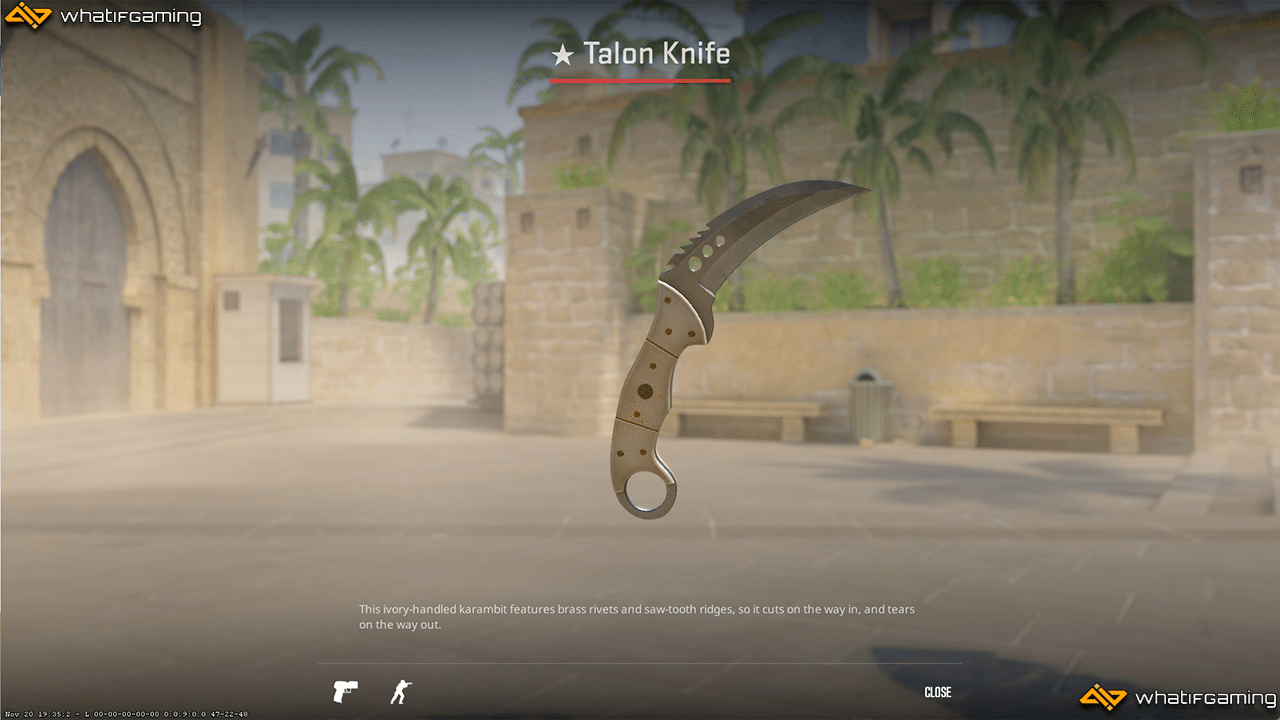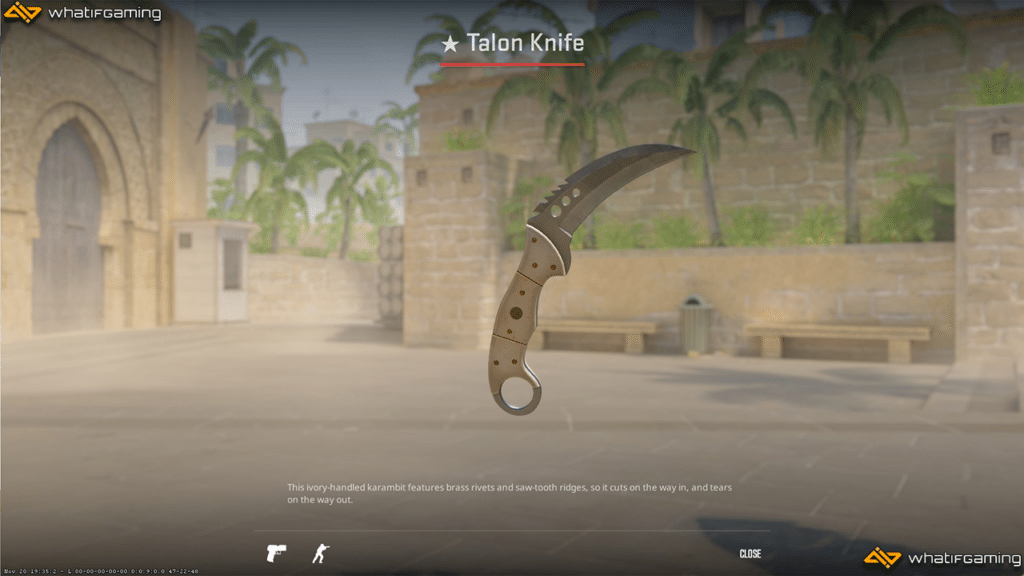 Next is a claw-like knife with an equally curved handle. Nope, you're not experiencing deja vu. The Talon Knife is quite similar to the Karambit, and that's why it's a hit among CS2 players. The Talon copies what most people love about the Karambit but cuts some corners, creating cheaper and more accessible skins.
Paracord Knife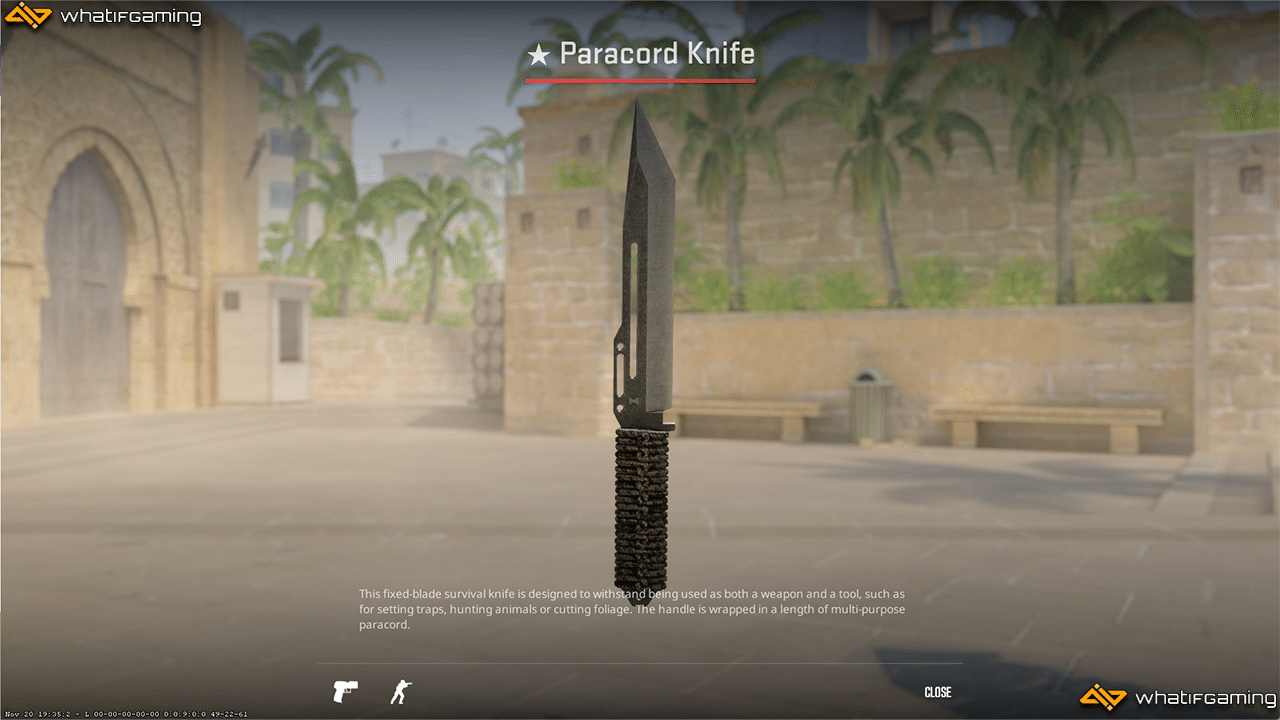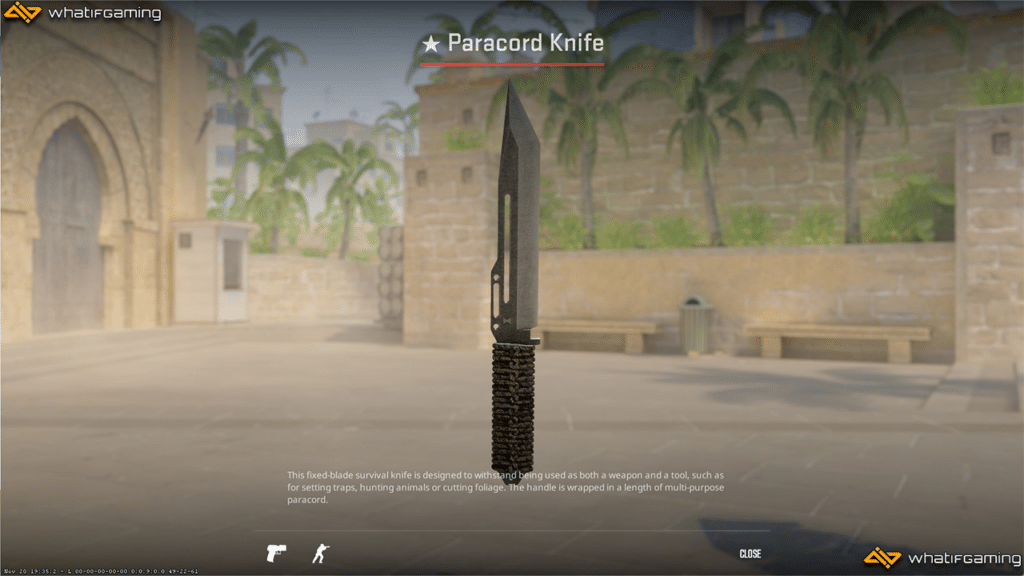 If you're into unique looks, then you're going to understand why the Paracord Knife places this high. It emphasizes a one-of-a-kind blade with multiple holes and a clean edge. The handle also makes a statement as it's fully wrapped in paracord rope for better grip.
Stiletto Knife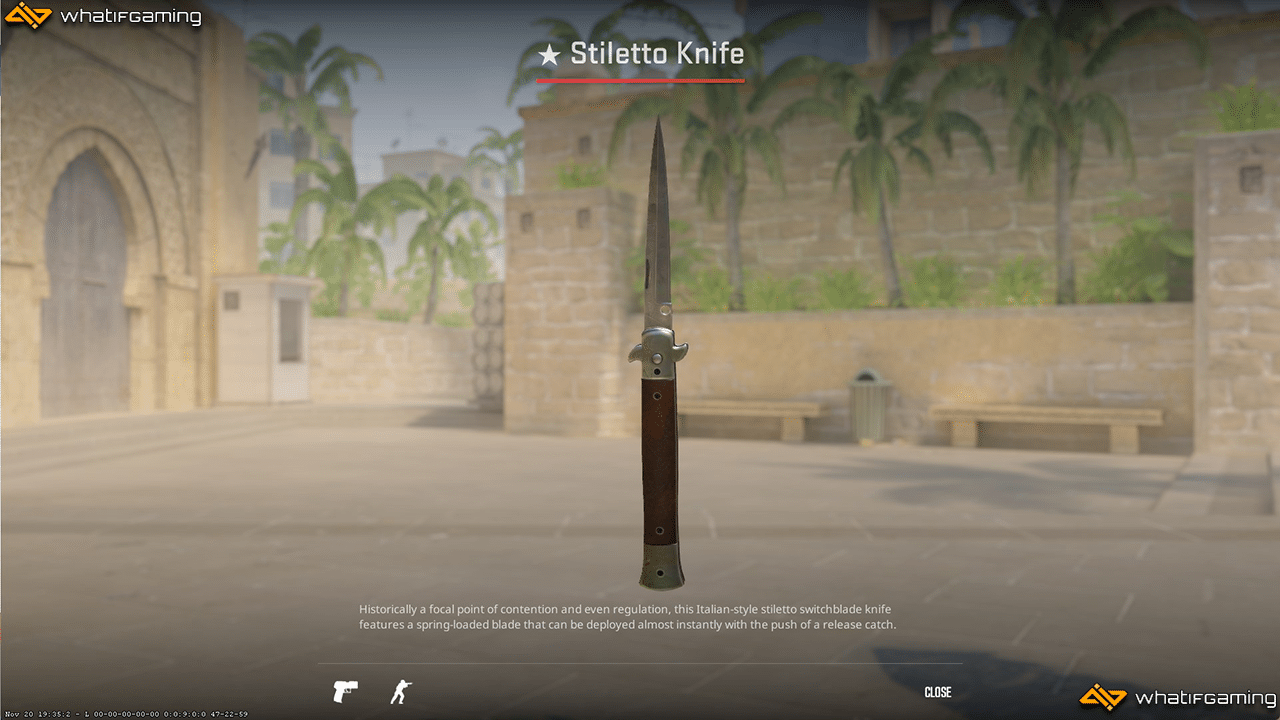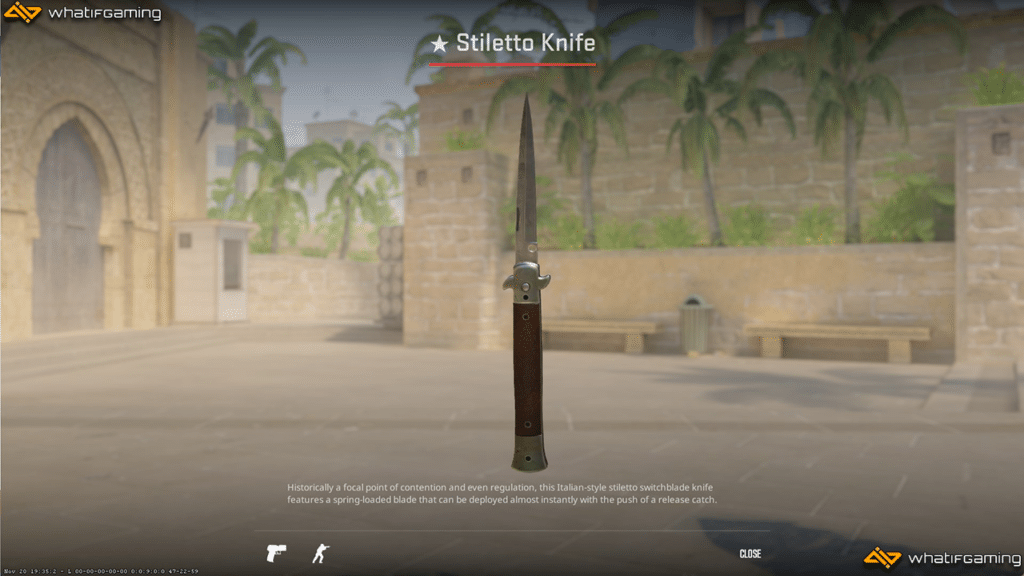 If thin and slim is more of your jam, then nothing beats the Stiletto Knife. Its narrow blade can deter others since they can't show off the true colors of their expensive skins. However, the formal look and great pricing still make it an attractive knife choice in CS2.
Survival Knife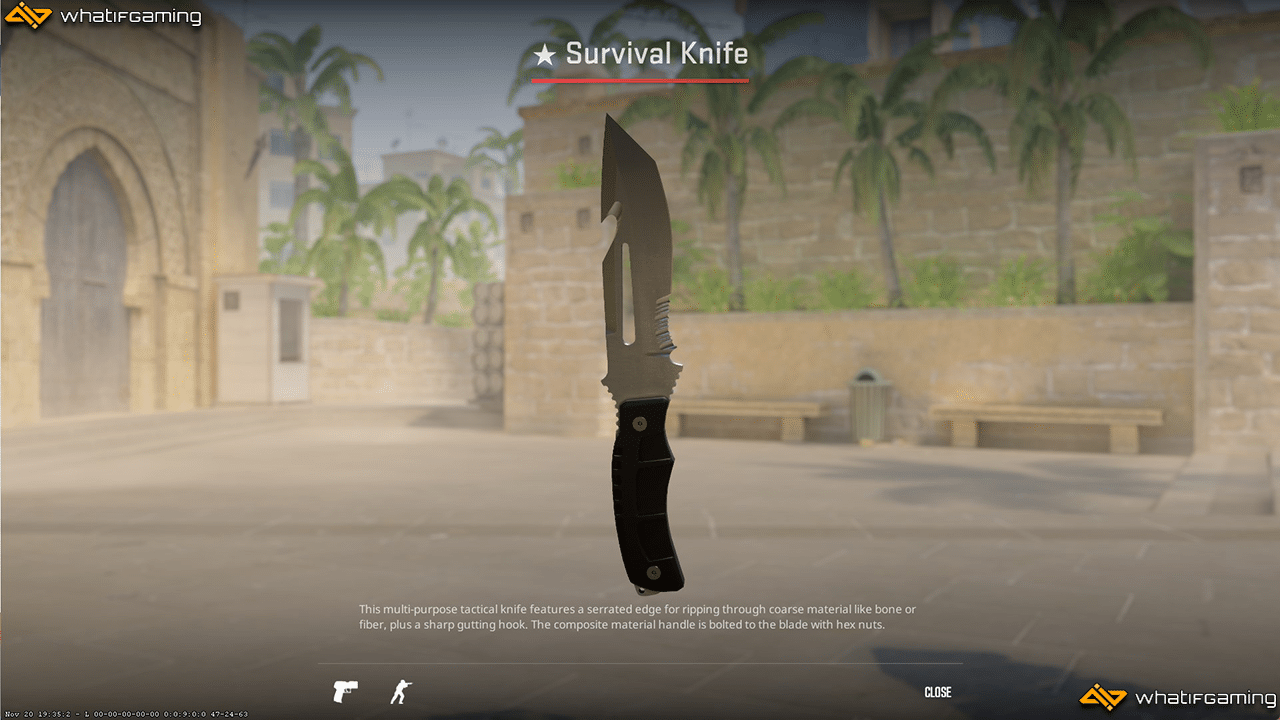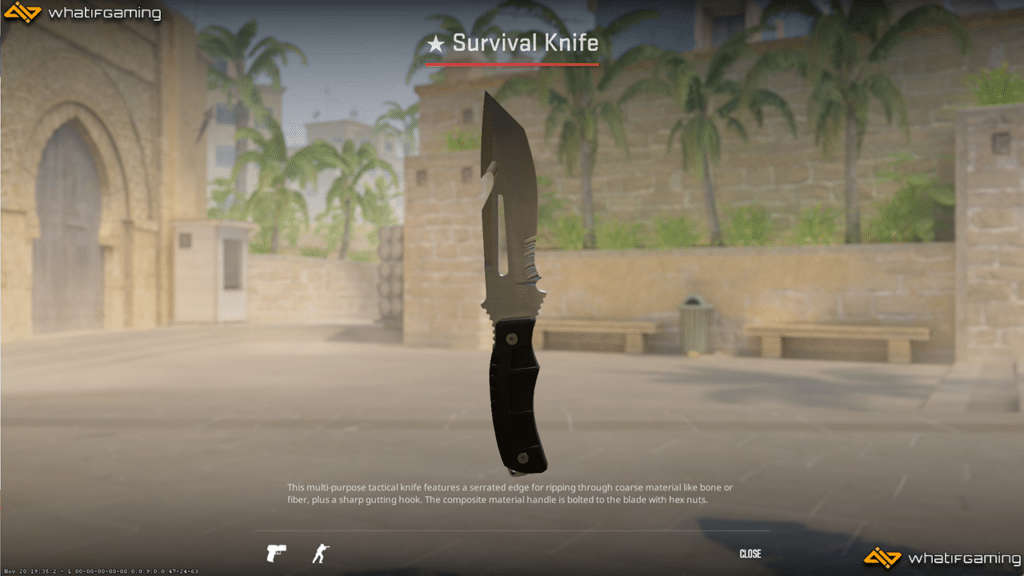 You might see some familiarity in the Survival Knife as it resembles the multipurpose or utility knives used when camping. Its broad blade with chips and jagged edges further emphasizes its bold, deadly, and scary design. The Survival Knife also has one of the best rare pullout animations, where the player tosses and catches the knife in mid-air.
Falchion Knife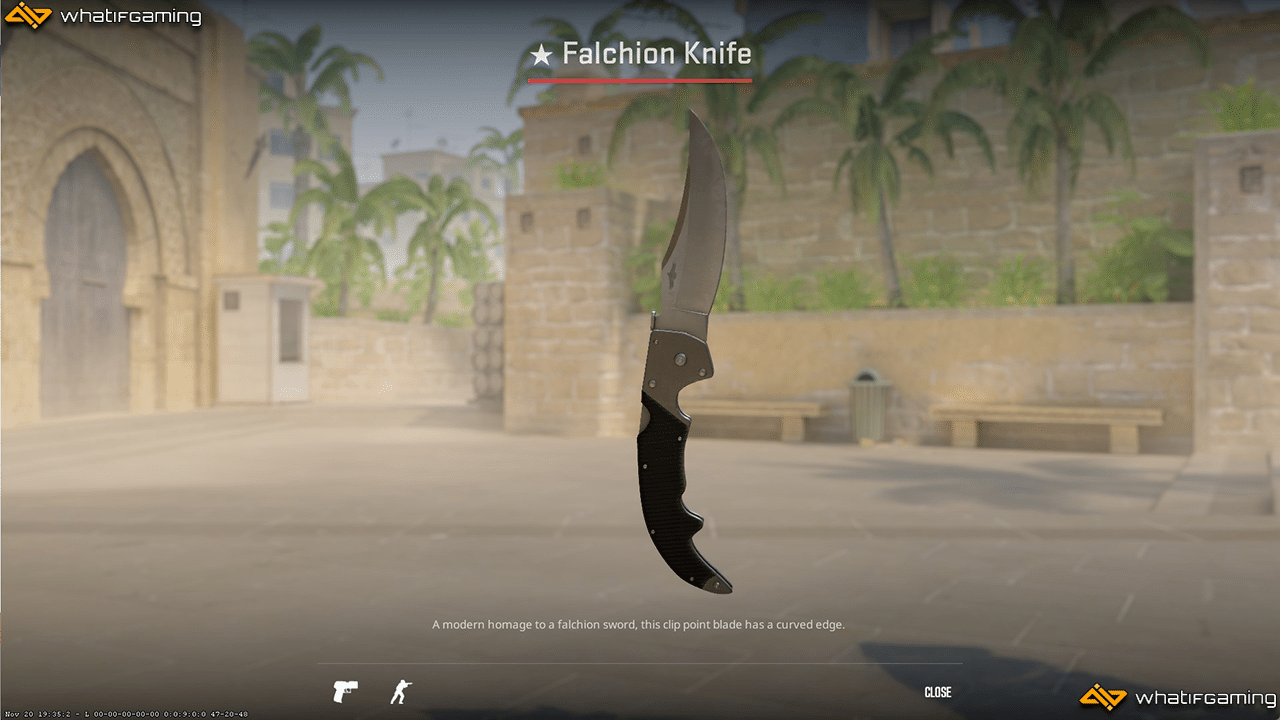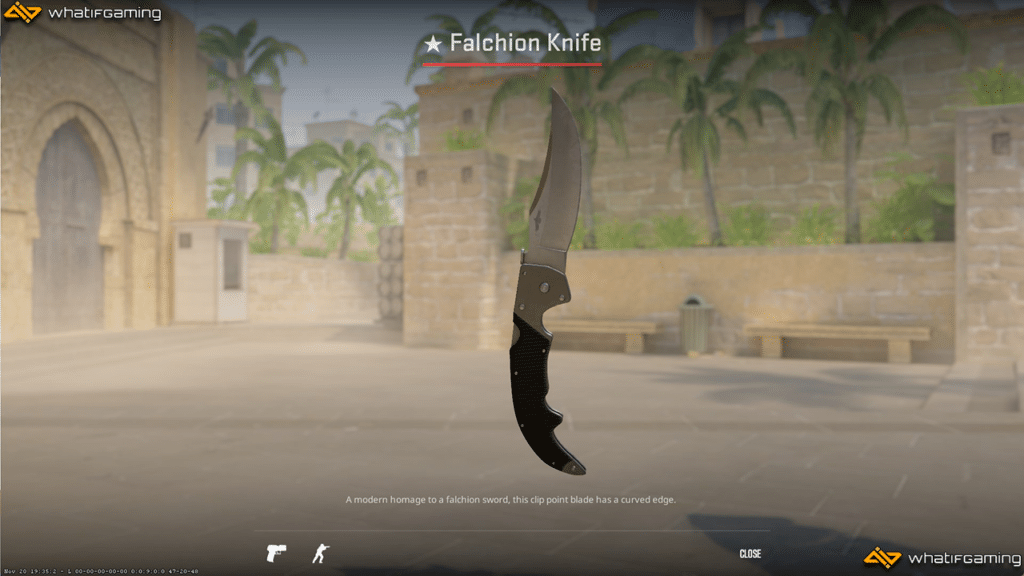 The Falchion Knife has a very underrated design featuring a flip knife. It's equipped with great animations, with an entertaining rare pullout where the player balances it on his hand. It also showcases excellent finishes on its skins, displaying colors throughout the blade and handle. However, it often receives undeserved hate because of its less prominent blade.
Flip Knife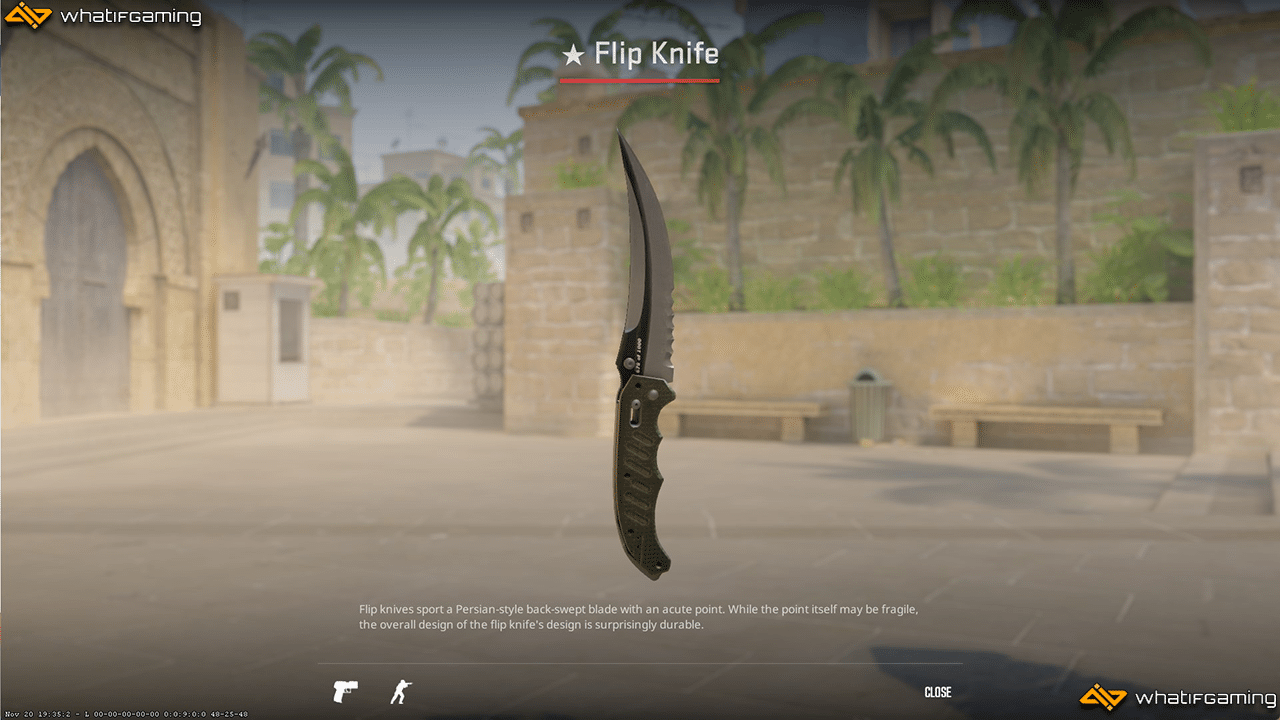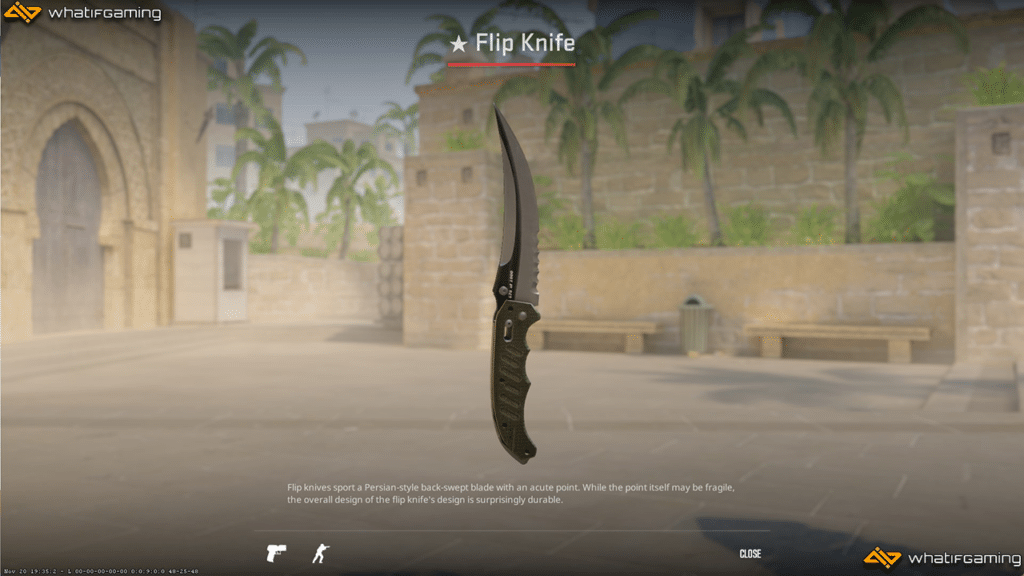 We're going back-to-back with another folding knife in the Flip Knife. This time, it has an outward curving blade with a serrated edge near the base. The main gripe about the Flip Knife is its large, plain black handle sticking out like a sore thumb on most skins.
Ursus Knife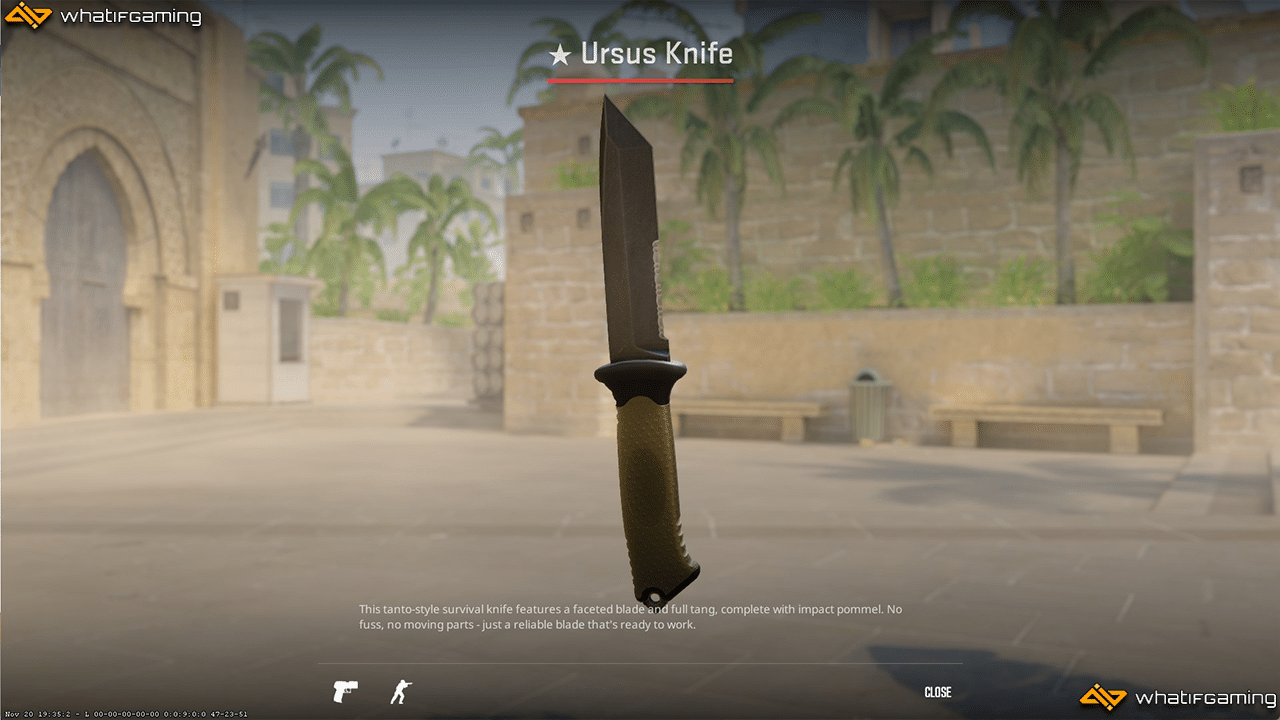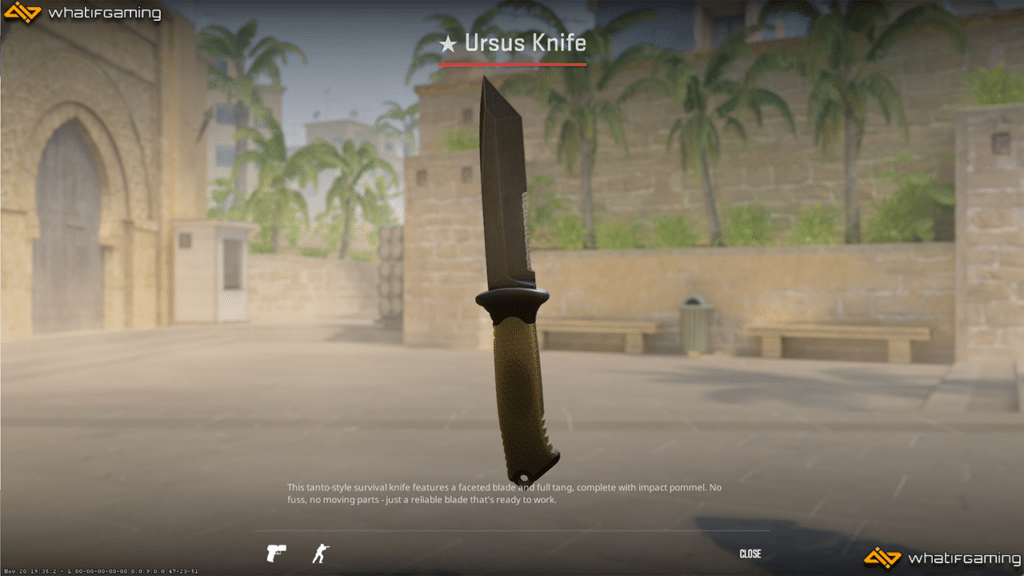 The Ursus Knife is one for the budget gamers out there. It's decently sized with a smooth angular edge, creating solid depth and size. Unfortunately, it comes with an ugly beige handle that most players don't like. It's redeemed by its insanely cool rare inspect and pullout animations.
Nomad Knife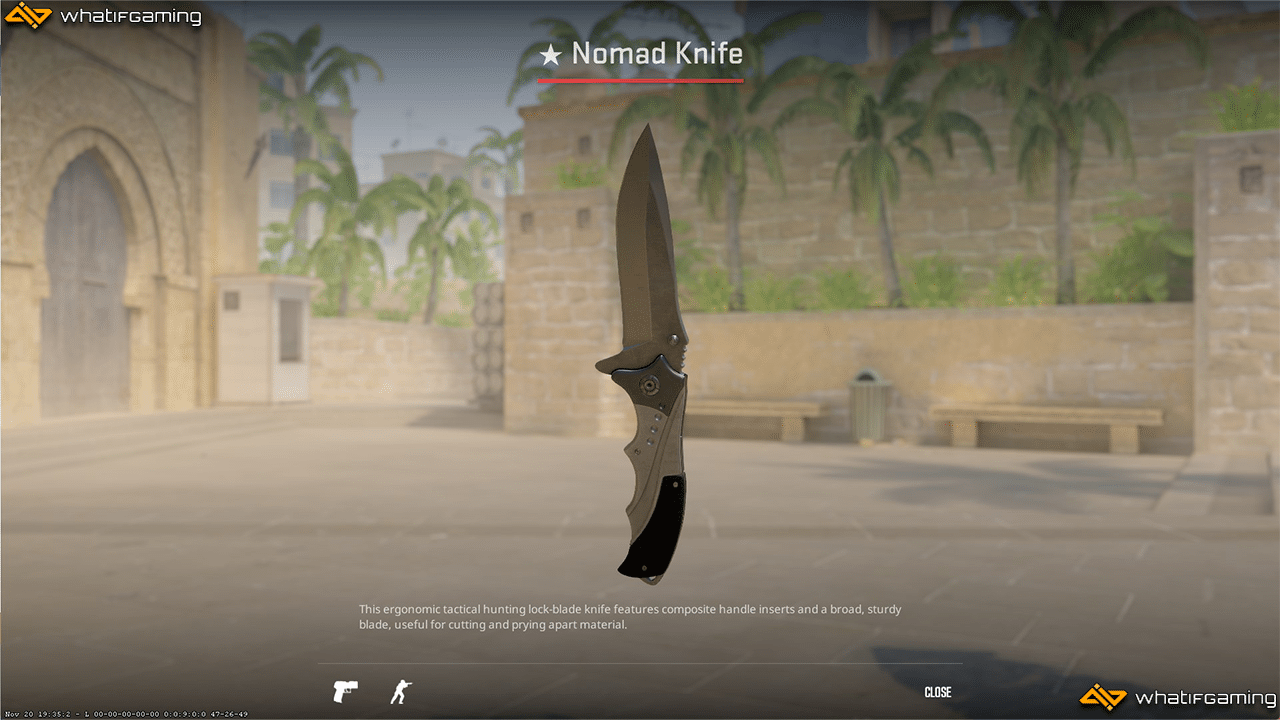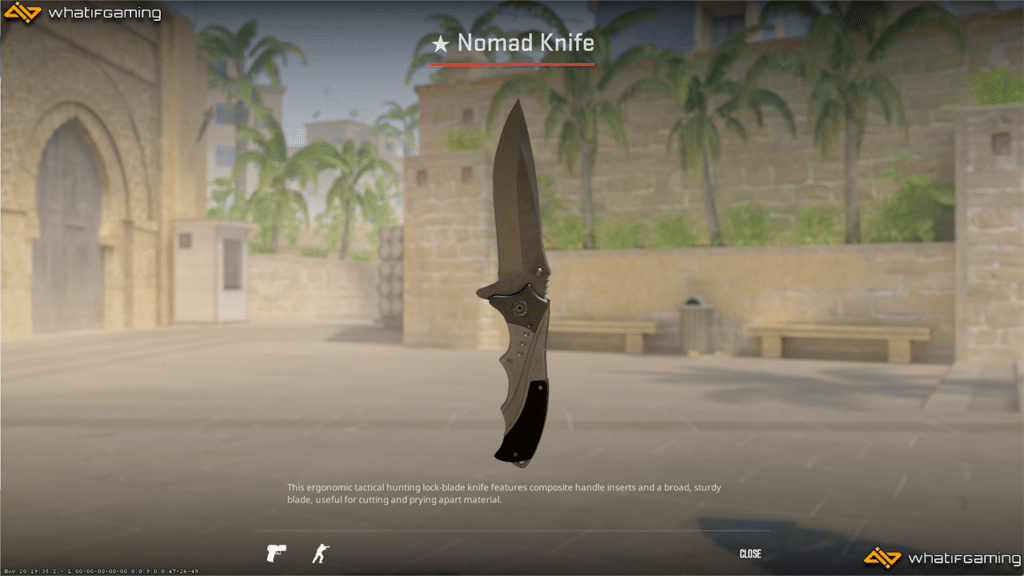 We're coming back to another foldable with the Nomad Knife. Like its brothers, it features a relatively smaller shape but with a wider blade. The handle sticks to a black and silver theme, which often fits well with most skins. Its popularity skyrocketed when s1mple started using it in his games.
Classic Knife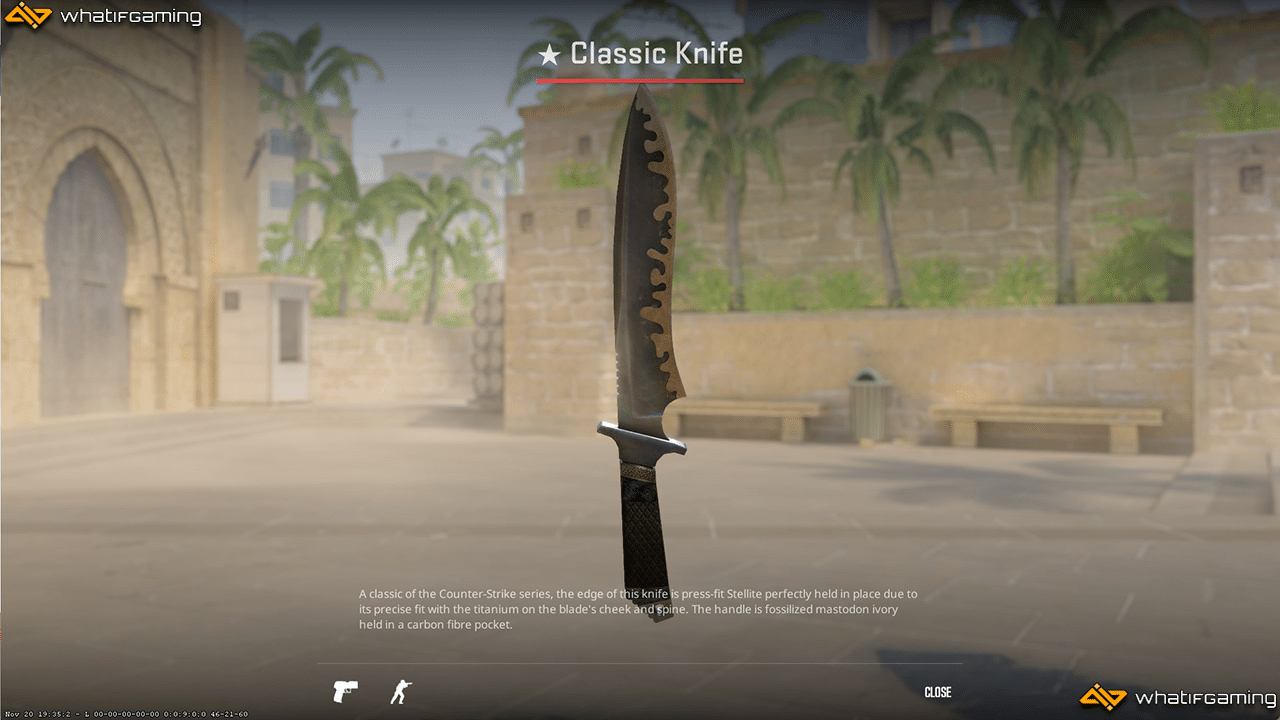 This one is for the OGs. Valve brought the default knife used in previous CS games into CS2 and is selling it to everyone willing to buy. I mean, I understand the nostalgia that it brings to veteran CS players out there. However, it just doesn't look as good as the other CS2 knives, which is why it's a bit lower on the list.
Huntsman Knife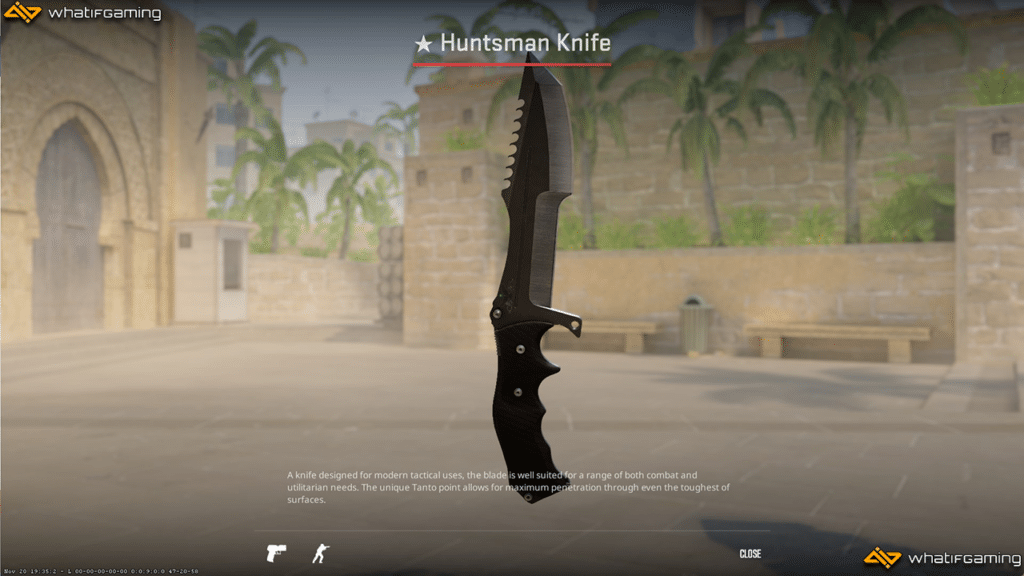 After looking at the short kings, it's time to head over to the few remaining big boys. The Huntsman has this tactical and bulky look, brought by all the jagged edges and chips on the blade. It doesn't help that its animations are pretty basic, leaving no room for redemption. However, some still like the knife's large and imposing stature.
Gut Knife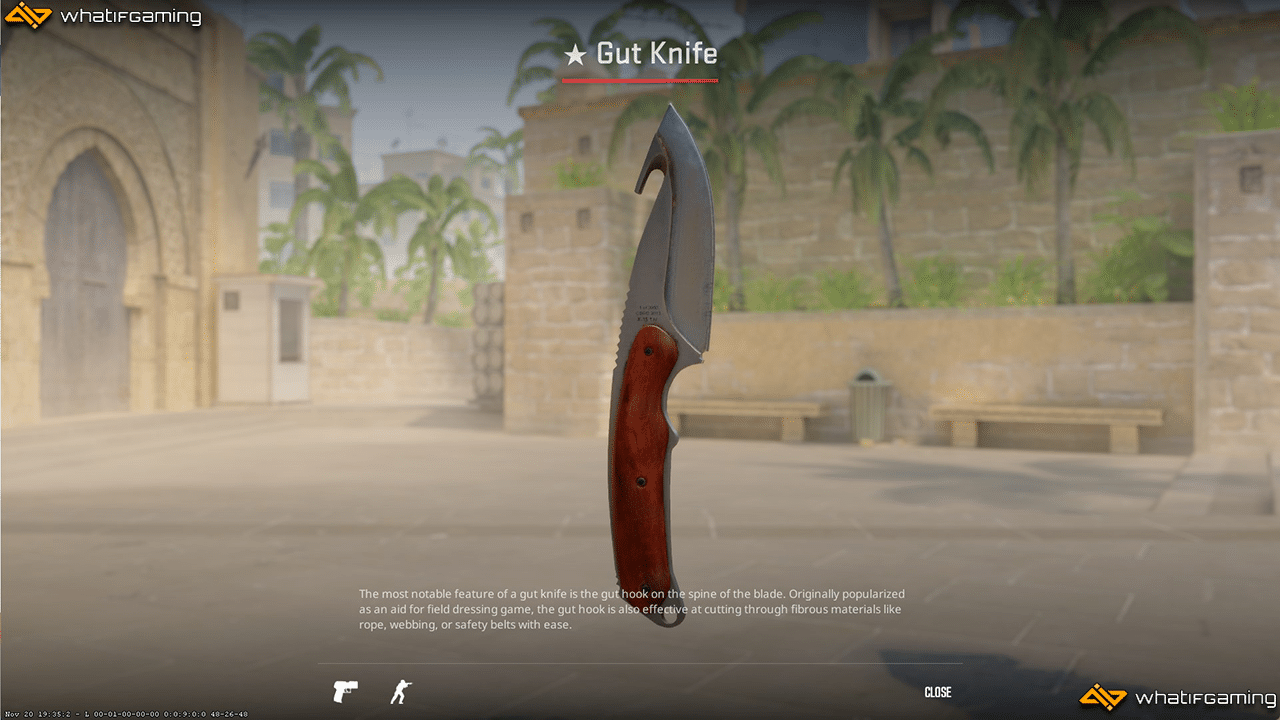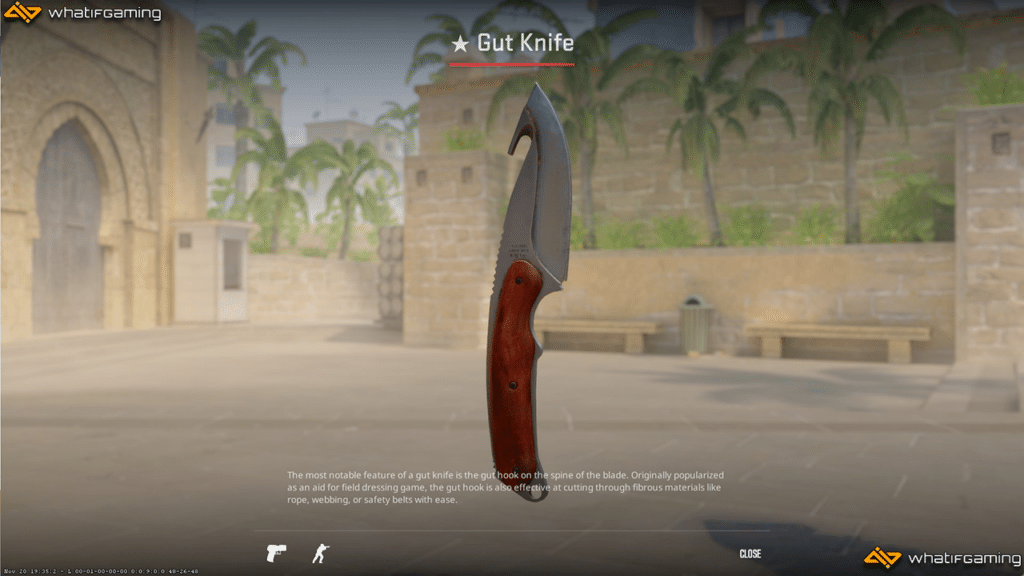 The Gut Knife was made for slashing and stabbing. Just take a look at the hook found on the end of the blade, and you already know that it'll hurt. Honestly, I like the design of the Gut Knife. However, I can't rank it any higher, or else the entire CS2 community will come for me.
Bowie Knife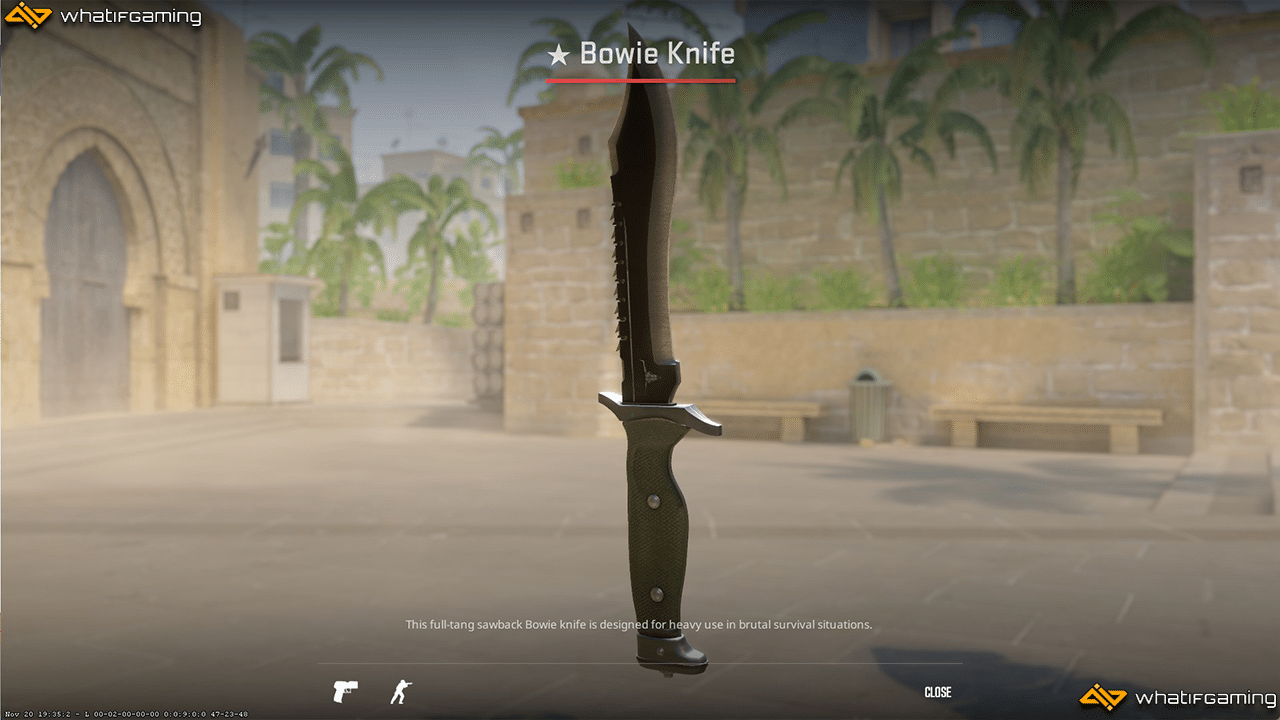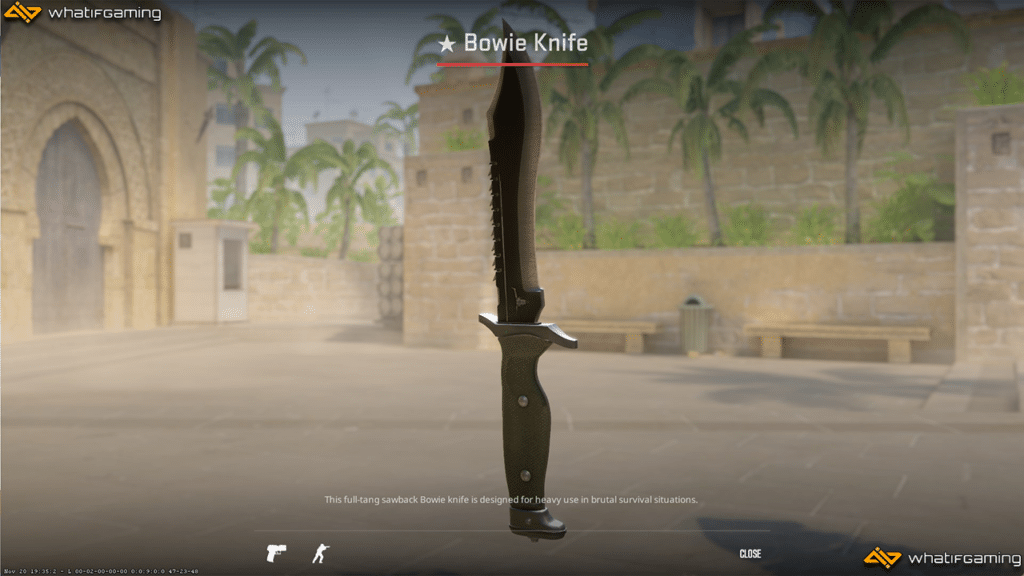 Nope. The Bowie Knife wasn't named after the famous singer. Unfortunately, it isn't half as impressive as David Bowie. It's one of the largest knives in CS2 and sort of looks like a miniature version of a pirate sword. The Bowie isn't a premier choice, primarily cause of the dull animations.
Shadow Daggers
The Shadow Daggers are the only dual-wield knife type in CS2, granting them an inherently distinct form factor. They are small blades held between your fingers and swung in an almost punching-like manner. It's one of the most hated knives in the entire community, and its only redeeming factor is its extremely cheap prices.
Navaja Knife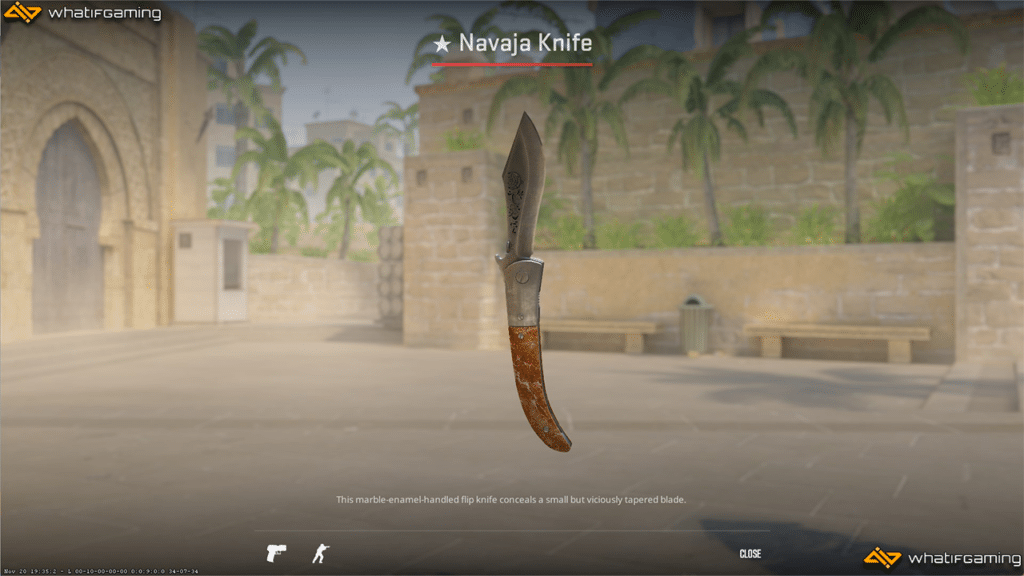 Last but not the least is the Navaja Knife. Despite its affordable pricing, the Navaja remains one of the most hated and least-bought knives in CS2. This shouldn't come as a surprise because the knife legit looks like it won't hurt a fly. The small blade and equally small base don't help it as well since it leaves little space for skins to work with.