If you are looking to complete the new character challenges in Fortnite, then you have come to the right guide. This detailed guide will dive deep into where to find and meet the NPCs in Fortnite. We will explain all Fortnite character locations of Chapter 4 in Season 1. These new NPCs, upon interaction, give you items, and some of them also have unique dialogues. So without further ado, let's dive into it!
Character Collection in Fortnite
Character Collections are updated at every new Fortnite season, challenging you to track and meet new NPCs on the island. Be warned that some of these characters are timed and might leave the game before you get to meet them, so it is best practice to go and meet them as soon as possible because new characters are often replaced with older characters. The Character Collection acts like a sticker book, where you can store the characters you meet when they appear in Fortnite.
To add a character to your collection, you must find and talk to them during a match.
The Fortnite Character Collection Badge
When you are completing the Character Collection for Fortnite, you will not get any Battle Pass XP. Instead, you will get a small amount of XP from talking to these characters while in a match.
Instead, you will receive a badge on your Legacy Page, which you can access from the Careers tab in the game's central hub. You can also check the achievements that you managed to earn from the start of Chapter 2 on this tab as well.
To complete the Character Collection badge in Chapter 4, you will have to play a significant number of matches to find all the characters because they are spread out greatly from each other.
Fortnite Characters And Their Locations
Finding these characters requires little effort with our map and these extensive tips.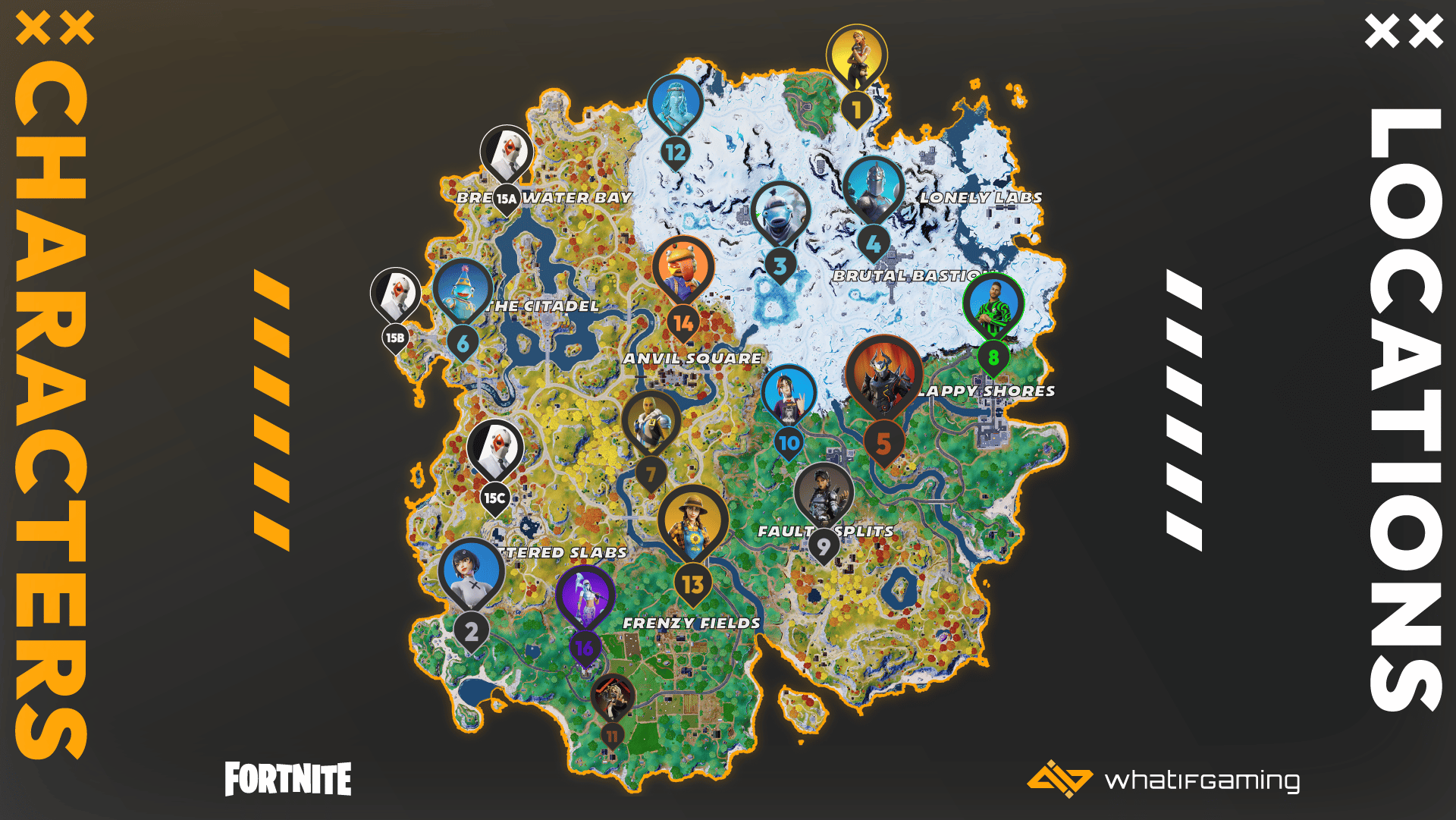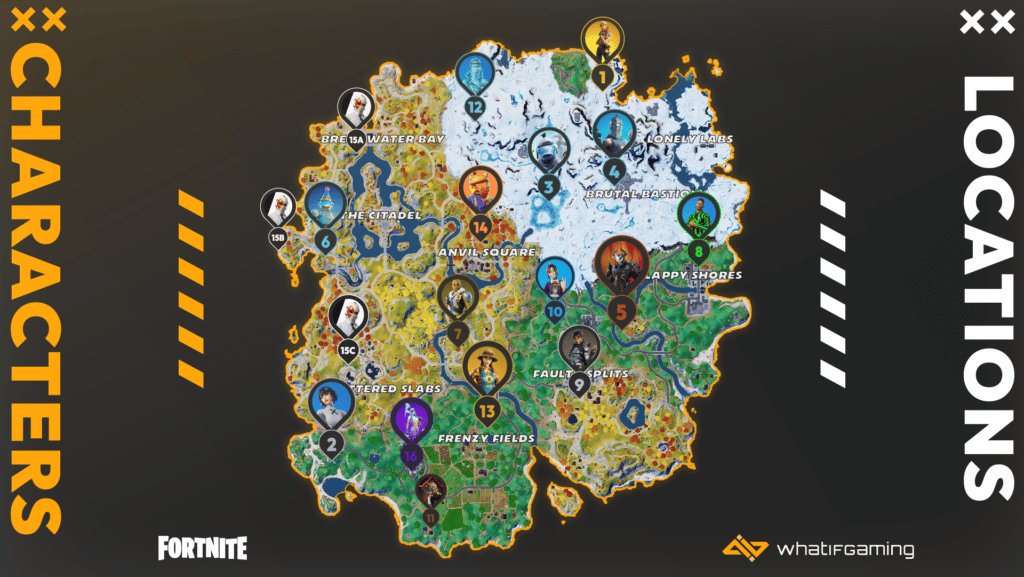 Aura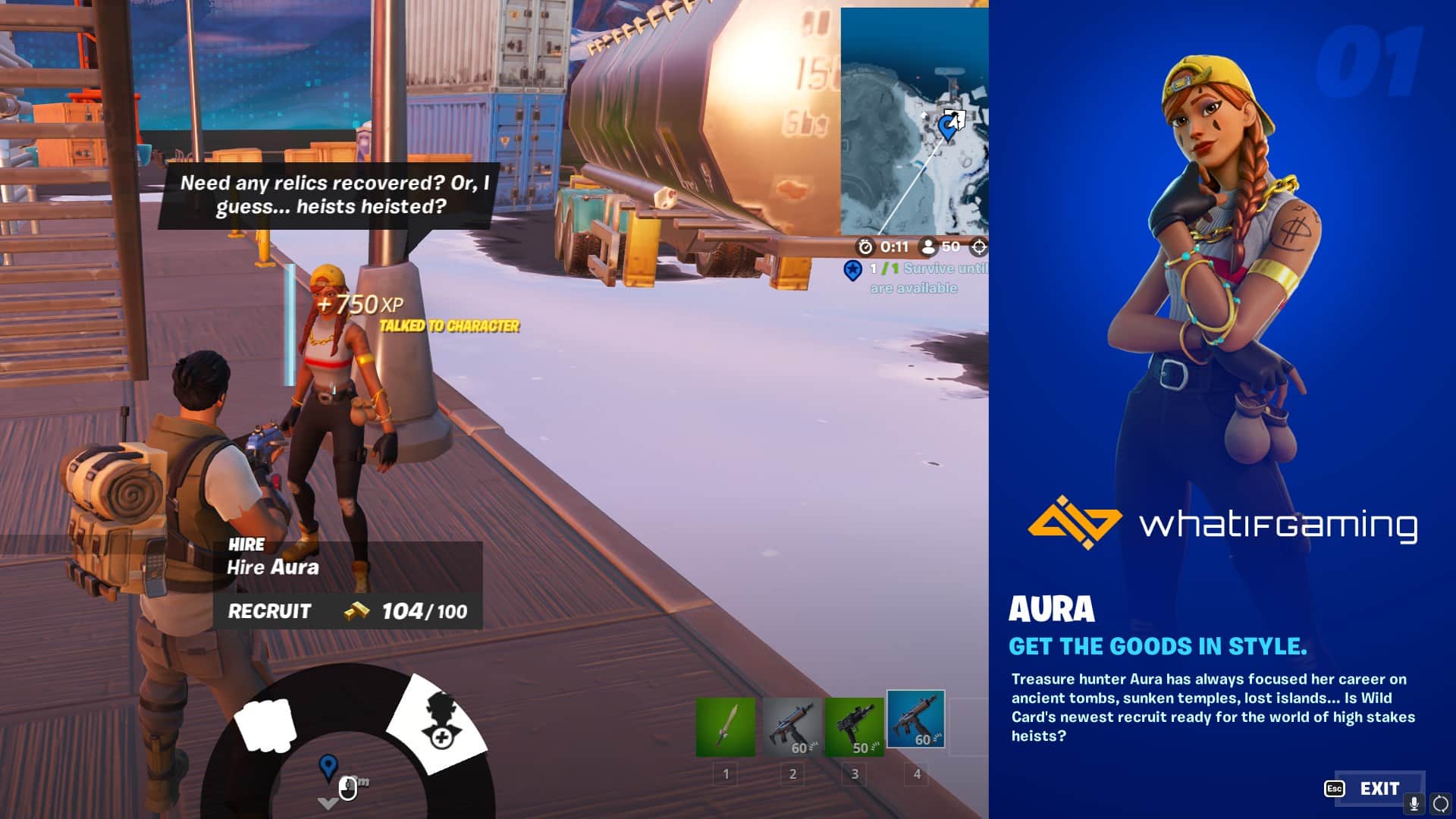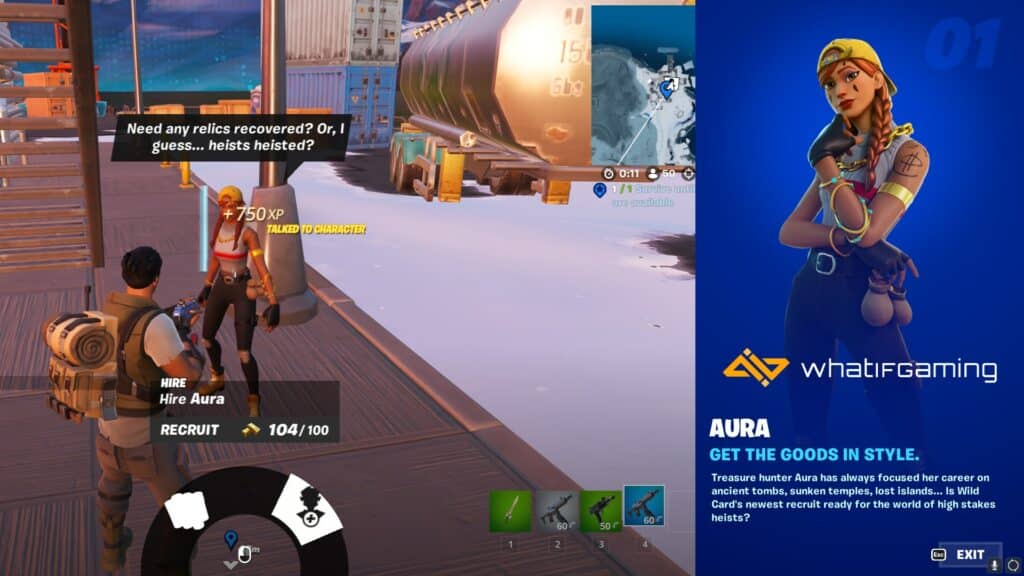 Finding Aura is very simple. All you have to do is land in the northernmost region of the island above Lonely Labs. You can find Aura roaming in the area. However, be careful, as many people might land with you and try to kill you while you talk to her.
Evie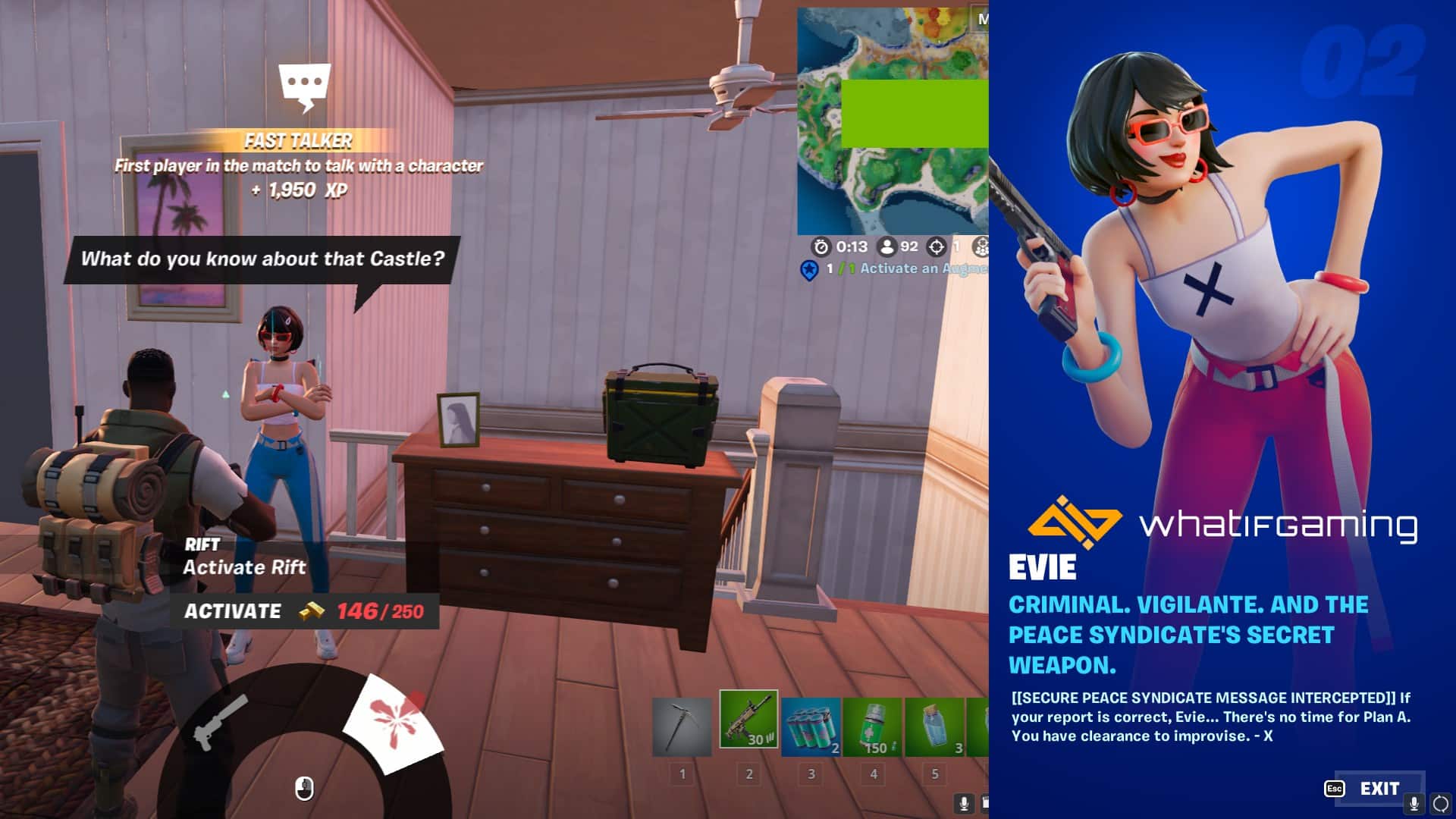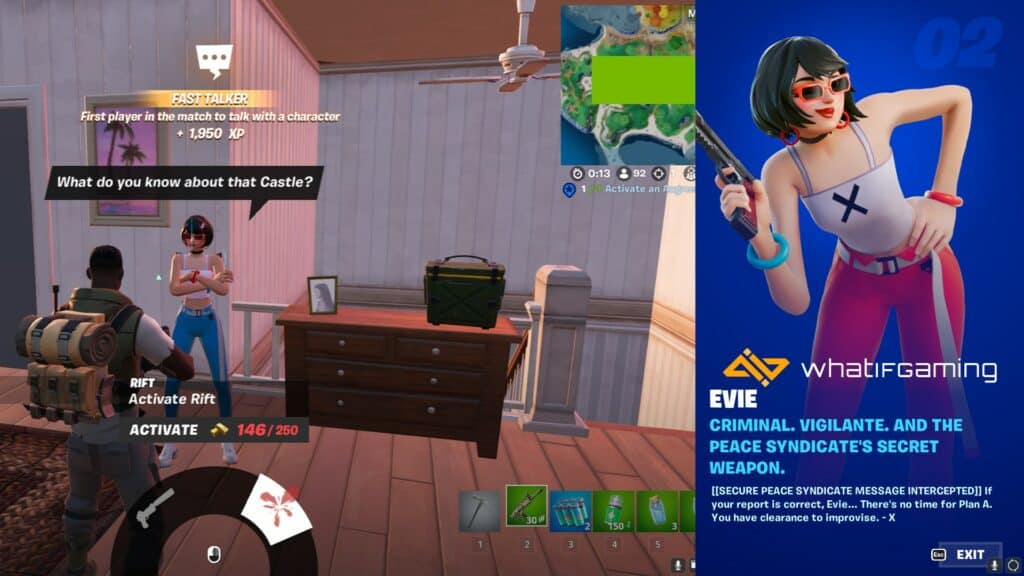 In Shattered Slabs. If you look carefully, you will be able to see a bright blue house. In this house, you will be able to meet and talk to Evie, but because Shattered Slabs is a town, you can expect some heavy traffic if you decide to land there right at the start of the match.
Frozen Fishstick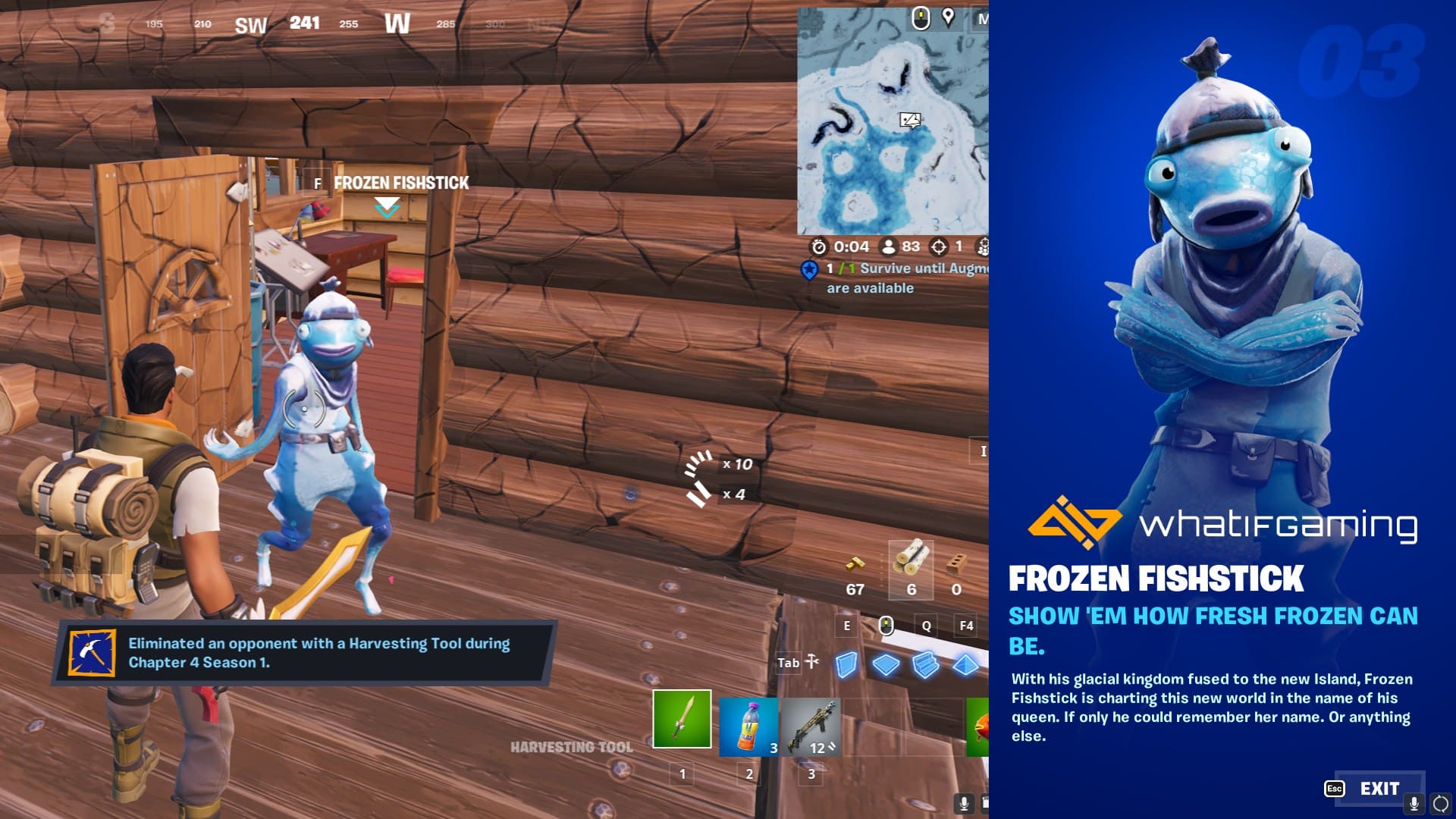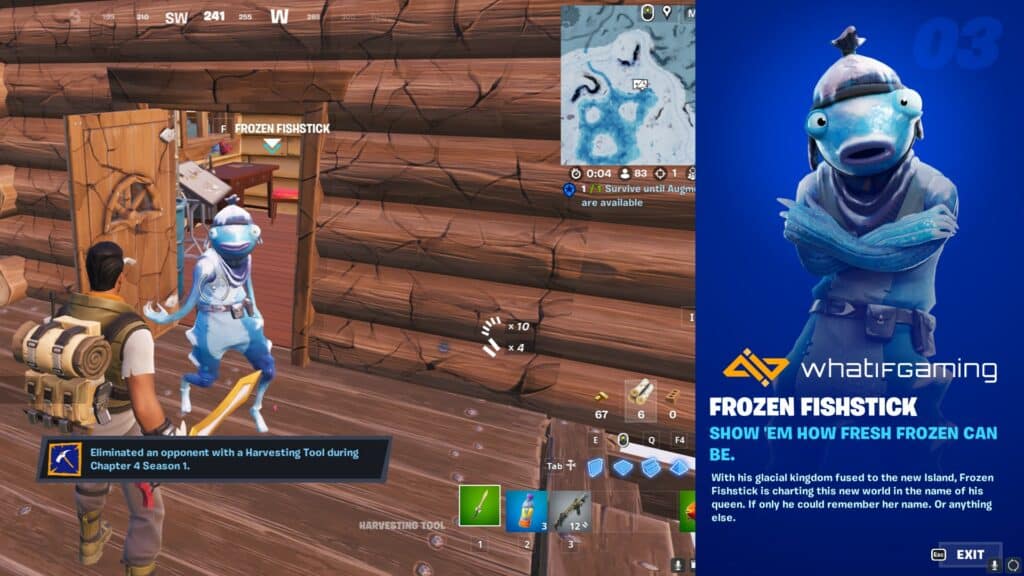 Frozen Fishstick can be found almost instantly. All you have to do is go to a lake west of Brutal Bastion. Here you will see a small mountain, and on one side of the mountain, you will see a cave-like opening. In that opening, you will be able to meet and talk to Frozen Fishstick.
Frozen Red Knight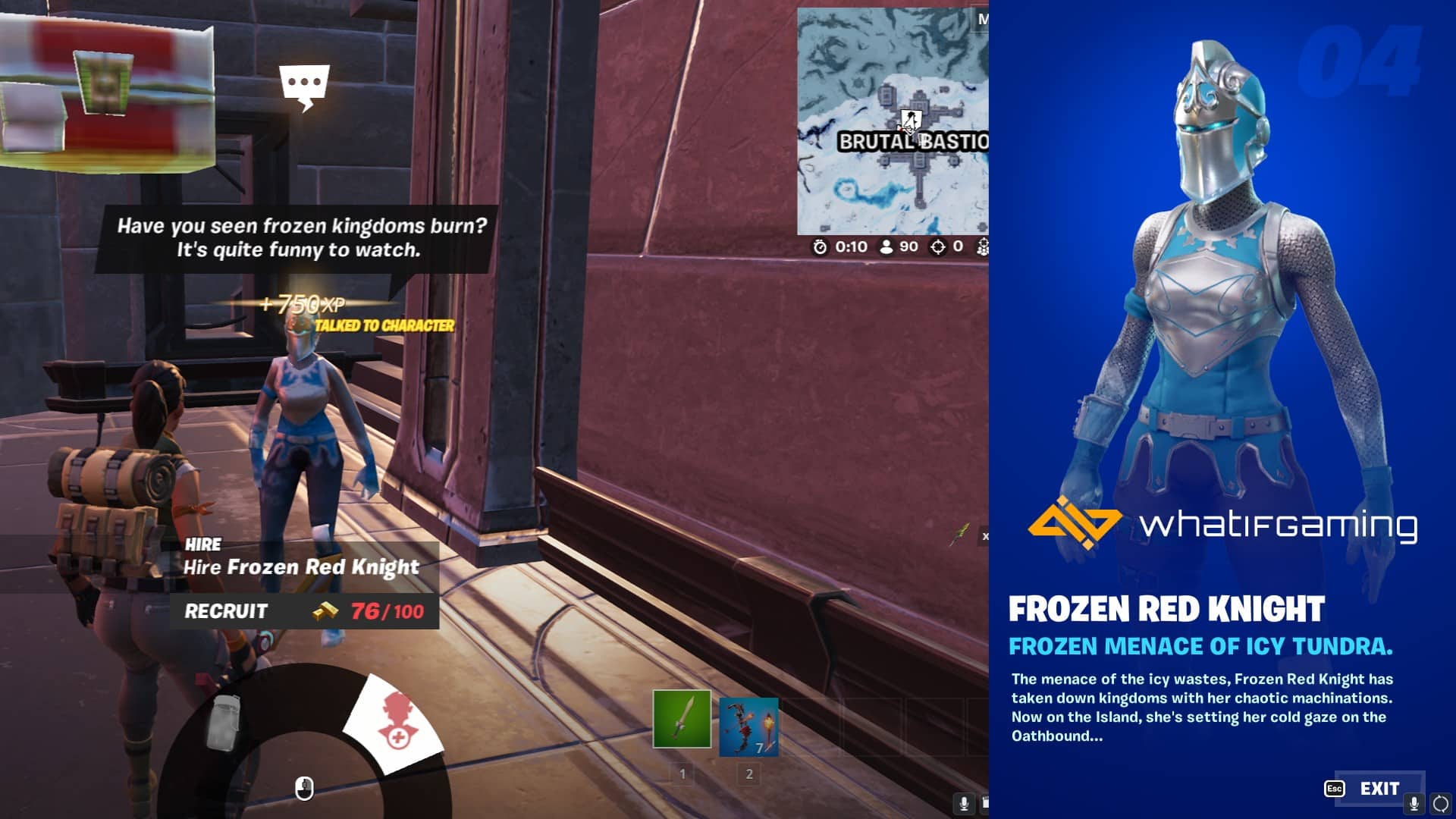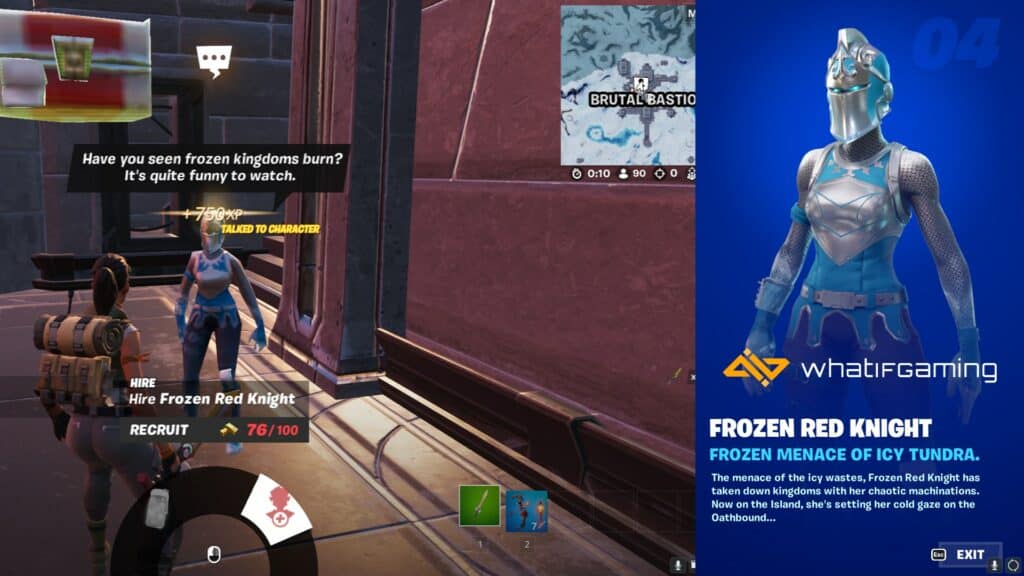 Just like Frozen Fishstick, Frozen Red Knight also lives in the snowy region and can be found walking around in Brutal Bastion. It is better if you try and meet both of these characters in a single game as they are very close by and often have no players nearby.
Omega Knight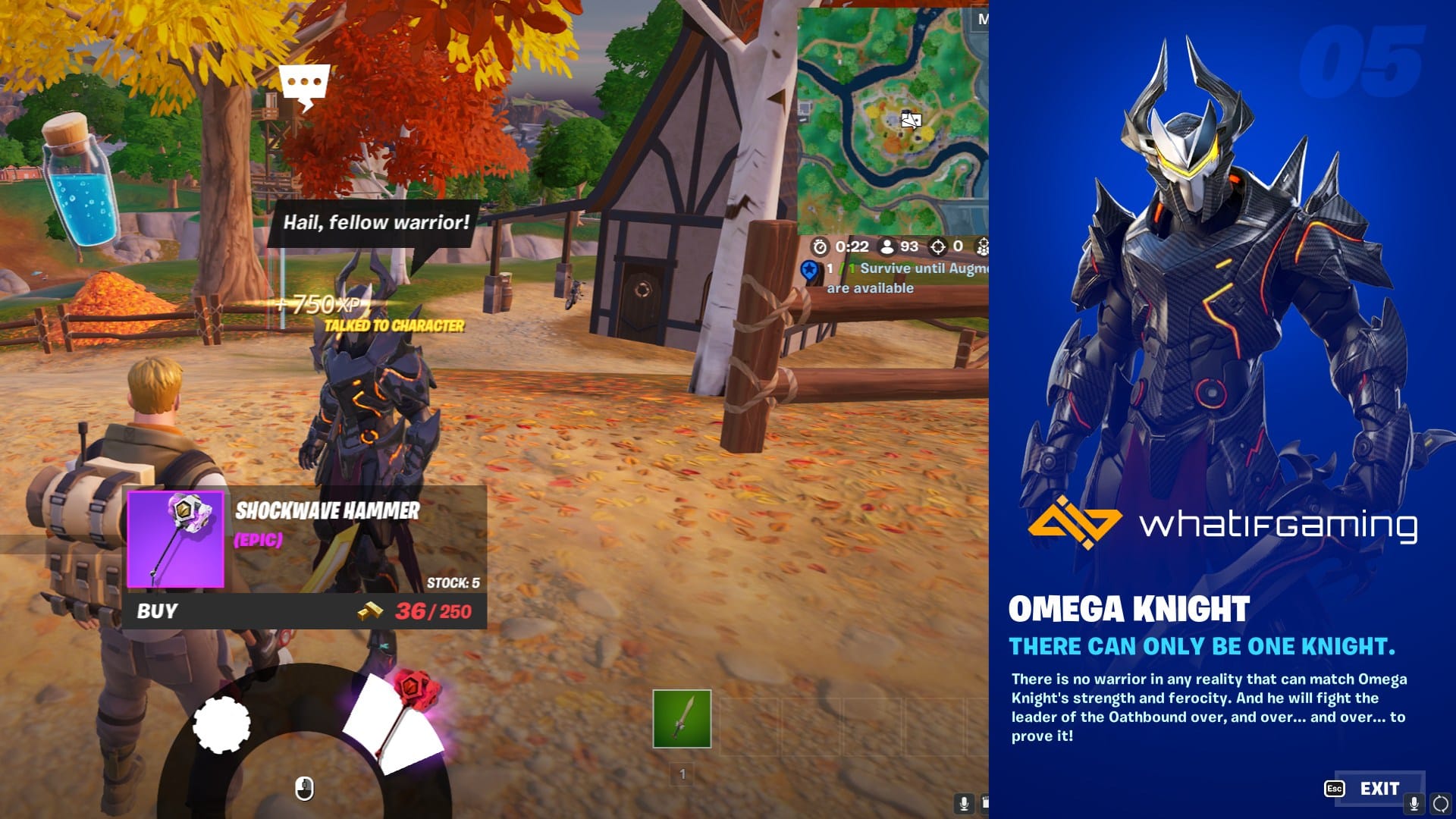 Omega Knight is one of the NPCs that are pretty much stranded, all you have to do is simply land in a village southwest of Slappy Shores, and you will immediately see a knight in armour walking around a small town. Nobody lands here, so this area is usually empty. So you can quickly loot this place as well and talk to the NPC.
Princess Felicity Fish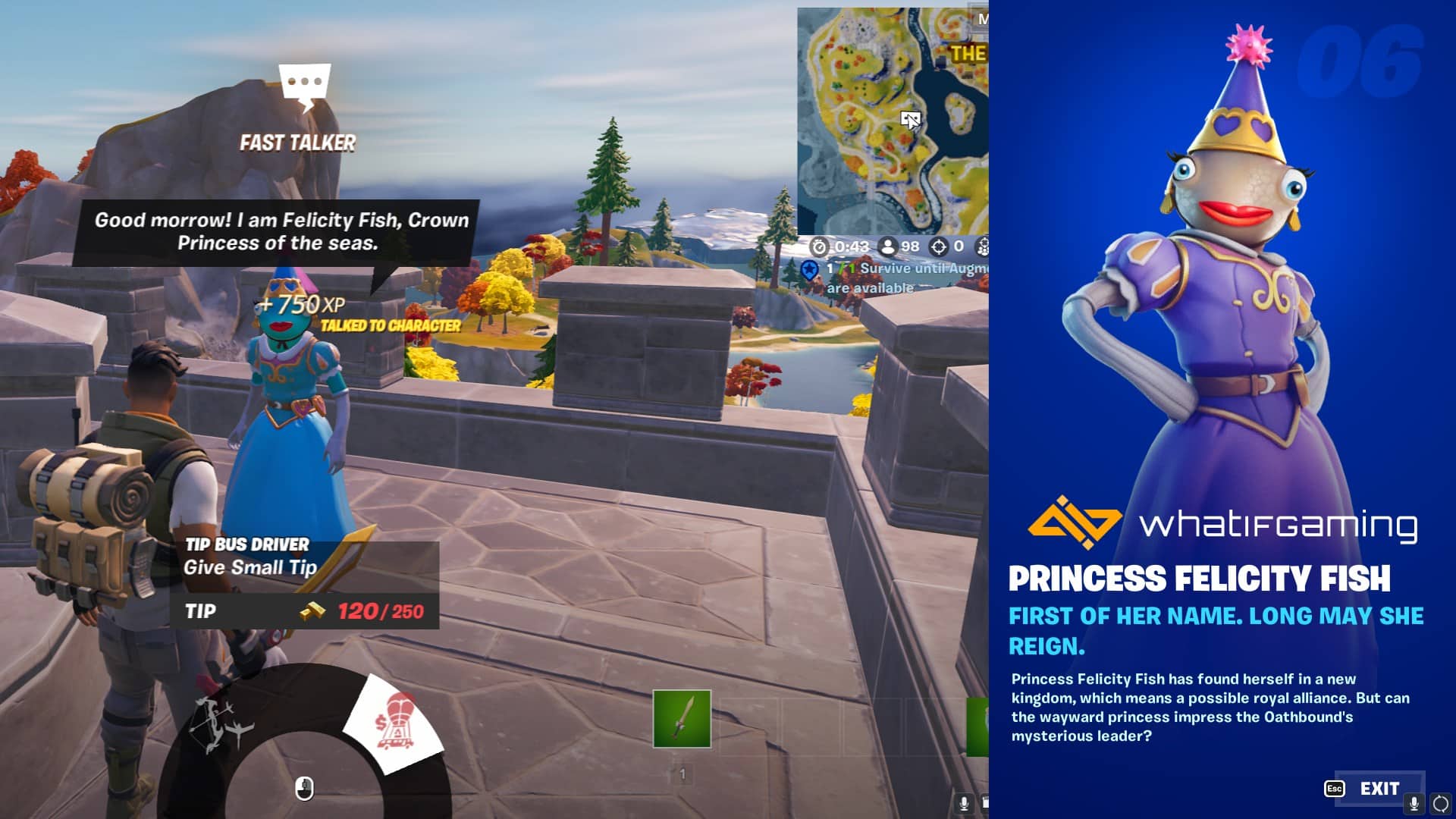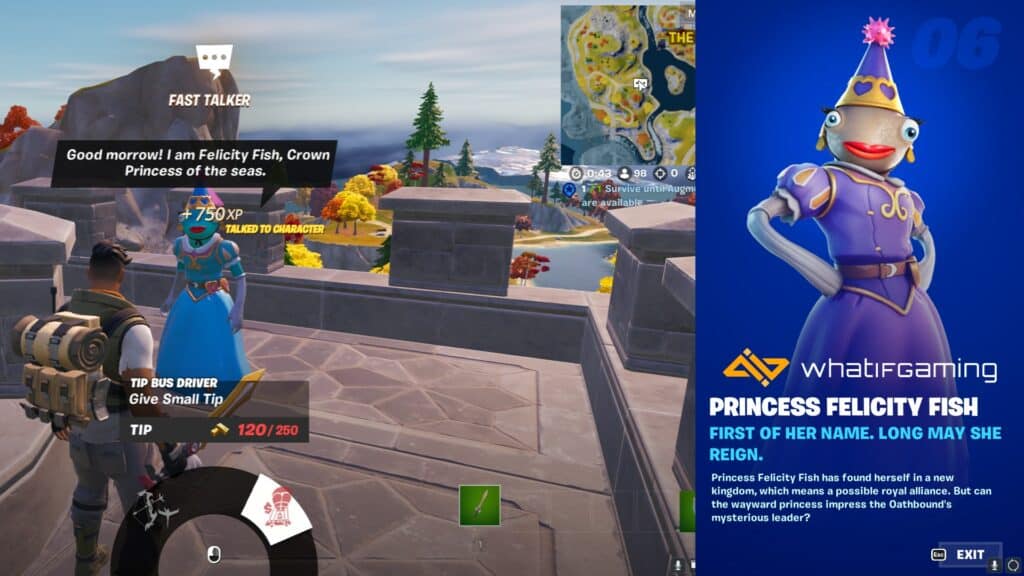 Because Felicity Fish is called a Princess, she can be found on top of a castle southwest of The Citadel, and spotting her is very easy. Do keep in mind that this area will have players because you can find some good loot here. So if you decide to land here right at the start of the match, you are going to have to fight some people.
Raptorian The Brave
Raptorian The Brave can be found in a clearing south of Anvil Square. He is walking around a castle, and you can not miss him, as he is usually waving a flag around. This area is also filled with loot, so this can be a good starting point as well if you decide to land here right away.
Neymar Jr.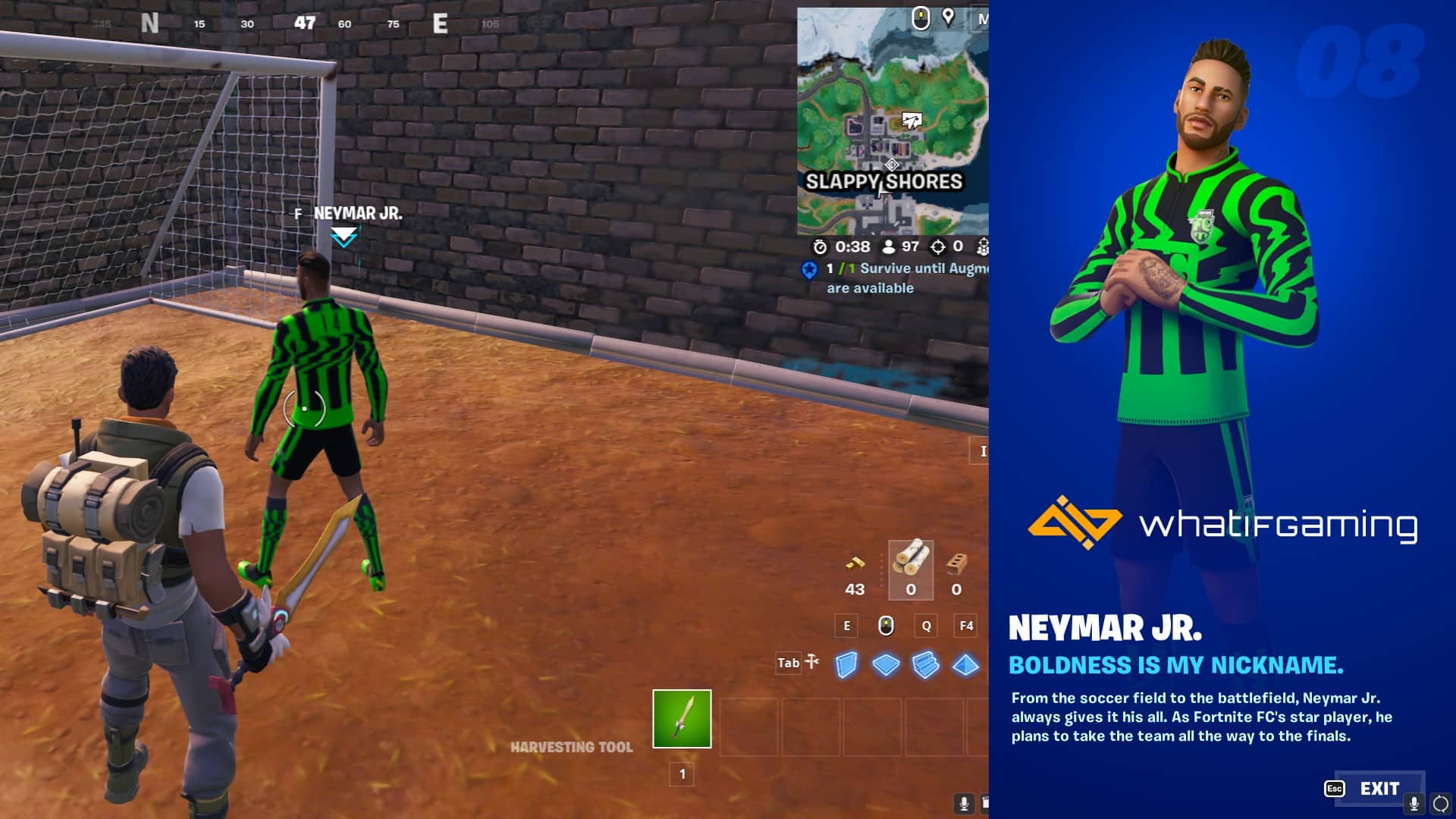 Finding Neymar Jr. is no hassle. You have to find the soccer field located around the northeast of Slappy Shores, and you will find Neymar doing what he loves the most. Because this location is in a town, you will have a lot of players nearby landing right with you. So make sure to come here with a clear mind because you will get shot almost immediately.
Scrapknight Jules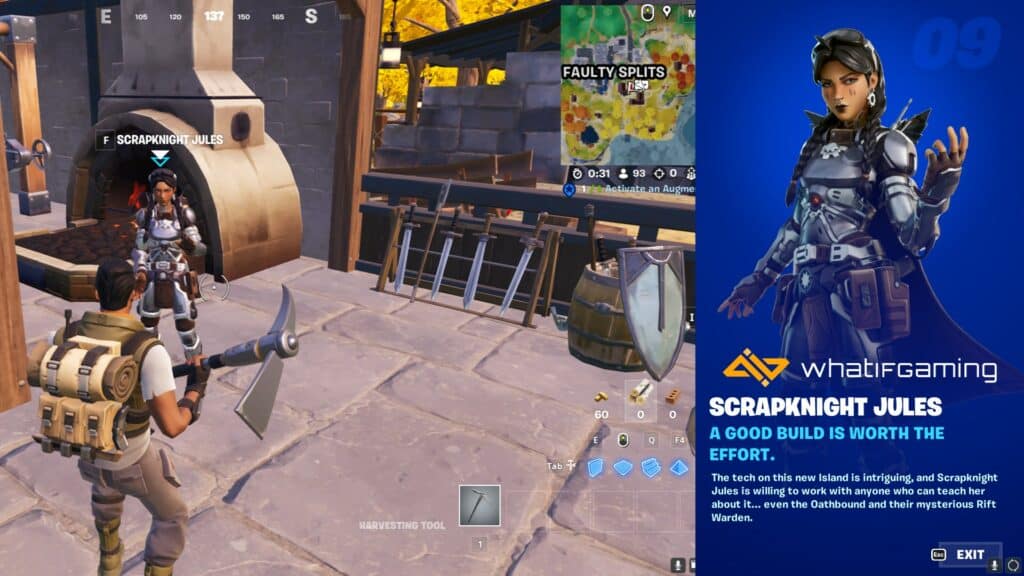 Finding Scrapknight Jules is a little time taking because he moves around his location quite a bit, but you can always find him in Faulty Splits. Like other towns. This area will also have other players landing with you, so expect gunfire whenever you plan to visit Scrapknight Jules.
Helsie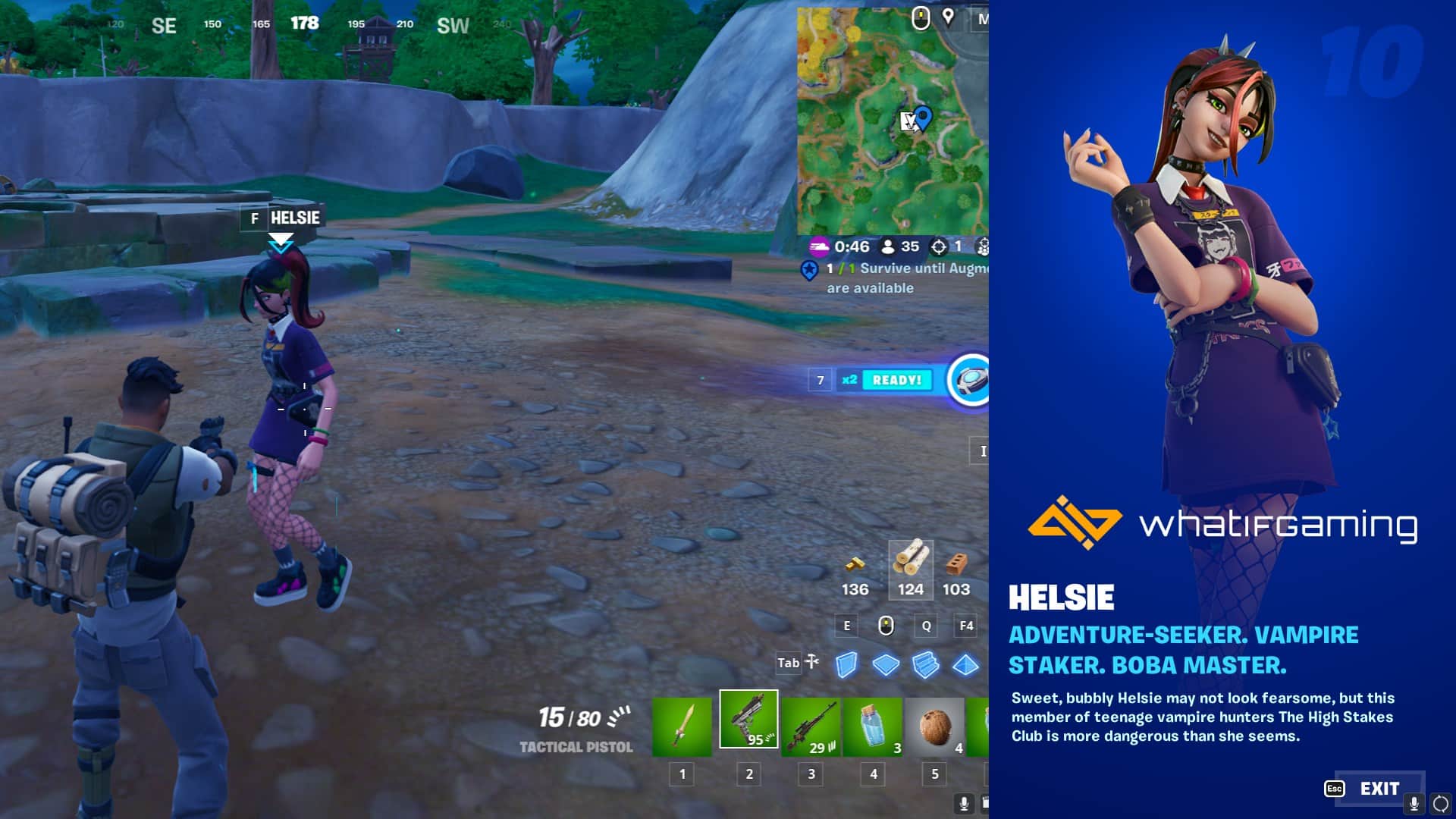 You can find Helsie almost immediately. She is either inside a house northwest of Faulty Splits or roaming around a shrine because this area has little to no loot. Try to avoid landing here because you will have a hard time finding good weapons.
.
Joni The Red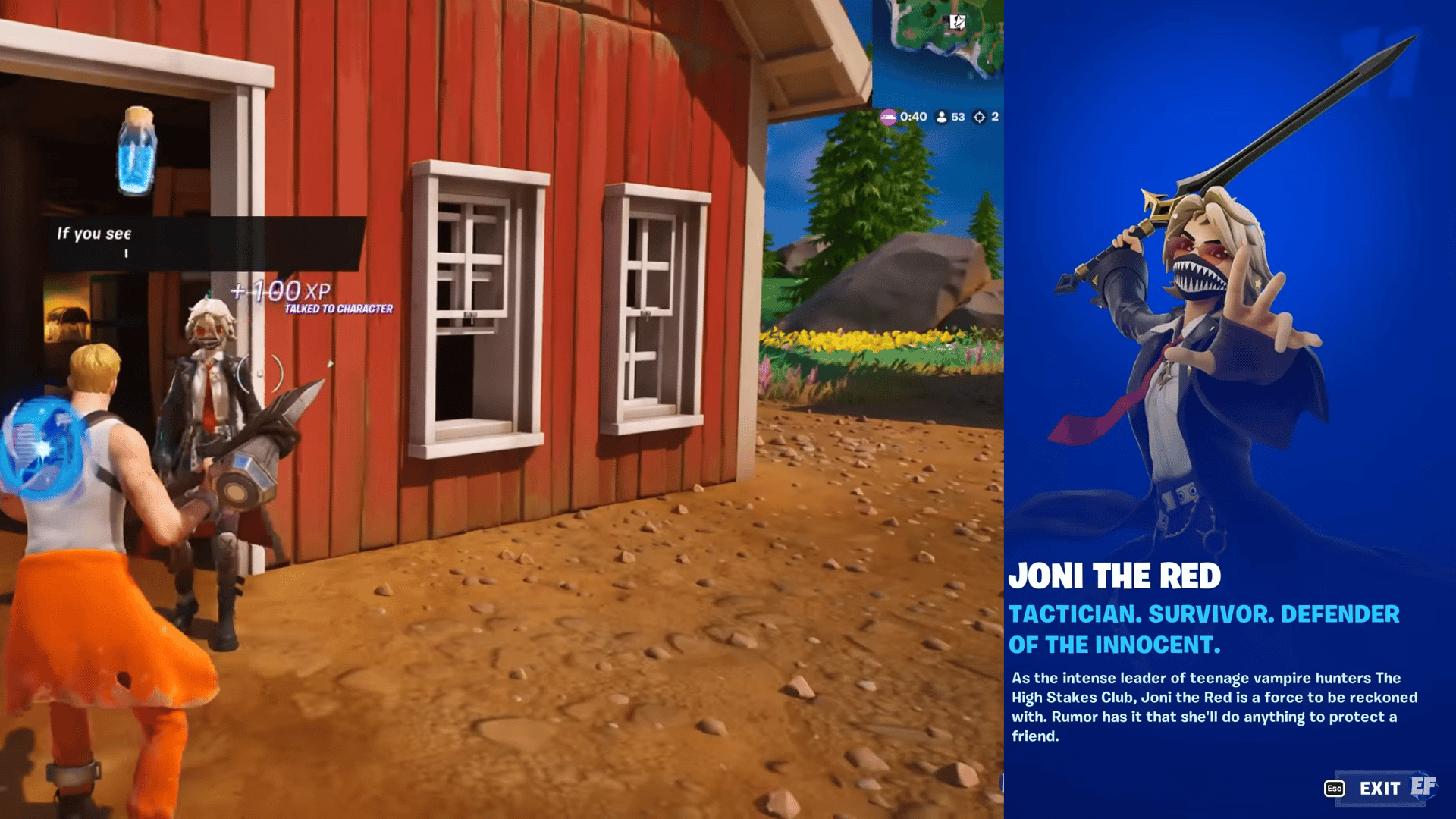 Joni The Red is an NPC that you will have the hardest time locating. She often despawns, and you have to restart your game for him to spawn again. he spawns inside a barn southwest of Frenzy Fields.
Snowheart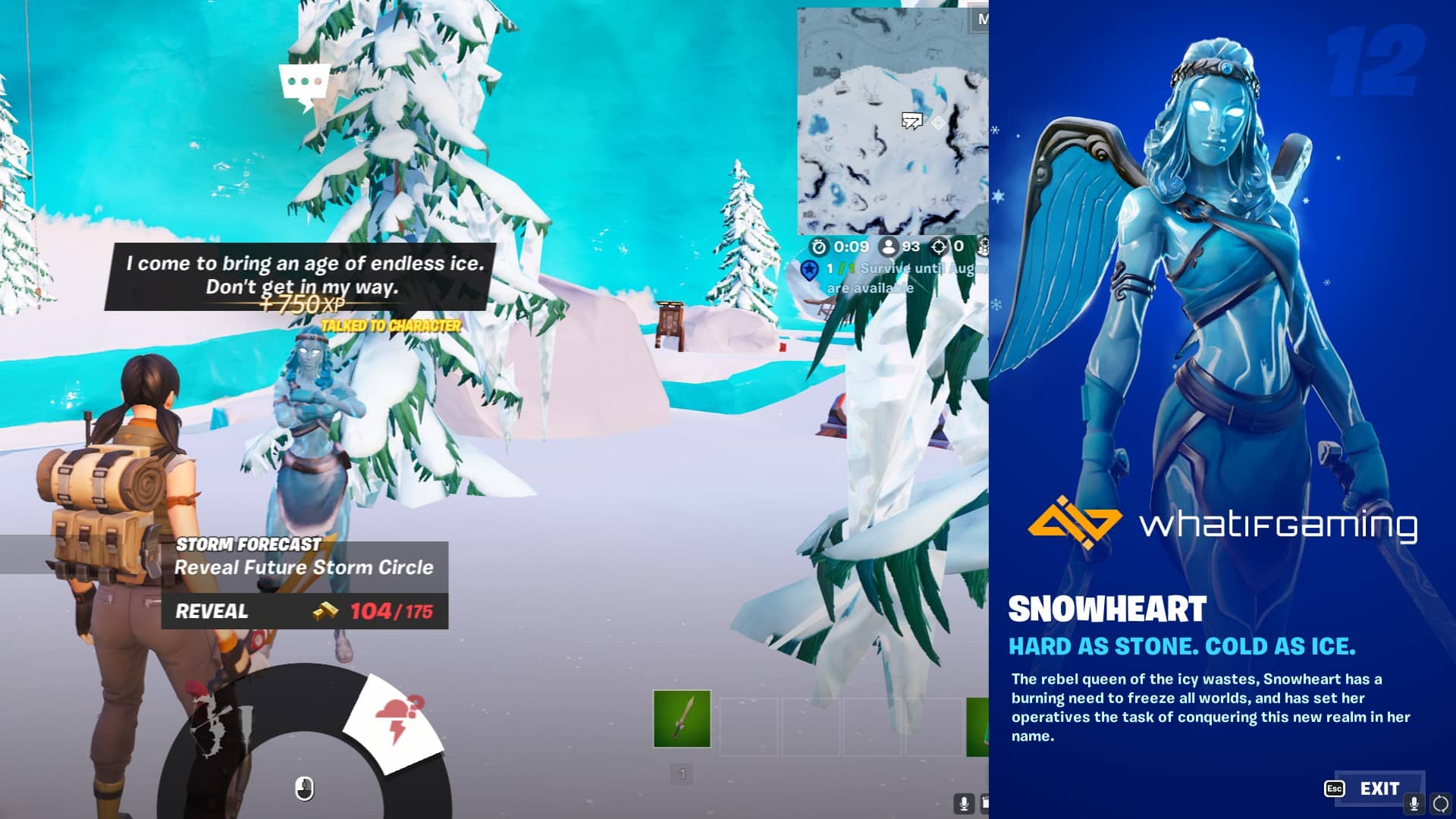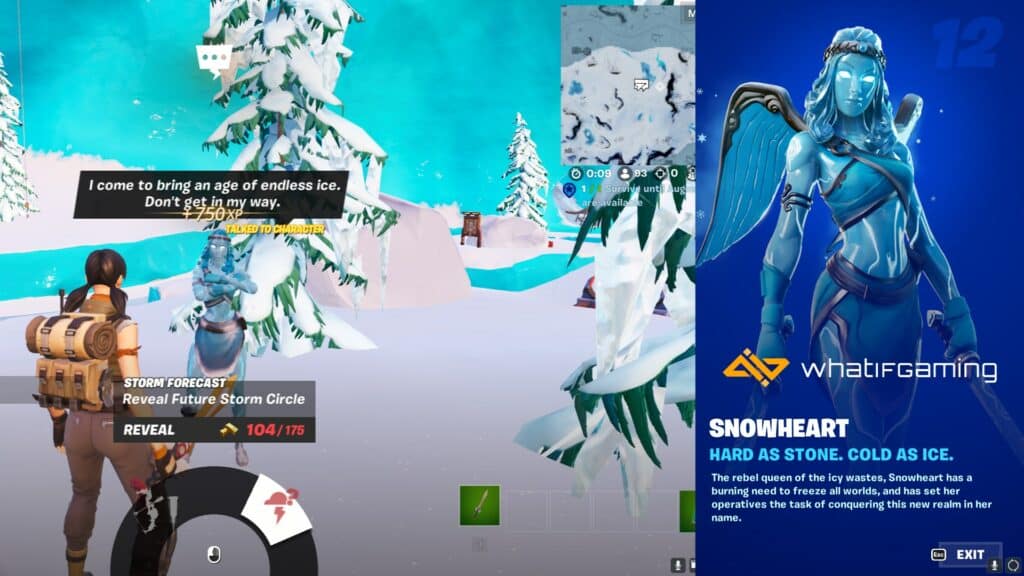 Finding Snowheart is very easy. She can be found in a snow-covered cave located east of Breakwater Bay. Remember that this location has absolutely no loot available. So only swing by here late in the game because landing here at the start can be a dire mistake and can cost you the match.
Sunflower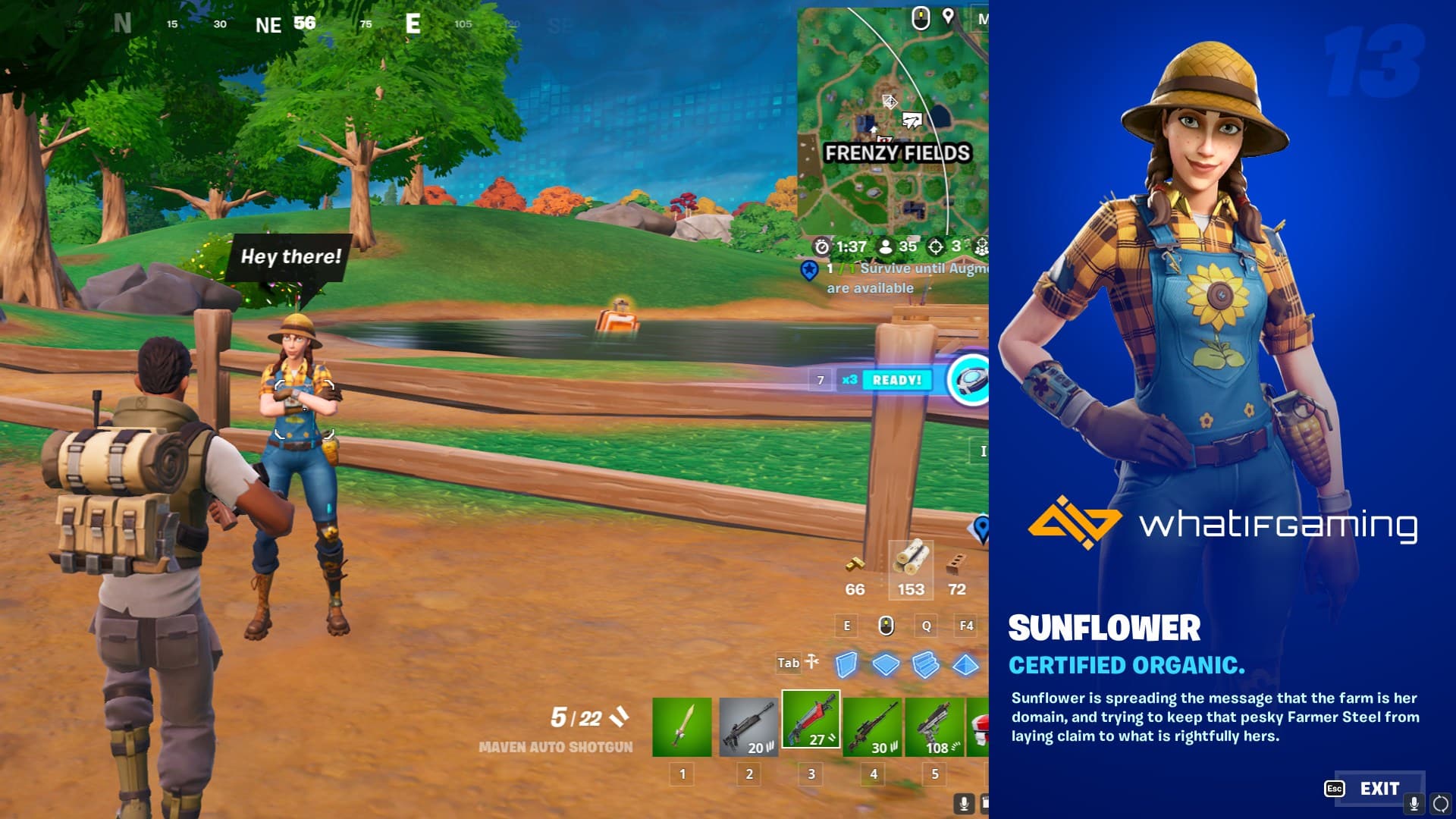 Sunflower is very easy to spot, as she is working on a farm inside Frenzy Fields. So you can not miss her. Though be warned that because she is located inside a town, there are bound to be people here. So if you decide to land here, be prepared for a gunfight.
Surrr Burger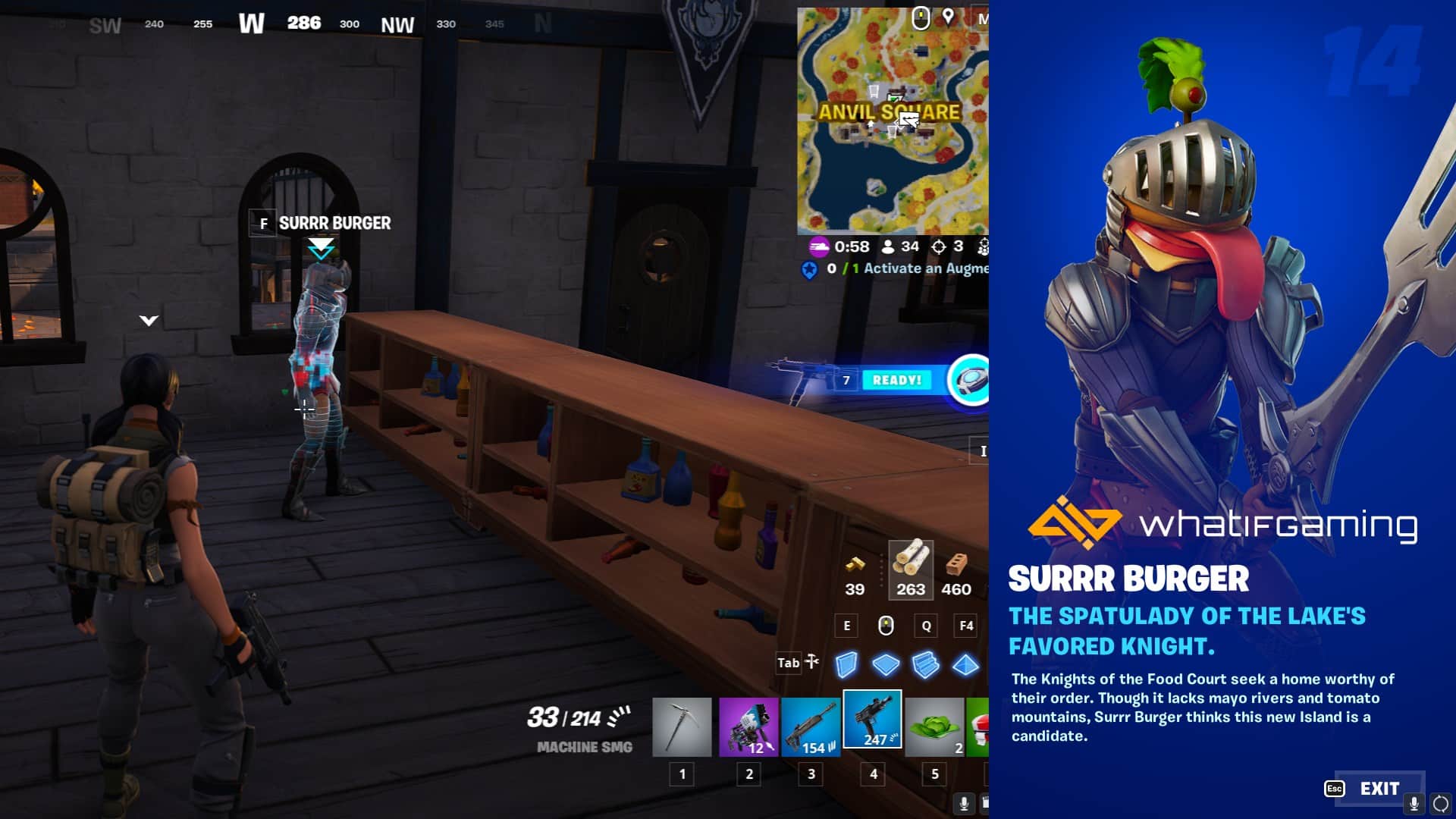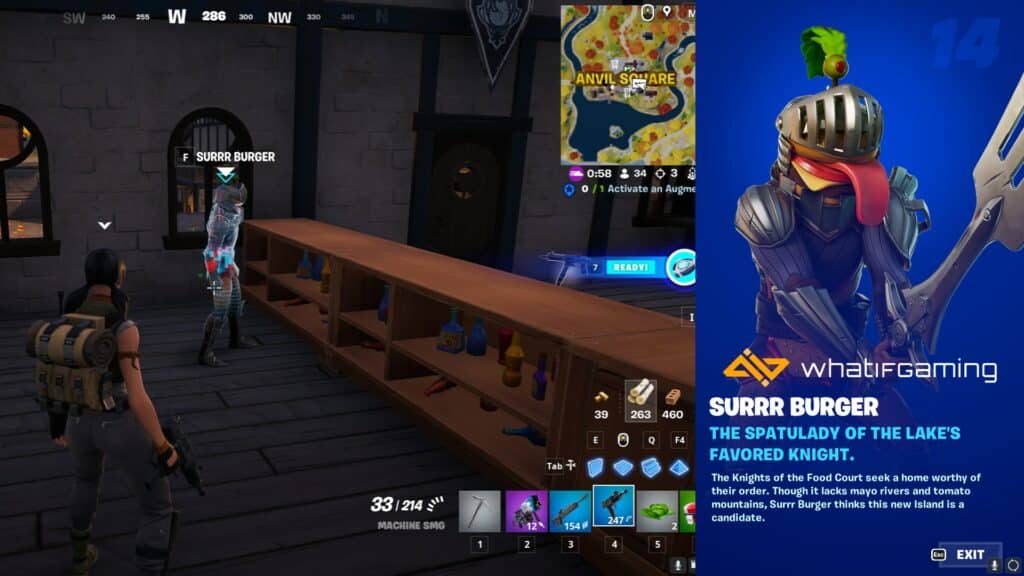 Surr Burger can be found roaming inside houses in Anvil Square, which is a town filled with precious loot. So be careful when landing there because there are bound to be campers. But if you do manage to land here safely, you can find great loot scattered around.
Wildcard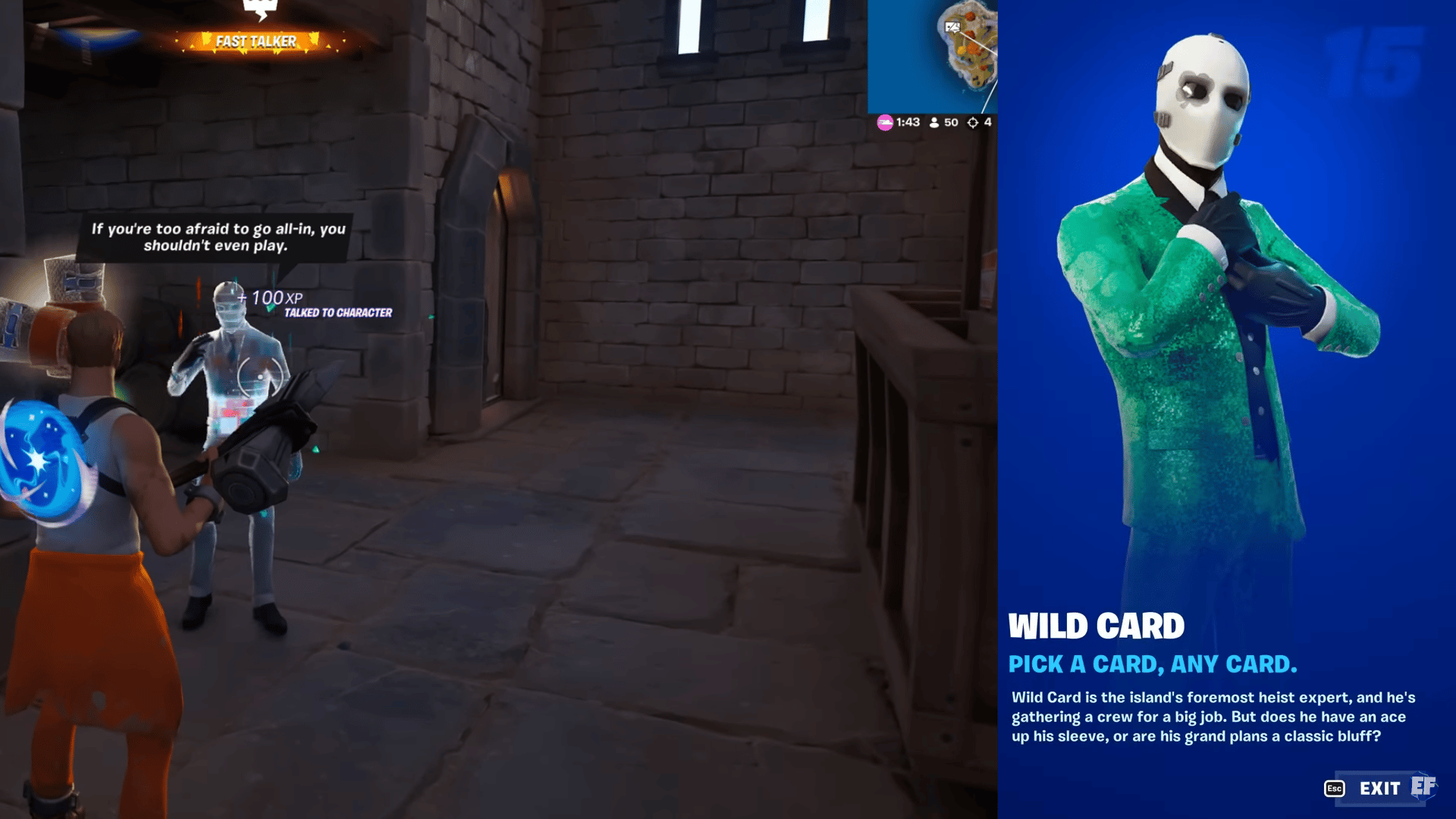 The wildcard is the most mysterious character. Finding him is the toughest challenge, as he can often spawn around in different areas of the map, but the most common location he spawns is near the Citadel.
Diamond Diva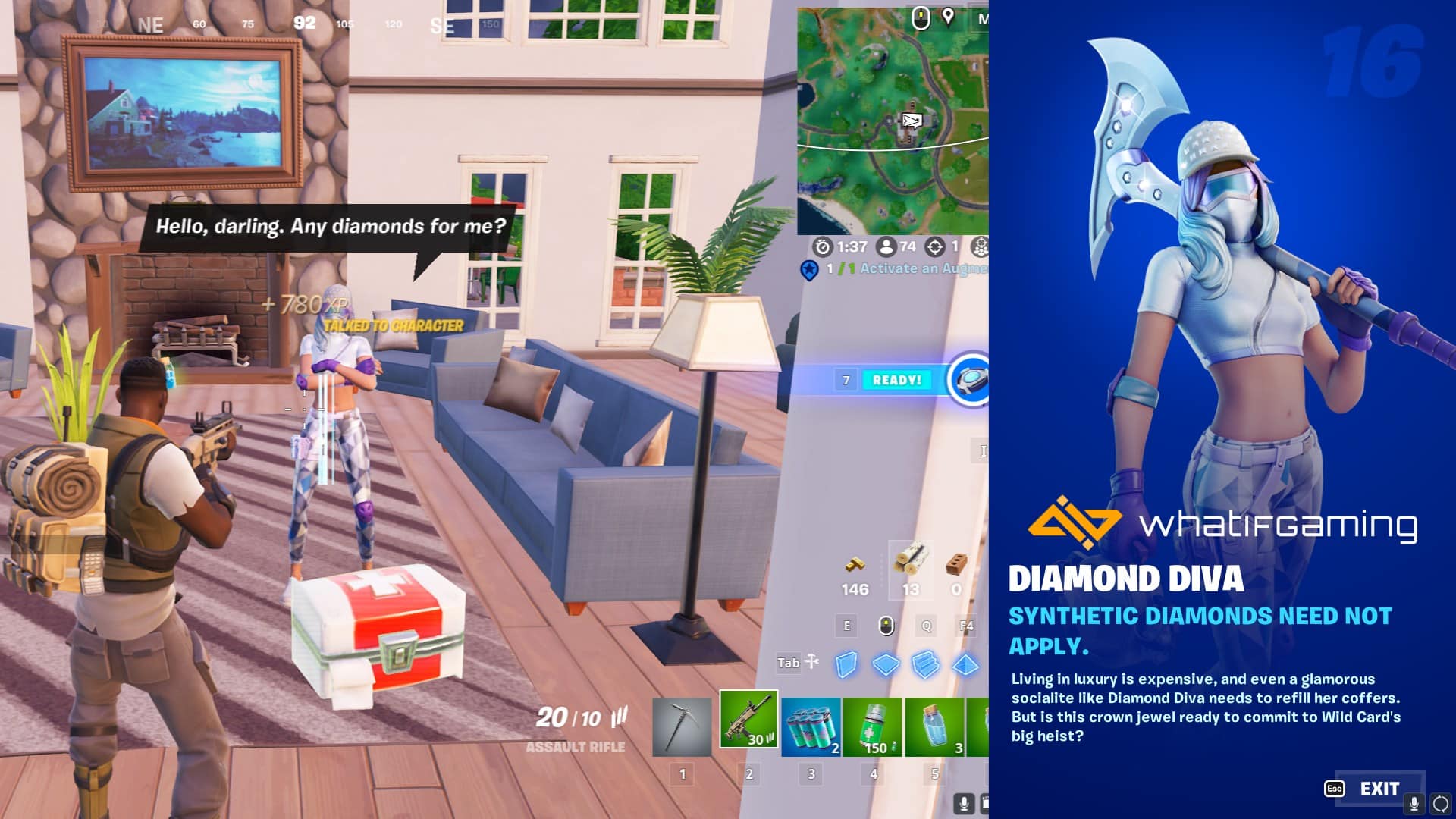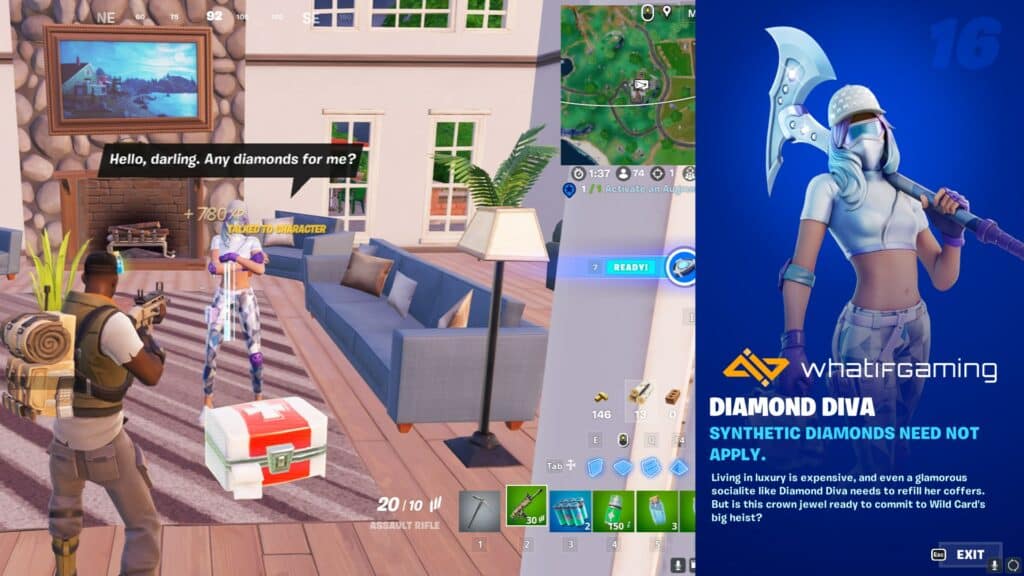 She is hard to find because she sometimes fails to spawn. So you might have to try a couple of times before you can finally talk to her. She is located in a remote area, so you can safely land there at the start and get some average loot for the game.
Conclusion
And there you have it! The Fortnite Character locations for Chapter 4, Season 1, is complete. If you liked this guide, please share it with your friends, and if this guide was helpful, please comment down below. If there are spots that we have missed or there are multiple spawns for a character, do let us know. We would love to hear your feedback! And if you are struggling to level up, then check out our guide on how to gain XP fast in Fortnite.