Unlike previous titles in the Animal Crossing franchise, New Horizons introduced extensive home customization options. You can start customizing your roof as soon as you get your first house; following living in a tent. For readers that are new to house customization, this article will cover the complete ACNH roof colors guide.
How to Edit Your Roof Color in Animal Crossing?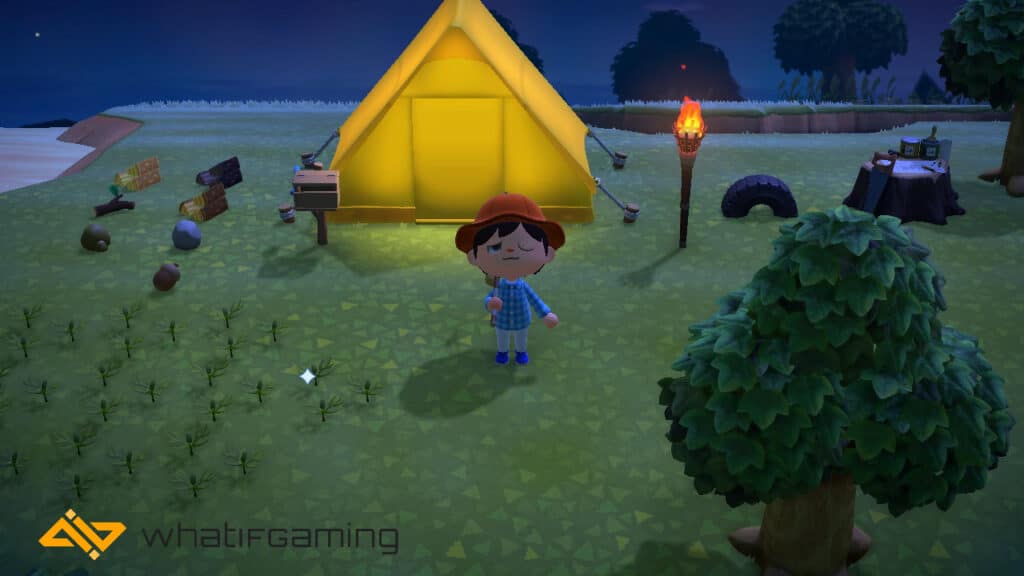 When you start your new island-getaway life, you will be given a tent. However, Tom Nook will give you a small loan to pay off; at which point you can get a house. Your first house won't be huge, but Tom Nook will ask you what color you want your roof. He will ask you before you receive your house, and you will have the option to select a color.
You will be given a choice between the following roof tiling colors:
Yellow
Green
Aqua
Blue
Purple
Black
Orange – Once upgraded
Red – Once upgraded
Pink – Once upgraded

These are just the default color options available for new houses. Once you unlock more extensive home customization options, such as the ability to change your roof material, you get access to a few additional colors
This is the only home customization option you will have initially. Additionally, you will not be able to change the color of your roof once it has been built. If you wish to change it again, you will need to upgrade your house again. Each time you do so, Tom Nook will ask you what color you want your roof to be.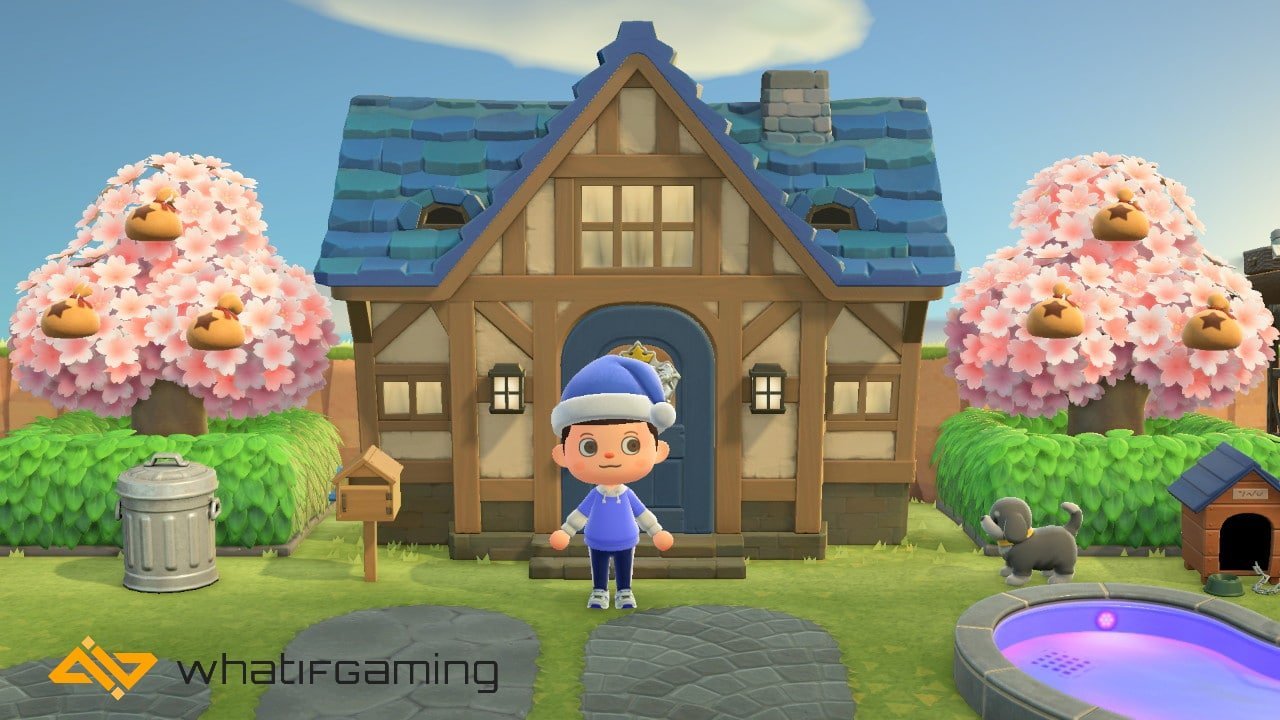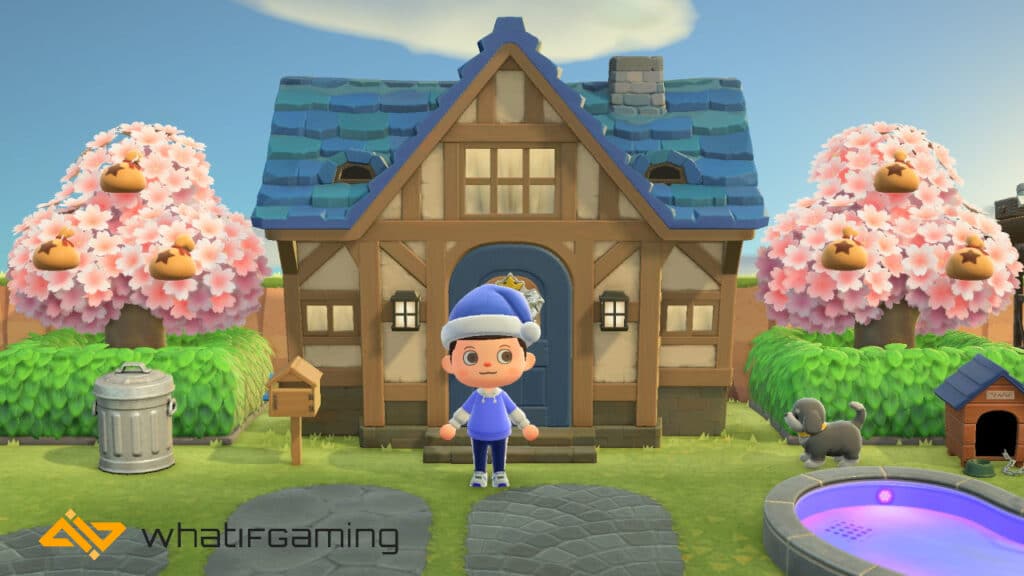 Being given the option to change your roof color each time you upgrade is a nice feature. But what if you wanted more customization? Or perhaps the ability to customize your house whenever you wanted? Fortunately, this is possible after you progress through the house upgrades.
Once you upgrade your house past a certain point, it will no longer resemble an ordinary Animal Crossing home. Tom Nook will tell you when you reach this point and will provide you with further customization options. At this point, you will then be able to customize your house whenever you want. For a fee, of course, and it will take a day to complete renovations.
How to Customize Your House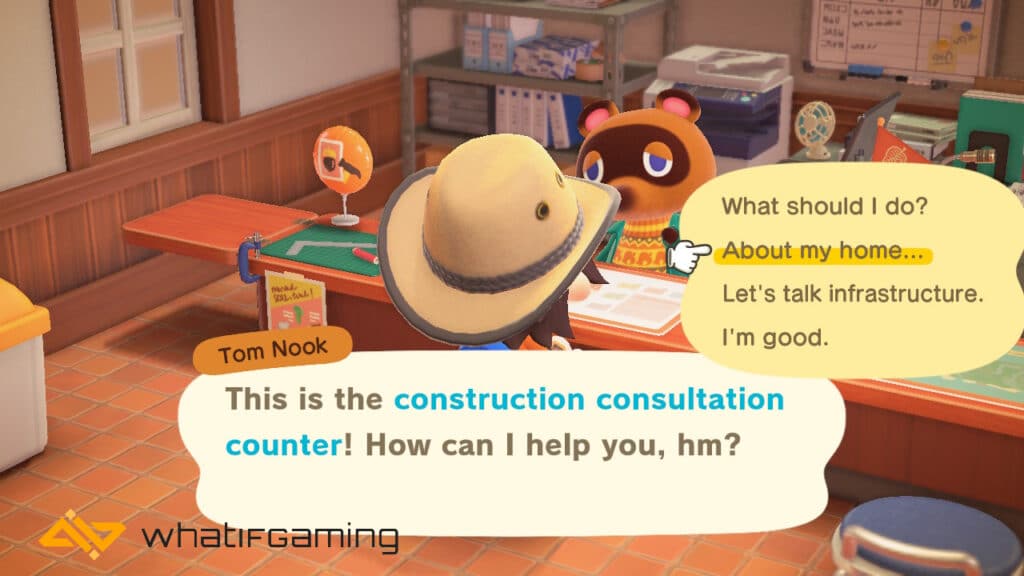 In case you missed the explanation, you can customize your new house by talking to your island's overlord – Tom Nook. Pay him a visit in the Residents Services building, and proceed to his counter. In the dialogue menu that displays, select "About my home…". This will open another dialogue menu where you can select "I want to customize".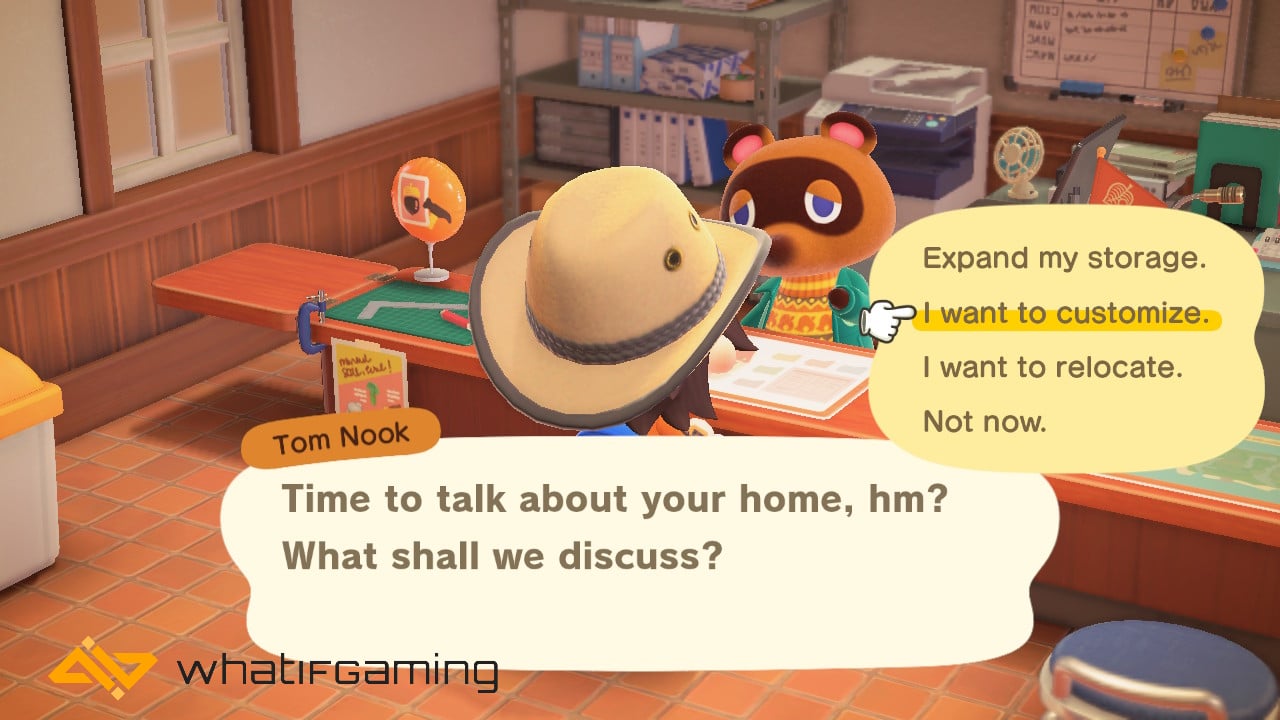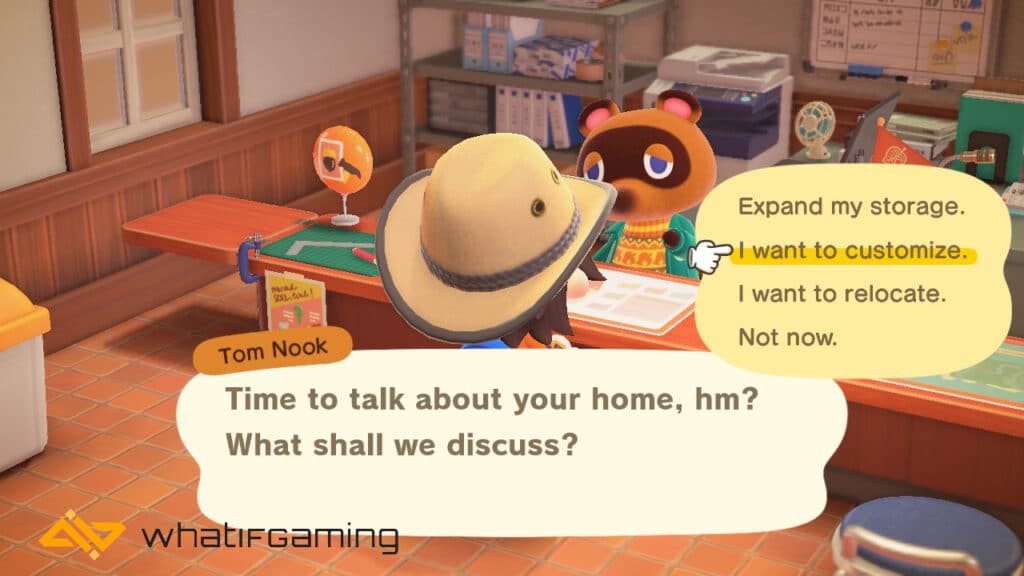 After briefing you that it takes a day to complete, Tom Nook will then show you the housing customization catalog. In this catalog, you will be able to select various customization options. These include roofing, exterior walls, doors, and mailboxes. For each category, you can select a type, followed by a color.
The customization offered is much more extensive than simply choosing the color of your roof when you initially upgraded your house. The Animal Crossing: New Horizons 2.0 update also brought with it new housing customization options, so there are lots of combinations you can try out.
Customizing your roof using this method – or other parts of your house – costs a flat fee of 5,000 Bells. This fee doesn't change regardless of how much customization options you choose. As mentioned, it takes a day to complete, so your new house will be ready for you the following day.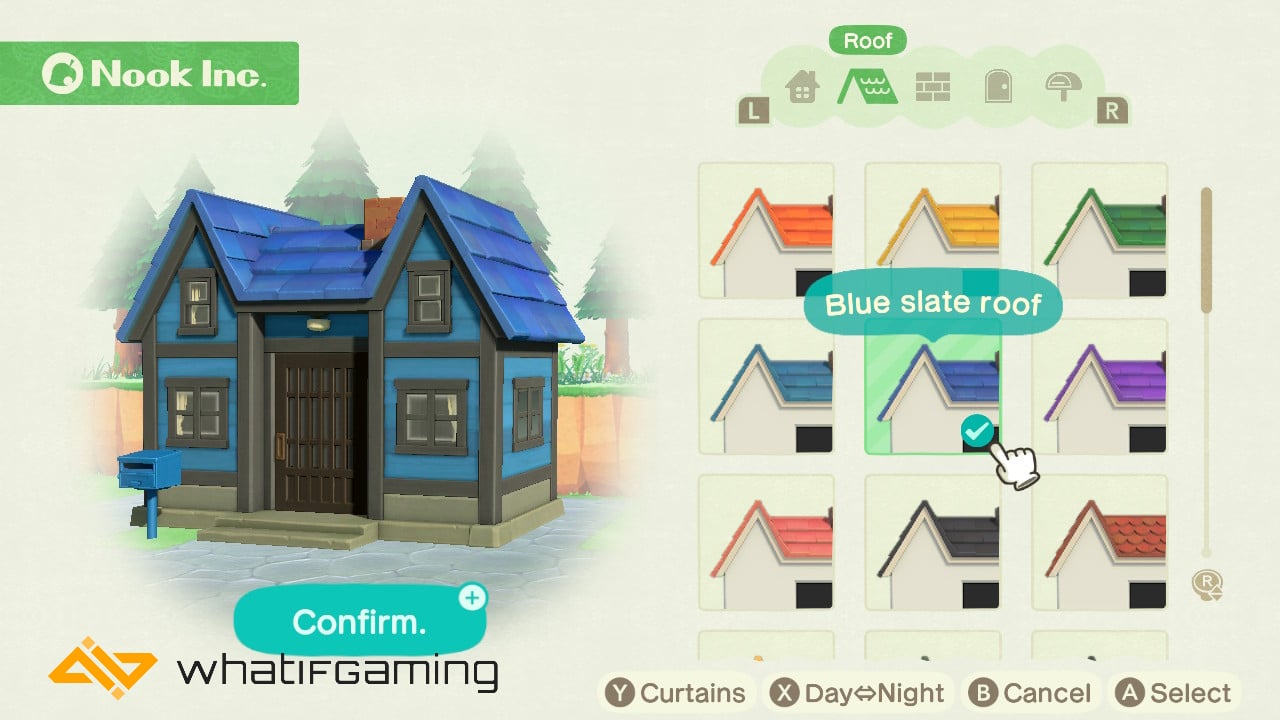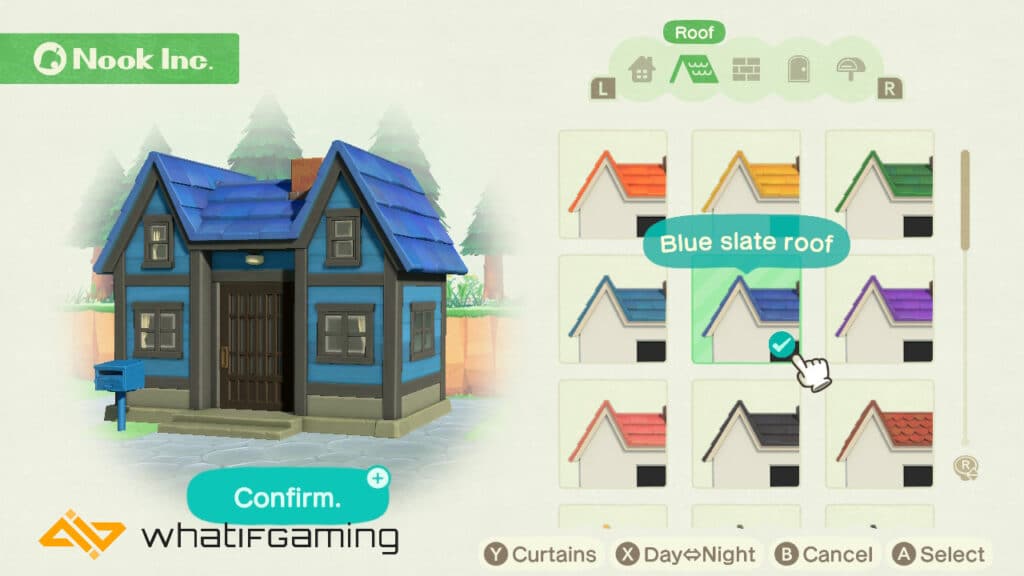 ---
That brings us to the end of our complete Animal Crossing roof colors guide! If you have enjoyed this article, consider checking out the others I have written! Happy crossing!